Today we have featured Advanced Web Rankings Review, with its proper insights, we have also covered its pros and cons, so let's get started When your website goes online, you require SEO services to get your website ranked at the top.
The SEO services also include monitoring and tracking the ratings of the website. After all, you will want your website to be listed at the top so that you get maximum traffic.
Getting such information helps in determining if there is a need to increase the SEO efforts and to what extent. Such factors are essential for a good ranking of the website.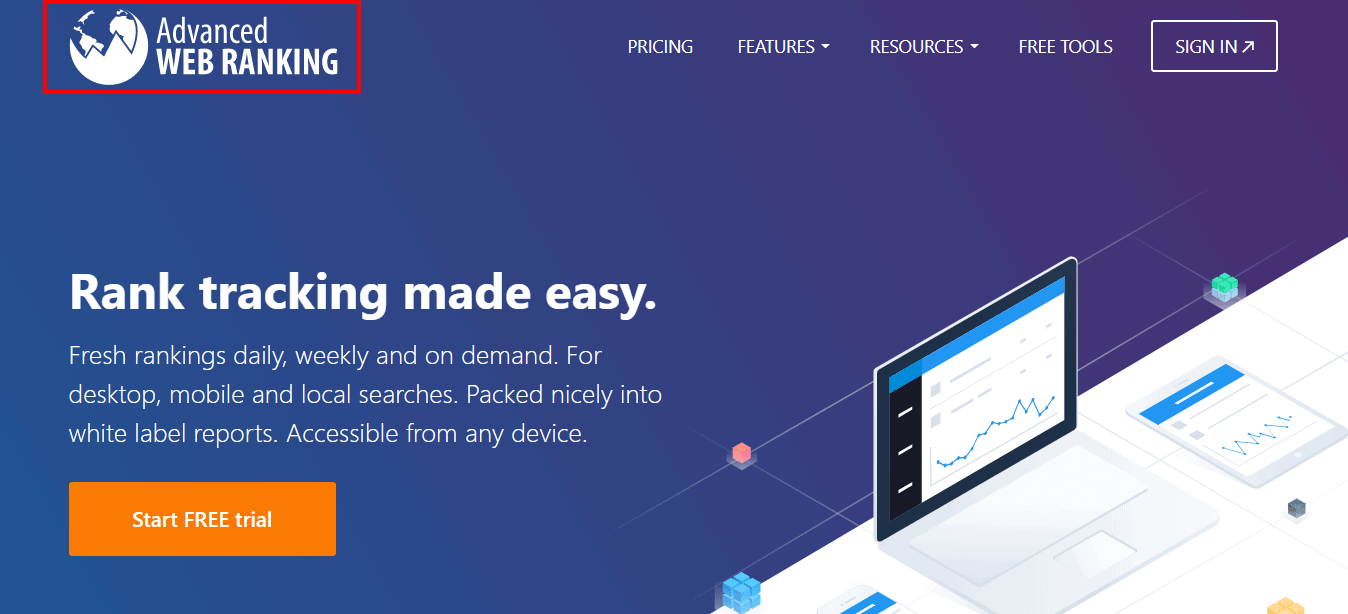 Advanced Web Rankings is an efficient tool that targets on the tracking, reporting, and management of the website rankings on all prominent search engines.
It is a powerful and user-friendly tool that can be used daily and in monthly reports of clients. Here is the review of this tracking tool and learn more about its features. 
What Is Advanced Web Rankings?
Advanced Web Rankings is a software that comes with the SEO package, which is designed by Caphyon Ltd. The primary focus of this analytical tool is to monitor, manage, and report the rankings of the website on all the search engines.
It gives them the power and capability to handle unlimited projects, keyword, and websites from the starting stage to day-to-day tracking.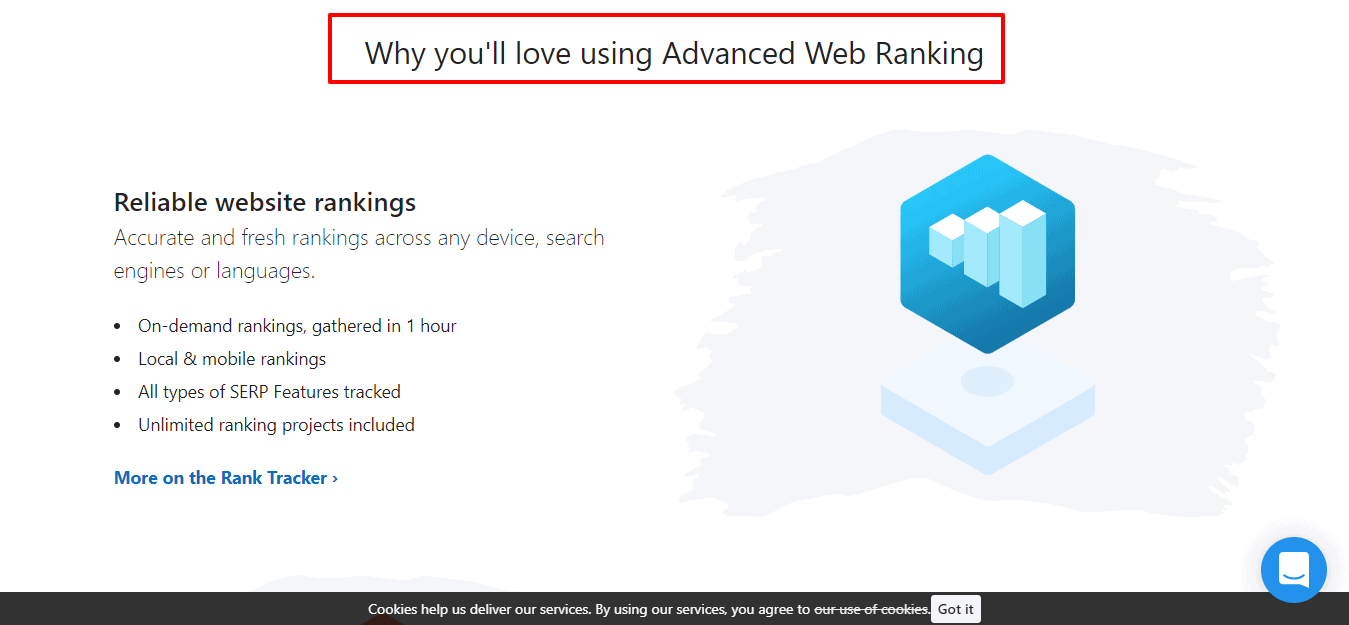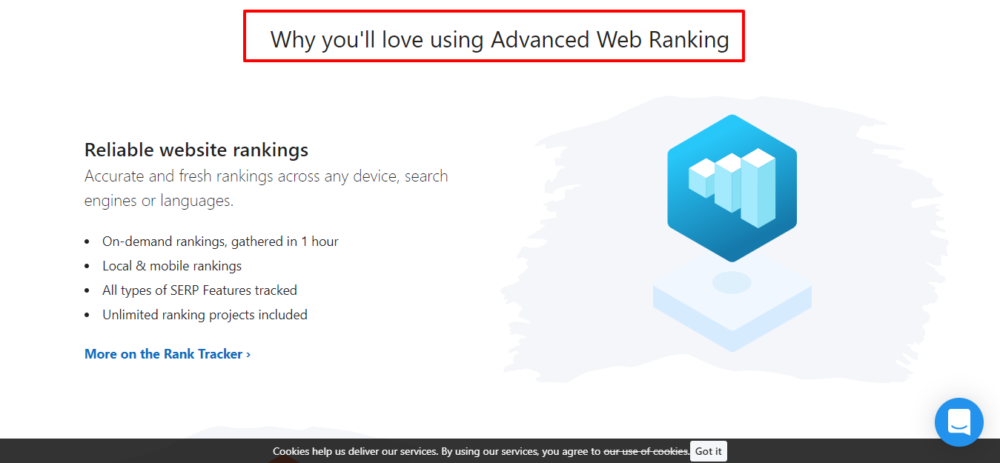 This tool can be used by SEO agencies as well as individuals. AWR also comprises of efficient tools like Google Webmaster Tools integration, Google Analytics, competitive research, keyword research, and website auditing. 
Features Of Advanced Web Rankings (AWR)
Advanced Web Ranking is a storehouse of features for all SEO professionals. Its interface is very user-friendly and simple. Its website contains all the resources and assistance to give you the best of it. 
Here are its features:
User-interface
The first look of the Advanced Web Ranking interface is very clean and clear. The interface is pretty straightforward with no twists and turns.
The left sidebar provides the navigation to several elements of the tool.
The center's main window shows the key configuration of the element you have chosen from the left bar.
The top area has drop-down menus, which further has several sub-areas to each element.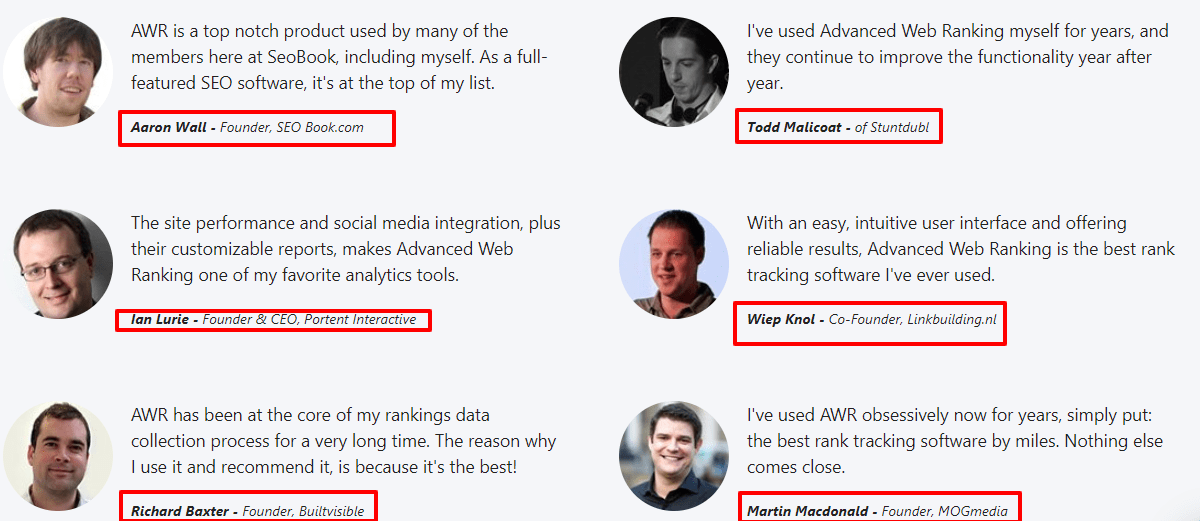 The functions and features are very easily accessible and can be reached via checkboxes, drop-down menus, radio buttons, etc. which make the whole process streamlined. 
Social
As the name suggests, the feature Social lets you monitor the activity of the website on Twitter, Facebook, and Google+.
Tracking of social performance of the website, time-to-time is very important to check how it is fairing for the visitors.
This tool will retrieve the number of shares across the social platforms and monitor the Facebook and Twitter related pages of the website.
Alerts
Alerts is an important notification feature of Advanced Web Ranking, which apprises of any important changes in the rankings.
You can get these alerts from within the tool and also via the email if you wish.
There are six kinds of AWR alerts: Position Up 5 and Position Down 5, Visibility Up 10% and Visibility Down 10%, and Keyword Inside the Top 10 and Keyword Outside the Top 10. 
Reports
The Reporting module of AWR us very helpful and robust. It is very simple to use and generates reports either for clients or for your personal use.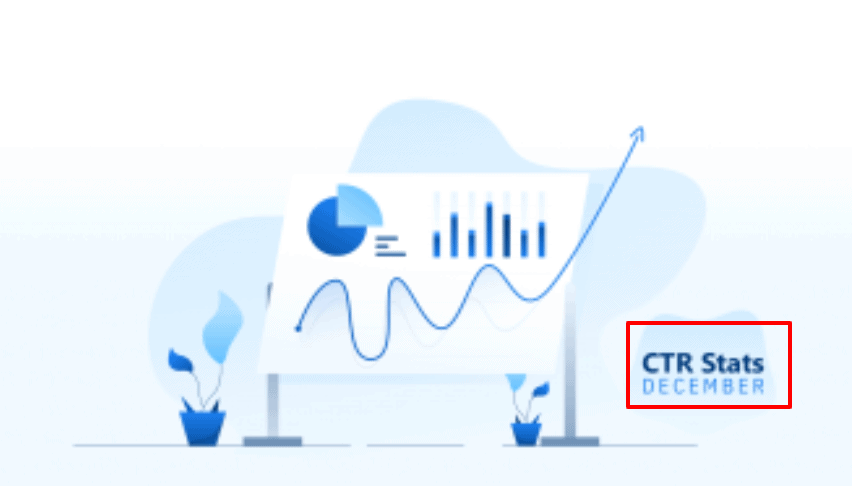 These reports take care of every functionality of AWR, including analytics, rankings, on-site audits, backlinks, etc.
The reports generated are tailor-made and can be easily exported in several formats, like HTML, PDF, CSV, etc. They can also be automatically scheduled for emailing purposes.
Project
As an SEO professional, you will have many projects for an individual website URL and the Project feature lets you create and alter all of them.
This feature lets you edit or add keywords fixed to a project, put project-specific settings, and take a call on which websites belong to the project.
Data
The Data feature of Advanced Web Ranking is for administrative purposes.
It lets the administrator manage all the data that AWR has gathered or the data that you want to add.
It also comprises of restore and backup projects features, which are extremely helpful in the time of need.
This feature has more to it, like exporting data from AWR to CSV or XML files, importing current data, etc. 
Settings
The Settings module means that it consists of all the AWR's global settings. Some of its important settings are:
Users and Groups, which gives you the power to manage individual access of the user to the projects.
Proxy settings, which help in saving you from several search engines with queries from one IP address. 
Performance Settings, which take care of the connection of AWR with the Internet to get the data for links, ranking, and research reports. 
Access And Pricing Of Advanced Web Ranking
Advanced Web Ranking is accessible from Mac OS X, Linux, and Microsoft Windows. 
It is sold with a one-lifetime license and comes in different versions, each having different features. Here are the different pricing packages of AWR:
Standard

– It is the basic version that costs $99 and is ideal for website owners.

Professional

– It costs $199 and is perfect for in-house SEO. 

Enterprise – It costs $399 and is the best one for small businesses.
Server

– It costs $499 and has all the features of AWR. It is best for agencies.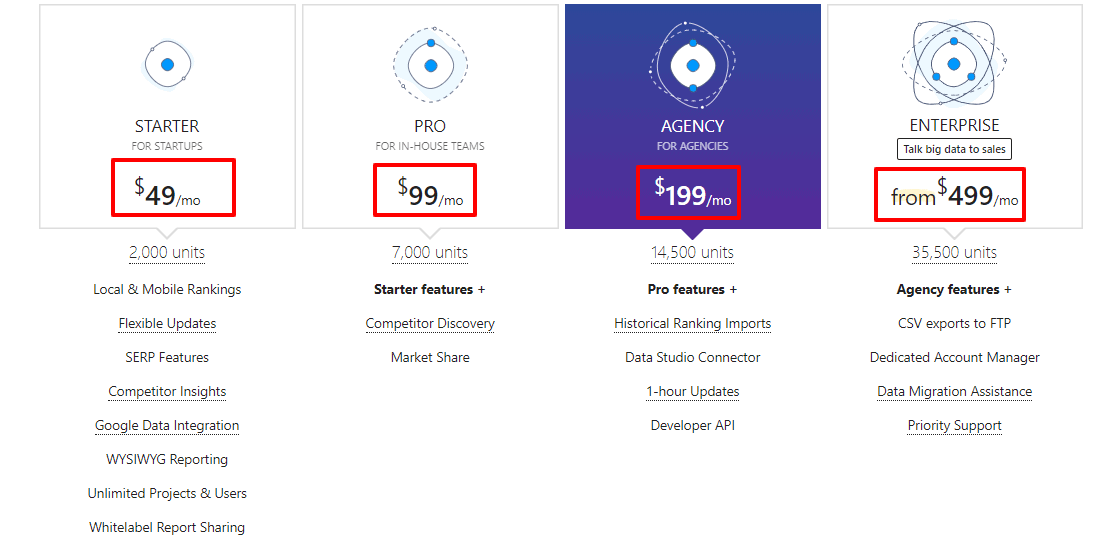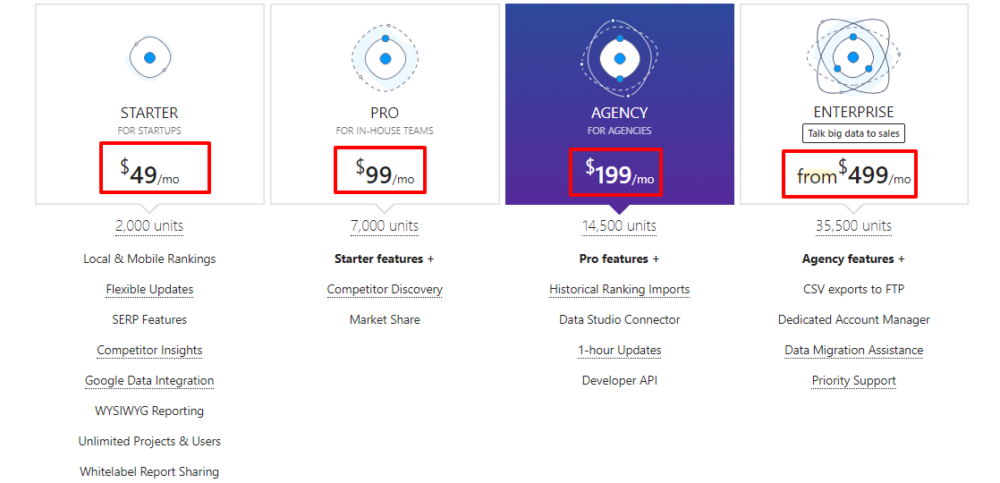 It is definitely worth a try to get an excellent website ranking on the search engines.
If you are still unsure of the tool, you can go for the 30-day free trial which gives you free and unlimited access to the features.
Within these 30 days, you will understand how beneficial AWR is for enhancing the ranking of the website and monitoring what is needed to be done to pump it up.
Pros And Cons: Advanced Web Rankings Review 
Cons
Separate Local Search and Organic Rankings –

One drawback users found was that the reports on keyword ranking do not segregate the local results from organic, thus causing a twist in the rankings.

Extensibility – Since AWR can process a large volume of keywords, it can often cause issues with the speed of ranking updates. This feature is ideal for small to medium-sized businesses. But for enterprise clients, sometimes AER runs overnight to update the rankings of those many keywords. 
Scope Of Improvement 
1. Separate Local and Organic Rankings
As mentioned above in the Cons section, AWR does not separate organic and local rankings in the reports. This area should be rectified and separate reports should be made for local and organic rankings.
2. Caphyon's Solution 
You can add 'Google Exclude Places' search engines to exclude the local listings from the organic ones.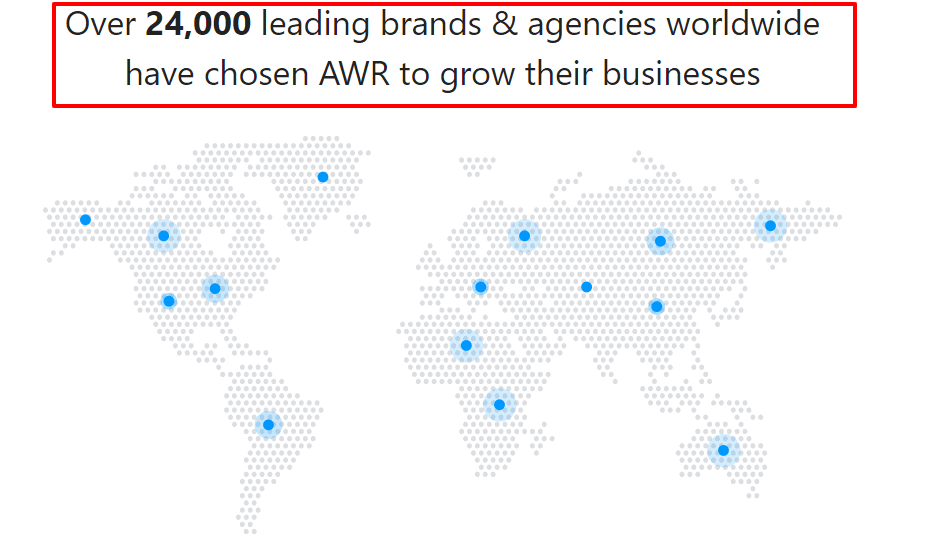 3. More Historical Records
It will be better if AWR archived URLs and SERP results previously ranked for certain keywords. This feature will help the user to go back and check SERPs for those keywords whenever the updates are run.
The clients and agencies will be able to keep account of major search engine algorithm updates to check their clients' or competitors' rankings.
This feature will also help in keeping track of URLs which previously were used to rank certain keywords.
During on-page optimization activities, the ranking URL changes. Thus, it will be helpful for the clients to see how the changes influenced the rankings for different pages.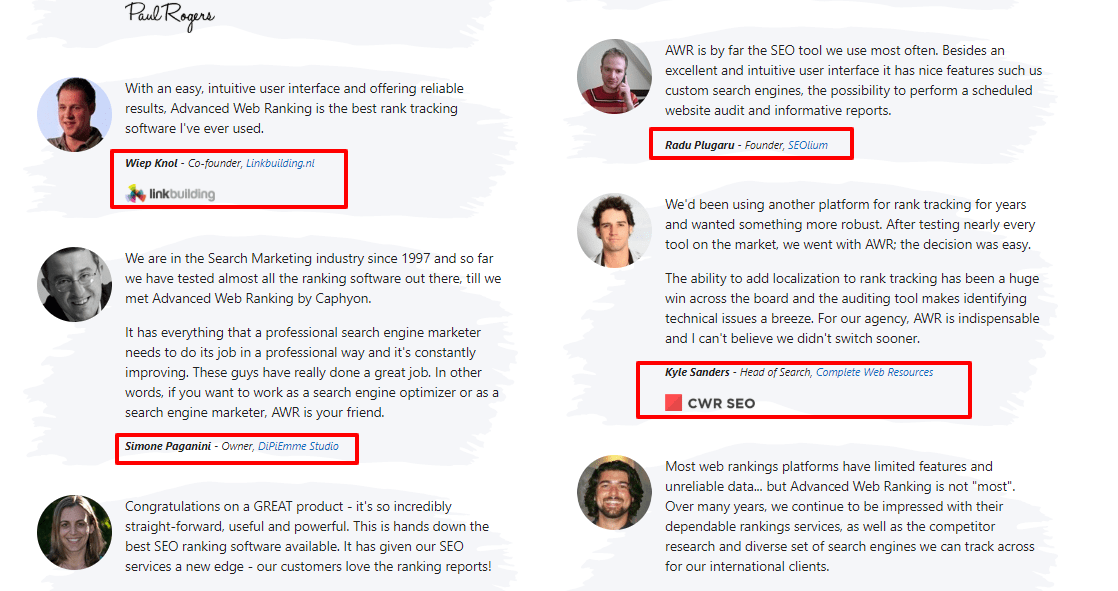 4. Caphyon's Solution 
AWR stores the ranking data from first to the last update and can be seen from the historic data.
5. More Keyword Tools
Experts want to witness more keyword-based tools in Advanced Web Ranking, like Google Insights.
It will give more insight into the keywords and help your website to remain at the top.
6. Caphyon's Solution 
Under the Keyword Search Menu, type the new name of the tool and you will find the Google Insights tool. 
Also Read,
Conclusion: Advanced Web Rankings Review 2023 
The overall Advanced Web Ranking review is very positive. Its features are outstanding, like managing proxies, generating reports, user-interface, intuitive designing, tracking keywords, etc.
It is easily available at a one-time license fee and comes in several packages to suit your pocket.
It is outstanding in its functionality and benefits. It is considered to be the best for small to medium-sized clients as it faces issues in scalability. 
The overall review of AWR is a thumbs up. It is definitely worth its price and features and helps in efficiently tracking the rankings of the keywords.
A good ranking of the keyword ensures a good ranking of the website.