In this blog, I am going to discuss AffiliateWP vs Tapfiliate 2022.
AffiliateWP and Tapfiliate are the most famous WordPress plugins that come under the category of the Affiliate management framework.
AffiliateWP and Tapfiliate are primarily used to handle all the major membership and business platforms launched by you by deploying WordPress. User-friendliness, straightforwardness, and easy to navigate are a few properties of these plugins which make them irresistible to use.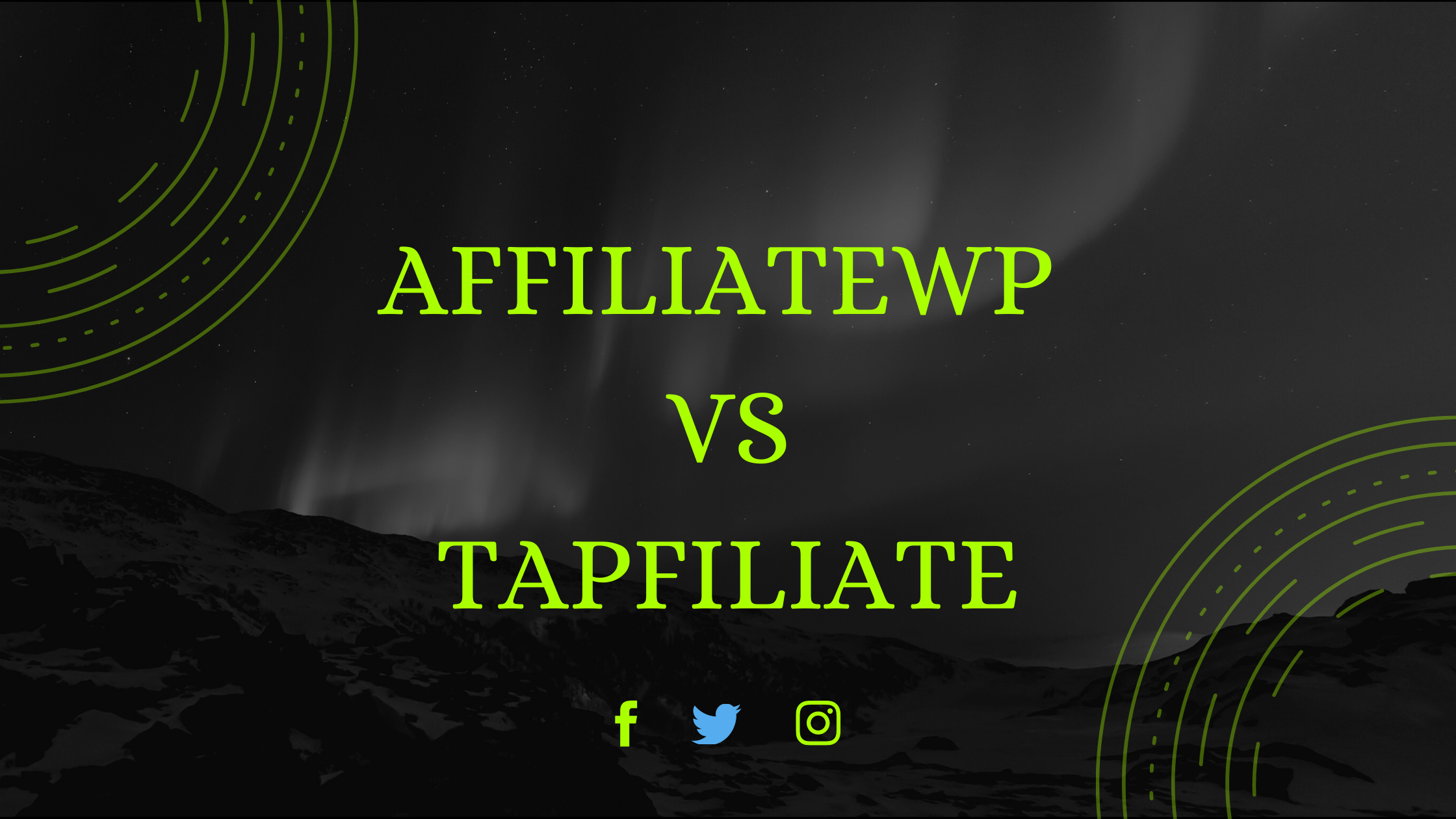 Features Of AffiliateWP VS Tapfiliate 
The plugins are very similar to each other with only a little advantage of one in some of the features.
One of the most important and core logics to increase your website traffic with the help of a growing marketer channel so as to increase sales is affiliate management. The three major components which are embedded in affiliate management are:
AffiliateWP
The affiliate management feature in this plugin is easy to use. It offers the top affiliate performance analysis, affiliate report generation graphically or textually, editing of separate affiliate accounts linked to your website, and supervise new and existing affiliate registrations.
Tapfiliate
Tapfiliate has an affiliate management feature similar to AffiliateWP with some upgrades like you can automate the process of sending vital instructions to your affiliates which is needed to promote your product or service. These instructions will land on their private dashboard so you can even customize the instructions for individual affiliates.
The process of tracking and managing several marketing activities, by using dedicated software or plugins on platforms like WordPress is called affiliate tracking.
Both AffiliateWP and Tapfiliate use the same logic for tracking affiliates.
A referral URL is used by all the affiliates whenever they successfully promote your good, products, or services online. The link looks similar to:
https://yourwebsite.com/?ref=xyz
Whenever a customer interested to buy the product clicks on the given reference link by the affiliate, the customer lands on the website and the affiliate ID (XYZ in this case) is stored in a cookie, in the browser of the customer. The affiliate whose link is being stored in the cookie of the browser is awarded once the customer completes their sales.
The tracking is not just limited to one page of your website. In case the customer decides to leave a page, he landed on and bought a product on a different page on your website, still, the affiliate will get the commission based on the set commission rate by you.
You could set the number of days the reference link of the affiliate will stay in the cookies of the browser of any customer via the setting tab of both the plugins. Once the cookies expire the affiliate won't be commissioned even if someone buys the product and is a contact of your affiliate. 
During the controversy of a customer clicking on two different affiliate links to get to the product page, the link on which they clicked first and completed the purchase would be awarded the commission set.
You can manage, delete, or add any banner and analyze their performance frequently via A/B testing them. The above process is done with the help of an extension or add-on and is termed as Banner management.
With the help of AffiliateWP and Tapfiliate, you can upload your banners on any empty space of any page on your website. You can also time your banners according to the needs of the banner to be shown to your target audience. Banner management provides you with important insights, with the help of which you can improve your banners regularly.
In today's world, banners are considered as a powerful source of conveying information about your website's special offers, summer/end of season sales, and various discounts you offer.
There are three different templates you can use to build your banner which are:
Default: Simple banner with basic images
Carousel:  It is a bunch of rotating banners or a slideshow that you can display on your homepage or any other page you wish to put.
Tabbed Carousel: Displaying carousel banners

Commission Management
The management and tracking of sales commission representatives earned by them from selling your products and track their performance via various graphical tools are known as commission management.
The management and payment of commission are a complex and a tough task to keep eyes on as it includes various variables to be considered. Coming up with the amount to be paid to every sales rep in the form of the commission is also a very tough task to decide due to a number of variables to be considered and complex pay compensation plans.
Benefits of using AffiliateWP and Tapfiliate for Commission Management
Commission management can be utilized to persuade sales groups legitimately, permitting them to screen their earned bonus progressively. Before, salesmen would sit around idly shadow bookkeeping and computing their own bonuses to ensure installments are right. 
A viable commission management system shows sales representatives the amount they have sold for the current month, what that means regarding commission profit, and how those commissions supplement their general pay bundle or pay blend.
Salesmen can likewise utilize commission management features of AffiliateWP and Tapfiliate to connect different "what if?" situations and perceive how their payments would be influenced on the off chance that they sold 200, 500, or 1000 extra items this month. 
On the administration side, commission management features empower the project leads to use further perceivability into the group and individual rep execution, prompting more exact investigation and assisting with distinguishing territories of chance for development.
The use of various social media platforms to promote your products or services is called social media promotion.
With AffiliateWP and Tapfiliate you can automate the process, that helps you to send your posts on speculated time set by you.
Fraud detection is a technique to protect cash or property from being obtained through misrepresentations. Misrepresentation location is applied to numerous ventures, for example, banking or protection. In banking, extortion may incorporate manufacturing false checks or utilizing stolen cards for withdrawals.
Different types of misrepresentation may include overstating misfortunes or causing a mishap with the sole expectation of the payout. 
With a boundless and rising number of ways somebody can commit fraud, identification can be hard to achieve. Exercises, for example, revamping, downsizing, moving to new data frameworks, or experiencing a cybersecurity break could debilitate an association's capacity to identify misrepresentation.
AffiliateWP provides the feature of Fraud Detection and tries to keep your business safe by informing you as soon as there is a breach of any kind or wrong practices being practiced by affiliates.
Platforms For AffiliateWP VS Tapfiliate 
AffiliateWP is available for Windows, Mac, and Web-based Websites and Services. On the contrary, Tapfiliate only gives access to web-based sites which is a major drawback.
Customer Support Of AffiliateWP VS Tapfiliate 
Customer support is one of the vital things one looks for before buying any service. AffiliateWP provides great customer support but is only available during Business hours and it is via chatbot and not a live representative.
Tapfiliate also has a chatbot but you can approach them any time of the day if you face any problem.
For those of you who are just starting with a business and want to inculcate the affiliation practices with these plugins, there is training provided by the experts of AffiliateWP if you choose to install the plugin. The training is detailed and online and takes care of your documentation as well.
With Tapfiliate there no training provided so it is for people who know about the in and outs of the affiliate management software.
Integrations | AffiliateWP VS Tapfiliate
Tapfiliate
With this plugin you can integrate with the following platforms:
Zapier

Stripe

WordPress

Wix

Magento

Prestashop

BigCommerce

Weebly

Ecwid

3dCart and many more
AffiliateWP
AffiliateWP provides the following integration platforms:
WooCommerce

Easy Digital Download

Restrict content pro

Stripe

PayPal

Ninja Forms

Gravity and many more
The above integration with various platforms needs add-ons which are to be paid for. In addition to these integrations, AffiliateWP also provides free integrations with platforms like WP eCommerce, Jigoshop, Shopp, MemberPress, and many more, for Ninja Forms, we have also covered Ninja Forms Discount Code, get the deals and offers.
Company Size Of AffiliateWP VS Tapfiliate 
AffiliateWP is a highly user-friendly plugin and is apt for companies of all sizes i.e. Small, large, medium enterprises as well as freelancers.
Tapfiliate is not that easy to get your hands on and requires certain expertise to use it and therefore is not suitable to use for freelancers.
Advantages of Having an Affiliate Management Plugin
The advertisements for your website are automated via Affiliate management plugins with very little to no efforts to put by your side.

You can get a few backlinks and most of which would be permanent which helps increase the traffic on your site leading to more sales.

With the help of these plugins, your services/products are reviewed on some websites. You don't need to pay any extra money for this process.
Which Plugin Should I Install for My Business?
AffiliateWP and Tapfiliate, both are dominating plugins for WordPress. Both are unique in their own way. If you are a small business or just starting a business with a small budget then AffiliateWP provides you with the best set of features and affordable pricing.
Whereas, for massive enterprise and trained experts in affiliate management, Tapfiliate provides one of the best services for WordPress. Though the pricing is hight, the features given by the plugin are unique and helps you compete in your targeted market.
Quick Links
FAQs | AffiliateWP VS Tapfiliate
🙆 Can I opt monthly for any of the plugins?
Yes, Tapfiliate has a monthly plan which you can cancel anytime. The plugin requires experts and is only suitable for big and medium enterprises due to its sky rocking price. But it has a set of features that are unique and brings sales to your business via affiliation.
👉 Whose customer service is better?
Customer support is one of the most important things anyone looks for before buying certain services. Affiliate WP provides customer support but is only available in Business hours via chatbots and not a live representative. Tapfiliate also has a chatbot but you can approach them any time of the day if you face any problem. Along with customer service, there is an online training session provided by Affiliate WP which will help you to get to know various features of the plugin.
👍 Which plugin has more integrations?
There are many integrations provided by both the affiliate marketing plugins. But Affiliate WP has a wide variety of integrations to choose from and can be used via add-on packs. There are various free integrations too which can be used with Affiliate WP.
Summary Of AffiliateWP VS Tapfiliate 2022
Dashboard Friendliness
The dashboards of both the plugins appear on the front-end of your website. Where the dashboard of AffiliateWP is super easy to use, using the affiliate's dashboard could be a challenge for newbies.
AffiliateWP dashboard is far more superior to Tapfiliate as it requires fewer clicks and is precise and to the point.
Adaptability
AffiliateWP is a user-friendly plugin and anyone can get the hang of the plugin within a day or two. This helps you in better understanding and exploring various features provided by AffiliateWP.
As mentioned earlier Tapfiliate requires certain skill sets to be used when using the plugin. But it also provides you with a 14-day free trial irrespective of the plan selected by you so that you can know your way around the plugin.
The add-ons provided by AffiliateWP are effective and provide almost all the services you will ever require for your business. 
Tapfiliate is better than AffiliateWP when it comes to features but is far more expensive in pricing (Almost 5-6 times).
As a business, you need to keep a constant eye on growth and leads generated. Both plugins have several graphical and visual aids to help you out generate detailed analytical reposts to better understand your target audience and future endeavors.

AffiliateWP is managed and launched by a stable and highly dependent company which makes it more trustworthy than Tapfiliate.
Hence, to conclude, we can say that AffiliateWP and Tapfiliate are both the best plugins in their own aspects.
I hope you liked this guide about AffiliateWP vs Tapfiliate.