The AI & Big Data Expo will be kicking 2020 off in style with the first of the AI & Big Data Expo's three-part World Series taking place at Olympia in London.
AI & Big Data Expo 2020: Why It Is Attend?
Date: 17th-18th March 2020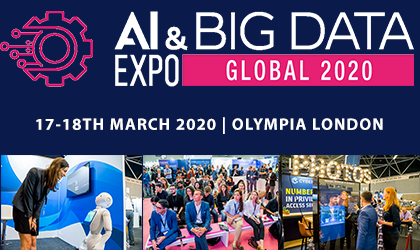 Opening its doors on the 17-18th March, the conference will bring 9,000 attendees from across the globe together exploring the latest developments within the AI and Big Data sector, as well as showcasing the latest technological developments.
Topics covered include Business Intelligence, Deep Learning, Machine Learning, AI Algorithms, Data & Analytics, Virtual Assistants & Chatbots as well as case study-based presentations proving an insight into the deployment of AI across different verticals.
The Global show will also include its exclusive, and popular, networking opportunities for paying attendees. This includes the networking party on the evening of the first day at the prestigious Pergola Olympia. This is open to Expo Plus Pass, Gold, and Ultimate pass holders as well as speakers, exhibitors and press. Attendees can expect an evening of drinks and networking in a more relaxed setting until the late evening.
Paying attendees will have access to our matchmaking tool where attendees can message each other before the expo and arrange to meet on the show floor or at the networking party.
The new matchmaking was launched at our North America show in 2019 and 88% of meetings that were arranged between two parties were attended!
List Of Speakers:
Some of the AI & Big Data speakers for this year's London show include:
Andrea Muttoni, Senior Technical Evangelist, Amazon Alexa

Riccardo Lopetrone, Senior Product Manager Voice, Swisscom

Aubrey HB, Director of Advanced Analytics, Nationwide Building Society

Nelson Pereira, Customer Engineering Manager, Google Cloud

Leonid Mishkind, Technical Owner Chatbots & Voice Assistants, Vodafone

Errol Koolmeister, Head of AI Technology, H&M

Peter Jackson, Director of Group Data Sciences, Legal & General

Udai Kiran Chilamkurthi, Principle Architect, Sainsbury's

Jayshree Kottapalli, Senior Director Digital Data and Analytics, GSK

Abhijit Akerkar, Head of Applied Sciences, Business Integration, Lloyds Bank

Stefan Brock, Head of IT Architecture, Swissport

Jan Teichmann Senior Data Science Consultant, The Trainline

Brigitte West, Innovation Lead, Asthma UK

Andreas Gertsch Grover, Director of Data Science, Charlotte Tilbiury

Wayne Butterfield, Director of Cognitive Automation & Innovation

Konrad Dobschuetz, Commercial Director, Pfizer

Danny Wottom, Interim Head of Data, AI Automation & Digital, UK Ministry of Defence.
The Data Science Awards will be launched at the Global AI & Big Data Expo, with the awards closing, and winners being announced, at the AI & Big Data Expo North America. 
If you're interested in attending our Global show then do register online for your ticket.