About Benchmark Email
Benchmark is a popular email marketing solution that provides all the necessary tools to create perfect email campaigns for marketing business through the internet.  It offers excellent customer support and advanced features for building unique campaigns through their interface and helping build strong fan base for other companies.
In this article we will provide you with best buy Benchmark Email Coupon Codes 
How it Works?
Email Creation
Benchmark has an intuitive interface with plenty of basic and advanced features to design an email campaign. You can begin to create your own version of emails by dragging and dropping images, text and pictures on to your email template which are available for free on benchmark. These templates are mobile responsive and can be easily used on a desktop, laptop or smartphone. You can also do live editing and update your email template you created as you like.
There are HTML editors CSS style sheets and WYSIWYG editors that let you customize default color schemes and fonts to make your email campaign unique and appealing to your subscribers.
Also Read- Top 10 Best Rated Antivirus: Best Antivirus Comparison
Email Contacts
Benchmark enables customers to use list builders, automations, surveys and polls to build a powerful fan base. They can increase their audience by sharing the email campaigns with social network platforms as well as blogging sites.
Email Segmentation
You can manage your contact list by importing contacts and adding email addresses, integrating it with other apps and segmenting them into various custom fields such as likes, dislikes, subscribers, recent activities, etc.
Email Tracking and Reporting
It also provides features to track your email campaign and delivery reports to ensure that your email campaigns reach the right audience. They have a/b testing and inbox tracker to track all your campaign links and help you check likes subscribers, bounces, forwards, clicks, unopened emails and followers. They also provide best campaign reports to see the popularity of your email campaigns.
Email Integrations
Benchmark integrates with 300 plus apps to increase your customer base and build your email list. It also provides sign up forms for your visitors to subscribe to your contact list. Some of the apps include Facebook, WordPress, Google, Shopify, Salesforce and Squarespace.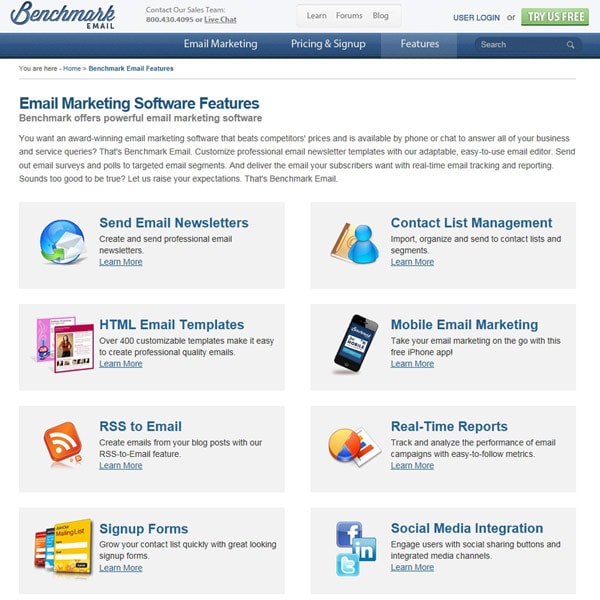 Pricing
Benchmark offers a 30-day free trial using which you can send up to 250 emails to your subscribers for free and access to all its features. It provides a variety of subscription plans that suits your needs.
The medium plan range between Rs.700-1500 and includes unlimited emails and 600-1500 subscribers.
The large plan costs between Rs.16, 000 – 20,000 and includes 700,000-900,000 mails and 55,000-65,000 subscribers.
The extra large plan costs between Rs.38, 000 – 49,000 and includes 1,750,000-2,450,000 mails and 125,000-175,000 subscribers.
The massive plan costs between Rs. 288000-320000 and includes 15,000,000-17,000,000 mails and 1,070,000- 1,215,000 subscribers.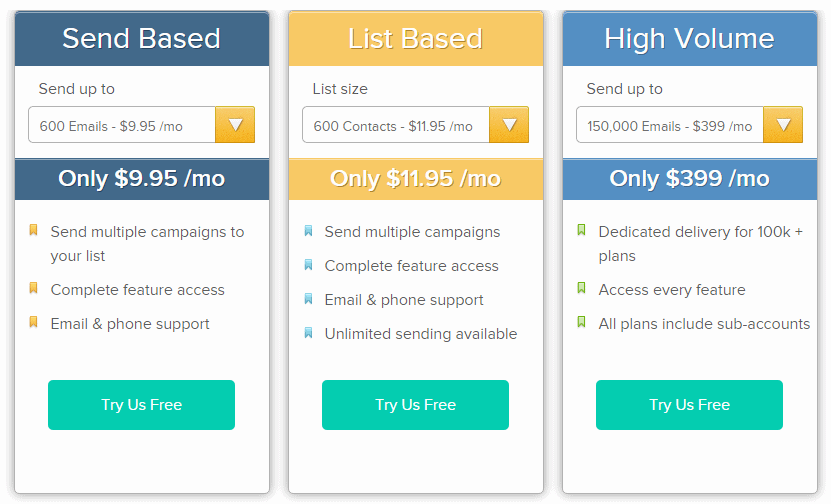 Pros
30-day free trial
List management and tracking options
Plenty of integrations
Cons
Lack of mobility
Expensive plans
Bottom Line
Benchmark is a good email marketing solution for both small and large businesses that are looking to expand their customer base through email campaigns. It provides all the basic requirements to create unique campaign that suits your companies' profile and needs.
It has wide range of premium plans which enable users to create and maintain plenty of subscribers. But the plans are slightly higher when compared to its competitors.
 

Best buy Benchmark Coupon codes for March 2023
Coupons:
Just $24.95 for 1,500 Subscribers
Benchmark Email for 1,000 Subscribers just $18.95
Only $11.95 per month for 600 Subscribers
15% Off on Email Marketing Software
Coupon code: 4C4A9905
$15 Off Any Order On $200
Coupon code– BuySKU-Money15
Pair Of BearTek Motorcycle Gloves With An Android Control Bluetooth Module For $175
Coupon code– CYBERBEAR
Free Shipping
Coupon code- freeship
Register Early Chicago,Il September, 29th – Save $200
Coupon code-Prepared
25% Off For Non-Profit Organizations
I hope you will too benefit from the Benchmark Email Coupon Codes for March 2023