Are you looking for the best Amazon sales tools? Whether you are a seller, vendor, or brand manager on Amazon, finding the right tools can make a big difference in helping you maximize your sales.
This article provides an overview of the top Amazon sales tools available to help sellers increase their sales and optimize their operations.
We'll go over everything from listing optimization software to product research tools and more.
What Are Amazon Sales Tools?
Amazon sales tools are a set of web-based programs designed to help Amazon sellers optimize their business operations.
These tools include everything from product listing optimization and keyword research to managing customer reviews and tracking the performance of your listings.
With the right combination of these tools, sellers can maximize their profitability on Amazon by targeting high-quality traffic and providing exceptional customer service.
The most popular Amazon sales tools are Seller Central and Fulfillment by Amazon (FBA).
Seller Central is an online platform that allows sellers to manage their products, create listing descriptions, list prices and discounts, as well as track orders, shipping fees, taxes, and more.
On top of that, Seller Central also provides insights into data such as customers' buying habits, sales trends, and recommendations for improving product performance.
Fulfillment by Amazon (FBA) is a service that allows sellers to have their products stored, packed, and shipped by Amazon themselves.
This means no more dealing with fulfilling orders yourself, as well as having access to Amazon's expansive network of warehouses and shipping partners.
Plus, FBA can help sellers increase their visibility on the platform by allowing them to leverage Amazon Prime features such as free two-day shipping for certain items.
Other popular tools include repricing software, which helps sellers automatically adjust prices according to competitor pricing in order to remain competitive; feedback management tools that let sellers keep track of customer reviews; as well as listing optimization tools that can help improve search visibility and product rankings.
10 Best Amazon Sales Tools 2023
Here are some of the best amazon sales tools.
1. Helium 10 [Inventory Management]
Helium 10 offers several Amazon seller tools. They have most Amazon business tools. Their newest inventory management software streamlines stock management. It simplifies logistics.
Supplier management, stock replenishment, and purchase order tabs simplify inventory management.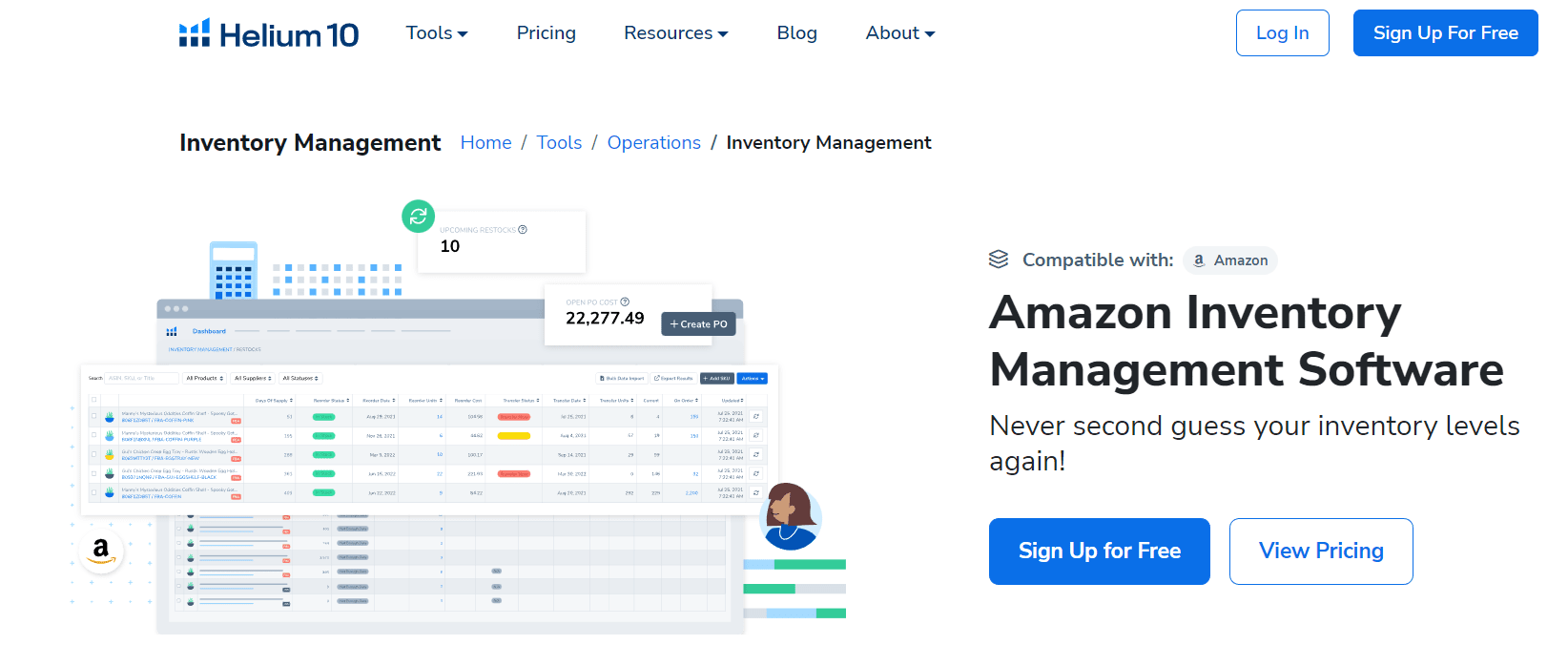 Check your stock levels quickly. Learn how to predict inventory requirements and minimize over-ordering.
Inventory Management streamlines your inventory procedure, helping you develop your company.
Jungle Scout has one of the greatest Amazon seller toolkits. It upgrades its software and creates new tools to increase its offering.
Supplier Database is their newest tool. This tool helps you identify and manage vendors. Established firms utilize their approved worldwide suppliers. It even lets you see where your rivals buy their shares.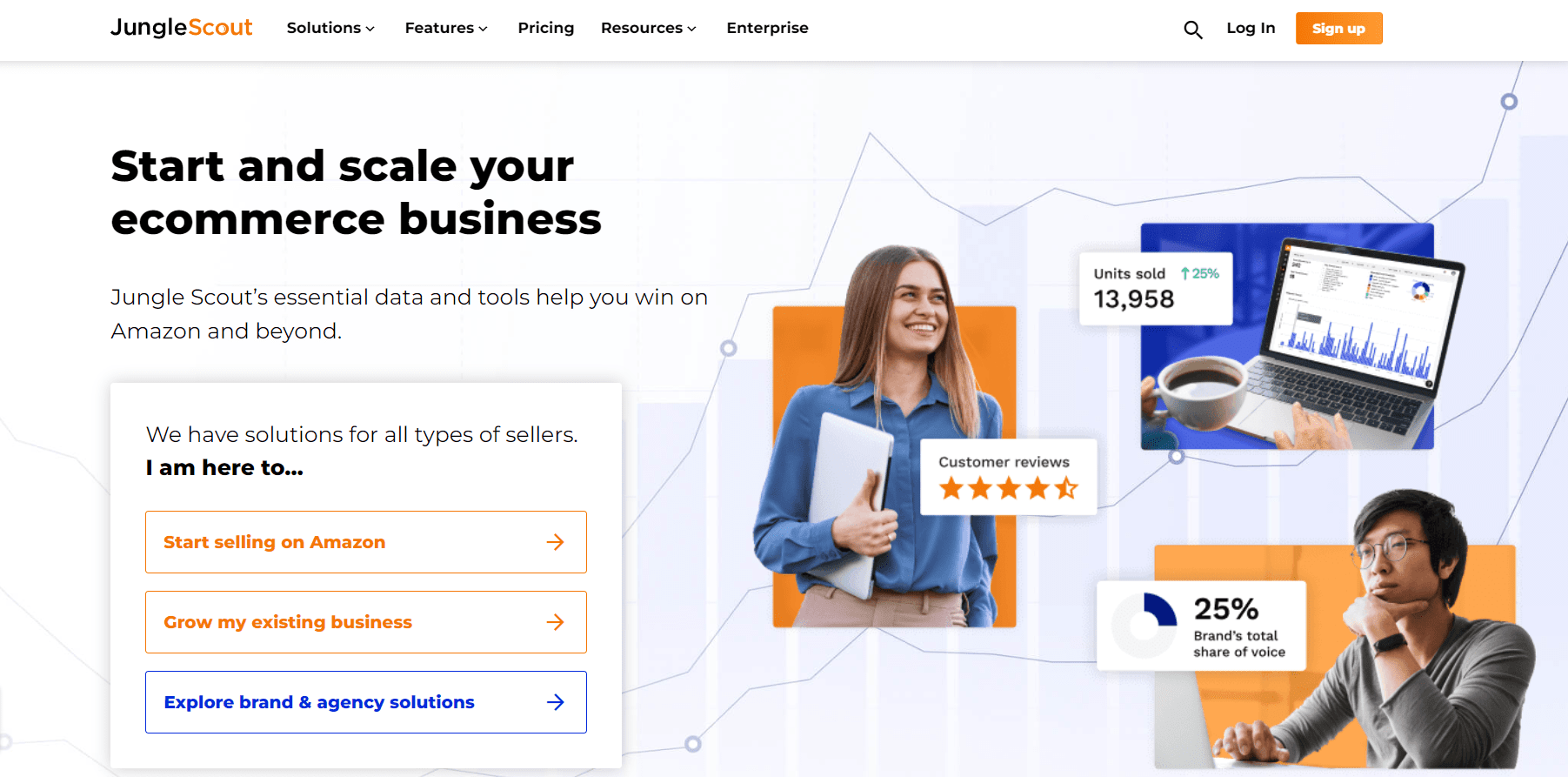 This tool's Match Score and Supplier Tracker are helpful. The first lets you search by ASIN, brand, or provider.
It then compares supplier bids so you can select one that fits your demands and budget.
New functionality simplifies purchase order management. It generates, manages, and tracks purchase orders and supplier interactions.
3. Viral Launch  [Marketing Intelligence]
The Viral Launch, Market Intelligence tool provides the most accurate sales projections. It employs a billion-data-point algorithm. The accurate findings aid product selection.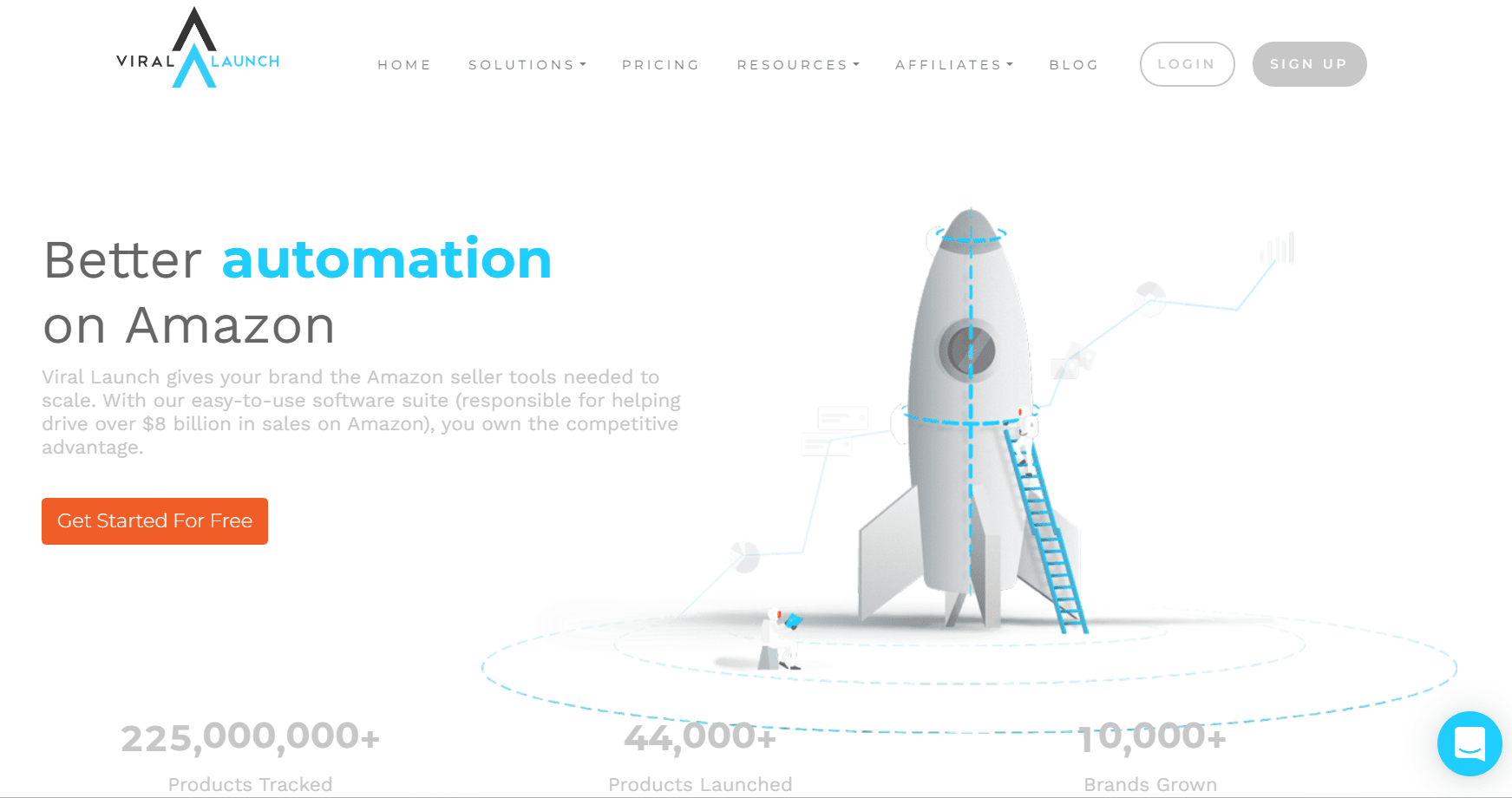 This is a terrific tool for budding businesses testing goods or ideas. Free Viral launch accounts allow five daily searches using the tool.
Its market trends and product profitability insights are valuable. Start with a free account, then upgrade as sales pick up.
Many vendors reprice to stay competitive. However, several daily price adjustments might be difficult to track.
Amazon sellers need repricing tools. RepricerExpress is one option. This repricing tool puts your goods in Buy Boxes.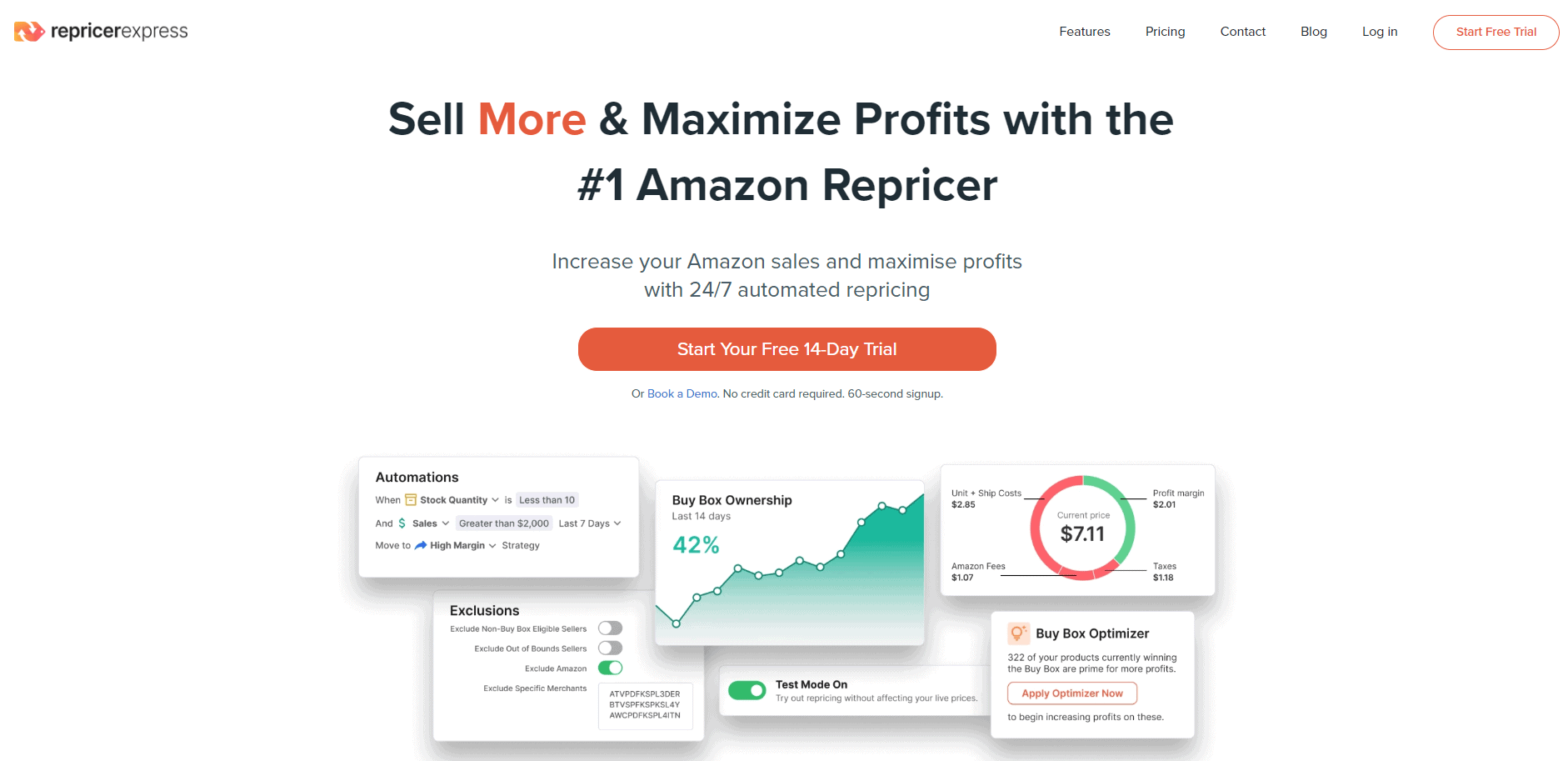 It lets you set competitive prices without losing margins. Set price limits, select rivals, and exclude vendors.
Data-driven technology prevents price inaccuracies. Based on stock levels, Buy Box performance, sales history, and other criteria, it automatically reprices.
Feedvisor is an AI-based platform for high-volume vendors with $100K in monthly sales.
Machine learning and AI algorithms provide reliable reporting and analytics. It largely optimizes pricing, brand, and advertisements.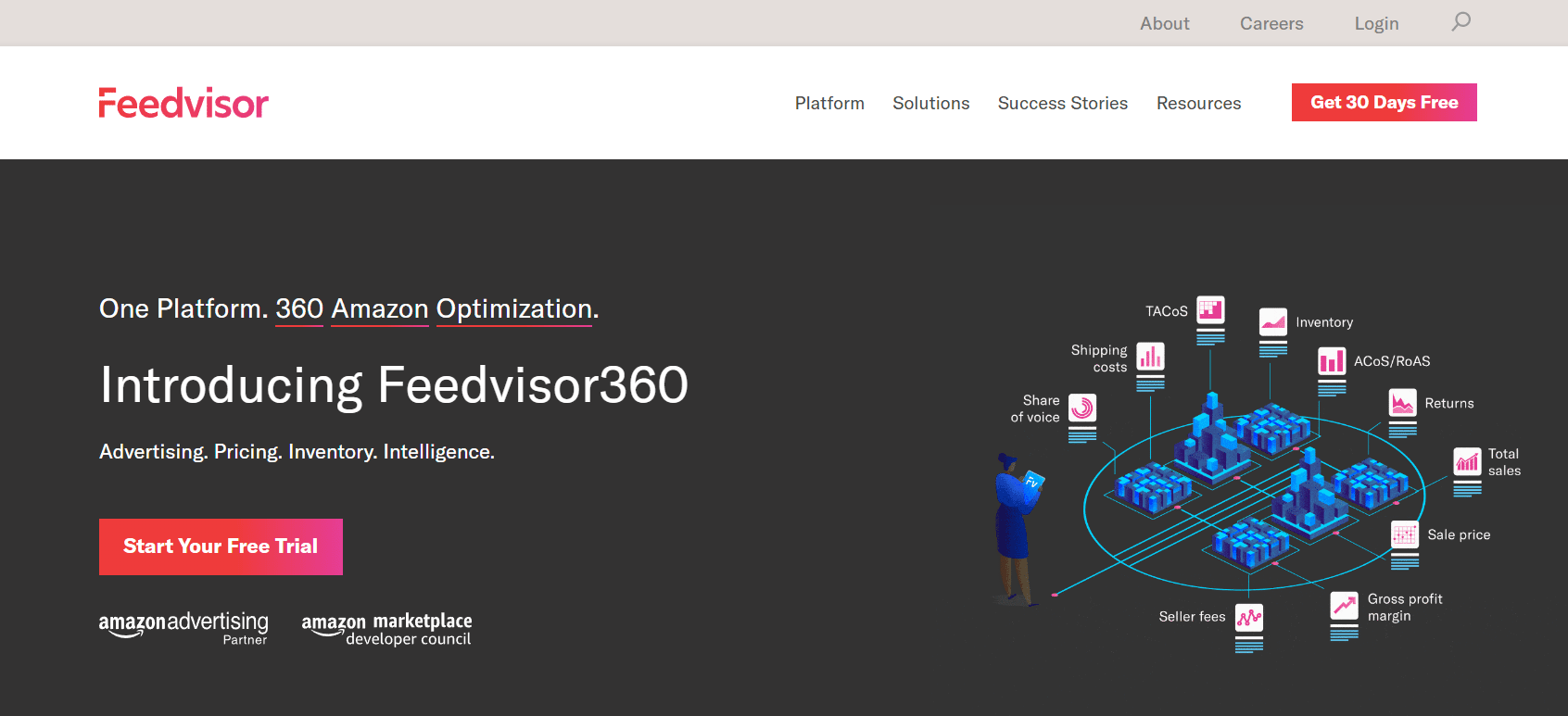 Its revolutionary Algo price helps you discover the optimum price for your items. It balances profitability and affordability using data to maximize sales.
Feedvisor offers deep-learning bid improvements and automatic keyword harvesting to improve ad campaigns. This tool may boost growth by improving product listings and pricing.
Pixelfy, created by Seller Tradecraft, is more than a URL shortener. Amazon sellers may leverage links and analytics to boost their audience and rankings.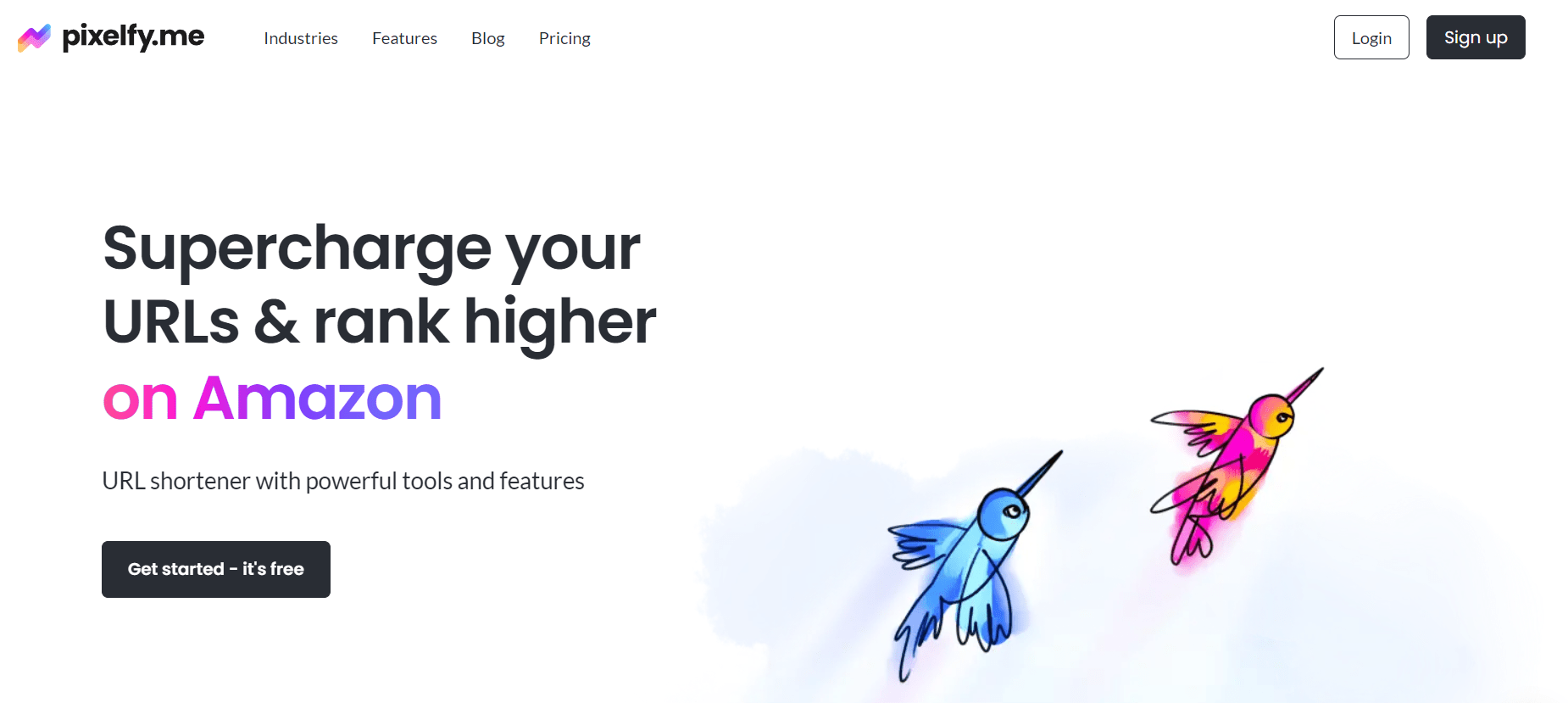 Pixelfy shortens Amazon URLs for ad platforms, social media, and email campaigns. Pixelfy embeds retargeting pixels into shortened links.
Sharing your link on social media tracks it. It provides consumer engagement statistics. This information helps improve retargeting efforts and sales.
7. Teikametrics:
AI-powered Teikametrics manages PPC campaigns. Its straightforward UI distinguishes it from other PPC management applications.
Teikametrics' visual interface streamlines PPC campaign administration. You may rapidly see all ad campaign customization tools.
This application is user-friendly, yet its capabilities may promote brand awareness, site traffic, and profitability.
Algorithmic keyword bidding optimization, goal-based campaigns, and keyword automation are its finest characteristics.
Customized reporting tools provide further information. Its powerful AI software provides data-driven insights for enhanced decision-making and effective automation to simplify operations.
Pacvue for Amazon integrates paid ads, retail operations, and market information.
Sellers may optimize Amazon PPC campaigns with rule-based automation, accurate bid control, budget pacing, and improved keyword suggestions.
Pacvue Product Center provides relevant retail data. Sellers and brands can quickly identify, stop, and continue advertisements depending on inventory levels and monitor ASIN-level performance.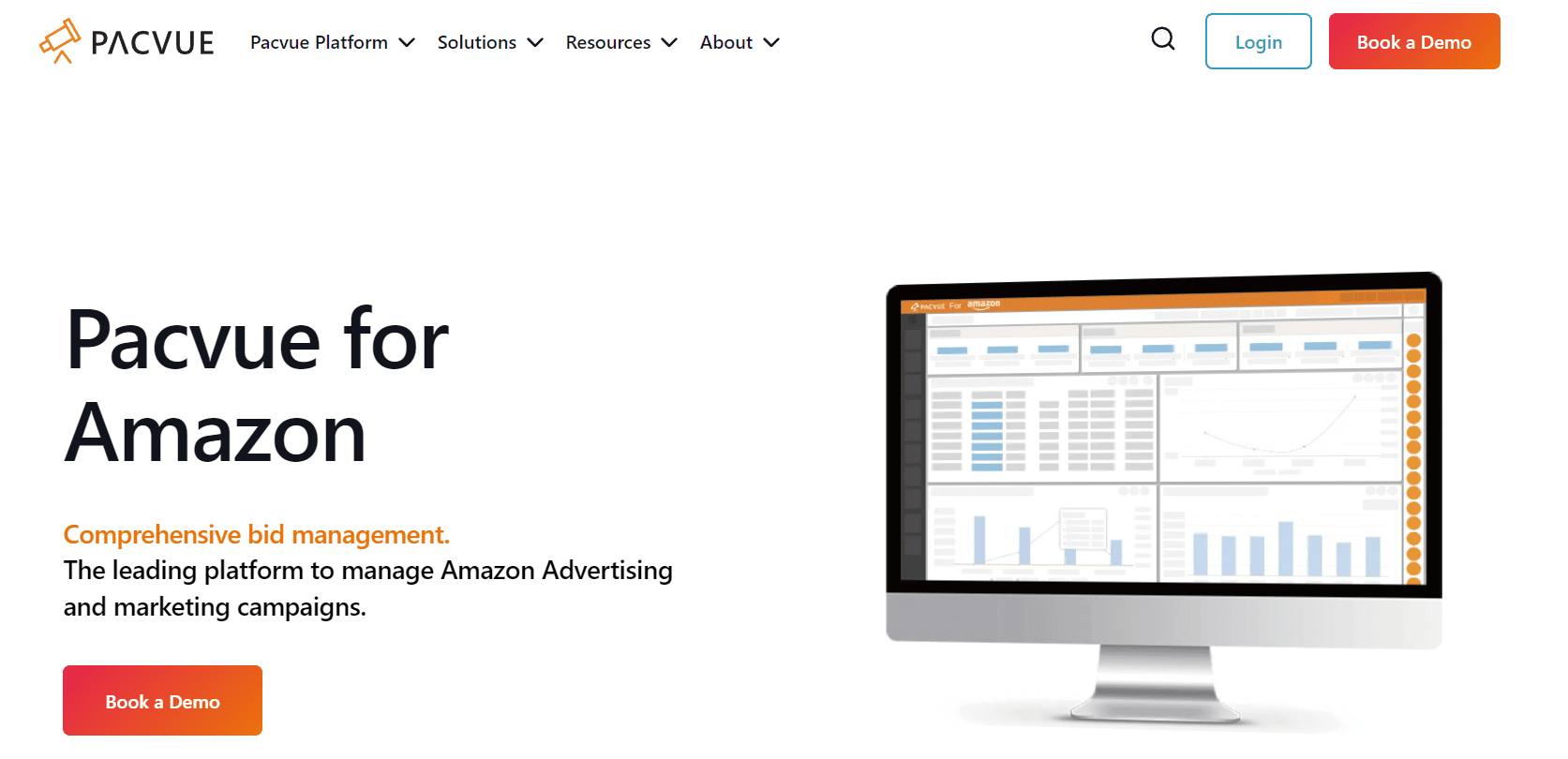 Pacvue's unique analytics tools help retailers make better Amazon business choices.
Share of Voice shows competitors, Category Intelligence benchmarks performance, and Content Management scores PDP performance in real-time.
Pacvue always introduces new eCommerce features first. Pacvue's new Paid Search Audit and Amazon DSP Audience Research & Creative Creation capabilities are effective.
Increase favorable reviews and control negative criticism to improve your online reputation. FeedbackWhiz excels at these tasks.
FeedbackWhiz automates customer feedback tracking. Negative reviews may be addressed instantly.
Additionally, you may automate customer emails. Thank consumers and request Amazon reviews with these customizable emails.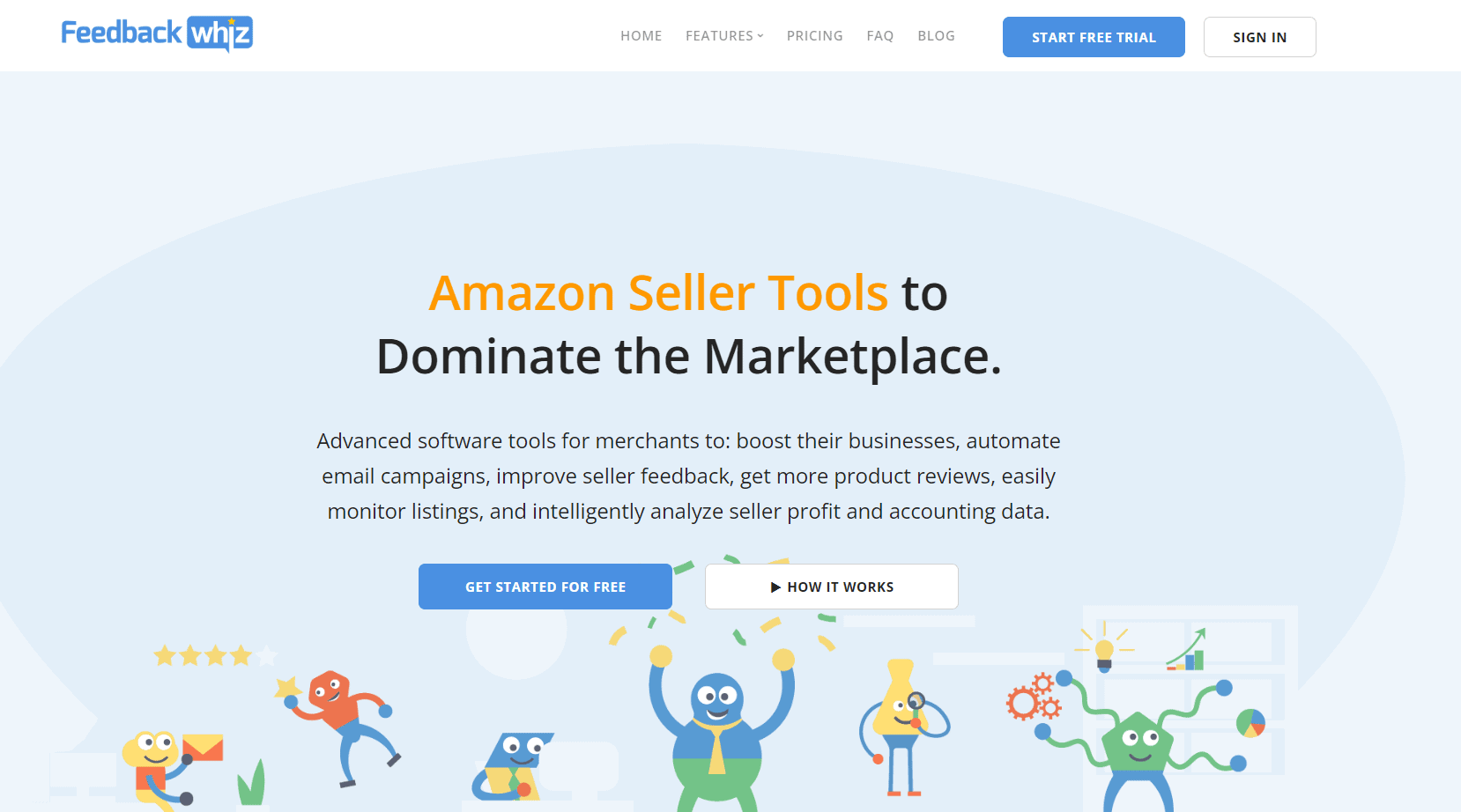 These emails are automatically monitored to gauge client interaction and decide which ones increase conversions.
FeedbackWhiz is a great email automation tool but not selling software. Use it to raise Amazon seller ratings and consumer interaction.
10. IO Scout – Amazon Product Finder
IO Scout's Amazon seller solutions assist in managing e-commerce firms. Like other suites, it has a keyword research tool, listing optimizer, sales estimator, and FBA calculator.
The IO Scout Product Finder is what merchants love about it. This program lets you search Amazon's 200 million goods.
Find high-margin, low-competition items using ASIN or keywords and complex filtering. Save searches, favorite goods, and discover new categories.
Additionally, the Product Finder helps you explore product statistics and trends. You may analyze historical data.
Quick Links:
Conclusion: Best Amazon Sales Tools 2023
At the end of the day, there is no one-size-fits-all solution when it comes to leveraging Amazon sales tools.
Depending on your budget, business goals, and operational needs, different solutions may be better suited for you.
However, we hope this article helped you better understand the different tools available to help you maximize your Amazon sales.