In this article, I am going to discuss Best Online Bookkeeping Courses 
Though bookkeeping has existed since the very beginning, it has been gaining popularity recently due to its need in everyday business. 
Many might consider bookkeeping as a very basic task, one will think that he or she has no need to learn this essential but it is an excellent essential for you to learn in the long run.
Here in this blog, you will know all that you need to know about the best Online Bookkeeping courses.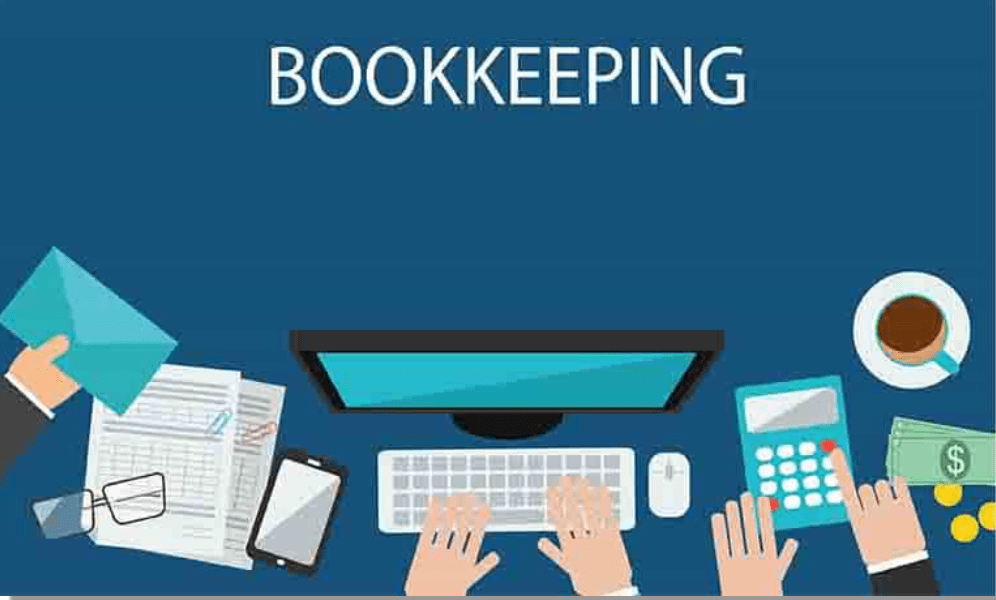 Also, read:
10 Best Online Bookkeeping Courses+Training 2023
Beginners- Best Online Bookkeeping Courses

 
1. Accounting Foundations: Bookkeeping by LinkedIn Learning 
Linkedin is considered to be one major site that influences companies, major hiring is done through Linkedin profiles these days. They have a very neat course on bookkeeping, the course is sorted into 5 major topics
Review of the financial statements
Steps in the bookkeeping process
How transactions affect the accounting equation
The general ledger
The first three steps in the accounting cycle.
The course has nearly 50k viewers as per the stats published on their official website.
The course is taken up by well-known professors Jim Stice and Earl Kay Stice, both accounting professors at BYU school of management. Both have PhDs in accounting and are well versed in their field of teaching.
They both have a very influential way of teaching and the course is very elegantly sorted for users to learn.
The course is about an hour-long split into smaller videos.
You can avail of a 1-month free trial on Linkedin, the pricing is at about $30 per month for non-Linkedin users.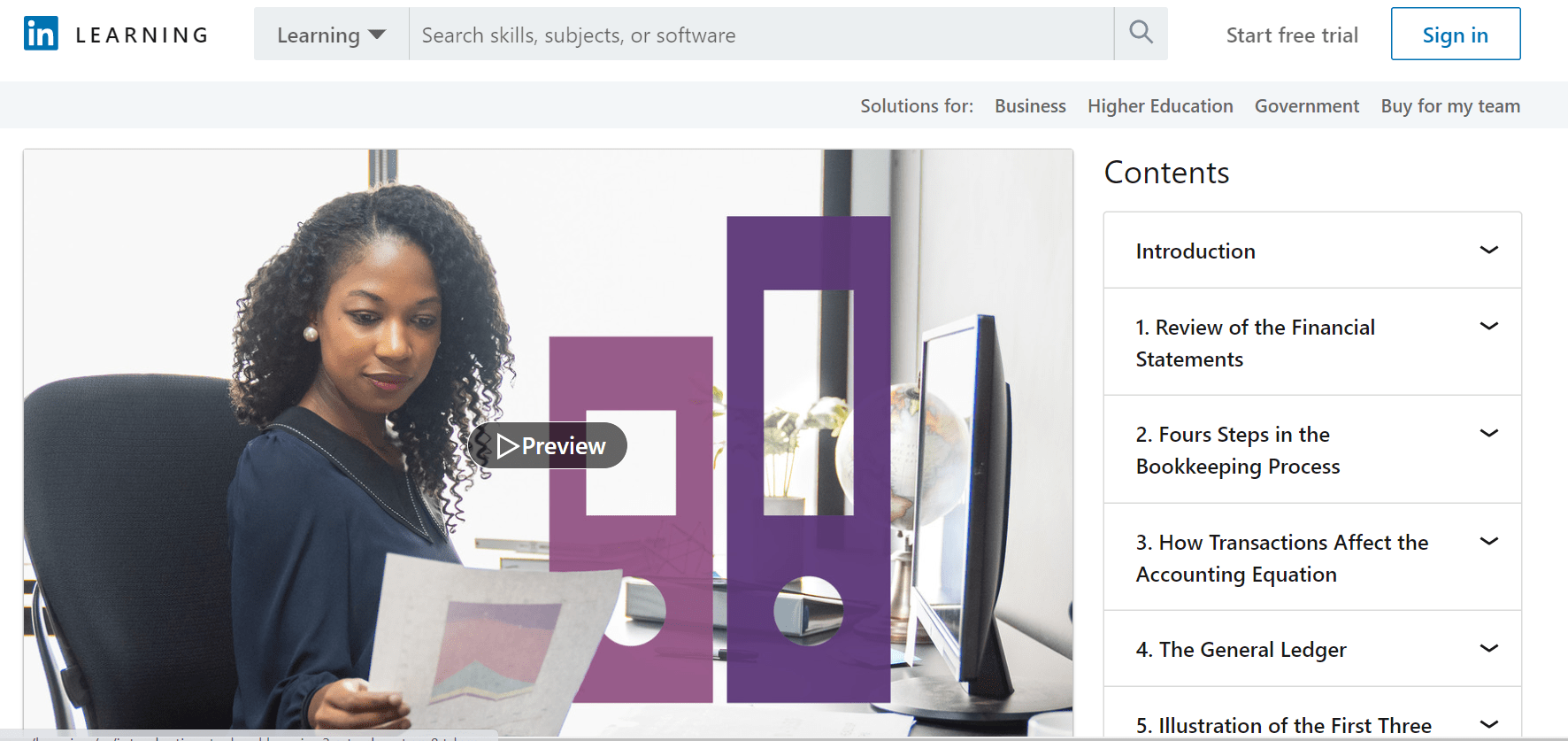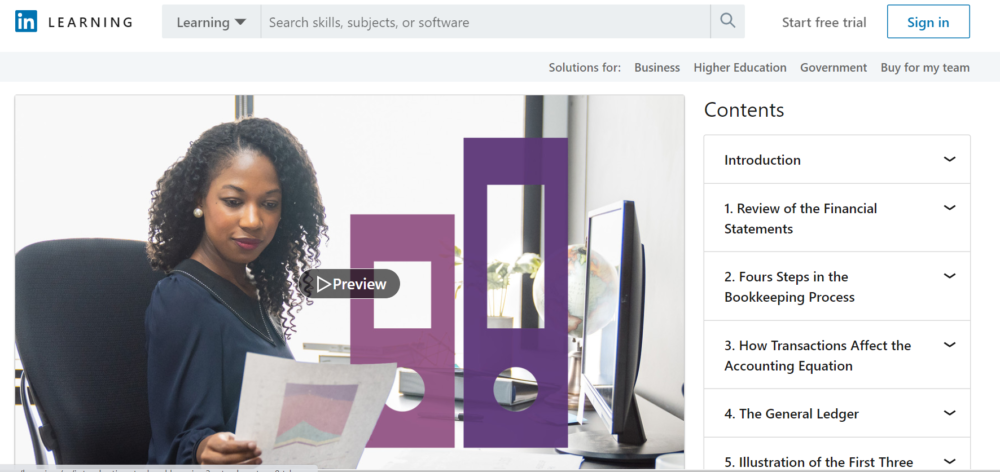 Do you want to create, develop, or sell online courses on your website? Consider using Thinkific to assist you to build your business's courses. Get special discount rates on Thinking by visiting here.
2. How to Handle your Finances- skillshare
This is the most recommended free course you will find on bookkeeping. If you're eager to learn and finding it hard to budget, then this course is the right decision for you.
Initially made for freelancers, this course can be taken up by people who want to upskill themselves as well.it is a beginner-level course making it easily accessible to all. 
The course has a duration of clubbed videos of about 40 minutes in total along with nearly 16 exercises focused strongly on building your organizational skills. 
The course is taken up by Emily Simcox, she is a bookkeeping trainer. She has strong practical work experience which comes in handy for her teaching. The site has had nearly 3800 students complete the bookkeeping course.
The best part is that skillshare gives a 2-month free trial for users to enjoy and learn this course.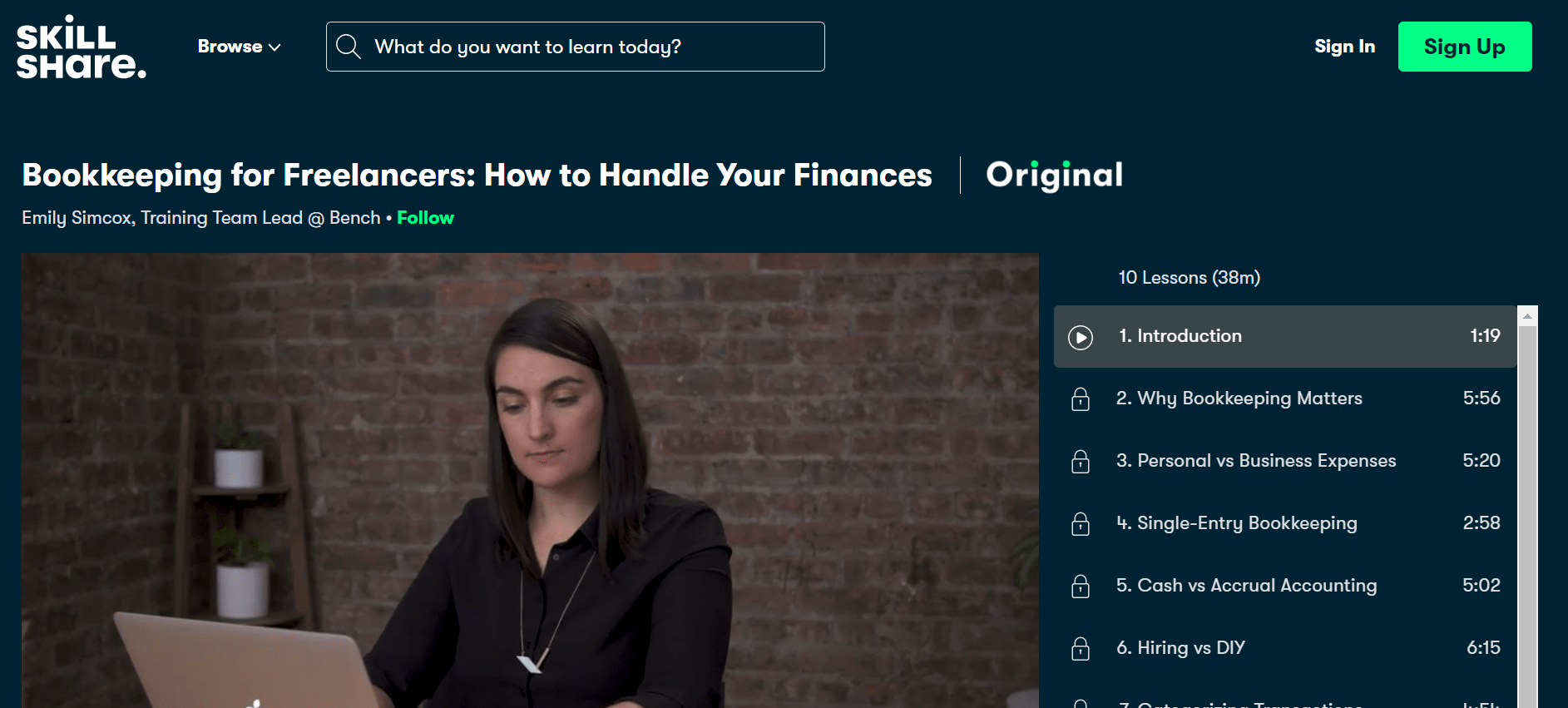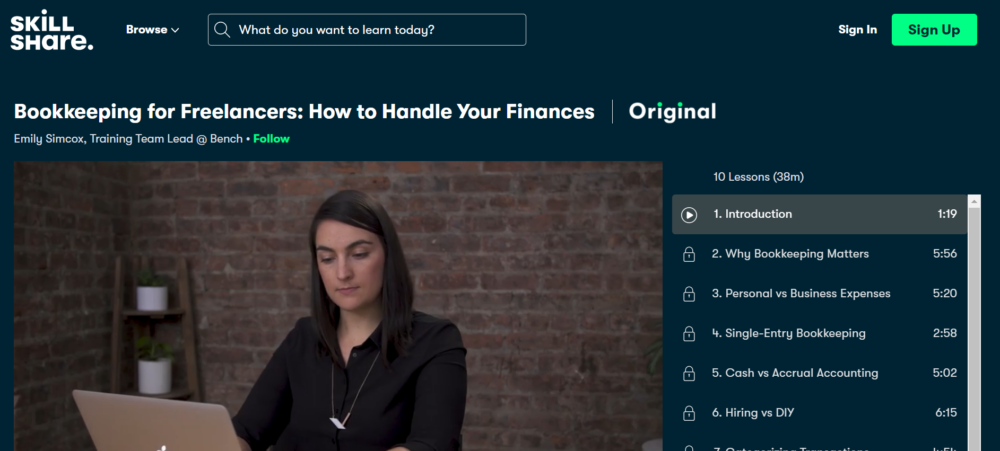 3. Fundamentals of Accounting and Bookkeeping on Udemy 
If you want to learn a quick skill in about 2 hours, Udemy is your go-to website. The concepts covered are 
Need & importance of accounting and book-keeping.

Classification of accounts in Real, Nominal & Personal A/c.

Understand the fundamentals of accounting.

Golden rules of Debit and Credit.

Impact of different accounting transactions on Financial statements.
They have really good offers for students on the site, the course offers the best basic knowledge of accounting and bookkeeping to its students. 
Nearly 2300 students have taken up this course previously, it is being taken up by instructors of LetsTute who are doing a fantastic job in explaining the basic concepts. 
The pricing for Udemy varies from region to region, so if you want to know the price range of this, pls refer to the official website. 
Udemy has been known for giving quality content. It has a global outreach and they have the best team of professionals working with them. A lot of the users from Udemy have given a fabulous response concerning the courses.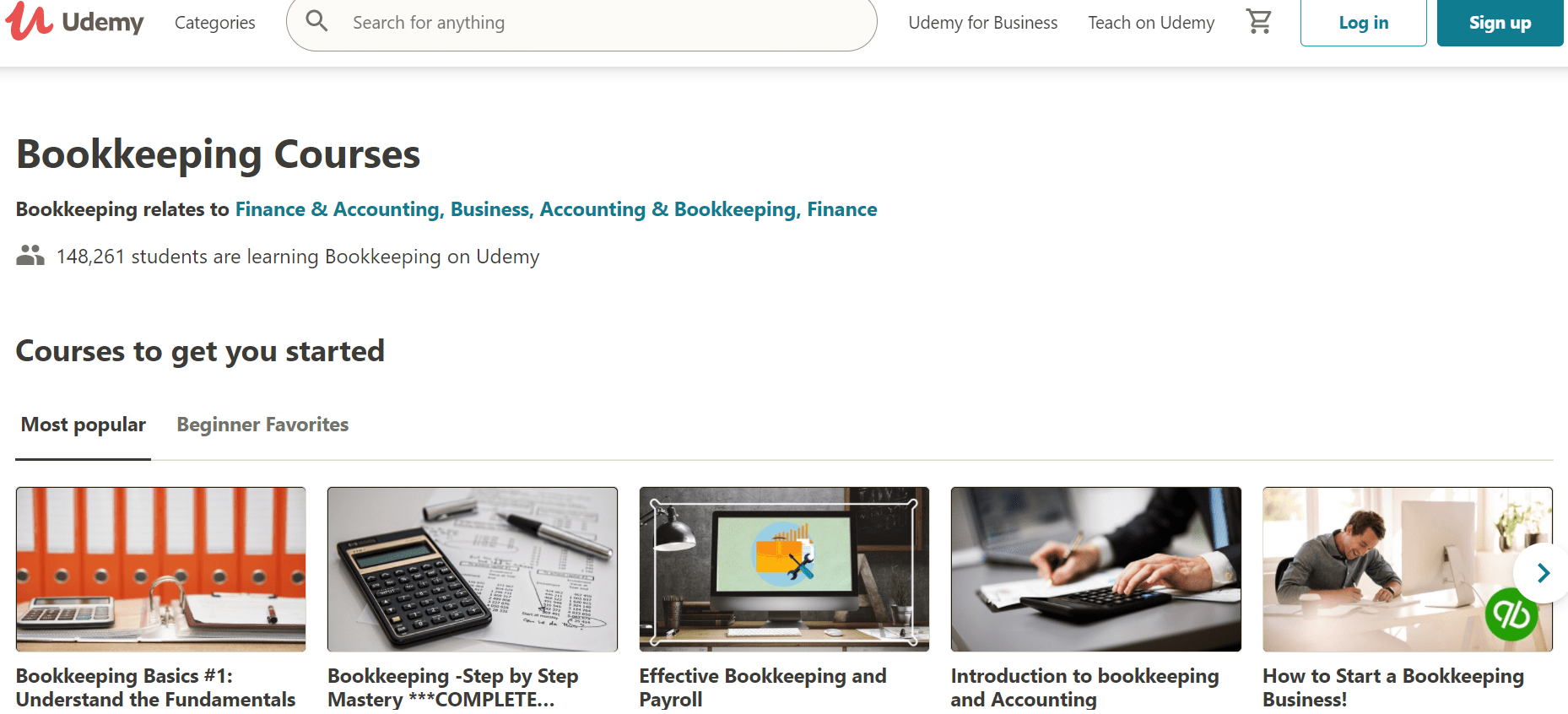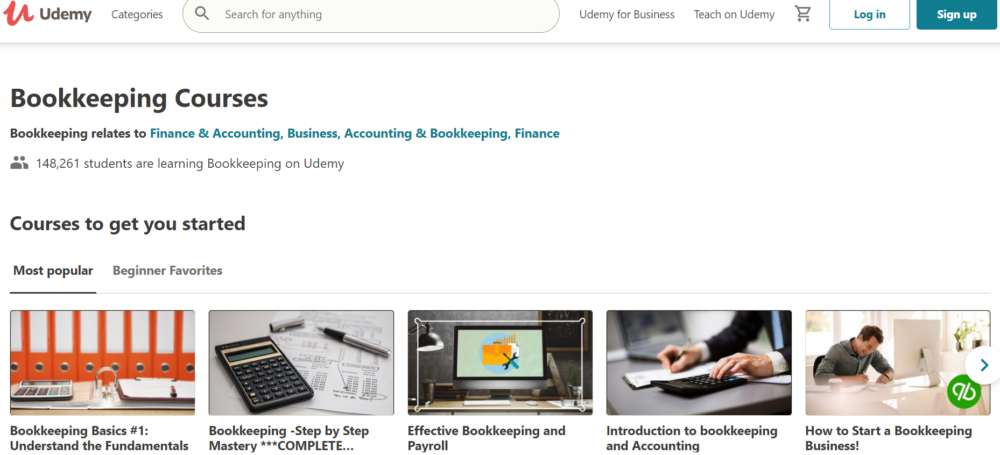 4. Bookkeeping Basics #1: Understand the Fundamentals by Udemy
Another Udemy bestseller, this course caters to the needs of individuals who have no prior accounting knowledge. You will be able to learn from videos of nearly 4.5 hours in duration and access nearly 50 supplementary resources to support your study. 
The course content includes
Income and tracking of income.

Claimable expenses.

The difference between Assets, Liabilities, and Equity.

The Five W's of Bookkeeping.

Transactions, The Fundamental Financial Equation, and Charts of Accounts.

Accounts Receivables and Accounts Payables.

Going through Financial Reports and analyzing them.

Business terms like Mileage Tracking, Credit Terms, Shipping, and Freight, Trade Discounts.

Top 10 Mistakes Small Businesses Make.    


5. Introduction to Bookkeeping and Accounting by Open.edu
Openlearn is known for reaching out to its users and providing them with great content. They even stream on televisions in some countries.
This bookkeeping course is taught by professional and highly trained instructors, the course is about 8 hours long, it offers you to watch the videos at your speed also.
It teaches u a lot more than just basic stuff, you learn ledger and journal also along with bookkeeping. 
The course content includes
Essential numerical skills.

Double entry and bookkeeping.

Double entry and profit and loss.
The course can be downloaded by you onto another device, you get a certificate on its completion.
It is a free course, all you have to do is sign up on their website and start your course.


Advance Courses- Best Online Bookkeeping Courses
1. Bookkeeping and Accountancy Complete Course by Udemy
Unlike the previous courses on Udemy, this is a complete package of bookkeeping content. It offers the most advanced content for you to learn and become bookkeeping professional.
This advanced course covers 16 hours of learning split into 100 videos and nearly 25 documents to download and read.
There are a total of 7 modules, the first 2 modules are a summary of the beginner and intermediate bookkeeping courses.
The course is taken by instructors from LetsTute Make it Easy, an institution with experts in the field of accountancy.
The course starts at a basic price of $35 only. Yes, you read it right, that's all that takes you to become a bookkeeper.


2. QuickBooks: Advanced Bookkeeping Techniques by LinkedIn Learning
If you are QuickBooks user, then you should take up this advanced bookkeeping techniques course offered at Linkedin. 
It helps you master how to master the software to carry out your day-to-day transactions at ease.
The course includes 2 project files and has 7 quizzes in it. 
The course is taken up by Bonnie Biafore, she teaches us the essentials on how to use the software from scratch.
The course is free of cost if you're a Linkedin registered user. However, you can apply for a 1-month free trial if you are not on LinkedIn.
Getting a Quickbooks course free of cost is the best you can get anywhere for a job hunter. The majority of the market uses Quickbooks these days and learning it for free of cost is a bonus.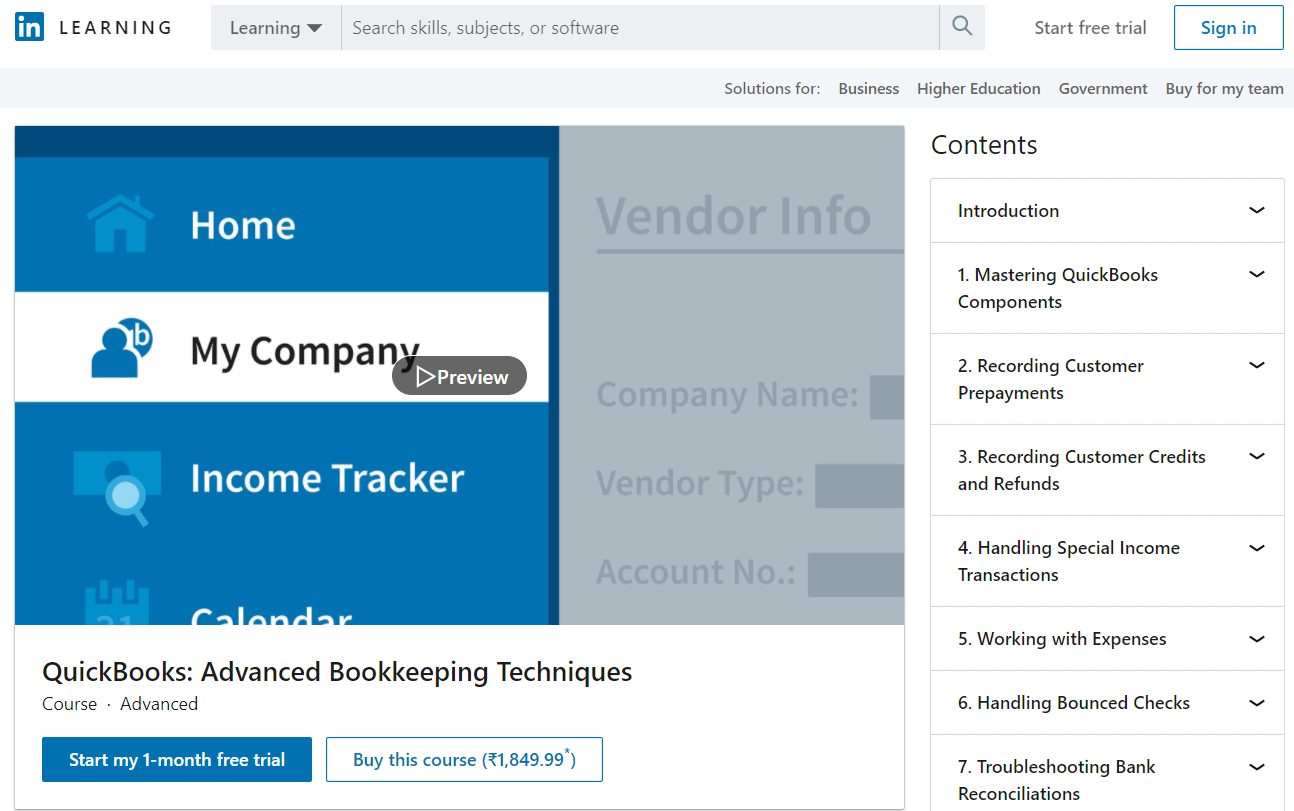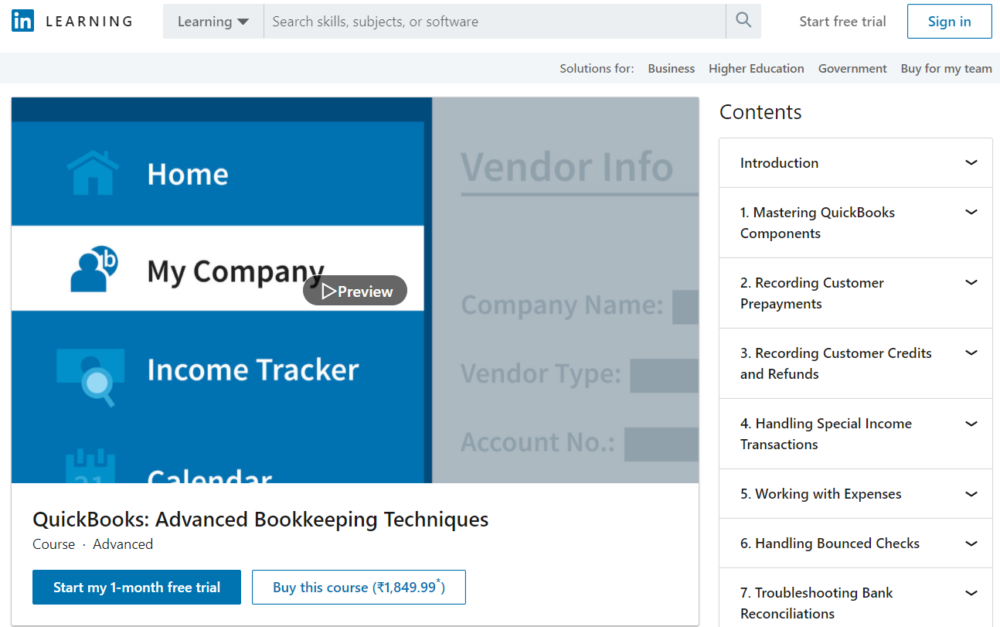 3. Excel for Accountants by LinkedIn Learning
Another top course on Linkedin, it offers advanced bookkeeping content along with excel. This is a total job-based course as it helps you with financial analytics along with bookkeeping.
If you know financial analytics and bookkeeping, you can easily get a good job as a financial analyst. 
The course content includes topics like
Major tasks in the accounting industry.

Small business bookkeeping in excel.

General ledger in excel.

Business valuation in excel.
The course is designed for working professional students who want to have a future in this field
The course is taken up by Mr. Michael Mcdonald, he is a researcher and professor of finance at Fairfield University. He is also a partner at Morning Investments.
The course has crossed 122 k users already, it's a top-notch for anyone who wants to upskill themselves and become a financial analyst or an expert bookkeeper.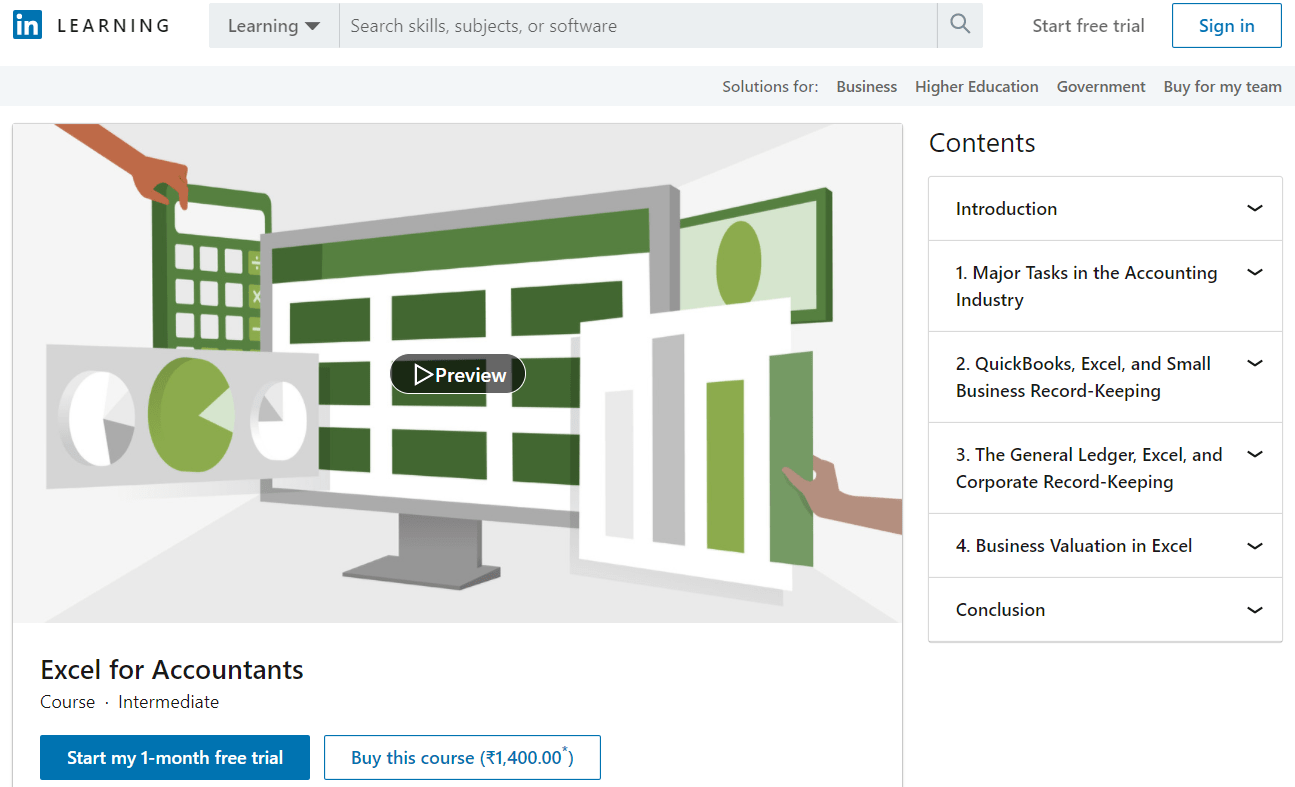 Overview of The Best Online Bookkeeping Courses
The demand for bookkeepers is increasing and with all the recent launches in bookkeeping courses, a lot of users are attracted to learn the skill. 
The internet has a very wide scope and you always want to get the best out of it for yourself, you might search a few websites for courses but that might leave you in a dilemma.
In this fast-moving world, we want things at our hands with just the click of a button, this blog will help you to know why bookkeeping is important and how you can build yourself a career in bookkeeping as well as grow in the skill.
How can Bookkeeping help you?
This is the most commonly asked question, so before jumping on the courses let me convince you how bookkeeping courses online are going to help you in the long run.
1. You'll spontaneously be capable to fit for jobs
You don't have to graduate to get a job, just do the course, and boom you're in for the job. The best part is it is free of cost on the internet and you can learn it instantly.
2. You'll get more options
 A bookkeeper is needed in every small business going all the way to MNCs. you have a very wide scope to search for a good job. 
3. You are your own boss
As a qualified bookkeeper, you don't have to worry about anyone else bossing over you, you can choose your type of client and work as a freelancer as well. 
4. Easy to learn a skill
With all these new courses coming up online, you can learn bookkeeping through courses at your fingertip.
Is It Worth doing a Bookkeeping Course?
As you come across bookkeepers, you will see many of them would say that they are self-taught bookkeepers. Self-teaching is a great free of cost technique to learn but you must realize it comes at a cost.
You need to continuously practice for a longer duration with repeated mistakes that you might take days to figure out.  
Many people who do bookkeeping themselves keep on messing up their books to such an extent that they end up hiring a bookkeeper to clean their mess. 
If you want to do your books by yourself, take up bookkeeping courses.
These will boost your knowledge on the topic heavily and this way you can continue bookkeeping as well as avoid the bookkeeper's cost for the rest of your business life.
Who can do a Bookkeeping Course?
A bookkeeping course can be done by well-known people from various fields taking up bookkeeping courses.
Who can take up this Course?
Anyone who wants to learn bookkeeping for small or medium-sized businesses can take up this course as it is specifically designed for them. Individuals who want to file their tax returns can take up this course as well to grasp better financial and bookkeeping knowledge.
Why Bookkeeping Online Courses over Real-time Classes?  
Doing courses online gives you the benefit of learning skills at your convenience of time. 
You may watch it while you are working or even before you go to bed. These online courses are self-paced, they go hand in hand with you and help you learn the skill at the pace you are willing to learn.
You could finish it in one week in case you already have good knowledge of bookkeeping or it might take you two or three weeks as well depending on the number of classes the course is offering.
You also have the advantage of rewatching whatever class you attended over and over again to understand concepts in-depth, this is difficult in real-life classes.
Courses usually offer you deadlines to keep you on track, however, sites like EDX and Coursera make the deadlines flexible for you.
Instructors
Knowing your educators is very important, doing courses through institutions or business schools usually gives you good learning from very trained professors but here you have an advantage of learning skills from Industry experts, you get to learn from people who have been practicing the skills for years before they teach you.
Many prefer learning from industry experts these days.
Once you know if you see bookkeeping as a career option and you want to learn the skill, you wonder what's the right course for you to learn the skill. In this blog, you will find the top picks for the best bookkeeping courses online.
After great research on bookkeeping courses online, Here are my top picks for you from world-famous universities, organizations, and sites including EDX, Coursera, and ACCA.
The courses will be explained out to you along with their price range.
Quick Links
FAQs | Best Online Bookkeeping Courses
🙋‍♀️ What qualifications do you need to be a bookkeeper?
A basic certificate in bookkeeping or accounting can get you a bookkeeper's job these days.
👍 Can I self-teach bookkeeping?
Learning bookkeeping by yourself is possible but it is time-consuming. Learning it through free online courses could be much more beneficial.
🙆 Is bookkeeping and accounting the same?
Bookkeeping is merely the recording of financial transactions whereas accounting as a whole has a much wider scope.
🤟 Can bookkeepers file tax returns?
A qualified bookkeeper will surely have sufficient knowledge to file the tax returns for himself o even for a sole proprietor or small business.
🙋‍♀️ Is bookkeeping hard?
Bookkeeping could be one of the most basic skills any individual irrespective of the field can learn and practice.
👉 How much does a bookkeeper make an hour?
Well, that again depends on your region and the market situation there but it might range somewhere between $18 to $23 hourly.
Conclusion | Best Online Bookkeeping Courses 2023
Don't waste any more time searching courses, just enroll yourselves in any of the above-mentioned courses, and start learning.
Bookkeeping is a skill, you might not need years to learn, sometimes you need to follow just the basic rules taught to you in the course. 
Courses are a great thing to do if you are someone who follows a systematic approach to everything. We should always focus on learning new skills, with growing competition in all fields, the more talent you have, the more you are accepted in the industry. 
It need not be only people who are looking for jobs that go for bookkeeping or any course in that matter, you must consider knowing bookkeeping even if you are a small business owner so that it can strongarm you with knowledge and you can eventually understand and let grow your business.
My recommendations for anyone who wants to take up bookkeeping would be for you to take up any of the top free beginners bookkeeping courses.
Learning the basics is very important, I feel that if you have a strong base then you can make the rest of the path smooth. for advanced research, you can do an advanced level course so that u can add on to the strong base which you have by learning advanced skills.
I hope you find the Best Online Bookkeeping Courses from this guide.