Software as a Service (SaaS) is a term used to describe cloud-based software that businesses can use to streamline their operations and create efficiencies.
It's no wonder why more and more businesses are turning to SaaS websites every day. Here, we've compiled some of the most popular SaaS websites available today that can help you grow your business.
You don't want to miss out on your share of the business, especially considering that large businesses are accelerating the digitalization of customer and supply-chain interactions as well as their internal operations by three to four years and that a third of small businesses have increased the amount of money they spend annually on SaaS to $1.2 million, up from 20%.
Consumers anticipate that your company will have a website that is appealing to the eye and has an interface that is simple, user-friendly, and obvious.
Even though there are no set-in-stone regulations for SaaS design, there are a lot of best practices and features that you can incorporate into your website to ensure that it has the greatest design of any website in your sector.
What is a SaaS website?
A SaaS (Software as a Service) website is an online platform that provides software applications and tools to users on a subscription basis, rather than requiring them to purchase or install software on their own systems.
These web-based services utilize cloud computing technology, allowing users to access the software and its features via the internet, typically through a web browser.
SaaS websites offer a wide range of benefits for both users and software providers. Some of these benefits include:
1. Ease of Access:
Since the software is hosted in the cloud, users can access it from any device with an internet connection, including computers, tablets, and smartphones.
This offers flexibility and convenience for users in terms of when and where they can use the software.
2. Lower Upfront Costs:
The subscription-based pricing model of SaaS websites eliminates the need for large upfront investments in software licenses and hardware infrastructure.
Users can opt for monthly, annual, or other subscription plans based on their needs and budget.
3. Scalability:
SaaS websites allow businesses to scale up or down their software usage based on their requirements.
Subscribers can add or remove features and services as needed, which makes it highly adaptable to the changing needs of businesses.
4. Automatic Updates:
SaaS providers are responsible for maintaining and updating the software, ensuring that users always have access to the latest features and improvements without any extra cost or effort.
This also minimizes the risks associated with outdated or unsupported software.
5. Enhanced Security:
Since the software is hosted in the cloud, reputable SaaS providers implement robust security measures to protect user data and ensure privacy.
This may include data encryption, secure data storage, and regular security updates.
6. Faster Deployment:
Unlike traditional software installations, SaaS websites can be accessed instantly once a user subscribes to the service. This enables users to start utilizing the software immediately without any complicated setup processes.
SaaS websites cover a wide variety of industries and purposes. Some examples include:
1. Customer Relationship Management (CRM) platforms, like Salesforce, help businesses manage their customer interactions and sales processes.
2. Enterprise Resource Planning (ERP) systems, such as NetSuite, streamline business operations like finance, inventory management, and procurement.
3. Project management and collaboration tools, like Asana and Trello, help teams schedule, allocate and track tasks and resources.
4. Marketing automation and analytics platforms, like HubSpot, allow businesses to execute and measure the effectiveness of their marketing campaigns.
What makes a good SaaS website?
1. User-Friendly Interface
 A good Software-as-a-Service (SaaS) website should be user-friendly, secure, fast, and reliable. It should also provide helpful customer support services to ensure users can quickly receive assistance when needed.
Additionally, it should offer a wide variety of features and services that are tailored to the needs of users in order to make their experience as seamless as possible.
 2. An intuitive and easy-to-navigate layout
In terms of design, a good SaaS website should have an intuitive and easy-to-navigate layout that is visually appealing and encourages users to take action.
The site should also be optimized for various devices such as desktop computers, tablets, and mobile phones so that users can access the website from any device.
Moreover, it should incorporate modern web technologies such as responsive design and CSS3 animations to further enhance the user experience.
3. Security
Security is another key factor in creating a successful SaaS website. To protect user data from unauthorized access or theft, the site must employ strong encryption methods and use two-factor authentication for logins.
Furthermore, proper measures must also be taken to protect against cyber threats such as malware and ransomware attacks by utilizing robust firewalls, antivirus programs, regular security audits, and other security measures.
10 Best SaaS Websites 2023
Now that we've covered the fundamentals, let's take a look at ten of the most successful SaaS websites, which you can use as a foundation for designing your own SaaS website.
Each of these websites, which are managed by some of the most well-known SaaS organizations, has demonstrated that it is superior to the others in terms of the design elements, characteristics, and best practices that it employs:
Kajabi is an exceptional SaaS (software as a service) website due to a combination of features, benefits, and proven success in assisting businesses and entrepreneurs in creating and selling online courses and digital products.
The platform offers a full suite of tools that not only make it a powerful SaaS offering but also ensure users are able to create and manage their digital products efficiently and effectively.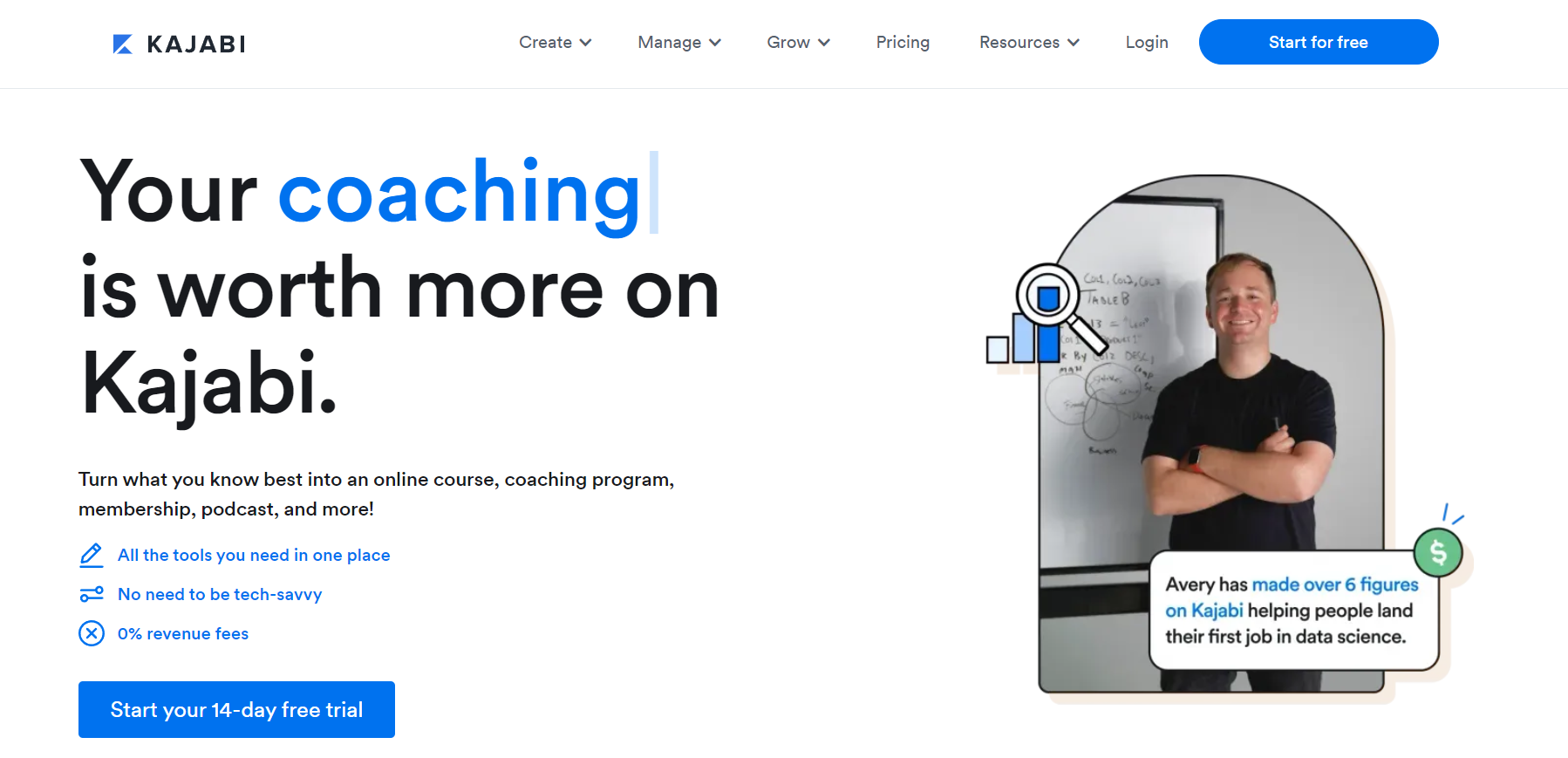 Kajabi incorporates all essential tools and features needed to create, market, and sell digital products under one unified platform.
This makes managing a digital product a hassle-free experience for users.
They can handle everything from creating content, designing websites and landing pages, to managing email marketing and customer relationships without relying on multiple tools and integrations.
Kajabi boasts a user-friendly interface and an intuitive design, making it easy for users to navigate and efficiently operate the comprehensive array of tools.
The drag-and-drop functionality ensures that users can create and customize their digital products without needing any technical knowledge or coding skills.
The platform offers numerous beautiful and responsive templates for users to choose from, enabling them to create professional-looking websites, landing pages, and digital products that are visually appealing as well as mobile-friendly.
Kajabi supports a robust set of e-commerce functionalities, such as payment processing, shopping cart, and order management.
It enables users to sell their digital products with various pricing options, including subscriptions, one-time payments, and payment plans.
Additionally, it supports built-in affiliate marketing and tools to help businesses increase their sales and reach a broader audience.
Kajabi provides users with comprehensive analytics and reporting tools, allowing them to track and analyze their online course or digital product performance.
These insights help users make data-driven decisions to optimize their offerings, enhance user experience, and drive maximum conversions and revenue.
Kajabi offers excellent customer support, providing users with access to various channels, including email support, live chat, and a comprehensive knowledge base.
This ensures users can quickly resolve any issue or concern they may encounter while using the platform.
Kajabi is built to grow your business, providing multiple pricing plans that cater to different user needs, from entrepreneurs to established enterprises.
It allows users to scale their business as their digital products and customer base expand, without the need to switch platforms or incur higher costs and save on migration efforts.
Kajabi is an evolving platform, continuously updating its features and functionality to ensure they are up-to-date with the latest industry trends and technology standards.
This commitment to improvement ensures users are able to remain competitive in the digital marketplace.
Hubspot makes a great SaaS website because it is a comprehensive marketing and sales platform that offers small and medium businesses the ability to manage all aspects of their digital presence.
It offers features such as lead management, email marketing, content creation, and social media management.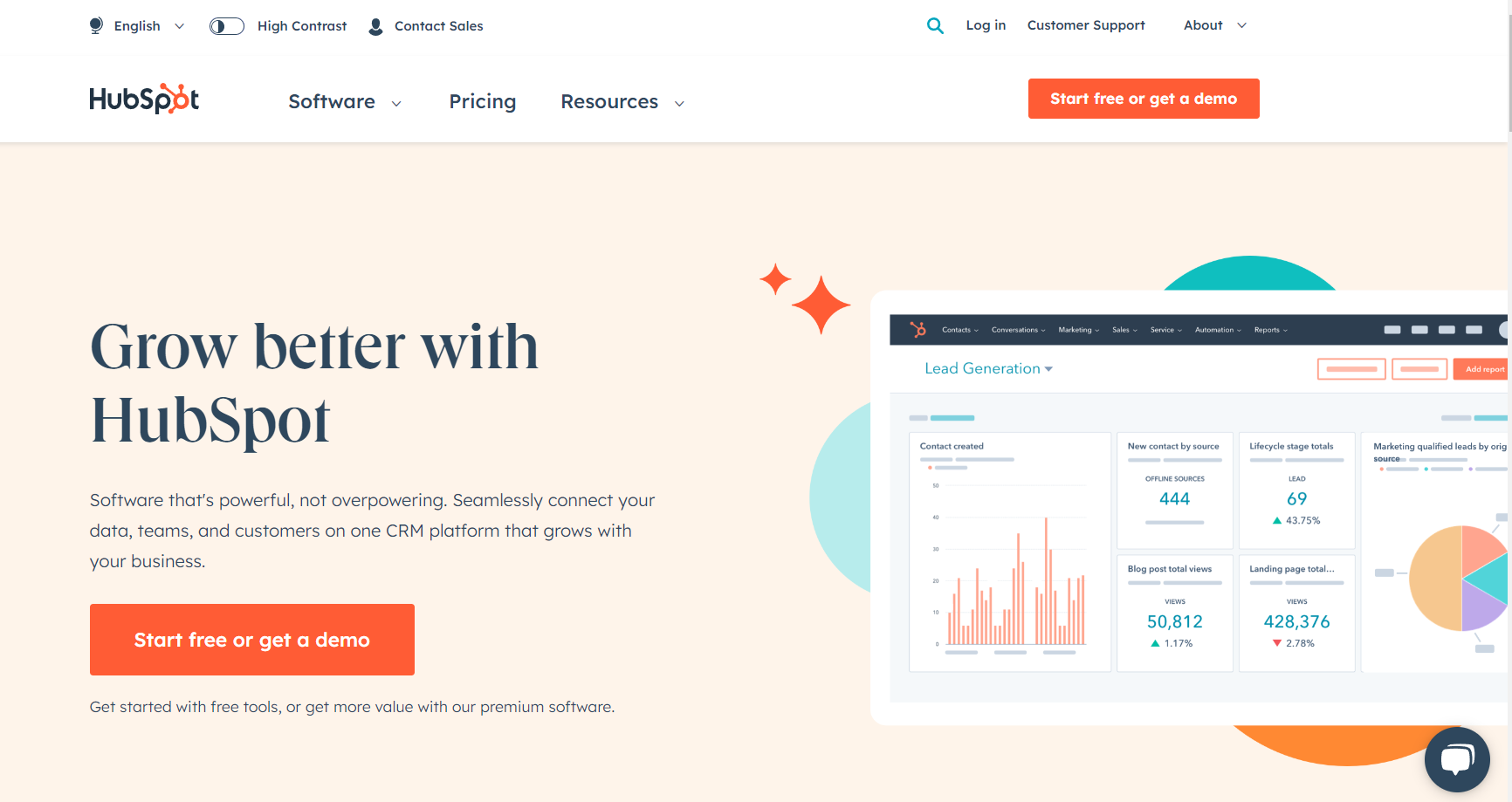 With Hubspot, businesses can generate more leads and conversions, improve customer engagement, increase brand awareness, and create content that resonates with their target audience.
HubSpot is one of the best SaaS sites because it offers an all-in-one inbound marketing and sales platform, including CRM, email marketing, social media management, and more.
The site has a user-friendly interface, comprehensive product information, and excellent customer support.
Beyond its comprehensive feature set, Hubspot's user interface is also extremely intuitive and easy to use.
The platform's drag-and-drop capabilities make creating webpages, campaigns, landing pages, forms, and emails fast and straightforward.
Additionally, its analytics dashboard offers detailed insights into performance metrics such as website visits, leads generated, conversion rates, etc., so users can track the results of their efforts in real time.
Finally, HubSpot provides support for users in the form of tutorials on how to get started with their platform as well as helpful customer service 24/7 via phone or email.
This ensures that any user who faces any technical issues or difficulties while using the platform can get help quickly and easily.
This comprehensive suite of support options ensures businesses won't be left hanging without guidance when they hit a roadblock while using the product.
Dropbox exemplifies an efficient and robust Software as a Service (SaaS) website due to various factors that encompass its powerful technology, ease of use, and flexibility.
Drawing from its deep understanding of user needs, Dropbox has managed to address the increasing reliance on cloud storage and collaborative software among businesses and individual users alike.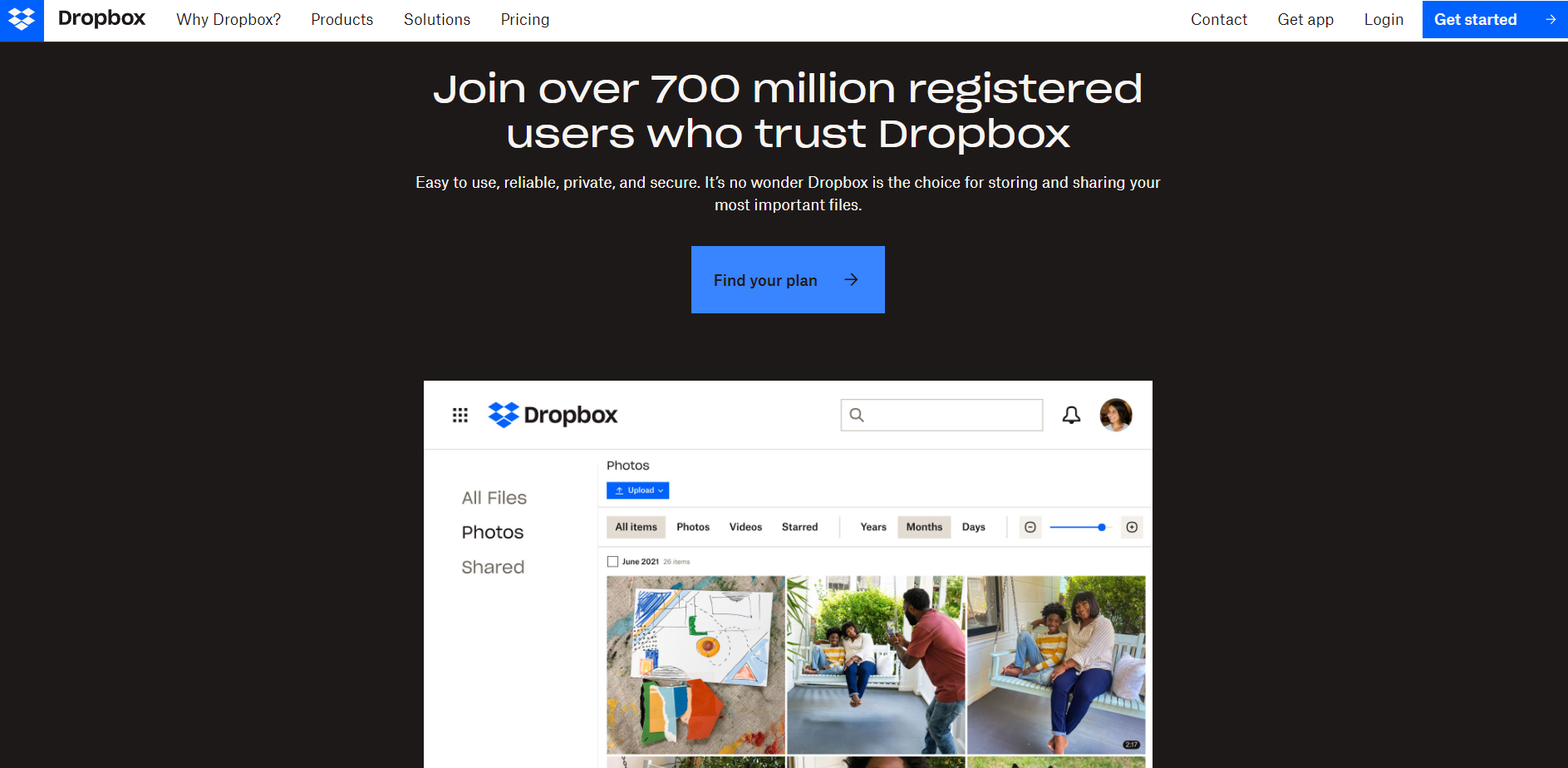 Specific elements highlighting Dropbox's position as a reliable SaaS platform include its seamless integration, robust security features, effective collaboration tools, and cross-platform compatibility.
First and foremost, Dropbox's seamless integration with various applications contributes to its position as a good SaaS website.
Its compatibility with numerous third-party apps such as Microsoft Office, Google Workspace, Adobe, Slack, and Trello, to name a few, allows users to manage their files and workflows efficiently.
This seamless integration empowers users and businesses to centralize their data and enhances overall productivity.
Additionally, robust security features are paramount for any SaaS website, and Dropbox excels in this area.
With multiple layers of security, including encryption for stored files and data transfers (256-bit AES and SSL/TLS), Dropbox prioritizes the privacy and protection of user information.
Also, two-step verification and single sign-on options provide an added layer in reinforcing authentication processes.
Moreover, Dropbox follows GDPR guidelines and adheres to several security certifications, including ISO 27001 compliance, ensuring it stays abreast of industry standards.
Effective collaboration tools also play a vital role in making Dropbox a useful SaaS platform for its users.
The ability to share files and folders with customizable permissions allows businesses and individuals to collaborate and maintain control over shared documents.
Additionally, it's real-time syncing ensures all members involved can access the most current version of a file, preventing version conflicts and facilitating seamless cooperation.
Furthermore, Dropbox Paper, an intuitive document editing and collaboration tool, enhances the ways in which users can work together in real-time.
Dropbox's cross-platform compatibility manifests itself as another significant aspect contributing to its success as a SaaS website.
Accessible on Windows, macOS, Linux, Android, and iOS platforms, Dropbox ensures users can access their files and folders no matter the device.
This ubiquitous availability ensures convenience and flexibility for users who work on multiple devices or in different environments, reflecting the platform's commitment to mobility and adaptability.
Ghost is an excellent choice for a SaaS (Software as a Service) website due to its robust features, ease of use, seamless performance, and high customizability.
With its semantic-rich content management system (CMS), Ghost serves as a reliable foundation for a remarkable SaaS website.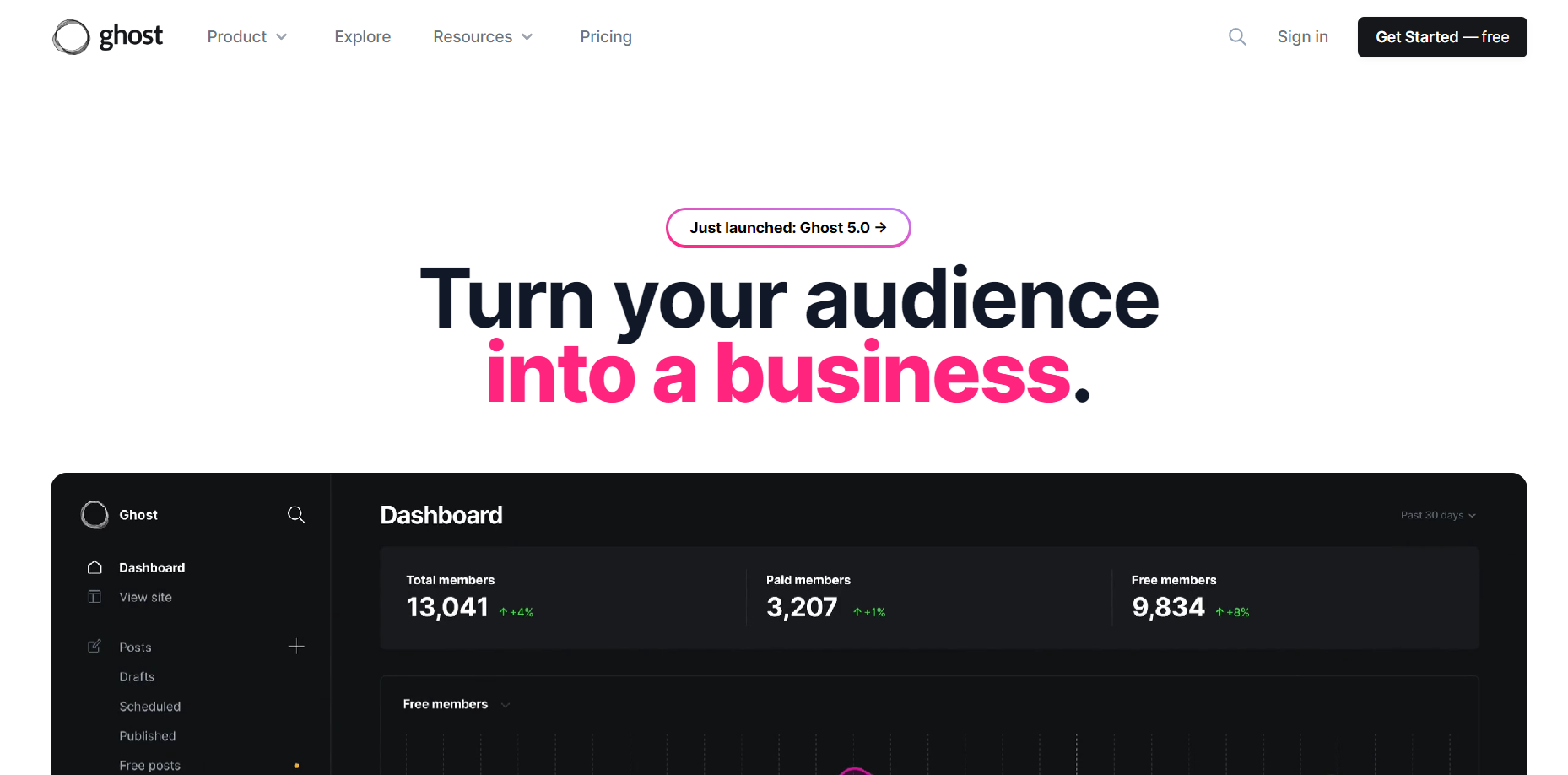 One of the primary reasons that Ghost makes a good SaaS website is its modern approach to content management and delivery.
Ghost's core focus on providing a clean, minimalistic, user-friendly interface sets it apart from other heavy and cluttered legacy CMS platforms.
Its well-structured codebase and efficient architecture enable fast-loading pages, ensuring a top-notch user experience for your SaaS customers.
Another distinctive feature of Ghost as a SaaS website is its powerful API capabilities.
Its RESTful API, webhooks, and flexible content framework make it easy for you to integrate and access data from different sources, as well as build custom applications on top of the Ghost platform.
This greatly enhances the scalability of your SaaS website, providing immense adaptability as your business grows and evolves.
Ghost's commitment to a robust and secure infrastructure makes it an ideal choice for a SaaS website. Built on the Node.js platform, Ghost ensures excellent performance and provides a secure environment for your website.
Its emphasis on rigorous security measures through regular updates and patches further contributes to a stable and trustworthy foundation for your SaaS business.
Another crucial aspect of Ghost that makes it suitable for a SaaS website is its emphasis on SEO optimization.
With built-in optimizations like automatic XML sitemaps, Google AMP pages, and semantic markup, Ghost makes it easy to rank well in search engines.
This ensures that your SaaS website reaches a broader audience, generating maximum visibility for your business.
The high degree of customizability that Ghost offers also contributes to its popularity as a SaaS website option.
Its easy-to-use templating system, Handlebars, enables you to modify every aspect of your website's design, making it a visually powerful tool for branding your SaaS business.
Additionally, Ghost's thriving ecosystem of themes, plugins, and integrations allows you to tailor your SaaS website's functionality to suit your specific business needs.
Finally, Ghost's commitment to providing excellent documentation and support resources makes it a reliable option for creating a SaaS website.
Its comprehensive documentation, a helpful community, and regular updates ensure that you have access to all the necessary information to navigate various aspects of using the platform for your SaaS business.
This builds confidence and trust in the platform, ensuring that your business has a strong foundation for growth and success.
Toggl Track has successfully established itself as a preeminent SaaS (Software as a Service) website in the market.
The reasons for its success lie in several key factors that effectively cater to both users and businesses' needs. Let's delve deeper into the aspects that contribute to Toggl Track's exceptional SaaS performance.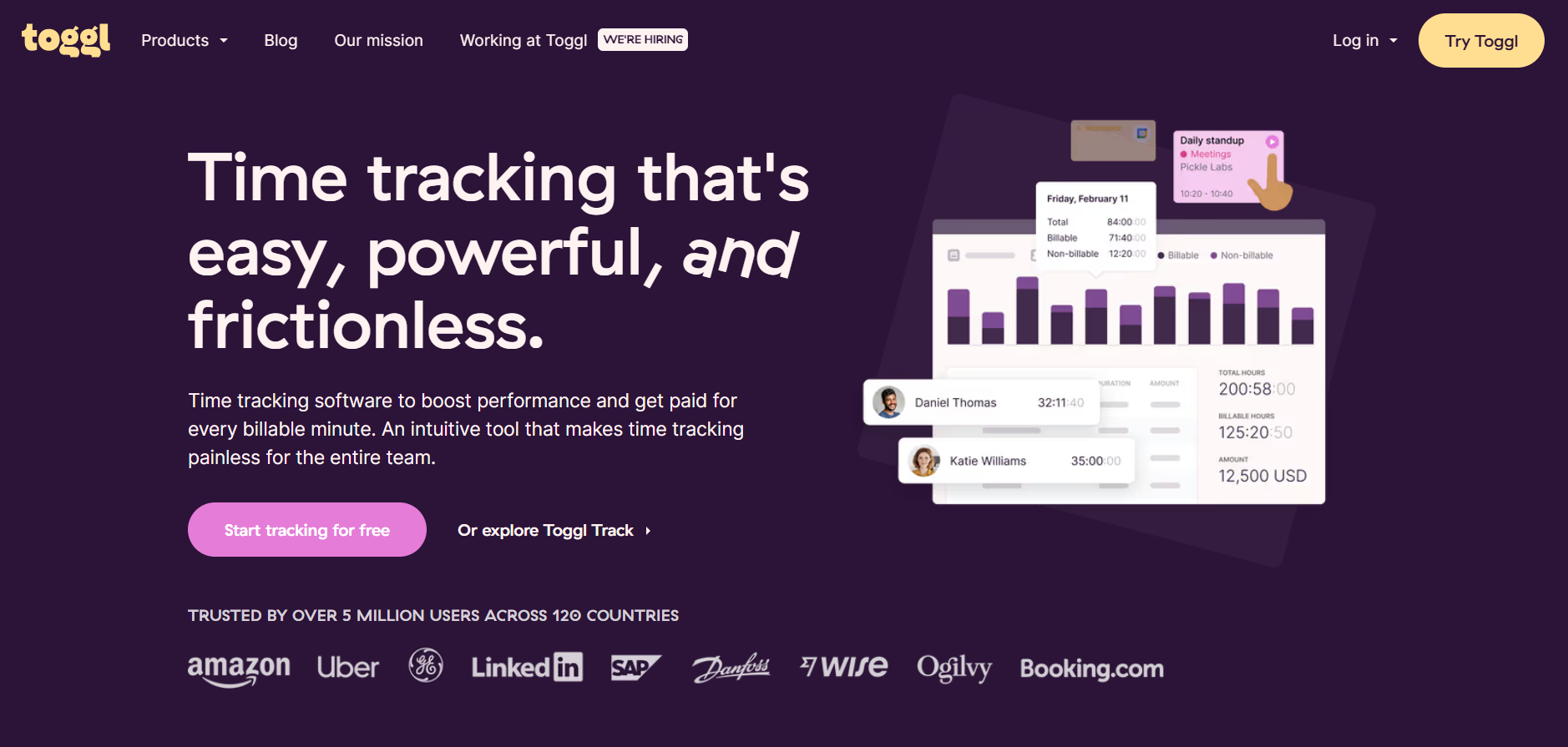 Toggl Track features a clean, simple, and visually appealing user interface. This makes it easy for users to navigate through the website and utilize its features without experiencing any confusion or frustration.
Moreover, the visually engaging design is undoubtedly an essential aspect that contributes to the website's overall appeal, fostering positive user experience and satisfaction.
Toggl Track offers an impressive range of features that cater to a wide range of time-tracking needs.
The platform supports different tracking methods, such as manual entry, a timer, and even an automatic mode that detects and logs your activities.
Additionally, it offers valuable features like project management, reporting capabilities, and team collaboration tools.
These integrations make the platform versatile enough to be used across various industries and departments, ensuring its appeal to a broad spectrum of users.
Toggl Track boasts smooth integration with numerous popular third-party applications, including project management tools (Trello, Asana) and communication platforms (Slack, Outlook).
This ability to synchronize and collaborate seamlessly across various platforms eases users' daily workflows, enhances productivity, and appeals to organizations that have existing infrastructure and are hesitant to make significant changes in their current software roster.
Toggl Track provides plans that cater to different requirements, from individual freelancers to small teams, growing businesses, and large-scale enterprises.
Their flexible pricing model and various subscription tiers make the platform accessible to a diverse target audience, while also allowing room for growth and scalability as businesses evolve.
This adaptability serves as a value-added benefit that reassures potential users of its long-term usability.
Toggl Track offers excellent customer support to users, ensuring that any issues are addressed promptly and efficiently.
Additionally, the platform provides numerous resources, such as tutorials, guides, and a dedicated knowledge base that is accessible to users.
This wealth of support material not only helps users maximize the potential of Toggl Track's features but also emphasizes the brand's commitment to delivering a superior customer experience.
Data security is a paramount concern for organizations when adopting a SaaS platform.
Toggl Track clearly addresses this concern by implementing strong data encryption protocols, adhering to the GDPR (General Data Protection Regulation), and offering transparency in security measures undertaken.
This cultivates trust among potential users and reassures them of their data's safety and privacy.
The ramp is an exemplary SaaS website because it effectively addresses crucial aspects of design, functionality, and user experience to provide a seamless and fulfilling service platform.
These elements, coupled with its focus on addressing the pain points of its target audience, enable Ramp to stand out as a paradigm in the software-as-a-service landscape.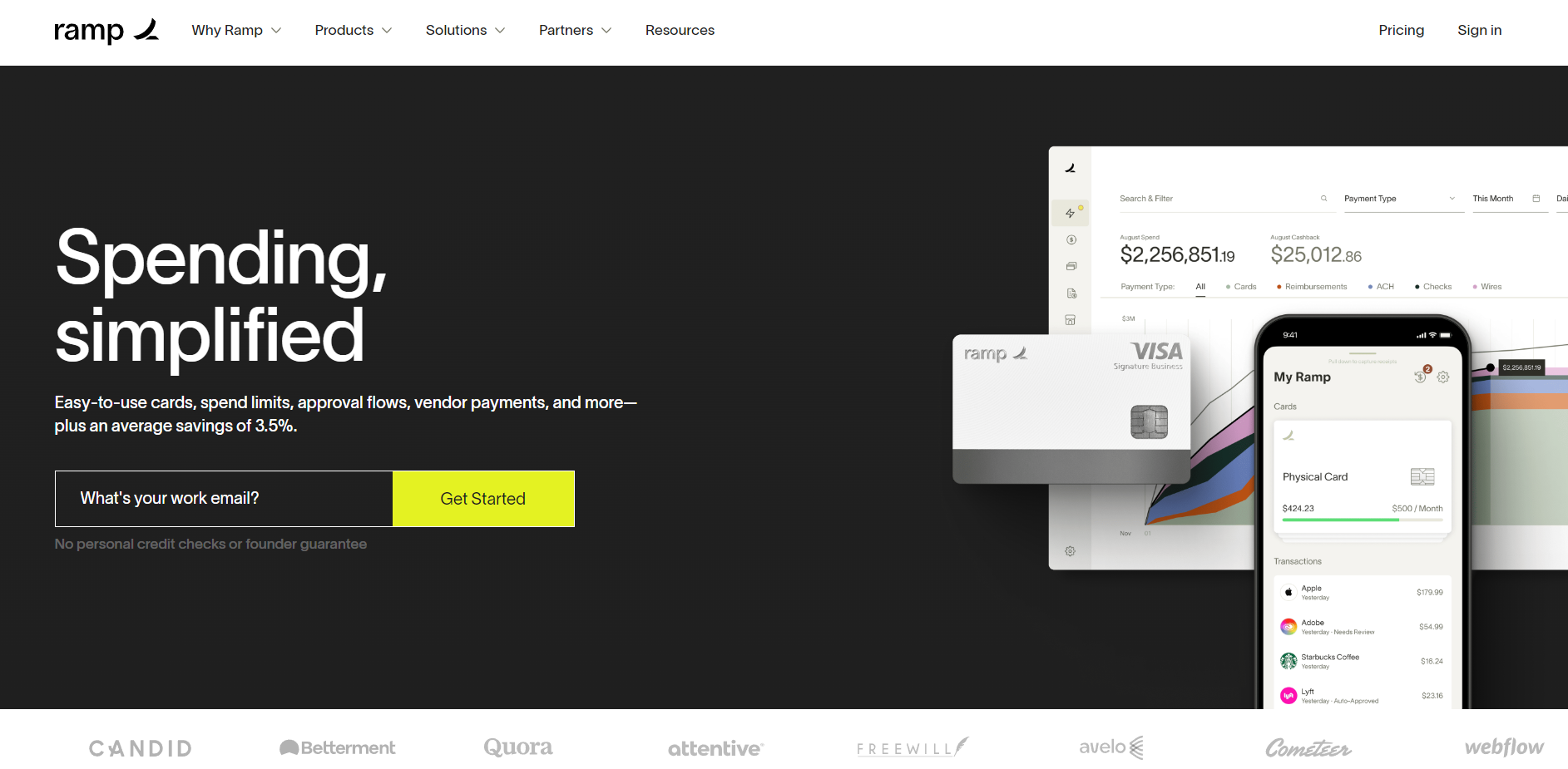 Firstly, Ramp's refined user interface design ensures that the website is visually appealing and easy to use, which is imperative in keeping users engaged and motivated to explore its functionalities.
With its clean, minimal aesthetics and intuitive navigation, the website ensures that users can easily locate the information and tools they need without feeling overwhelmed or frustrated.
This approach fosters a positive user experience and cultivates brand trust and loyalty.
Moreover, Ramp's captivating value proposition addresses the challenges faced by businesses in managing finances, expenses, and corporate reimbursements.
The platform empowers organizations to make data-driven decisions and streamline financial processes by offering a suite of features including real-time analytics, smart approvals, and seamless integration with existing accounting software.
By focusing on solving specific pain points and delivering value, Ramp has positioned itself as a go-to solution for businesses seeking to optimize and monitor their expenses.
In addition to its design and value proposition, Ramp's commitment to security and compliance is another factor that bolsters its reputation as a good SaaS website.
In an era where data breaches and fraudulent activities are increasingly prevalent, businesses must prioritize the protection of sensitive financial information.
Ramp's platform boasts robust security measures, such as multi-factor authentication, role-based access controls, and SOC 2 Type II compliance, offering clients peace of mind knowing that their data is safeguarded.
Furthermore, a critical aspect of any successful SaaS website is its ability to adapt and scale with the evolving needs of its users.
Ramp consistently displays innovativeness and adaptability by investigating user feedback, staying abreast of industry trends, and continually enhancing their product offerings.
This foresight demonstrates a commitment to customer satisfaction and further cement Ramp's status as a leading SaaS provider.
Lastly, a well-designed onboarding process is essential for ensuring that users derive maximum utility from the platform, and Ramp excels in this area.
The platform offers comprehensive, easy-to-follow support and tutorial materials to assist users in mastering the features and functionalities.
By simplifying the onboarding process, Ramp facilitates a successful initial experience that enhances user engagement and retention.
Petal stands out as an exceptional SaaS website for several reasons, primarily due to its innovative features, user-friendly interface, and commitment to customer satisfaction.
With an emphasis on state-of-the-art technology and a keen understanding of customer needs, Petal provides a comprehensive and effective solution for businesses seeking to thrive in a competitive market.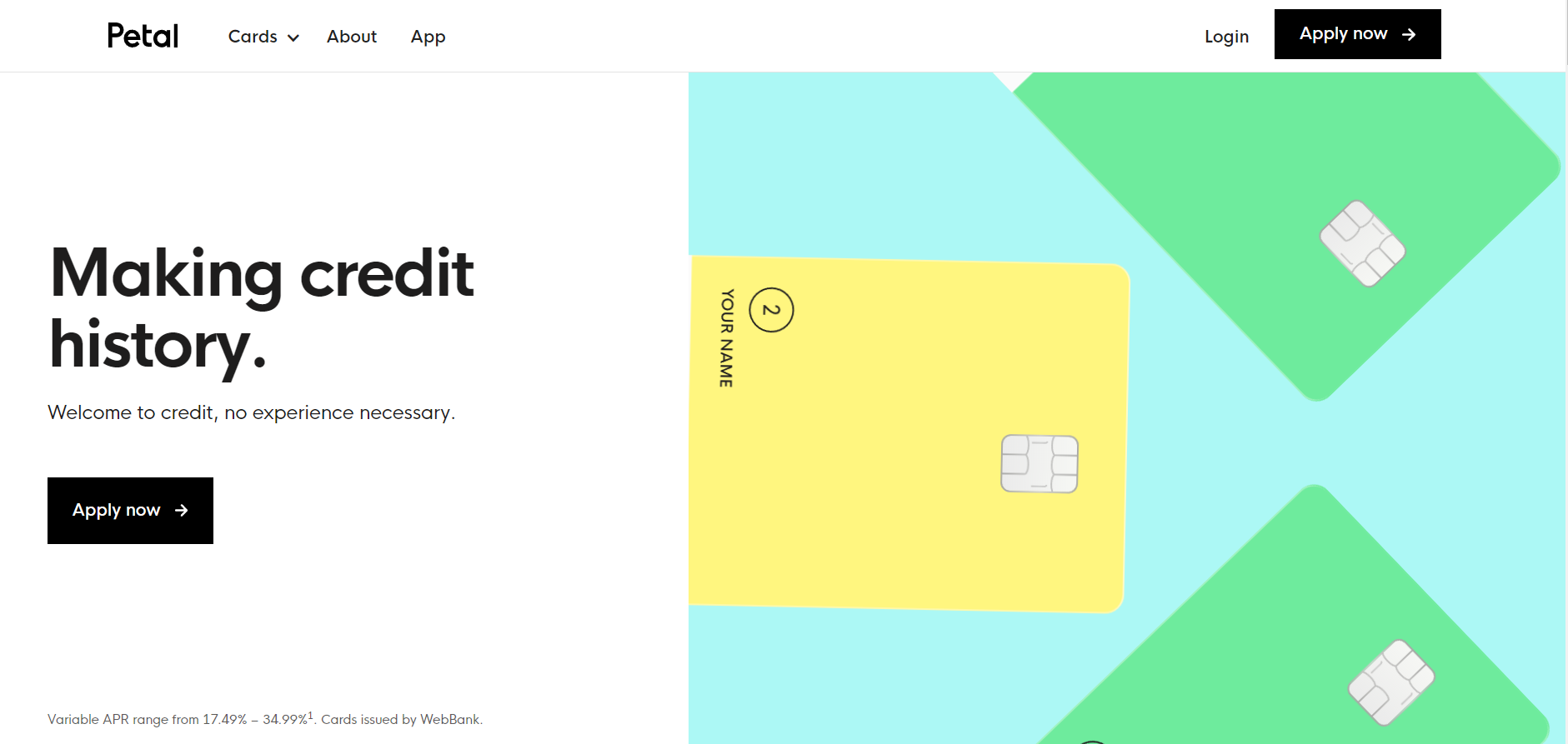 Here are some key reasons why Petal makes a good SaaS website:
Firstly, Petal's cutting-edge technology is exceptional in the SaaS industry, providing a robust and efficient service to its customers.
Petal utilizes artificial intelligence and advanced analytics to offer valuable insights and data-driven decision-making.
These technological tools empower businesses to optimize their operations, better understand their clients, and ultimately boost their revenue.
By staying current with the latest industry trends and emerging technologies, Petal consistently delivers a high-quality, future-proof service.
Secondly, Petal's user-friendly interface enhances the experience of its clientele. The clean, intuitive design promotes ease of use, enabling users to navigate the platform seamlessly and efficiently.
This focus on user experience ensures that new customers can quickly learn the ropes and experienced users can maximize their productivity without being weighed down by an overly complex interface.
Furthermore, Petal's platform is universally accessible, offering responsive design for various devices, from desktops to mobile devices, ensuring users can access the platform anytime, anywhere.
Another crucial aspect that makes Petal a top-tier SaaS website is its commitment to customer satisfaction.
The platform offers a wide range of resources, including comprehensive support and educational material, to help businesses succeed with their digital transformation initiatives.
This is exemplified by Petal's professional customer support team, which assists clients in addressing any issues they may encounter while using the platform.
Dedicated support ensures that customers can resolve technical difficulties promptly, minimizing downtime and maximizing business efficiency.
Additionally, Petal boasts an impressive range of integration options, ensuring seamless compatibility with various applications and tools commonly used by businesses.
This creates a cohesive ecosystem in which businesses can centralize their processes and streamline their workflow.
By offering increased interoperability and customization features, Petal enables businesses to create tailored solutions specific to their needs, maximizing their potential for success.
Moreover, Petal's focus on data security and privacy demonstrates its commitment to delivering a safe and reliable SaaS platform.
By implementing rigorous security protocols and adhering to industry standards, Petal offers a secure environment that protects sensitive business information from potential threats.
This, in turn, fosters trust and confidence in the platform, encouraging businesses to use Petal's services without reservation.
Quick Links:
Conclusion: Best SaaS Websites 2023
In conclusion, the software-as-a-service (SaaS) industry has become increasingly important in recent years, providing businesses and individuals with a range of powerful tools for marketing, sales, e-commerce, communication, and design.
Among the many SaaS websites available, the seven discussed here stand out as some of the best, each offering a user-friendly interface, comprehensive product information, and excellent customer support.
As technology continues to evolve, we can expect to see even more innovative SaaS solutions emerging in the years to come, driving further growth and productivity in the digital economy.