In this blog, I am going to discuss BlogVault vs UpdraftPlus vs BackupBuddy Review 2023.
A website backup is a lot like an insurance policy for a website.
One, like most people, you realize its value only after the worst has happened, or in this case, after your website has crashed.
And, second, in times of crisis, it can be an absolute lifesaver – protecting everything you've worked so hard to build.
In the case of your website, having a timely backup ensures that you're able to restore your website without any downtime, protect your customers' data, and prevent loss of SEO rankings, traffic, time, and money. 
BlogVault vs UpdraftPlus vs BackupBuddy Review 2023
It's normal to think that bad things can happen to anyone, just not to us. Unfortunately, this optimism is often misplaced.
There are multiple reasons your website can crash – a human error, a natural disaster, and the most common – malware and hacks. 
In fact, statistics show that there is a hack every 39 seconds – with 30000 new types of malware being created every single day. Thanks to the popularity of WordPress, sites built on it are always on the radar.
As a WordPress website owner, this makes website backups an indispensable part of your website security strategy. 
Here's how not having backups can impact your site and business – 
You Could Lose all your Business Data
If your website is hacked, you could lose all your confidential customer data, business records, and even content.
This is especially critical if you run an online store or an eCommerce site.
Your transactions and client information are the lifelines of your business store and they need to be protected and backed up with unfailing consistency and regularity.
Having a backup ensures that your data is secure and accessible at all times. 
Your Revenues take a Hit – Thanks to Website Downtime
This one's a no-brainer. The longer your site is unavailable, the more traffic you lose. This translates into an almost immediate loss in revenues. 
There's another long-term implication too – the customers you lose during your downtime may never return.
This can have a devastating impact on your revenues in the long term. 
With a backup and restore process in place – you could restore your website almost instantly. Your customers won't even know your site crashed. 
Zools is another great cloud backup platform that you must know about. Check all about it here in this detailed Zools review.
Your Search Engine Ranking takes a Plunge
Search engines penalize hacked websites by pushing their SERP rankings lower. For them, it simply translates to an insecure website – that they want to keep their users away from. 
You can avoid this threat with a WordPress backup – having one simply puts you on the road to recovery instantly – before search engine crawlers have had a chance to know that your site is hacked. 
You Could Lose up to a Week or Even a Month of your Time
Without a backup, the average time to recover from a hacked website can range from 7 to 54 days! Having a backup puts you on the front foot right away, saving you tons of effort, resources, and time. 
Loss of Customer Trust and Brand Image
If your website has been down for a while, damage control can be a real challenge.
With your website being inaccessible for so long, your customers will soon find another option – for them to never return. 
If you're still undecided about getting a backup tool for your WordPress website, we can't stress this enough –
make backups an integral part of your website maintenance plan, you will not regret it. 
Back up + Restore – The Complete Picture 
Another point to keep in mind at all times – a backup tool is only as good as its restore option.
While there are plenty of backup plugins in the market, very few offer easy ways to actually restore the website when you need it most.
When your site is down, the last thing you want to hear is that your backups are useless.
A good backup plugin is one that seamlessly combines backups and restores – with the option to actually test the backup before you restore it. 
How to Choose the Right Backup Service
As with all things WordPress, the dizzying array of options can make it hard to pick one. In this article, we tell you all that you need to know to choose the right backup service for your website. 
While looking for a backup solution, here are some of the features you should look out for: 
Complete backups:

Your backups should consist of both website and database backups- including database tables, comments, media, website files, the whole works –  so you don't miss out on any lost data

Low-load backups:

Backups can be highly resource-intensive. Running them often can drain your website server resources and slow down your site. The best backup plugins avoid this in two ways-
        a) Through incremental backups – where only modified files or database records are backed up in each backup cycle, thus putting a lesser load on your WordPress hosting server 
        b) Through the use of dedicated servers – Backup plugins such as BlogVault deploy dedicated servers for backup processes, ensuring your website operates without any change in speed 
Off-Site Backup storage:

Your backup files need to be stored in a location separate from and independent of your website server. This ensures that whatever it is that affected your website – be it a hack, a server or host failure, or a hardware issue, does not affect your backups. A good backup plugin also stores your backups in multiple locations for easier access and retrieval. 

Encrypted backups:

This ensures complete security of your backups even if they were to end up in the wrong hands. 

Scheduled and Custom backups:

While regular website backups are absolutely essential, it's important to back up your site before and after critical events – such as a website redesign, a big event, or even a plugin/theme change. 
         Your plugin should allow both scheduled (for example, every hour, day, week, or month) and on-demand backups(preferably unlimited)                       depending on your website's requirements
An easy-to-use interface:

While this seems like a given, it is especially important for backup and restore operations. Backups are repetitive, they need to be easy to implement. As for restores, the last thing you need when your site is down is a tool that is hard to navigate and harder to use. 
        A good feature to look out for is a central dashboard or portal from where you can run all operations in a few clicks. 
Website staging:

With multiple website versions available, it becomes important to first test your available backups on a temporary staging environment instead of directly on your live website. It can be hard to manually set upstaging. Premium backup plugins provide staging or cloning as an inbuilt feature. 

Website migration:

Backups are especially useful when you want to migrate or move your entire site to another hosting provider or domain. A good backup plugin has a migration feature integrated into its offerings. 

Real-time backups:

If you run a WooCommerce site or online store where website data gets updated in real-time. Your backup tool needs to be able to track these changes and reflect them immediately. 
While this might seem like a huge wishlist, thankfully premium plugins in the market combine most of these features into their plans.
When you're looking for a WordPress backup plugin, look for one that combines the best-suited features for your website. 
Next, let us compare three of the most popular backup tools – BlogVault, UpdraftPlus, and BackupBuddy.
BlogVault
With over 400,000 successful WordPress site backups and restores, BlogVault is one of the most popular and reliable backup tools in the market today.
Along with free and safe cloud storage for backups, it is a  comprehensive solution that can be used even by novice users. It comes with an intuitive dashboard from where you can perform both backups and restores in just a few clicks.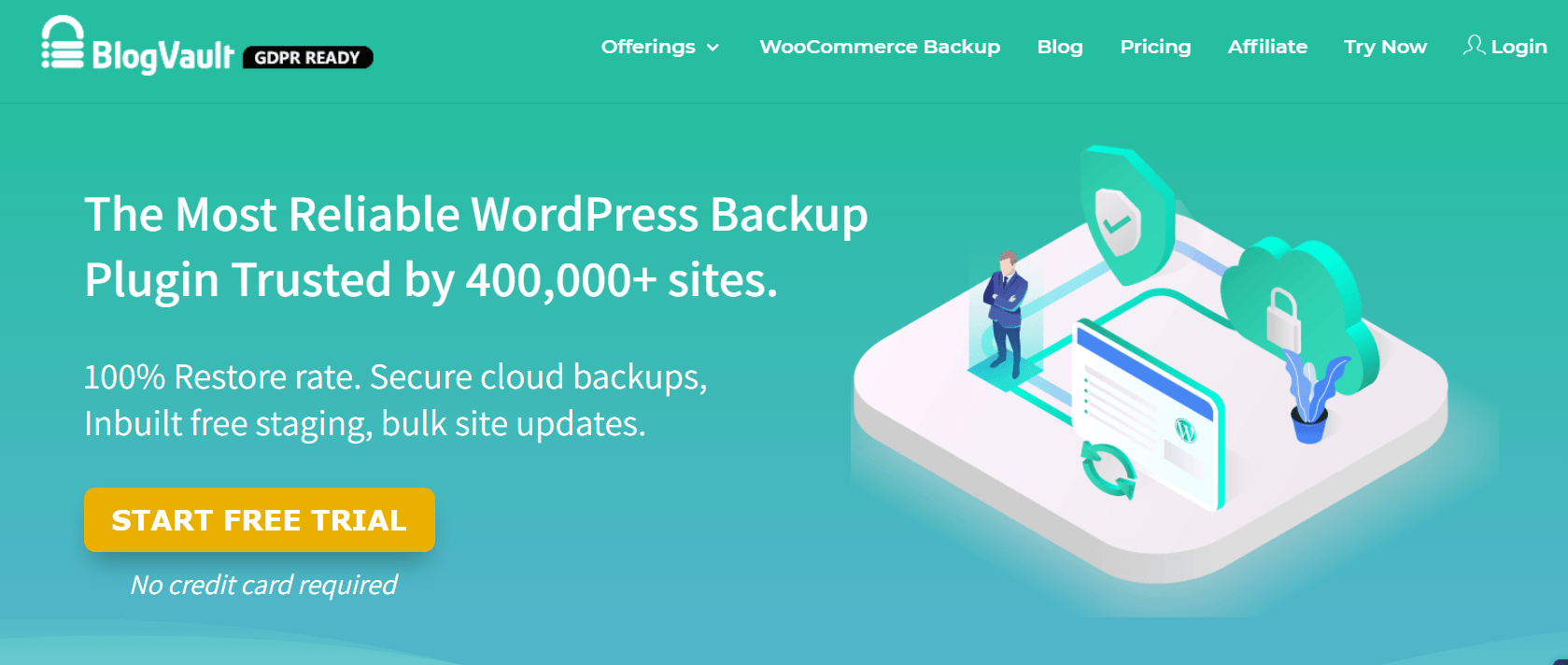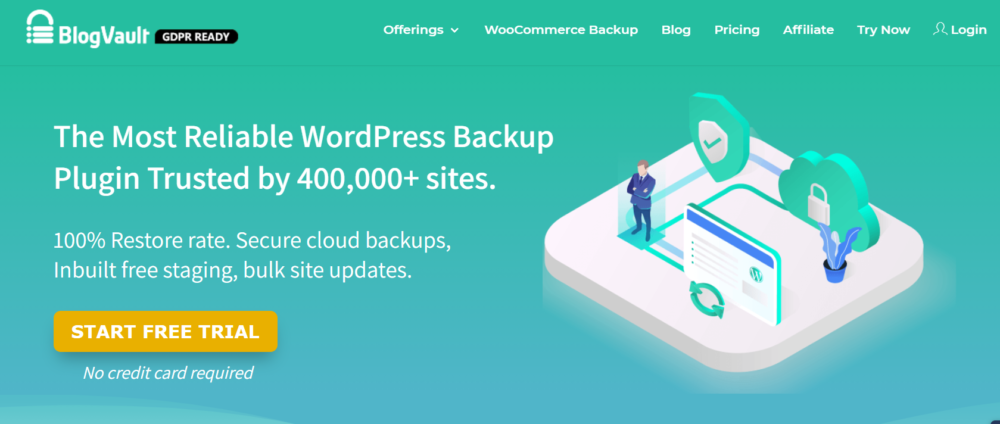 Features of BlogVault
BlogVault's standout features include: 
Use of dedicated external servers: All the backup and restore activities are performed by BlogVault's servers thus putting zero additional loads on your web server

Incremental backups: This speeds up and lightens the backup process by breaking down the data into smaller and manageable portions that can be synced easily 

1-click automatic restore: With its Test Restore functionality, you can even safety test your backups before restoring them to the website in just one click 

Automated and unlimited on-demand backups: You can schedule backups based on your needs and also take complete backups whenever else you want them. Additionally, BlogVault supports real-time backups to back up even real-time changes in website data. This is great if you run an eCommerce site. 

Inbuilt Website staging for free: You can create a duplicate copy of your live website, where you can test design changes, new

plugins

or themes, or updates safely with zero impact on your live website. 

Once tested, the changes can be merged seamlessly into the live website – from the dashboard.

A centralized dashboard: A centralized dashboard that doubles up as a website management interface from where you can run on-demand backups/ restores, update installed plugins/themes, manage users, and much more.

Website migration:  An easy option in case you need to migrate your website from your current web host to any of the over 10,000 hosts supported by BlogVault.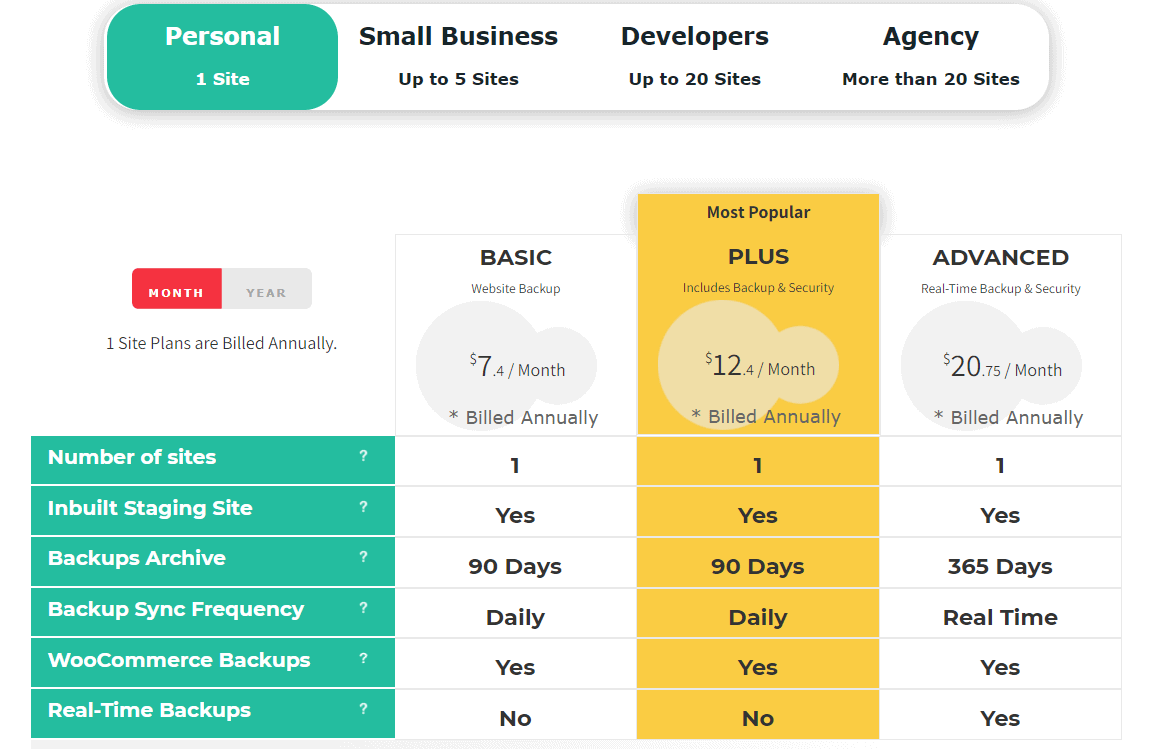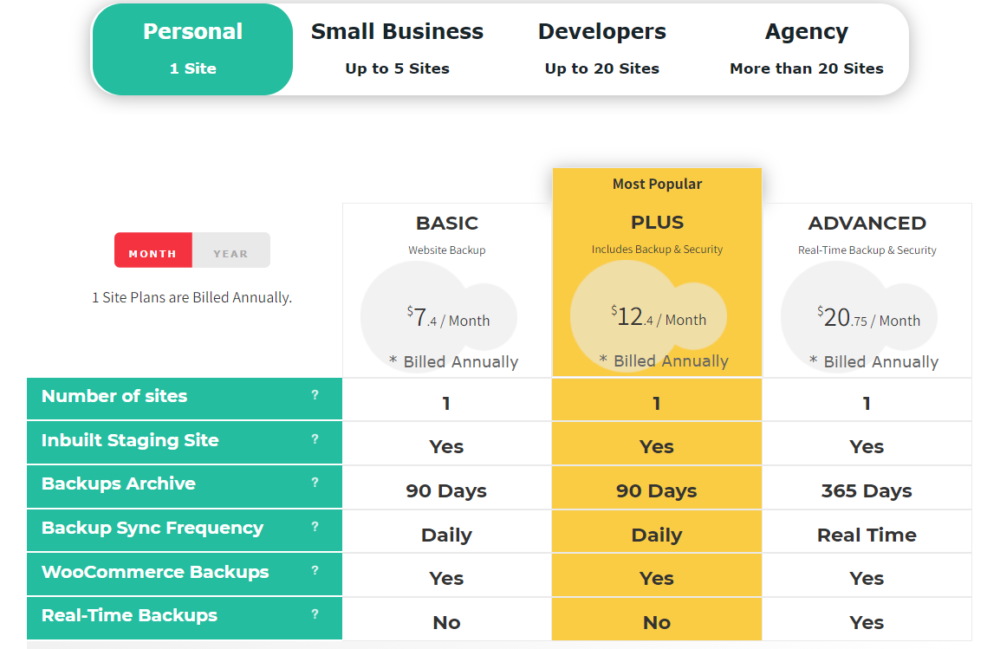 Pros and Cons of BlogVault
✔Pros
Ease of use: The plugin is easy to install and the dashboard is intuitive and you can get most things done in a few clicks. 

Site speed: BlogVault's backups do not affect your site's performance in any way – thanks to the dedicated servers for backups.

Offsite storage: You don't need to pay any additional charges towards offsite backup storage

Test restore option and versioning: You can view and test multiple versions using the Test Restore option right from the dashboard 

Offers real-time backups for WooCommerce sites 
❌Cons
Compared to UpdraftPlus and BackupBuddy, their 1-site plans are more expensive

No free plans, though they do have a 7-day free trial 
UpdraftPlus
Trusted by three million users, UpdraftPlus is another popular backup plugin that is user-friendly and packed with many features.
It offers both a free (Basic) version and a Premium version.
The Basic version offers multiple backup functionalities like complete backups and restores remote storage for backup files, and automated and scheduled backups.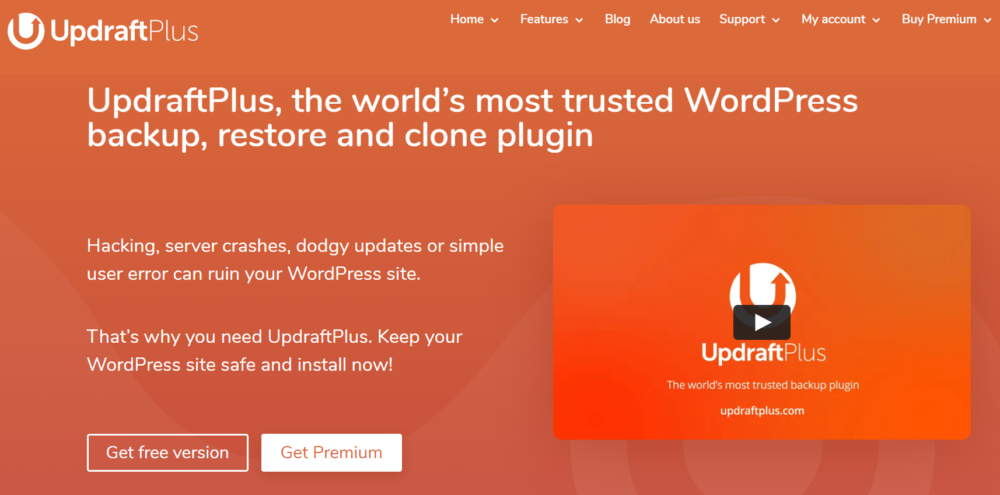 Features of UpdraftPlus
Apart from the basic features mentioned above, you can avail of the following features in the Premium UpdraftPlus version:
Incremental backups of WordPress files and database tables: This way, you only need to back up the backend files that have been modified since the previous backup

Easy website migration or cloning using the UpdraftPlus Migrator tool – the tool is easy to use and gets the job done hasslefree 

Additional cloud-powered backup storage locations, including OneDrive, Microsoft Azure, BackBlaze, and SFTP

Free 1GB storage space on UpdraftVault. UpdraftVault is their dedicated remote storage option.  

Automatic backups of installed plugins/themes after every update.

UpdraftPlus Central dashboard feature for managing backups of multiple websites from a single location.

UpdraftPlus Clone feature, similar to BlogVault's staging feature to create a temporary testing environment 

Additional backup features include database encryption, network or multisite support, storing backups on more than one remote location, and personalized backup support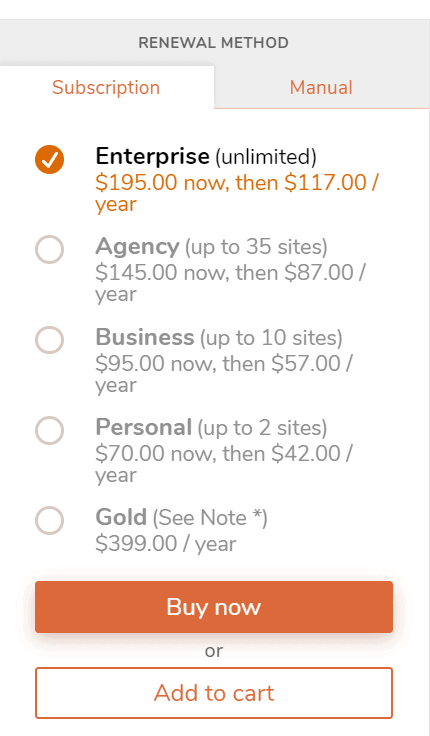 Pros and Cons of UpdraftPlus
✔Pros: 
Can be used to restore backups created even from other backup tools such as BackupWordPress and BackWPUp – If you currently use a free backup plugin that doesn't come with a restore option, then UpdraftPlus lets you use its Importer addon to restore your website from any other backup plugins

Compatible with multisite WordPress installations

User permissions for backup access – The Lock Settings addon enable you to lock access to UpdraftPlus via a password. 
❌Cons: 
UpdraftPlus Migrator and Clone features are available with paid plans

No support for real-time backups

Some users have reported that they have observed it to be slow 

Support: It is provided through support forums. There are two forums – one for users of the free plugin and another for premium customers. However, you can purchase a support package to get assistance.
BackupBuddy
Developed by iThemes, BackupBuddy is a popular backup plugin that has been used in over half a million sites since 2010. It offers website backups, restores, and migration.
(Source: iThemes website)
Widely used as a free backup tool, it can create a complete backup of your entire WordPress installation, including webpages, posts, user comments, plugin and theme files, core WP files, and the database.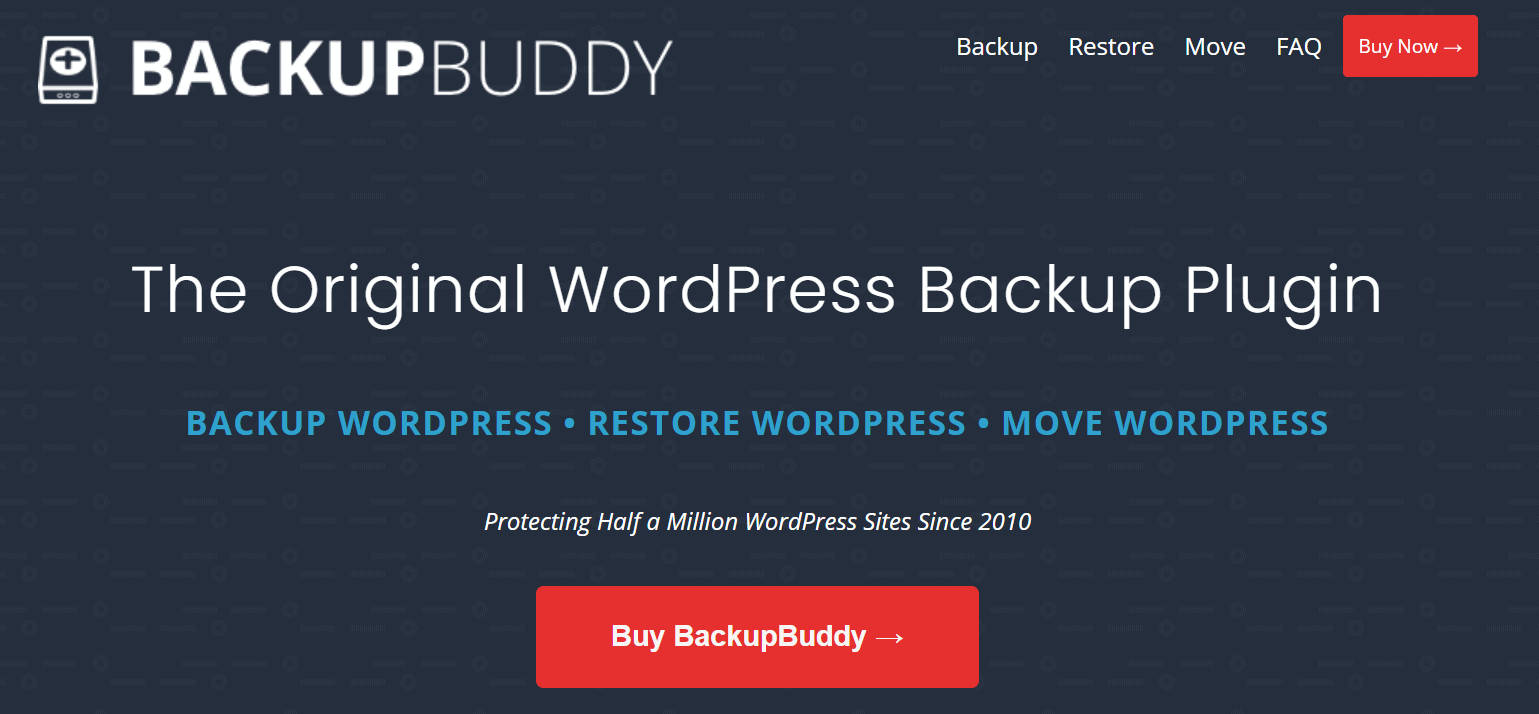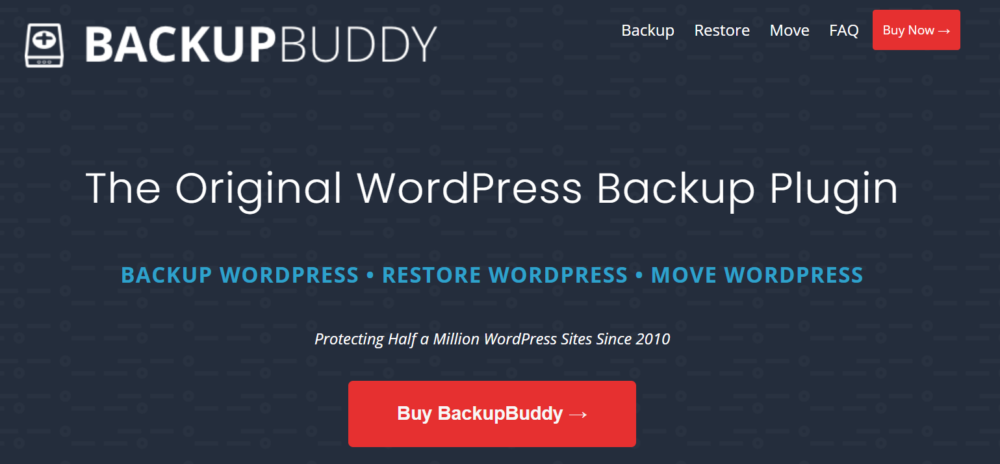 Features of BackupBuddy
First, let us look at some of the standard backup features that BackupBuddy has to offer:
Complete backups:

Including all WP installation files and databases. On completion of the backup process, you can download the backup file of your website easily in ZIP format, or upload the same to a third-party cloud storage platform. BackupBuddy also sends a notification email immediately on backup completion. 

Scheduled backups:

  Where you can configure backups to be executed automatically without any human intervention. Depending on your website needs, you can choose to schedule your automatic backups every hour, twice a day, daily, weekly, monthly, and more.

Offsite storage

: Your backup files are stored in a safe and remote location. BackupBuddy supports a range of remote storage locations, including Amazon S3, BackupBuddy Stash, Google Drive, and Dropbox.

Easy restoration:

  BackupBuddy integrates the user-friendly ImportBuddy tool that can be used to restore your site using the latest backup file. It also allows you to replace selected files from an old backup.
        This is handy if you're working with themes or editing files on a live site.
        There's also an easy rollback option for your database.
        You can select a backup and rollback to the database stored with that particular backup without replacing the other files. This is useful when you accidentally delete a post, page, or comment.
Additional tools:

It includes a few built-in security and optimization tools to improve website safety and efficiency.
         In addition to these in-built features, BackupBuddy offers several add-on features, including:
BackupBuddy Stash Live

: Real-time, cloud backups that periodically take a snapshot of your files to track live changes

Website staging:

Where website developers can test changes or updates on a temporary staging environment before pushing the changes to the live website. It also has the website cloning feature to create a replica of your live site.

Website migration:

To facilitate the migration of your website to another web host.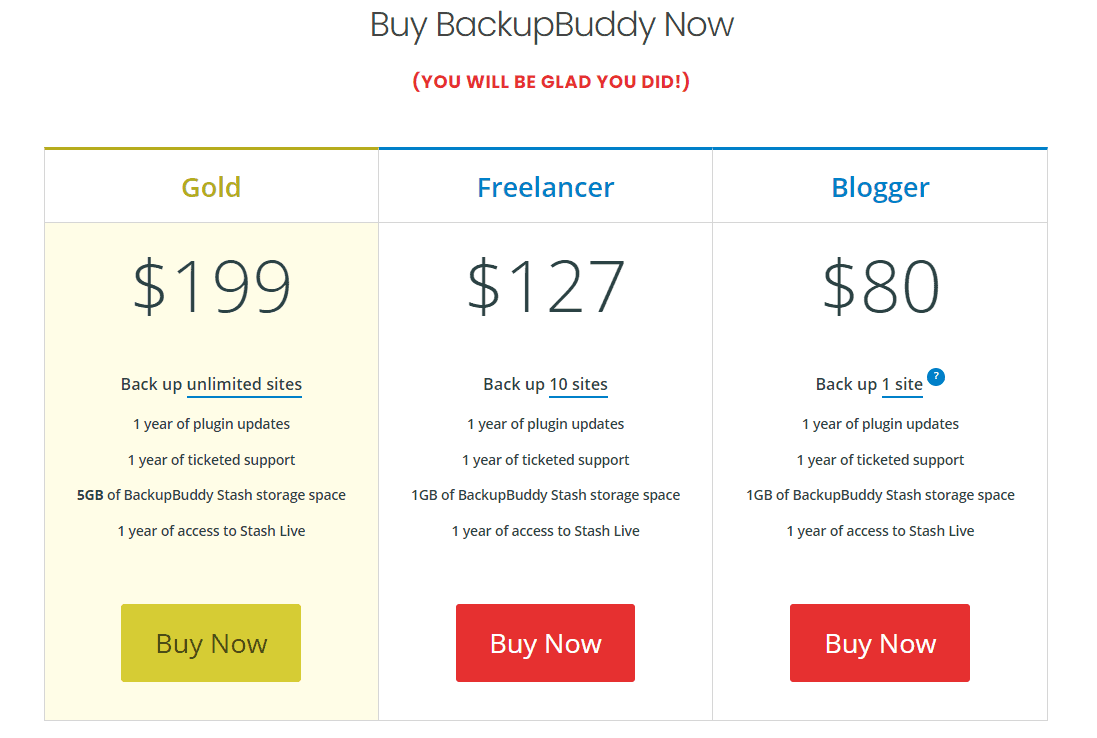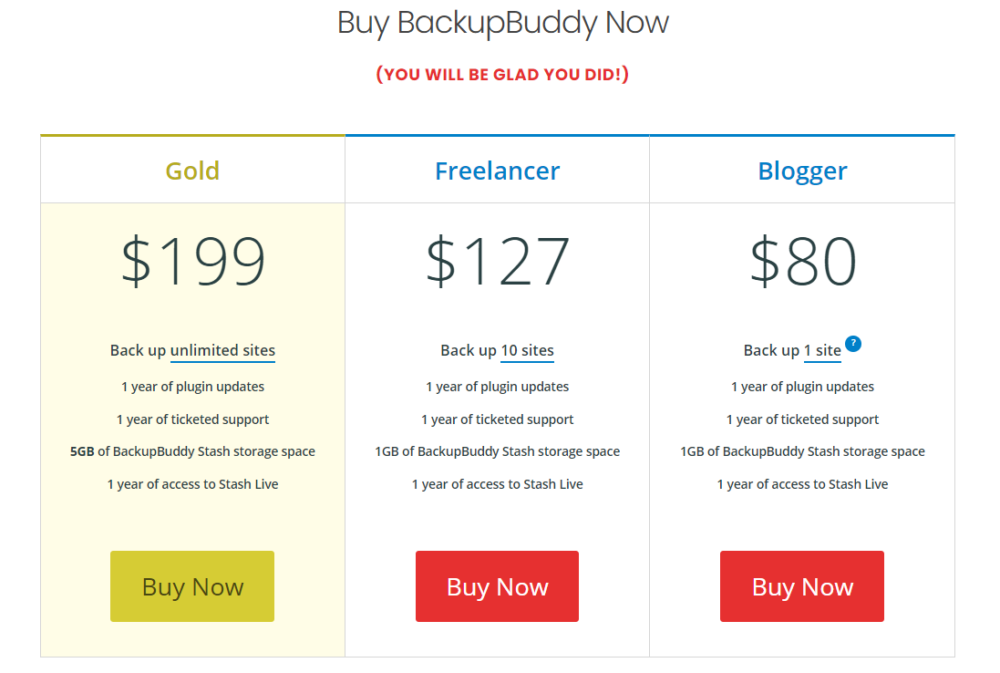 Pros and Cons of BackupBuddy
✔Pros:
The option to easily customize your backups – You can exclude parts from your backup and only backup those that you really need 

Easy to use interface – The interface is well-designed and even new users will find it extremely easy to navigate
❌Cons: 
No free or trial plans

WordPress host compatibility: Not all hosts work with the plugin. 

Users report slowing down on shared hosting
Quick Links
FAQs | BlogVault vs UpdraftPlus vs BackupBuddy Review
🤷‍♂️ What kind of backup process can I follow using BlogVault?
With BlogVault, there a number of ways to backup your WordPress blog. BlogVault plugin allows you to schedule backups, take an automated backup. BlogVault also allows you to backup offsite and store it in remote locations. Also, we do WordPress incremental backup and cloud storage options like Google Drive with a single click.
👉 Will BlogVault plugin work with my web host?
Yes, BlogVault backup plugin works with many web hosts.
🤙 Will BlogVault work if I haven't already installed WordPress?
BlogVault is a WordPress plugin. To use BlogVault backup tools you need to have WordPress installed on your WordPress dashboard.
🤔 How do I start using BackupBuddy on my WordPress site?
Once you've downloaded your BackupBuddy plugin zip file, follow the standard WordPress plugin installation methods to upload and activate BackupBuddy on your WordPress site. For more instructions on downloading and installing BackupBuddy, check out this tutorial. Once you've installed BackupBuddy, make sure to license the plugin for automatic updates. Next up, follow the Quick Setup wizard to complete your settings for email notifications, remote destination storage, and backup schedules.
👉 Can I use BackupBuddy to migrate my WordPress site to a new host or URL?
Yes! BackupBuddy allows you to move your site to a new host with new file paths and/or new URLs with ease. The ImportBuddy tool will take care of migrating URLs and file paths in posts, settings, and configuration files. Just follow the on-screen directions and we take care of all the behind-the-scenes work for you.
🙋‍♀️ How does UpdraftPlus compare with other backup plugins?
We've put together a list of why UpdraftPlus is the right backup plugin for you: https://updraftplus.com/wordpress-backup-plugin-comparison.
🤷‍♂️ Can UpdraftPlus be used to migrate a WooCommerce site?
Yes! WooCommerce is a well-behaved WordPress plugin that stores its database information in the WordPress database, and any uploaded files in the WordPress media library. As such, it does not present any special issues or challenges when migrating.
Conclusion | BlogVault vs UpdraftPlus vs BackupBuddy Review 2023
We can't stress enough the importance of backups for WordPress sites.
With the COVID crisis pushing almost all businesses online, your website has never been a more important business asset.
Given the number of backup options today, there is simply no reason to look at WordPress backups as an afterthought. 
 BlogVault, UpdraftPlus, and BackupBuddy offer comprehensive solutions at competitive prices.
They're easy to use, reliable, and trusted by the WordPress community. Ultimately, the decision comes down to your website and business needs. 
UpDraftPlus and BackupBuddy's basic plans work well if you run a blog on WordPress or manage only a few sites.
However, if you'd prefer to opt for staging and migration, you'll need to upgrade to the premium versions.
BlogVault's dedicated backup servers and features like website management, inbuilt security, and firewall, through the MalCare integration, white-label, and uptime monitoring make it a good choice if you manage and maintain multiple websites.
Also, some of UpDraftPlus' and BackupBuddy's add-on features like staging and migration are integrated into BlogVault's basic plans.
We hope this helps you pick the right WordPress backup plugin for your business.
Are there any other features you look out for in a backup plugin? Any questions for us? Let us know in the comments below.