This post is an in-depth review of Coolmuster Android Assistant. You can easily know almost all the information of this Android data backup and management tool here.
To be honest, this tool helps me a lot. Not so long ago, I fretted about transferring my Android files to my computer. 
You know, it is extremely time-consuming to back up many files manually. So I began to search for an efficient tool. Fortunately, I found this comprehensive software.
I was surprised that it could not only transfer files fast but also allow me to manage my files on the computer. After that, I can breezily back up, restore, and organize my Android files with this tool.
To share my successful experience and this helpful software, I have decided to write this post. I hope this post can help the people who have the same trouble as me.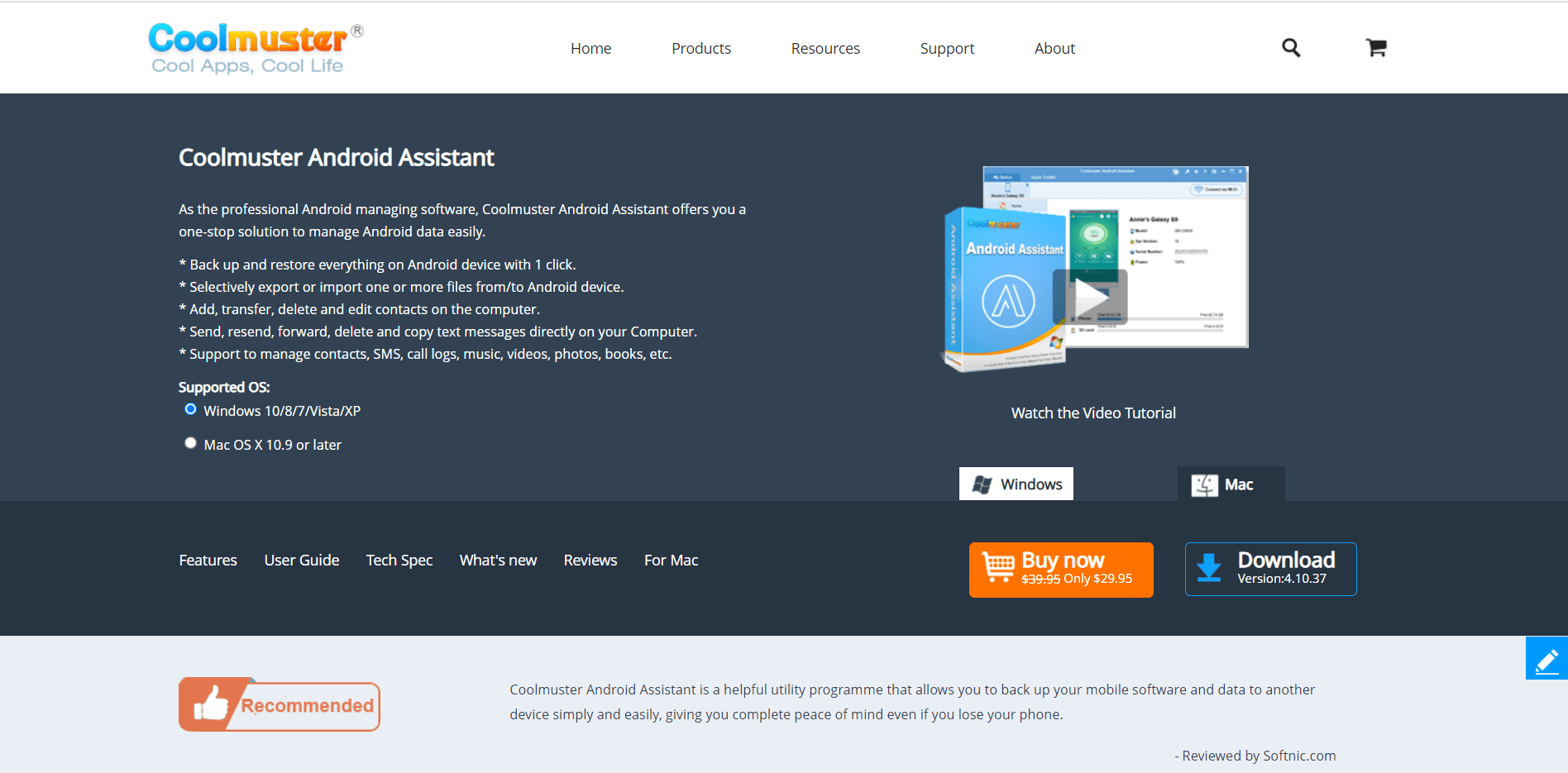 What is Coolmuster Android Assistant?
First of all, Coolmuster Android Assistant is a one-click tool for backing up and restoring data. You can use it to back up almost all the Android files to a computer at once, such as contacts, SMS, photos, videos, apps, etc.
In case you lose your data, you can restore them conveniently.
Second, it is also an Android data manager. You can directly preview, select, edit, delete, copy, move, etc., your files on the computer. Thus, it is a professional Android managing program.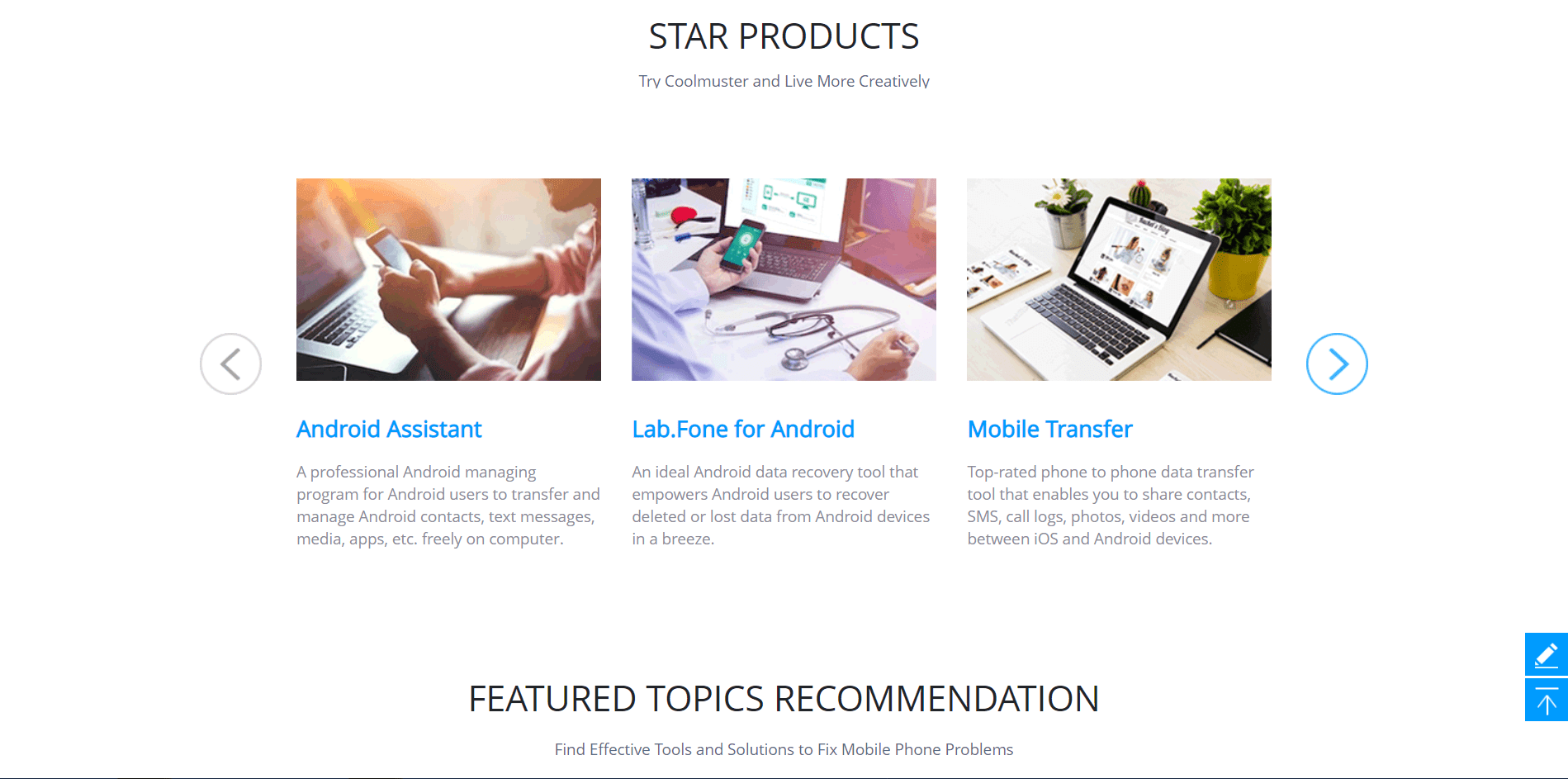 Highlights and Features
1. Swiftly Backup and Restore Android Data
Want to transfer all Android data to your computer at a time? It is a piece of cake. This software has a Super Toolkit feature, which supports you to back up all kinds of Android files to your PC or Mac.
Also, the Restore feature can help you transmit your backup data to any Android device. See? Even if you switch to a new Android phone, you can move data quickly.
Besides, it allows you to select the data types you want before the backup and restoration. What's more, it will not overwrite your existing files on the Android device.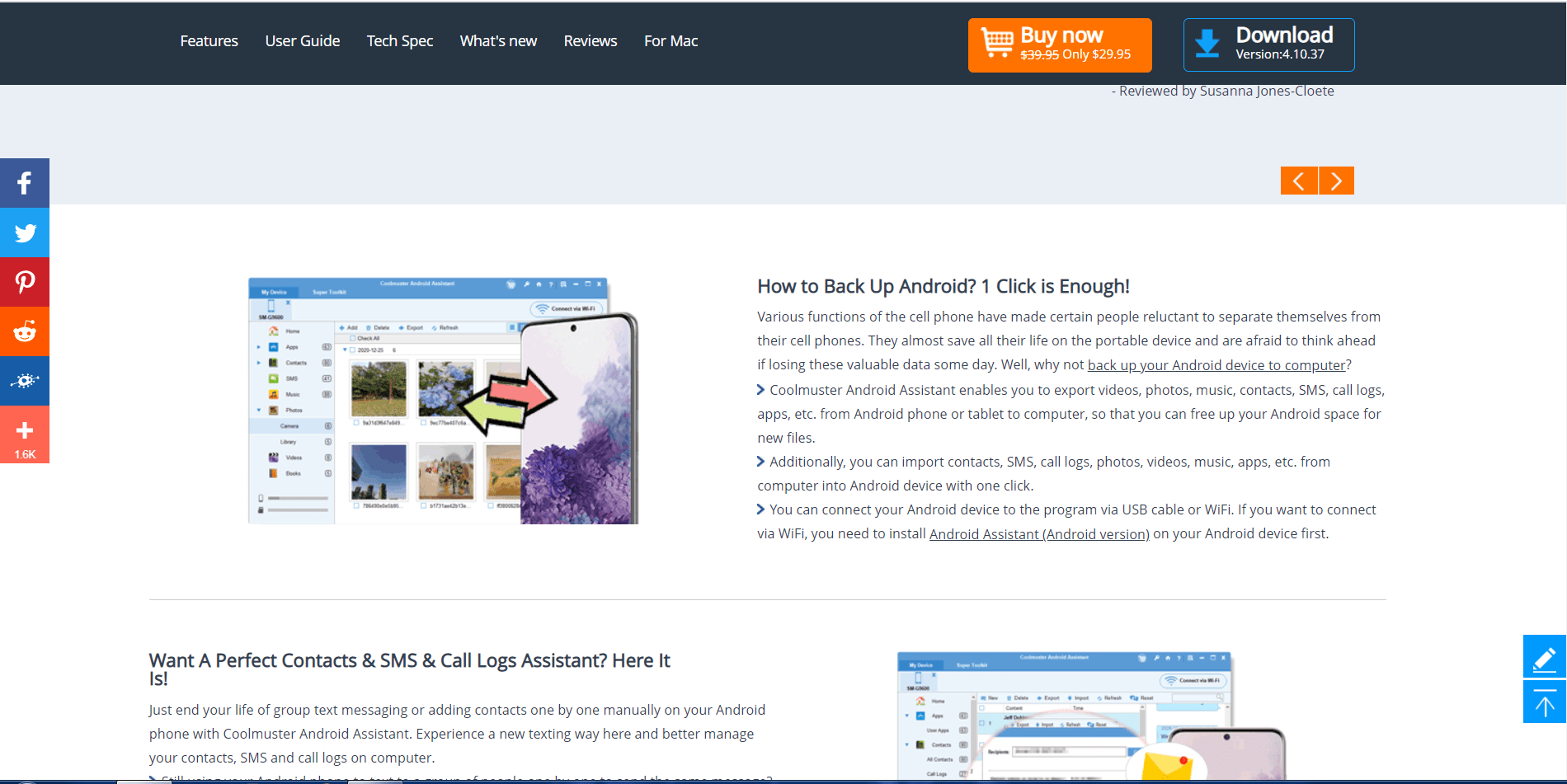 2. Selectively Transfer Data between Android Devices and Computer
What if you want to transfer several specific files? Don't worry. This software will scan your Android data and display them on the interface, so you can preview and select what you want before performing the transfer.
Maybe you also want to import files from your computer to your Android phone or tablet from time to time. In this case, you can tap the Import or Add icon to pick the desired files from your computer. How easy it is!
3. Effortlessly Manage Contacts, Text Messages, and Call Logs
There is no doubt that contacts, SMS, and call history are the basic data on Android. In general, you cannot cope with them on the computer. But now, it is not a problem for this Android data manager.
You can smoothly remove the unwanted contacts, create new contacts, and modify existing contacts.
Amazingly, it also allows you to receive and reply to text messages on the computer. When you need to work on your computer, you will no longer miss important messages.
Additionally, you can transfer these data types in multiple file formats, including CSV, HTML, BAK, XML, VCF, and more.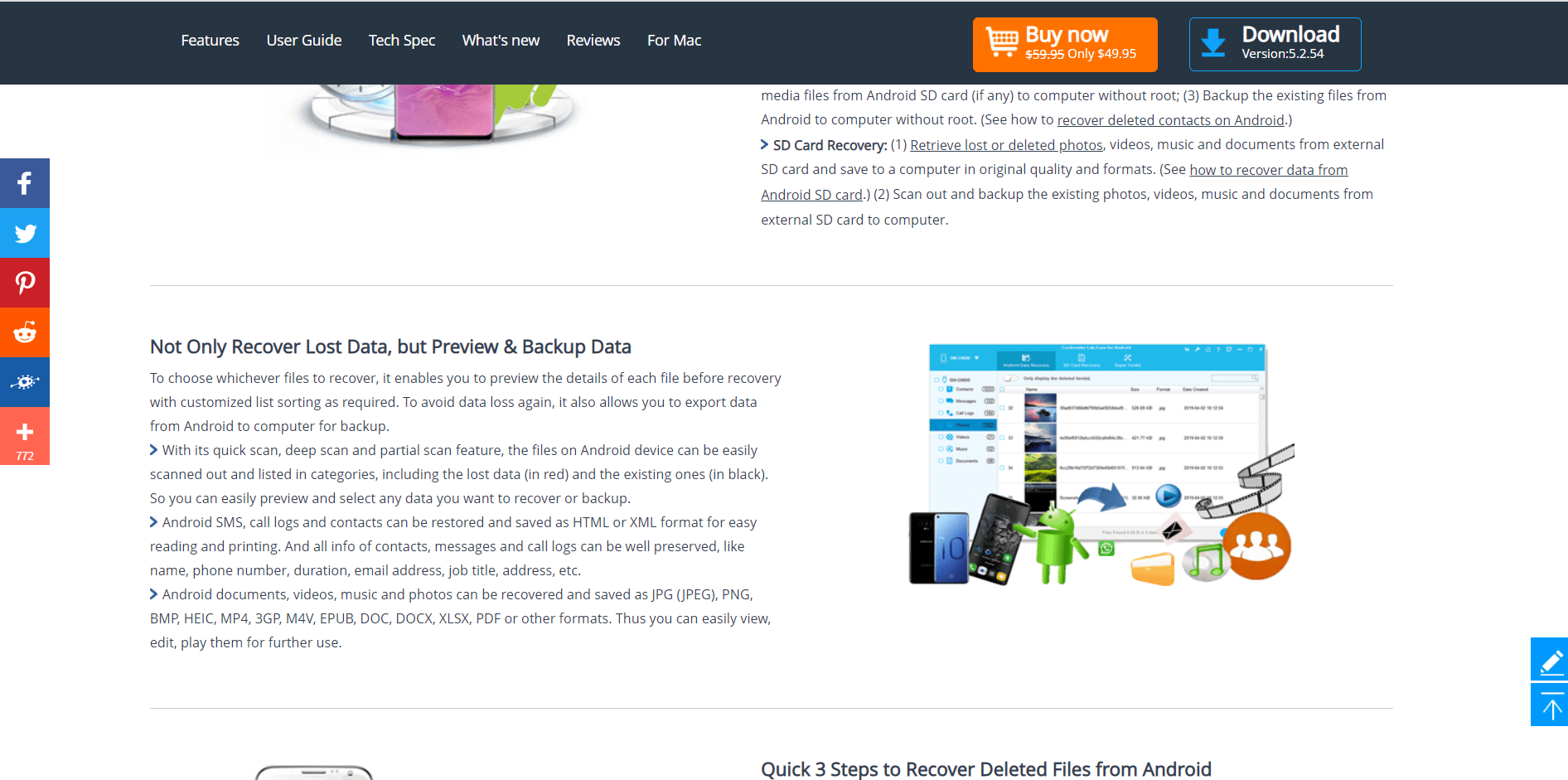 4. Seamlessly Manage Media Files
It also provides practical functions for organizing your media files, like music, photos, applications, and more. For example, you can create your own playlists, and copy/move songs to the playlist you want.
Also, you can easily eliminate the music files and playlists you dislike. Similarly, it is effortless to make new albums to organize your pictures.
Another highlight is that you can install or uninstall user apps on the computer. In case you plan to remove your apps in batch, you can select and uninstall them at a time.
Of course, you can selectively transfer your apps to the computer for backup.
5. Take Screenshots without a Hitch
Using this software, you can take screenshots of your Android device and save the pictures to your computer in one step. In other words, you needn't use your phone to capture screenshots and then move them manually.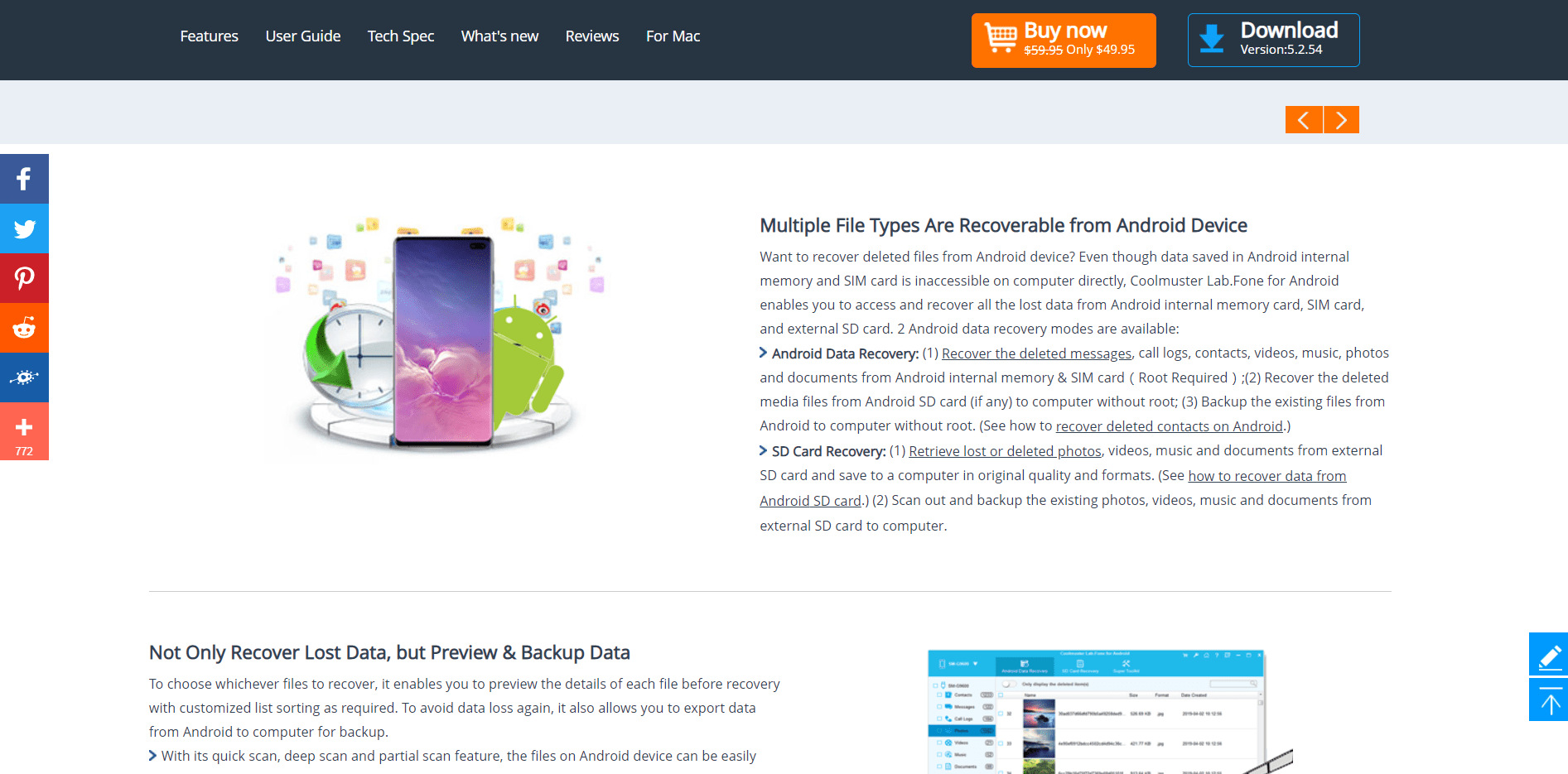 6. Support USB and Wi-Fi Connection
It is stable to connect your Android device to the computer via a USB cable. But when you want a wireless connection, you can also select the Wi-Fi connection. No matter which connection you choose, it will transfer your files without losing data.
Technical Specifications
Now, let's learn about what file types and file formats this Android Assistant supports.
Supported data types:
Basic data: contacts, call logs, text messages

Media data: photos, videos, music, apps, books
Supported file formats:
Contacts and call logs: CSV, VCF, XML, HTML, BAK, Outlook

Text messages: TEXT, HTML, CSV, XML, BAK

Photos: JPG, JEPG, GIF, PNG, BMP, etc.

Videos: MP4, AVI, MOV, WMV, MPEG, 3GP, etc.

Music: MP3, WAV, AAC, AIF

Apps: APK

Books: EPUB, DOC, DOCX, PDF, etc.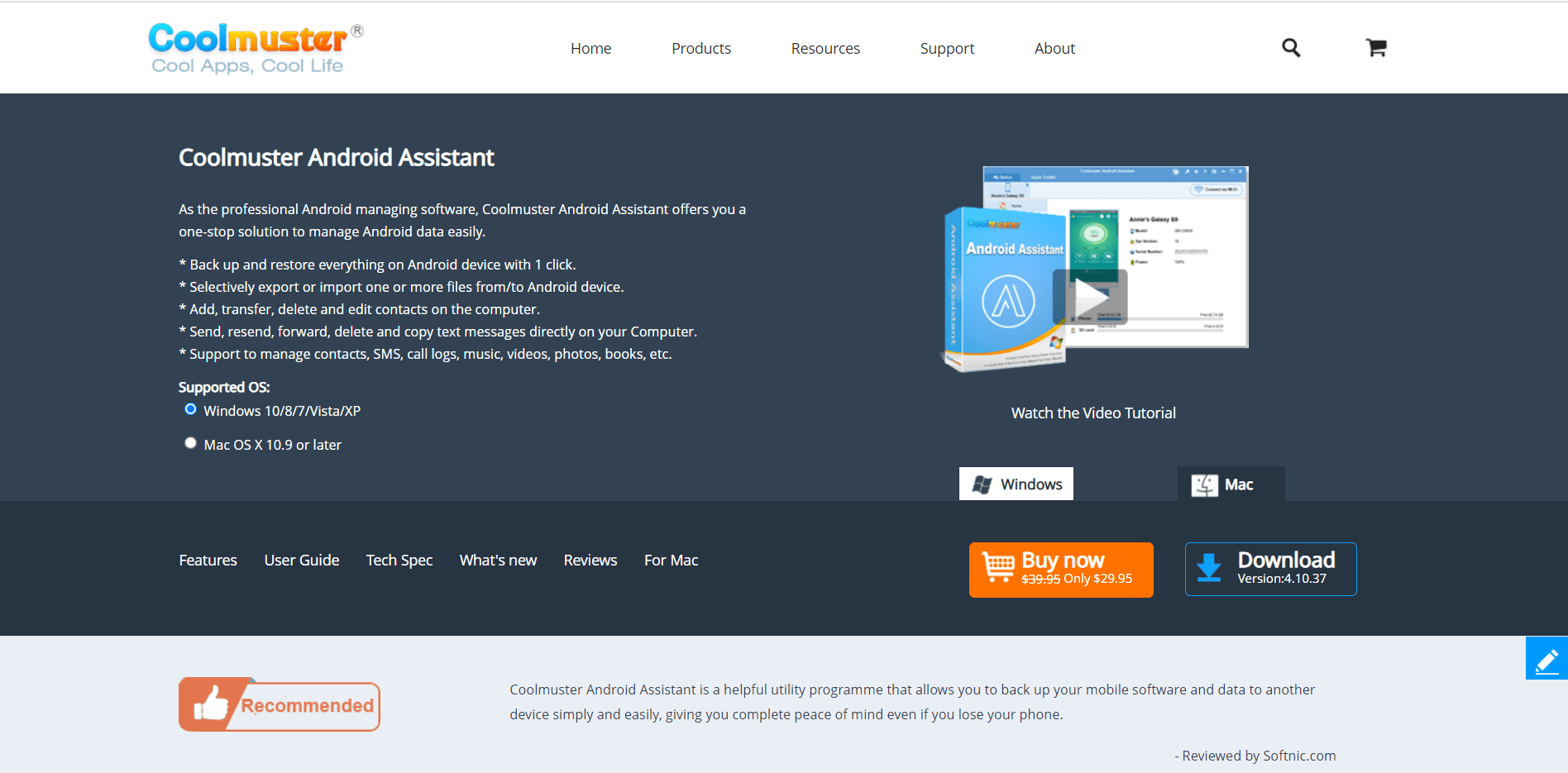 1. System Requirements
For Windows, it supports Windows 10/8/7/XP/Vista (64&32bits). And for Mac, it supports Mac OS X v10.9 and later, including macOS Big Sur, macOS Catalina, macOS Mojave, macOS High Sierra, and more.
2. Supported Devices
It can work for Android OS 4.0 and upper so that most Android phones and tablets are supported:
For instance, you can use it on Sony Xperia 1 III/Xperia 5 III/Xperia Pro, Samsung Galaxy S21/S20/S10, Samsung Galaxy A7/Tab S7/Tab S7 FE/Tab A 8.4, Honor 50 Pro/50/50 SE/X20 SE, OnePlus, Google, OPPO, Vivo, LG, Motorola, etc.
How to Use Coolmuster Android Assistant?
Well, it is straightforward to use.
1. Download and install the program on your computer. Then run it and connect the Android device to the computer via data cable.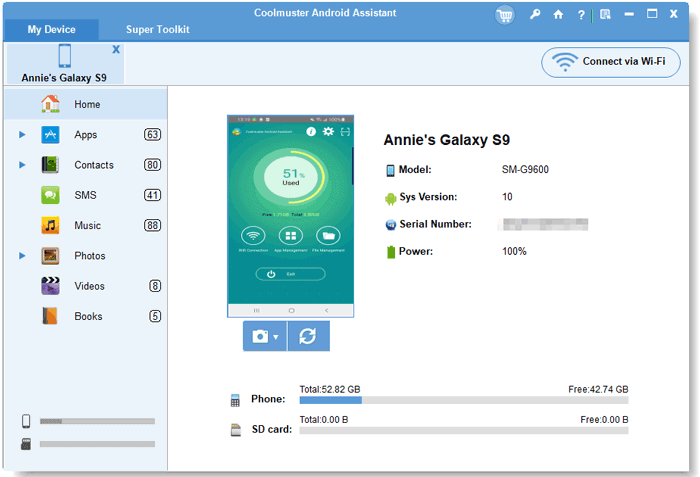 2. After you enable the USB debugging mode on Android, it will recognize your device immediately.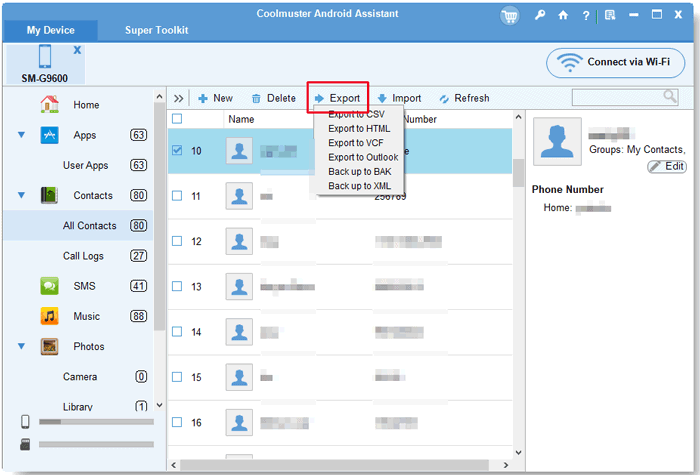 3. Tap the category you want, and use the top menu to manage your Android files.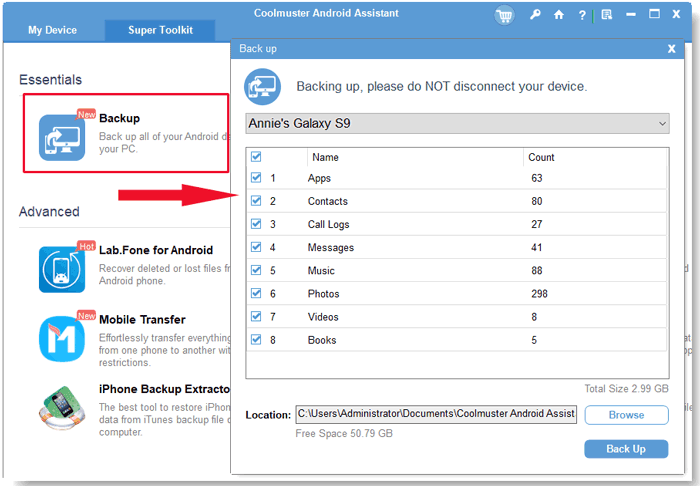 Besides, if you want to back up data in 1 click, please hit the "Super Toolkit" > "Backup" option. Then tap the "Back Up" button to save all files on your computer.
By the way, you can get a more intuitive guide by watching the following video.
Coolmuster Android Assistant Testimonials & Reviews
Of course, to check whether the software is reliable or not, user feedback is vital. Now, let's take a look at what users say about this software.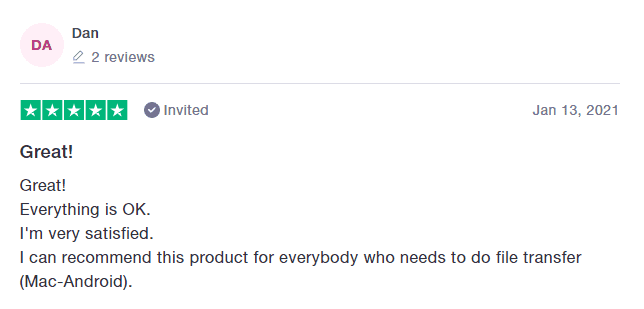 Plans & Pricing
Surprisingly, you can now purchase an annual license at a more favorable price of $29.95. Furthermore, the current price of a lifetime license is $39.95. Additionally, the prices of the Windows and Mac versions are the same.
1. Purchase Plans
1-year license on 1 PC: $29.95

1-year license on 5 PCs: $39.95

1-year license on 10 PCs: $49.95

Lifetime license on 1 PC: $39.95

Lifetime license on 5 PC: $59.95

Lifetime license on 10 PC: $99.95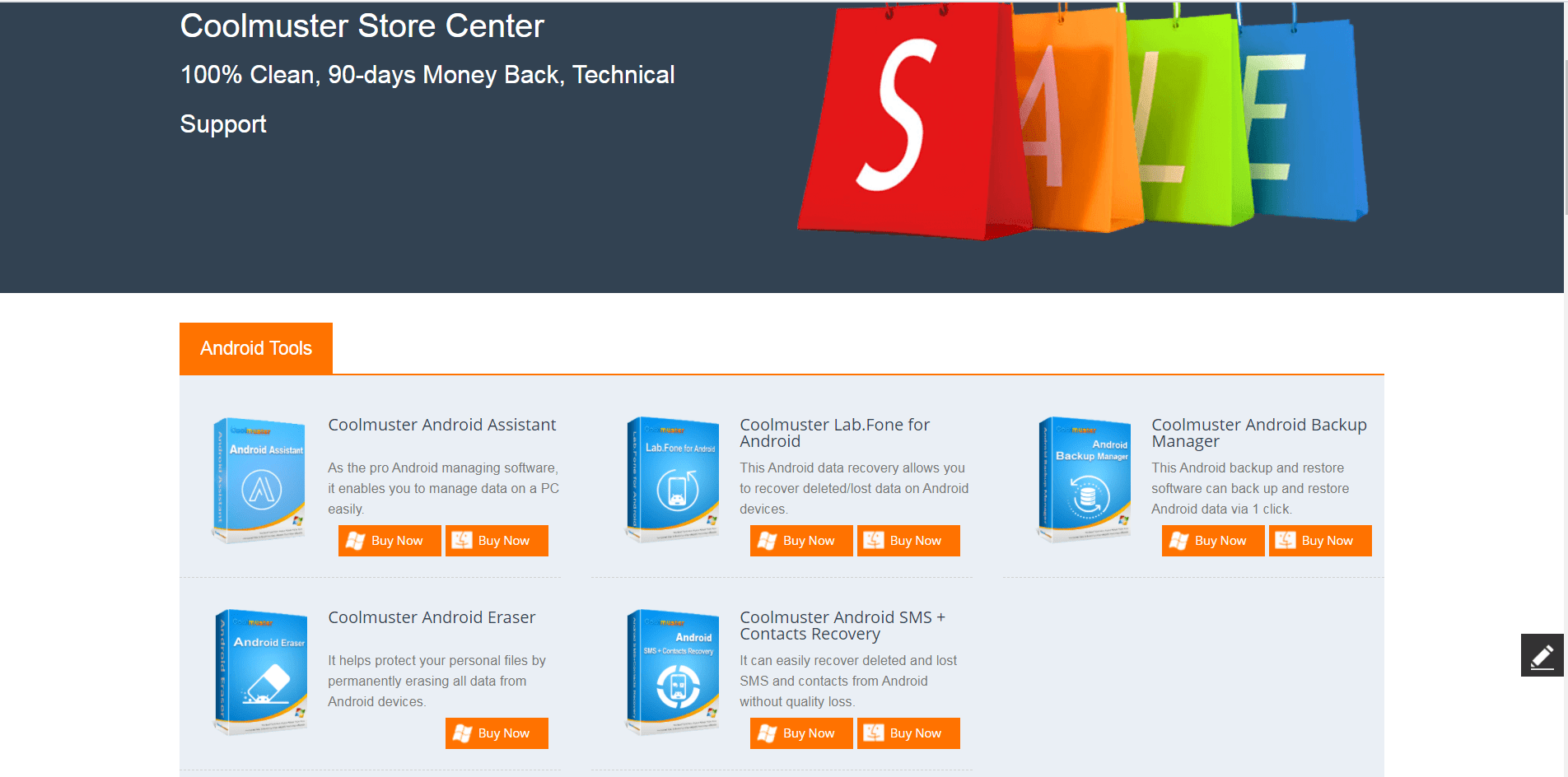 2. Customer Benefits
Enjoy all functions of the full version.

Overall tutorials and FAQs on the official website

Free software updates

Free customer services

Auto-renewal and cancel at any time

90-Day Money-Back Guarantee
Support Teams
Coolmuster has not only comprehensive guides on the website, but also professional and kindly support teams.
On the one hand, their support center is friendly to beginners, where you can quickly find the corresponding solution from the Sales FAQs, Refund FAQs, Product FAQs, and Online Tutorials.
Thus, in general, I can solve my problems by searching on the website.
On the other hand, they have offered their contact details on the website. Hence, everyone in need can contact them via email at any time, and they will respond to questions within 24 hours on weekdays.
Moreover, their tech support is really patient and responsive, and their answers are easy to understand.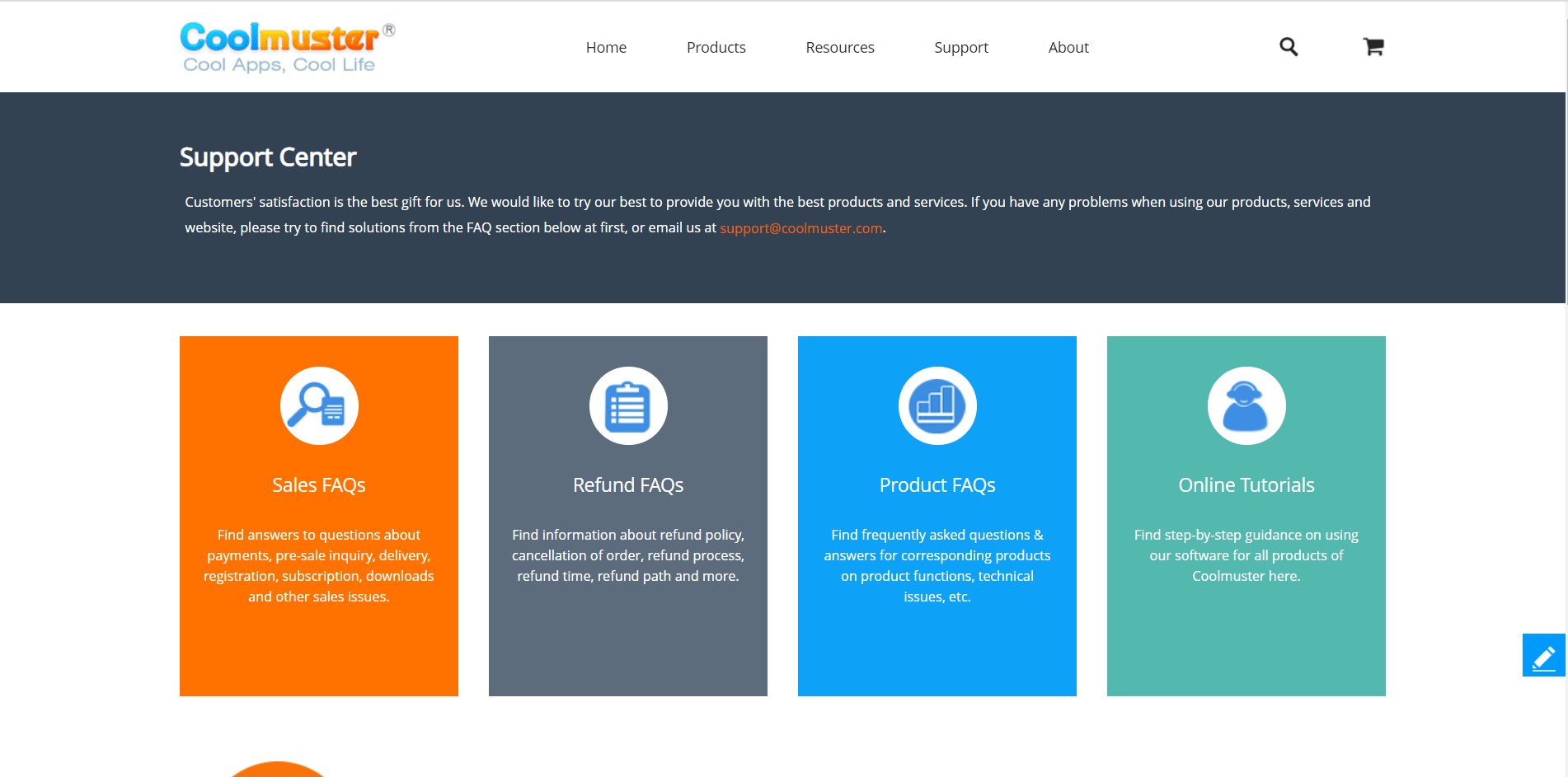 Here are some reviews for their customer service
– "Coolmuster programs just work, really well. Tech support is very responsive and gladly upgrade per the license agreement and promptly. Coolmuster is a name I can and do trust!"
– "The product works as expected… The support is EXCELLENT… The response is quick and comprehensive. No 1-word answers."
– "Excellent customer service! Everything was explained well."
FAQs | Coolmuster Android Assistant Review 
✅Is Coolmuster Android Assistant Safe?
Yes, Coolmuster Android Assistant is completely safe. Firstly, there is no ad on the interface. Second, when using the USB connection, it needn't any network. That is, it can help you transmit and cope with data offline. And after testing, there is no virus, malware, or other dangerous components. Mostly importantly, it is read-only and will not damage or disclose your personal data.
✉️Is Coolmuster Android Assistant Free?
No, this software is free to download, install, and scan Android data, but it requires you to register before transferring and managing data. After you try it and make sure it can meet your requirements, you can buy a license for registration.
⁉️Is Coolmuster Reliable?
Yes, it is a reliable company with complete and creditable privacy policy. As long as you visit its website, you will find that it focuses on developing excellent software, such as mobile device data recovery, data migration, device data eraser, and so on. More importantly, you can directly check the update of every program on the webpage. They have displayed the accurate date of every version update.
📌4. Does Coolmuster Offer Any Money Back Guarantee?
Of course, it does. It offers a 90-day money-back guarantee for all users. Besides, they have detailed refund policy introductions. You can read it before purchasing a license. By the way, you can find the refund policy by clicking the Support Center > Refund FAQs > What is your Refund Policy.
Quick Links –
Conclusion | Coolmuster Android Assistant Review 2023
Coolmuster Android Assistant is an effective and veritable Android data transfer and management tool. It not only helps users back up and restores Android data without a hitch, but also manages Android files systematically.
No test message will be missed when you need to focus on the computer since you can check it on the computer anytime.
Also, multiple features for Android data organization are available, and it is easy to use. Simply put, it is a trustworthy platform, helping those who want to manage Android files on a computer effortlessly.
Certainly, you can download and try it directly. If you have any questions about the program, you can go to their Support Center to directly search for relative FAQs, or contact their support teams via email.