Are you looking forward to opening your online store? Do you want to enter the online selling industry? If your answer to these questions is yes, read this article to the end.
A comprehensive review of the Dukaan app explains how you can easily and quickly open an online store while showcasing some of its most impressive features that will encourage you to use the app right away. So, let's begin!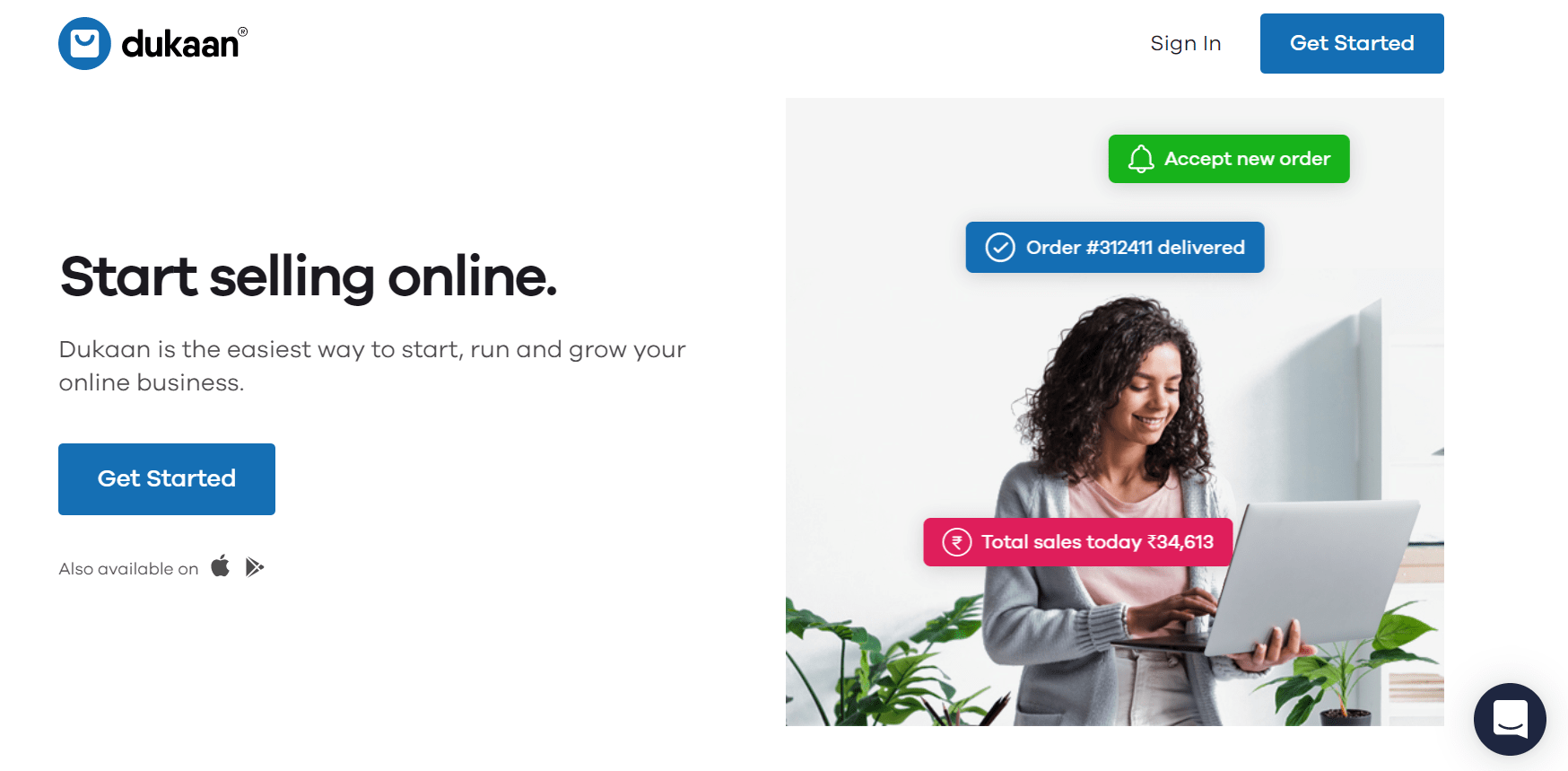 What is Dukaan?
Dukaan refers to a store. It's strange that we now have a Dukaan, an actual store or shop. As a mobile application. Suumit Shah, a young man from Satara, a tiny town in Maharashtra, came up with the idea for this app.
It was released on a digital platform in May 2020, during which time everything was on hold owing to the covid problems.
This app gave a new glimmer of optimism for the market at a time when necessities couldn't simply be provided—local shopkeepers who were forced to close their shops, businesses, and food centers, among others. Residents can now have their basic needs met with a single click at their doorway.
You may quickly share your online Dukan over WhatsApp or any other messaging network and then sell things to any consumer who places an order online or schedule your services online if you are a customer.
Another critical aspect of the 'Dukaan App' is that it benefited the Indian economy. It may be mentioned in terms of the crises and the fact that, as an Indian app, it pushed people to be vocal for locals. And this has aided in the empowerment of tens of thousands of small businesses in India.
The Dukaan App is a DIY (do-it-yourself) platform that allows small business owners, retailers, entrepreneurs, merchants, and anyone with no programming experience to set up their e-commerce store using their home devices in no time.
The Dukaan app allows offline stores to sell their goods and services online.
The program enables India's tiny enterprises to go online, which was not popular just a few years ago. Only the most well-known brands were available when it came to purchasing online.
However, Dukaan has generated over 2 million online retailers, linking small-scale DUKAANS and exposing them to the digital internet world. The app covers over 2000 cities.
It enables nearly 2 million small and medium-sized enterprises in India to use the internet to establish, grow, market, and manage their operations.
This application is attempting to carry out the goal of the Honourable Prime Minister of bringing our local and efficient markets and stores online and empowering India's small enterprises to do so.
As a reason, this app is ideal for this purpose. If you own a store, a restaurant, or a Dukandaar, all you have to do is download the app, register your business service, and create a list of the things you offer.
Customers can then be sent a link to your store or service via WhatsApp, Facebook, Instagram and, other social media sites for direct orders.
No particular programming skills are required to run this app, and you do not need to be a tech genius. It also does not necessitate a great deal of work or upkeep. It's that simple.
How does Dukaan Work?
MyDukaan app finds and displays nearby local stores registered within 1-2 kilometers. Suppose you're a consumer who requires assistance.
Whether it's groceries, food, reserving a seat at a restaurant, getting a haircut, the app has got you covered. With a single click, anything is possible.
All you have to do is choose your preferred store, place an order or book a service, and have it delivered to your home.
Features of Dukaan
The web version of Dukaan is its best part. Most users have claimed to love Dukaan because one great reason is that they keep their web version up to date.
With every Dukaan premium subscription, they also give a custom domain. That too with no extra charges. This is something incredible and makes Dukaan different from its competitors.
Their conversion rate is the highest in the industry due to their simple checkout process. They experimented with different Facebook advertising and achieved a conversion rate of roughly 15 % for IT items.
Whether you offer shoes, t-shirts, groceries, or handcrafted goods, you can create a Dukaan shop and begin selling. Here is a list of some of their free tools that you can make use of from here –
Invoice Generator

Terms and Conditions Generator

Free Slogan Maker

Privacy Policy Generator  
Here is a brief description of some of the major features of Dukaan –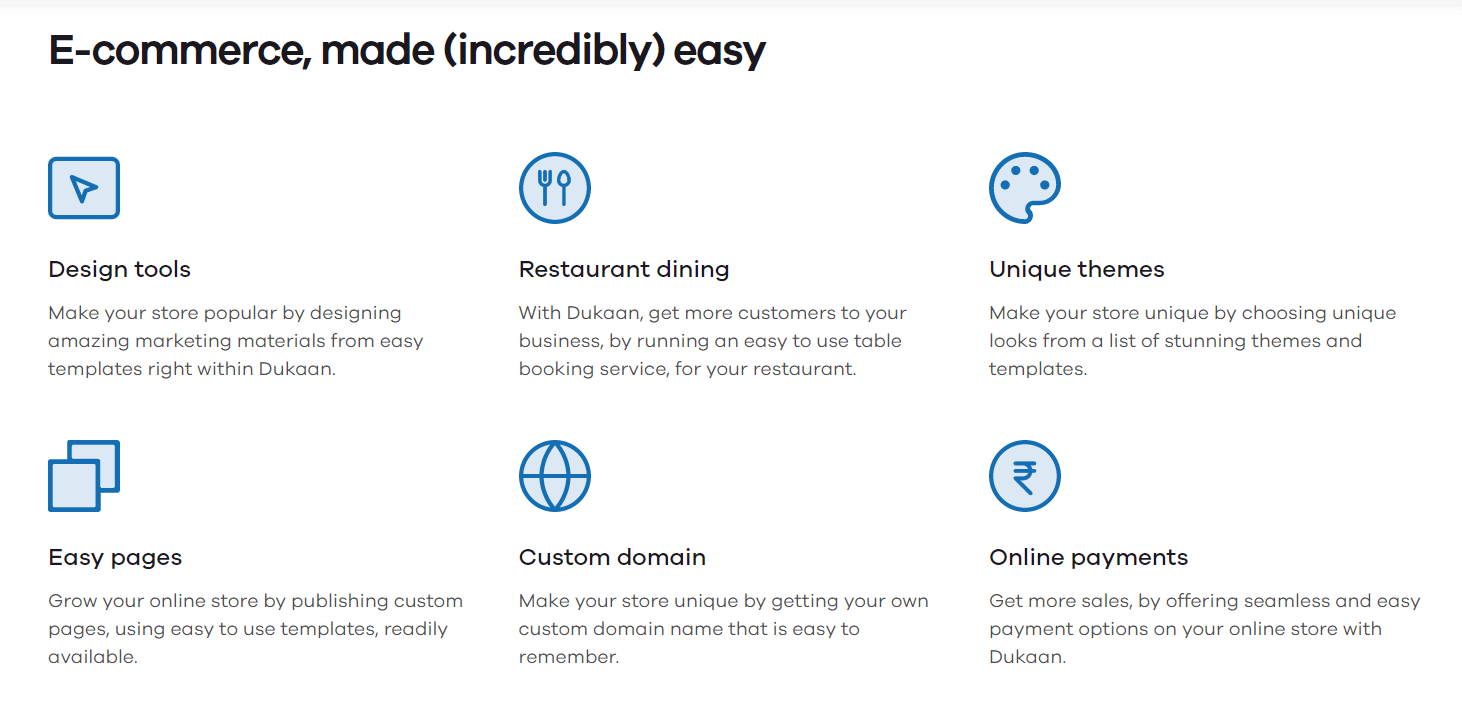 1. The Customer list:
Get the most out of your top customers by connecting with them. Establish a client list by pulling data from prebuilt lists.
2. Your app:
Generate more dedicated consumers by creating your mobile app and making it possible for them to purchase straight from it.
3. Add-on extensions:
Pair one of the plugins included in the add-on pack with a custom template to create a fully customized eCommerce storefront.
4. Online payments: 
Increase sales by making the checkout process on your e-commerce site smooth and hassle-free for customers using Dukaan.
5. Custom domain:
When you have your personalized domain name that is easier to remember, you may increase your business's distinctiveness.
6. Easy pages:
Expand your online shop by using custom pages, including simple-to-use templates, which are widely accessible.
7. Unique themes:
Bring your business to the next level by using distinct styles, along with a variety of incredible design themes and templates.
8. Restaurant dining:
One good thing about Dukaan is that it helps you increase the number of guests in your restaurant by giving you an easy-to-use table booking service.
9. Design tools: 
To get public attention, build excellent marketing materials that are simple to use and found within Dukaan.
Here is an example of one of their stores that you can take as a reference.  
Steps To Start Your Online Store At Dukaan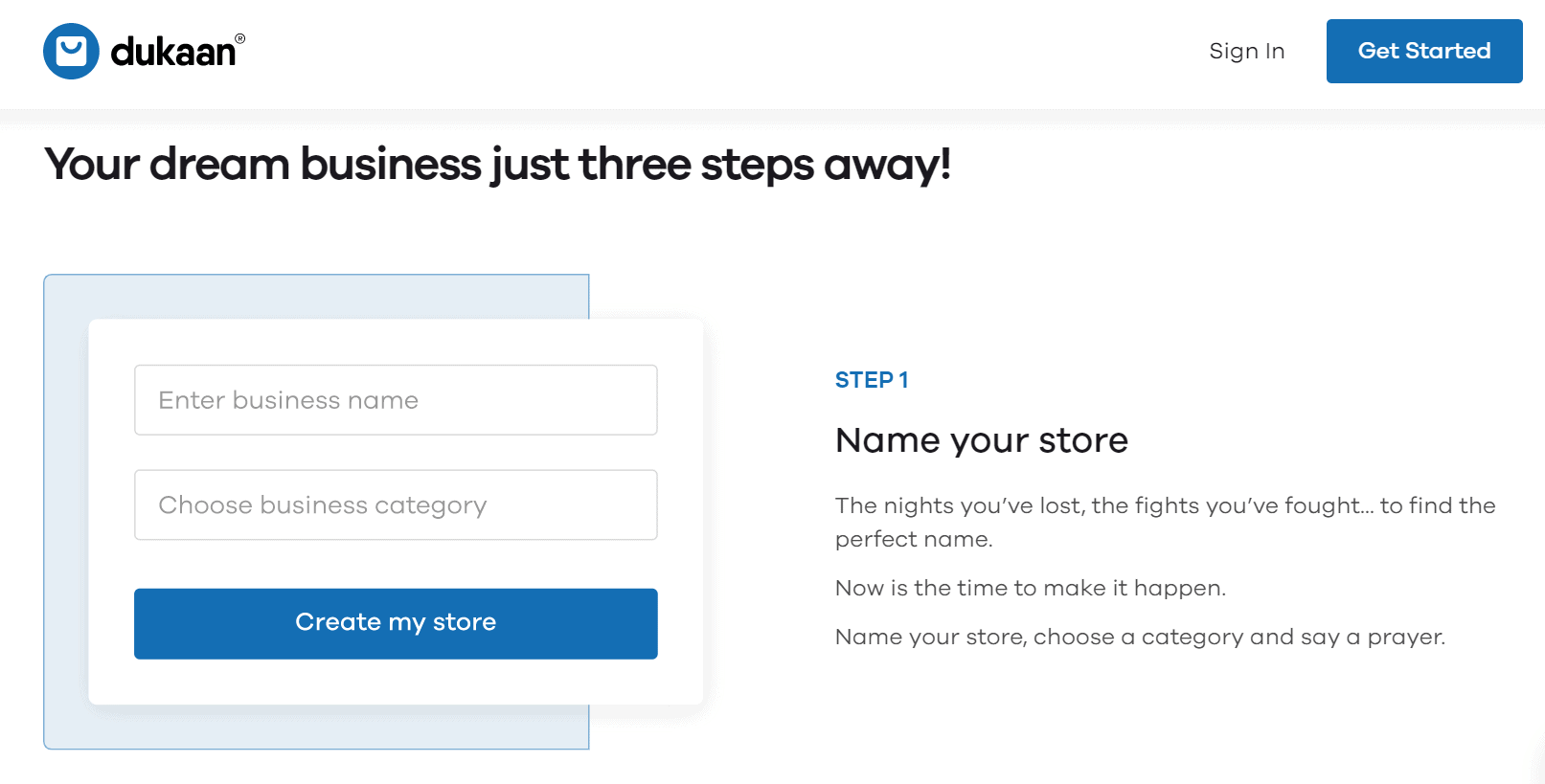 What are the Steps to Open a Store at Dukaan?
Unlike the substantial initial investment and continuing upkeep necessary to launch a Dukaan, the Dukaan app is easy to use, making it as easy as posting an Instagram picture to start your own company.

One logs in and completes the needed information, then picks, captions, and submits a picture. Similarly, all that is necessary in this case is to download the app, enter the business's name and address, and feed it. Begin by uploading photographs of their goods and services that are essential for the user's briefing.

Once the information is entered, the Digital Dukaan is ready, and the Store Link is generated instantly and can be viewed from the Dukaan dashboard.

Following that, you may send product/catalog/store URLs through SMS to anybody or share them on social media to promote them.

Customers will begin taking orders as soon as they come across the shop. As a consequence, you will get an email notice as soon as a new order is placed with the customer's name, address, and confirmed phone number.

After that, you must take the appropriate measures to deliver the order to the customer's address and mark it as "Delivered." That concludes the discussion. If a user is unfamiliar with the app, he or she may seek help from the Acquisition Team.

They contact him or her to finish the process and educate them on how to run a successful online company.

As a result of court rulings, this app has been temporarily removed from the Google Play Store owing to concerns about Khatabook. Existing app users, on the other hand, will continue to have access to the app, and its functionality will remain untouched.
How does Dukaan Work?
MyDukaan app finds and displays nearby local stores registered within 1-2 kilometers. Suppose you're a consumer who requires assistance.
Whether it's groceries, food, reserving a seat at a restaurant, getting a haircut, the app has got you covered. With a single click, anything is possible.
All you have to do is choose your preferred store, place an order or book a service, and have it delivered to your home.
Pros and Cons 
This platform, like any other, has its own set of advantages and disadvantages. 
Pros
You can obtain home delivery from a nearby supermarket for Rs.10. Everything will be delivered and served to your door, and you will be able to pay for it. 

There is no involvement of a third party.

Acceptable payment methods include cash on delivery, credit/debit cards, wallets, etc. As a result, there is no inconvenience for the customers. 

Furthermore, the economic and social consequences have been enormous. Giving a digital platform in the market has provided small business owners a boost in difficult times.

They have some really incredible marketing tools that include Store timings, invoice generator, order form, discount coupons, online payments, marketing designs, and many more.
Cons
 Not all the business categories are present.

There is a prerequisite for Internet access and a digital device, which may not be accessible or user-friendly to all.
Customer Reviews at Dukaan


Quick Links
FAQs | Dukaan Review
💁‍♂️ Is it possible to cancel an order after it has been placed?
If an order has already been placed and needs to be canceled, it should be done as soon as feasible. Within 10-15 minutes of placing the order, at the latest. It is impossible to cancel an order once it has been sent to the shop for delivery.
🙆 What is the app's minimum order value?
The minimum order value is 150 rupees only. However, this also depends on the seller.
👉 Does this app provide any refund-exchange policy?
ANS: The refund, the exchange is all dependent on the owner. Most of the time, the store owner will replace or refund the product if it has not been used and is still in its original packaging. If this is not the case, the local store owner has the last say. Hence, the customer should check and analyze the product upon delivery and take action quickly.
Conclusion | Dukaan Review 2022
The Dukaan app has aided all small enterprises in avoiding bankruptcy. According to the current pandemic, technological advancement and digitization are at a peak.
This is why many shop owners and small business owners attempt to establish their online presence through the internet.
The Dukaan app provides this service. They may take advantage of the online marketplace, helping them expand and sustain their firm. It not only facilitates shopping and selling, but it also helps local businesses, employing those whose livelihood and survival rely on them.
Dukaan is more of a simple version of Shopify. If we compare both Shopify and Dukaan, you must know that it is very easy to work with Dukaan even if you don't have any prior technical knowledge.
On the other hand, you may need prior technical knowledge to work with Shopify.