If you've been exploring ways to increase the rating of your Etsy listing, you've certainly heard about eRank, formerly known as Etsy Rank.
The founder, Anthony Wolf, observed that his wife was trying to increase the number of views on her Etsy listings. As a result, he decided to use his programming abilities to learn how Etsy operates and to create a tool that would assist individuals in using SEO effectively.
When his wife's sales began to increase, he realized he could offer these tools to others, and in January 2016, he founded EtsyRank.
I have been using eRank for more than a year and I truly adore it. Additionally, the tool is entirely free. Before upgrading to the Pro version, I utilized the free version for several months.
So let's see how eRank for Etsy can help you grow your Etsy Store.
What Is eRank?
Consider eRank as a dashboard that displays several metrics. You can view the various sections of the dashboard to get suggestions on how to improve your Etsy shop, what new products you should add, and what is popular on Etsy.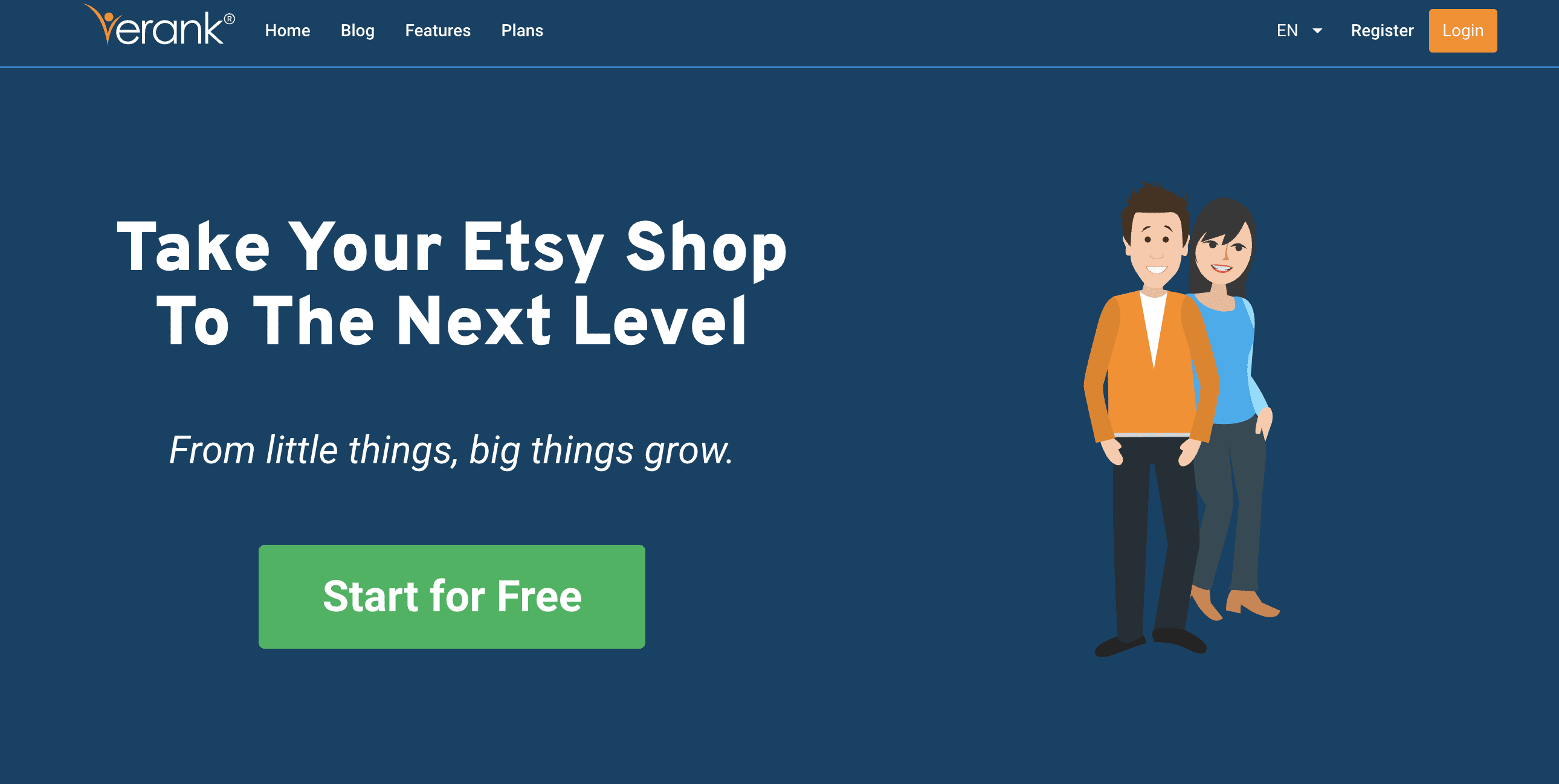 eRank takes pride in the following:
Assist you in discovering long-tail keywords that shoppers search for on several e-commerce platforms.

Monitor other sellers to determine how you stack up against the competition.

Monitor your own listings and observe how alterations affect your position

Understand Etsy SEO and make the necessary modifications.
In addition, the "keyword tool" section offers search volume information that can help you determine what products to launch in your shop. Before investing in a new product, I always check there first.
Getting Started With eRank
Create a free Erank account by navigating to the website. Prior to integrating your account, you will be able to view the top Etsy store for each category.
You will also be able to check how many sales each store generates and who dominates your specialty. You may also monitor the best-selling items, view the latest trends, and determine the origin of your followers.
There are a variety of SEO-related tools contained within the dashboard. Go to the Keywords Tool page, enter some terms, and see the search volume on Etsy for those keywords. I utilized this method to discover that, in terms of search volume, safari nursery wall art was the most popular this year. Before I waste my time creating an Etsy product that nobody is searching for, I like to use eRank to determine the search volume.

The Rank Checker is an additional valuable tool. This tool allows you to enter a keyword and then view its competition, demand, and engagement. It will also inform you how optimized your listing is and whether or not other advertisers are paying for those keywords.
eRank vs eRank Pro
The most valuable component of eRank Pro, in my opinion, is the "trend buzz" report, which provides monthly data on Etsy search trends. I offer printables on Etsy, so this information helped me determine that graduation announcements are a popular product.
You can examine trend data from prior years and presume that the majority of seasonal products will be popular again. This information can also be sorted by category on Etsy, so I look at the paper section, but you can also check what category is trending.
The trend data is also accessible for Pinterest searches because as we all know, Etsy and Pinterest go together like peanut butter and jelly. This information is extremely useful and entertaining.
How Do I Use eRank?
My weekly eRank routine consists of three main things.
I utilize the keyword tool to get a sense of the search volume for new products I may create.

 I check the trending buzz to see what's popular. 

I compare my shop's performance to that of my competitors and take note of areas where I can improve.
With the free version of eRank, you can do two out of three of these things. The Pro version is required for #2.
What Does eRank Do?
eRank is a powerful SEO analysis tool that can help you improve your website's ranking on search engines. It provides detailed insights into how well your website is performing so that you can make the necessary changes to boost its ranking.
It will also track the progress of your website over time, so you can easily monitor its performance. 
eRank offers a number of features that make it easier to analyze and optimize your website's SEO performance. These include keyword tracking, backlink analysis, and content optimization tools.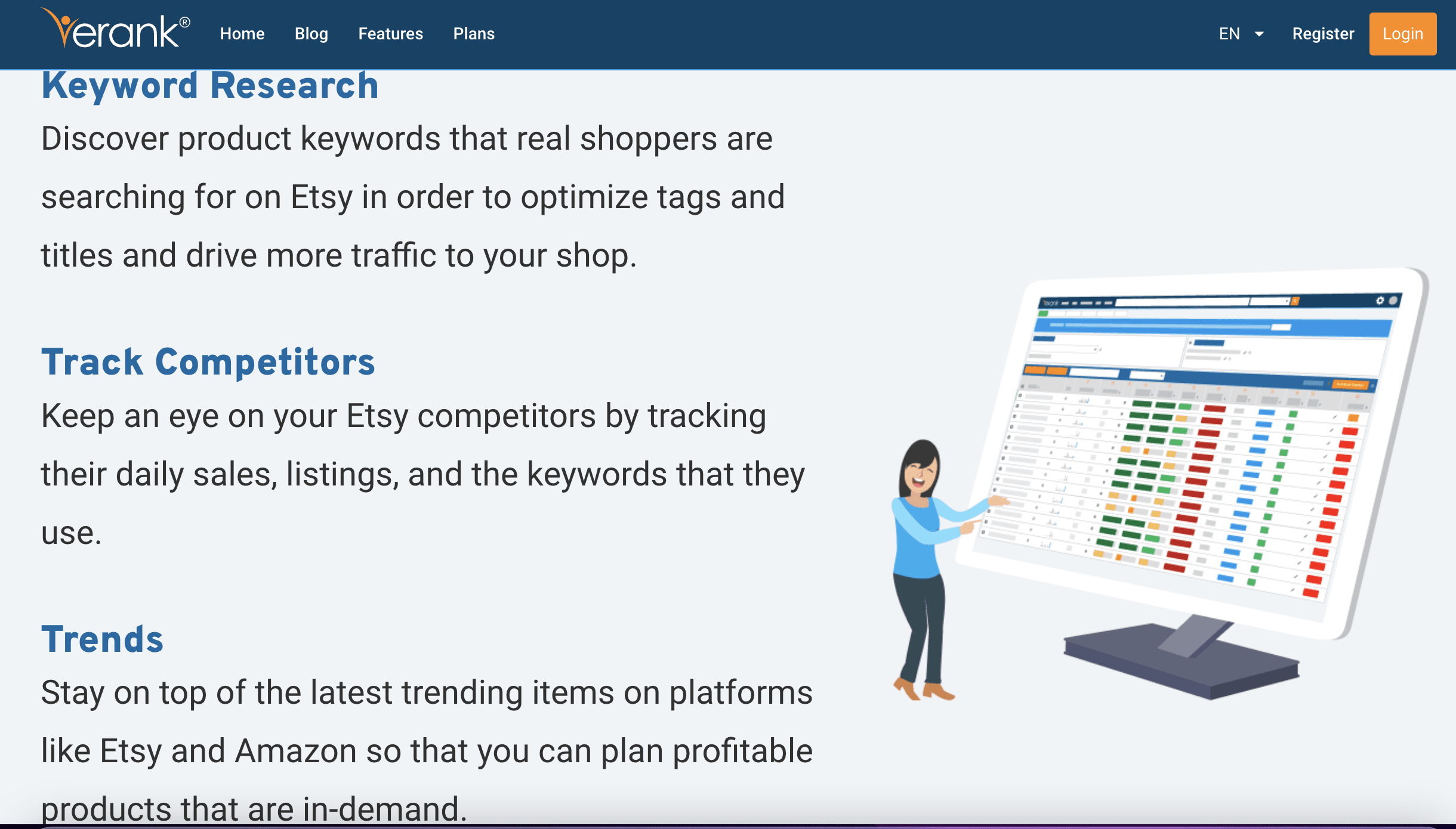 With these tools, you can quickly identify which keywords are most effective for driving traffic to your site, check for any broken links that may be damaging your rankings, and optimize your content for better readability and engagement with readers.
Additionally, eRank offers advanced features such as competitor analysis, which allow you to compare your own website's performance to those of other websites in the same industry.
This helps give you an edge over the competition by allowing you to identify areas where they are outperforming you and then adjust your own strategies accordingly. 
eRank for Etsy
eRank focuses heavily on the entirety of your listing and how to optimize the SEO as a whole. First, they examine your title, which must contain your keyword as closely as feasible.
Tags are limited to 20 characters, therefore you should also optimize titles for long-tail keywords.
Tags are an essential component of the listing because they help the search engine comprehend what your product does. The less competition you face, the more specific your tag is. Tags allow you to provide a much more precise description of your goods.
eRank assists you in determining the optimal keyword for your listing's ranking and compares your listing and keywords to those of other vendors.
eRank Pricing
eRank is 100% free! There is also a paid edition available, however, the free version still has many essential tools. The Pro plan costs $9.99 a month and offers 200 daily keyword searches.
You will never require more than 200 lookups per day unless you are a business or intend to utilize this service for several hours. A maximum of fifteen lookups remain!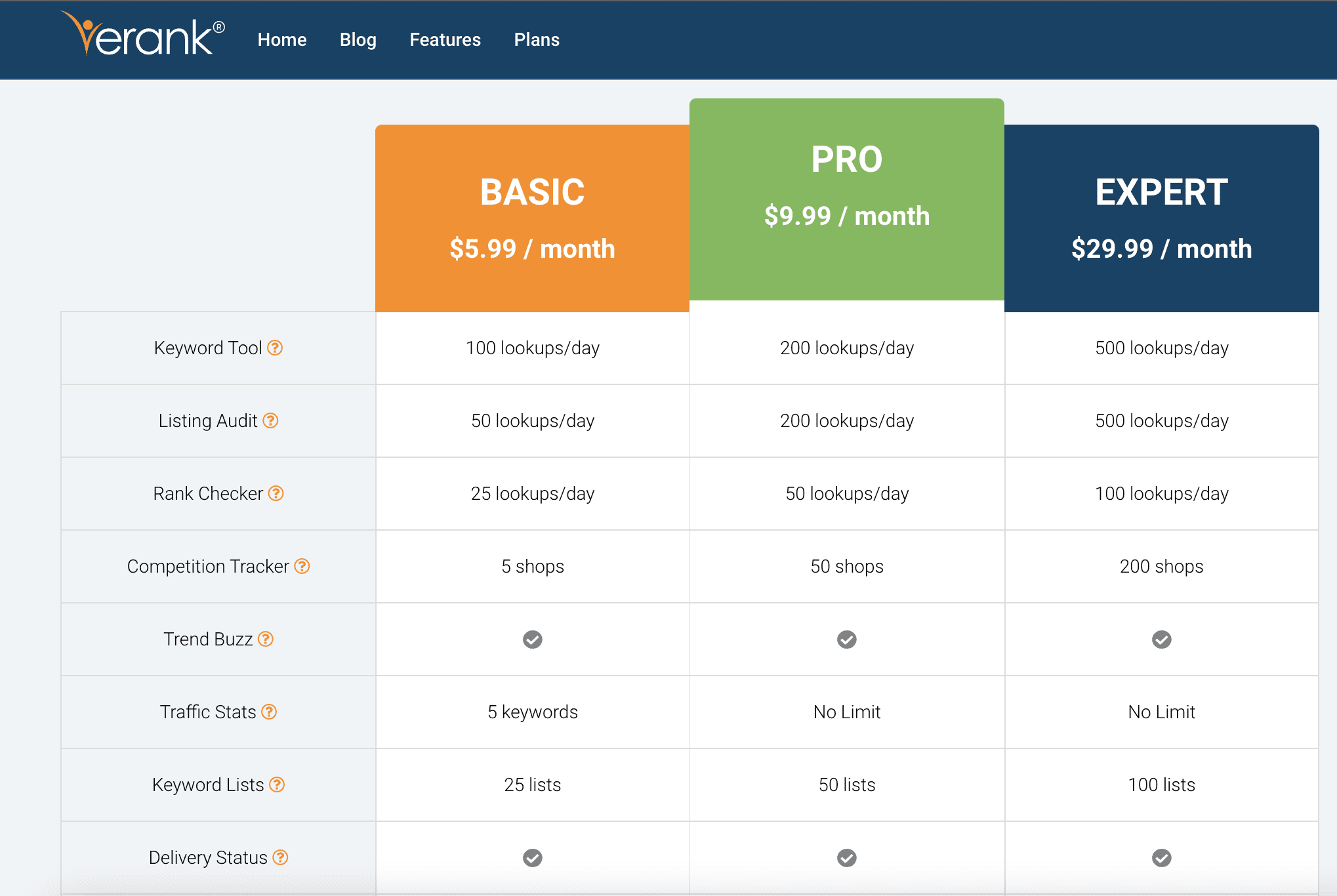 Their subscription options are reasonably priced, ranging from $5.99/month for eRank Basic to $9.99/month for eRank Pro, with varying access limits.
Unfortunately, even with the most expensive plan (PRO for $9.99), access is not infinite (e.g., 50 lookups per day for the rank checker and 200 for the keyword tool).
I would recommend that most sellers start with the free plan and then upgrade to the Basic plan if they use it frequently.
How Does eRank Work? 
eRank is an all-in-one SEO and SERP tracking tool. It allows you to easily monitor your website's ranking on popular search engines such as Google, Yahoo, Bing, Yandex, and Baidu.
You can also keep track of your website's performance over time by monitoring changes in keyword rankings for both organic and paid search results.
Additionally, eRank provides detailed analytics reports that allow you to quickly analyze your website's performance across different regions and devices.
Lastly, eRank enables you to track competitor rankings so that you can stay one step ahead of the competition. 
Quick Links:
Conclusion 
To achieve success in the Etsy marketplace, you must cultivate your Etsy store. There is a plugin that may be able to assist you with this issue. The name of this plugin is eRank.
It contains a wealth of information that can help you boost your Etsy ranking. It also analyses this data and provides SEO recommendations.
Therefore, we have attempted to describe how to boost your Etsy store by utilizing eRank Etsy. In addition, we have described in full the eRank tools that might assist you in this respect.
We hope that this advice will assist you in locating solutions that will make your Etsy store profitable.