This article will describe the eSputnik Review: how good or awful is it as a marketing software?
The in-house contact list is a critical component of marketing for any kind of organization. You may always contact folks who are familiar with you and are interested in learning more about your company.
However, how can you tailor your communication to your audience in such a way that the appropriate individuals get the appropriate message at the appropriate time?
Alternatively, you do not want to send an identical message to all of your mailing list recipients. Because if your list members do not feel addressed, your message will not convert.
Marketing automation is the solution. Historically, marketing automation firms have included email marketing capabilities in their offerings. Meanwhile, several have expanded their channels to include SMS, online push, and other instant messengers.
eSputnik is a pioneer in the emerging field of marketing automation services. eSputnik was introduced in Ukraine in 2012. It presently has offices in France, Russia, the United Kingdom, and the United States.
The research and development center is situated in Ukraine. At the time of this study, eSputnik had over 60'000 customers worldwide.
eSputnik Review: What is eSputnik?
eSputnik is an omnichannel customer data platform designed for organizations of all sizes aiming to boost their email marketing income. It's simple to begin your first email campaign with eSputnik.
Additionally, the platform offers comprehensive help at all levels through online chat, email, and phone. eSputnik can assist you with integration, launch, automation, and customization.
eSputnik was established in 2012. Within a few years, their firm has risen to prominence as a regional leader in the area of direct marketing. In 2012, the ESP industry looked quite different than it does now.
Indeed, email marketing was originally restricted to the distribution of promotional emails – the more, the merrier. The vast majority of emails were, in reality, SPAM. Businesses often purchased and sold email lists.
There were few to no specialists proficient in data-driven consumer communications. Personalization and marketing automation was not even considered.
The ever-changing business landscape necessitated that organizations adopt a fundamentally different approach to client relations.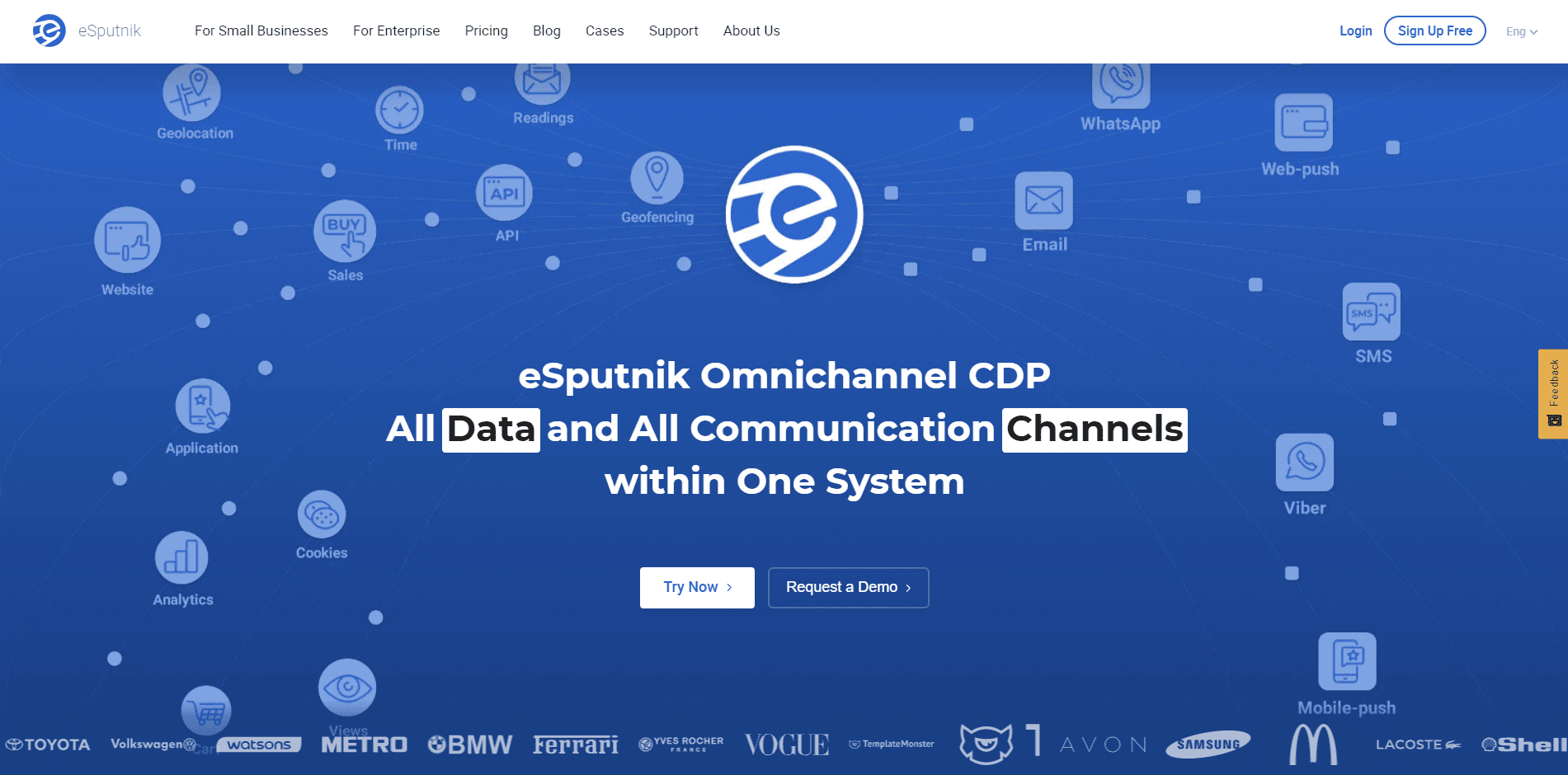 This necessitated the development of a revolutionary new email marketing solution capable of assisting firms in establishing and maintaining profitable connections with their clients. That is why their creators had to become marketing specialists in their own right.
The start was enjoyable, but also tough. They began by manually sending emails to email databases of around 5,000 people. They then spent evenings in a graphics editor, converting open and click-through rates into instructive reports.
By morning, their initial customers had gotten all of the information they need on all of the critical criteria. That is why they, more than anybody else, recognize the importance of marketing automation.
Since then, they've been building eSputnik to address the real-world difficulties its customers encounter daily, such as –
To aid in marketing decision-making via the use of actionable automated dashboards.

To engage consumers with multi-channel marketing that is targeted.

To save time on the creation and distribution of automated marketing messages without involving the IT department.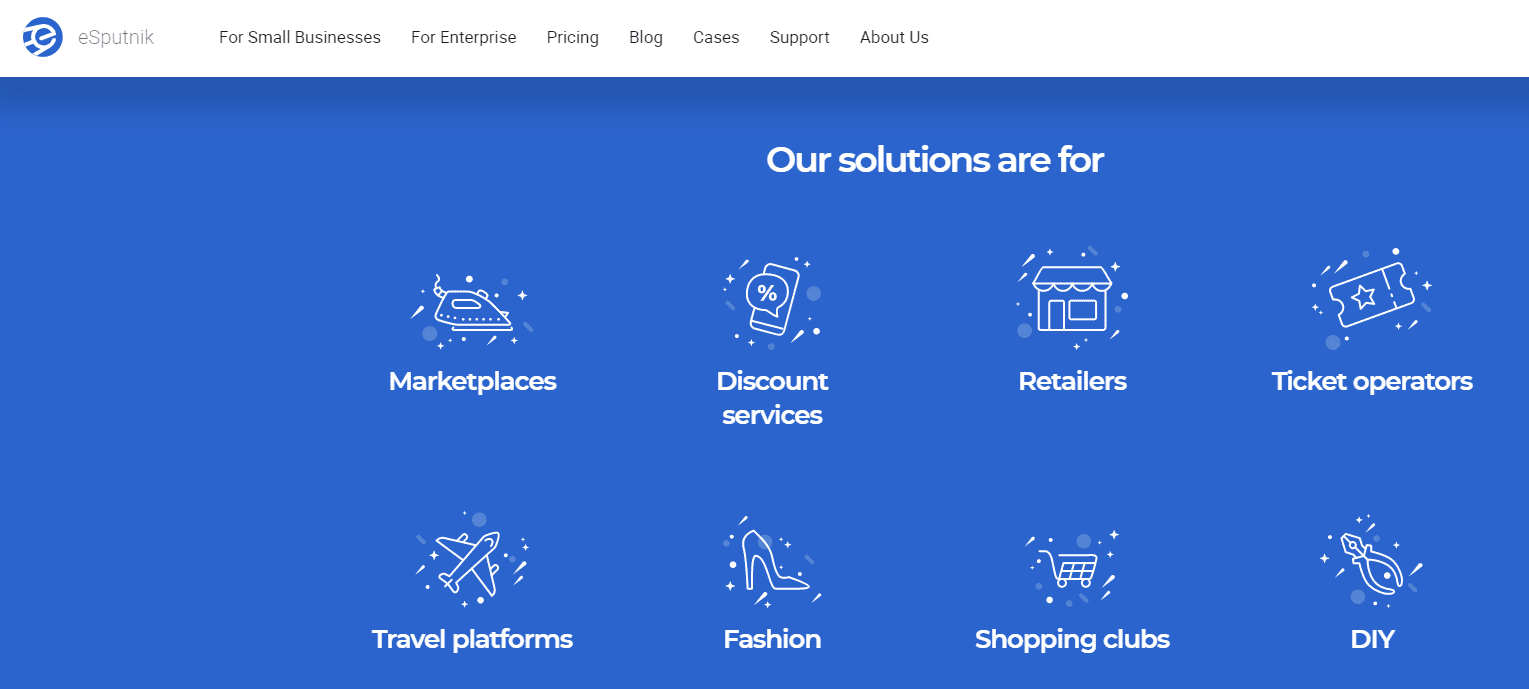 Creating and applying the most effective solutions to the problems you encounter. That is how they continue to improve eSputnik.
They foresee an all-in-one solution that enables consumers to concentrate on what is important.
That instance, rather than resolving difficult technical problems or coding HTML emails, we may focus on enhancing customer interactions and increasing the efficiency of marketing efforts.
They are continually improving eSputnik by using best practices and generating new marketing solutions. Each day, they add new features, and each week, we let their clients test them out firsthand.
Since eSputnik uses Omnichannel marketing, let us first check out in detail what Omnichannel marketing is and how does can it help you grow your business.
eSputnik Review: Major Features & Benefits
We have some major features and benefits of esputnik Review, so closely look at each of them.
1. Email Campaigns:
Import contacts, choose an email template, and send your campaign – all in a matter of minutes. Without the assistance of programmers, designers, or web developers, you can quickly produce unique, targeted emails that engage and convert.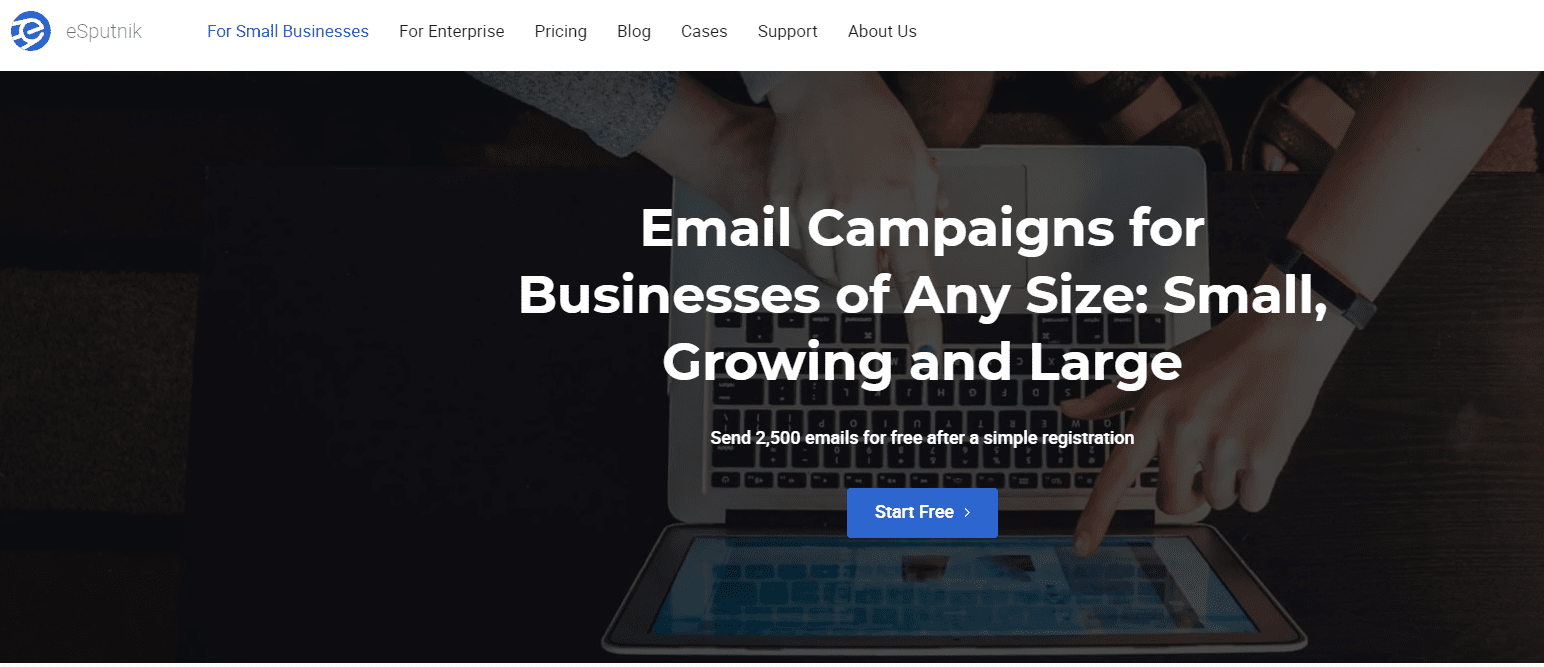 Even if you are already familiar with your contact database, they will assist you with migrating all of your contacts' data to eSputnik swiftly and seamlessly. They'll assist you in reproducing and optimizing the processes that existed before the move.
eSputnik has a zero-tolerance spam policy. If you're searching for a low-cost system for sending unwanted emails, this is a poor alternative. They monitor email campaigns attentively to ensure that no recipient receives spam.
2. SMS Campaigns:
With granular customization, you can increase the uniqueness and performance of your SMS messages. With eSputnik, you can automatically populate your clients' first names and other personal information.

Messages may be created in advance and sent on a timetable, or they can be sent in bulk instantaneously. Please keep in mind that they value their clients and do not permit sending text messages at night (21:00 to 8:00). This is a good decision by them.
Receive ten free text messages to demonstrate how simple it is to compose and distribute SMS messages with eSputnik. All you have to do is register – no credit card required!
3. Advanced Segmentation:
Utilize the Customer Data Platform to unify data from several sources and create a single customer view. Create dynamic segments depending on business-critical characteristics in real-time.
Provide each consumer with something they'll like at the proper moment and via the appropriate channel. We will check this out in detail in a while.
4. Site Production Recommendations:
Present suitable product suggestions to website visitors based on artificial intelligence algorithms. The algorithm will determine which goods your clients will be interested in purchasing.
Recommendations will be provided on the website in real-time and will be based on the user's activity and preferences. Present items that are more likely to pique the buyer's interest at the time.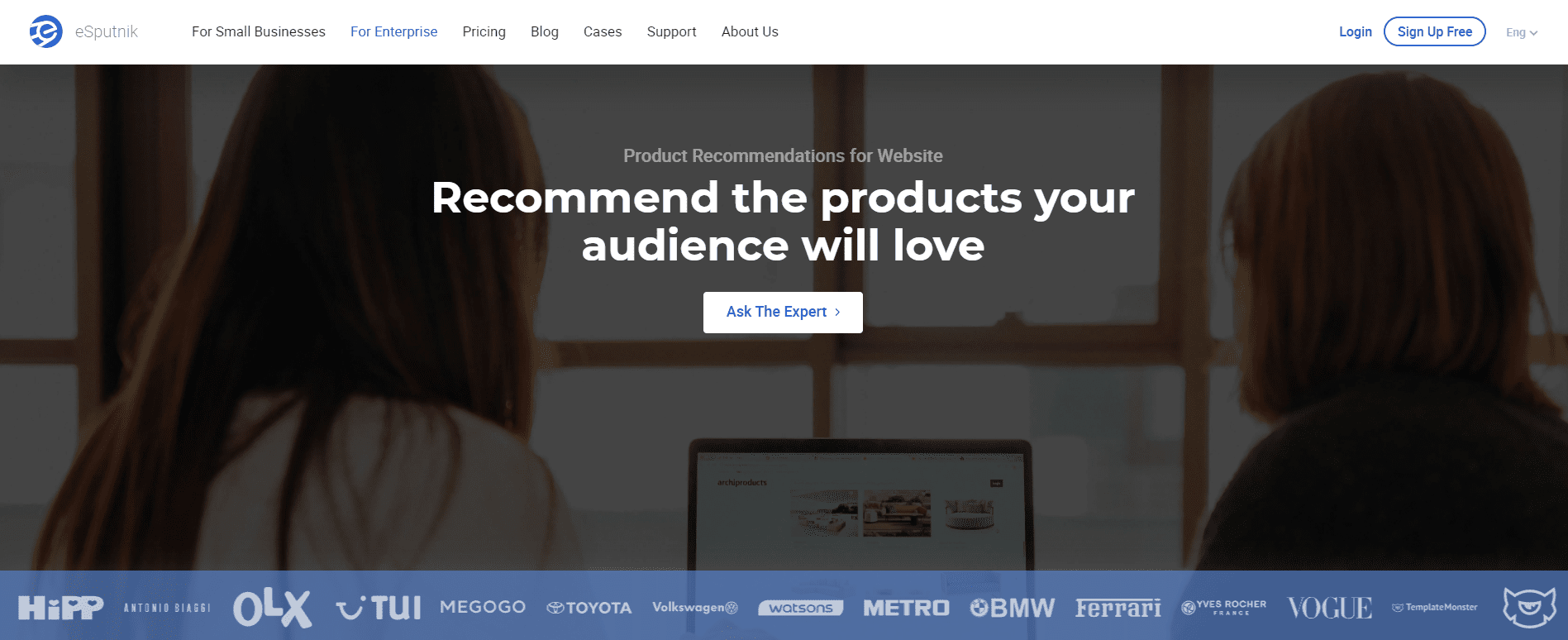 Offer things that are often purchased in combination to enhance the average check. Users value such suggestions and engage with them voluntarily.
Increase visitor interest in your website by displaying targeted offers based on their behavior: website activity over a certain period, seen products, reaction to campaigns, and average check. Bear in mind that maintaining an existing client is less expensive than obtaining a new one.

Configure the display conditions, hierarchy, and placement of recommendations with a few clicks without involving developers or code editing.
5. Mobile Push Notifications:
Push notifications from your app will continue to work even if the app is closed or in the background. Push notifications are provided directly to the displays of the devices. This assures that consumers receive your message regardless of what they are doing: playing, working, listening to music with their phones locked, or even laying them aside.
After a user installs your app and consents to receive mobile push notifications from you, you may direct them to your app or a specific page on your website in the most timely and engaging way possible.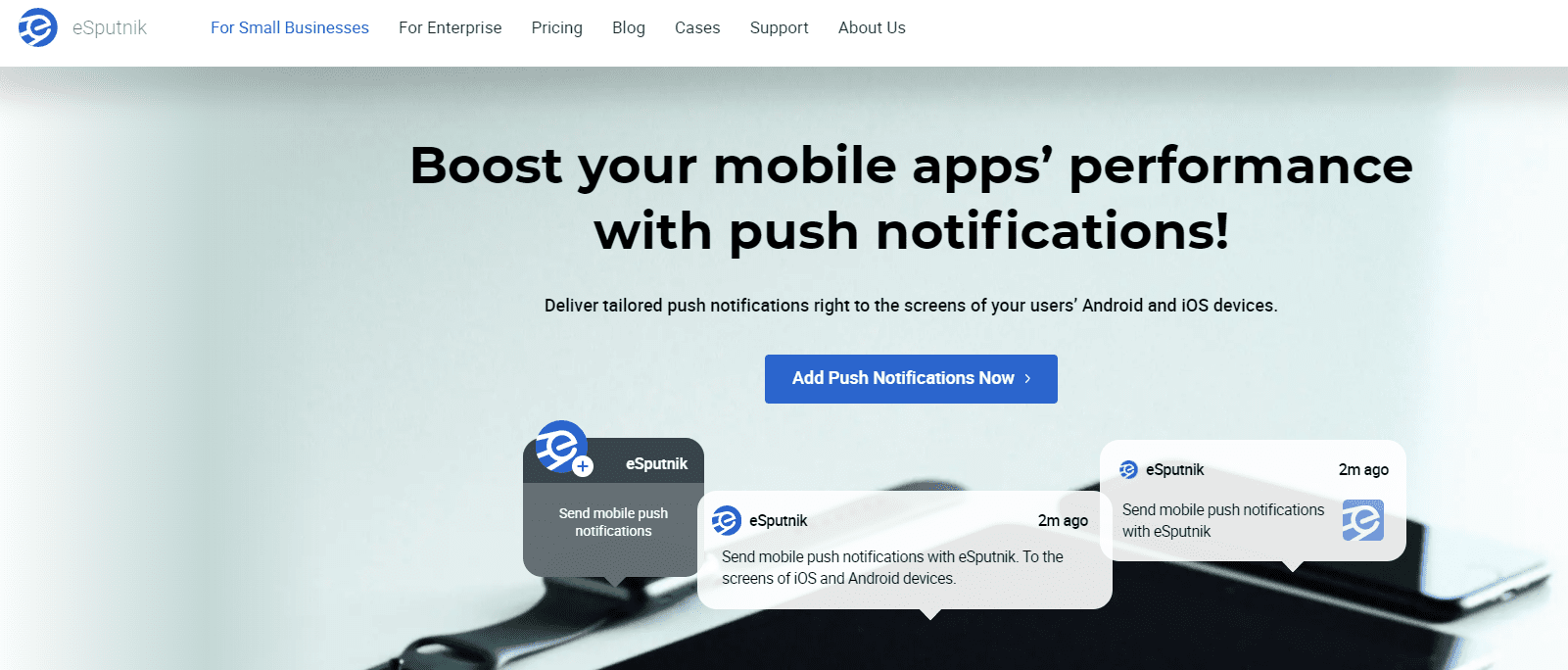 You'll be able to segment your campaigns based on a user's product preferences, time of activity, average order value, demographic information, geography, and a variety of other critical variables.
Push notifications on mobile devices assist consumers in returning to your app or website, adding value to transactions, and recovering abandoned carts. Because current consumers spend their days on the move, holding smartphones and tablets, your app push notifications will always reach their intended audience.
6. Email Marketing Agency:
 

They'll automate your campaigns and ensure that each of your clients receives offers that are relevant to their interests and requirements. The more effectively you satisfy demand, the more things you will sell.
 

You are not required to recruit and train new personnel. They provide a comprehensive suite of campaign management services. You'll get access to a complete agency for the price of an average marketer's wage.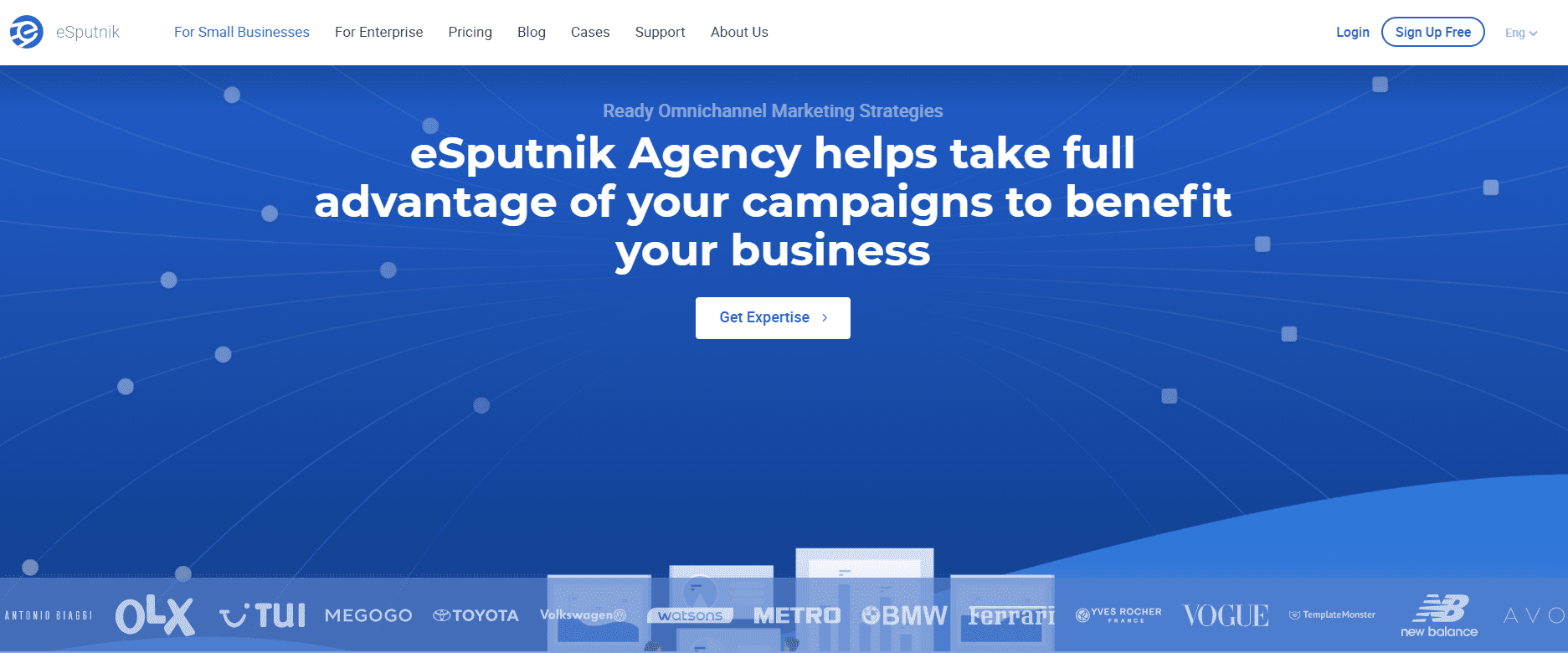 Increase the value of your brand by sharing relevant material and sending perks regularly. New consumers will become repeat customers and brand evangelists.
 

Increase the number of products and services you sell to your loyal consumers. Successful email marketing serves as a reminder of linked items or services. Attract clients with repeat purchases discounts and motivate them with tiny incentives – and your sales will explode.
7. Email Marketing Automation:
Personalize each subscriber's marketing communications in real-time depending on their interactions with your website and messaging.
Create a template once and then use it to produce customized emails automatically using the JSON structure. Utilize conditional statements, cycles, and arithmetic operators to create dynamic one-to-one communications.
Utilize suggestion blocks such as "Others Also Bought," "You may also like," and so forth. By increasing customer happiness via the purchase of complementary items, you instantly boost average purchases.

75 % of carts are abandoned. Cart abandonment emails sent automatically to consumers urge them to return to the site and finish their buy.

Customer browsing history is tracked and tailored emails with relevant offers, related items, and accessories are sent.
Customize customized offers dynamically for each consumer group. You may segment your audience in real-time depending on the location, preferences, browsing, and purchasing behaviors of each user.
8. Viber Messaging:
Customizing your material for each subscriber is critical to building long-lasting, mutually beneficial connections. By automating the segmentation of your subscriber information, you may save up to 46 % on marketing expenditures.
Viber campaigns have an exceptional deliverability rate of over 100 %. The software operates well on a variety of mobile devices (iOS, Android, and even less popular OS).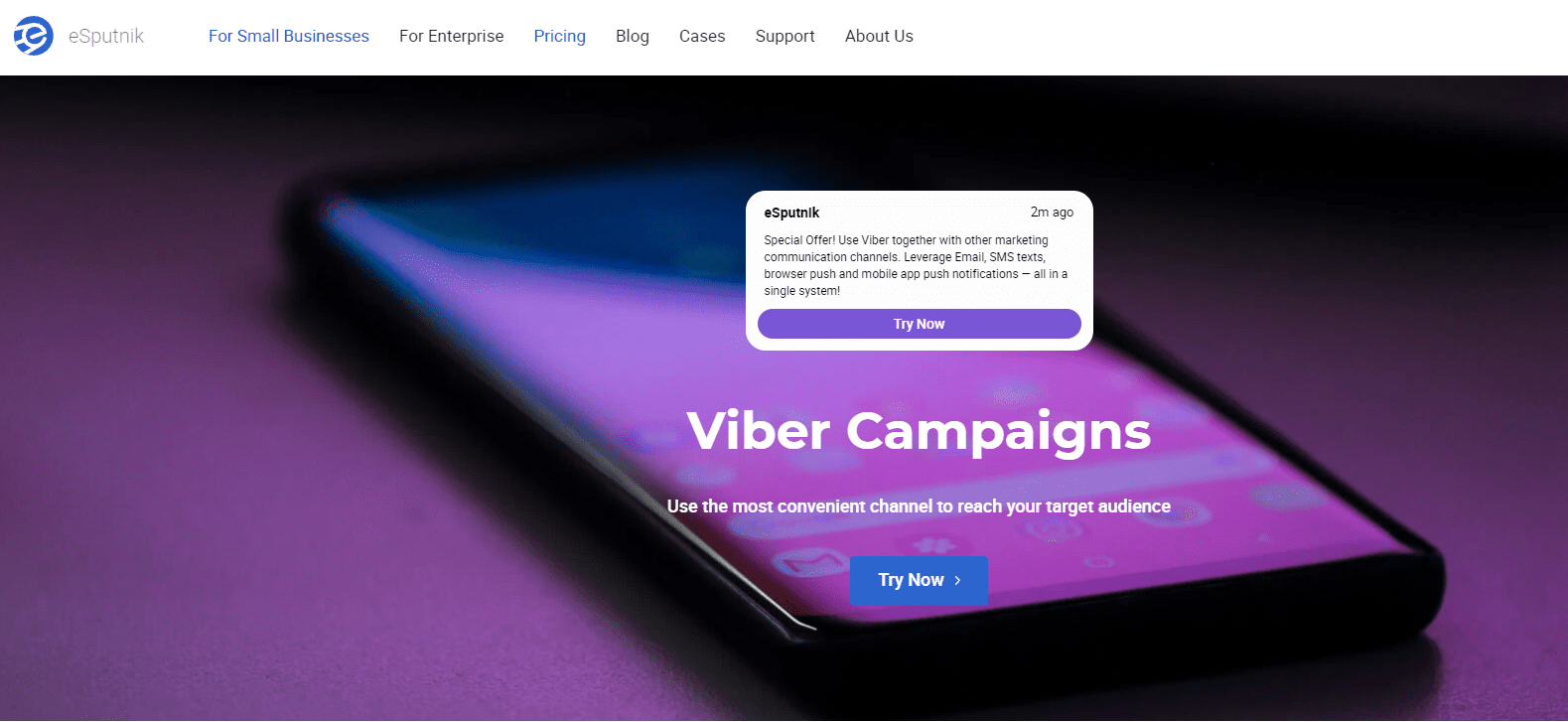 90 % of messages are opened within the first three minutes, and 50 % of receivers visit the sender's website, making Viber a very efficient marketing medium.
Viber is the world's seventh most popular instant messaging service, with over 260 million monthly active users. Given the amount of time your prospective customers spend with a mobile device in their hands, Viber is a very effective marketing message tool.
9. Convenient Solution for Multilingual Campaigns:
Their tool enables you to configure your audience's preferred language manually or automatically depending on the browser language. Based on their participation with your campaigns, the eSputnik system may populate the customer's profile with the relevant information.
Avoid being lost in translation. Create and alter email copies in an infinite number of languages using a single template. Each multilingual campaign is identified by a unique symbol that enables one-click switching to the required material.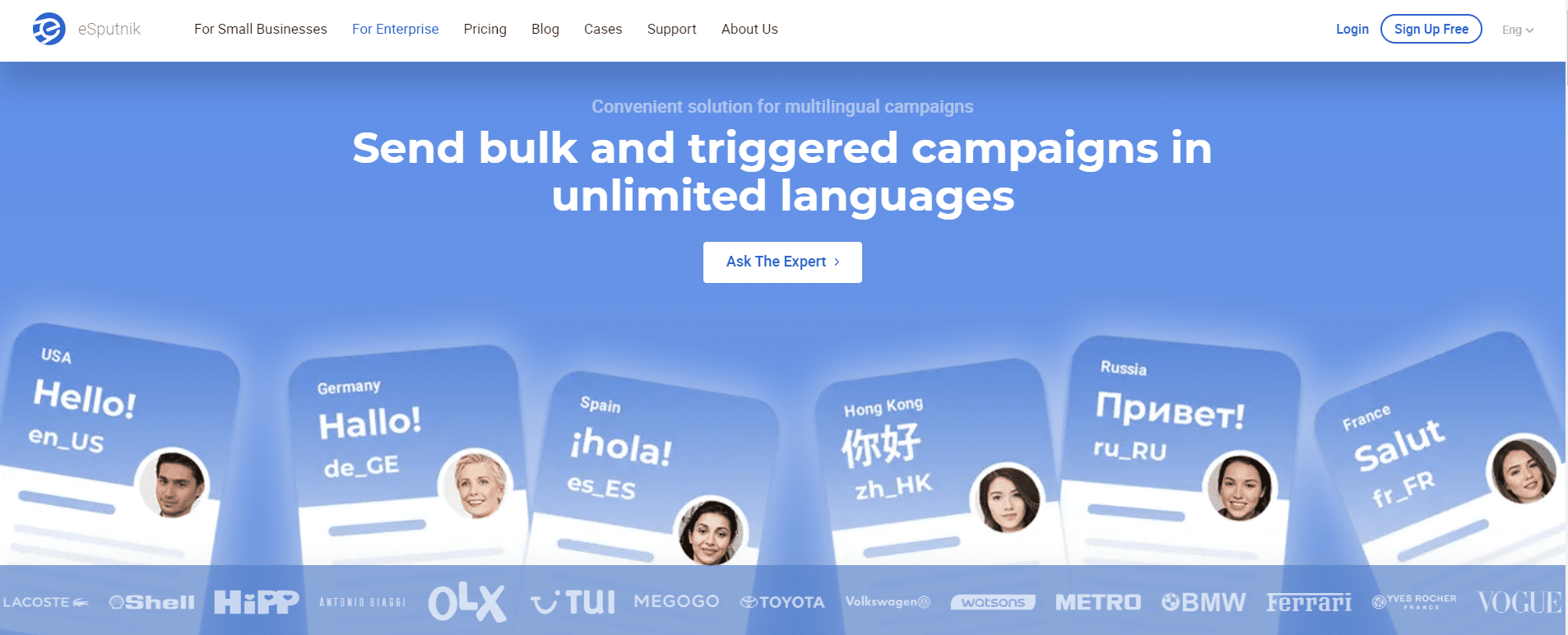 Their new tool significantly simplifies process management by obviating the need for redundant checks and manual modification. Now, the system selects the sent language automatically depending on information from the customer's profile or event.
10. Web Push Notifications:
Customize online push alerts with dynamic content blocks, address consumers by name, and increase sales with targeted product suggestions.
Segment your audience and engage them differently based on product preferences, gender, age, geographic region, and other significant variables. With customized web push notifications, you may increase your sales by up to 37 %.

Setting up, creating, and launching your first web push notification on the eSputnik system takes around 15 minutes.
All eSputnik customers that use the service to deliver web push notifications with less than 25,000 subscribers get free basic web push notifications (without segmentation and targeting capability).
11. Mobile Marketing:
They connect brands and consumers directly via mobile devices. Manage high-performance mobile marketing campaigns without the assistance of programmers or analysts. Get professional communication solutions for mobile applications, messengers, and websites.
Personalize your communications and campaigns to react immediately to consumer activity in the app and on the website, preferences changes, abandoned carts, and so on. Utilize the entire potential of mobile marketing to send breaking news – urgent mobile pushes and web pushes, SMS and Viber messages.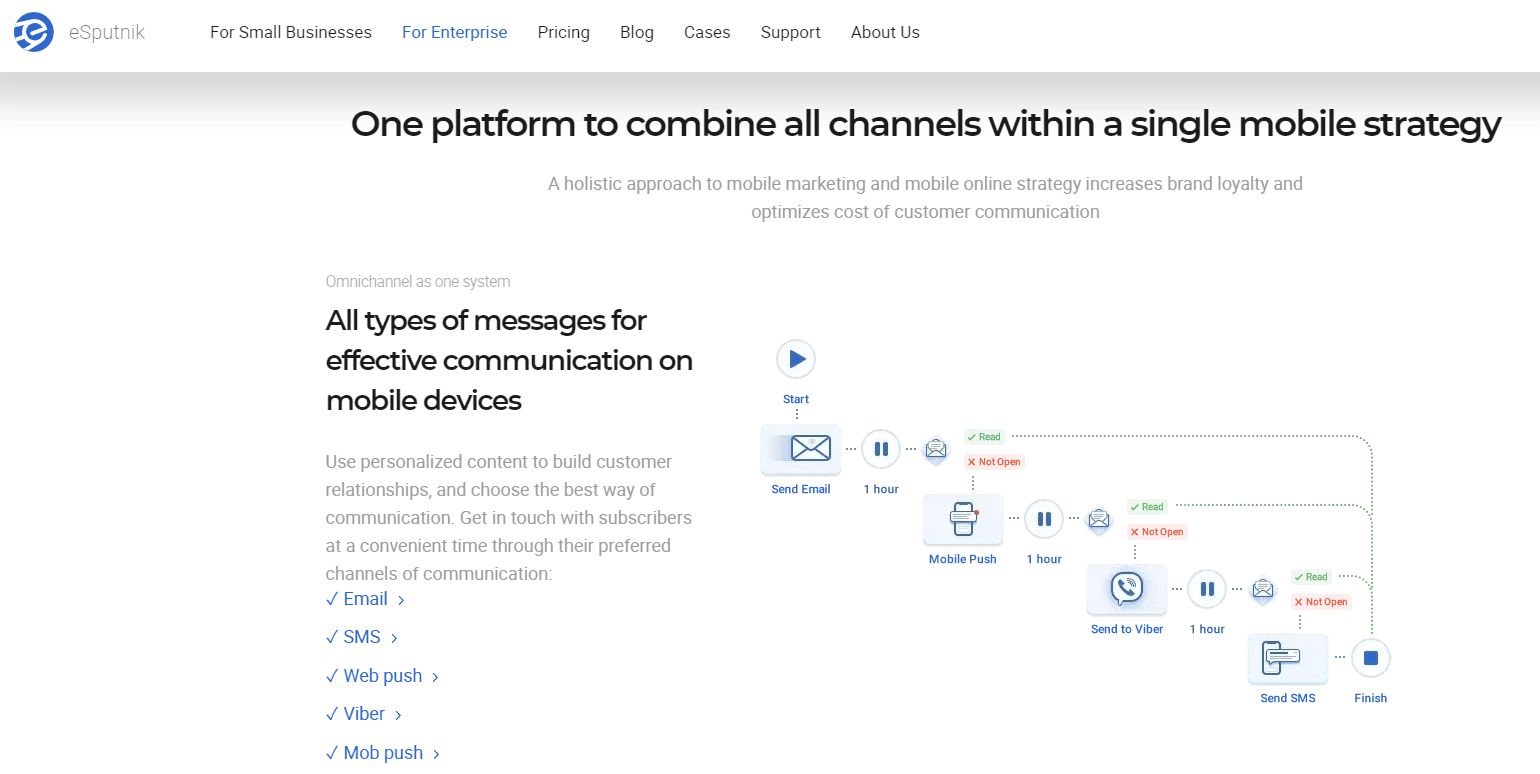 Beyond the mobile app, extend your reach to your audience. Utilize extra channels, such as SMS and messengers, to communicate with your consumers conveniently. Maintain active app users and develop a long-term connection using targeted mobile pushes, messenger alerts, and SMS.
Combine email marketing with a mobile approach. Convenient options in our editor enable you to modify each email element's responsiveness to ensure that it displays correctly on a mobile device. The AMP technology dynamically and interactively transforms your campaigns, engaging your consumers and producing a higher response rate.
Cascaded processes enable you to effectively distribute your marketing budget, starting with the cheapest channels and progressing to the most costly. Mobile Push Email Viber SMS – optimum efficiency at the lowest possible cost.
eSputnik Review: Campaigns
The process of creating a campaign is somewhat different since you have the option of sending it. I'm going to focus on email for this evaluation. You'll begin by selecting a template for your campaign.
eSputnik maintains a massive template gallery organized by industry. Additionally, you may search the gallery by title.
All templates are compatible with mobile devices. Once you've located your template, you may begin customizing it. The email builder has a drag-and-drop interface.
If you've already worked with a drag-and-drop website builder, you'll be right at home.
eSputnik goes above and above the call of duty for any "self-respecting" email marketing automation supplier. It not only allows you to personalize your message with the recipient's name but also with data about your user's experiences and interactions.
This is very useful if the contact fields include little or no information. In this case, you'll want to configure dynamic content to conceal incomplete blocks. After you've completed customizing your email, it's time to specify your campaign's parameters.
eSputnik provides helpful tips when composing your campaign's subject line, and you may annotate your campaign using Gmail Promotions Annotations.
Not only can you choose which segment to send the campaign to, but you can also choose the batch size, define the degree of irritation, and schedule the campaign's delivery.
eSputnik Review: eSputnik Pricing Plans
eSputnik has separate pricing for all of its products and an All-in-one plan which has all the features you may need. So, let us have a quick look-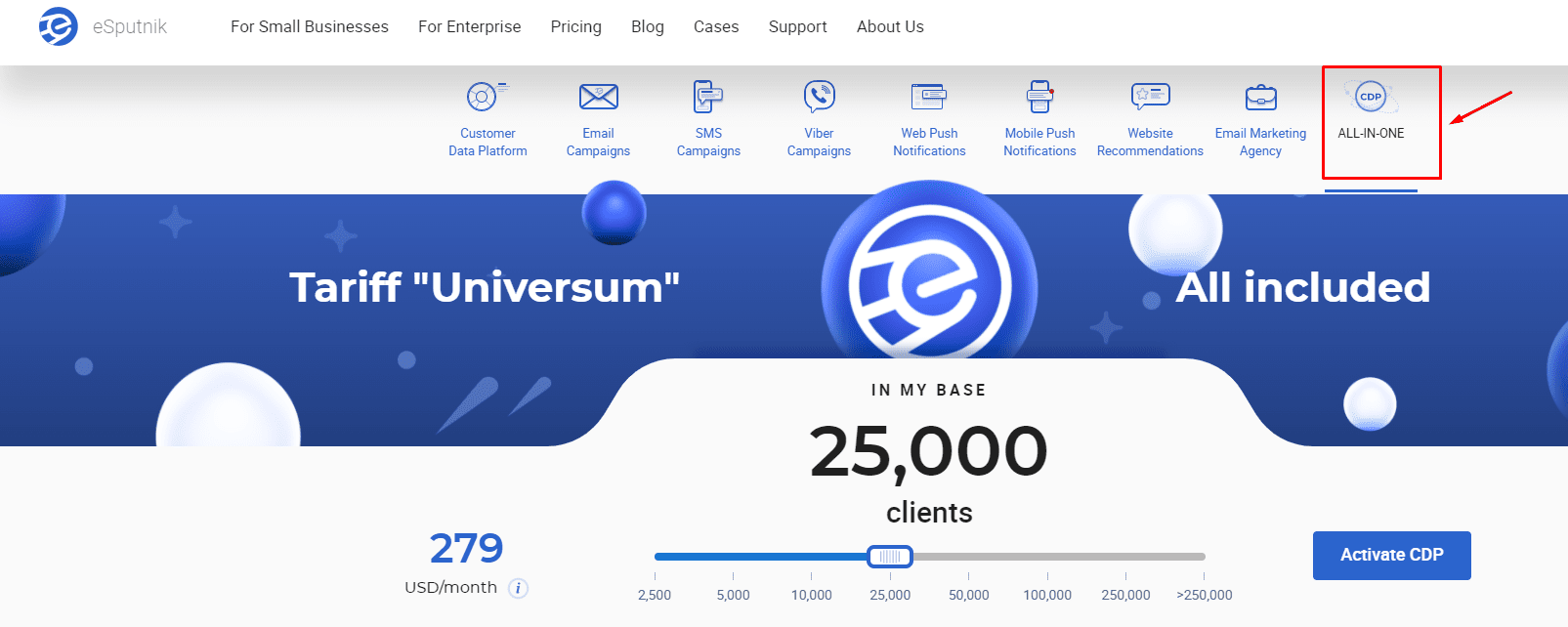 $ 59 per month for up to 2500 clients.

$ 99 per month for up to 5000 clients.

$ 159 per month for up to 10000 clients.

$ 279 per month for up to 25000 clients.

$ 459 per month for up to 50000 clients.

$ 799 per month for up to 100000 clients.

$ 1599 per month for up to 250000 clients.

$ 1599 per month for up to >250000 clients.
FAQs on eSputnik Review
Does eSputnik have a trial period?
Following registration, you will get 2,500 emails and ten SMS to try the service. Additionally, they will build one complimentary email template in the corporate style of your website.
How do I get a discount on eSputnik?
They provide the following discounts: 5 % discount if you pay three months in advance in a single payment; 10 % discount if you pay six months in advance in a single payment; 15 % discount if you pay twelve months in advance in a single payment.
How much does eSputnik email marketing services cost?
The cost of email marketing is determined by the tools and services you use and their quantity. Each platform has a unique cost structure based on the features supplied. It is always feasible to reduce costs by changing to a plan that better suits your present demands. The base fee per 1,000 emails for unlimited contacts is $ 1.99 at eSputnik.
Quick Links :
Conclusion: eSputnik Review 2022
With a slew of sophisticated capabilities, like automation and CRM, or contact management and segmentation, eSputnik is a good solution that will save you a lot of time and effort doing tiresome and repeated manual labor.
It has a slew of valuable tools that will assist you in avoiding offending your audience, optimizing your advertising, and gaining insights into your audience's behavior.
It only has one significant disadvantage: you must request that ESputnik's development staff create a contact form for you.
However, the developer team has said that a subscription form editor is now under development and should be available by the end of the year. So, yes we can say eSputnik is right for you.