GetDataBack
Have you accidentally deleted some files? GetDataBack is one of the best software out there to help you track them down at a fraction of the cost most other software charge. It can also work with corrupted drives and drives which aren't recognized by Windows OS.If you think your hard drive is going to bite the dust soon, you can also choose to create a drive image at the time of recovery. The utility cannot be used for making rescue disks, but if you want that, you will have to build yourself a bootable PE disc and then add this software to it. You can find instructions for this on the website of the publisher.
Even though the application is really adept at locating files which have been deleted and lets you view contents, the demo is not going to be sufficient for recovering all of it.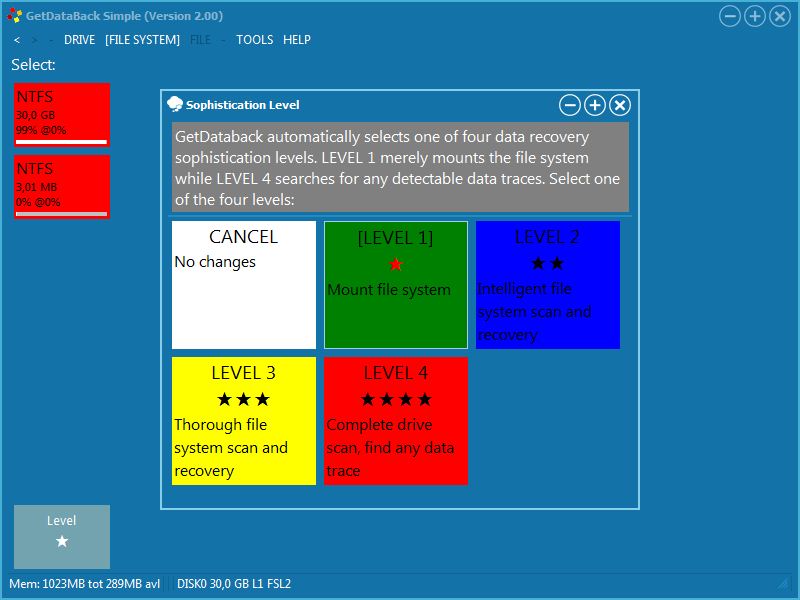 There are a number of choices when it comes to data recovery software and most of them offer more or less the same features. But, there are a few which really stand out from the rest. GetDataBack is one such program. It offers data recovery programs which aren't necessarily meant for the beginners. If you're new to the whole data recovery game, you may find the terms used and the menu's a little confusing. But, it certainly isn't anything that experienced IT professionals can't figure out with relative ease.
The first that you are going to notice about the software is the plain and unimpressive menu where you need to specify the type of recovery that you are going in for. Do not let this boring interface fool you. Even though they haven't spent on the development of the look of the interface, the program has so many features under the hood that you will certainly be impressed, once the software actually starts working.
After making your selections, the program is then going to ask you to choose a logical drive or a physical drive. If you are just trying to get back a few deleted files from somewhere, then, a logical drive is the right choice. But if you are looking for lost partitions or are trying to recover data from formatted drives, it's better to go with a physical drive.
This highly advanced data recovery software is going to help you get data back from just about anywhere and under pretty much any condition. Advanced algorithms are going to ensure all the directories and subs are put together just the way they were. Even long filenames are constructed properly. It is a really safe software since it is read-only. This means it is never going to attempt writing on a drive you are trying to recover data from.
This software offers a complete approach to data recovery. It lists out all your physical devices by size and only then begins scanning the drive you've chosen for partition files and tables. The downside to this is you will have to know the size of devices in order to avoid choosing the incorrect one. This could end up being quite a problematic situation if you have a number of discs that are similarly sized like RAID configurations. If this is your issue, the software does come with an add-on which can help you with RAID recoveries on Windows.
The option for deep scan has been called 'Sophistication'. It allows the software to go beyond simple lost data and can find partitions which might have been lost as well. The interface lets you drill down through the partitions to individual files and folders in order to let you perform granular recoveries on only the specific data that you are trying to recover.
Lost File Recovery
This software was able to locate all lost files that were stored on a hard drive, but it fell a little short when it came to the solid state drive. It missed 26% of the picture files here. Apart from this, it was able to find all of the lost Office documents, music files and even the videos on both of the drives.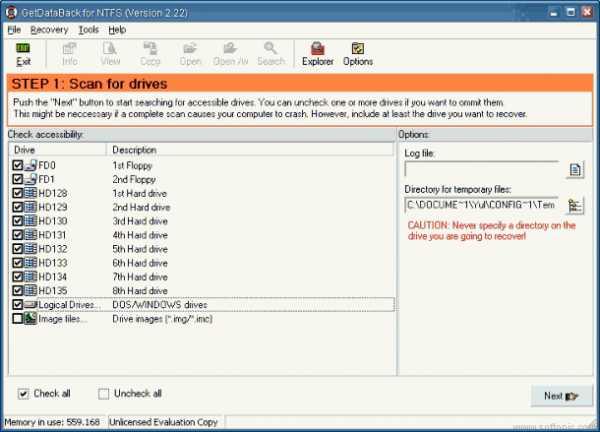 There were some issues when it came to scanning microSD cards, though. The software wasn't able to find any files at all. Even on rescanning the devices using the recommended add-on's from the developer, it returned zero results.
Files Recovery from Reformatted Drive
As far as this is concerned, almost two-thirds of the total files that were lost because of reformatting on both the HDD and the SSD were recovered with the help of this software. Again, the file wasn't able to find any files on their reformatted microSD cards.
Features
This software has a large number of exciting features which can help you find deleted files. The program allows you to create images of your hard disk, allows you to recover data over networks, and even lets you recover data from particular removable media that is accessible these days.
One feature, which it does lack though, is the ability to recover deleted emails. This is something that is sorely missed.
Easy to use: The screens are very simple to navigate and there are step-by-step instructions on offer to help you out too. It's very easy for you to install the software and get going.
Recovery effectiveness: This software is extremely effective when it comes to recovering files from HDD's and SSD's without any trouble.
Search capabilities: The software lets you look for files by the date, size, extension and type. But it is very difficult for you to find the names of the files. If this feature can be added to the program, it can be turned into a very effective software.
Help & Documentation: The software gets excellent backup from Runtime Software, the developer. The help section has also been built into the software and it goes a long way in explaining exactly how to execute each and every function offered by the program. Phone facility, email support and FAQ's are also available for your perusal.
Pros
Easy-to-use interface
Intuitive operation
Cons
Couldn't recover lost files from microSD card
Couldn't recover anything from reformatted microSD card either
Summary
This software showed a lot of potential when it comes to recovering lost files or files from reformatted drives, both HDD's and SSD's. But, it was just not able to recover any files whatsoever from microSD cards.
The advanced features and sheer power of the software do make it an invaluable tool for any person who needs to recover data regularly. For occasional users who don't need such frequent recoveries, they would perhaps be better off with another software instead. But, when you factor in the relatively low cost of the software, this one really does prove to be worth it, even if it can't do anything for microSD cards.