Are you looking for the latest and updated Grasshopper Pricing and plans? Check out if Grasshopper offers monthly or yearly subscriptions!
Grasshopper, a popular VoIP business phone service owned by LogMeIn, is excellent for both in-house and remote teams who need to distinguish between personal and work phones.
Grasshopper gives newer and smaller organisations a more professional appearance while also providing innovative virtual telephony features that avoid miscommunications, boost first-call resolution rates, and enhance the entire customer experience.
Continue reading to learn more about Grasshopper's pricing and Grasshopper Discount Codes along with monthly/yearly plans, as well as its features, user experience, and more.
Grasshopper Pricing and Plans 2022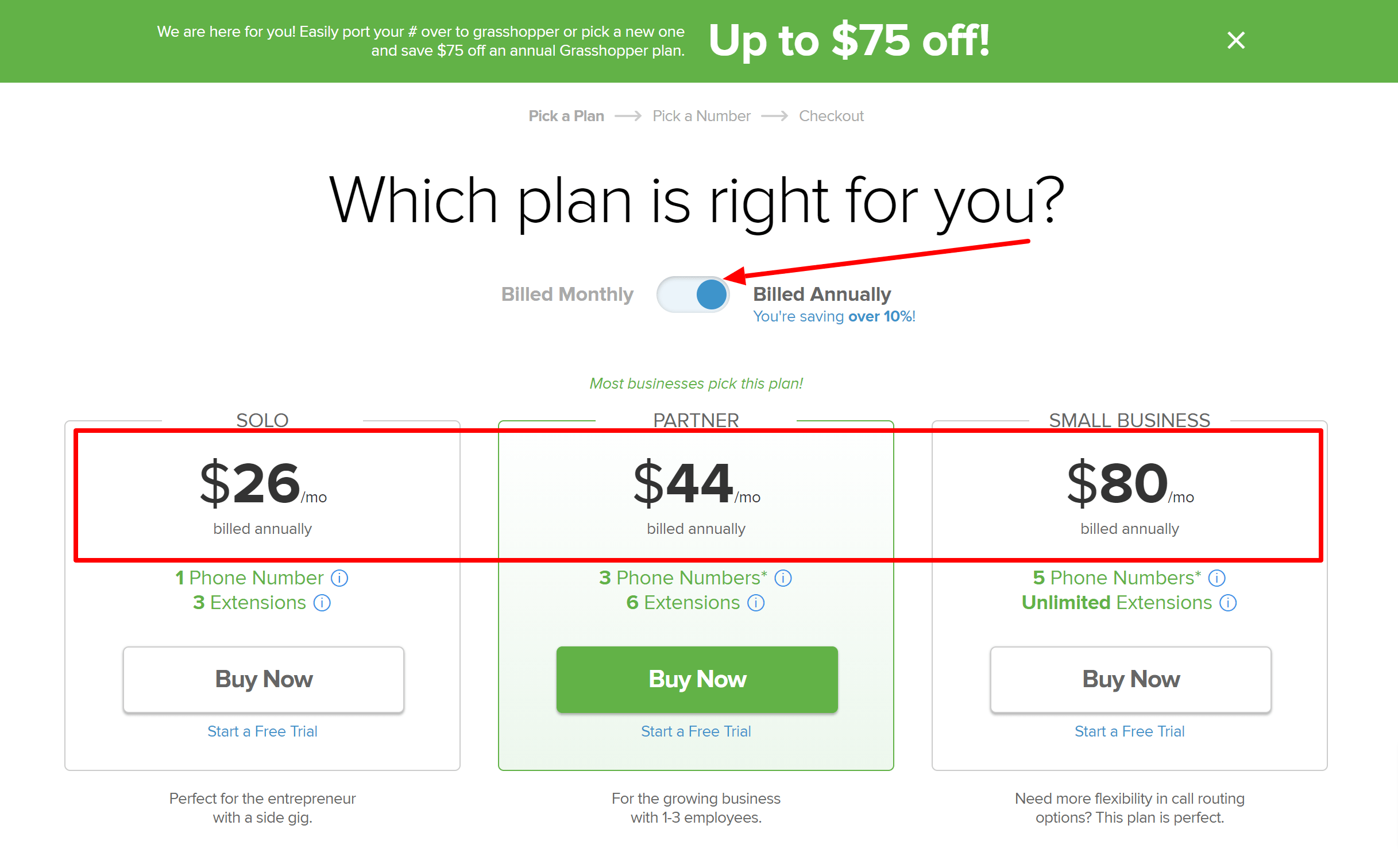 By 
using 
Grasshopper 
calling 
plans, 
you 
can 
quickly 
communicate 
with 
y
our 
clients 
in 
a 
professional 
manner.
Grasshopper 
allows 
you 
to 
run 
your 
large 
business 
from 
your 
personal 
or 
office 
cell 
phone 
by 
providing 
a 
variety 
of 
calling 
services 
such 
as 
call 
forwarding, 
numerous 
extensions, 
voicemail 
transcription, 
and 
business 
text 
messaging 
without 
the 
need 
to 
install 
additional 
software.
Grasshopper 
is 
now 
one 
of 
the 
most 
cost-effective 
virtual 
phone 
number 
services 
available. 
The 
most 
basic 
package 
costs 
$29 
per 
month 
and 
includes 
a 
7-day 
free 
trial.
You 
may 
save 
up 
to 
$75 
if 
you 
sign 
up 
for 
a 
yearly 
subscription.
Grasshopper, unlike other suppliers, offers comprehensive functionality to satisfy the demands of businesses with one or 1,000 employees. This is because Grasshopper's pricing is based on the number of phone lines and extensions required by the company.
Each Grasshopper Plan includes:
Business Texting
Call Forwarding
Virtual Fax
Custom Greetings
Mobile and Desktop Grasshopper App
Simultaneous Call Handling
Standard Voicemail and Voicemail Transcription
Basic Reporting
Does grasshopper charge per minute?
Yes. Grasshopper may even charge per minute. For incoming and outgoing calls, the toll-free fee is $0.06 per minute.
Grasshopper Features
Here are the basic features of Grasshopper:
Basic Calling Features
Grasshopper provides amazing voice calling options in addition to unlimited calling in the United States and Canada and international calling.
When making outbound calls by smartphone or landline, the Calling Card function displays the Grasshopper phone number, not the user's personal number, on the recipient's caller ID.
Transferring a call
Use Wi-Fi to make business calls.
Forwarding of calls
Keep the music playing.
Number blocking is supported by multiple extensions.
When you're unable to answer a call, you can use an instant response to automatically send an SMS text to new callers.
Blocking anonymous calls
Handling many calls at the same time
Grasshopper Virtual Receptionist
The virtual receptionist is one of Grasshopper's greatest features.
Users can benefit from Grasshopper's cooperation with Ruby in addition to automated responses. This means companies can connect their business phone numbers to a human receptionist who can answer simple questions, book and reschedule appointments, and even assist with payment concerns.
This saves small businesses the expense of hiring additional staff or losing half of their workday to missed calls and voicemails.
Business Texting
Grasshopper lets you send text messages to each other with no extra fee, and they can also use it to communicate with customers in a multichannel outbound and inbound manner. Users can also check their business texts on desktop computers with this feature.
A growing number of individuals prefer text-based communication with businesses, and this Grasshopper feature allows them to do so.
It's worth noting that the Grasshopper business texting capability is completely separate from any smartphone's built-in messaging apps.
Voicemail Transcription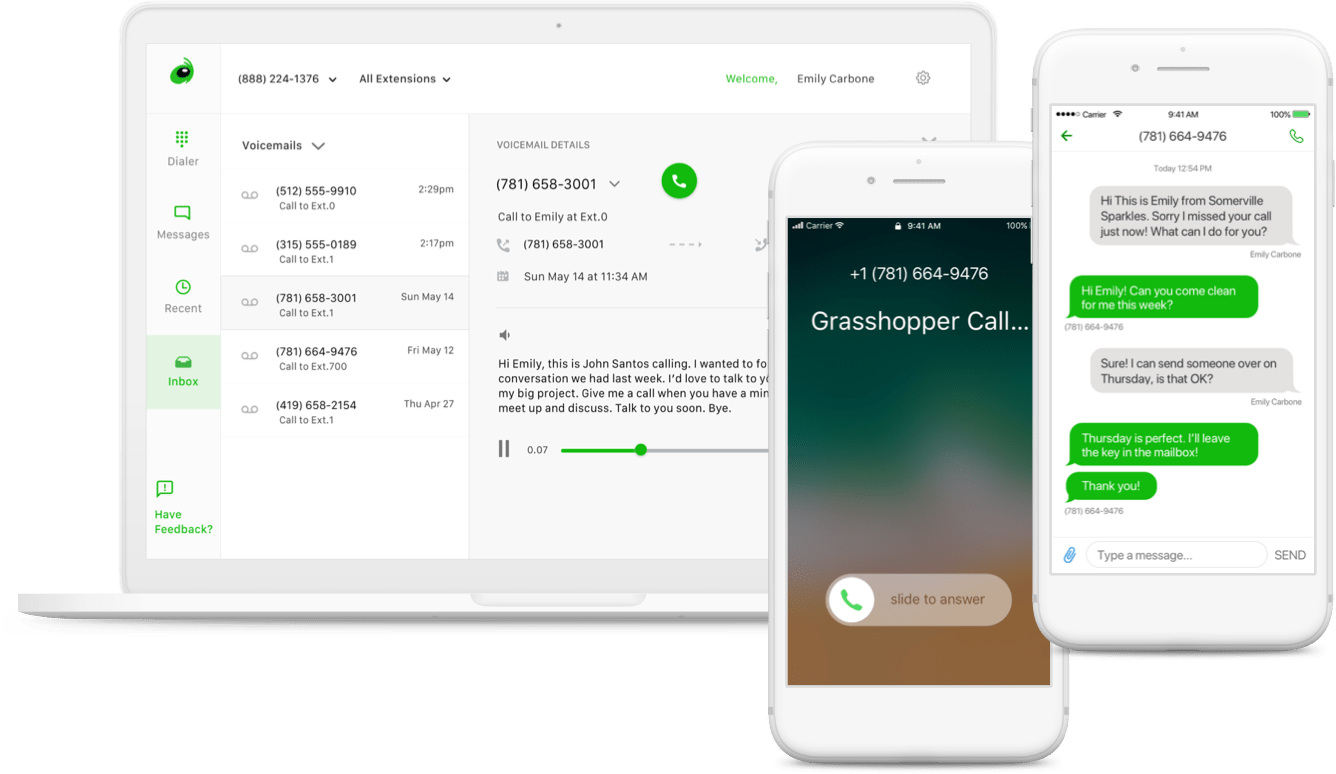 Call recording is not available with Grasshopper, although it does provide visual voicemail.
Voicemail transcription uses voice recognition technology to decipher voicemails and transmit transcripts to the user's mailbox, text message inbox, or the Grasshopper App interface.
This allows users to skim voicemails fast and make judgments without having to listen to them, which is a time saver for any business owner.
Conclusion:
For small enterprises, Grasshopper is a must-try virtual phone number programme. It offers fantastic savings and rates on a wide range of services, including phone, fax, virtual phones, and business support.
If you have a small to the medium-sized team, you can manage them using the centralised Grasshopper dashboard.
Hope you have liked this article on Grasshopper pricing.