If you haven't used proxies in your life, you must be lying or have not enough explored the Internet. Well, Proxies make the internet more interesting.
However, not all proxies are good and the premium ones might leave a hole in your pocket.
I often look for proxies from time to time. Instant Proxies became my favorite proxy in no time because of its flexible features.
Before writing this Instant Proxies review, I decided to buy 10+ private proxies from them and I have evaluated my results below.
About Instant Proxies
InstantProxies is a private proxy provider based in the United States. It has many of its proxies there. You can use InstantProxies for general browsing, but they are also good for scraping Amazon sites and social media management.
The price for these is the lowest you can get from any company that will do what you need it to do.
They are compatible with Facebook, Twitter, Instagram, and YouTube among others–but not shoe bots.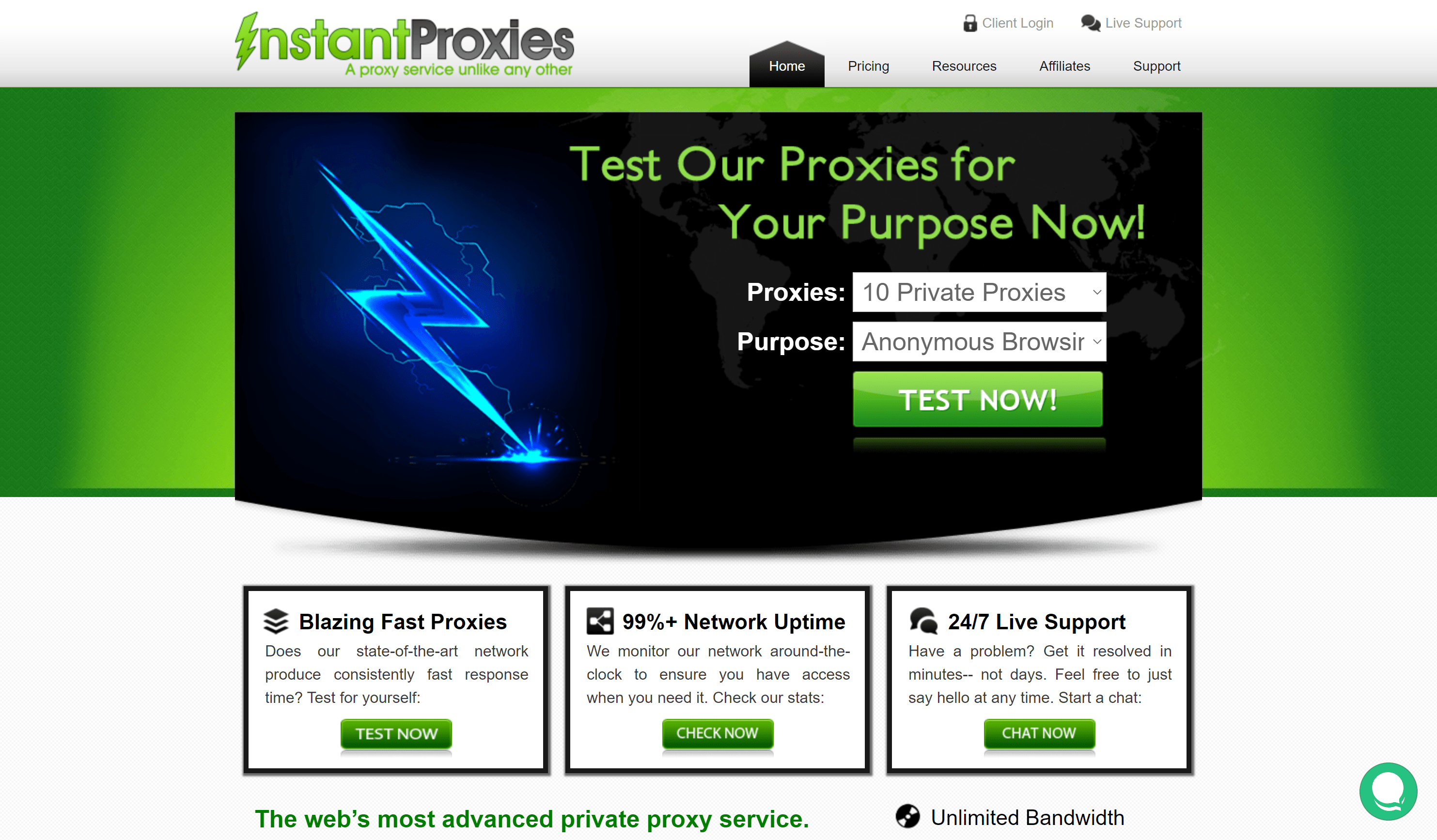 Instant proxies is a proxy server that unblocks various sites including:
Amazon
Google
Pinterest
Youtube
Yahoo
Twitter.
InstantProxies is compatible with popular social media platforms like YouTube, Facebook, Instagram, and Twitter.
To help you further, I have personally tested the performance, compatibility and security of this proxy in the review here.
Geo Location & IP test
At InstantProxies, you cannot specifically choose to buy proxies from only the USA or Europe; they offer proxies from both regions. However, if you need proxies from a particular location, you can contact their support through a ticket.
We conducted a location test to check the proxies we received and whether they were indeed from two different cities. Surprisingly, all the proxies turned out to be from the USA, specifically from Miami, Florida, and Los Angeles, California.
It's important to mention that the proxies have sequential IPs and share the same ISP for both locations. This can be problematic as sequential IPs may lead to bans, caused by other users' activities.
Some connections may be rejected if the entire ISP is flagged as a proxy server.
Compatibility
I tried using proxies to see if popular sites like social media sites, Amazon, Craigslist, and sneaker sites could be accessed. Surprisingly, all the websites we tested were accessible using our regular proxies.
This is impressive because many proxy services usually block these sites, and you need special packages to access them. But with our general-purpose proxies, you can access these sites without any problem.
| IPs | IG | Twitter | Pinterest | Youtube | Amazon | Google | Netflix | CL | Nike | Adidas |
| --- | --- | --- | --- | --- | --- | --- | --- | --- | --- | --- |
| *.*.*.98 | √ | √ | √ | √ | √ | √ | √ | √ | √ | √ |
| *.*.*.171 | √ | √ | √ | √ | √ | √ | √ | √ | √ | √ |
| *.*.*.6 | √ | √ | √ | √ | √ | √ | √ | √ | √ | √ |
| *.*.*.150 | √ | √ | √ | √ | √ | √ | √ | √ | √ | √ |
| *.*.*.70 | √ | √ | √ | √ | √ | √ | √ | √ | √ | √ |
| *.*.*.165 | √ | √ | √ | ? | √ | √ | √ | √ | √ | √ |
| *.*.*.14 | √ | √ | √ | √ | √ | √ | √ | √ | √ | √ |
| *.*.*.70 | √ | √ | √ | √ | √ | √ | √ | √ | √ | √ |
| *.*.*.204 | √ | √ | √ | √ | √ | √ | √ | √ | √ | √ |
🔥 Ping Test & Proxy Speed Test
Instant proxies were tested for their speed and ping returns. And, the results were too good to be called proxies.
Let's say, I tried the Instant proxies for Craiglist, and the following results were obtained: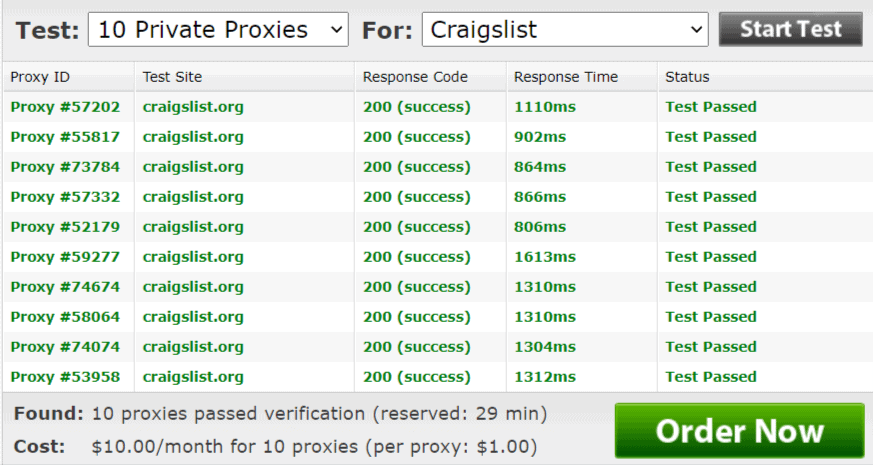 The first test I performed was to check the latency of the proxy server. I used "whoer.net" to see how fast it took for our computer to send signals to the different location's servers.
The results were pretty good because if the site you are visiting has a server near where your proxy is, then you will be able to connect very quickly with low ping.
Performance
Instant Proxies has a service that checks all of its proxies every 5 minutes.
They have had 100% uptime for the past 30 days. That does not mean there were no downtimes. But, if there are any, they are probably less than 1%. You can check this by clicking on one of their links at the footer.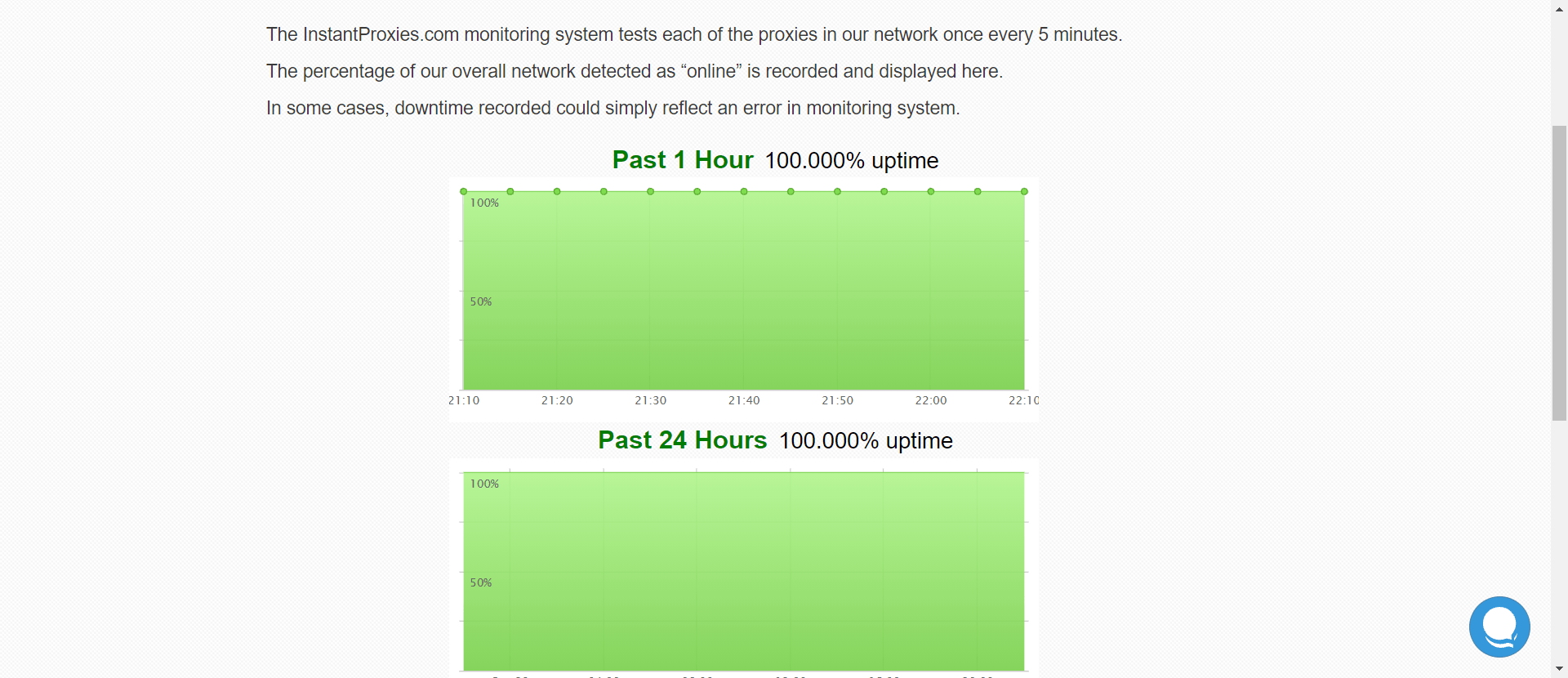 How much does InstantProxies cost?
InstantProxies offers various proxies that work with almost any site.
You can use these proxies for general purposes, or you can use them for applications like Craigslist, Facebook, Google, Pinterest, Twitter, and Yahoo.
Furthermore, there is no difference in the features and benefits that these proxies offer.
The best part about IP is that it has by far the best private proxy services at the cheapest price in the industry. The cost that it charges for the private proxies, there are other flaky firms charging the same for the public proxies.
The main difference between these two types of proxies is security. By far, the IP keeps its promise and offers the best private proxies along with the best uptime surety.
Spending a few dollars will shed on the best private proxy services from industry experts.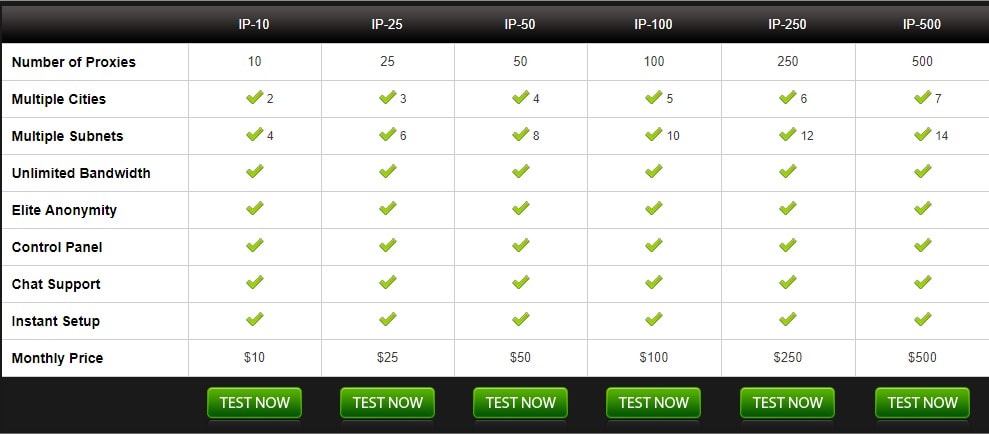 Features of Instant Proxies:
Let's dive deeper into the main features of Instant proxy servers.
Test Your Proxies before buying 
When you buy a proxy from InstantProxies, make sure it works for your purpose and has a good response time. If the test result is not good enough, just restart the test until you get an acceptable one.
In my tests, I have seen that most of the proxies have been working well with a good response time.
After testing them, they are reserved for 30 minutes for you to order if you want them.
You can tell if the proxies you are assigned are online by using the proxy admin panel. You can also check them on their website to see how many of their servers are down now, in the last 24 hours, and in the past 30 days.
InstantProxies has proxy servers in both America and Europe. But they do not share information about where their servers are. They also do not have any servers in other continents, while many new providers are setting up proxy servers everywhere they can.
However, it would be even better if they add more locations to their fleet of proxy servers.
Instant Proxies are a great choice for those looking to save on bandwidth costs. Their pricing model is based on the number of proxies bundled in a package, so you won't be spending any money each time your favorite website needs more power!
Additionally, their unlimited connection limit means that even if one proxy goes down or gets slowed down by heavy traffic (which could happen), there will still always be enough simultaneous connections available because they come with an unlimited amount per purchase.
What's better than this?
With InstantProxies' impressive threading support too– meaning as long as someone's free-to-use CS2 license permits it; then users can create up & x16 threads at no extra charge.
7-Day Money-Back Guarantee
InstantProxies provides a 7-days money-back guarantee, so you can always get your refund within the first week of use.
If they don't work out for whatever reason and are not up to snuff in their performance metrics then you have an option other than being stuck with them or having no choice but submit without any input.
The proxy authorization system allows you to authenticate up to 10 IPs in the control panel.
You won't be bothered by username-based authentication. However, there is a limit on how many addresses can use this service at once, and if your dynamic IP changes often then it might not work out well for you!
InstantProxies will refresh your proxies after you have paid for renewal. You can't just have the proxy refreshed automatically.
Instant proxies offer a high level of anonymity, making them an essential tool for maintaining privacy in the digital sphere. They work by masking your IP address, thereby concealing your online identity and providing a secure environment for your online activities.
This makes it incredibly tough for third parties to track or monitor your online data, ensuring your personal information remains confidential and secure.
Datacenter proxies are not very reliable because they can be blocked, detected, or flagged by many websites.
But InstantProxies are different.
They offer a lot of use cases and are one of the best in the market. They provide specialized proxies for specific purposes such as SEO research and social media management. Their proxies are also best for YouTube automation and a few other use cases
Smartphone users can use proxies, but they are different than computers. You need to go into your mobile settings (this is where you find the network and proxy settings) on your smartphone.
After that, you can enter the IP address of the proxy server and port number here.
You need to make sure that your phone's IP is authorized in InstantProxies first so it can connect to them.
Anytime you want to use a proxy, just click on it in this list and then click Connect.
The Web's Most Innovative Private Proxy Service
Highly secret private surfing from the key web browsers.
High-capacity content dispatching from proxy-supporting mechanization gears.
Highly functioning web heaving from custom structures.
It is very important to buy private proxy services to keep away from the eyes of financial predators.
What tools do InstantProxies offer?
Though Instant Proxies give some amazing tools, two of its tools are the most useful. These two are a Proxy tester and a Proxy availability checker.
Proxy Tester
This is a free proxy tester tool that checks for the availability and ping test for the proxies. Just drop in the proxies list and click on 'Test now to get the results.


Browser Privacy Test
This tool is a bit complicated but quite helpful. It gives you information on what information is your browser sharing with other websites.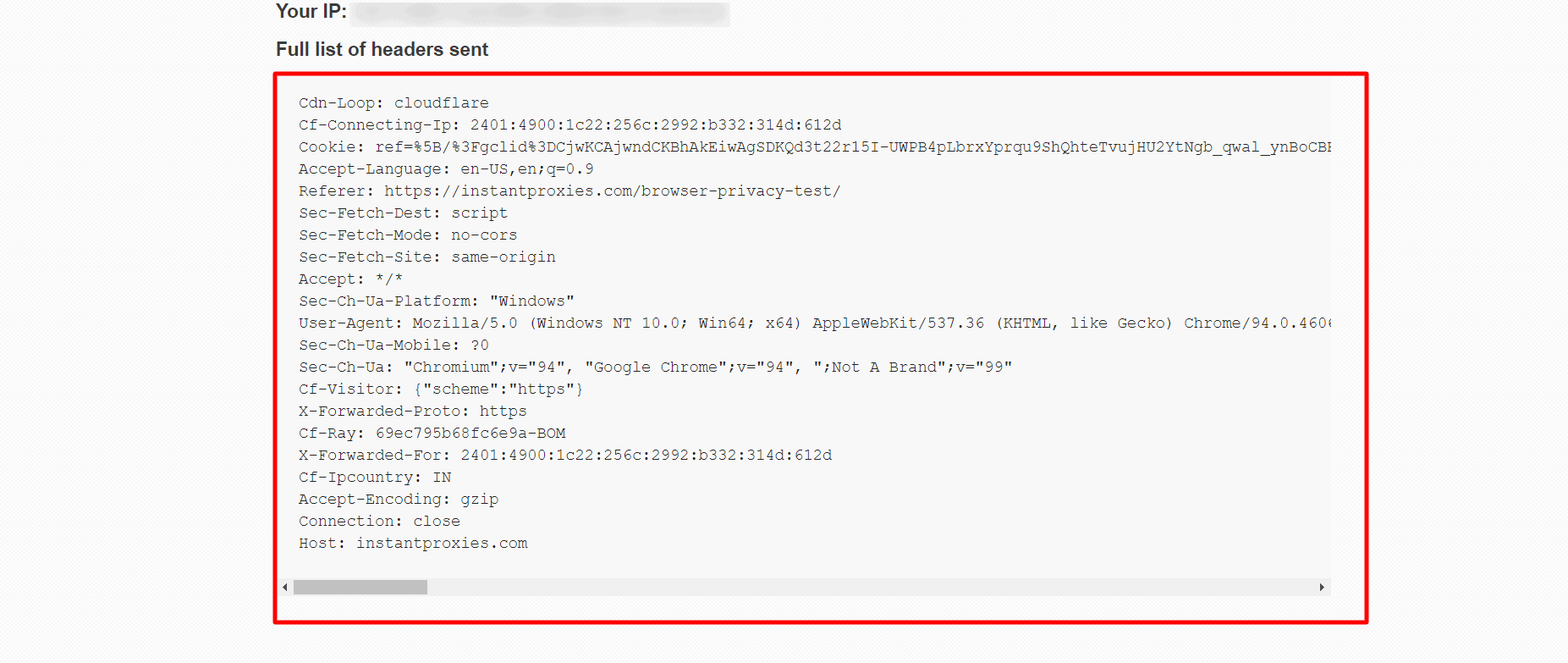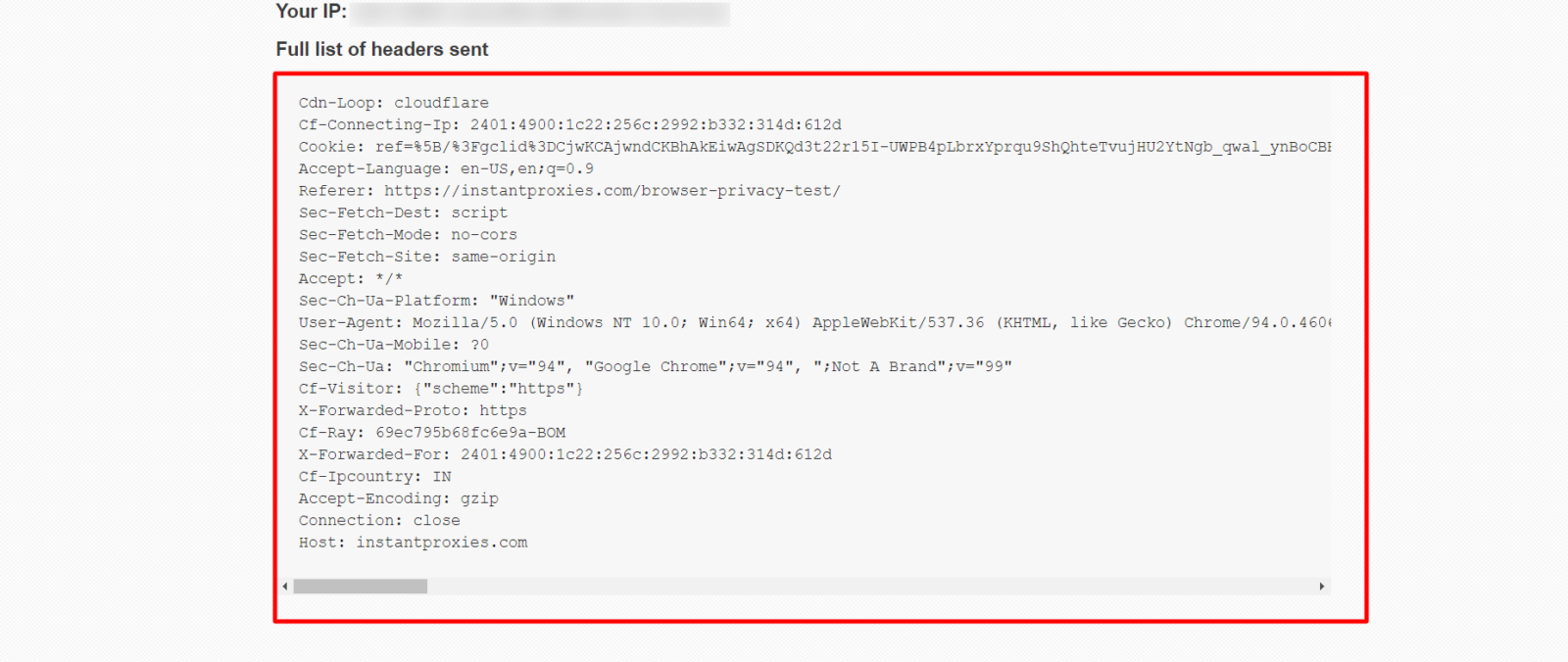 Fast and dedicated high anonymity HTTP/HTTPS proxies.
Does not offer SOCKS proxies
If you're looking for a service that will provide fast, reliable proxies to ensure your data is secure and private then consider Instantproxies.com as an option. Their prices are competitive with other similar services in the market, they offer many different packages tailored to specific needs.
Pros & Cons of InstantProxies
| | |
| --- | --- |
| Pros | Cons |
| | Lacks phone and email support. |
| | Misses on User/Password authentication |
| | Misses on many noteworthy proxy types like SEO, Affiliate Marketing, etc. |
| | No notable clients were mentioned on the website. |
| 7-Day money back guarantee | |
Check out here about Instant Proxies Alternatives
Quick Links:
Conclusion: Is Instant Proxies Worth Money? 
Well, after getting so much from Instant Proxies at such an affordable price, one must surely give it a try. It is completely risk-free, and in case you find any flaws in the connectivity, they will refund your money within five days.
Though they do not give a lot of proxies of features whatever they give are of high-quality and top-notch speed.
The best part is not only the cheap cost but also the kind of approach they put forward for their users. The testing is smooth and hassle-free including all the main browser's support.
Some proxy servers might include hidden pricing policies which they won't be clear about in the beginning, but IP keeps it straight. The overall speed and uptime are great and you won't regret even working with big marketers as the risk factor is nil.
In a nutshell, If you're looking for a service that will provide fast, reliable proxies to ensure your data is secure and private then consider Instantproxies.com as an option. Their prices are competitive with other similar services in the market, they offer many different packages tailored to specific needs, and their customer support is excellent! I highly recommend them if you want a proxy provider that's affordable but also efficient.