The world's largest international police organization, INTERPOL, has announced that the third edition of INTERPOL World will take place from 2 to 4 July 2019 at Sands Expo & Convention Centre, Marina Bay Sands Singapore. Owned by INTERPOL and supported by Singapore's Ministry of Home Affairs, this year's edition will focus on the theme of 'Engaging Co-creation to Prepare for Future Security
Threats'.
INTERPOL World 2019: What's So Special?
Date: 2-4 July 2019
INTERPOL World is a global co-creation opportunity which engages the public and private sectors in dialogue and fosters collaboration to counter future security and policing challenges. INTERPOL World comprises of three interlinked activities: a series of niche and targeted platforms for knowledge exchange culminating in strategic co-creation labs to discuss the challenges and solutions for combating the crimes of the future; an exhibition that serves as a business and networking event for manufacturers, distributors, and Research and Development organizations to offer innovative products and cutting-edge technologies to public and private entities involved in law enforcement, security and like-minded industry.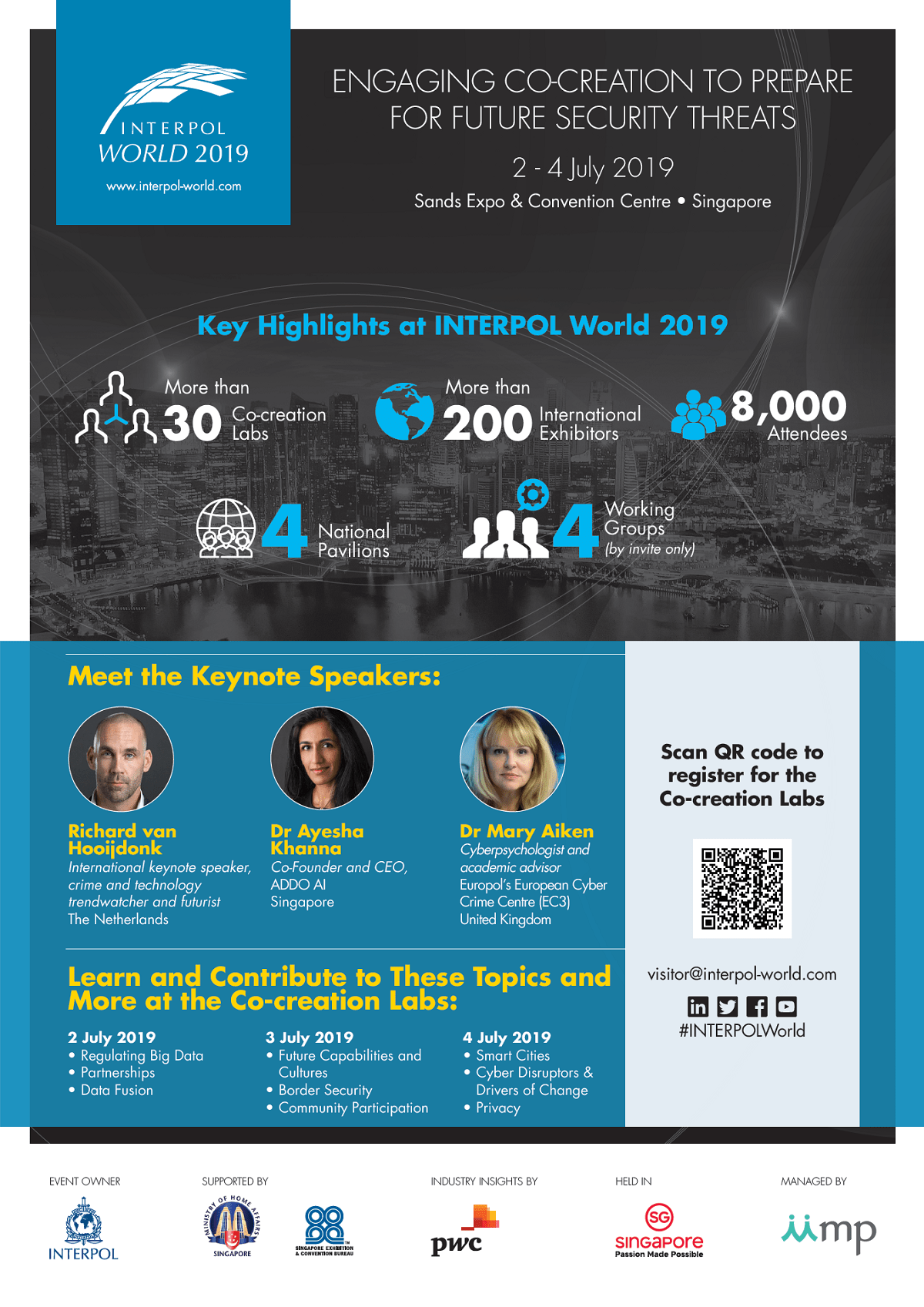 The focus on Co-creation is key as the objective of INTERPOL World is to provide a strategic platform for key stakeholders such as thought leaders and experts from government agencies, private entities, academic think tanks and industry, to showcase and exhibit their capabilities and share findings to shape the future security landscape through exchange and dialogue.
INTERPOL World 2019 will encompass these interlinked activities across three days:
• 32 Co-creation Labsthat will focus on exploring solutions to specific real-life security problems. Police thought leaders will share their challenges with solution providers and academia, and showcase innovative and unique solutions to security threats.
• Motivational keynote presentations elaborating on perspectives for the future and new capabilities aiding security and public safety. Topics include how technology impacts our lives and implications for public safety and security for our communities in the future.
• A series of INTERPOL Working Groups (attendance by invitation only), empowering law enforcement agencies with useful data and tools to continuously improve and strengthen relationships with the communities they serve.
• An Exhibition for more than 200 international industry partners to showcase their capabilities and services.
• Networking activities to provide opportunities to develop professional and personal networks across public safety and security organizations. Co-creation Labs Drive Two-Way Participation from Both Speakers and Attendees. With the objective of providing a strategic platform to shape the future security landscape and encourage dialogue amongst key stakeholders, INTERPOL World 2019 seeks to enhance awareness of emerging security and crime issues by focusing on three main themes in the program:
• Global Safety Today (2 July 2019, Tuesday)
• Improving Security for Tomorrow (3 July 2019, Wednesday)
• Forecasting and Planning for the Future (4 July 2019, Thursday)
The program will take on a new format this year with the introduction of Co-creation Labs. Instead of the standard panel discussions or Q & A sessions, the Co-creation Labs are interactive sessions that engage all participants in collaborative discussions, with the view of defining and identifying solutions to real-life public safety and security problems, exploring and challenging existing frameworks and practices to look at refinement through innovative processes and methods, thereby raising awareness of the challenges that the industry collectively face and areas for mutual collaboration.
Each lab panel will consist of experts from law enforcement or a like-minded agency, academia, and industry, facilitated by a moderator.
Speakers
Ami BRAUN, Vice President, Cyber Technologies and Solutions, AddOn APAC Innovative Solutions,
Singapore
• Anton SHINGAREV, Vice President for Public Affairs, Kaspersky Lab
• Augustine CHIEW, APAC Lead, Public Safety, Huawei Technologies Co Ltd, Singapore
• Berndt KOERNER, Deputy Executive Director, European Border and Coast Guard Agency, Frontex,
Austria
• Dr David ROBERTS, Reader in Biodiversity Conservation, Durrell Institute of Conservation and
Ecology, University of Kent, United Kingdom
• Hong-Eng KOH, Global Chief Public Safety Scientist, Huawei Technologies Co Ltd, China
• Jannine VAN DEN BERG, Chief Constable, Central Division, National Police and INTERPOL Executive
Committee Delegate for Europe, The Netherlands
• Jerry Innocent AKUBO, National Technical Officer and Drone Expert, Nigeria Police Force (NCB
Abuja), Nigeria
• Jevon MCSKIMMING, Assistant Commissioner, New Zealand Police, New Zealand
• Jon ROUSE, Detective Inspector, Queensland Police Service, Australia
• Justin BURTENSHAW, Superintendent Head of Protective Security and Firearms, Sussex Police,
United Kingdom
• Prof Kwok Yan LAM, Professor, School of Computer Science and Engineering, Nanyang
Technological University, Singapore
• Dr Kyung-Shick CHOI, Cybercrime Investigation & Cybersecurity Program Director, Boston
University, United States