Are you looking for a comparison between iSpionage Vs Spyfu? Let's find out who wins.
Main Differences Between iSpionage vs SpyFu
The following are the primary distinctions between iSpionage and SpyFu:
SpyFu provides a lot more SEO and PPC analytics, whereas iSpionage is mainly concerned with content performance information.
SpyFU provides more backlink information, however, iSpionage does not.
SpyFu's historical data spans nearly two decades, whereas iSpionage's data spans barely three years.
SpyFu does not give landing page screenshots, although iSpionage does.
If you are looking to save on SpyFu, check out SpyFu coupon codes and save 35% now.
What Is iSpionage?
iSpionage is a web-based SEO tool that targets the data of your competitors. The aim is for you to outrank your competitor in the search engine results pages by using their own information (SERPs).
To aid you in this endeavour, iSpionage provides you with powerful capabilities that are specifically built to collect data from high-performing pages in your niche.
What is Spyfu?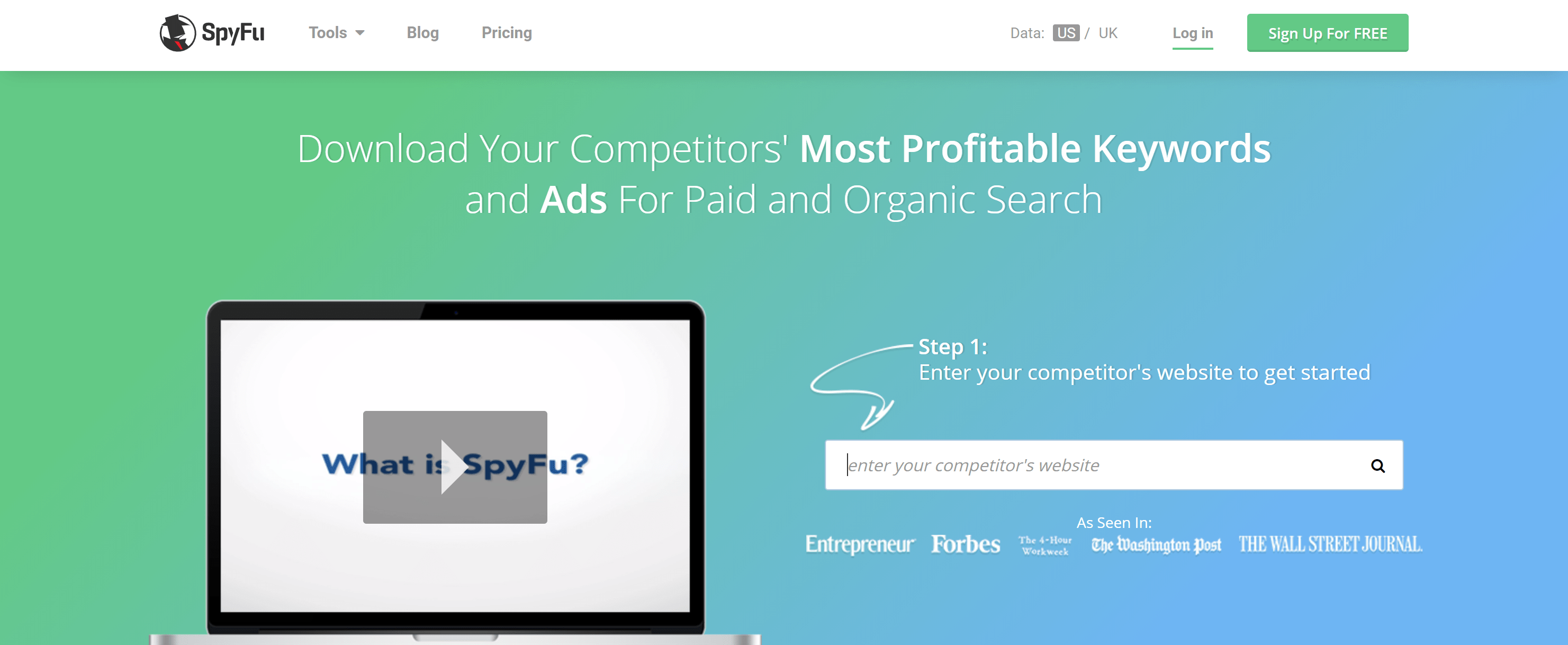 Spyfu is a competition intelligence tool that reveals your competitors' winning marketing technique. Spyfu can help you enhance web traffic, track keyword rankings, and develop sales leads and partnerships by providing you with accurate contact information.
They assist you in accomplishing these goals by conducting PPC competitor research, SEO competitor research, domain leads and top lists, keyword research tools, and giving step-by-step workflow guidance.
iSpionage vs SpyFu Pricing
There are four packages available from iSpionage. Small business owners and digital marketers will benefit from the 'Starter' bundle. It will set you back $59 per month.
The 'Professional' package is the second option, and it costs $99. Small agencies, consultants, and in-house PPC managers, according to iSpionage, are the best fit.
The 'Advanced' package is the third option. It will cost $299 per month for digital marketing teams and growing agencies. The 'Enterprise' package is designed for companies and organisations with specific marketing needs. Pricing is determined by your specific requirements.
You can also select for bi-annual payment options with iSpionage. They will bill you every six months if you choose this plan. This is an opportunity for you to save money.
They demonstrate their faith in their product by providing a 30-day money-back guarantee if you do not download more than 1000 ad copy versions and keywords. It's simple and free to cancel your plan. All you have to do now is go to 'Account' and then 'Cancel.' You can continue to use your account until the following anniversary date.
Spyfu, on the other hand, has three different strategies. You have unlimited downloads and searches with each package. There are three types of plans: Basic, Professional, and Team. They all have monthly and annual plans.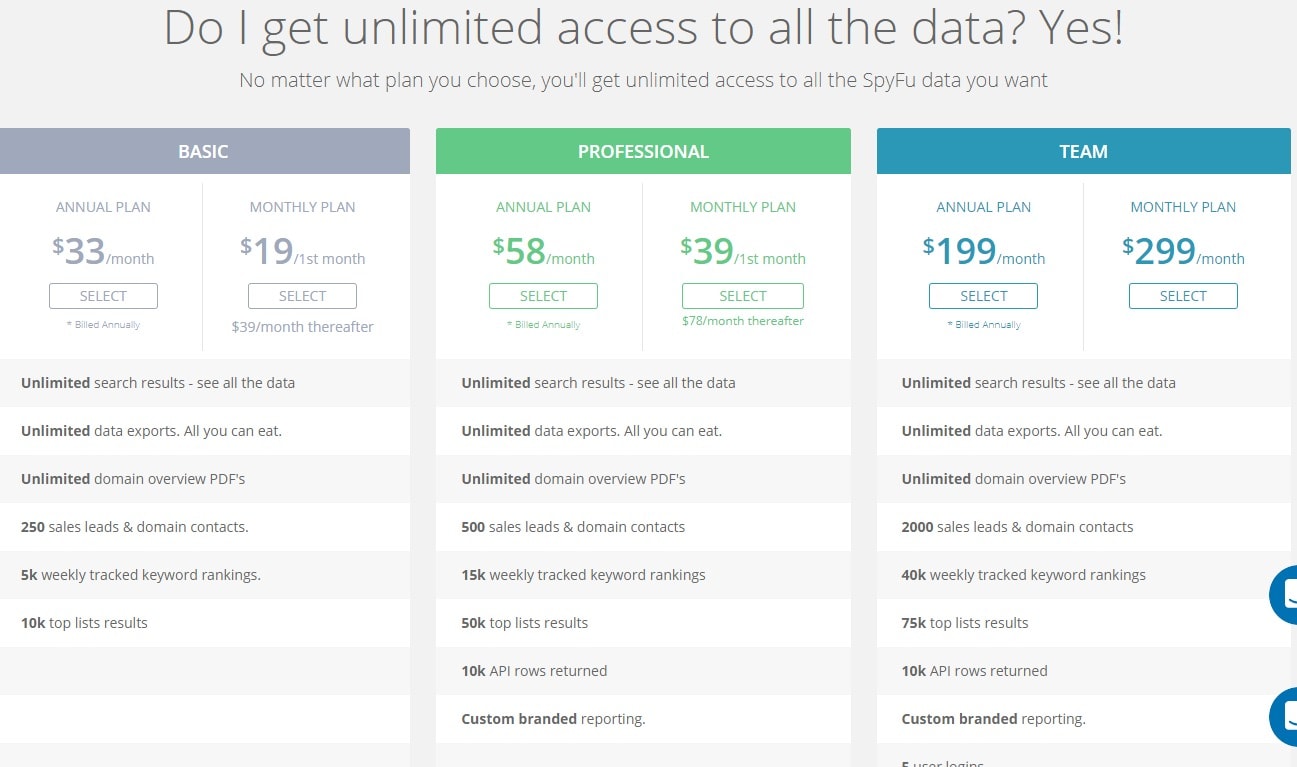 The annual 'Basic' plan costs $33 per month, while the monthly payment plan costs $39 per month. The annual cost of the 'Professional' plan is $58 per month, while the monthly fee is $20.
The yearly 'Team' plan costs $ 199 per month, while the monthly plan costs $299 per month.
Spyfu, like iSpionage, offers a 30-day money-back guarantee if you're unhappy with the product. They claim it's a painless process with no paperwork that can be completed over the phone, by email, or over live chat.
iSpionage vs SpyFu Customer Service
Customer service is only available via chat on weekdays at iSpionage. You can also contact them via email or phone. They offer a comprehensive guide to competitive SEO and PPC intelligence. Some tutorials are in the form of articles, while others are in the form of videos. Some of the tutorials they must complete are:
How do you come up with profitable keywords?
How to look at the landing pages of your competitors?
With the ad effectiveness index, you can improve your PPC click-through rates (AEI)
iSpionage will provide you monthly email alerts on new PPC ad text, new PPC keywords, and new SEO keywords used by your competitors. They can be found on social media sites such as Facebook and Twitter.
Spyfu live chat is available Monday through Friday from 2 p.m. to 3 a.m. If you prefer not to use the live chat, you can call them. The company's phone number may be found on their website. You can also use the website's form to submit any questions you may have. They can also be found on social media sites such as Facebook, Linkedin, and Twitter.
Spyfu provides a comprehensive video tour of how to use their website. There are various extensive step-by-step guides on the website. These are some of them:
Examining your marketing approach to see how it compares to the competition
Creating an AdWords campaign from the ground up
You're selling SEO to your customers.
Getting your company to the top of the page for specified keywords
Increasing the effectiveness of your SEO strategy
iSpionage vs SpyFu User Experience
Spyfu offers an easy-to-use UI. Because this tool is hosted in the cloud, there is no need to download an app. The main page's background is a combination of cool blue and green tones that are easy on the eyes. When you first visit the website, you are greeted with a video that explains who they are and what they do. You may get started right away by visiting your competitor's website.
You'll get their monthly domain overview right away, along with organic search information like organic keywords and monthly SEO clicks. Google will also show you the number of inbound organic and paid clicks. This information may be found on Spyfu dating back 13 years.
iSpionage vs SpyFu Conclusion: Which One Is Better? 
It's critical to know what your competitors are up to if you want to beat them.
That is why you require software such as iSpionage and Spyfu. You are now in a better position to make an informed decision based on the facts presented above. Both are excellent competition analysis tools that can help your company achieve its goals. However, they also have their differences.