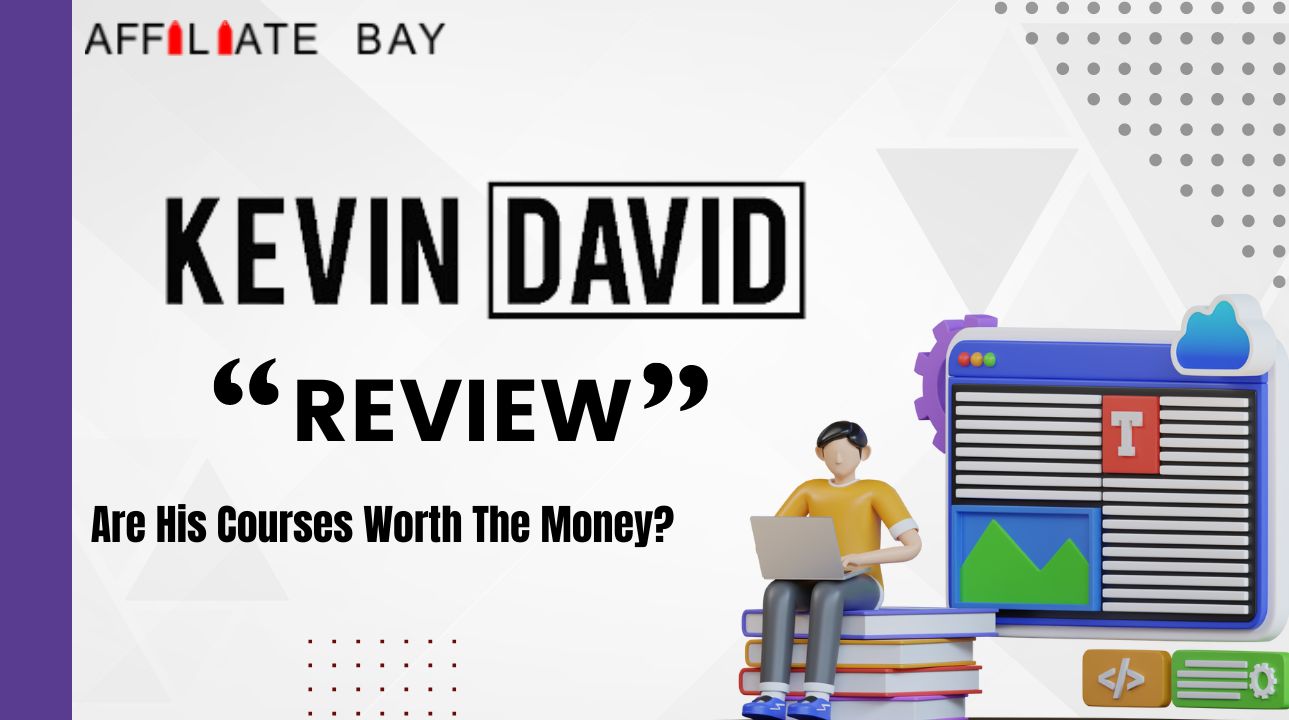 If you have ever heard of making money online, you might have heard about Kevin David and his course- Amazon FBA. 
Well, I agree that many of you might be flooded with doubts about whether or not Kevin David is legit. I have done deep research into his courses and learnings.
He's got a big YouTube channel and a lot of people follow him on Facebook too.
So, who is Kevin David? Is he doing a scam? Can you earn money from his products?
I'm going to explore these questions in this Kevin David Review.
Bottom Line Upfront:

Kevin David masterclass is worth considering because he's a young entrepreneur who's successfully created multiple income streams over time. He can certainly guide you in starting your journey toward making money online passively.

You don't have to buy all his courses at once. You can pick from his Shopify dropshipping course, Facebook Ads Ninja masterclass, Digital Course Secrets, or his Amazon FBA ninja course, depending on what suits your goals best.
Who is Kevin David?
Kevin David is a successful entrepreneur, speaker, tutor, and writer who helps you build your business empire with zero experience through his books and speeches.
Kevin David got popular with the podcasts and started THATLifestyleninja. He's also the writer of the super popular book, "Unfair Advantage."
He's someone who knows a lot about online marketing. He believes in freeing business starters from regular office jobs, which is exactly what he tries to do with his classes on the Internet.
Kevin's journey into business began when he was in high school. He was already selling baseball cards back then. Later, he made video games and blogs and made money from them using Google AdSense and Amazon partnerships.
He studied to become an accountant and worked at an accounting company for a bit. After that, he got a job at Facebook, helping keep people's privacy safe.
During that time, he started to learn about online businesses. And while he was doing all this, he started a side business selling things on Amazon, which ended up being really successful.
After his Amazon business became a big hit, he decided to teach other people how to make their online businesses successful.
What is Kevin David's Net Worth?
You might notice that Kevin takes pictures of fancy cars, but knowing exactly how much money he has is not easy.
There's no official proof of how much money he has. But lots of sites confirm it's somewhere between $5 and $20 million.
But really, how much money he has isn't the important thing. It's better to focus on learning his ways to be successful instead of worrying about how much he earns.
Is Kevin David a Scam?
First thing that I get asked over my Kevin David Review, Is Kevin David a Scam?
Absolutely not. Look, I've heard some people call him a scammer, but let's be real, most of the folks calling someone like him a scammer probably haven't even tried the things he offers.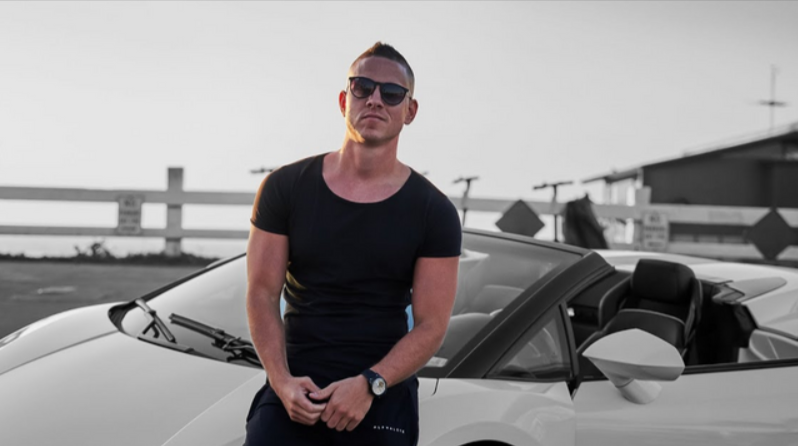 And if they did, they might think his stuff is some quick and easy way to get rich, and they're not ready to really put in the work.
But honestly, he's not a scammer. If he were, he wouldn't be so open about what he does. He wouldn't have the good reputation he's got online. And he definitely wouldn't have so many followers.
Of course, I'm not saying his products are all amazing; you're guaranteed to make money with them. I'm just saying there's potential to earn.
What courses does Kevin David offer?
The courses that are offered by Kevin David under his website are Amazon FBA courses, digital course secrets, Facebook ad courses, and marketing agency masterclasses. 
Let us discuss each course in detail in this review of the Amazon FBA course to give you a clear idea of which direction you wish to spread your business and which course will help you achieve your dream of developing your business on a large scale. 
Amazon FBA Courses 
Kevin made a lot of money with his successful Amazon FBA business. Now, he's being kind by sharing all his secrets in a special course.
It's called the Amazon FBA Ninja course. In this course, he teaches you everything about creating a successful Amazon FBA business, right from the beginning to the end.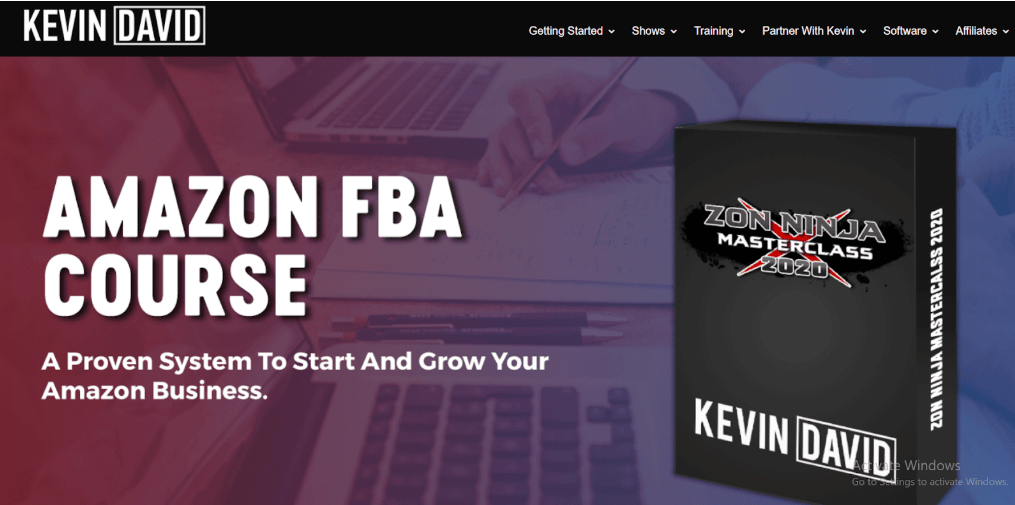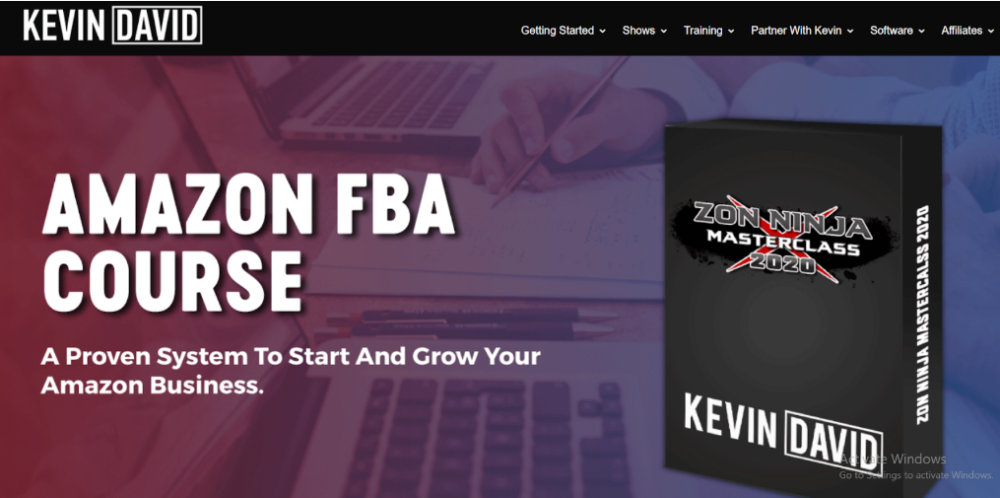 If you don't know what Amazon FBA is, it's when you sell things on Amazon and make money.
Kevin's course tells you how to start, grow, and make much money with your Amazon FBA business. It's like a step-by-step manual of how he became a millionaire with FBA.
The course has 8 parts, all in video form. There are no written words. Kevin thinks you can learn better by watching him do things instead of reading about them.
Here is what it includes:
Product research (3 parts)
Suppliers and Shipping (3 parts)
Listing Optimization and Ranking (3 parts)
Product Launch Strategy (2 parts)
Email Follow Up and Reviews (2 parts)
Amazon PPC and AMS (3 parts)
Facebook Marketing (3 parts)
Millionaire Seller Hacks (3 parts)
Kevin keeps the course up-to-date with the latest trends and Amazon FBA rules. When you buy the course, you can always get the updates for free. So, the lessons never become old.
A bonus section also teaches things like choosing a specific area to sell in, useful tools, and selling internationally. You also get to join a private Facebook group with around 4,000 members, and there's a live Q&A session in that group.
You can access all these bonuses in the "STUDENT NINJA EXTRAS" section.
Now, let's review what each module in Kevin David's Amazon FBA ninja course covers for the rest of this review.
Digital Course Secrets
Out of all of Kevin David's courses, I like the Digital Course Secrets the second most, right after the Amazon FBA Ninja course. This course guides you through the steps to create a steady income by selling online classes.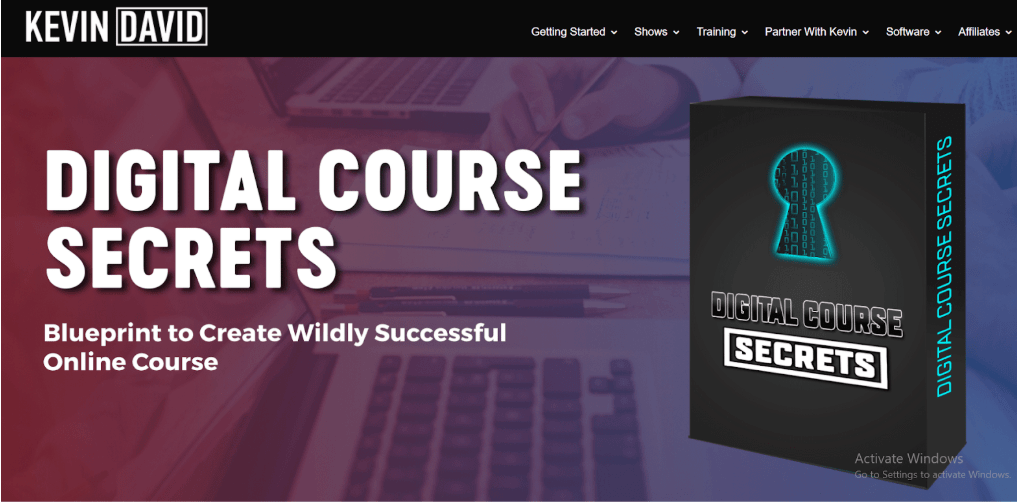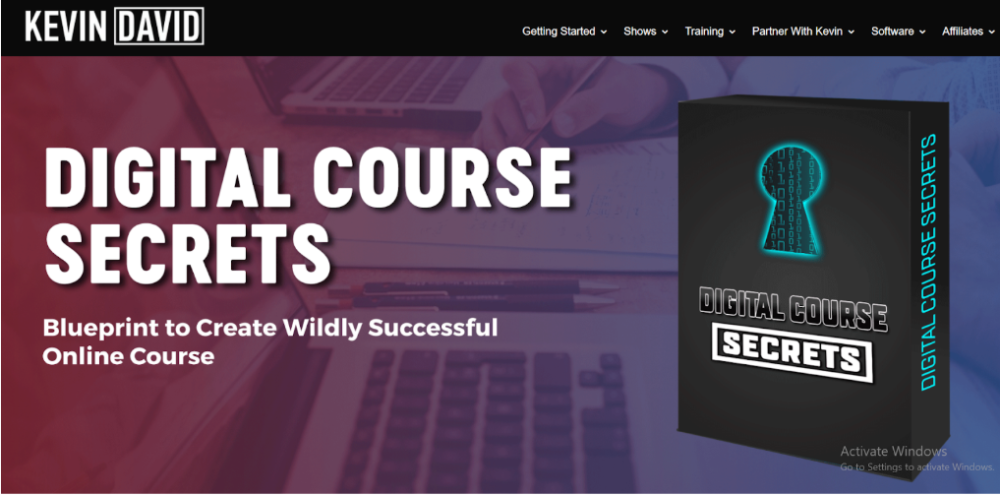 Even though Kevin first made money with his Amazon FBA business, he now earns a lot each month from selling his digital courses. Many sources say he makes more money from his courses than his other online businesses. He even got an award for making over $10,000,000 just from one course.
That's why he's the best person to teach you how to start your own course-selling business.
The Digital Course Secrets has six parts that will help you become an expert in just a few weeks. There are also some extra goodies to help your business grow even more.
It covers the following modules:
Choosing your niche
Building your tribe
Validating your course idea
Organizing, pricing, and outlining your course
Building your course technology
Marketing Mystery
The basic requirement for learning digital course secrets by Kevin David is the user need not waste his time on how to start his existing digital course but rather should be a firm determination.
I noticed that I have qualities like patience and temperament as for a business, it is very necessary because it takes time as well as dedication.
Who is this course for?
I highly recommend this course to those interested in discovering how to make valuable online lessons, sell them to the right people, and generate a passive income.
Plus, there's a 30-day money-back guarantee, giving you the chance to test it out and see if it suits your needs.
Facebook Ads Ninja Masterclass Course
The Facebook Ads Ninja Masterclass is like a massive video course for Facebook marketers. It's all about teaching you how to make Facebook ads that grab the right people's attention and make you more money.
We all know Facebook ads can be awesome for reaching the folks you want to reach. But making an ad that really works can be super tough, especially if you're running an online business.
Now, Kevin David, has spent a ton of money figuring out how to make Facebook ads that actually bring in more sales for his online businesses. So, he's the best person to learn from.
If you've got an online business and you want to use Facebook ads to make it grow, this Kevin David course on paid advertising is the real deal.
The Facebook Ads Ninja Masterclass has six parts and some cool bonuses.
It's got over 65 videos to watch, and you'll also get PDF notes with cheat sheets to help you out.
Bonus Course Modules
In the bonus, you'll learn:
How to create a Facebook ad funnel that doesn't cost you anything, but still works like a charm? Kevin David has got the scoop on using the tripwire marketing technique and six sneaky psychological tricks that most people overlook. These tricks can make your ad campaigns bring in more money than you spend.
You'll learn an easy way to use messenger bots and funnels to double your conversions fast.
As for the price, the Facebook Ninja Ads Masterclass is either a one-time payment of $1997 or you can split it into five monthly payments of $599. This covers the whole course and all the cool extras. You'll even get access to one-hour live sessions every month.
What Does Kevin David Teach?
Kevin David offers multiple digital programs, including his famous 'Amazon FBA', 'Digital Course Secrets', and 'Marketing Agency Masterclass' digital courses, 'ZonBase', 'ShopInspect' and 'MarketerMagic' software tools for e-business entrepreneurs.
He wrote the book Unfair Advantage, which revealed the Digital course Success's 3 major Principles. This book is shipped worldwide with free delivery.
He has also created a community to connect millions of e-businessmen with business learners and students, where he enthusiastically teaches them about online businesses successfully and also built strong social media networks to bind them together.
There are additional features, such as if the entrepreneur wants to get private training from Kevin David, he has an amazing option readily available on the website.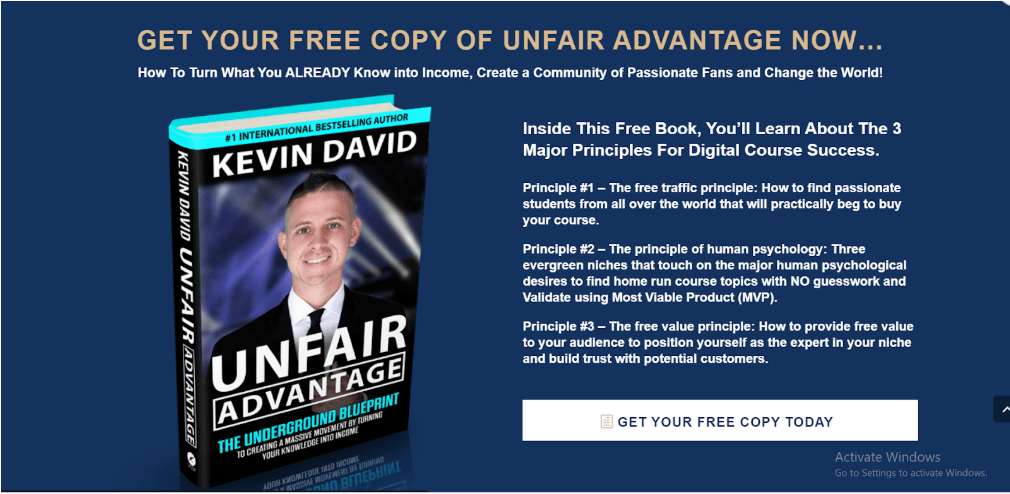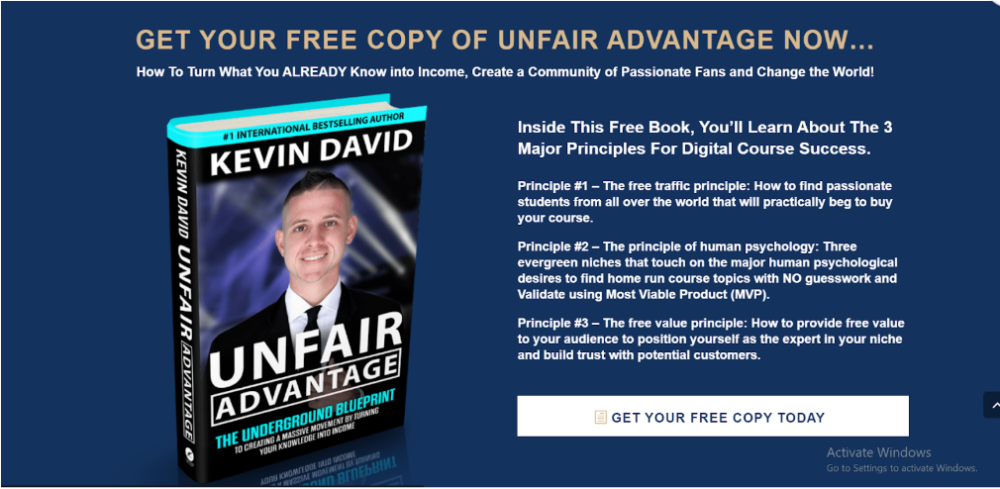 There are also various opportunities if the entrepreneur wants to become an exclusive partner with Kevin David. The feature that lets you navigate over this thing is clearly in front of you over the website when you scroll down a little.
Scaling your business to heights and making it more profitable is the main area where Kevin David comes into play.
Kevin David believes every person is a mastermind and needs proper guidance under the specific parks in his tour toward success. 
Kevin David has his podcast, which is available on the Apple Store, and if the Android user wishes to listen to it he needs to explore the Kevin David website and enjoy the podcast and experience of Kevin David.
There is a YouTube channel named Kevin David Experience, which also guides you in the same format as the website does but in a more particular way, as it is in the form of an audio-video format.
Watching videos over reading a book is always an easy way of learning as memory retention in the case of audio-video formatting is 6000 % more than the retention power from a book.
You will find Kevin David easily on Instagram and other social media websites such as Facebook and Snapchat, where he spreads his knowledge of developing business for a smaller-scale entrepreneur or a startup owner.
The course is also available on Spotify and Google, and Kevin David is an international personality who is famous all around the globe for providing solutions to young entrepreneurs.
The courses that Kevin David has to offer its users are firstly free training followed by Amazon FBA courses, digital course secrets, and Facebook ad courses. Being a digital marketer, it becomes essential to learn about advertisement, and Kevin David is best at it.
What People Say About Kevin David Course?
I researched the internet to find some reviews on Kevin David's course, and here is a screenshot for that: 👇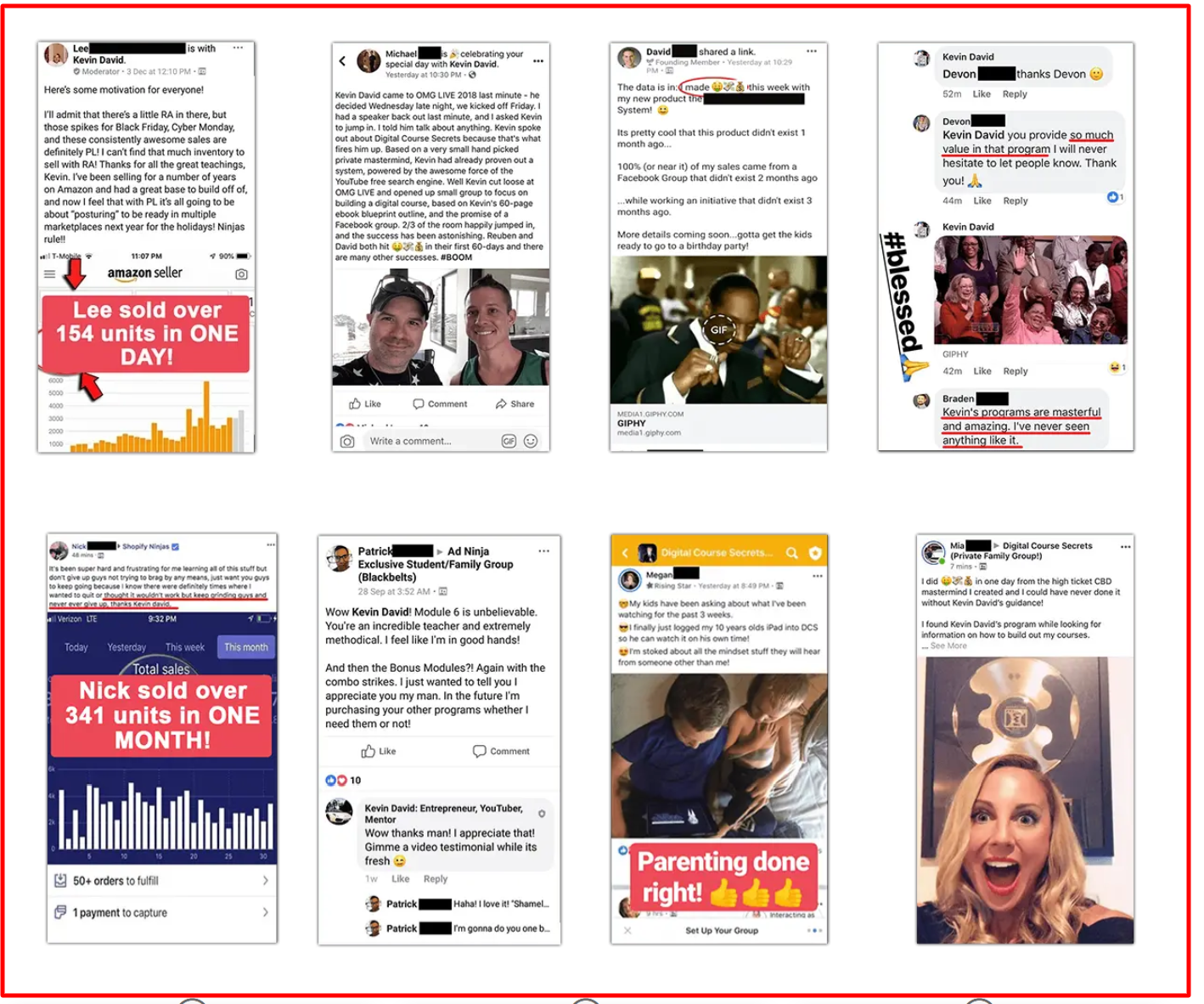 Quick Links
FAQs About Kevin David Course Review
How does Kevin David make money?
Kevin David earns money through YouTube ads, sponsorships, talking at events, investing in new businesses, and running his own companies.
Is Kevin David genuine?
Yes, Kevin David is considered genuine by many. However, there have been differing opinions about his authenticity, with some people raising concerns. It's important to research and form your own judgment based on available information.
How much does Kevin David course cost?
Kevin David course may cost as high as $1997. With some discounts, you can save around $100.
My Verdict on Kevin David Course Review 
If you ask me, I would say Kevin David's course is a legit course. Some might have issues 
It is a premium digital platform that empowers you to start your own business with A – Z guidance, frees you from 9-5 jobs and achieves your dream of becoming a great entrepreneur.
You have to spend the amount on learning, but still spending some amount with a huge advantage and a great future is worthwhile. Once you start your own business, you are going to be a very successful person in life.
Every business has ups and downs in life. Proper guidance is what is needed during the low time of a business and Kevin David does the same thing for you.
Several books have been published on various marketing strategies and ways to guide a user in developing a successful business.
On a personal note, I would recommend people visit Kevin David's official website and make the most of the information that is provided under his website. 
I hope you found this Kevin David Review valuable.