What is MAGIX Movie Edit Pro?
MAGIX Movie Edit Pro 2016 is popular video editing software that offers high-grade features and professional tools for even a layman to acquire the skill of video editing.
It is a European-based software company that has earned a great reputation for its video editing software. MAGIX Movie Editor Pro gives a solid competition to its counterparts with its easy to use interface, basic and advanced editing tools and online presence.
Getting Started : MAGIX Movie Edit Pro Review 2023 May – Video Editing Software
When you first launch MAGIX movie Edit Pro on your system, you get a dialog box to start a new project. The 'easy mode' wizard helps you to select a movie template or open an existing project while you can also skip this dialog box if you wish to continue on your own on the software.
MAGIX Movie Edit Pro has a very pretty straight forward layout with tabs at the top of the screen exhibiting all the necessary functions available on their software.
The 'how to' video helps you perform tasks and learn how to use this software. There is also a user-to-user forum with plenty of tips, advice and step-by-step tutorials to begin working on their product.
You will need Windows XP or Vista, 1GB RAM and 2GB drive space for the installation of this software. The software is pretty much faster and easier to use with constant updates to make it user-friendly and improve its performance.
ScreenFlow is one of the best Screen Recorder App for macOS that you must try. Check out the latest Screenflow Discount and coupon codes here.
Editing Tools and Utilities
You can produce a professional video project by using their variety of features such as add buttons, extra menu pages, text and graphic features. You can use the media pool to play a number of video clips quickly and then transfer them to the timeline which displays the audio and video in one track.
If you wish to play the videos on different tracks you can split them into two. One of the best parts of MAGIX Movie Edit Pro is the interface is customizable wherein you can add windows, toolbars and remove unwanted features depending on your preferences to make it easier to handle.
File Formats
MAGIX Movie Edit Pro supports a variety of audio and video file formats including the high definition video file types such as AVCHD and 4K Ultra HD. It can also handle XAVCS files.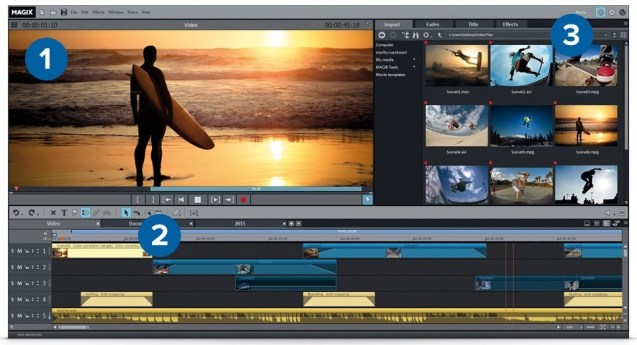 Import and Export
MAGIX Pro allows you to import media files from various devices like camcorders, digital cameras, DVD, Blu rays and DLSR. It also ensures compatibility with smart phone devices, iPod and other mobile devices. Once you have created the video, you can directly upload your project to YouTube and other video sharing sites as well as burn them into CDs, DVDs and Blu rays. There is also a MAGIX album that automatically converts the video into the correct format for social media sites.
The export Wizard makes it easy to export your product to a wider audience. There is a wireless project transfer system that allows you to transfer files and projects between a mobile device and your computer via WLAN.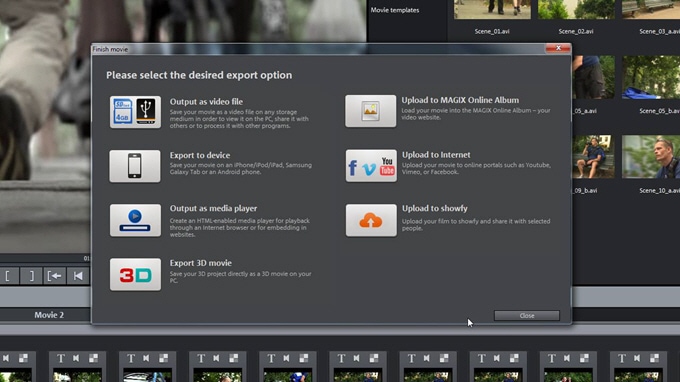 Features
MAGIX Movie Edit Pro provides some of the best audio and movie editing tools in the industry. Its features include,
Mercalli Image Stabilization: MAGIX pro has a dedicated stabilization module for stabilizing blurred videos and images.
Open FX Support: MAGIX Pro supports a wide range of free and paid plugins which can be imported in the program and used seamlessly to add edits and effects on your videos.
Perfect Shot Match: It has a pretty good color correction and grading tools that helps you to add effects and enhance your video to another level. You can adjust white balances, color saturation, hues and temperature to make it look as beautiful as possible. There are two levels of color correction on this video editing software where the first level is called the primary color correction and second level is called the secondary color correction.
In the primary stage you can change the look of the video by resetting the color cast and balance while in the secondary stage you can add color grading, special effects, skin tones and also make it into black and white color or monochromatic images.
Also Read:
Additional features:
3600 Editing: This is a very unique feature available on MAGIX Movie Edit Pro that enables users to choose a section of a video from one angle and then incorporate it into a regular project to display 360 degree footage correctly.
Travel Route Animation: MAGIX Movie Edit Pro has introduced a very simple and effective tool to map travel route on your videos and about the places you visited on holidays. It also includes a GPS database with approximately 80,000 animated cities, towns and villages which is called as the Vasco da Gama 9 travel route animation software.
Proxy Editing: This tool allows you to automatically or manually create a set of small low resolution copies of your videos and using this 'proxy files' you can work on the project without worrying about any crashes on your computer. Once you have finished this project, you can easily change it into the original high resolution format.
Green Screen: MAGIX pro has good anti-spam filter that enables users to capture green screen footage.
Object Tracking: This tool allows you to mark an object and then track it to add mask or image.

Audio Tools
MAGIX Pro offers very unique and useful audio editing tools such as,
Beat-based editing that lets you automatically synchronize music and image edits.
It officer valet variety of high quality instruments and tools for dubbing, mixing and audio restoration.
Audio leveling feature helps you add different volume levels and make sure that the volume throughout the video remains constant.
A real-time audio mixer that helps you mix and balance a range of special effects.
Pros
Advanced video editing software
Offers up to 99 tracks for video and audio editing
Supports AVCHD file format
Range of templates and transitions
Cons
Complicated interface
Suits professionals better than beginners
Plenty of unwanted features that make it difficult to edit videos using this software
Is MAGIX Movie Editor Pro worth your money?: MAGIX Movie Edit Pro Review 2023 May – Video Editing Software
MAGIX Movie Editor Pro is solid and reliable video editing software that has plenty of basic and advanced features to create movies and videos. It can be a good choice for professionals who are into making high quality videos than beginners just learning to edit their own videos.
Magix has a good customer support, forums and tutorials to help users to easily learn about their software in detail. It keeps updating its tools on a regular basis which is increasing its popularity day by day. All in all it can be a solid choice for people who are into capturing movies and videos.