Good
Provides an easy-to-install membership software, with various useful features available, such as piracy auto-locking, upsells/downsells, and support automation.
Bad
Not a standalone software, WordPress plugin with monthly pricing and restrictions on number of users
Overall
MemberMouse is a WordPress plugin that allows you to turn your regular WordPress site into a complete membership website that you can easily manage and profit from.
Detailed  MemberMouse Review With Coupon 14 Days Free Trial
MemberMouse is a WordPress-based membership software created in 2009 by MemberMouse, LLC, a software company based in Delaware, USA. The mission of the company is to provide the easiest, robust, powerful and user-friendly membership software for their customers.
MemberMouse (from $19.95 a month) MemberMouse Review Discount Coupon 14 Days Free Trial
MemberMouse is arguably the most powerful and scalable membership plugin on this list. Despite possessing plenty of advanced features, the plugin remains impressively user-friendly. In fact, it's versatile enough that it can be used to power your entire business — and several multimillion dollar businesses use it to do just that.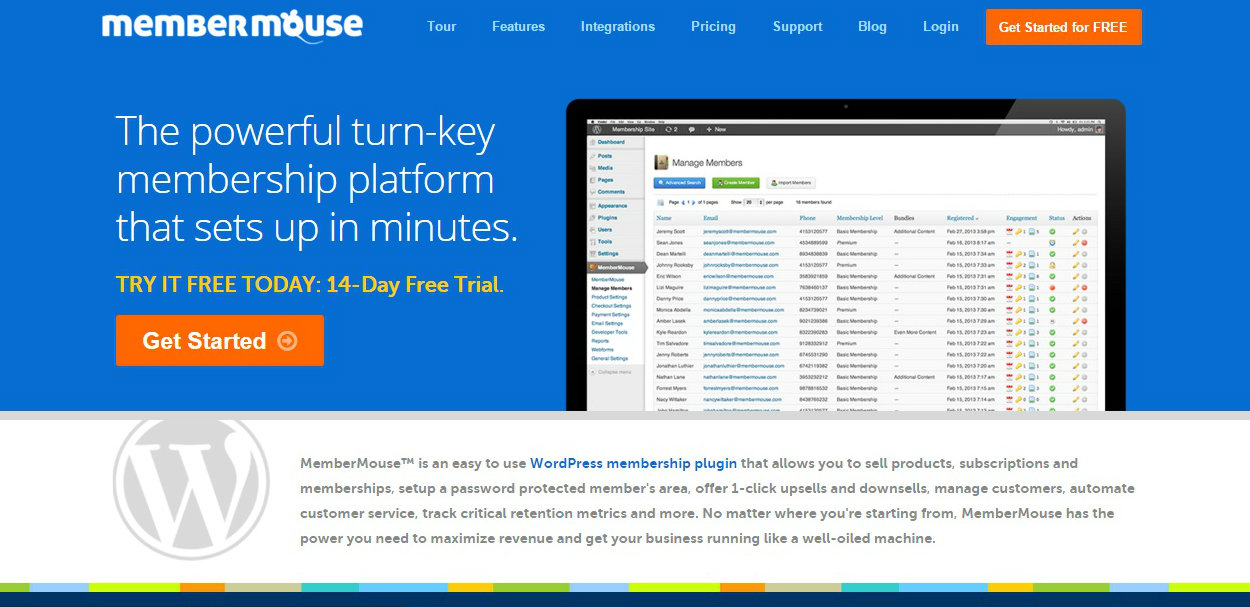 MemberMouse allows you to restrict access to any published post, page, or custom post type, controlled via a grant access button, found next to the default publishbutton. In just a few short seconds, you'll be able to specify which membership levels can access what content — plus, you can drip-feed content by configuring a time release.
Included with MemberMouse is one of the most detailed reporting suites found in any membership plugin. This is accessed from the WordPress dashboard, and includes lots of key metrics you can target to increase profits, such as total members, average retention duration, and average customer lifetime value.
If you want complete control of your billing, you'll love some of MemberMouse's more advanced features, such as one-click up and down-sells, which are displayed during checkout.
However, my favorite feature is split test pricing, which lets you optimize your pricing strategy to maximize subscribers and revenues.
MemberMouse is also big on integrations: There are eight payment gateways (including Stripe and PayPal) and four autoresponder services (such as MailChimp and AWeber) for you to integrate.
Want to recruit an army of affiliate marketers to sing your praises and promote your website? Great, because MemberMouse is compatible with any affiliate network. The plugin's affiliate functionality includes mobile push notifications and pixel tracking, plus you can directly integrate MemberMouse with your preferred affiliate platform's API.
With such an impressive feature set, MemberMouse isn't exactly cheap. Pricing is split into three packages, then operates on a sliding scale based on your membership figures. For example, the most affordable package starts at $19.95 a month for up to 1,000 members. Increase membership levels to 10,000, and you can expect to pay $59.95 a month.
One System Management
The plugins provides a system management that allows you to manage various aspects of your business, including customer management, protected member's area, support automation, and reporting.
The customer management feature allows you to easily accept new members and manage them in one simple dashboard. The protected member's area allows your members to log into their membership account and download content according to their membership level.
The support automation feature allows your members to control their subscription, which also allows them to cancel their membership automatically via their member's page. The reporting feature provides complete analytics about your membership site, including sales amount, member's information, retention rate, and more.
Easy Setup and Use
KEY FEATURES
Payments Supported: MemberMouse  supports Stripe, Braintree, Authorize.net, ClickBank, PayPal, and CoinBase.
Note: If you use on-site payment methods such as Stripe or Braintree, you'll need an SSL and a PCI-compliant site.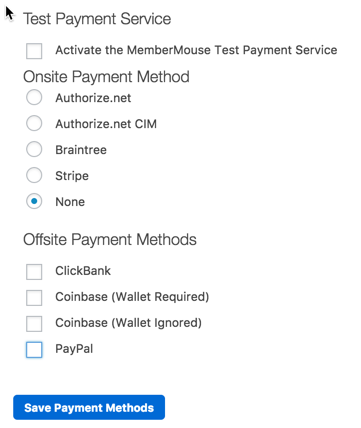 One Time/Recurring Payments/Trial: Yes, all of these options are available.
Coupon: Yes, you can distribute percent-off coupons, dollars-off coupons, and even coupons for free products.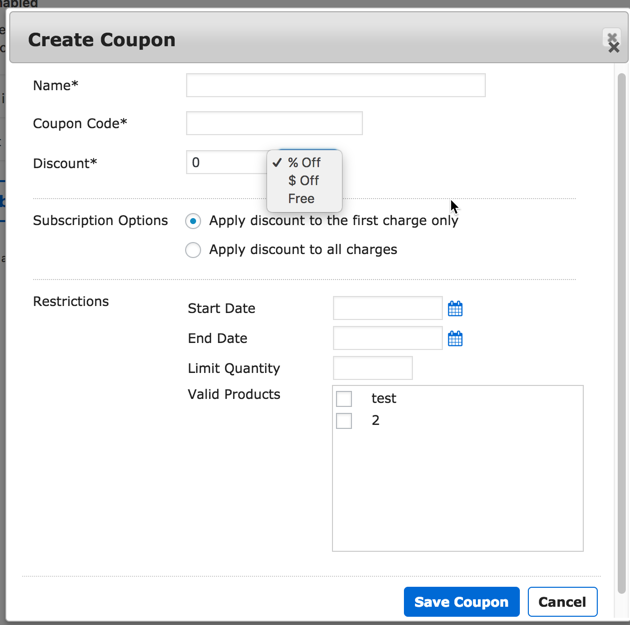 Sales Funnel: Yes, you can offer an upsell/upgrade to your customers using product-specific confirmation pages or product SmartTags. This means that you can offer upsells of related products in a very targeted way.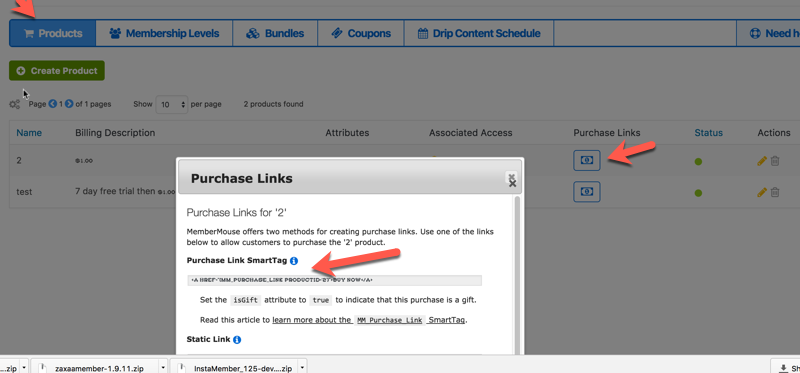 LIST BUILDING:
Able to add buyers to an autoresponder? Yes.
Support: MemberMouse  supports the use of Aweber, GetResponse, MailChimp, ActiveCampaign, and iContact . However, unlike some competitors, MemberMouse  only allows you to use one provider (so you can't use different email service providers for different products/membership site offers). If you have not chosen your email/autoresponder service yet, you can check out our reviews on the "Top 5 Email Marketing Software | Compared & Reviewed" here.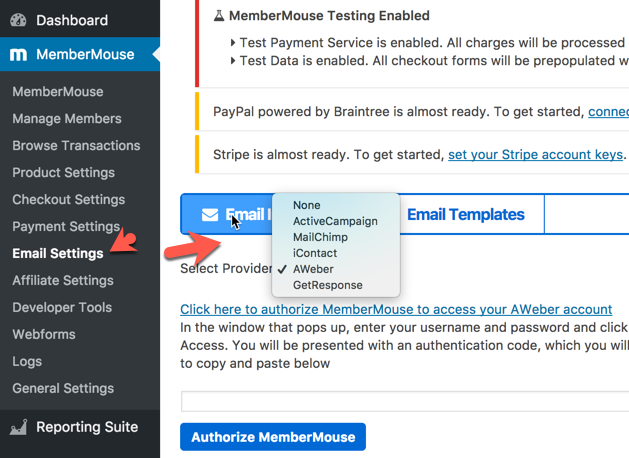 Built-In Affiliate Program: Yes, there is an option to integrate with iDevAffiliate.
CONTENT AND FILE PROTECTION
Drip-feed content: Yes.
Take note that you cannot protect custom post types if they're on a drip-feed schedule. You'll need to protect and schedule this content one post at a time.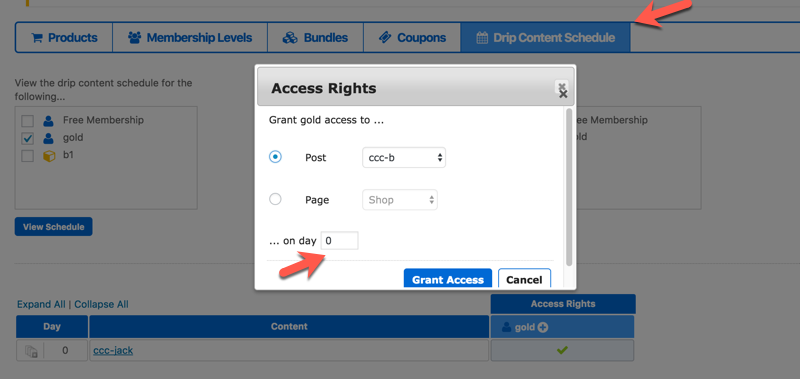 File Protection: MemberMouse  protects pages and posts with a password and an IP login limit.  Login is via a social media account. If you want hard protection, you'll need to use a third-party plugin.
Content teaser:  Yes, you can show teaser content to people who aren't members.
Membership and Products: You can have an unlimited number of memberships and products.
You also have the option to create and sell a bundle of products.
There's also a gifting functionality, which allows your customers to purchase memberships and then distribute them to others as they see fit.
Customer self-service: Yes, customers can update, upgrade and cancel their billing directly from their accounts. However, this function depends on if you choose a payment gateway that supports this function, such as Stripe.
Admin can manually add/edit/manage members? Yes, you can manage members through the plugin dashboard.
Auto upgrade or downgrade membership? It's possible, but it depends on the payment gateway you select, as not all support this function.
Custom IPN to integrate with external/other scripts:  Yes, this is possible if you have the technical knowledge required to do it.
Reporting: Yes, you have access to stats to track performance. Advanced reporting is available in some selected plans.
Members' activity log: Yes, this information is available to you.
EASE OF USE
We found that there are some learning curves required to set it up, but overall it is not too complicated to use. The tedious parts include configuring your payments and setting up the members' area.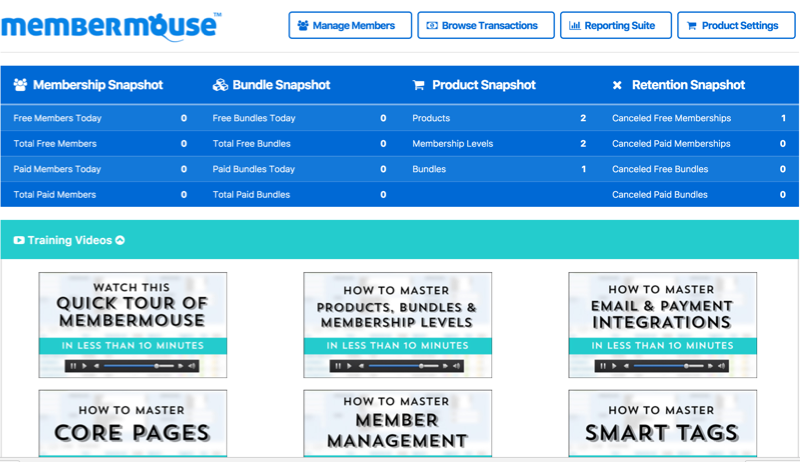 UNIQUE FEATURES:
Here's what's unique about MemberMouse , especially as compared to many of the competitors:
Onsite payment option which lets you handle everything through your dashboard.
Option to bundle products.
The gifting functionality, which allows people to purchase memberships and then distribute the memberships to other people.
SUPPORT:
Primary support with the company is available through a helpdesk. There is also a user forum where you can get answers from others who use the plugin. Finally, a comprehensive self-service FAQ portal is available as well.
The easy installation of the plugin allows you to get your membership site up and running in less than 3 minutes. You don't need to do any complicated software installation within your server.
You just need to download the plugin and install it on your WordPress site, do small configuration, and you are ready to go. You can access the main administration panel of the MemberMouse software via your WordPress dashboard.
Easy Content Protection System
The MemberMouse software provides an easy to use content protection system. With a single click, you can protect your content and prevent any unauthorized person from accessing it.
Not only you are able to protect the downloadable content within your WordPress website from any unauthorized person, you can also protect your WordPress categories, pages, and blog posts from people who are not yet subscribed to your membership website.
Upsells and Downsells
With MemberMouse software, you can not only promote your membership website, but you can also promote other products as well in the form of upsells and downsells. No matter how many upsells and downsells that you have, MemberMouse can accommodate your needs without a problem.
You can put your upsells and downsells anywhere you want within your WordPress site, using a small script called SmartTags. This feature is available as a regular feature for MemberMouse users.
Pricing Sturcture :
Pricing That Encourages Your Success
Starter
 Content Protection
 Member's Area
 Piracy Auto-Locking
 Drip Content
 Smart Tags
 Upsells/Downsells
 1-Click Buy
 Support Automation
 Checkout Pages
 Trial Offers
 Coupons
 API
 Plugin Updates
 Email Support
 Basic Reporting
$19.95 / month
Get Started for FREE
Advanced Recommended
50,000 members
 Content Protection
 Member's Area
 Piracy Auto-Locking
 Drip Content
 Smart Tags
 Upsells/Downsells
 1-Click Buy
 Support Automation
 Checkout Pages
 Trial Offers
 Coupons
 API
 Plugin Updates
 Priority Email Support
 Basic Reporting
 Advanced Reporting Suite
 Lifetime Value Reporting
 Churn & Retention Reporting
 Facebook/Twitter/G+ Login
 UserVoice Integration
$99 / month
Get Started for FREE
Premium
 Content Protection
 Member's Area
 Piracy Auto-Locking
 Drip Content
 Smart Tags
 Upsells/Downsells
 1-Click Buy
 Support Automation
 Checkout Pages
 Trial Offers
 Coupons
 API
 Plugin Updates
 Priority Email Support
 Basic Reporting
 Advanced Reporting Suite
 Lifetime Value Reporting
 Churn & Retention Reporting
 Facebook/Twitter/G+ Login
 UserVoice Integration
 Lime Light CRM Integration
 Phone Support
$299 / month
Get Started for FREE
Offers and Coupons
MemberMouse allows you to create custom offers and coupons so that you can attract more new members into joining your website.
There are many promotional materials that you can create with this software, such as coupons, free trials, recurring payment, one-time purchase, limited-time offer, and so on.
It gives you the flexibility to give various types of promotions based on the current occasion. You can also give the ability for members to share your content with others via the gifting system. This helps to spread the word more about your membership site.
Piracy Auto-Lock
This feature prevents your members from sharing their account with others, which can potentially lead to copyright infringement for your content. You can also lock the sharing feature in your content so that members can only view your content for themselves, and they are not capable of sharing it with others. This helps prevent piracy for your content and protect your intellectual rights from unscrupulous people.
Conclusion: Latest Member Mouse Review Discount Coupon 14 Days Free Trial November 2019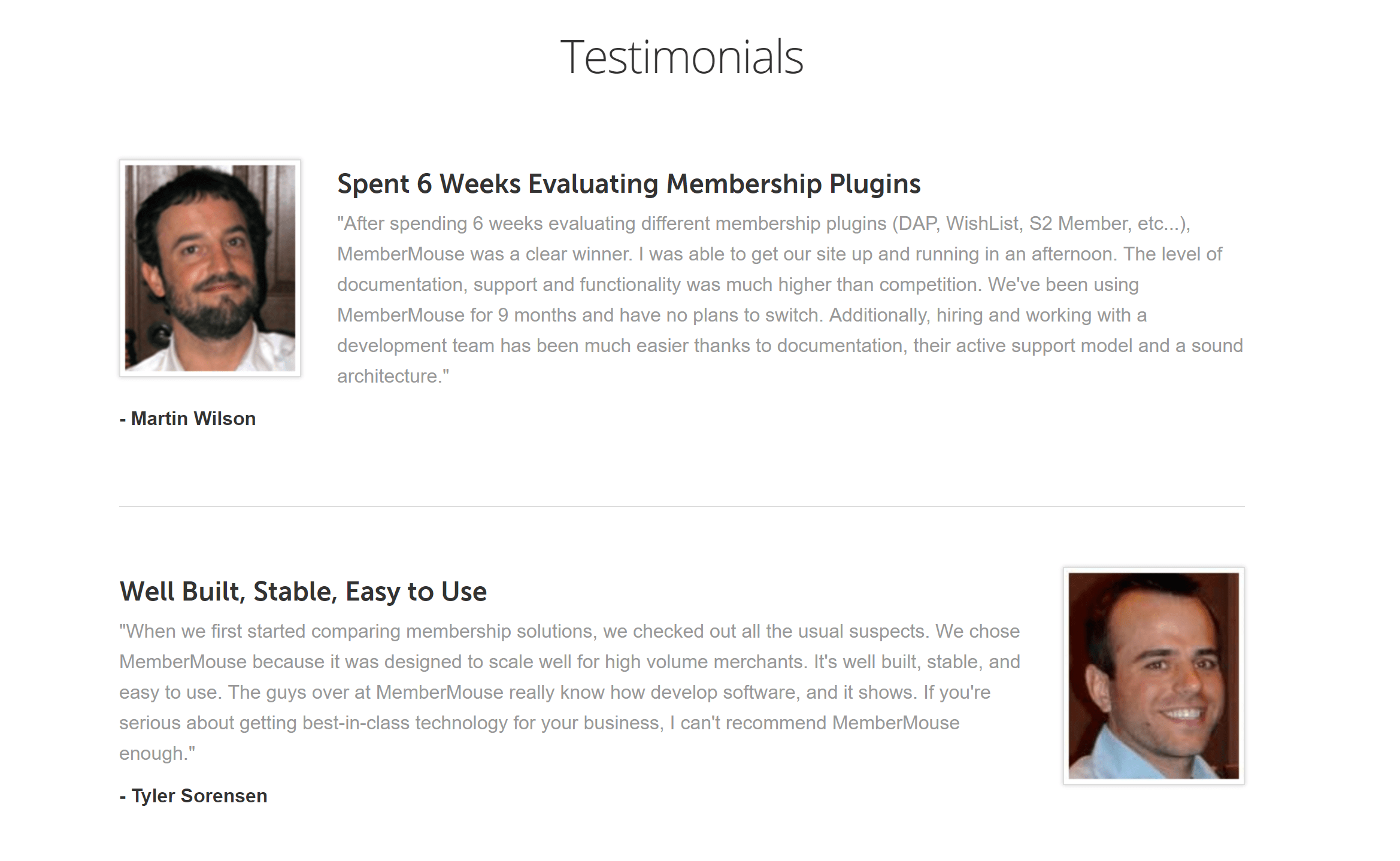 MemberMouse provides features that you need the most from any membership site. One of the most notable features is the piracy auto-lock feature, which helps you to prevent piracy of your content from unauthorized distribution.
This feature is currently not available in most membership software, but with MemberMouse, you can get this simple content protection mechanism that you can get within the software subscription.
So, if you are concerned with the success of your membership site, as well as the safety of your content, MemberMouse can be one of the best membership management software that you can choose for your business.