In this article, I am going to discuss NetHunt CRM Review 2023.
NetHunt transforms your Gmail inbox into a full-fledged CRM system, which helps you store and manage customer-related data while building long-lasting relations with your prospects and clients.
With one click, you can turn your email inquiries into sales opportunities. Due to the native-like integration with Google applications, you basically do not need to leave NetHunt to track all the interactions with the customer, perform sales, and track your progress. It provides sales reps with valuable insights on current deals, unprocessed leads, and daily tasks.
Let's discuss more about NetHunt CRM Review.
NetHunt CRM Review 2023: Is It Best Tool For Gmail?
Features of NetHunt CRM
NetHunt has numerous features that make it stand out among other customer relations management software available. Let's discuss some of them in brief.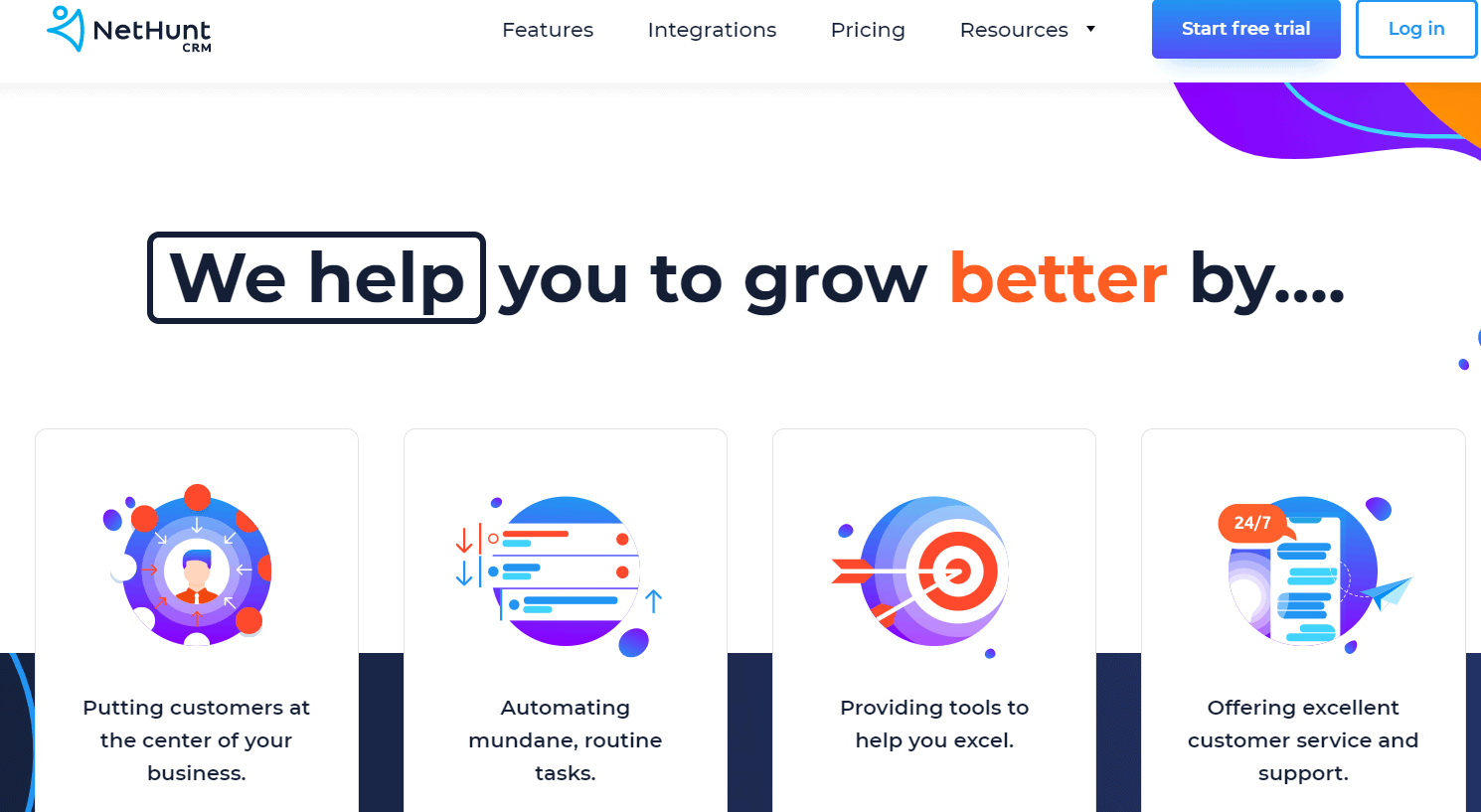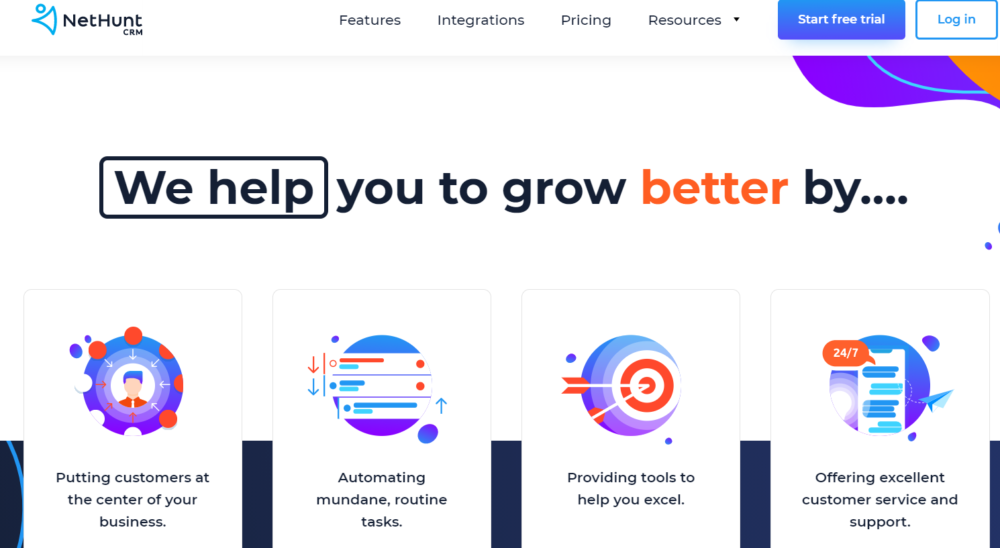 Lead & Pipeline Management
NetHunt CRM allows salespeople to capture leads, qualify them and hit the sales pipeline. It's possible to capture leads from your brand website, add them manually, import from CSV or Linkedin, or from the other CRM tools you used prior. NetHunt also may convert an incoming email into the CRM record.
With NetHunt, you may see the acquisition channels that bring the highest ROI, scale your presence there, and grow your business.
Sales pipelines give you a visual overview of where your deals are in the sales process. It allows you to see the number of deals on every stage, the average deal amount, the pipeline value, and identify the bottlenecks.
You can create multiple pipelines and stages that match your business process; customize the pipeline for your leads, partners, contractors, job applicants, etc.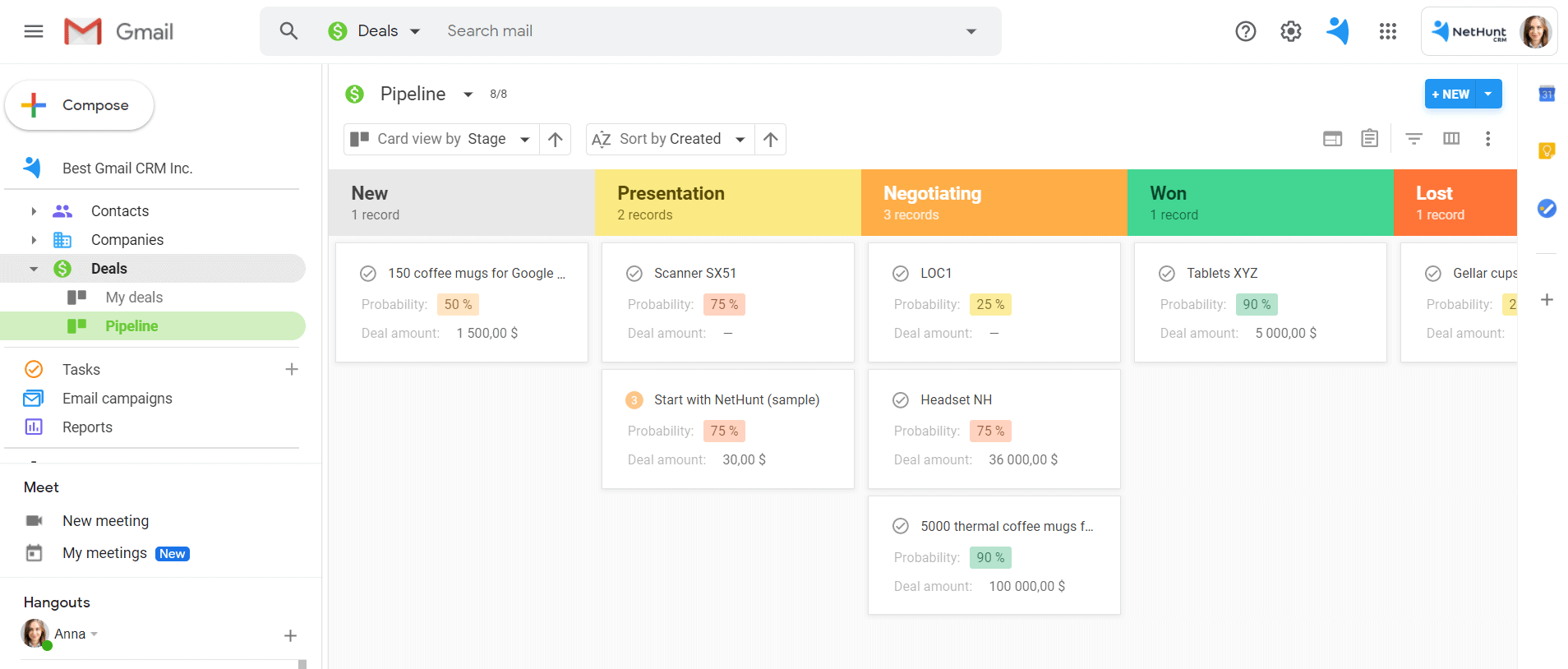 NetHunt keeps your customer base structured and organized. It lets you automatically synchronize your Google Contacts to CRM, eliminating any manual work by updating contacts and saves your time.
If you actively use Linkedin as a sales channel, with NetHunt you can automatically add available contact data like title, position, email address, phone number, profile picture to client records. There is no need to check manually all the Linkedin profiles because the system shows whether you already have this contact in the CRM or it is a new one.
Sales reps may use NetHunt CRM to send personalized email campaigns and reach out to thousands of customers at once. It's possible to filter and sort subscribers, unite them into segmented lists based on needed criteria, and send relevant messages.
Import, save, and share with your teammates HTML templates or create new ones using native Gmail formatting.
With the NetHunt you get the full picture of campaign performance – opens, clicks, replies, bounce rate, spam reports, whether the recipients completed the desired action and moved down the funnel.
Based on the results of the campaigns, sales reps can update contacts in bulk – move them to another stage of the funnel, assign to a manager, or send a follow-up message.
Add an unsubscribe button to stay customer-centric and GDPR-compliant while sending email campaigns.
There is no company similar to another one. Thus, there shouldn't be a CRM setup that fits every business. NetHunt CRM is flexible and highly customizable; you could modify the system to suit your needs: folders with its name and structure, client records, pipelines, and more. And whenever you need to change anything, it's quick and straightforward!
You may apply filters to the segment customer base and save as many views as you need based on the information that is important for you.
With NetHunt, it is easy to create your to-do lists, prioritize your tasks, assign tasks to the team to keep the sales ball rolling. Set up reminders not to forget about any upcoming event or task associated with the next step of every deal.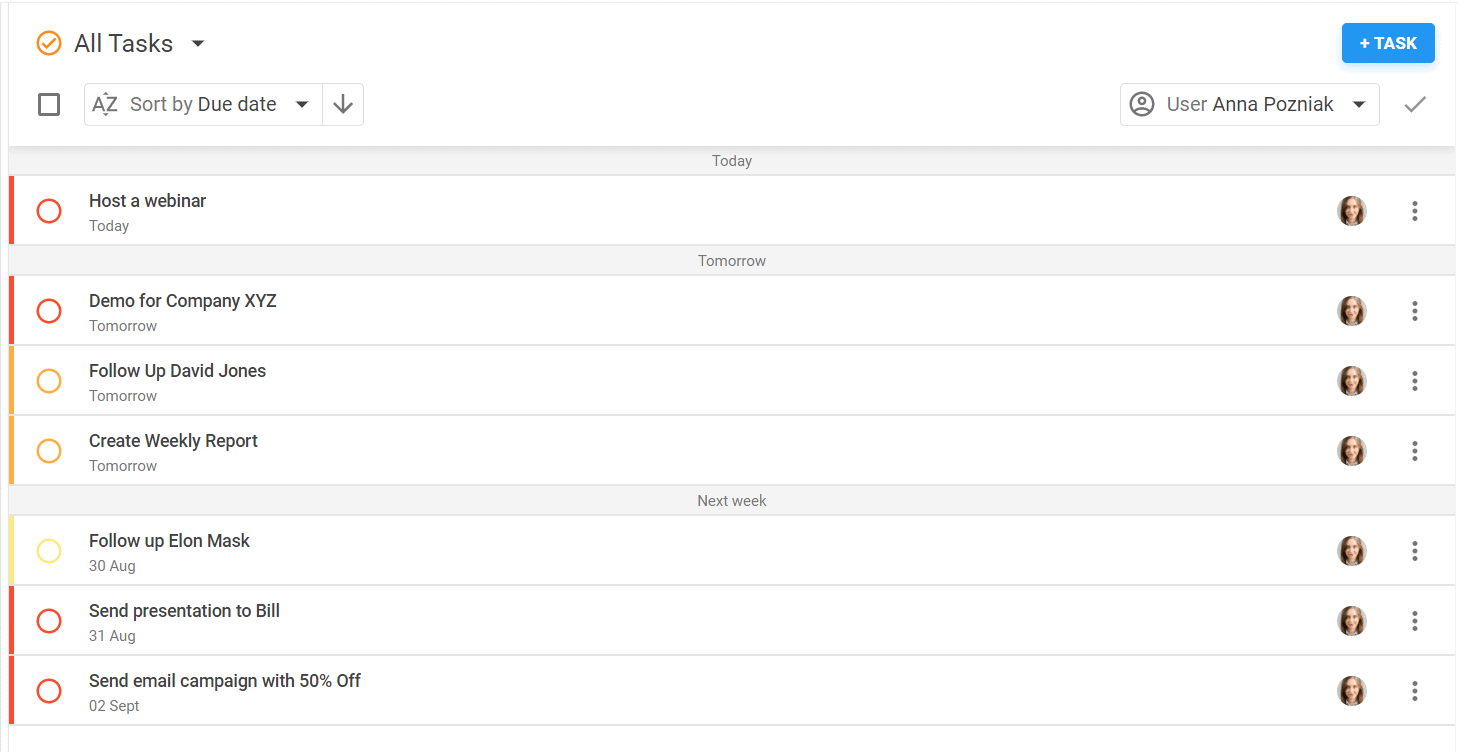 Monitor your team performance, sales results, and goals progress regularly. It is essential to track every metric and the progress your team is making. Based on multiple criteria, business owners, team managers, and sales reps can create dedicated dashboards to stay in the loop.
The activity dashboard gives a glimpse of the team productivity with the amount of sent emails, meetings, and demo calls hosted. Leaderboards provide you with the information on sales reps performance – how many deals were closed, revenue generated, a number of deals in the negotiation stage, and other meaningful information for you.
NetHunt is integrated with Google Data Studio, which provides even more reporting possibilities. Create the dashboards with multiple data sources connected, see the full picture of your business, and make data-driven decisions.
NetHunt CRM Mobile Application
With NetHunt, you can manage your sales on-the-go and while you are in the fieldwork or having client meetings out of the office. Answer client requests, track deal progress, send related documentation, and stay in the loop of what is going on with your prospects when you're away from your desk.
NetHunt is available for both iOS and Android.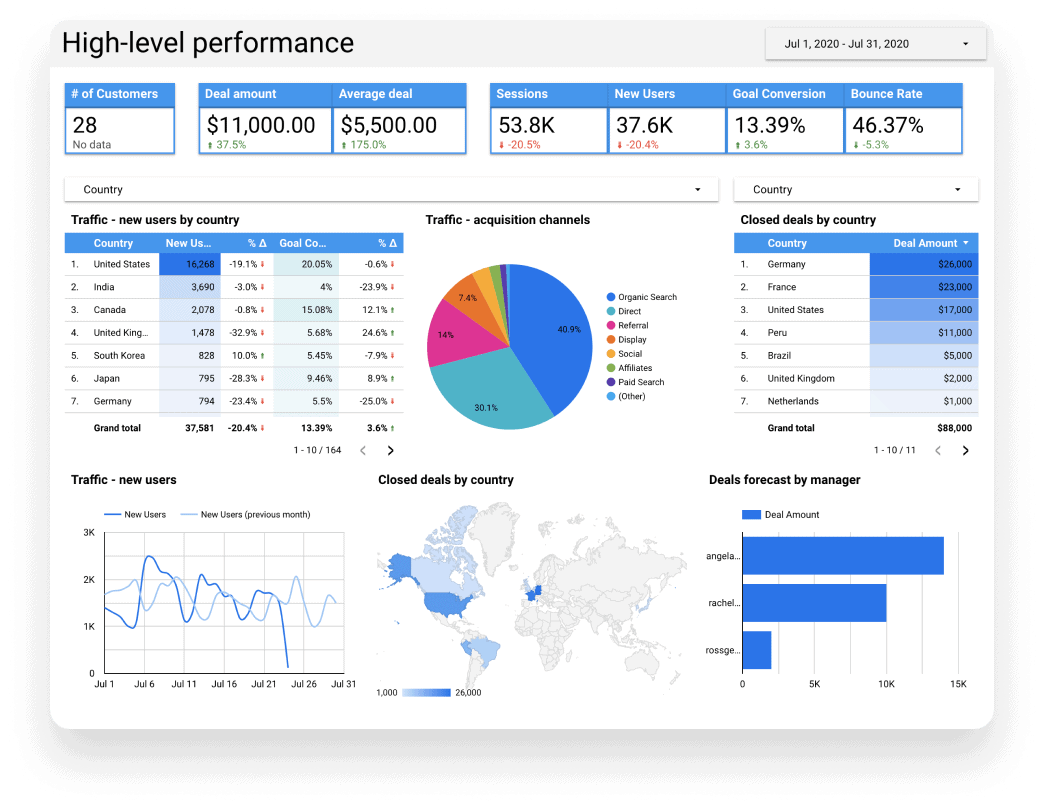 NetHunt CRM Review: Customer Support
NetHunt provides its client Knowledge Base with the collection of tutorials that cover CRM basics, set up processes, as well as advanced functionality. This is a perfect option for those who prefer to resolve all the questions by themselves.
NetHunt CRM customers can also get professional help by live chat, email, or video call. Enterprise Plan Customers have a dedicated Customer Success Manager to get answers to any questions personally.
There is also the NetHunt CRM community where customers share their experience, tips, use cases, and provide each other with business advice.
Quick Links
FAQs | NetHunt CRM Review
👍 What is NetHunt?
NetHunt is a full-fledged CRM tool for Gmail. It integrates Gmail and other G-suite apps. NetHunt carries email automation and easy lead generation.
🙋‍♀️ What is CRM in Gmail?
The CRM in Gmail helps you track the email of clients and potential customers and help you generate leads in one-click.
🙆 What are alternatives for NetHunt?
Some of the alternatives for NetHunt are HubSpot CRM, Zoho CRM, Sugar CRM, Freshsales, etc.
👉Does NetHunt has chrome extension?
Yes, the NetHunt CRM has a chrome extension and you can easily use it on-the-go with your Gmail.
Conclusion | NetHunt CRM Review 2023
NetHunt is a powerful solution to align the work of the whole company – from the sales department to marketing, customer support, HR, to the finance team.
Extensive flexibility and customization make NetHunt CRM suitable for every industry as you may set up the system according to your workflows and business processes. The tool is available as a chrome extension as well as a web application.
I hope you find this NetHunt CRM Review valuable. Do not forget to share it on social media and with your friends.