As social media changes and evolves, so must your marketing strategies. Here are five new Social Media Trends to watch out for in 2022. STAY TUNED!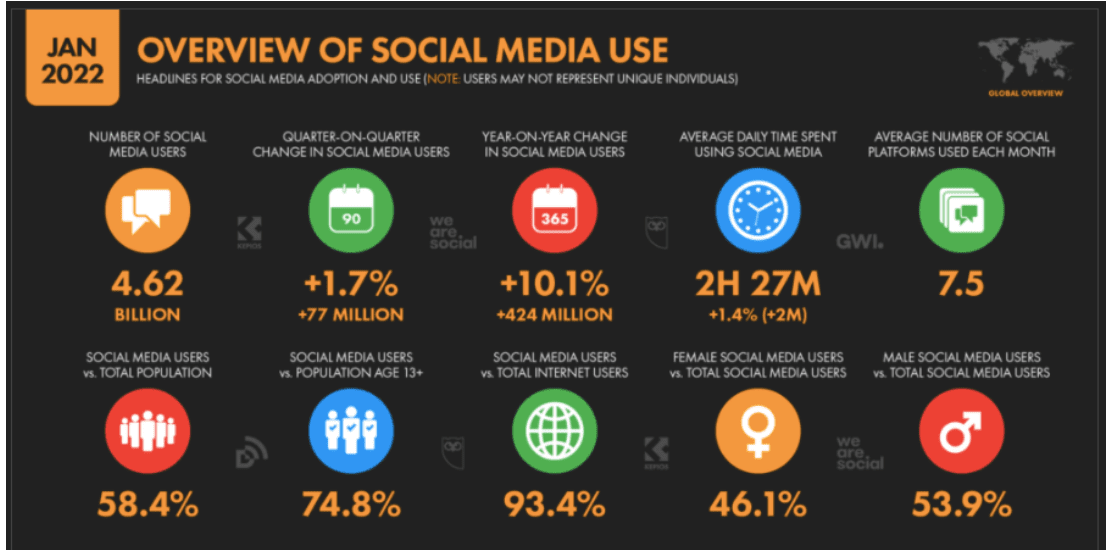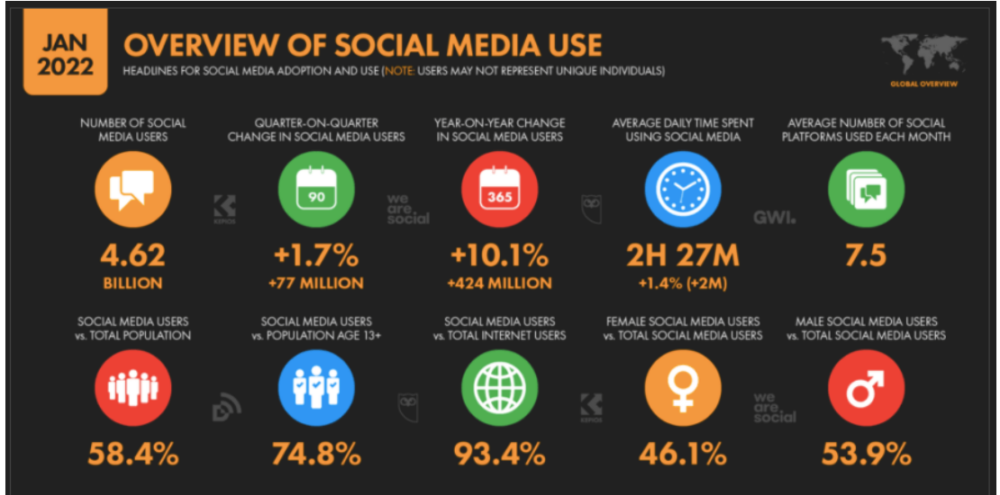 1. Marketers Can No Longer Ignore TikTok
In the past, TikTok was largely dismissed as a frivolous app for Gen-Zers to share silly videos. However, the platform has since exploded in popularity, and marketers can no longer afford to ignore it.
With over 800 million active monthly users, TikTok has quickly become one of the most popular social media platforms. What's more, TikTok users are highly engaged, spending an average of 52 minutes on the app each day.
This presents a huge opportunity for brands to reach a massive audience with creative content. While TikTok may seem like an intimidating platform for marketers, there are a number of ways to successfully connect with users.
For example, many brands have found success with influencer marketing, partnering with popular TikTokkers to promote their products or services.
There is also a growing number of ad formats available on the platform, such as brand takeovers and native ads. As TikTok continues to grow in popularity, marketers will need to adapt their strategies to make the most of this powerful platform.
2. Social Commerce is About to Become Seamless
Social commerce has been making big strides in recent years, as sites like Facebook and Instagram have become increasingly popular destinations for online shoppers. On these platforms, users are able to browse products and make purchases directly from within their social feeds.
And as the demand for seamless shopping experiences continues to grow, it seems inevitable that social commerce will soon become even more integrated into our everyday lives.
The key factor driving this development is convenience. As consumers, we are constantly on the go and have limited time and attention spans. Given these constraints, we want to be able to get what we need whenever and however we choose, without having to jump between different apps or website tabs.
Social platforms already provide this kind of seamless experience for many activities like sharing photos, communicating with friends, or watching videos; it makes sense that they would also provide a way for us to shop in the moments when we come across a product that strikes our fancy.
For years, social media sites like Facebook, Twitter, and Instagram have been home to a thriving e-commerce community. Whether it's browsing products or making direct purchases from within social platforms, social commerce has become an integral part of modern life.
But recently, companies have started to give consumers the ability to seamlessly move between online shopping and digital interactions. For example, new apps allow customers to purchase desired items with a single tap or digital receipt sent straight to their inbox after checkout.
Additionally, voice assistants make it easy for shoppers to search for items and add them directly to an online shopping cart. As these technologies continue to evolve and improve, we can expect social commerce to grow even more seamlessly in the coming years.
After all, now that technology has made buying products on social media nearly effortless, why would anyone ever shop any other way?
3. Influencer Marketing Will Help Build Authenticity
Influencer marketing has become an incredibly powerful tool in today's digital age. By leveraging the massive reach and engagement of top social media influencers, brands can more effectively engage their target audiences and gain a competitive edge in the marketplace.
However, there is one major drawback to influence marketing: it can be difficult for consumers to trust that the opinions and experiences of social media influencers are genuine.
After all, these influencers are often amenable to working with brands or posting content in exchange for money or free goods.
Fortunately, there is a solution to this problem: building greater authenticity into influencer marketing campaigns. By aligning themselves with authentic, grassroots movements that share their core values, brands can actually improve the credibility of their messages and build lasting relationships with their target audiences.
Through intensive collaboration with bloggers, vloggers, and other social media users who have established strong followings on their own terms, companies can help cultivate earnest relationships based on trust and affinity.
With authenticity at its core, influencer marketing will continue to play an essential role in driving growth for brands going forward.
4. YouTube Advertising Offers a New Revenue Stream
For many businesses, YouTube advertising offers an important revenue stream in addition to traditional marketing avenues such as print ads, radio commercials, and billboards.
Thanks to the vast reach of online video platforms like YouTube, brands are able to easily reach a wide audience and promote their products or services in a cost-effective way.
At the same time, YouTube also allows advertisers to be highly targeted in their approach and customize their ads for specific demographic groups or individual users.
As such, this type of advertising is quickly becoming a crucial component of any successful marketing strategy. Whether you are looking to attract new customers or build loyalty among existing ones, YouTube advertising is definitely worth exploring.
5. Instagram Video Creation Will Explode
There's no doubt that video is one of the most powerful tools on social media. In just a few seconds, you can convey a message, start a Social Media Trends, or even build a brand.
And with the rise of Instagram Stories and IGTV, it's clear that video is only going to become more important on Instagram. For brands and businesses, this presents a huge opportunity.
As more and more people turn to Instagram for their video content, those who are able to produce high-quality videos will have a major advantage.
If you're not already creating videos for Instagram, now is the time to start. With a little creativity and some basic editing skills, you can create videos that will engage your followers and help you stand out from the competition.
Conclusion- 5 New Social Media Trends- Best Thorough Guide [ Year]
Although some of these Social Media Trends have been around for a while, they are still worth paying attention to. Each of them has the potential to help your business reach new heights if used correctly.
Keep an eye on these Social Media Trends in the coming year and see which ones work best for you and your audience. What do you think? Are there any other social media trends that we missed? Let us know in the comments below!
Quick Links