In this article we have featured
Beginner's Guide to Non-Linear Editing Software
, Plus NLE Examples. If you're new to video editing, you've probably heard the terms "non-linear video editing" or "NLE," which stands for "non-linear editor." Don't be misled by the terminology; most offline video editors are NLEs. Before diving into the article checkout the latest
vsdc video editor pro coupon
What does a non-linear video editor mean?
A non-linear video editor is one that allows you to place audio and video files on multiple tracks in any order you want. This means that files do not have to start sequentially: they can be overlapped and used in the same scene at the same time.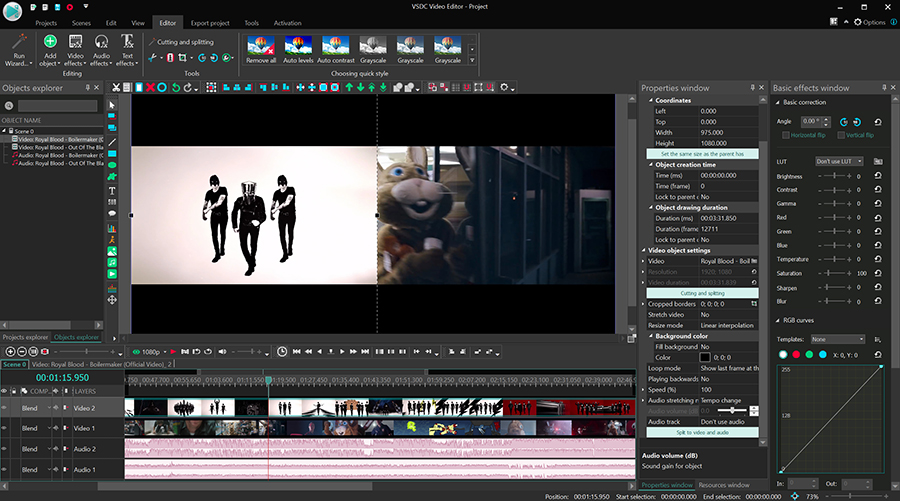 Virtually all offline video editors are non-linear. Some of the most popular free ones are VSDC, iMovie, and Davinci Resolve. Some of the most popular paid ones are Adobe Premiere, Vegas Pro, and Final Cut Pro.
The best way to fully comprehend non-linear video editing is to compare it to linear video editing.
What is the difference between linear and non-linear editing?
The most noticeable distinction between linear and non-linear editing is the number of tracks on the timeline. They'd be correct: linear video editors only have one track, whereas non-linear video editors have multiple tracks.
The linear editing method was first used years ago, when filmmaking required the use of physical tapes. To create a story, a filmmaker would have to literally cut out the unwanted pieces of the original tape, take what's left, and put it together in a new sequence. Because you could only connect pieces one after the other, this method was dubbed linear.
Even when the industry began to evolve and digital cameras became available, some of the first video editors used the same linear approach. Consider Movie Maker. There was only one video track and one audio track in Movie Maker. This means you could only put video clips in a straight line and use one soundtrack at a time.
Non-linear video editing software, as opposed to linear video editors, allows you to use multiple video and audio tracks. This means that files can be layered and overlapped. For example, you can place two videos on the timeline one above the other, and they will be displayed simultaneously during playback. The side-by-side and picture-in-picture effects work in this manner.
Similarly, you can use multiple audio tracks. For instance, you might want to include background music as well as voice comments at the same time. To do so, you'll need to place two different audio files on two different audio tracks, which can only be done with an NLE.
What are the advantages of non-linear video editing?
The freedom of the creative process is, as you've probably guessed, the primary advantage of non-linear video editing. You can not only place multiple videos and images in the scene and display them as is, but you can also combine those videos and images into a new composition.
There are numerous examples of such effects. In addition to those already mentioned, here are three more that you've probably heard of:
Video masking
Double exposure
Chroma keying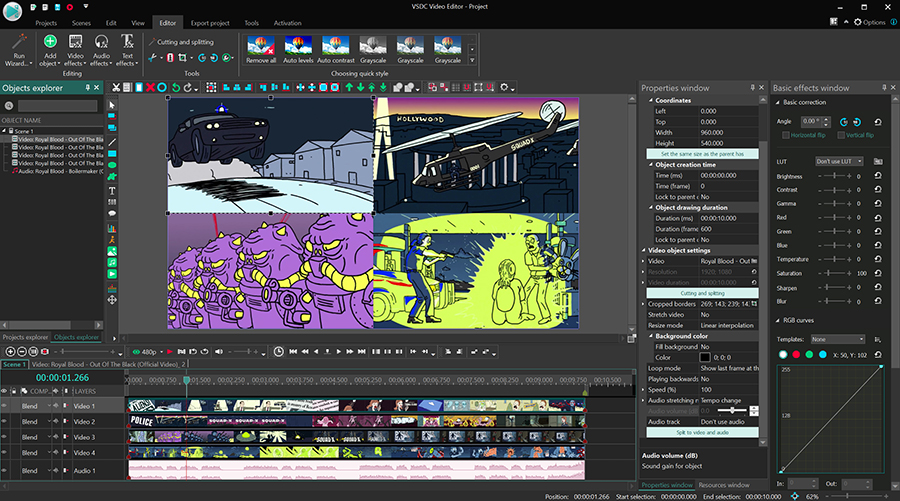 What is the best non-linear editing software?
Because the majority of modern-day video editors are non-linear, the real question is which video editor is the best. The answer will vary depending on your skill set, experience, goals, and computer power.
We'll go over some of the most popular non-linear video editors, both free and paid, so you can see for yourself.
Free non-linear video editors
VSDC is a free NLE designed for those who understand the fundamentals of video editing and want to progress to more advanced techniques. It includes a plethora of stunning effects, as well as customizable blur filters, colour correction tools, and a powerful Chroma Key. Keep in mind that VSDC is only available for Windows.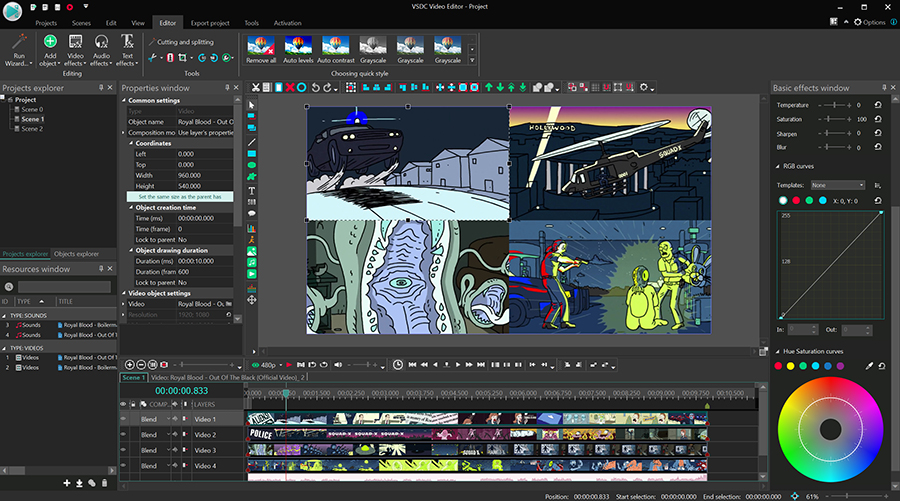 If you're concerned about the system requirements, which are quite high for most NLEs, don't be. When compared to other video editors, VSDC is the lightest. It will work just fine with as little as 2GB of RAM and will not require a powerful PC to use.
The Pro version of VSDC includes a few features aimed at more advanced users. It costs $19.99 per year and includes features such as video masking, motion tracking, hardware acceleration, and audio waveform. However, as a beginner, you'll most likely find the free version of VSDC to be more than adequate.
iMovie is a non-linear video editor that comes standard with Mac computers. iMovie appears to have the simplest, most intuitive interface, but the least feature flexibility of any video editor on this list. In other words, while you won't be able to perform advanced tricks like video masking or creating a custom animated intro, you will be able to quickly enhance your footage, add music, and apply effects like picture-in-picture.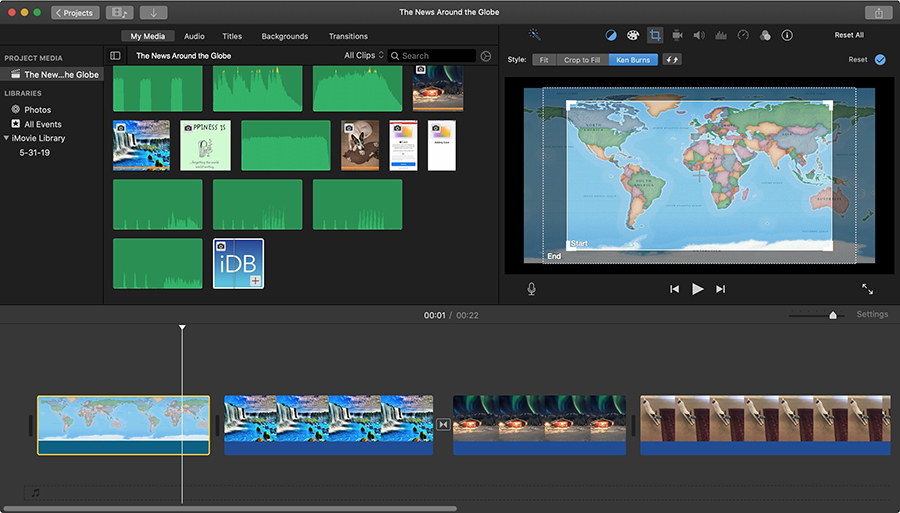 Although iMovie cannot be used on Windows, it can be used on your iPhone and iPad. If you have multiple Apple devices, this is a useful feature because it allows you to start cutting out unwanted footage while on the go and finish it later on your computer.
Overall, if you're a beginner or intermediate user, iMovie is a great choice. It has decent colour correction, Chroma Key, titles, a set of basic transitions, and themes for slideshows and presentations.
3. Davinci Resolve (Windows, Mac, Linux)
Davinci Resolve is a professional-grade NLE that is used by both independent filmmakers and Hollywood producers. Its free version is widely used due to its excellent colour correction capabilities and a plethora of convenient shortcuts – essential for those who work with large amounts of footage on a daily basis.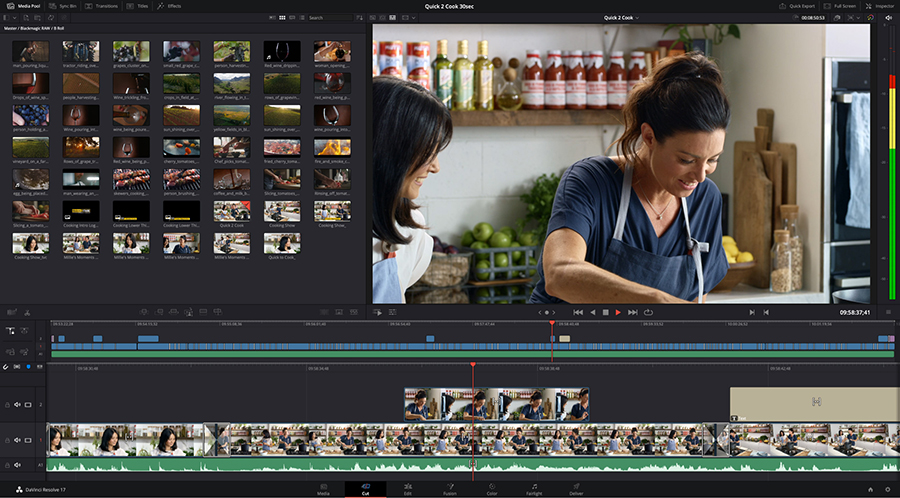 The main disadvantage of Davinci Resolve is that it requires a lot of resources, and you won't be able to run it on a slow PC without the programme crashing. However, keep in mind that if you're serious about your video editing hobby, you may need to upgrade your computer at some point.
If you're surprised that such a powerful NLE is available for free, there's an upgrade option. The company that created Resolve, Blackmagic Design, sells a commercial version of the programme called DaVinci Resolve Studio. The aptly named software is intended for filmmaking studios and supports resolutions greater than HD, frame rates greater than 60fps, additional OpenX plugins, motion blur, and a few other pro-level tools. The Studio version costs $299 for a one-time payment.
Paid non-linear video editors
Adobe Premiere Pro is widely regarded as the industry standard in post-production. It has dominated the market since 1991, when it was first released under the name Adobe Premiere. According to some filmmakers, many of the remaining software developers are simply attempting to replicate Adobe's success by creating their own versions of Adobe.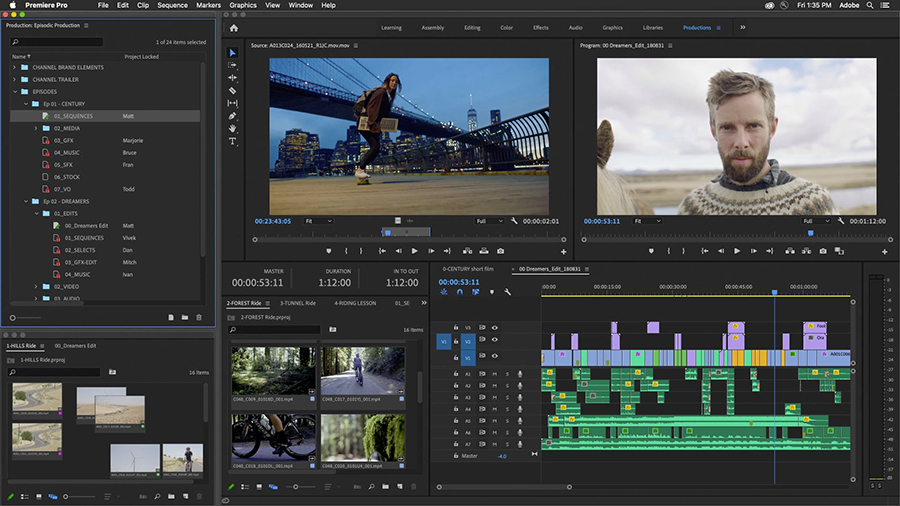 Premiere Pro includes everything you could possibly need for post-production, including powerful hardware acceleration, ProRes HDR, a large set of transitions and special effects, video noise reduction, an audio mixer, and integration with various plugins, including the Borix FX library. That's not to say the tool never crashes or has no flaws, but the truth is that they are the pioneers of digital video editing, and it's difficult to find something lacking when compared to its competitors.
Of course, having such a powerful editor comes at a cost. After a 30-day free trial, you can choose between a monthly subscription for $31.49 and an annual subscription for $239.88. You also get 100GB of cloud storage, Premiere Rush, Adobe Portfolio, Adobe Fonts, and Adobe Spark with the subscription.
Vegas Pro (formerly Sony Vegas) is a post-production suite for Windows. It's also aimed at professional-grade users and packed with professional-level tools. However, the interface, as well as the logic of this software, differ from what Adobe fans are used to.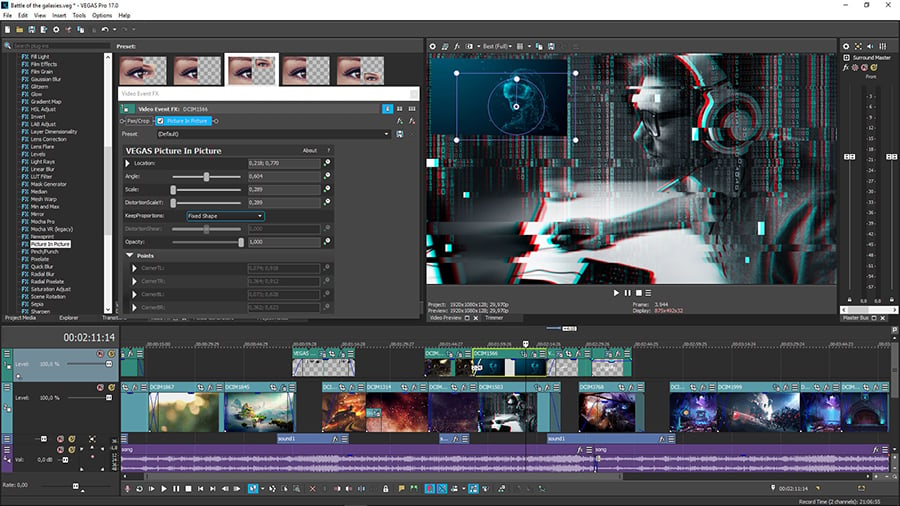 Vegas Pro (formerly Sony Vegas) is a Windows-based post-production suite. It is also designed for professional-level users and includes professional-level tools. However, the interface and logic of this software differ from what Adobe fans are accustomed to.
Vegas is a professional-level tool that is designed to make collaborative editing easier. Nested timelines are a particularly useful feature in Vegas Pro. It not only allows you to completely reorganise the editing workflow, but it also allows you to separate parts of your project from the main timeline and, most importantly, share those parts with your colleagues – without having to save them as separate projects. There are plenty of tools for both beginners and advanced users. The AI algorithms used to achieve flawless motion tracking, video stabilisation, and colour correction are one of Vegas' key advantages.
Vegas Pro can be purchased in two ways. You can choose between a monthly subscription and a one-time purchase from the developer's website. The former costs between $29.99 and $39.99 per month, depending on the billing cycle you choose; the latter costs $999 and includes a year of free updates. If you prefer, you can also order a physical version of the software.
Final Cut Pro is an Apple-created non-linear video editor that has served as the next step for those who have outgrown iMovie. Although Adobe Premiere works on macOS, many Mac users prefer Final Cut Pro due to its user interface, rendering speed, and price.
The truth is that both NLEs offer excellent video editing platforms and can meet the needs of an experienced film editor. However, many people believe that Final Cut Pro is more user-friendly for beginners while being slightly less adequate for professionals. For example, Final Cut's interface is based on a magnetic timeline and can easily be converted into a single-track platform, which is usually more convenient for the average user. Another benefit of Final Cut is that you can use the programme while exporting a file. It's also known for faster rendering, whereas Adobe users frequently complain about rendering speed and the fact that Premiere Pro freezes during export.
If you decide to buy Final Cut Pro, your only option is to pay a one-time fee of $299.99. Although it appears to be a lot, Final Cut Pro will be a cheaper editor in the long run than Premiere Pro because an annual subscription for the latter is roughly the same amount, but it does not allow you to continue using the software if you stop paying.
Wrapping-up
Let's go over everything we've learned so far. To begin, almost all offline video editors are non-linear video editors. Second, non-linear video editing allows you to use multiple tracks as well as overlay files. Finally, the best non-linear video editor does not exist. Many of them are excellent, and you should select one based on your level of experience, budget, and computer specifications.