In this post, we have shared the Regal Assets Review 2022 with all its features, reasons to choose Regal Assets, and its pricing details. Read our review here!!
What are the Regal Assets?
Regal Assets is a company engaged in the industry of precious metals. They offer gold coins and other valuable coins. It was founded by Tyler Gallagher in the year 2010, in Burbank, California, United States.
Regal Assets was started as a small investment company, having the vision to simplify, rejuvenate, and innovate alternative assets investment landscape, all the while operating under a heavy bureaucracy and other unnecessary hurdles.
Regal Assets is considered the highest-rated alternative assets firm in the United States, having gained recognition from Forbes, the Huffington Post, and Smart Money.
They have their offices based in Toronto, Los Angeles, Texas, and a recently opened office in Dubai in the United Arab Emirates.
Why Choose Regal Assets?
Regal Assets is considered one of the best in business, having gained recognition from renowned paper houses and organizations.
Besides, they are also among the few firms that make their customers 100% aware of what they are being offered, educating, and making their customers aware of the investment they are about to undertake so that they are comfortable going ahead in the long run.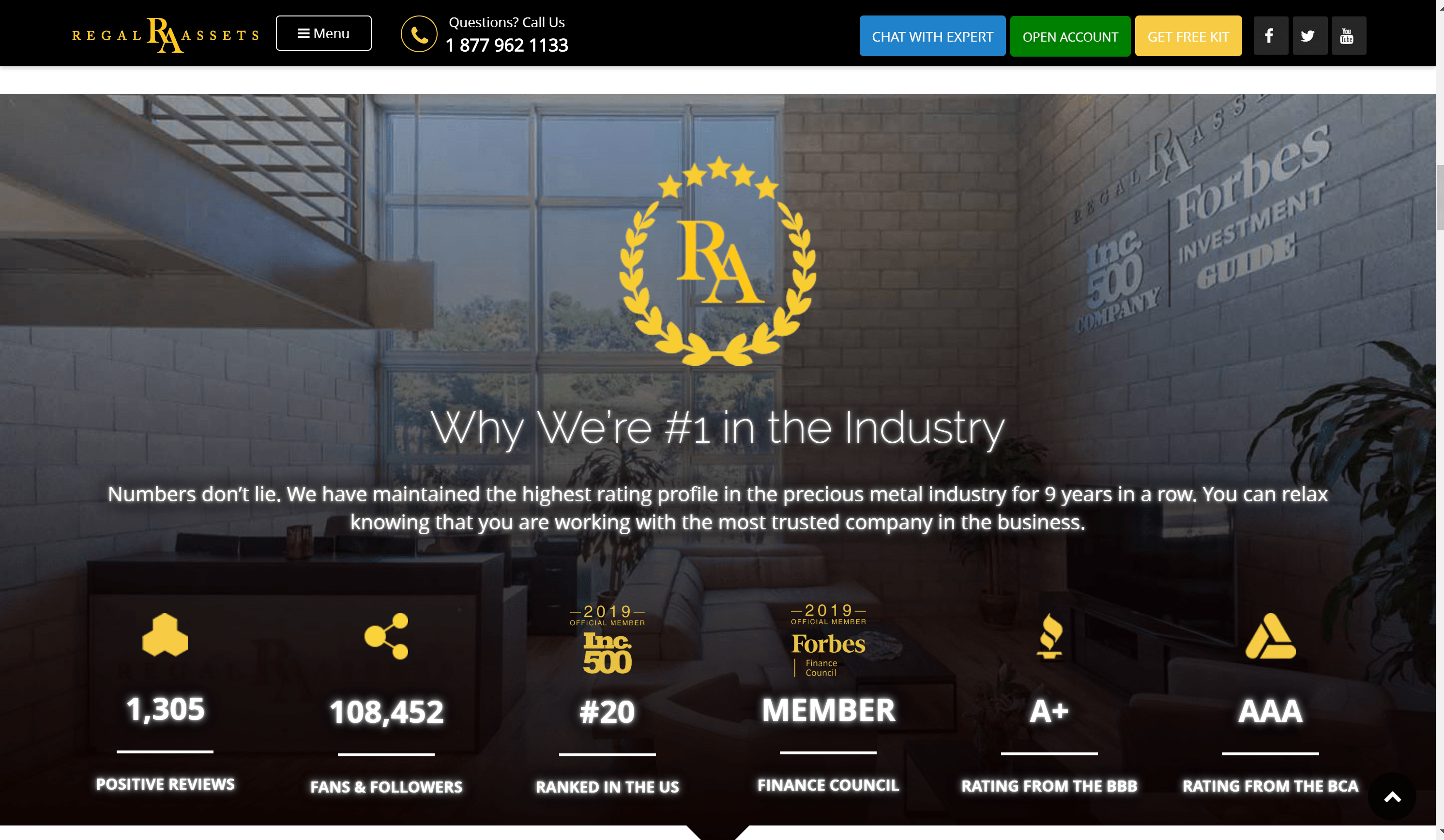 Also, they follow a strict 'non-pushy sales approach whereby clients are never forced to opt for a particular product with a promise of higher fees and commissions. Instead, they focus on individual investors' preferences and suggest products accordingly.
They offer multiple storage facilities not just in the United States, but also offshore in Singapore.
Other than this, they provide a fixed commission schedule and transparent fees. According to this scheme, you are made aware of every hidden cost much before you sign up for anything.
If these reasons aren't enough for you, we have a list of more impressive reasons which may convince you to invest via Regal Assets.
Regal Asset is an official member of the Forbes Financial Council.
They offer hundreds of millions in retirement fund account transfers.
Regal Assets is the first-ever company in the entire precious metals industry to offer live videotaping of when client's metals arrive at the depository for every retirement account.
Regal Assets offers for segregated storage to ensure clients' metals and crypto are kept separated and are not commingled.
Regal Assets offers retirement accounts to have the option to store overseas without penalties and/or taxes.
Regal Assets provides for a 7-day guarantee on the shipping of direct purchases to provide clients with complete peace of mind in regards to their transactions.
Regal Assets promises to buy back metals and crypto on any business day of the week and promises to transfer funds to the client within 24-hours of the sale of the metal and/or crypto.
Regal Assets has an experienced staff who are always there to help with every doubt you may have, without enforcing, being pushy, and aggressive.
Features of Regal Assets

Regal Assets as a company are honest to their clients, promising the best at all times. You can sign up with them easily, and Regal Assets will promise you of –
Ways in how to safely fund your new gold IRA.
Help you choose the right plan with regards to the precious metals, which would be suitable for your retirement plan.
They will offer you a FREE GOLD INVESTMENT KIT, which will help you in your decision-making process.
The minimum investment price with Regal Assets is $5000.
Why Opt to Invest in Gold via Regal Assets?
According to Regal Assets, the price of gold will always go up, irrespective of stock market failures and currency fails.
Even if it doesn't go up, it will remain solid and stagnant but will never go down. Regal Assets give you live spot pricing of various precious metals like gold, silver, platinum, and palladium, as well as for cryptocurrencies.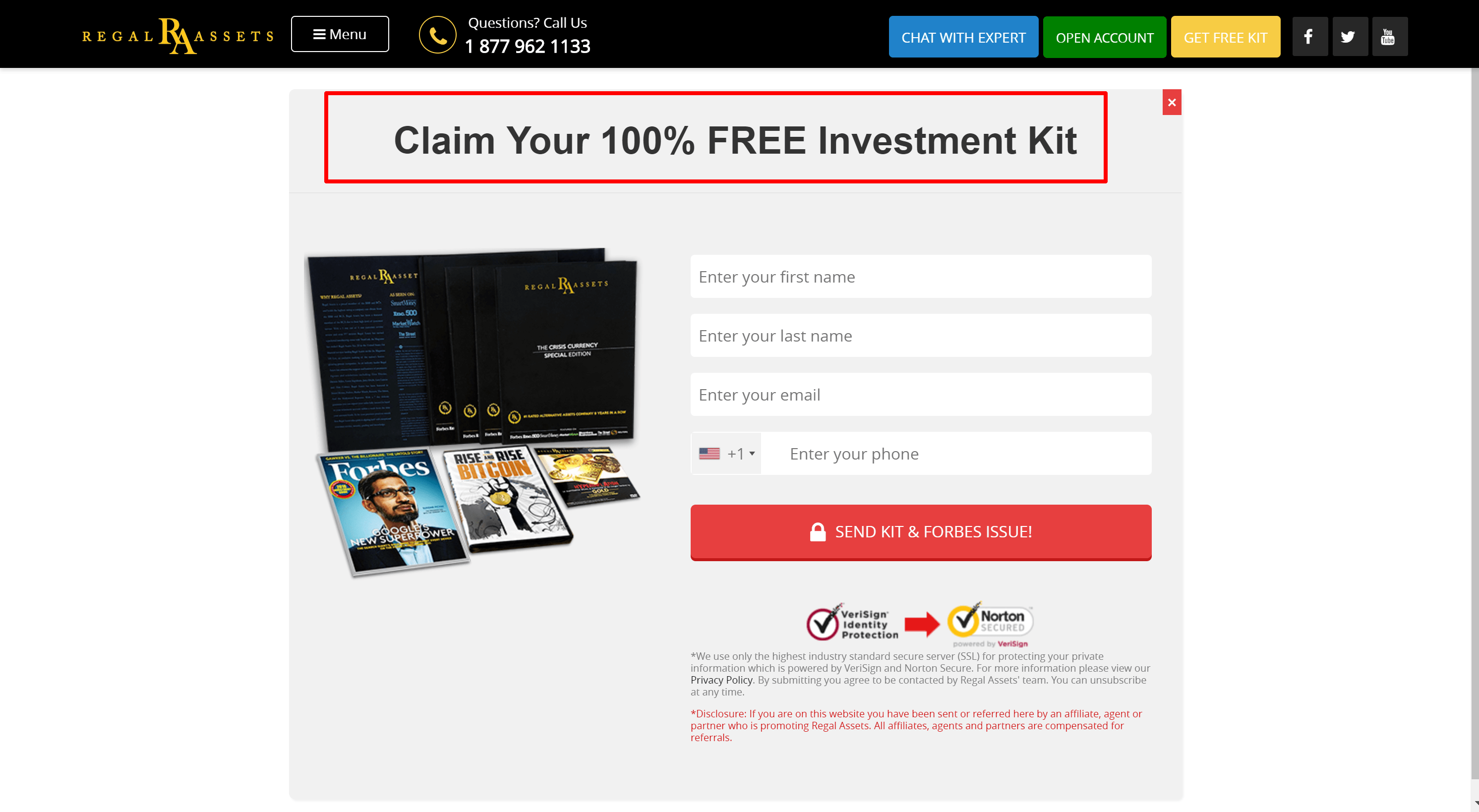 Also, the price at which you lock the metal will not change, irrespective of how much the price of the metal in the precious metals market increases, thereby promising stability.
Regal Assets crypto and gold bars for sale are made available to you at the best possible price, and they make sure that your choice of metal is delivered to you at your doorstep, with a guarantee, within seven business days from the time you transfer your payment to them.
Also, they take complete responsibility and accountability for the metals till the time it reaches you and is safely handed over to you.
How to Set up a Regal Assets Account?
Once you decide to invest in precious metals IRA, you can set up your Regal Assets account in the following easy steps –
Set up your Regal Assets account by providing the necessary details as asked.
Complete as much of the setup form as is possible for you.
A member from the Regal Assets team will 'start going to work for you and will get your IRA setup done and running in a span of 24 hours.
Finally, start funding your account and choosing your preferred precious metals to invest in!
Products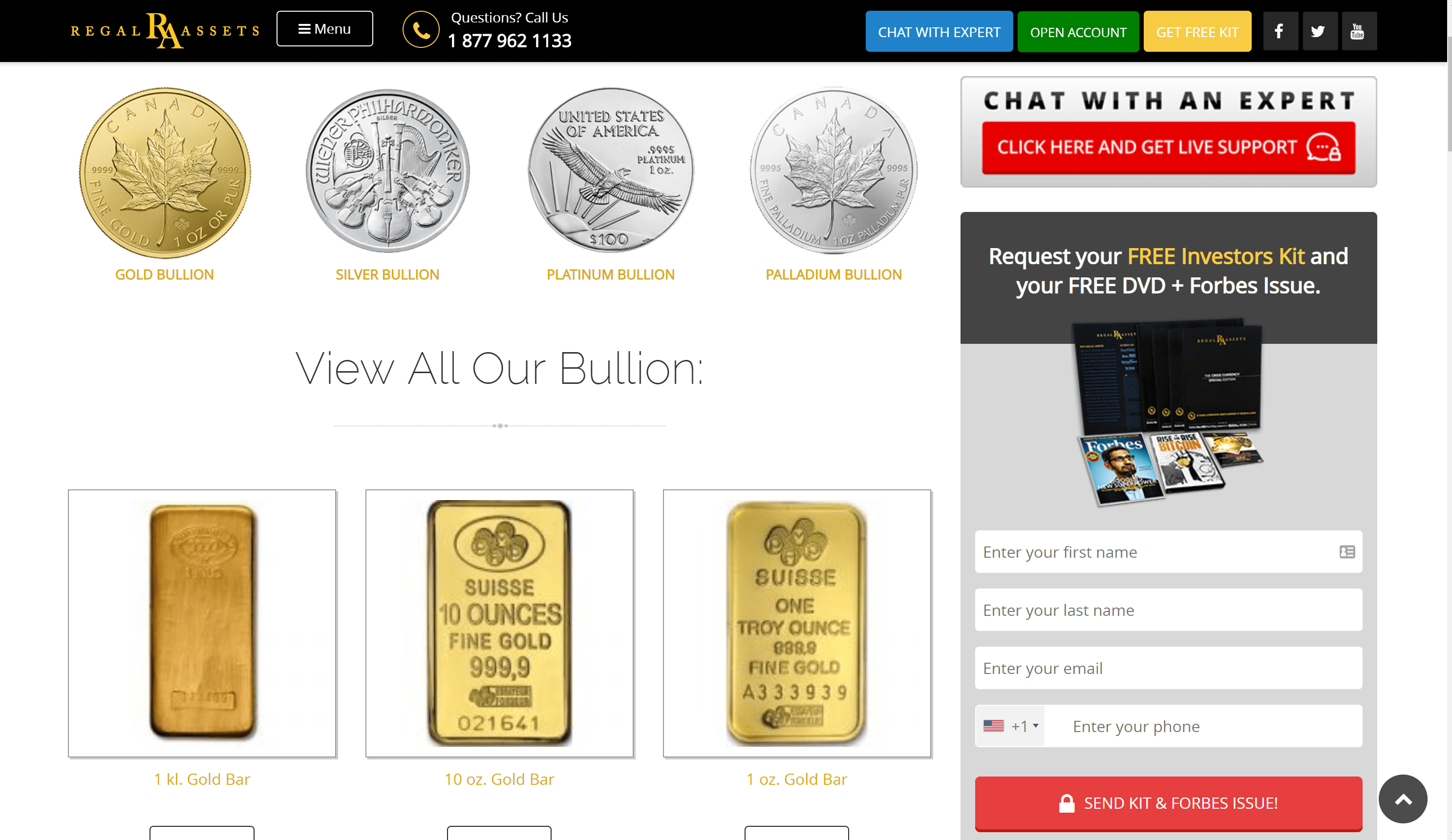 Given below is a list of products (precious metals) available at Regal Assets –
Gold – World Gold Coins, Liberty Head, St. Gaudens, and Indian Head.
Silver – Morgan Dollar, Peace Dollar, and Junk Silver.
Platinum
Palladium
The list of bullion (and their specific weights available) consists of –
Gold Bullion – 1 kl. Gold Bar, 10 oz. Gold Bar, 1 oz. Gold Bar, 50 gm. Gold Bar, 20 gm. Gold Bar, 10 gm. Gold Bar, 5 gm. Gold Bar, 2.5 gm. Gold Bar, 1 gm. Gold Bar.
Silver Bullion – 100 oz. Silver Bar, 10 oz. Silver Bar.
Platinum Bullion
Palladium Bullion – 10 oz. Palladium Bar, 1 oz. Palladium Bar.
They also offer proof coins in Gold, Silver, and Platinum.
Given below is a list of crypto available at Regal Assets –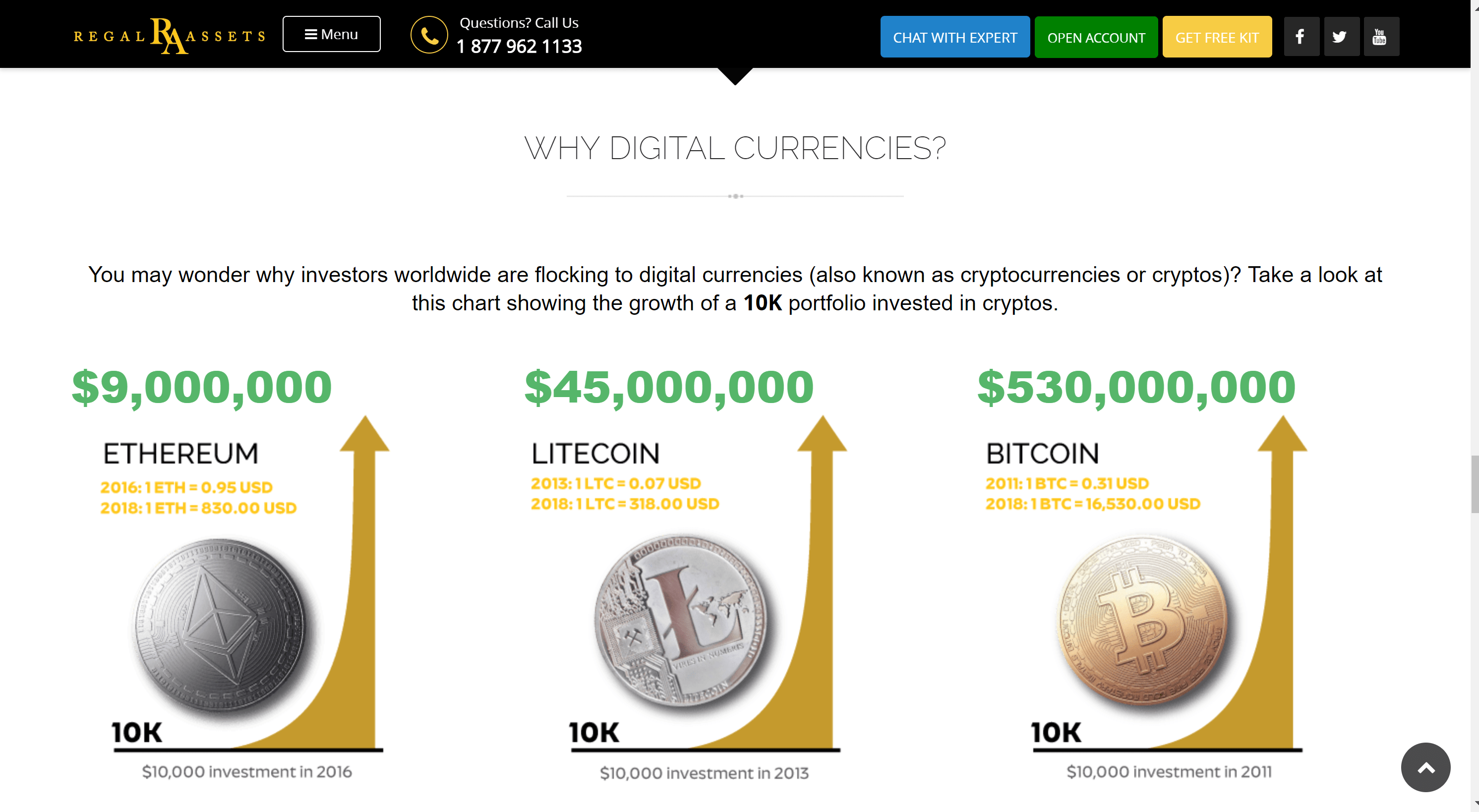 Bitcoin – Bitcoin was the first every decentralized crypto released in the year 2009, and today, it is the largest and one of the most widely used cryptos in the world. It is often considered a popular investment option in the long term. What makes Bitcoin popular and much sought after by investors is the fact that there will only be 21 million bitcoins mined, ever. What we mean by mined is that investors have to put their computers to work by verifying transactions in between peer-to-peer networks, in the process of forming a blockchain. These users will be rewarded with new bitcoins, which will be proportional to the total amount of computing power they may have donated to the network.
Bitcoin Cash–Bitcoins' constant scalability led to a split in the cryptocurrency on the 1st of August in 2017. Bitcoin Cash is a chain that had come out of the split and had set its block size limit to eight megabytes to increase the total number of transactions its ledger can process.
Bitcoin Gold – Bitcoin Gold is a digital currency that can be distributed. It was a hardfork of Bitcoin – the open-sourced crypto. The purpose of the hard fork was to restore mining functionality concerning common Graphics Processing Units, in place of mining with a specialized ASIC, which was used to mine Bitcoin.
Bitcoin SV – Bitcoin SV or Bitcoin Satoshi's Vision was a creation made from the hard fork of Bitcoin Cash (BCH) on the 15th of November, 2018.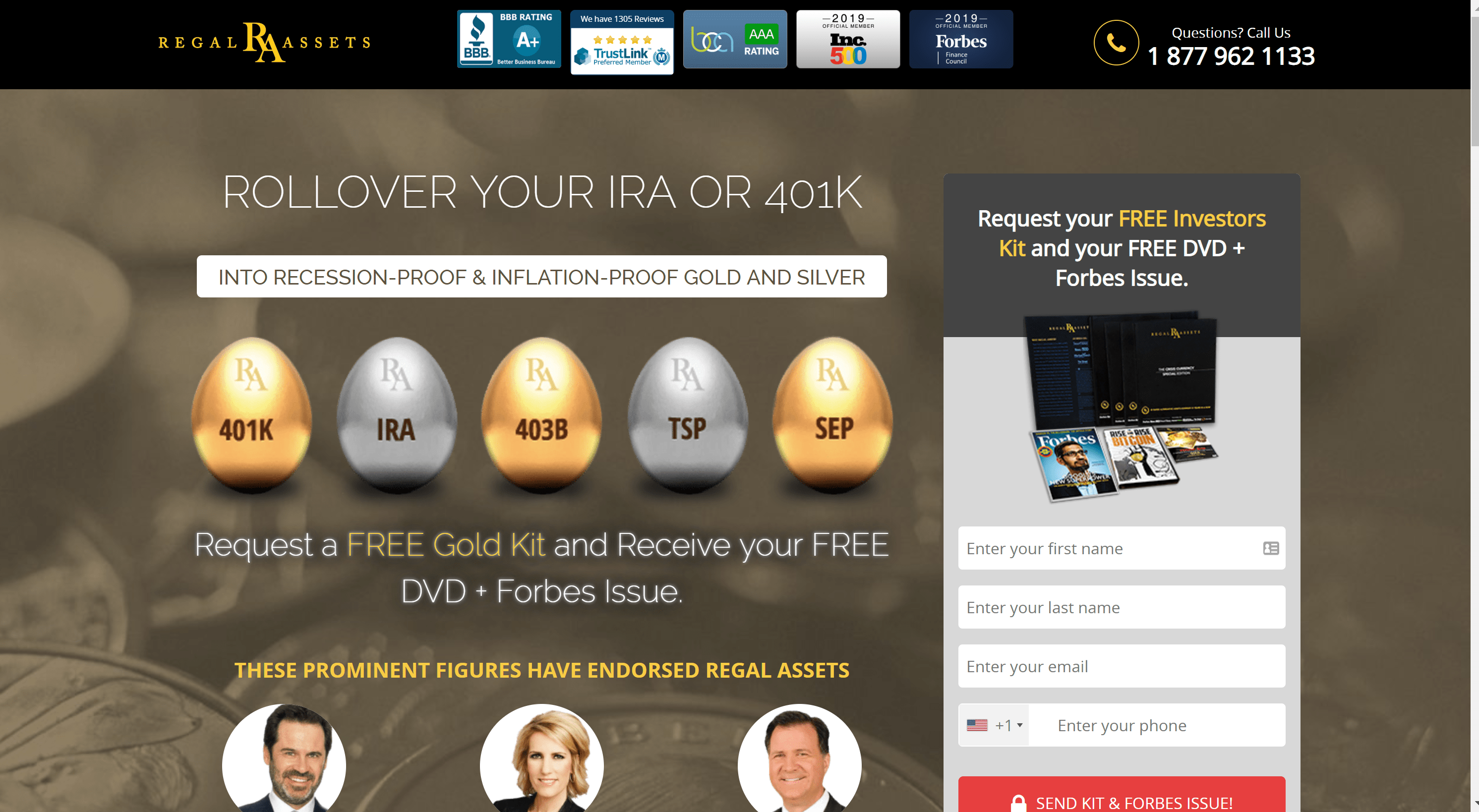 Ethereum Classic–Ethereum Classic is almost similar to Ethereum except for the fact that Ethereum Classic makes use of the old blockchain as opposed to the new blockchain of Ethereum. Ethereum Classic makes use of a value token called ' classic ether,' which can be transferred, in-between participants.
Stellar XLM – Stellar SLM is a decentralized consensus platform. It was designed to support any and every type of currency. It comes with a built-in decentralized exchange that can be used to trade any and every type of asset and currency. Lumens are a form of digital currency that is a native asset to the Stellar network and acts as a bridge that facilitates multi-currency transactions.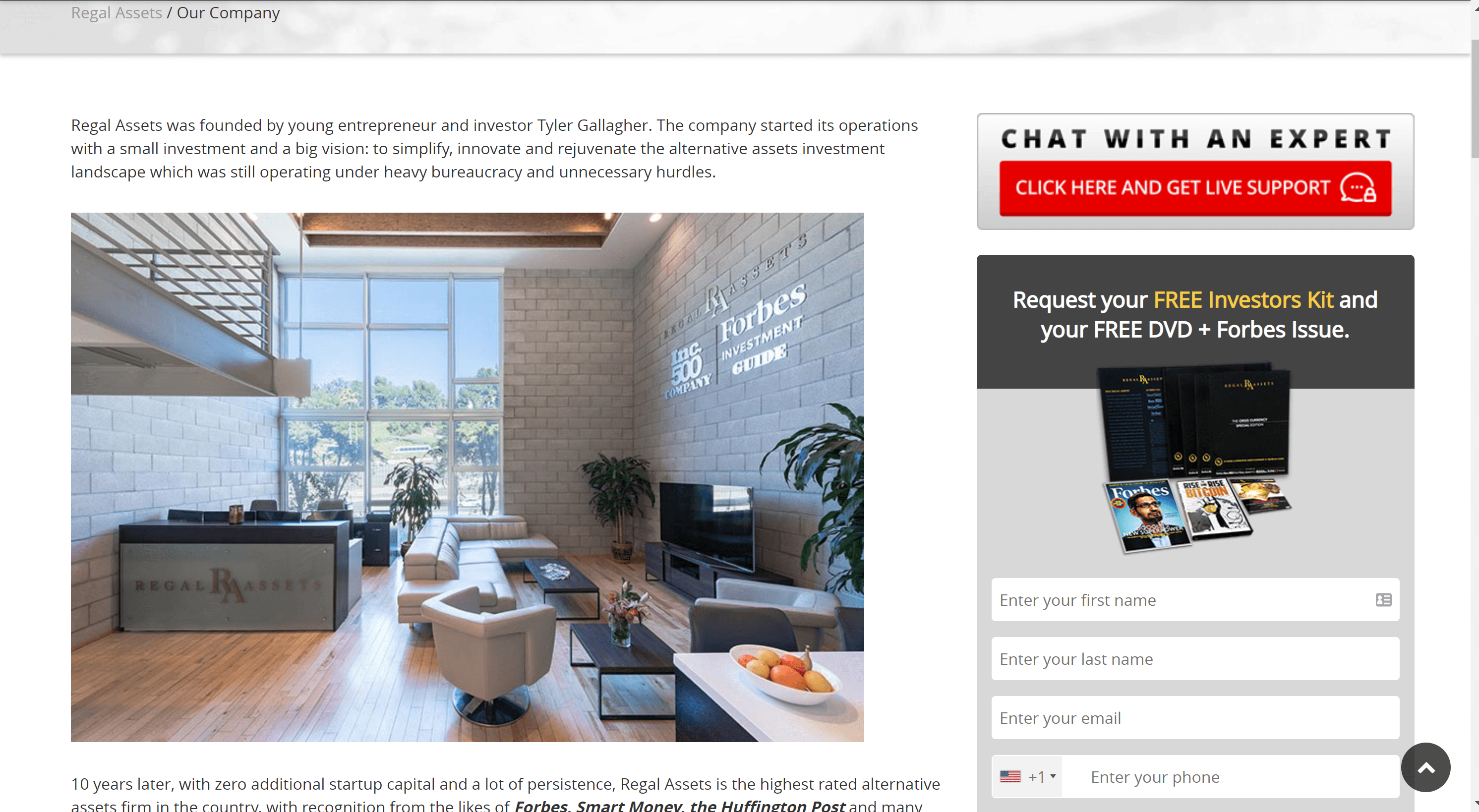 Zcash – Zcash is a type of cryptocurrency which is aimed at using cryptocurrency to provide enhanced privacy for its users, in comparison to other cryptocurrencies such as Bitcoin. Initially called the Zerocoin protocol, it was improved and transformed into the Zerocash system, which was finally developed into the Zcash cryptocurrency in the year 2016. Similar to Bitcoin, Zcash has a total supply of 21 million units.
Zcash transactions are published on a public blockchain. However, users can opt to make use of the privacy option to hide information of the sender, recipient as well as the amount being transacted.
Ethereum – Ethereum is a global blockchain-based network and platform which has many uses and features, which includes smart contracts, the Ethereum Virtual Machine (EVM), and also uses its currency – Ether – a direct equivalent of Bitcoin. Ethereum helps developers build and deploy decentralized apps and is used by major banks worldwide thanks to its smart contract feature. It is connected with the help of computers and/or nodes that help to carry out, perform, and confirm programs in a decentralized manner. It doesn't require a CPU, memory, or main server. It works with the help of thousands of computers placed all around the world.
XRP – XRP is a real-time gross settlement system currency exchange and remittance network made by Ripple. It is also known as the Ripple Transaction Protocol (RTXP) or just the Ripple Protocol, and it is built on a distributed open-source internet protocol, native currency, and consensus ledger known as XRP. The network can also operate without the Ripple company. Among its validators are companies, internet service providers as well as Massachusetts Institute of Technology (MIT).
Litecoin – Litecoin is a peer-to-peer Internet currency that enables instant near-zero cost payments to anyone, anywhere in the world. It is a fully decentralized, open-sourced global payment network sans central authorities. Mathematics helps secure the network and also helps individuals to control their finances. It has been proven as a medium of commerce that is complementary to Bitcoin.
They provide for different investment options, ranging from precious metals to bitcoins – there is something for everyone.
You can choose metal products from the options given below. Mind you, and these are only a few of the options, there are much more available.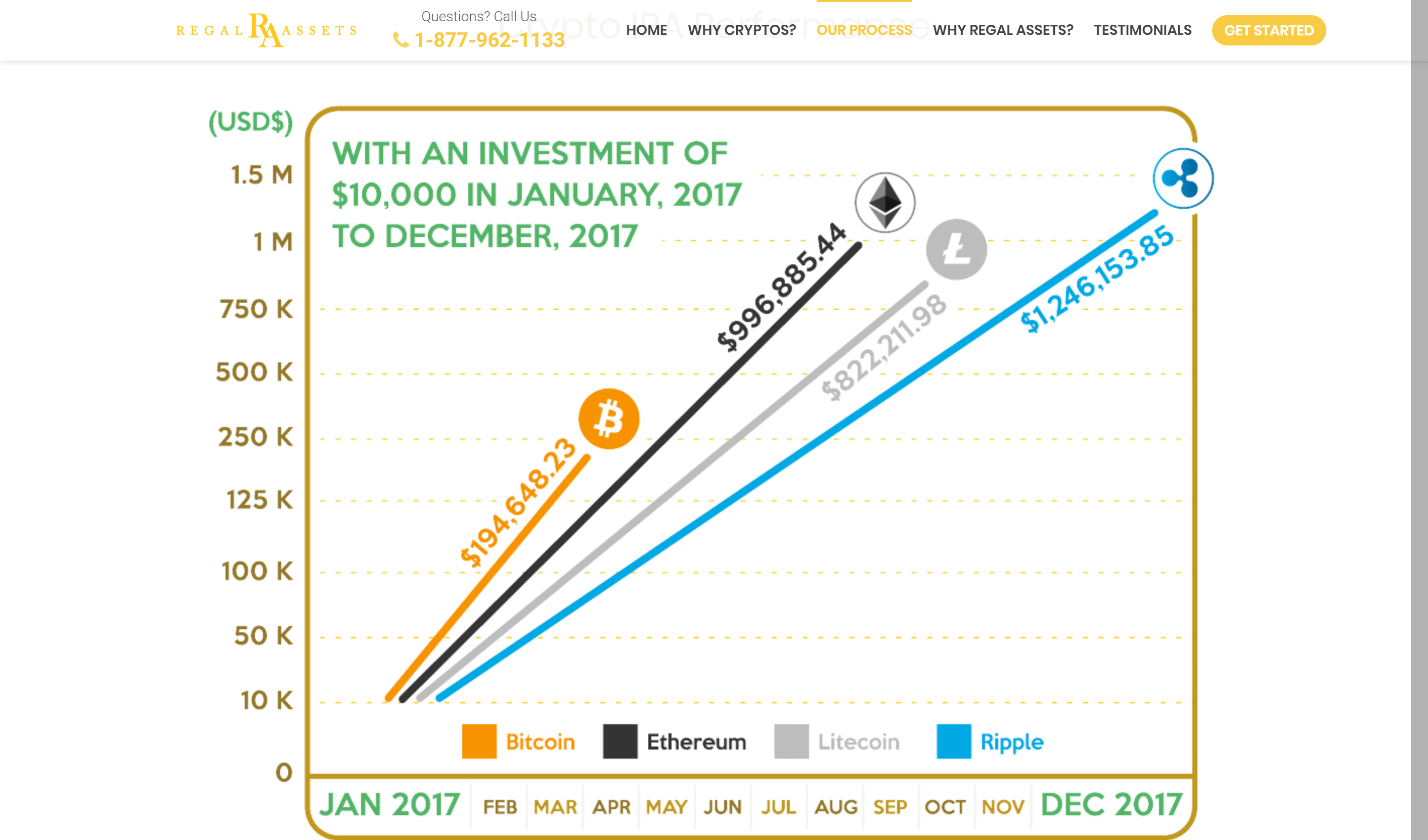 Gold American Buffalo
Gold Canadian Maple Leaf
Gold Chinese Panda
Gold Austrian Philharmonic
Gold South African Krugerrand
Silver Britannia Coin
1 kl. Silver Australian Kookaburra
1 kl. Silver Australian Koala
Silver American Eagle
Silver Canadian Maple Leaf
Silver Austrian Philharmonic
Platinum Australian Koala
Platinum American Eagle
Platinum Canadian Maple Leaf
Palladium Canadian Maple Leaf
1 kg Emirates Silver Bar (United Arab Emirates)
Pricing Plan
The Regal Assets gives live pricing on their website for every single item you wish to invest in.
This way, you are made aware of how much you are investing in and the rate at which you are investing.
Nothing remains hidden. You can avail of a Regal Assets discount to ensure that you are investing at the best possible price.
Fees
Regal Assets offers a flat rate of $250 – yearly, irrespective of the size of your account at any given moment.
Regal Assets gives the option of segregated vault storage as well as full-time surveillance and armed security, for the given amount.
To ensure the safety of your investments, Regal Assets has made an association with Brinks.
Brinks is known to be one of the leading companies in the world, with regards to providing maximum safety and security for the storage of your goods.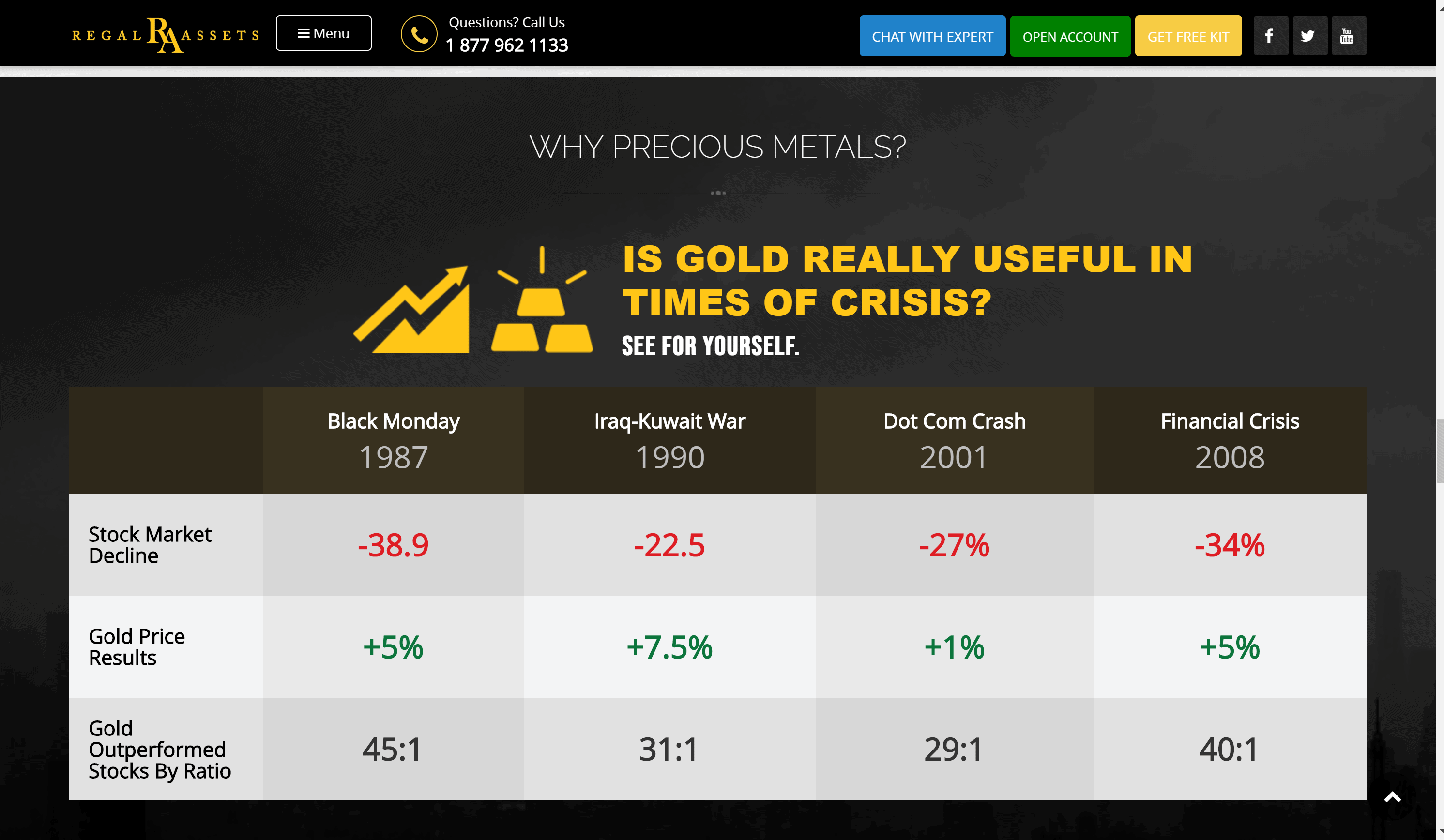 As for precious metals which you wish to keep safe, you can choose storage options in the following countries and states (in the USA) –
| | |
| --- | --- |
| ·      Salt Lake City (USA) | ·      Mexico |
| ·      Toronto (Canada) | ·      Brazil |
| ·      Russia | ·      Honduras |
| ·      India | ·      Morocco |
| ·      Egypt | ·      France |
| ·      United Arab Emirates | ·      Kuwait |
| ·      South Korea | ·      Hong Kong |
| ·      Singapore | ·      Cambodia |
| The ·      Philippines | ·      New Zealand |
| ·      Australia | |
Pros and Cons 
Investment is often subjected to market risks. It needs to be calculative and well thought so that you manage to get the best returns from whatever little and as much amount as you invest.
Regal Assets being an investment firm, it is mandatory that they, too, will have their share of pros and cons.
Given below is a list of pros followed by the cons of Regal Assets.
Pros
Regal Assets is considered to be one of the best-rated investment firms across the board, at present.
Regal Assets provides for a large section of bullion products to invest in.
Regal Assets provides for multiple storage locations all around the world. You can choose the place you think suits you best to keep your investments safe and secure. Regal Assets has also made a tie-up with Brink's Dubai DMCC Vault – one of the top 5 most secure vaults in the world.
Regal Assets provides for a flat fee model (of $250), which is not scaled.
Regal Assets waivers off the Annual fee for the first year for every client who signs up with them.
Cons
Their biggest and only negative lies in the fact that the minimum amount to be invested is $5000. It is a huge amount and isn't something someone who is walking into the investment scene for the first time, would like to invest.
Regal Assets Customer Reviews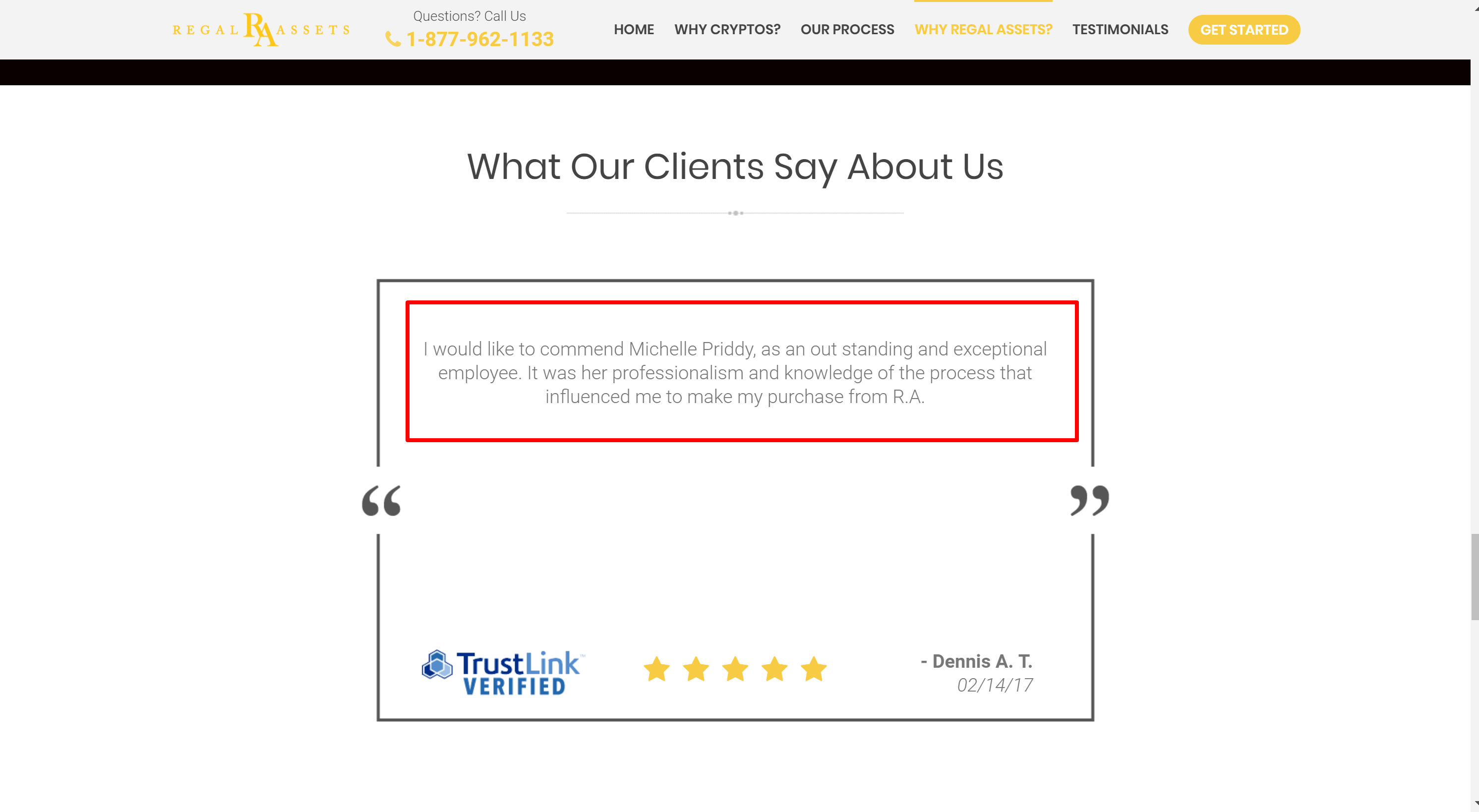 Regal Assets has been reviewed by some of the most well-known and preferred review sites and most of them, if not all, have given Regal Assets a thumbs up, with regards to safe and secure investment as well as for their desire to give their clients the best, at all times.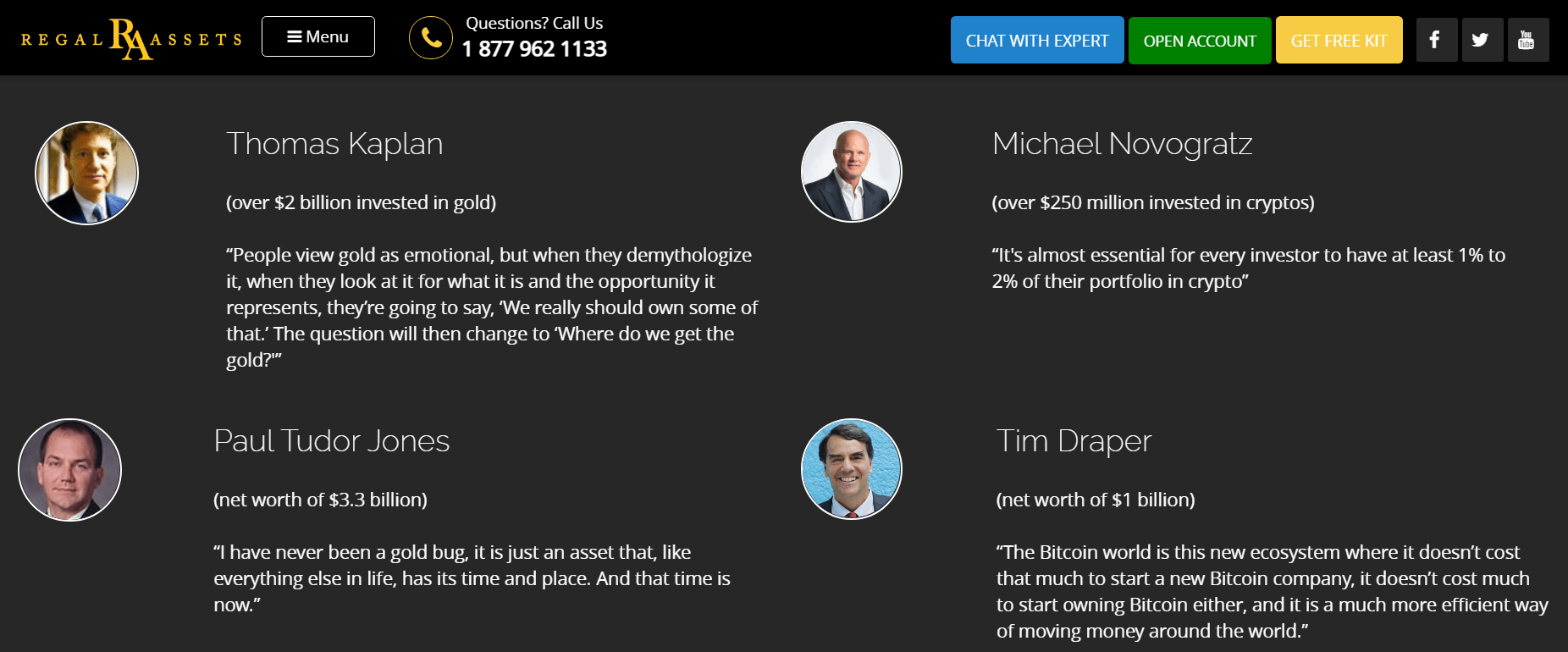 Some of the review ratings are given below –
BBB (Better Business Bureau) – Score – A+
BCA (Business Consumer Alliance) – Score – AAA
Trustlink – Score – 4.9 out of 5 (reviewed by over a thousand users)
Yellow Pages – Score – 5/5
CitySearch – Score – 5/5
Google+ – Score – 5/5
Facebook – Score (Rating) – 4.2/5
Other than these sites, Regal Assets, LLC has also featured in the following websites and journals –
Magazine – Regal Assets has ranked 20 out of 500 in the United States for financial planning services.
Forbes – The CEO and founder of Regal Assets – Tyler Gallagher is an official member of the Forbes Finance Council. He is also the only one from his industry to have achieved this grand, prestigious honor.
Bloomberg
Market Watch
Reuters
Huffington Post
Smart Money
com
Customer Support Information
Regal Asset Executives is available to assist from Monday to Friday, from 7:00 am to 5:00 pm (Pacific Standard Time). However, their offices are usually closed on all major holidays.
Regal Assets has its corporate headquarters in the United States of America, Canada, the UK, and the UAE.
Regal Assets On Social Media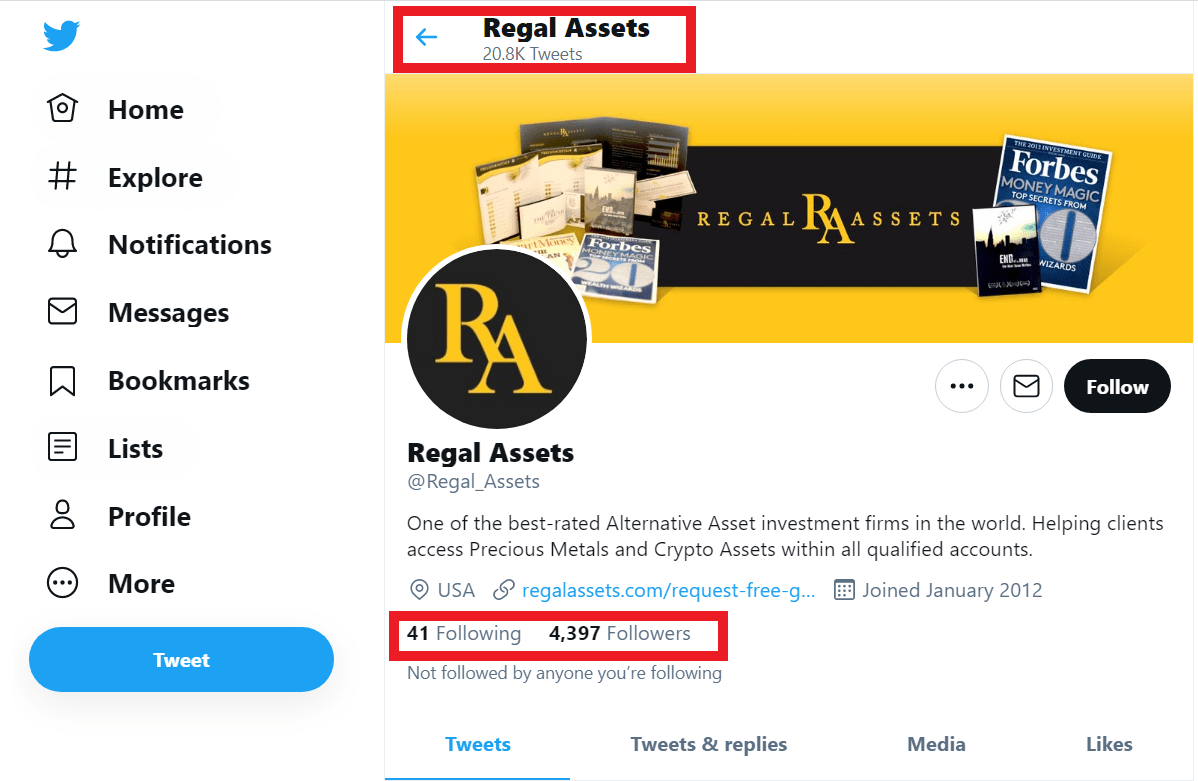 Quick Links
Final Verdict: Regal Assets Review 2022 
As can be seen from this in-depth Regal Assets Review, they are not only one of the best in the business but are also one of the most preferred.
Even renowned business magazines and journals vouch for it, showing its position and how much it is favored by one and all.
Not just that, Regal Assets with the help of live-tracking of prices of every metal, cryptocurrency, and billions provide you with an idea of how well your investments are doing and helping you fetch dividends, something most sites don't offer.
Also, since they have umpteen offshore safes, you can be assured of the safety and upkeep of your investments, especially if you are not willing to keep them home, physically.
They also make sure that your product reaches you, with utmost care and safety, taking full responsibility for the item(s) they are sending.
We guess this proves to be a brilliant review among the ones you find on various sites and sources, affirming everything we have said so far in this review.
All these factors show why clients prefer Regal Assets in comparison to others and why time and again, it has managed to rank high, sometimes being the topmost, in comparison to similar businesses.