In this blog, I am going to discuss Renderforest Video Maker Review 2023.
Multimedia projects and presentations have become one of the key pillars of success and sustainability for any kind of business in this world, be it online or offline.
Creating and presenting good and attractive videos, logos, presentations, etc. greatly impact the productivity of a business.
Great presentations can help you easily explain your idea and convey messages, effectively helping increase your conversions and sales and will also help create a very positive impact on your clients.
So if you are looking for a dependable and cost-effective solution for achieving the results mentioned above, then you should have a thorough read of this Renderforest review * its Video Maker!
What is Renderforest Video Maker?
Renderforest Video is an online program that has been designed to provide tools for creating your intros, explainer animations, promotional videos, slideshows, music visualizations video CV.
The software even allows you to create and save your own logos right in the cloud.
The product is extensively used by personnel who have to work with multimedia solutions very often and has been commended for its flexibility and quality.
It is considered to be extremely easy to use and helps you create professional videos in a matter of minutes.
It offers all the necessary tools for every type of video, slideshows, logo creation, infographics, and a lot more so that you can craft and blend your imagination and creativity into attractive projects.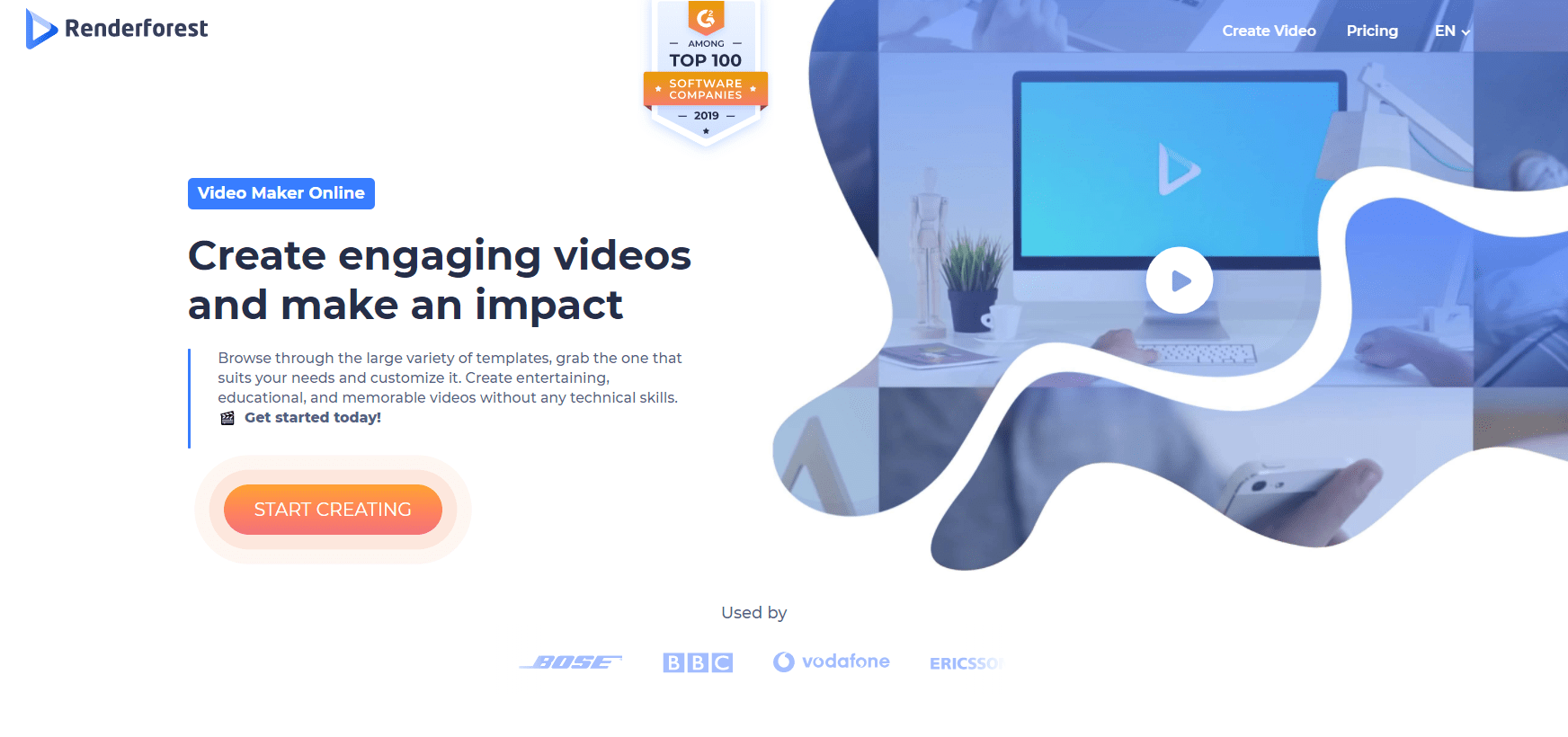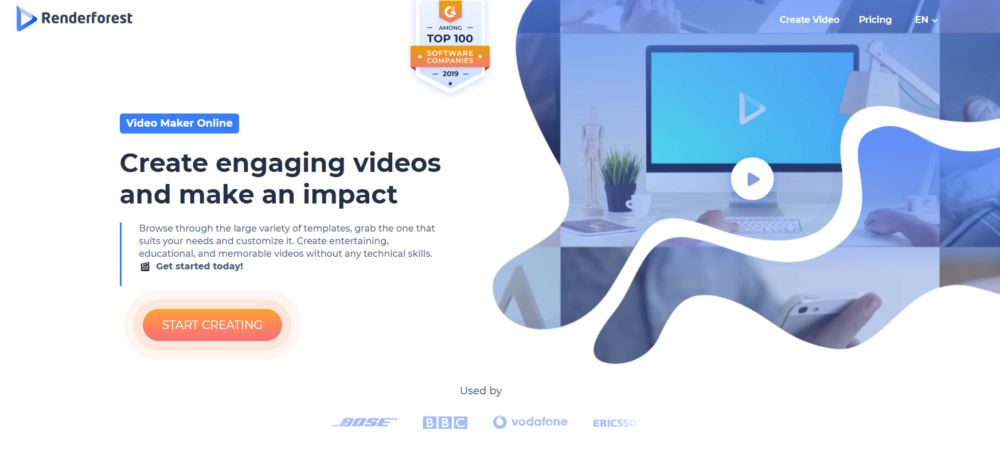 Highlight Features Renderforest Video Maker
Renderforest has an advanced search tool that lets you browse through their large video template catalog and choose your preferred one from dozens of categories.
All the editing process is done online and synced over the cloud. The tools are ideal for independent media personnel, Small Business andMid-Size businesses.
Simplicity is at the core of Renderforest video maker and helps you easily navigate through tons of Templates and choose your desired template.
You get to work with and customize each project with hundreds of animated scenes which can be configured based on your needs.
You can either use one of their ready-made stories or can even start building your story from scratch.
Renderforest makes sure that your project is your own creation as you can alternatively choose music, colors and even upload a voice over.
You even have the option to preview your animation once you finish editing.
The software extremely features rich and consists of the following tools:
Animation support
Audio management
Video management
Template management
Design management
Collaboration tools
Screen sharing
Video editor
Preview functionality
Search functionalities
Content filtering
Unlimited web quality exports
Data storage
1-click download or publish
Media import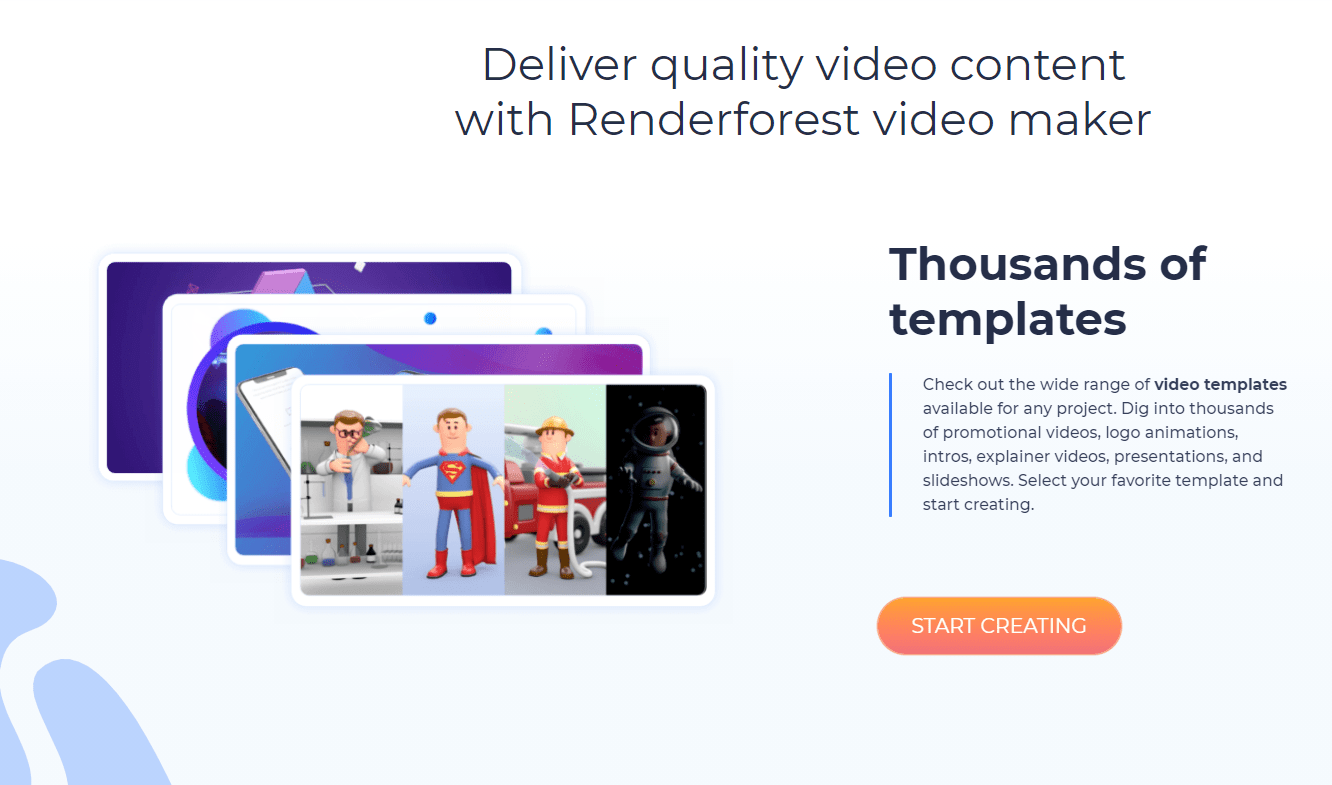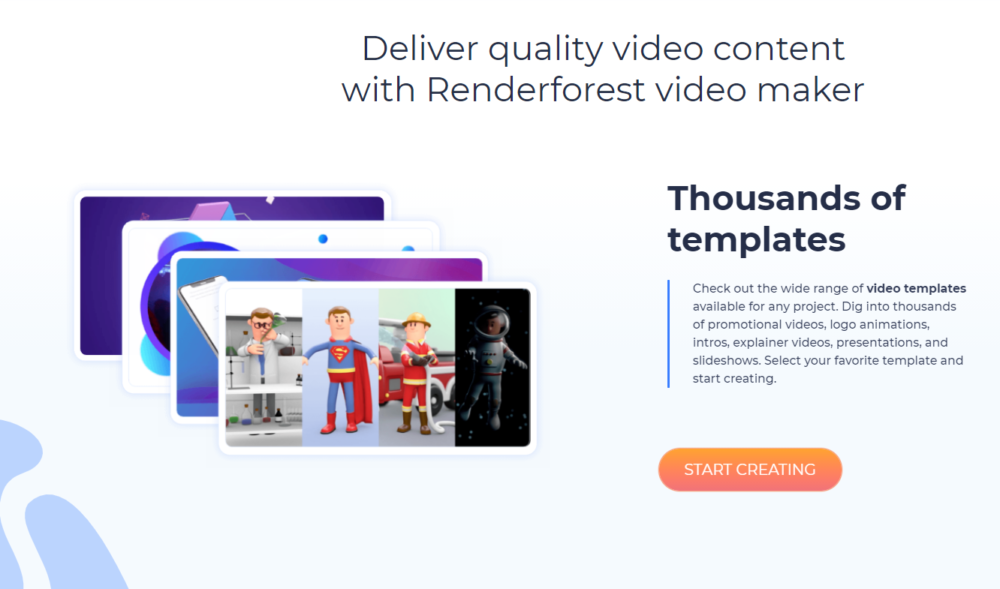 What all you can do with Renderforest?
The best part about making projects on Renderfortest is that all the editing process is done online using their powerful cloud storage.
People can easily upload images and videos and even customize their color pallet and text.
The developers have ensured to meet the expectations and demands of our users by adding a vast amount of categories from explainer videos to logo creation.
You can make your video creation experience fun and satisfying as everything has been incorporated into this software to meet all your expectations.
All tools under Renderforest as very easy-to-use for any kind of worker, whether novice or pro.
The editor is well laid out and offers all the necessary editing tools at your fingertips, saving your precious time, and produces premium quality videos.
Renderforest boasts of a large Gallery of Video Production and Animation Templates, all of which are at your disposal to help you articulate your idea in 1-2 minutes.
You get instant and unlimited access t0 195.000+ Royalty Free stock footage through an online video editor along with a commercially licensed music collection for video creation usage.
You can use Renderforest to add a perfect video pitch to bring more awareness.
This allows you to easily explain your idea and convey messages, thus allowing you to effectively increase your conversions and sales.
More than just business, creating and delivering the perfect and attractive presentations with Renderforest will ensure that you make a powerful emotional impact and people remember you.
Checkout best Spectrum Bundles Deals here.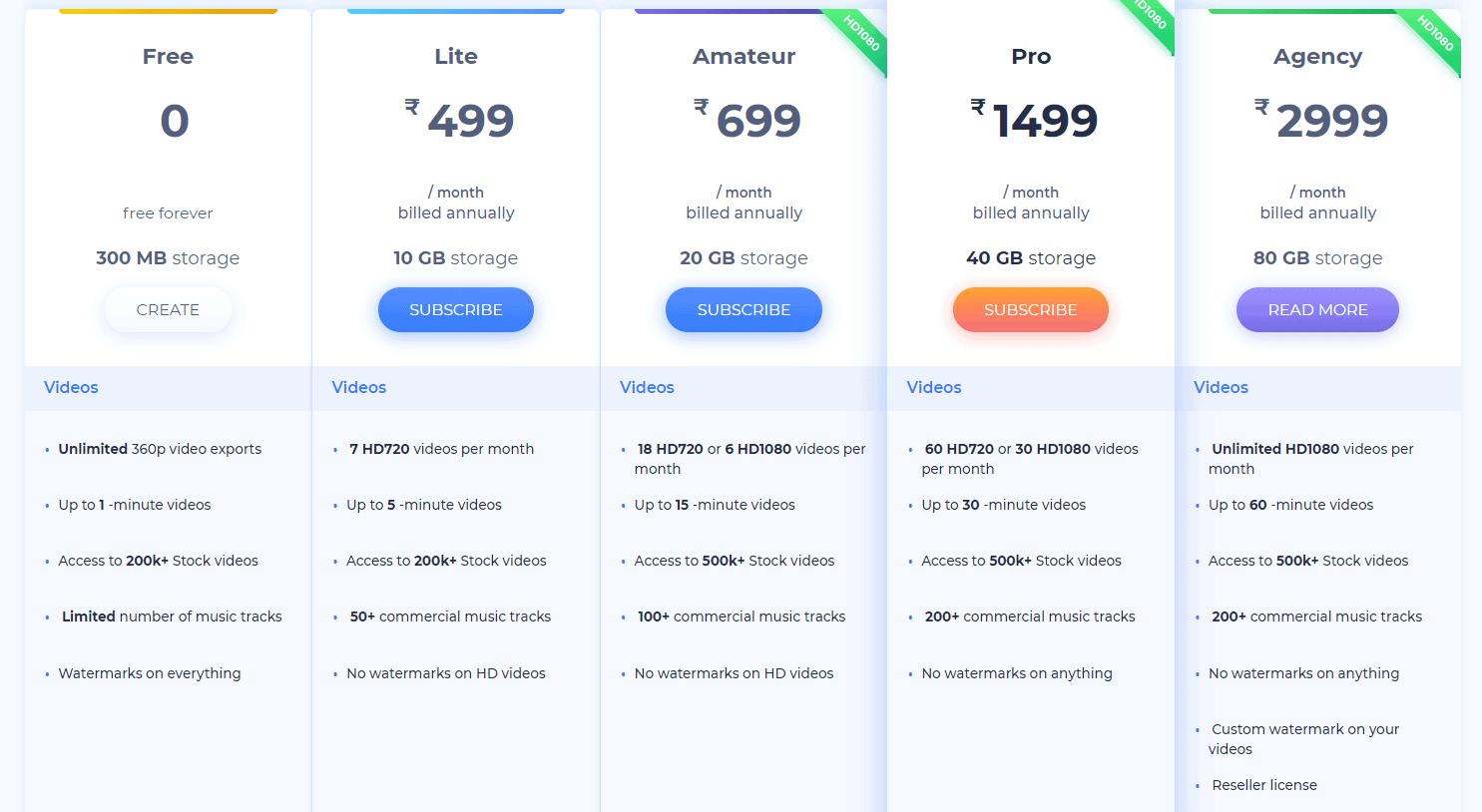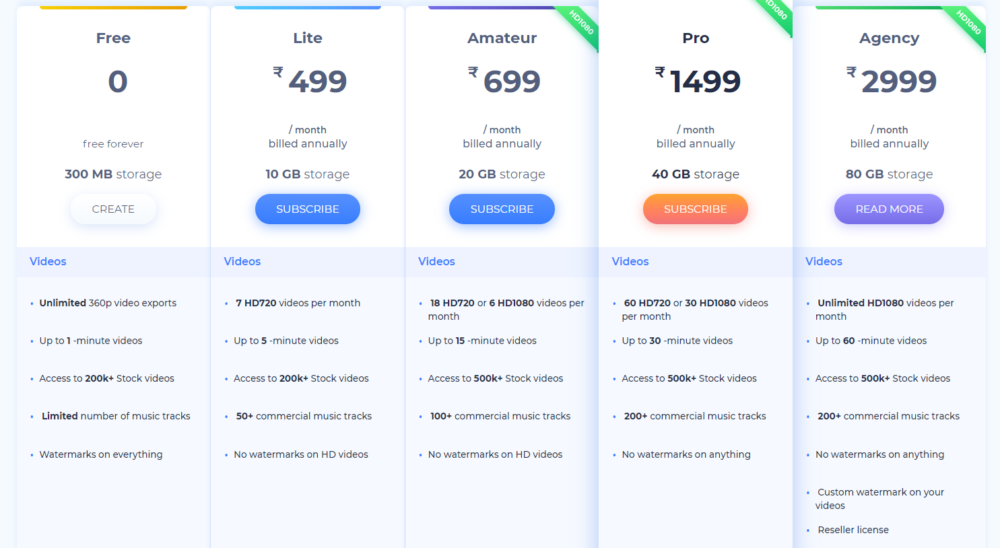 Unlimited Web Quality Exports on Renderforest Video Maker
000+ Royalty-free Stock Footage Access
1 Click Download or Publish to YouTube or Facebook
Import Media from Social websites
Renderforest Video Maker Alternative
Rawshorts
Rawshorts text to animated video technology uses AI to create a video draft within seconds, saving you countless hours of video creation.
Its drag and drop animated video maker makes it easy for you to customize your AI generated video rough cut in minutes.
If you can build a Powerpoint slide you can make an awesome video with Raw Shorts.
Why should you use Renderforest Video Maker?
Renderforest is one of the most feature-rich software of its type and helps you create explainer animations, promo videos, slideshows, music visualizations, video CV right in the cloud.
So keeping that in mind, you must now know the top-recommended reasons as to why you should choose Renderforest over other similar software in the market.
Create intro videos, advertising videos, mobile application promotions, logo animations, and more with access to over 500 video templates.
Edit video content with the greatest of ease uses the Renderforest online editor.
Create videos in HD720 and HD1080 formats.
Access over 195.000 royalty-free stock footage.
24/7 support via phone and email.
Access to the Renderforest knowledgebase to know more about the usability and utilities of the tools.
Extremely easy to use and flexible.
The tools are powerful and help you create quality professional videos in minutes.
Play with unlimited possibilities to create all types of videos, slideshows, logo creation, infographics, and a lot more.
Choose your preferred one from dozens of categories by browsing through their large video template catalog and start editing online.
You can upload images and videos and edit your project online using their tools and cloud storage.
Make your projects your own with an easily customizable color pallet and text.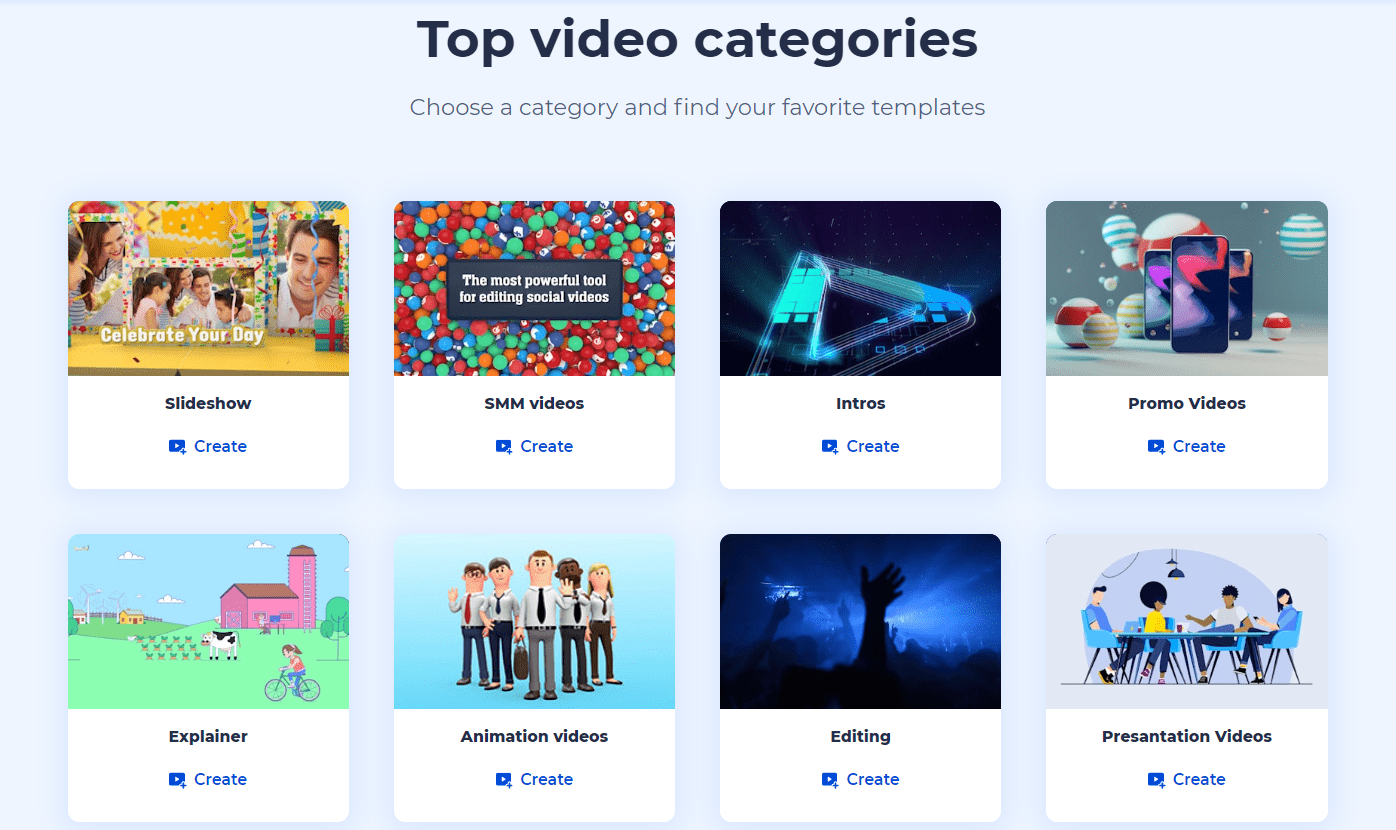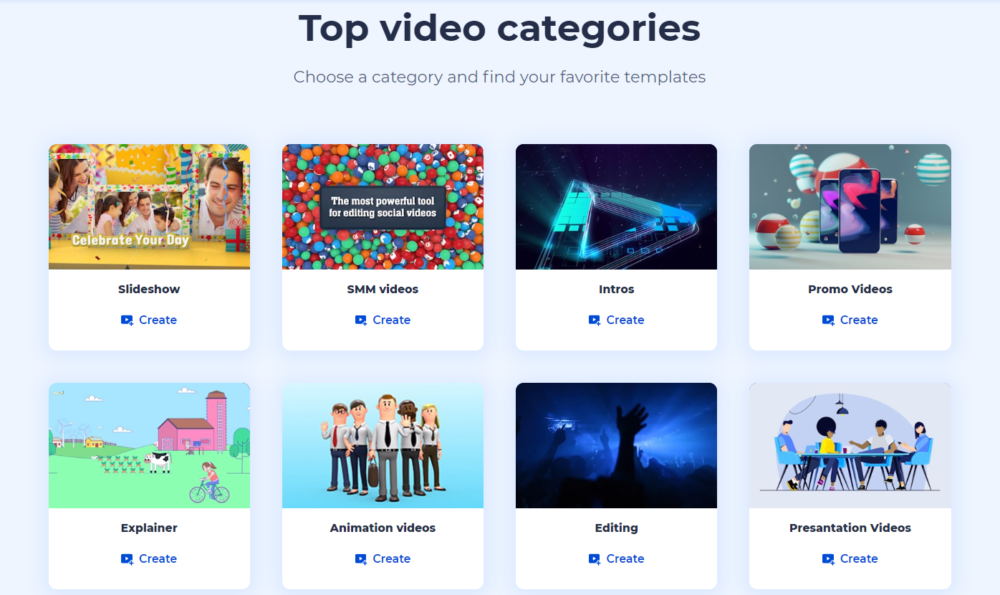 Quick Links
FAQs | Renderforest Video Maker Review
🤷‍♂️ Will my subscription renew automatically?
Any subscription plan renews automatically. If you don't want to be billed, cancel your subscription until the expiration date otherwise the system will bill your card automatically.
🙋‍♀️Do you give an opportunity to pay for any annual plan month by month?
There are both monthly and annual types available on Renderforest. You are free to select the type you wish. If you want to pay month by month you have to select one of the monthly plans because for annual plans you need to pay upfront.
🤔 Can I upgrade my current plan whenever I wish?
You can change your current plan and upgrade at any time to any plan you prefer. For more details and instructions contact [email protected]
🤙 Will I be able to export longer videos if I subscribe?
Depending on the plan you choose, you can export a different number of videos in different qualities and with different durations.
🙋‍♀️ Are there any additional features that will be added once I subscribe?
All the features and tools are enabled for even free users. But there are many advantages subscription plans have such as the number of exports you can get at higher resolution without watermarks and audio claim, bigger storage, the opportunity to use high-quality stock footage videos, a unique collection of commercially licensed music tracks, and much more.
Conclusion | Renderforest Video Maker 2023
The launch of the "Renderforest – Video Maker" app is a big step towards simplifying video creation and making it more accessible.
In the article above, we've tried to introduce you to our new app's main functionalities to make the creation process as smooth as possible.
Ready to explore "Renderforest – Video Maker"? Hurry up and give it a try today!