In this post, i will provide you with the SchemaNinja Review. But before that let's find out the uses of such schema plugins.
Use of Schema ratings
Sometimes SEO is not just about link building, in fact it never about just link building. Most newbie bloggers try to depend too much on content length and link building as the driving force behind their rankings, but that doesn't work in the long term.
Understanding that you are here to serve value to people looking for solutions on the web is at the heart of any SEO. If you got that through your system, next comes the search engine itself. You got to tell the search engine that you are here to serve value.
Use schema ratings to outrank your competitors by outstanding in the SERPs. Many a times, affiliate marketers and bloggers forget about the value of schema. It is very important that we are able to communicate positively about the awesomeness of our content even before the searcher visits our website.
It can get very confusing to make sense out of all the schema markups possible with content and it's easy to be discouraged to even spend time trying to insert schema information in the pages. In such a scenario we got a plugin for you called SchemaNinja, which is a really cool new plugin for WordPress that takes out the boredom and difficulty out of the whole Schema game.
Also read- Vonage.com -Best VOIP Phone Services -Full Review with Features and Pricing
What is SchemaNinja: SchemaNinja Pro Review 2023 – Is It Really Worth To Buy ?
SchemaNinja is a plugin developed by affiliate marketers for affiliate marketers, because after all, who else can get our paint points better than someone like us.
Coming to the point, SchemaNinja is a new and easy way to insert Schema ratings in WordPress posts and get tonnes of search based traffic that is super targeted and highly converting. Checkout the screenshot below to see how inserting few star rating in your schema can boost your rankings by increasing CTR on your link.
You can see in the screenshot above how inserting schema information can help you stand out of the crowd and grab the searcher's attention. This simply means you are going to get a lot of search traffic.

SchemaNinja Boosts Rankings
Google has admitted that a higher CTR on certain links in the SERPs is signal of authority to those website. Therefore, Google tends to rank the websites with higher CTR above others. There is also a high tendency that the Schema itself becomes a ranking factor in the coming updates to Google's search algorithm.
SchemaNinja Boosts Conversions
Getting tonnes of traffic to your website is not going to make you money directly. In fact, more traffic means higher website management cost. To take the real value out of all that traffic, you need to have conversions. And conversions are the heart of any online business. Checkout the screenshot below to see the cool way SchemaNinja can represent your SchemaRatings:
As you can see the screenshot above, you will get the stylish new widgets to showcase your information. And that "Try Now!" Call-to-Action button is totally customizable. You can get higher number of clicks on your affiliate links or take people directly to your landing pages.
Overall, an amazing feature. You can insert your own links in the CTA buttons and it works smoothly with most of the major affiliate networks.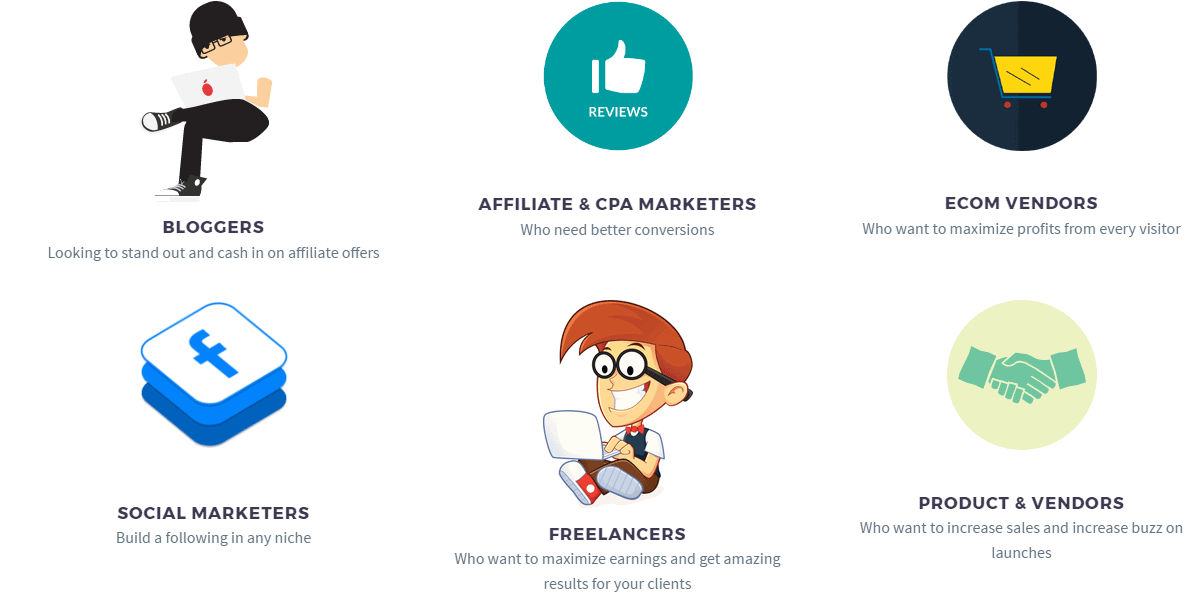 SchemaNinja Recommendations Box
The SchemaNinja plugin offers you with something called Recommendations Box. A very beautiful feature for product review bloggers. If you mostly blog in a single niche then recommending one single product throughout the website can help you gain credibility and therefore boost conversions. SchemaNinja lets you exactly do that.
You can create recommendation boxes and then use them in your sidebar to make them appear throughout the website or you can use them at the end of the post with shortcodes. Checkout the screenshot below to have a look of what recommendations boxes look like.
Using Schema Ninja, you can add the following to your website which obviously increases the conversion.
Review Recommendation
Content Recommendation'
Hello Bar Recommendation
POPUP Recommendation
Sidebar Recommendation
Top 10 Recommendation
Footer Recommendation
Compare Recommendation
Coupon recommendation
Expert recommendation
Offer recommendation'
An Analytic Dashboard is included
In Post Widget
You can create particular recommendations for any post type on your blogs and get huge conversion thru these strong content recommendations.
In the Sidebar
As you can clearly see, these recommendations boxes can help you boost your conversions by simply being there for the visitor to see. It also gives kind of a one-stop location to compare two great products directly, thus making you more money no matter which one is sold. If this is not something awesome then I don't know what is.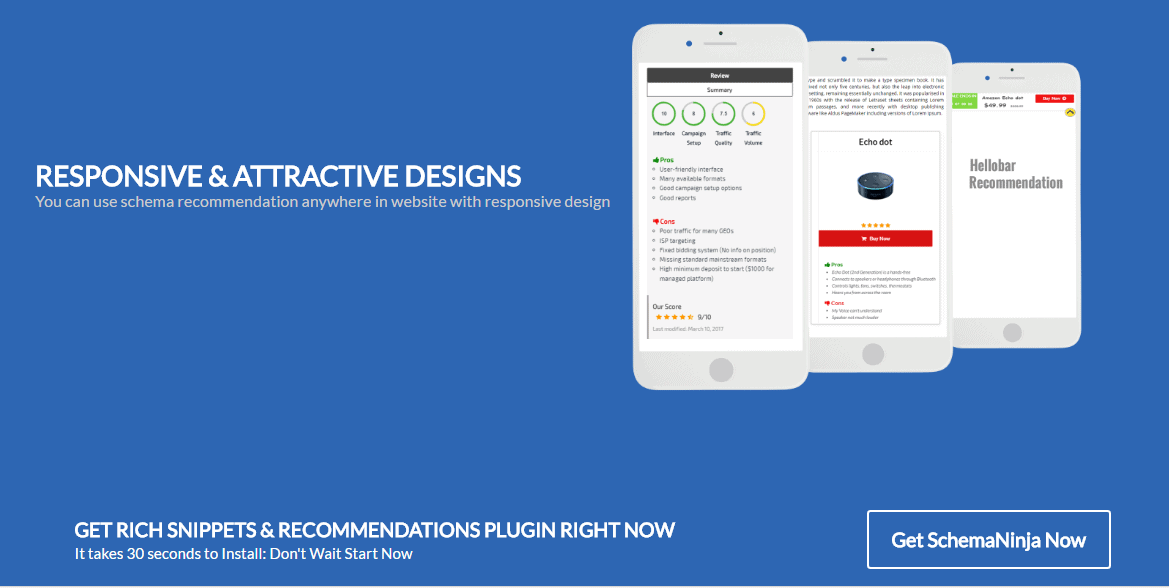 SchemaNinja Plans and Pricing
SchemaNinja offers you two plans to go with it. The Lite and the Pro versions are smartly priced at just a few dollars difference but are different in a major way.
The SchemaNinja LITE offers all the features but the recommendations box, and saves you a few dollars while making the purchase. On the other hand is the PRO version that offers all the features including recommendations box. Click Here to know the pricing
Clearly a smarter choice would be the PRO version. But, in case you don't really need the recommendations box feature, the LITE version is there for you.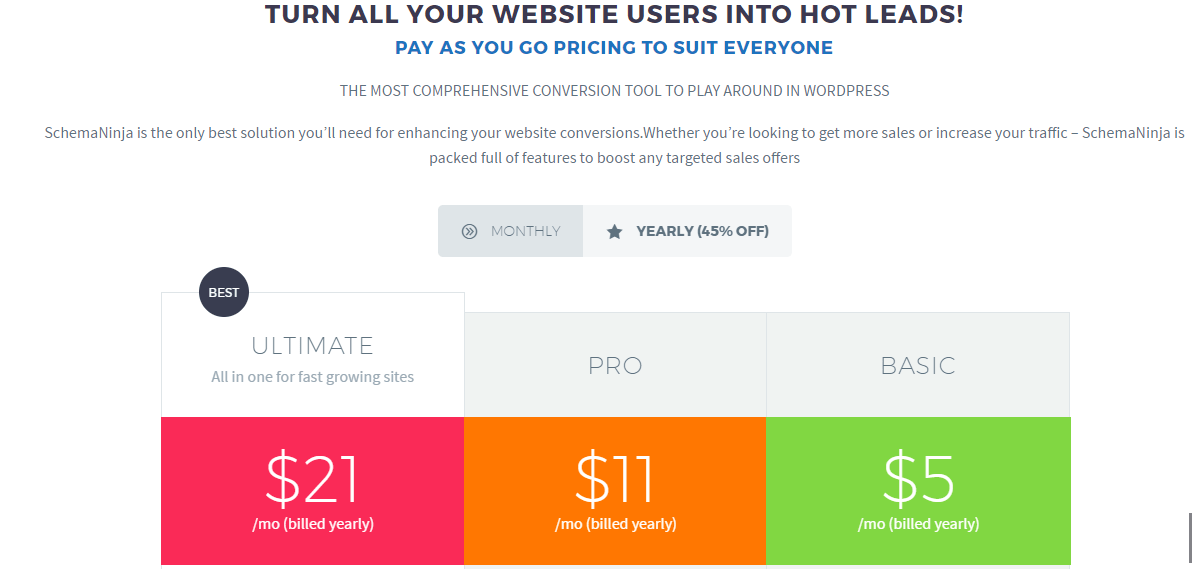 Final Verdict: SchemaNinja Pro Review 2023 – Is It Really Worth To Buy ?
SchemaNinja is one of those plugins that were missing in the WordPress plugins depository and those paid plugins that were there already were either very expensive or just were too complex and buggy. SchemaNinja offers easy to use options to manage your schema ratings.
Overall, this plugin is a great choice for any affiliate marketer who is looking forward to exploit the power of schema ratings in getting more conversions and profits.
Read- Blogging with John Chow Review: Should You Buy it ?