Are you looking for an unbiased Sellfy review? In this article, we have shared the detailed Sellfy review with features, pros & cons and detailed user reviews.
What is Sellfy?  
Sellfy provides creators with an online platform to sell their digital products to consumers. Consider ebooks, videos, music, artwork, and online courses as examples of offerings. And, while it isn't as widely advertised, there is also the option to sell physical products.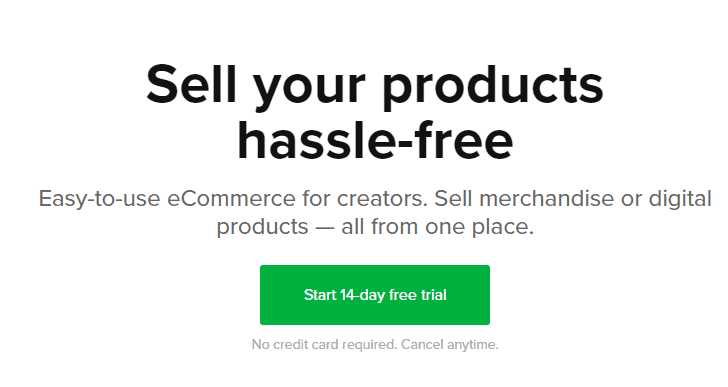 One of Sellfy's audacious claims is that you can create an online store in five minutes. To be honest, most users would probably spend more time setting up their online store, but it does speak to its ease of use.
Sellfy provides a slew of integrated features that will undoubtedly come in handy as you customise and optimise your online store.
We have also shared the latest Sellfy coupons that can save up to 45%.
Sellfy features
Now let's talk about all the tools you'll have access to once you subscribe to the service.

Storefront
Creating an online store with Sellfy is not only simple but also enjoyable. Sellfy lets you modify your sales page to match your company's logo. You may customize the layout, add your logo, and alter the colours. You can also use a pre-existing domain to instill trust.
The shopping cart function encourages customers to buy multiple items at once. Sellfy will automatically translate your storefront based on a user's geographical location if your customers don't speak English.
All Sellfy storefronts are mobile-optimized, which means they'll look great on any device, whether a desktop, laptop, tablet, or phone.
It's the pinnacle of retail customization.
Ecommerce
Sellfy lets you offer a variety of products and subscriptions. It not only allows you to sell digital stuff, but it also allows you to sell actual commodities.
Print on demand is another feature that makes Sellfy a superb platform.
That's correct. You may sell printed shirts, mugs, hoodies, and other items. All printing will be handled by Sellfy. Sellfy will print and dispatch fresh orders to clients as they come in. You only need to give the design.
A subscription option is also available. Customers can be charged weekly, monthly, or yearly, based on what you think is best for your company.
If you're selling video material, the video-on-demand option ensures that piracy is kept to a minimum.
Marketing
Sellfy's user-friendliness extends to its marketing tools. You may use Sellfy's promotional tools to keep up with, if not outperform, your competitors.
To begin, you can use the product upselling option to persuade a buyer to purchase additional digital items.
You can utilise ad pixels to promote ads on Facebook and Twitter if you're a Facebook or Twitter user. Yes, Sellfy allows you to track ad performance.
The importance of offering a discount to boost sales cannot be overstated. You can also use Sellfy to offer a discount code to entice potential customers.
Then there's email marketing, which allows you to send newsletters, specials, and updates to customers on your email list.
These tools may be beneficial to your company.
Sellfy Pros & Cons
Pros
The software is simple to operate. There isn't any kind of learning curve. In minutes, anyone can register and build a website.
PayPal and Stripe are accepted as payment methods on this platform. You can begin selling to anyone, including those who are located abroad.
Any website may be converted into an ecommerce landing page. Use the embed functionality to sell digital products from any website, including social media sites.
There are no transaction costs. Sellfy will not take a cut from your PayPal or Stripe transactions as a result.
Cons
Although useful, the free plan limits you to only 10 products.
When you achieve a particular sales amount per year, most payment plans force you to upgrade.
The storefront designs are simple and adaptable, but they aren't stand-alone templates for establishing a distinct brand identity.
Best Sellfy Alternatives
Here are the best alternatives to Sellfy:
We have also shared some best alternatives to Sellfy in one of our posts.
Conclusion: Is Sellfy a Good Platform for Selling? | Sellfy Review
As you can see, setting up an online store with Sellfy is rather simple. Not only that, but it supports the sale of a variety of product categories, including print-on-demand items, subscriptions, digital, and physical things, making it an ideal eCommerce option for creators or any business that has run into limits with other eCommerce software.
After all, we've seen that selling both digital and physical products on competing for eCommerce platforms usually necessitates the installation of various plugins. This is especially true when it comes to selling subscriptions and print-on-demand items.