In this article, I have shared our comprehensive SERPed Review 2023. Is it the best SEO Tool for agencies as well as freelancers? Let's go through the full review to find out.
Introduction
SERped is one of the best SEO tools which can be seen with its growing popularity in the market. SEO or Search engine optimization has become a lot more advanced and complicated these days.
Beginners may find it difficult to understand and master it whereas the expertise may face problems with the constant updates and changes. 
The increasing number of Google algorithm updates and the rising involvement of numerous businesses using SEO has inculcated the significance of it in the market with growing levels of competition.
Due to the high demands of SEO every beginner and expert is in the race to master the skills to their best extent.
One best solution that can provide a helping hand to master SEO skills is SERped.net, a well-known effective SEO tool.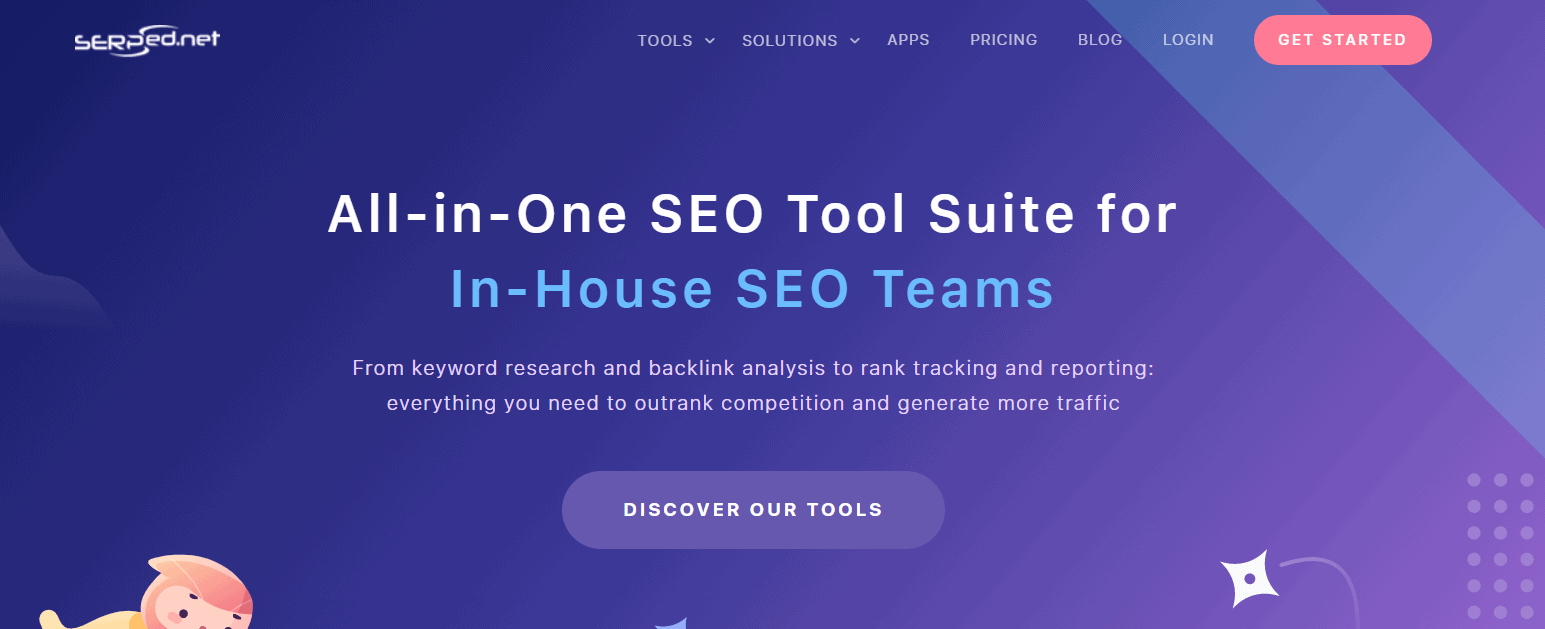 What is SERPed? 
SERped is an all-in-one SEO tools suite that helps you manage and learn all that is required for enhancing your SEO skills.
I personally feel that SERped.net is one of the best SEO tools to opt for. It provides you with expensive tools and a variety of features that can be easily used by any professionals ranging from students to freelancers. 
The toolset includes tools that help in automating recurring tasks and offers real-time data as well, this leads one to have more time to think and analyze their work while developing and improving their SEO strategies at the same time. 
The toolset comes with various features such as rank tracking, domain finding, site management tools, and many more.
Moreover, it also has its own dashboard for analytics which removes the need to use Google analytics that is known to be the difficult one to learn initially.
Hence SERped benefits one to enhance and improve their SEO skills easier than before with its amazing toolset.
Here in this article, I am gonna give a quick review of SERPed. This article includes:
Features and tools offered

Customer support

Money-back guarantee

Pros and cons

Pricing

Conclusion

Customer review
SERPed Review 2023: Is This All-In-One SEO Tool Worth? 
Tools Offered
SERPed has the most appealing features that make it unbeatable SEO tools. SERPed includes almost 45 tools for Keyword Research, Backlinks, rank tracking, Advance reporting, and Lead generation. Each of these tools is equipped with a unique function.
1. Keyword Research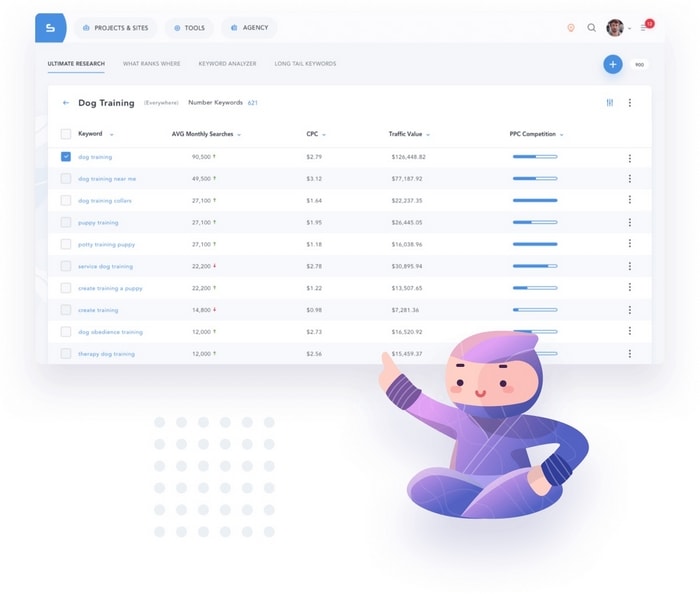 SERPed's keyword research tool helps you to find out related keywords. This feature gives you details about each keyword like price and competition that shall help to figure out the profitable ones for the business.
By searching one keyword, you get hundreds of keywords relevant to your industry that can be filtered by cost per click, search volume, and other metrics. Tools that are best on market:
For customers who are looking for new profitable niches and target keywords, this is the tool needed. You can get many keyword ideas from root keywords.
To know how and what for your competition ranks.
You can find long-tail keywords and many people look for these keywords where this tool will help to find them.
You can see what keywords and where that site ranks for if you enter site details and other credentials.
2. Domain Research
Domain research helps to know your or your competitor's domain and URL details. Following the keyword research, the right sellers and the best domains with affordable price must be analyzed.
In-depth data can be obtained about domains like Moz PA/DA, domain age, index status, and many others.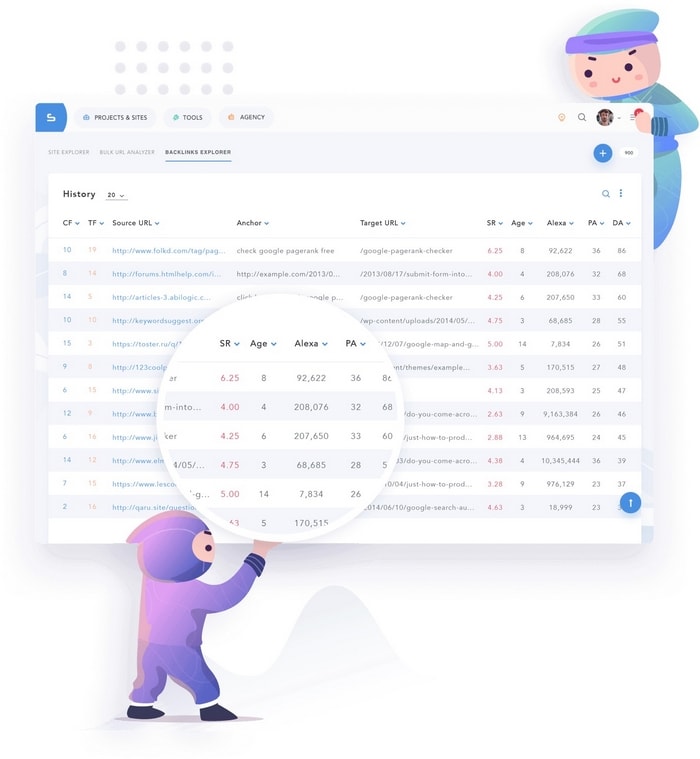 To analyze the portfolio of any domain wanted.
Similarly, as the site explorer, multiple URLs can be analyzed at once.
3. SEO Analysis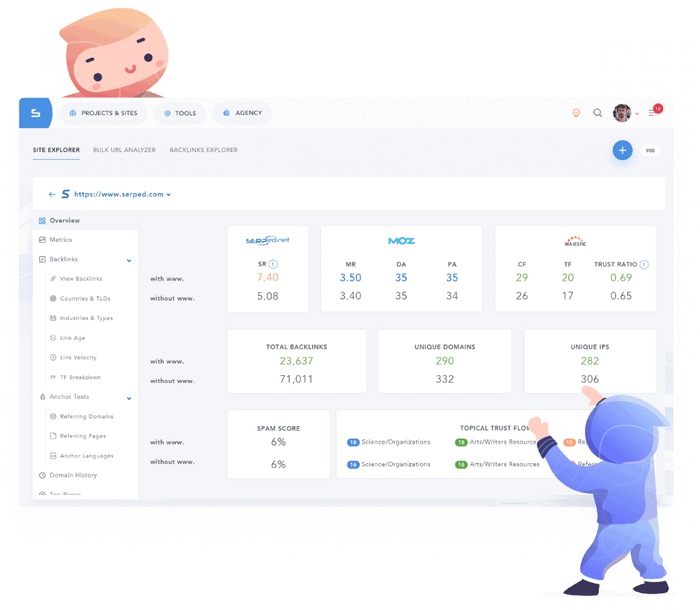 SEO Analysis tools of SERped allow you to get data of all the SEO metrics about any website including your competitors.
In this way, you can get all the data and apply your strategy to win the game.
SERPed has its own website rating system adding to the analysis and you can get all those ratings available from subscriptions with Moz and Majestic. Domain authority, Page authority, MozRank can be accessed through SEO Analysis.
This SEO analysis significantly also analyzes your Backlinks, identifying the possible opportunities and blocking harmful backlinks.
4. Domain finding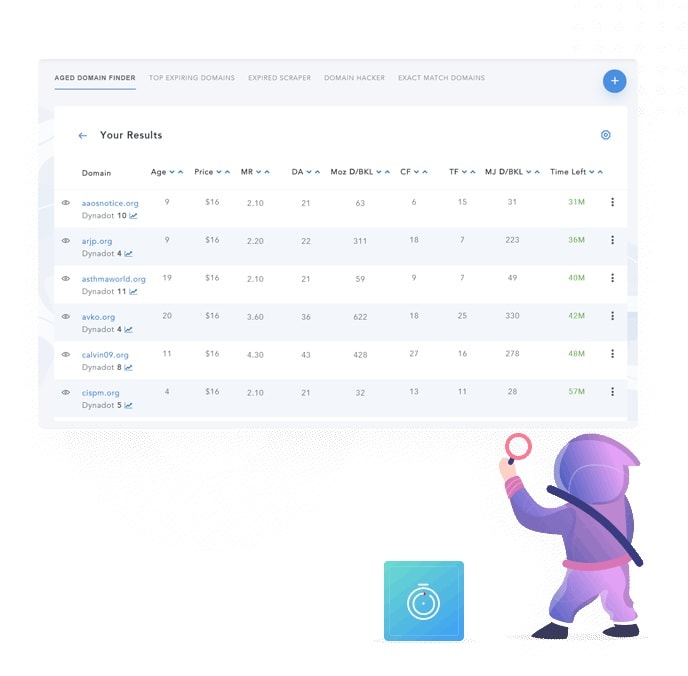 SERPed helps you to easily check all the things that matter when buying a domain without wasting time. Finding high-quality domains is a difficult task.
To find expired domains in any niche within no time. All with metrics from Moz, Majestic, etc.
It retrieves data from domain sites such as Namejet, SnapNames, GoDaddy, Flippa, etc showing you the best expiring domains within the next three days.
This is the tool needed if you want a custom expired domain scraper.
This tool allows you to scan the top domain auction sites for domains that you might be buying for your PBN.
You will be able to purchase domains directly from SERPed using this tool.
A tool that helps you to find based on your keywords.
5. Social Acquisition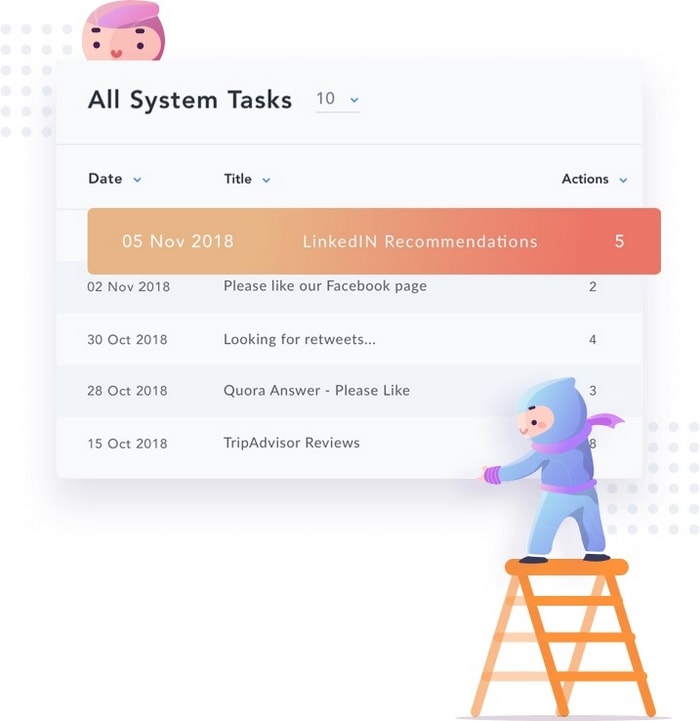 The social exchanger is a unique feature in SERPed that helps your brand do better on social media. SERPed provides users with points for commenting, liking, retweeting, and interacting with other users and accounts.
Social signals are provided from users that are a real improvement when compared to other SEO tools on social media.
You can interact with many people and also can earn points by taking up an offer and also participate in the leaderboards.
6. Client Acquisition
SERPed provides several tools for client acquisition. This tool helps to design a widget that you can put on your website by embedding a code.
SERPed can be integrated with Platform.ly, Aweber, MailChimp, InfusionSoft and many marketing tools by which you can add leads to an email sequence so that they receive emails automatically.
Tools like Site Auditor Pro, Citation scanner, Review Badges, Mobile prospector help to get clients easily and quickly.
7. Rank Tracking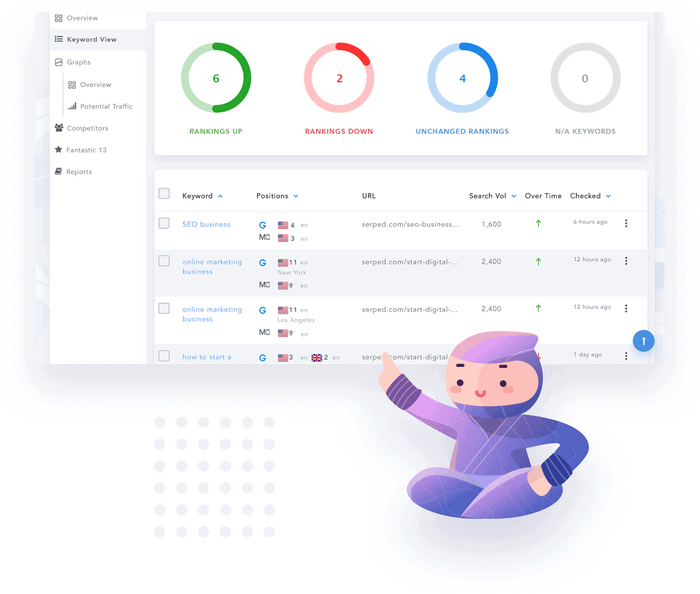 SERPed offers rank tracking for Bing, Yahoo, and Google. Also shows keyword rankings like which keywords have improved and which have gone down. You can track the rankings of your and your's clients websites through the following tools:
Allows you to track rankings of a certain website for a particular keyword in certain cities locally.
Rankings of certain websites for particular keywords can be tracked in countries of your own choice.
Allows checking rankings instantaneously for certain keywords.
Rankings of YouTube videos can be tracked.
Rankings of Amazon pages can be tracked
8. Project Management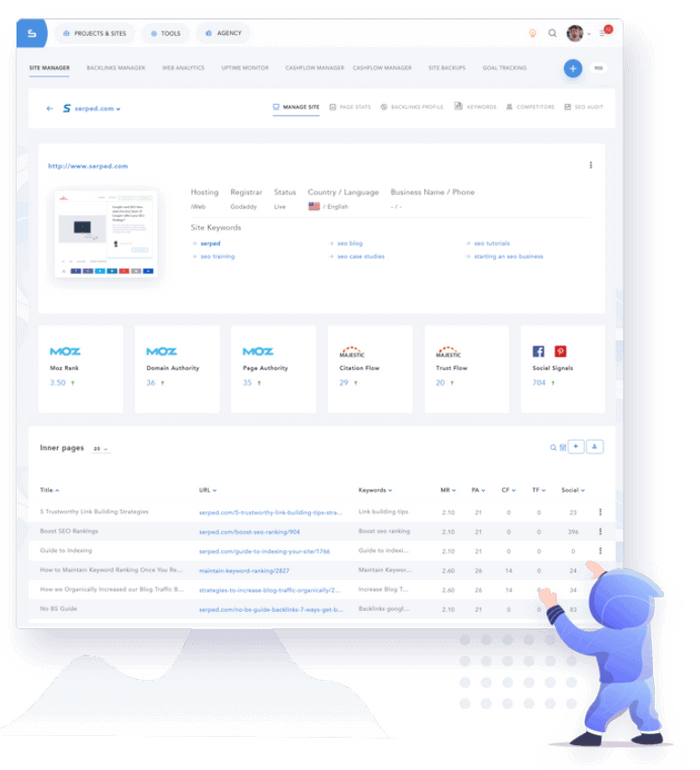 SERPed allows users to control all websites under the same tool, without multiple accounts. The goal is to automate many time-consuming tasks that were previously difficult for SEO professionals.
It is one of the best features of SERped. All SEO information having for each client can be kept in the same interface.
9. Reporting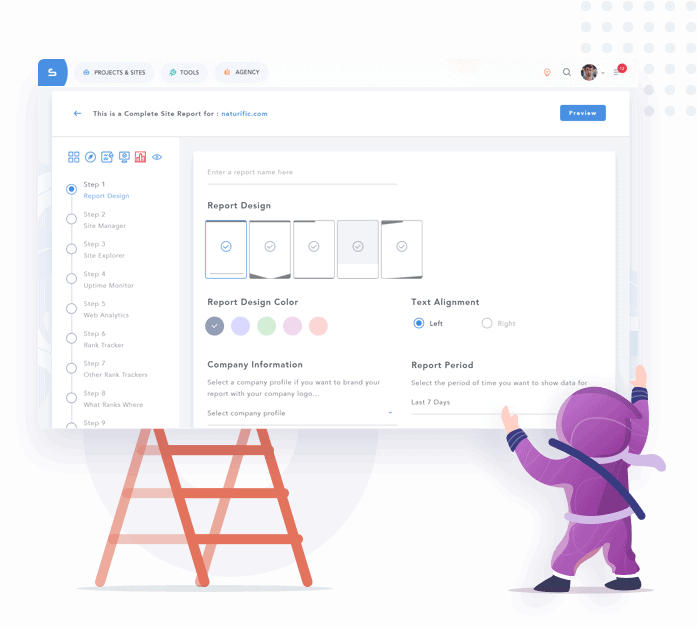 Reporting is the important aspect to be performed. Beautiful reports can be generated for yourself and for your clients with SERPed.
There are also even many more features that SERPed offers:
Line Indexer, Google Indexer, Spintax Checker, Grammar Checker, Content curator, Content Restorer, WordPress Manager, and Inner Linking Profile.
Customer Support
With SERPed , you get the best customer support facility. Customer support is a significant aspect in case buying a software tool.
I like the video tutorials that SERPed includes by which we learn how to use it and get benefits from tools. In case of any queries, submit a ticket to them and they will get back to you within a few minutes. Customer support is quite friendly and a team of professionals.
Money-Back Guarantee
SERPed with advanced features also gives you a 30-day money-back guarantee. You can easily claim a  refund if you don't like its services.
A ticket is needed to be raised and you will get the refund within 48-72 business hours. This shows there is no risk for investment.
SERPed Customer Review
According to me, I feel SERped is one of the easy to learn SEO platforms. With access to so many tools and their features, it helps to generate a high number of leads with less time consumption.
Its 30-day money-back guarantees really prove that anybody can't resist using SERped.net as the all in one tool suite makes it super easy to find a variety of tools in one place, also at an affordable price.
As a user, I must say one should try and go catch the benefits of SERPed.net yourself and experience the amazing tool.
SERPed is an affordable SEO tool that comes with three package plans with appealing features. It doesn't offer any free trial.
Pricing Plans at SERPed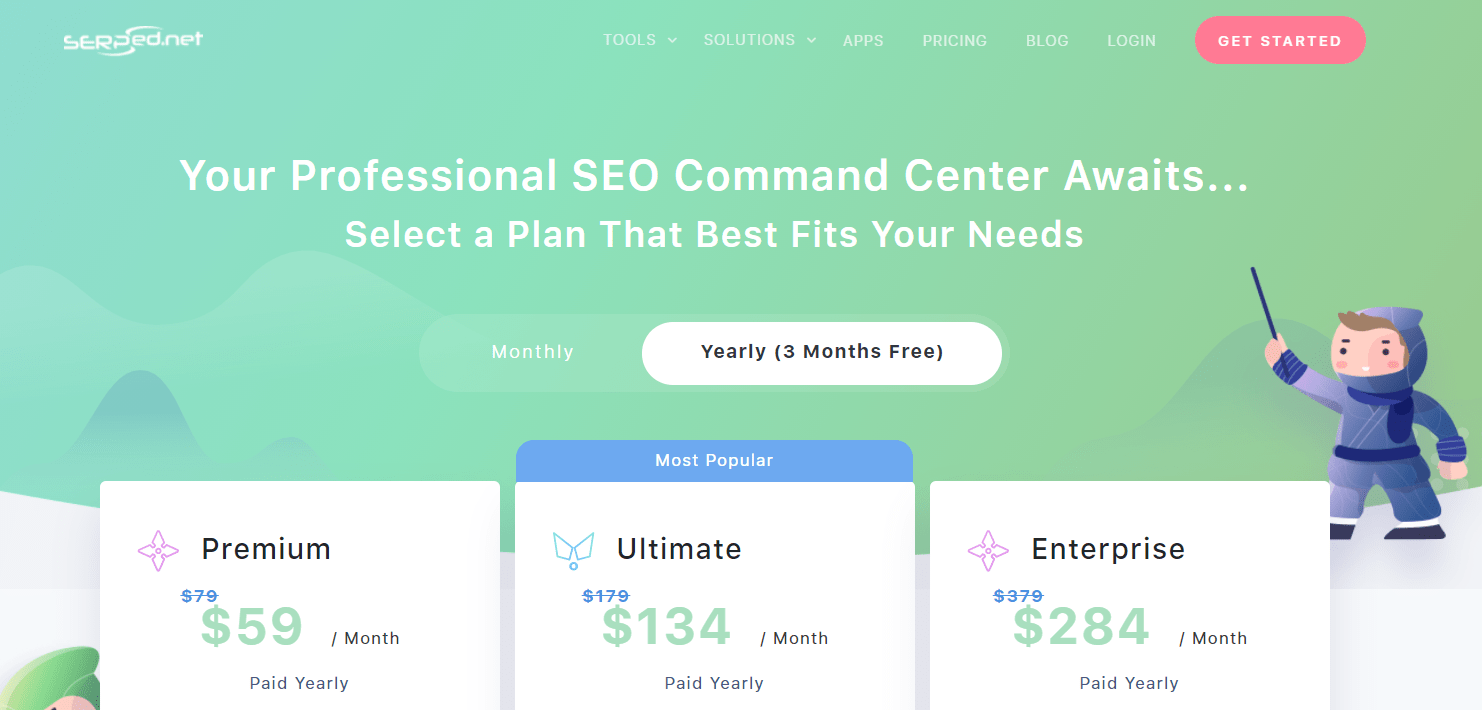 Premium plan : $79/ month
This plan is suitable for starters.
Manage up to 25 unique sites

In-depth metrics analysis on 200 URLs per month

Generates up to 170 keyword reports

2500 keywords per month can be tracked

Up to 3000 competitor ranking keywords

Can operate up to two team accounts

250 white label SEO audits offered
Ultimate plan : $179/ month
This plan suits domains and small teams
Manage up to 100 unique sites

In-depth metrics analysis on 500 URLs per month

Generates 1600 keyword reports

22000 keywords can be tracked 

Up to 9000 competitor ranking keywords

Checks up to 10000 keywords at any time

2500 white label SEO audits offered

Can operate up to five teams
Enterprise plan : $379/ month
This plan is suitable for large teams and domains
Manage up to 200 unique sites

Analysis available for 1500 URLs

Generates 500 keyword reports every month

7000 keywords can be tracked

Checks up to 3000 keywords at any point in time

Up to 30000 competitor ranking keywords

Can operate up to 20 team accounts

7500 white label SEO audits provided
Also, SERPed offers a unique Agency Add at $29 per month that is an exclusive offer price.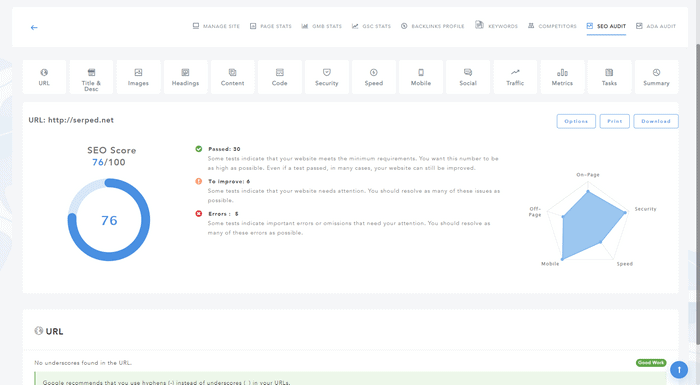 Also, Check
FAQs |  About SERPed Review
👉 What is better SERPed or SEMrush?
Both SERped and SEMrush offer a variety of SEO tools ranging from keyword search to competitive research at a single price but these two cannot be compared as both offer a unique set of tools. SEMrush is considered a primary search tool for competitors whereas SERped is new and growing among the users gaining popularity.
🤔 Can one use SERped for ranking and domain searching?
Yes, one can absolutely use SERped for ranking and domain searching. It offers tracking tools for many sites such as Amazon, Google, Youtube, and many more. One can also use their domain lookup tool to search for outdated domains, expired domains, etc.
🤷‍♂️ Do SERped have training options on how to use tools?
Yes, SERped has support wiki and video tutorials for each tool that assists one through the suite easily. Moreover, they also do live training for their members on a regular basis and also provide a responsive support desk option.
Conclusion | SERPed Review 2023
As you read this article you may have got a clear idea of how SERped provides you with its various benefits and that too at a reasonable pricing structure.
It helps you to develop your SEO skills with less time and effort while also providing you with its advanced features to top your search engine ranking.
Though there are few features and tools that are not required whereas some require a bit of enhancement and improvisation but besides that,
The whole toolset is filled with useful and incredible tools also available all at one place making it more efficient and a 'Powerful Ninja Suite of SEO tools' with 40+ advanced features which are more than enough to make anyone an SEO expert.