Shopify the most popular online-store building tools currently available . It is a web application that allows you to create your own online store. It's filled with tools for launching a site within minutes, and you don't have to worry about self hosting or buying a domain name from a third party.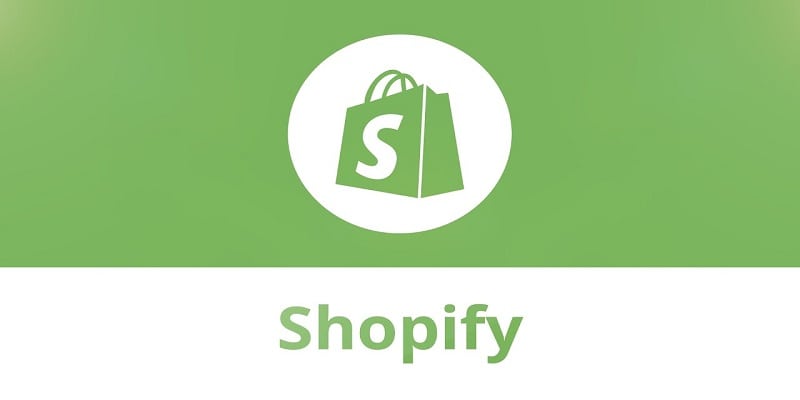 It provides you with several templates that can be customized to meet individual users' branding requirements, and the system allows physical or digital goods to be sold.
It's sort of like hiring a general contractor to build your house, over being the contractor and hiring sub-contractors yourself. You're still in control, but you let the general contractor use their expertise to make the project happen.
Shopify Review 2022 October-The Best Ecommerce Platform ? Really ?
Also read-Pinnacle Cart Review- Is it Worth your Money?
Shopify is a hosted ecommerce platform that allows anyone to set up an online store with hosting and support included. As a fully hosted, web-based platform, Shopify specializes in simplicity and ease of use. And despite its lack of some advanced features, This platform provides the basics that can support most merchants.
It comes with all of the basic features you need to set up shop, right out of the box. Advanced functionality often requires add-on applications.
Also check out : Supermetrics Coupon
Shopify represents one of the cheaper ways into selling online, with its starter plan, "Shopify Lite" costing $9 per month and allowing you to sell an unlimited number of goods. However, it's important to note that this plan does not actually allow you to construct a fully-functional, standalone online store.
Functionality:
One area where Shopify really excels at is its themes and design. Shopify provides you with a Theme Store where you can pick and choose from their collection of premium themes (either free or paid) across different industries (clothing, jewelry, furniture, art, etc), so you can dress up your website accordingly.
Shopify provides 9 free templates (or 'themes') that you can use – each of these comes in two or three different variants, so these templates actually translate to quite a lot of fairly different designs. It invites professional theme designers to create themes for Shopify.
In addition to Shopify' score functionality, there is also an app store which you can visit to obtain apps (free and paid) that beef up what your store can do.Shopify is very flexible and has all sorts of tools (Apps) to meet your needs and to extend the functionality of your online store.
They offer you a large App Store where you can choose from over 1,400 different Apps (free and paid) for you to plug into your store. The tools include accounting, customer service, inventory management, marketing, reporting, shipping, social media, fulfillment, etc and these apps can help automate a lot of your business processes.
Shopify allows you to turn that side of the business over to the pros and just let them worry about hackers, caching, compliance, and a whole range of issues that come with hosting an online store. It can do things like pay bounties to security researchers to hack-proof their systems.
If you find yourself in need of support, then Shopify has one of the best teams in the industry. Regardless of which pricing plan you decide on, the company has 24/7 full customer support, which includes phone support as well as chat and email support. Another great form of help offered by Shopify is the access to a sizeable support system directly through their website, including user forums, tutorials and FAQ's.
Shopify state that over 365k individuals have built online stores using the platform, which makes it a relatively safe bet that the company (and thus your online store!) is not going to disappear any time soon.

PROS
It has a clean, easy-to-use interface.
It provides a good range of free, responsive and attractive templates
The point-of-sale options are excellent and help Shopify stand apart from its competitors.
There is a simple Paypal integration available.
CONS
Adding custom fields such as text boxes or file upload options, whilst doable, is unnecessarily complicated.
You can't avoid transaction fees if you use a third-party payment gateway.
Creating drop down menus and adding items to them is a fiddlier process than it should be.
The cheapest plan (the $9 'Lite' offering) doesn't permit you to create a fully-featured online store.
It is impossible to customise the structure of your website's template without touching the code. Also, you may need to hire a "Shopify expert" to do any customisation because code changes involve handling Shopify's own programming language (Liquid), in addition to HTML and CSS.
Also Read:
SHOPIFY PRICING
There are five plans to choose from:
'Shopify Lite' – $9 per month
'Basic Shopify' – $29 per month
'Shopify' – $79 per month
'Advanced Shopify' – $299 per month
'Shopify Plus' – fees are negotiable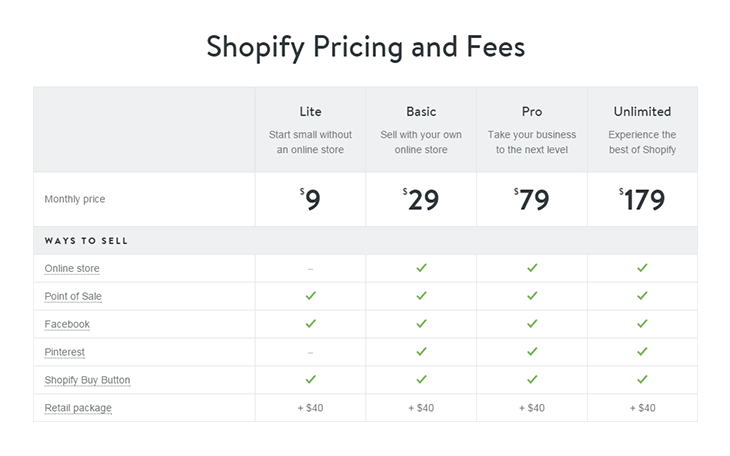 Key features to watch out (and not miss by selecting the wrong plan!) are:
staff accounts – these allow you to give different members of your team different permissions
abandoned cart recovery – this allows you to automatically email users who nearly completed an order and see if you can persuade them to follow through
real time carrier shipping, which is only available on the most expensive 'Advanced Shopify' plan.
.
Features:

Unlimited bandwidth
Unrestricted number of products
Unlimited online storage
Facebook integration
Chat & Email Support
One staff account (in addition to the owner's account)
the ability to sell physical or digital goods, in categories of your choosing and using shipping rates / methods of your choosing
a wide range of themes to choose from
credit card processing via Shopify Payments (Stripe) or a third-party payment gateway
integration with Paypal
blogging functionality
import / export of customer data
content management (CMS) functionality
good search engine optimization (SEO) options – it's easy to add relevant keywords to your products and site pages
integration with Mailchimp
discount codes
the ability to edit CSS and HTML
a 'buy now' button that you can use to sell goods on an existing blog or site
point-of-sale integration (more on that below)
the option to create multiple staff accounts (as discussed above, how many you can created depends on the plan you're on).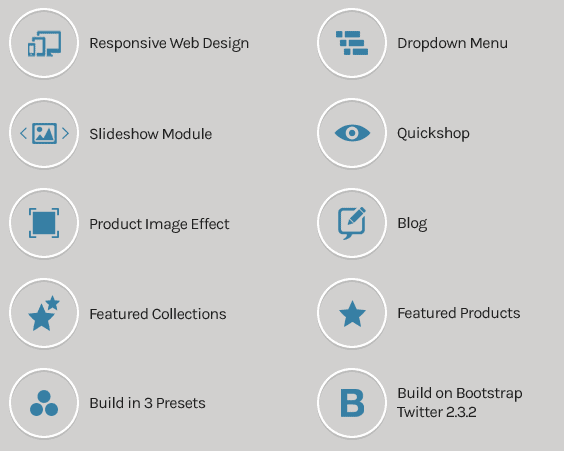 Additional Features:
Pinterest integration
24/7 Support
Shopify Mobile
Discount code engine
Free Shopify Card Reader
Online store and Blog
Two staff accounts (in addition to the owner's account)
Advanced report builder
Real-time carrier shipping
Fifteen staff accounts (in addition to the owner's account)
Click Here To Check Shopify Alternative: SendOwl Coupon Codes
POINT-OF-SALE APPLICATIONS
One particularly nice feature offered by Shopify which deserves a special mention and makes it stand out from its competitors is its 'point of sale' (POS) options and kit. These let you use Shopify to sell not just online but in physical locations too – as long as you have an iOS or Android device.
The full point of sale kit includes a card reader, barcode scanner, cash drawer and receipt printer – you can buy any of these items individually or as a package.
There are a several applications for Shopify's point-of-sale tools: for example, they allow you to sell in a pop-up shop, from a market stall, at an event or even in a permanently located retail outlet, whilst keeping your inventory and stock count automatically synced.
However, it is easily one of the best eCommerce site builders available in the market. You need to understand that it is pretty complex to get an eCommerce set up and Shopify does this very easily.
It caters to a broad range of industries, such as art & photography, clothing & fashion, jewelry & accessories, electronics, food & beverages, home & garden, furniture & household, sports & recreations, toys & games, Shopify understands that their core strength is to allow you to build and manage a website with a secure shopping cart, and they understand that they can't build all the different business tools in the world for you.
Quick Links
Conclusion: Shopify Review 2022 -The Best Ecommerce Platform? Really?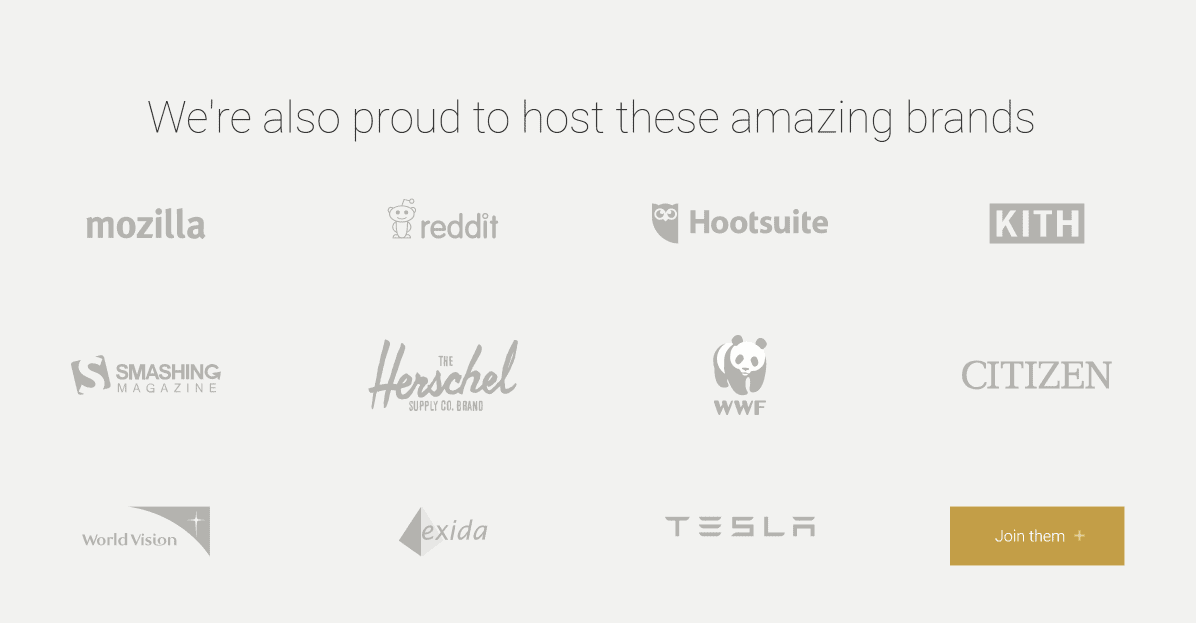 This flexibility and the ability for Shopify to grow with your online business is one of the unique aspects that we've grown to appreciate, and I hope you do as well.  You can start off with fewer features and tools, and add more and bolt them on to your online shop as you grow Shopify is one of those platforms that you should consider investing in, especially with their 24/7 phone and live chat support.
It makes a lot more sense to let them deal with the technology aspect of things, so you can focus on other aspects of your business.
Please bookmark this post we will be keep updating such informative articles every month.