in this blog, I am going to discuss Siberian CMS Open Source App Builder For iPhone and Android 2023
What is Siberian CMS?
Siberian CMS is an open source app building platform developed by France based company named Xtraball, which also happens to be a free CMS.
Founded in 2012, Siberian CMS is taking a very interesting approach to app making.
They solely believe that app ownership is the main concern of their users.
Thus, you actually have to install it on your own domain and not use the platform on their website. They also let you create an app for free and even give you the full source code.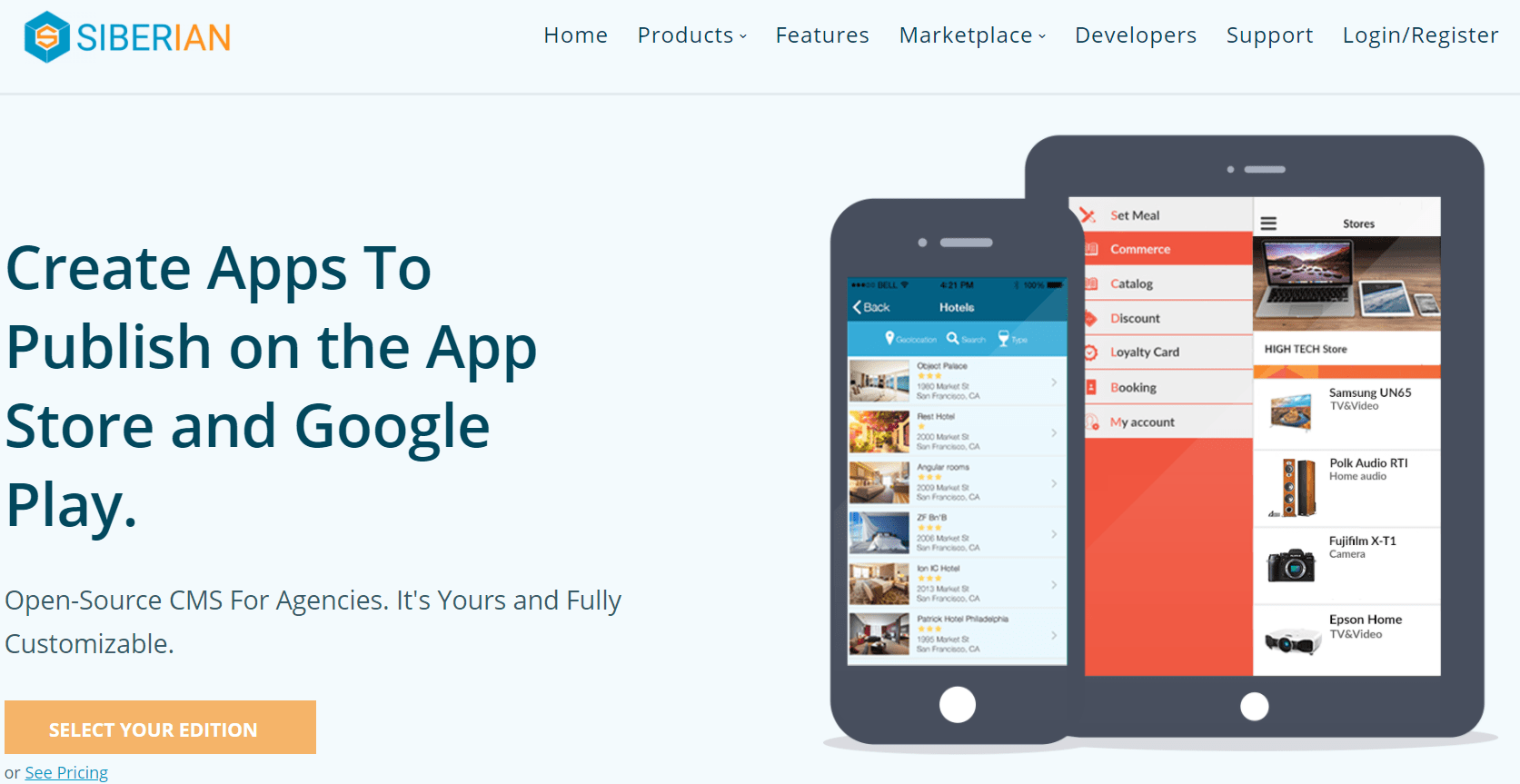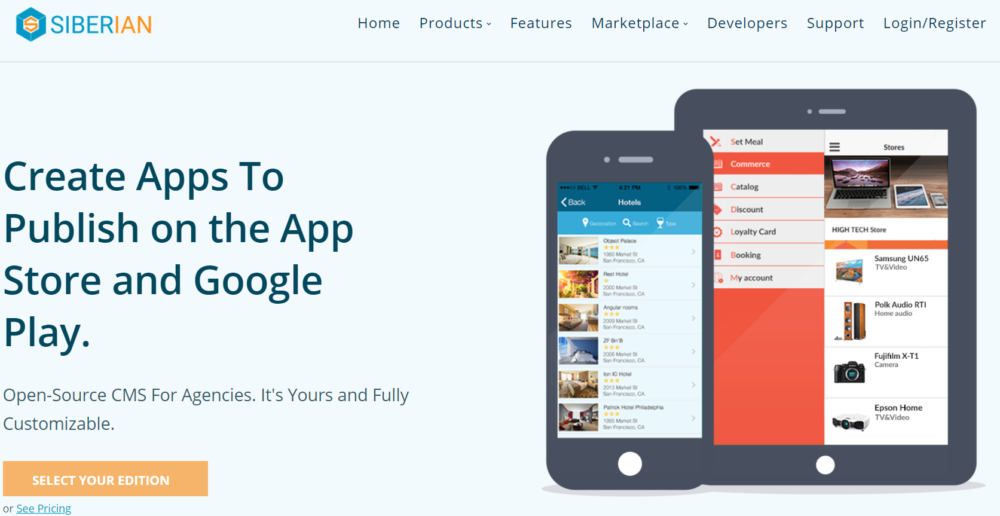 Siberian CMS: Highlight Features
Siberian CMs literally packs the maximum punch among all the app building tools we have tested so far.
The most prominent feature is that its open source, and white label in a real sense. You just need to buy your CMS, and every app you create from there onward is your sole property.
There are other amazing features such as the Newswall, RSS Feeds, Unlimited Page customization options, social media integration, Images galleries, loyalty cards and a lot more.
Organization
They offer the most efficient organization in its niche with the ability to handle effective Booking, Appointments, Calendar, Job, Folders, and Padlock.
Monetization
M-Commerce, WooCommerce, Loyalty Card, Admob, QR Coupons, Catalogue, Set Meal, Discounts and Taxi Ride.
Local
There is the proper integration of Classfields, Places, Weather and maps.
Social
Facebook, Twitter, Newswall, Fanwall and Chat
Communication
Inbox, Push notifications, Topics and Scratch cards
Multimedia
Audio, Video, Radio and Gallery
Information
RSS feed, Surveys, Contacts, Quiz and form
Content
Custom pages and links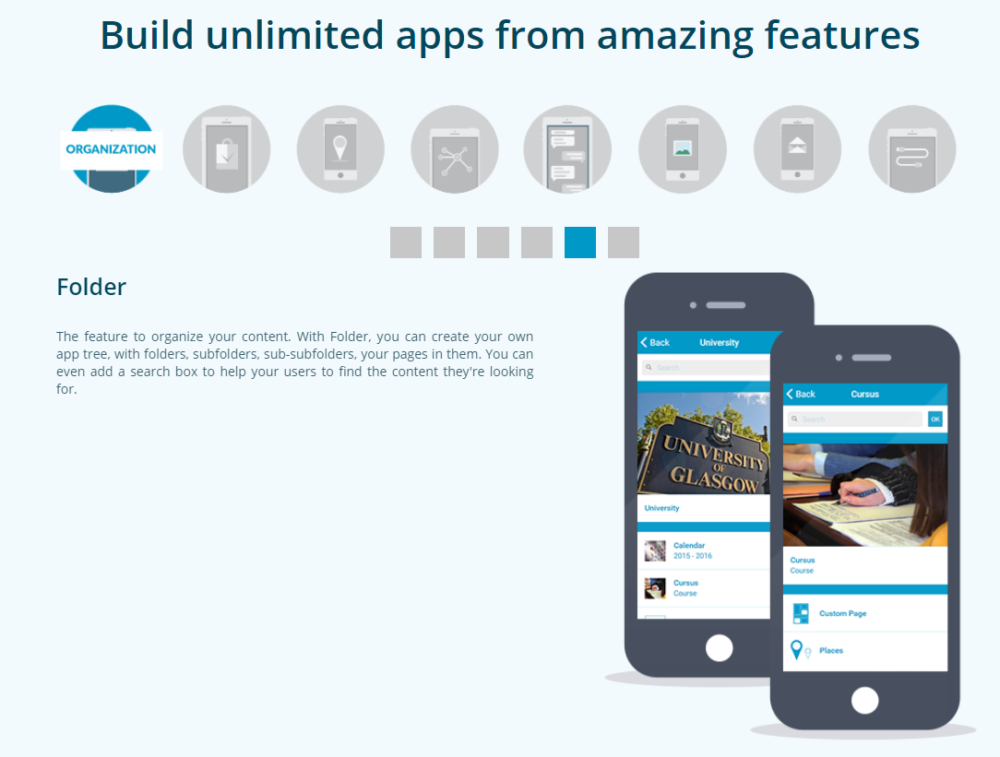 Siberian CMS Back Office
The Siberian CMS Back Office empowers Team management with features that let you decide which user can access which option of the editor.
You can define user roles and set access limitations as per your requirements. This allows you to have a complete control over who has access to what.
There are two ways to do this:
Define User Roles so that a particular user group can include only a particular set of features.
Define the access limit of each app user by making an Access Control List.
Siberian CMS back office also allows you to make custom sales plans with the Platform Edition.
You can decide if the users have to pay a subscription or a one-time fee, or even both if you want.
And the more the better, you can create as many sales plans as you wish. And once you have users, the invoices are automatically managed by the software!
Why join Siberian CMS?
Easy to Use
Siberian CMS is very easy to use and to master. The design of the app maker has been made thinking of the user.
It ensures that you won't get lost while designing your app. Each step helps you create the really app you want in a flash and has its own importance
Design Flexibilities & Customizations
Siberian CMS allows you to use their extremely customizable templates and layouts as soon as you start building your app.
You can use the tips they provide and add options to your layout so that your app really looks the way you want. In short, Siberian CMS helps you achieve building your app the way you imagined it!
Multilingual Support
Siberian CMS offers free language packs for the most widely used languages around the world.
You can also make apps in your native language, you just need to translate the necessary files in this CMS so that it can support the language, and you'll be able to make region based apps.
E-Commerce
Once again with the E-Commerce integration, Siberian is one of the most complete app makers.
You can create your own store with payment gateways integrated with popular options like PayPal and Stripe.
You can also further integrate another payment gateway if you need too.
You can also add their native WooCommerce module to your app and also add links to your Volusion, Magento or Shopify stores.
Social Media Integration
You can log into your apps through a Facebook login, and you can add your Facebook fan page.
A Twitter feature is on its way to display your Twitter account as well.
Regarding other integrations, you can add pictures galleries from Instagram, videos from Youtube, Vimeo or even video podcasts.
On the other hand, you can add music from iTunes or podcasts.
Excellent Support
Siberian offers a great overall documentation on how to build your apps, how to manage your clients and everything from the back office, including videos.
This enables users to quickly master Siberian CMS in a matter of minutes. And in case you would have any doubt, just drop them an email and they will answer quickly to help you out.
Regarding the technical assistance, their support team is really efficient and they do everything they can to solve any issue you may have as fast as possible.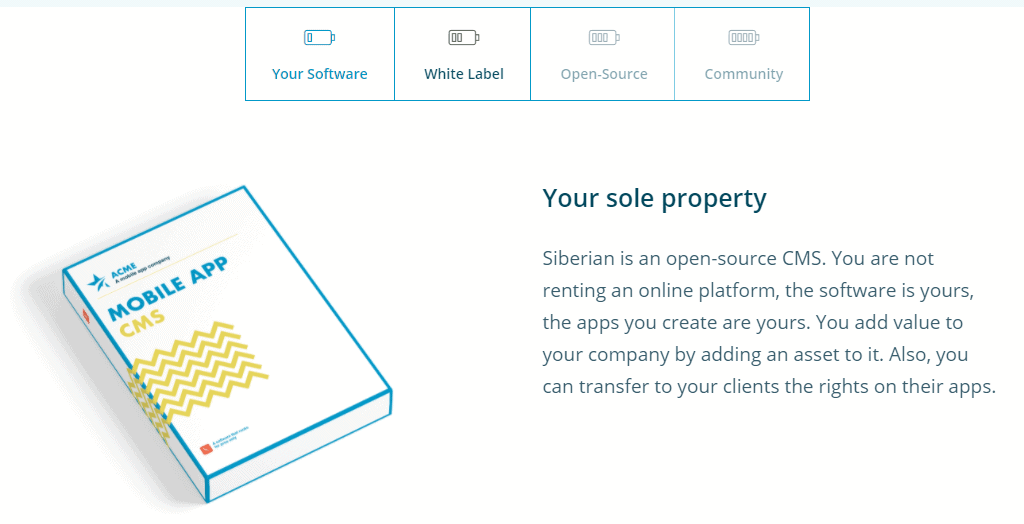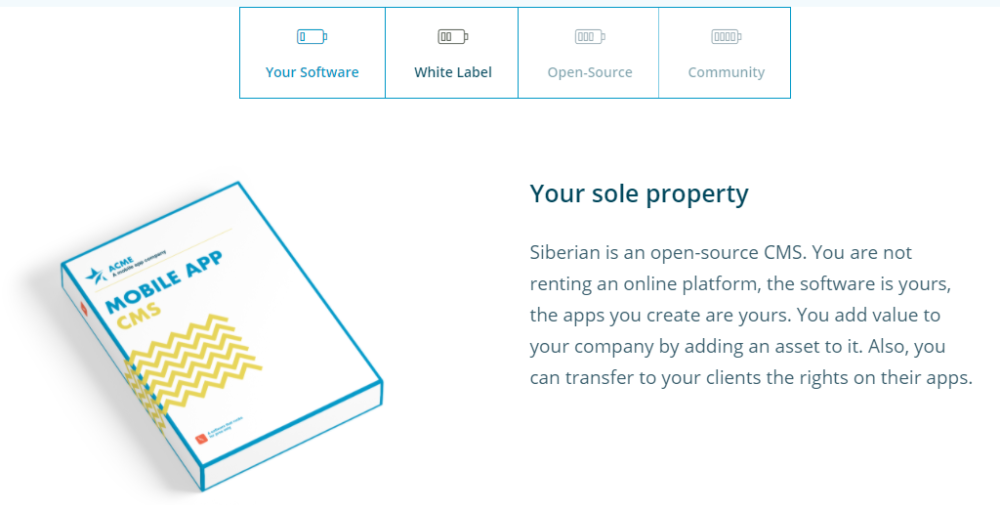 Quick Links
FAQs | Siberian CMS Open Source App Builder 
👉 What is Siberian CMS?
Product Details. Application development solution that helps agencies create white-labeled applications for web, iOS & Android devices without coding.
🙋‍♀️ How do you create a app for free?
Creating your mobile app for Android and iPhone for free is easier than ever. iBuildApp app maker software allows building apps in a matter of minutes, no coding required! Just pick a template, change anything you want, add your images, videos, text and more to get mobile instantly.
🤔 How do you create a cell phone app?
Step 1: Get an idea or a problem. If you already have an app idea, move onto step two. Step 2: Identify the need. Step 3: Lay out the flow and features. Step 4: Remove non-core features. Step 5: Put design first. Step 6: Hire a designer/developer. Step 7: Create developer accounts. Step 8: Integrate analytics.
Conclusion | Siberian CMS Open Source App Builder 2023
Application development solution that helps agencies create white-labeled applications for web, iOS & Android devices without coding.
Visit their official website www.siberiancms.com if you want more information regarding their offers, services, and pricing.