About SmartFax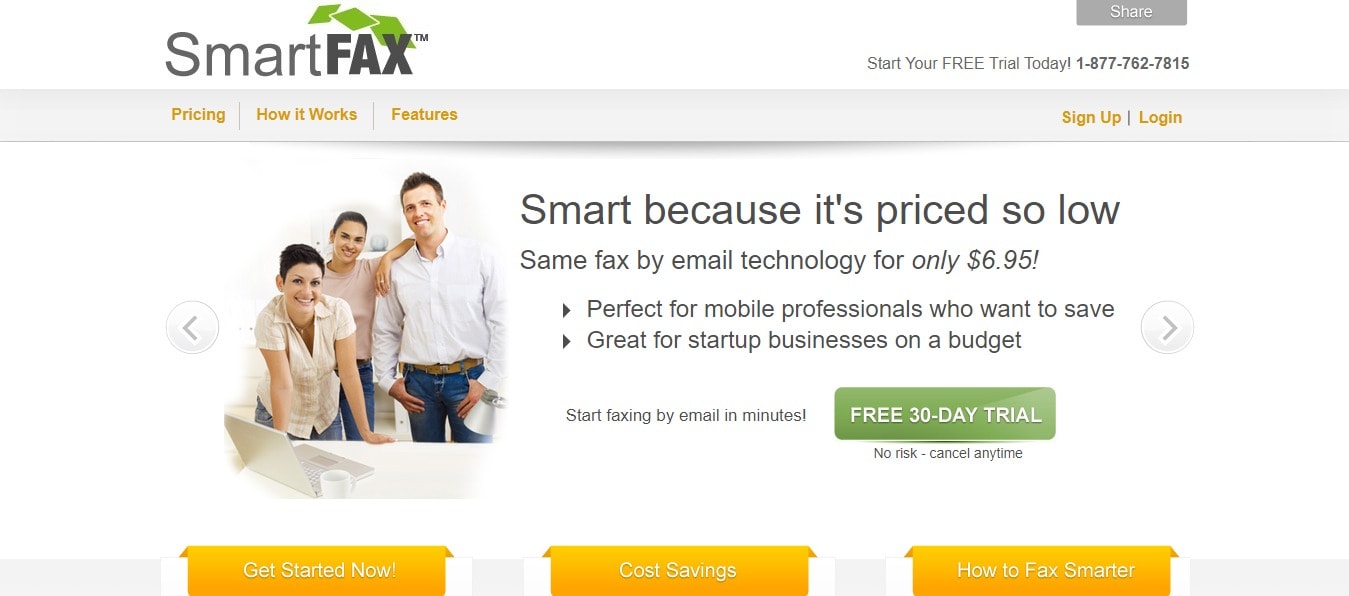 SmartFax has marketed itself to be a company that supports environment by creating an alternative green faxing service to traditional faxing. The main focus of the company was to eliminate the use of paper and digitize faxing services. The company is a subsidiary of Melleriers Technology in Philadelphia and was launched in 1998. The company has a wide range of clients ranging from individual users, small offices to large organizations and Fortune 500 companies.
Also Check
Ease of Use
SmartFax enables you to send faxes through the web or an email client like Microsoft Outlook, Hotmail or Gmail, etc. They have a dedicated online interface to create and manage faxes easily. Smart fax enables you to send multiple documents at a time but the number of recipients depends upon your email provider. The interface is very simple and does not have lots of bells and whistles to confuse you which make navigation very easy on the platform.
You can either attach a message or type a text in the body to send faxes over the interface. By integrating with an email client, Smartfax enables you to send and receive faxes by entering your message, fax number on the body of the mail which are later converted into the respective fax format automatically.
All the received faxes are converted into a PDF file which makes it easy for you to open and view them. There are lots of user guides, FAQ section and resources to help you know more about this electronic Fax.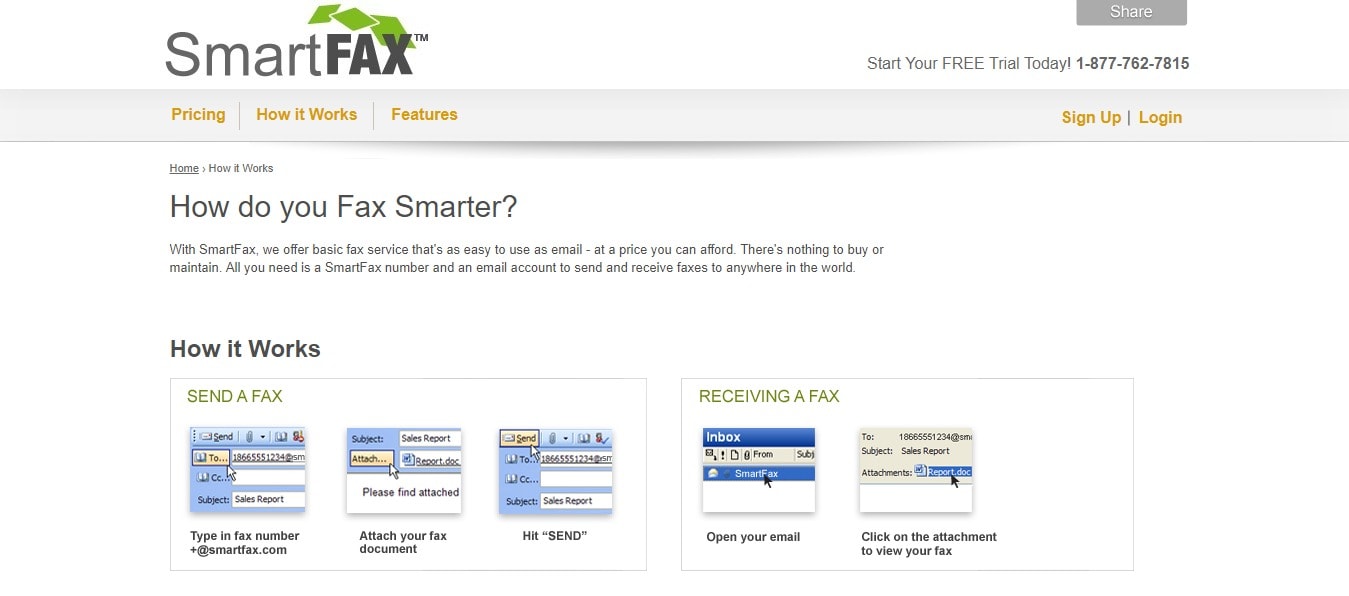 Pricing and Plans
SmartFax does not offer a free trial. You have to subscribe to a plan to use their services. It has 3 different service plans for individuals as well as small or medium size organizations.
Signature service plan costs $6.95 per month which includes a dedicated fax number in the US or Canadian area and 250 incoming and outgoing fax pages per month.
Toll free service plan costs $6.95 per month which includes a dedicated toll free number and hundred incoming and outgoing fax pages.
Pay-as-you-go send only plan works best for users who need to send faxes but do not have the need to receive faxes. Each fax is charged as you send and you can send up to 2500 faxes a month.
For large organizations, they have a dedicated plan called as high volume receiving plan that includes a dedicated fax number and 1000 incoming pages per month. It starts at $29.95 per month and every additional incoming page is charged to 2 cents per page.
Features
Cloud-based faxing solution: It is a 100% cloud-based faxing solution where it enables users to send and receive faxes through email from anywhere.
Mobility: The users can access their website through a smartphone tablet or desktop to send or receive faxes.
Storage: The fax automatically saves all your faxes as long as you use the service. If you do not want to store faxes, you can intimate green fax for a shorter storage option.
Local and toll-free numbers: It provides 150 + US area codes and toll-free numbers for all its customers to send and receive faxes.
Multiple faxes: Green fax enables users to send multiple faxes simultaneously and also receive from multiple users.
Call forwarding service: It allows you to forward your faxes from your old number to your new one because it does not allow you to port across your existing fax number.
International faxing: International faxing is available on green fax wherein the rates depend on the destination you send your faxes.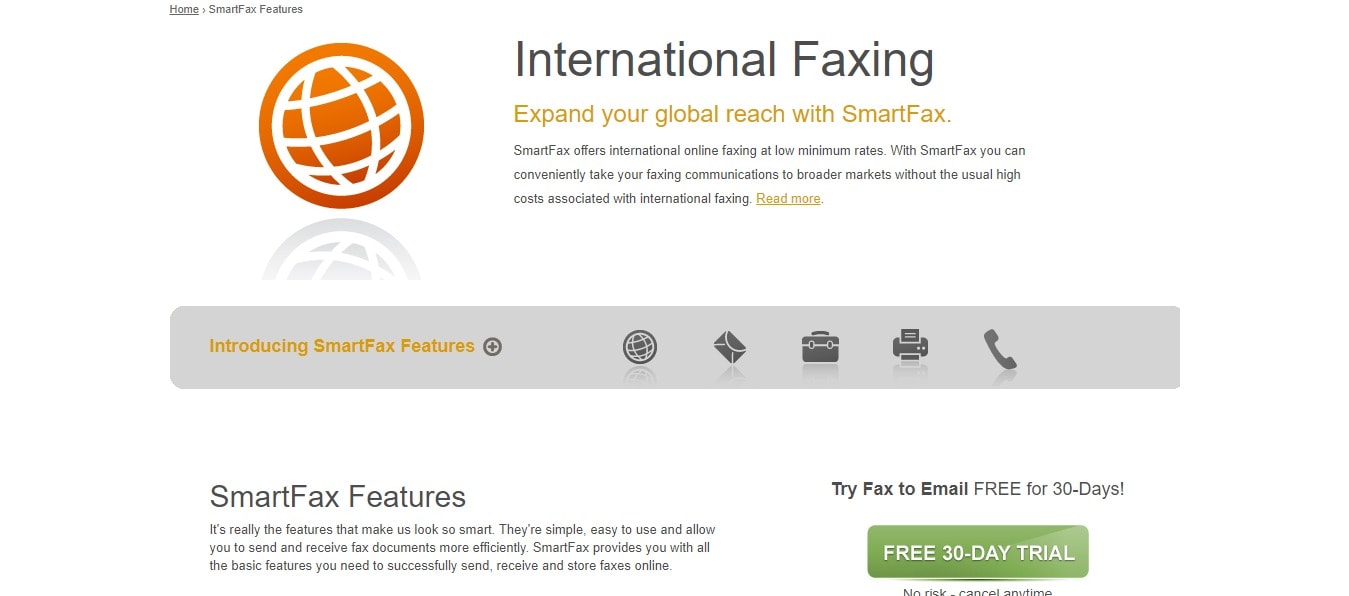 Pros
Low overage fees
no setup fees
Supports both web and mail faxing
Unlimited storage
Cons
Lacks advanced features
No electronic signature
Confusing packages
Best Buy SmartFax Coupons & Offers January 2023
Try for Free for 30 Days
Plan starting at $6.95

Is SmartFax a good electronic faxing service? SmartFax.com Review & Discount Coupon Codes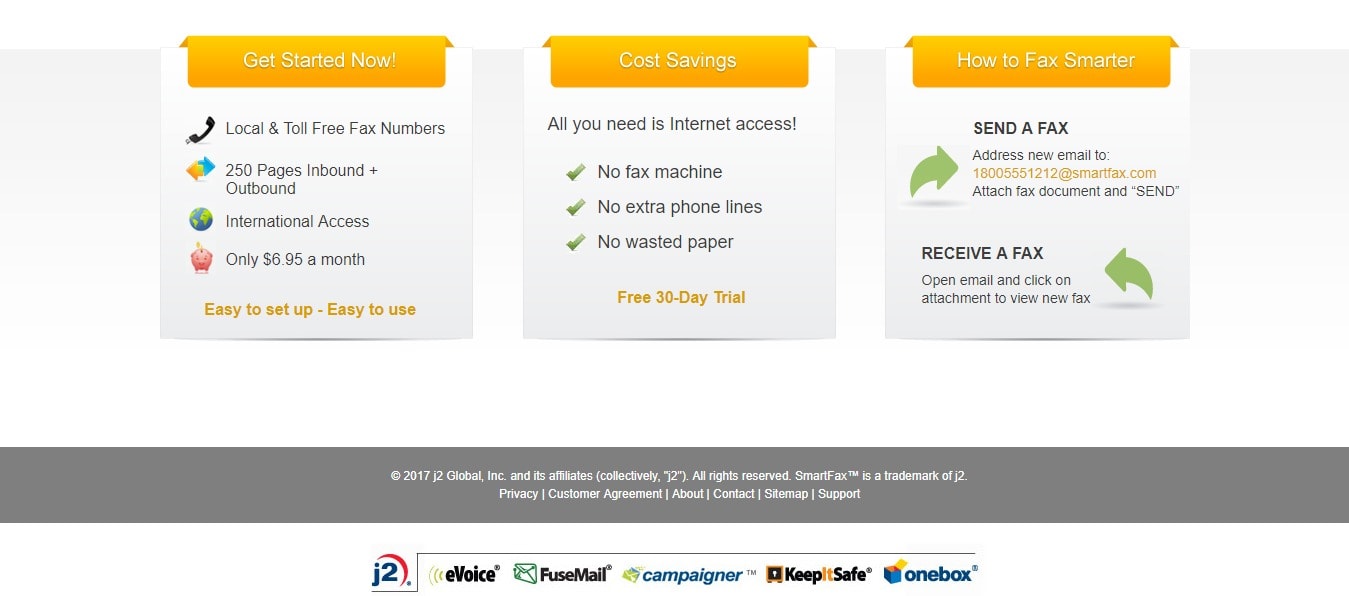 SmartFax focuses on providing environmental-friendly communication facilities by enabling individuals to fax through the Internet and eliminating the use of paper completely. It lives up to our expectations by providing excellent features at an affordable rate.
It supports faxing to both international and local numbers through the web interface or an email client. It's a solid choice for small businesses as well as corporate that do not require advanced options for sending and receiving faxes through the Internet.