Rising Media is back with another great event SMX event in Munich on 18th & 19th March 2020. The event will witness a large number of experts and large audiences interested in the field of SEO, PPC, and Social media.
SMX Munich 2020: Why Should You Attend It?
Date: 18th-19th March 2020
Venue: ICM – International Congress Center Munich
Innovations, trends, and outlooks on SEO, PPC and online marketing will be presented at SMX Munich! Here, including workshops, the most important players and leading heads of the worldwide SEO, PPC and Online Marketing industry will gather in just one place for three days.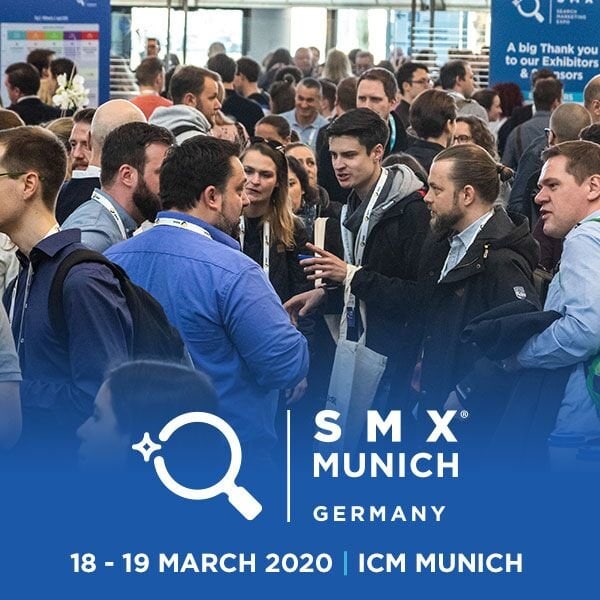 On these days, conference attendees will be able to put together sessions relevant to them from many different theme tracks with over 80 speakers and network with more than 1600other marketers.
SMX will host the sixth annual SEMY Awards. The Marketing Award gives the best and most creative teams in online marketing the chance to win a prestigious award for their achievements.
The nominees will present their campaigns to the SMX audience who will vote for the winner. Be there to experience the energy, see outstanding campaigns and cast your vote.
Speakers:
Tom Anthony: Tom designed DistilledODN, the first publicly available SEO split-testing platform, and leads the team that designs it. He is convinced that the platform could usher in a new era of data-driven SEO. He researches technology trends and the future of search and works with Distilled's consulting team to predict the impact of these trends on SEO and digital marketing.
Jason Barnard: Almost 2 decades of experience: Jason started promoting his first website in the year. Today he is a digital marketing consultant, speaker, author and the host of the #SEOisAEO podcast (the most fun you'll ever learn from digital from the experts).
Andy Crestodina:  Andy Crestodina is a co-founder and chief marketing officer of Orbit Media, at the award-winning 38-person web design company in Chicago.Over the past 18 years, Andy has given digital marketing advice to 1000+ businesses. He speaks at big marketing conferences, writes for big marketing blogs and he hosts a little marketing podcast, Content Matters.He's written on marketing, search engine optimization, social media, and analytics.

Top 10 Online Marketing Experts to Watch, Forbes
Top 50 Marketing Influencers, Entrepreneur Magazine
Top 10 Social Media Influencers to Watch, Social Media Explorer
Top 50 Content Marketing Influencers to Follow, Outbrain
For full list of speakers, refer to the website…
Get 15% Off Now on SMX Munich Tickets (Early Bird Price)
Use Code: AFFILIATEBAYSMX
Finnich Vessal is an experienced affiliate marketer, he has been into affiliate industry from past 5 years and living his dreams online. On Affiliatebay you can find posts related to affiliate marketing news, product reviews & trends in affiliate marketing.