Lead generation today is a very overlooked but important part of online business. Any form of online business needs to consider the value of lead generation to boost their companies online outreach. Many brands and companies around the world require services and strategies to acquire more leads and sources to increase their online sales and profits.
In this quick post, I'm going to brief you about a "One of its kind" lead generation service that was launched recently and has gained widespread popularity. I confidently tag it as "One of a kind" simply because you won't find any other service of this kind in the market. This service is called Snovio!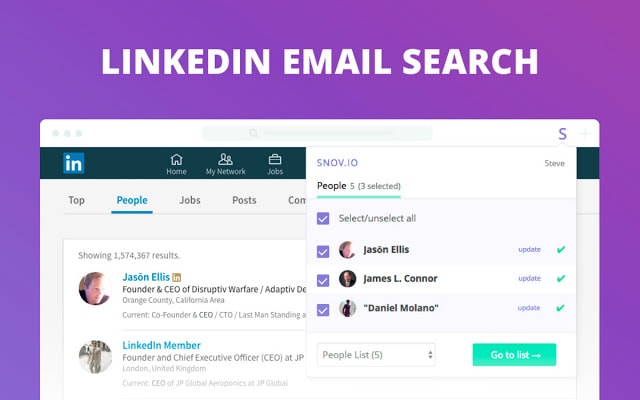 What is Snovio?
Snovio is the world's first decentralized lead generation service to deliver leads and other valuable resources.  Launched in May 2017 as an email finder, Snovio became the newest entrant into the lead generation market. Its Marketplace functions on the principles of crowdsourcing data collection and blockchain technology.
Contributors using Snovio can add new data to the system and recieve SNOV tokens for keeping the data in their system up-to-date.
Since its launch last year, Snovio is slowly turning into a company with a unique marketplace system and a massive database with constantly-updated data. You will get prompt notice of updated leads.
Highlight features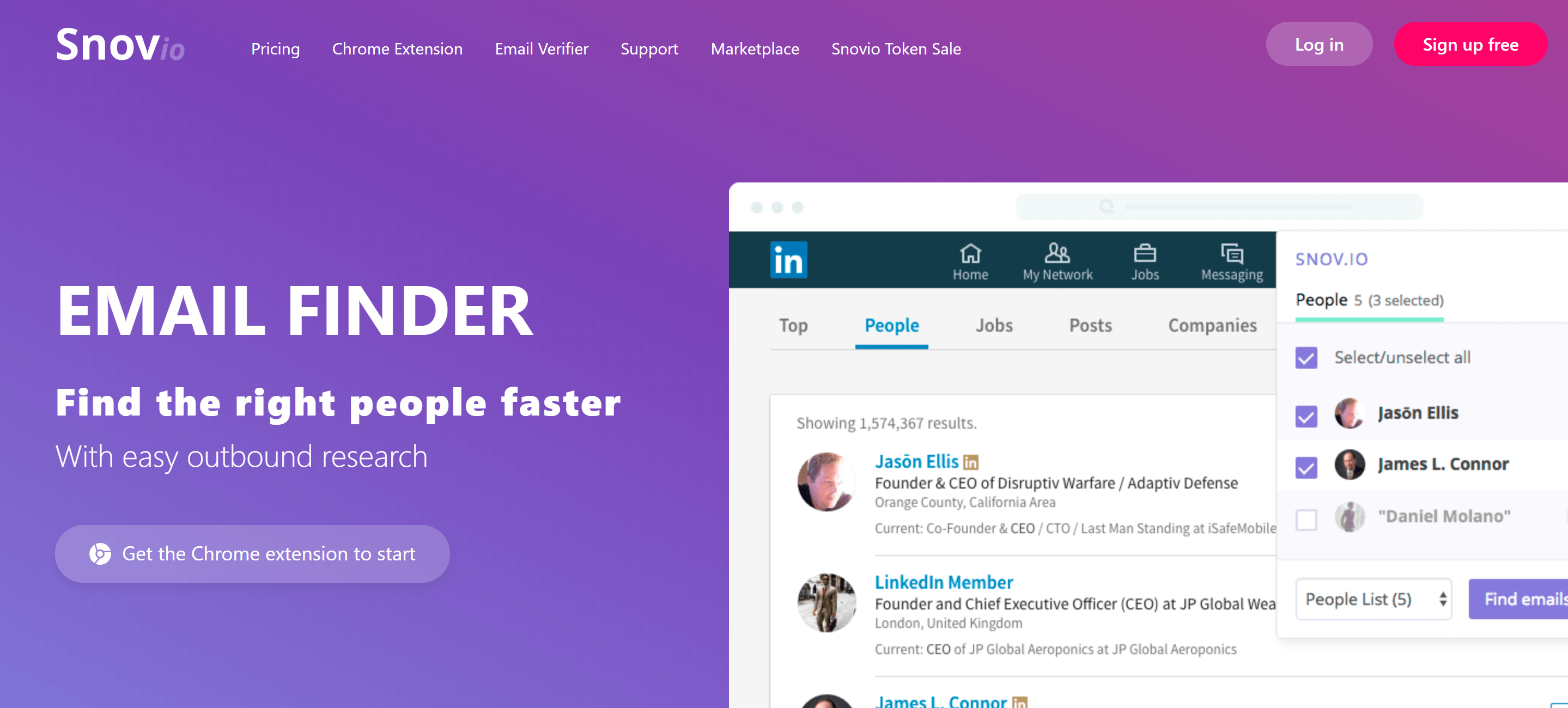 Snovio is a powerful model of lead generation with services comprising of a large number of contributors that can effectively and efficiently solve the problems of lead generation, outbound research and more. As mentioned above, it is a decentralized model.
Get quick and instant access to numerous and useful email addresses, names and job positions from various domains. This helps you efficiently find contacts, get connected and grow your network.
You can do a bare search on LinkedIn or use Snovio's Prospect Search Tool to find and save email addresses of LinkedIn users!
Contact just the right person in the right department of a company by exploring the amazing company information database Snovio program uncovers!
You can also send emails for free using their email sending feature to a list of prospects you get with the domain search on a website without any credits being charged.
Find the websites and identify technologies stack they use
Check what CMS, marketing, web frameworks, software, analytics and e-commerce tools are used by businesses. This feature is free.
Connect freelancers, data researchers, marketing experts, and employers instantly and reliably.
Snovio Marketplace helps users find talent and writing email sales copy using this freelance system where any type of marketing task can be completed.
Also Read: 
How does Snovio work?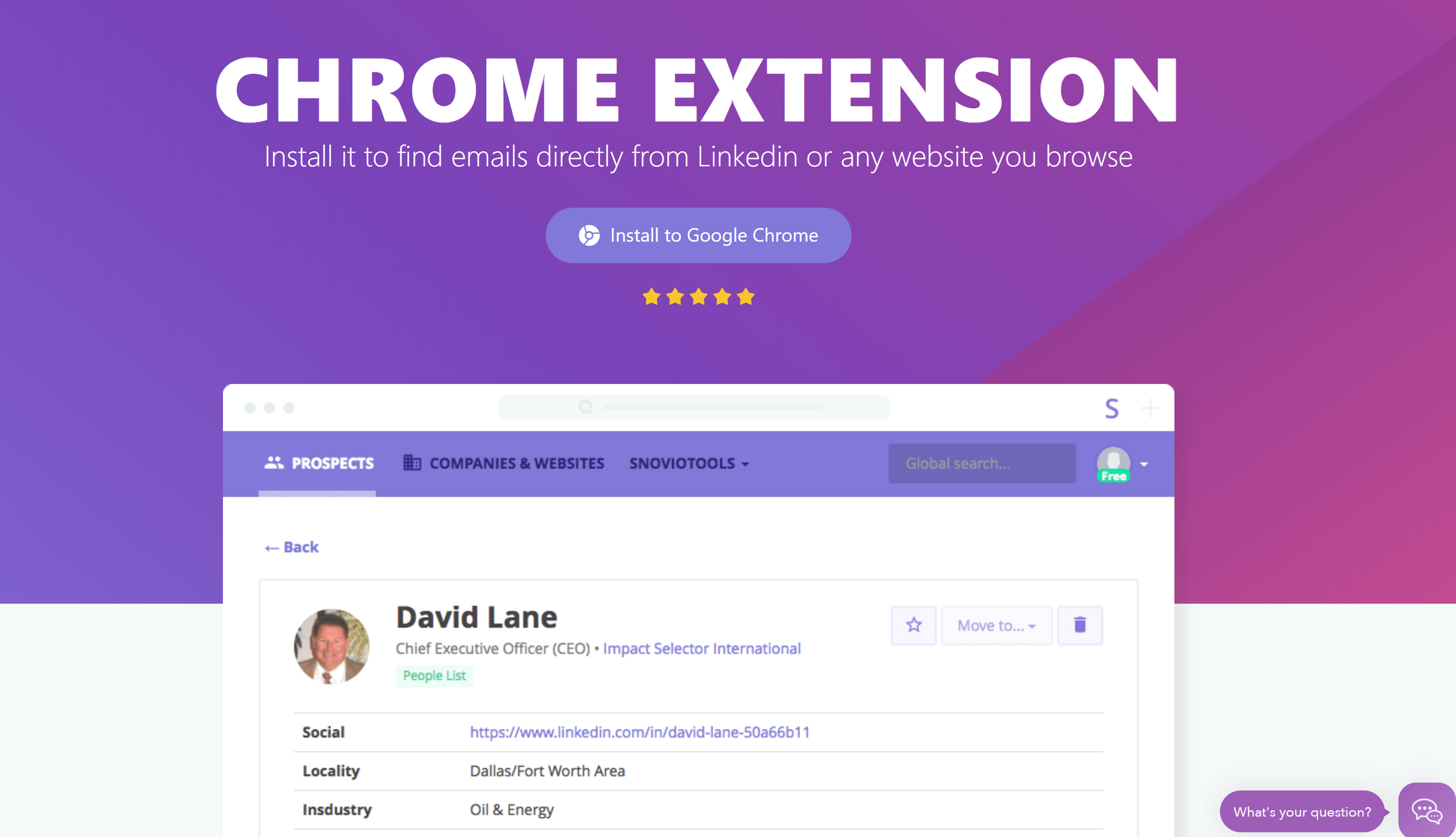 Snovio is a one of its kind software that takes advantage of blockchain innovation and incentivised contracting. Their developers are quickly trying to create a new and massive player in the lead generation market. Services that are all backed by blockchain technology from Smart contracts to trust scoring and rewards, all of these ensure trust and eliminate errors in fulfilling orders.
Client:
Snovio clients can easily and instantly access refreshed databases anywhere and anytime as you require them. You will get prompt notice of leads and stay up to date with the most recent data.
Patrons:
Contributors will be profoundly valued by getting a wage of SNOV tokens by offering your information as a giver. New client information will be refreshed dependably throughout your operations. The dissemination of tokens will likewise be straightforward.
Token:
Snovio offers users with SNOV Token that can be used for interior bookkeeping between clients, Snovio's platform, and its patrons. SNOV are ERC20 tokens with Ethereum blockchain. Tokens enable the platform to remunerate clients for including information.
Plans & Pricing
Snovio offers users the choice of 5 different plans priced differently according to the features and services they offer.

You can sign up for the free version and cancel anytime. Each order gives you 3% cash back in SNOV tokens! Visit the Snovio official website for more information regarding their software, features, plans, pricing and more.
Also Read: 
Conclusion: Snovio Review
Snovio has indeed taken a bold and innovative step in the field of lead generation as there is no other reliable software or online service to help you suffice this purpose. It is as mentioned earlier, the world's first decentralized lead generation service.
It functions on the efforts and hard work of a strong research and development team which provides you with a large number of contributors that can effectively solve the problems of lead generation, outbound research and more.
Their tools for domain and email research accounts for better and faster online outreach for expanding your business. Furthermore, you also get to search and connect with Freelancers and marketing experts as well. The concept of using SNOV token as credits is much more beneficial than buying credits with cash over and over again.
The overall generation of lead and source is very powerful and effective. You can also send emails for free to a list of prospects you get with the domain search. Altogether, Snovio is the best and only reliable solution for your lead generation worries!
Finnich Vessal is an experienced affiliate marketer, he has been into affiliate industry from past 5 years and living his dreams online. On Affiliatebay you can find posts related to affiliate marketing news, product reviews & trends in affiliate marketing.