In this blog, I am going to discuss SurveySparrow Review 2023.
What is SurveySparrow?
SurveySparrow, the world's first chat survey is an online survey platform that allows its users to create, distribute and evaluate responses to customer surveys through several channels. 
This platform also allows you to transform an ordinary survey into a conversation and make it more dynamic than ever before.
The conversational UI makes filling your survey a chat-like experience. Reports and statistics state that this has increased the rate of completion of surveys by 40%.
Apart from its seamless usage and evaluation process, SurveySparrow also allows you to share customized surveys with your target audience efficiently, through the share button.
Surveys can be shared via multiple mediums like, wed, social media, e-mail, and of course mobiles.
SurveySparrow aids teams, big and small to refine every interactive experience.
The platform strives to give customers and organizations the efficiency that comes with choosing SurveySparrow as your survey partner.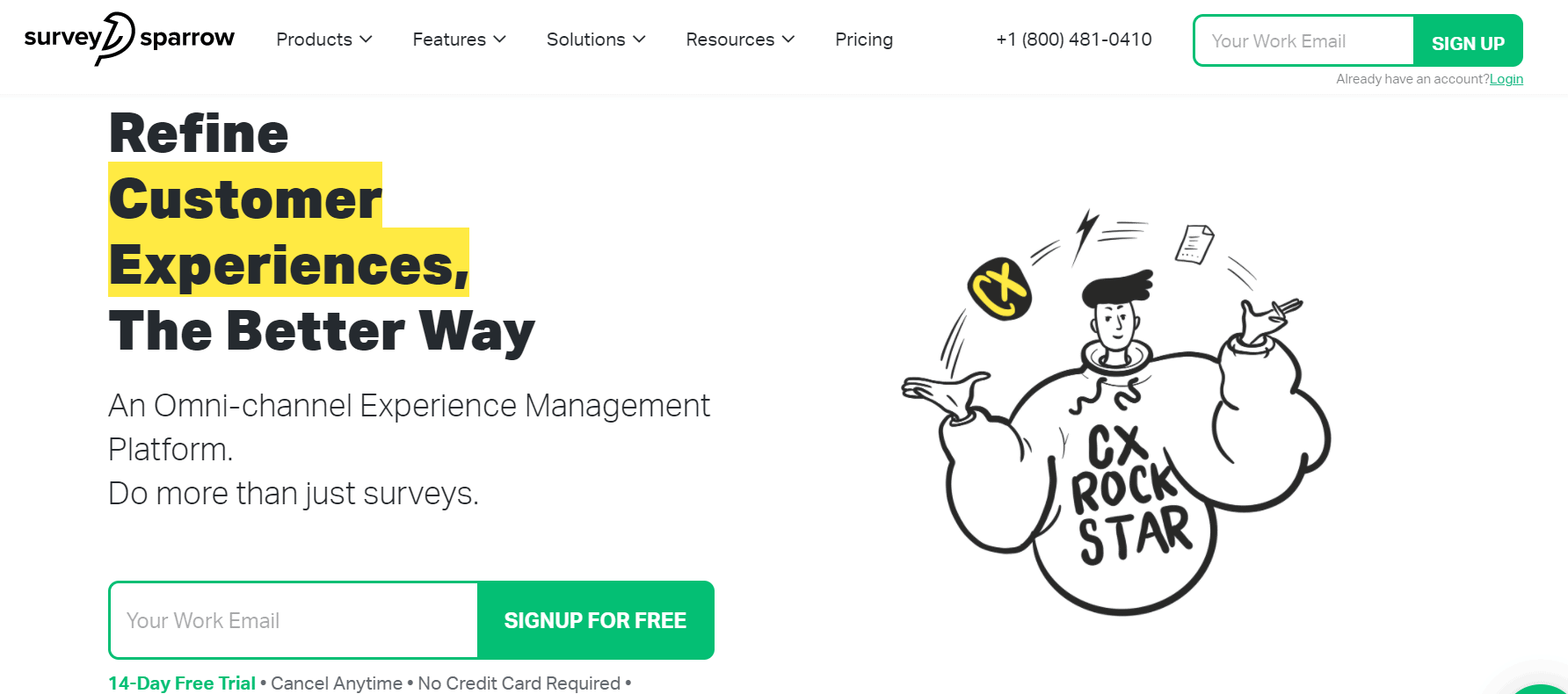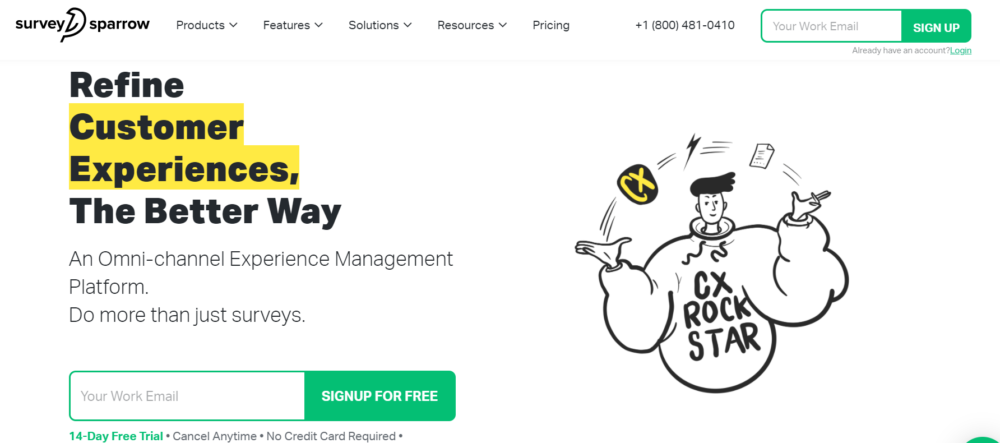 Delving Deeper into Features of SurveySparrow
1. Conversational Survey
SurveySparrow has the first-mover advantage when it comes to conversational surveys. This unique feature adds a personal touch to the impersonal act of filling a survey.
 2. Analyzing Results
You can get an overview of all your responses via the dashboard available on SurveySparrow to gain deeper insights into the responses received.
SurveySparrow also offers a graphical representation of your report and provides useful info-graphics to help study the results of your survey with efficiency.
The platform also allows you to download the responses received to look at them at your leisure.
3. Recurring Survey Feature
This is a feature unique to SurveySparrow and enables users to automate the server to send out surveys at regular intervals of time.
This helps employees and organizations save time and resources that would otherwise be expended in manually sending out surveys.
4. Offline Surveys
This feature allows the audience to complete the survey internet-free.
This enables organizations to avail of participation from the remotest areas in the world that do not have access to high-speed internet.
The offline survey app acts as a kiosk for data received through the offline method.
5. Multilingual Surveys
This inclusive and multilingual feature allows companies to reach out to multiple sectors of society.
Users have the freedom of choosing a specific language and availing of the translated survey in the language of their choice.
It also allows for a multicultural view of the topic in question.
6. Ensures Security
SurveySparrow is a platform that is GDPR & CCPA compliant. It also has IP whitelisting, SSO for organizations, and custom SSL.
Organizations can control the usage & view of their SurveySparrow account and control permissions for different teams using Roles & Permissions.
7. Intuitive Interface
Due to intuitive UI, you don't have to wait for months to set up your experience program, spend large sums of money, or wait for consultants to familiarize you with the platform.
This also ensures everything happening on your dashboard is life.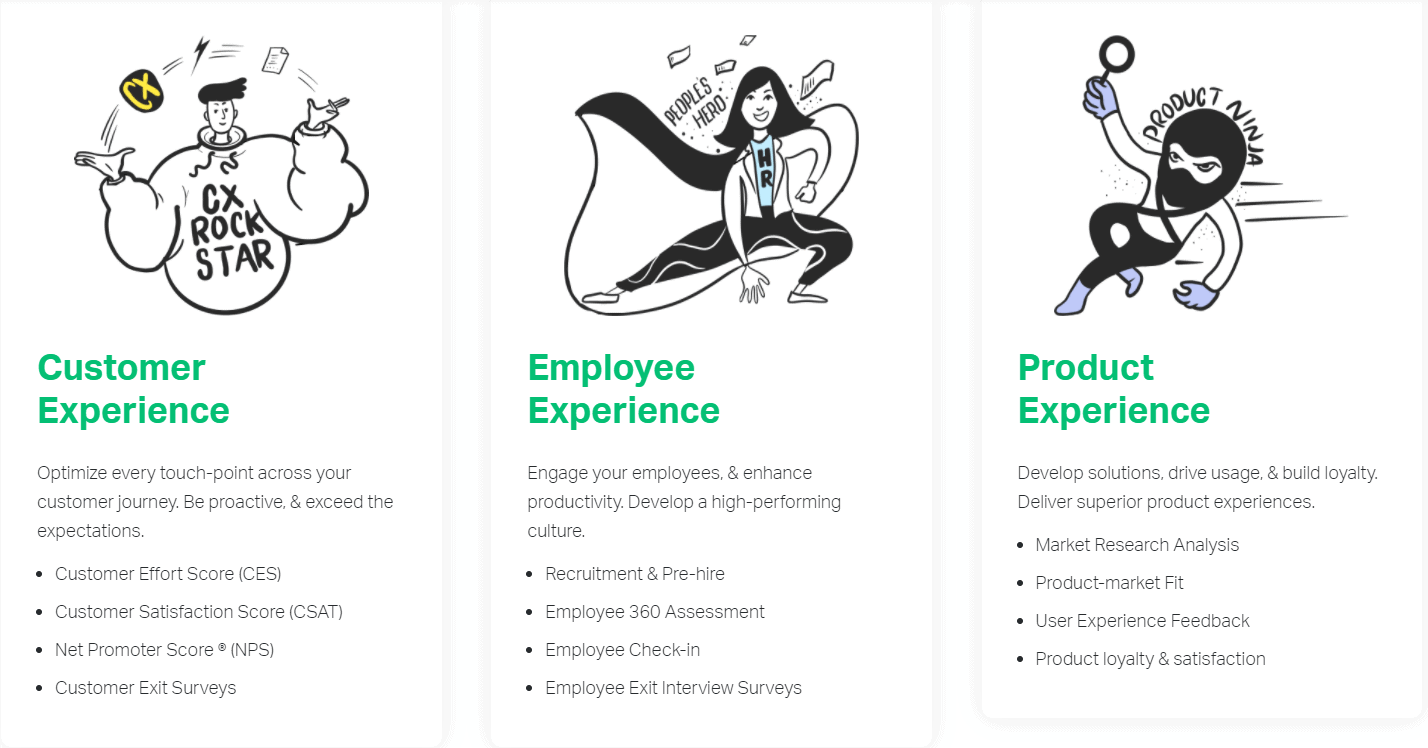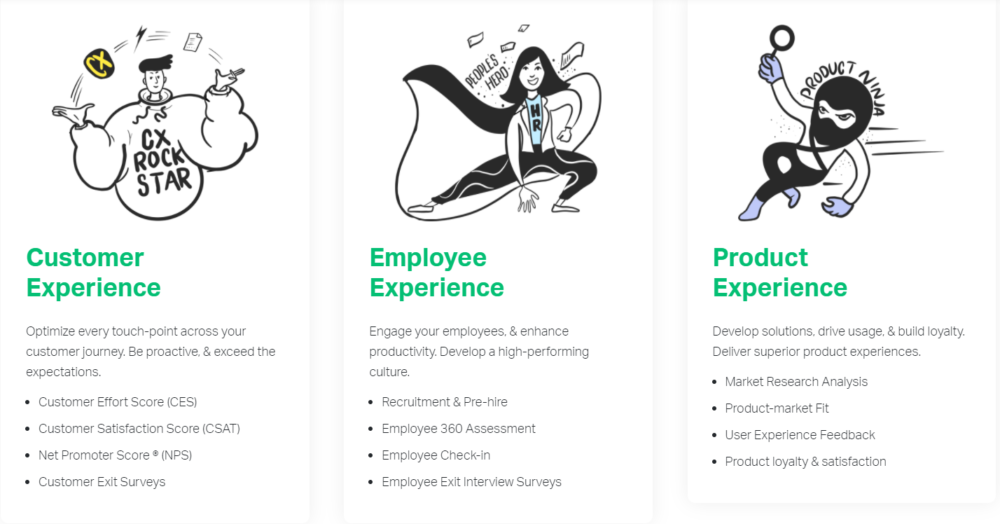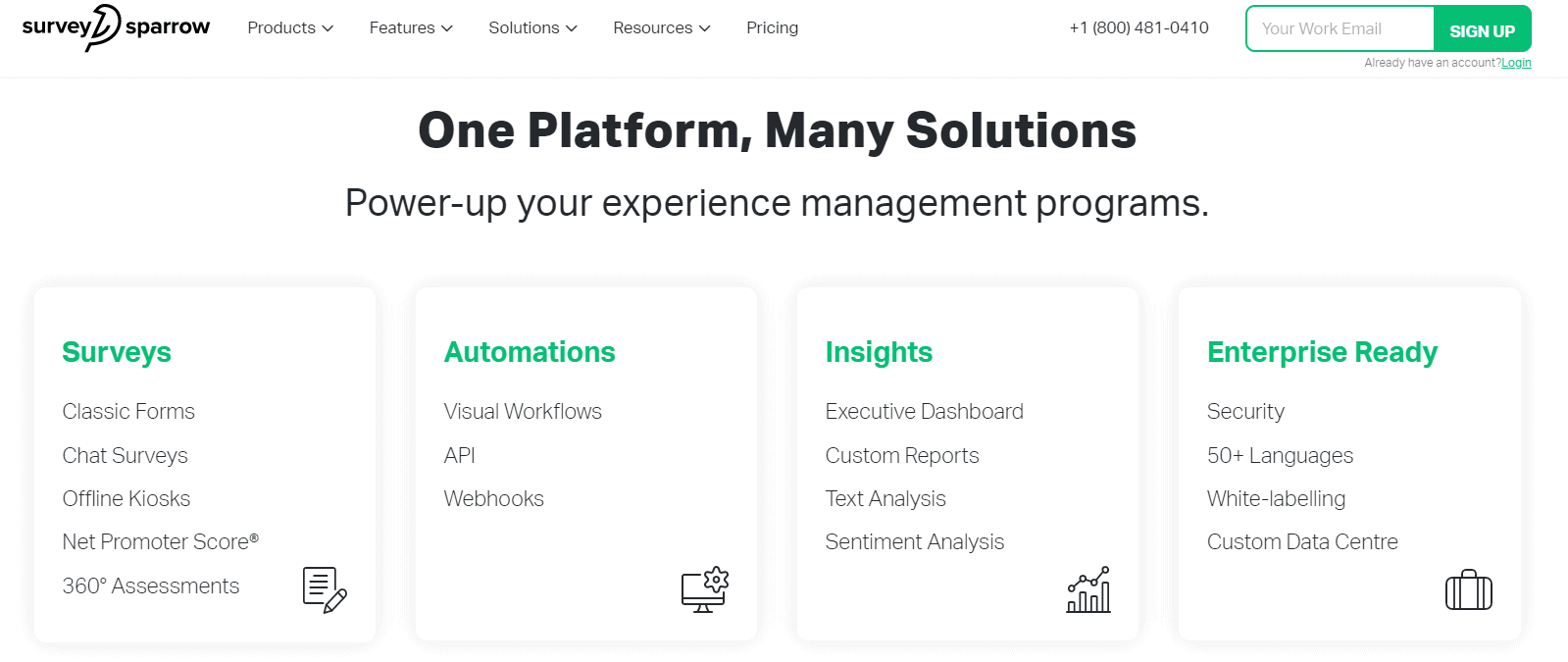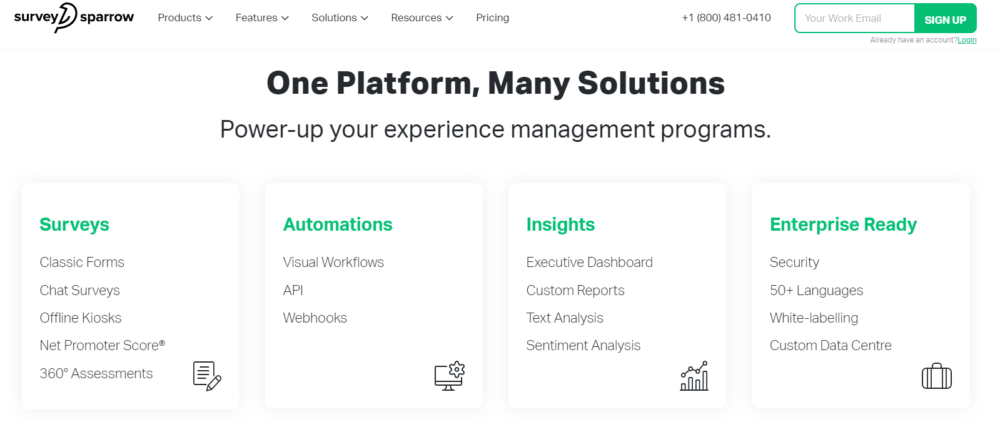 What sets it apart from other Survey Platforms?
Sparrowsurvey is a platform that provides us with a perfect blend of the traditional nature of surveys with a modern style attributed to it.
What makes it different is the conversational style that makes it personalized for the former. 
The conversational style makes the survey process more interactive and user-friendly than a standard survey form.
Survey Sparrow makes the data collection fun and useful which makes the clients interested in the survey process.
There is Availability of various design outlets and also provides customized solutions to the respondent.
The simplicity and ease to create a survey make it even better.
There are readily available survey form outlines for pre-requisite and it is simple to create a customized survey panel for your customers and employees.
Survey Sparrow provides a considerable amount of tools and controls much better than any other survey website.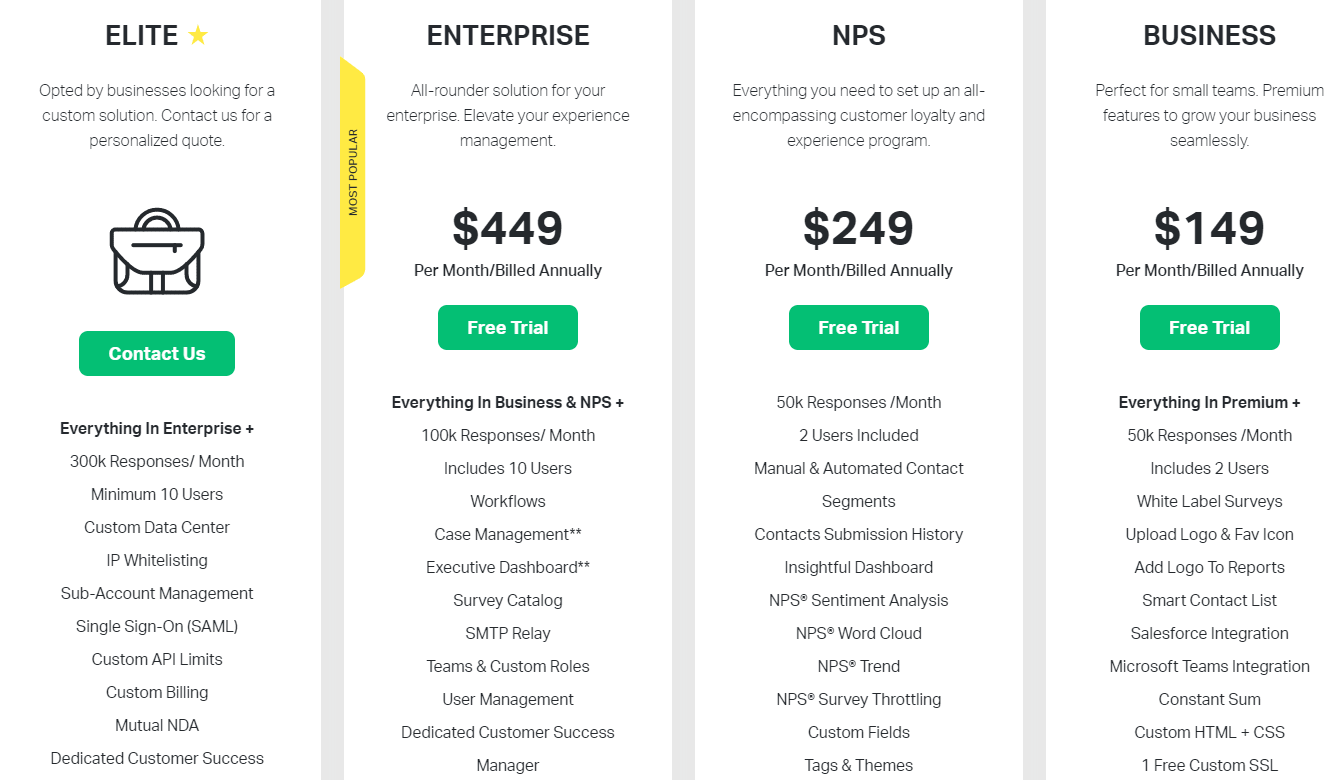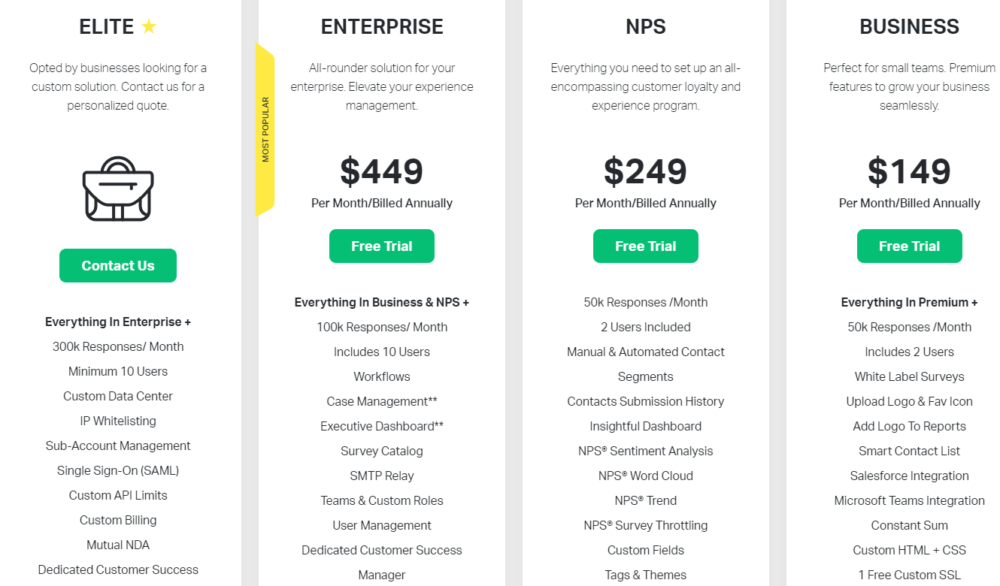 FAQs | SurveySparrow Review
🤷‍♂️Does SurveySparrow have a refund policy?
Yes. SurveySparrow has a refund policy. The policy states that users will not receive a refund if the services are terminated midway through the subscription period. One is however eligible for a refund if there is a breach of Terms and Services from the team.
🙋‍♀️Can SurveySparrow be integrated with Google Sheets?
SurveySparrow comes with the function where once you integrate it with google forms, all the data gets recorded and tallied into a Google Sheets document and then directly onto Google Drive.
👉How to stop a live survey?
Since SurveySparrow comes with the unique feature of a live survey, it comes equipped with features to stop the live survey as well. All you have to do is choose the link from your email, social, or weblink, and simply pause the link. If you want to delete the link, select the link and press on the delete icon.
Quick Links
Conclusion | SurveySparrow Review 2023
SurveySparrow acts as a great platform for businesses to conduct surveys and interact with their customers with it seeming like too much of a task for the customers.
The interactive forum allows for the surveys to be carried out in a chat-like format.
The conversational style that the survey goes through, makes the survey more enjoyable, interactive, and is more preferable to the customers.
There are more genuine answers that are being extracted from the aimed audience through this style of surveys as well.
Although the services may seem slightly pricey, they do come with a lot of benefits and features that you may not find elsewhere.
With regards to the pricing structure, there doesn't seem like much that is different between the NPS Package and the Business Package. 
Some also say that since it is an entirely alien approach to the survey-taking process, it might take a while before you get a hang of running the software.
This being said, once the initial phase has passed, the process is a smooth sailing one.
Apart from that the software seems extremely efficient and is truly doing its job at delivering what it promised, that is, loyal customers.