I have shared a detailed Tai Lopez Course Review 2021, which covers detailed online programs, including The 67 Steps and SMMA Course.
Are you fed up with those advertisements on social media promising you to get a solid step for you to make you get a good business opportunity to make good money? 
Have you ever wondered about millionaires and their way to success? Among these millionaires, have you heard the name of Tai Lopez and wanted to know about him and his success more deeply?
Then you are exactly in the right place, where you can get to know my detailed Tai Lopez review and learn his wonderful steps towards a successful life. Well, I thought to give you all a review of him as I have experienced his paid program.
I am dead sure that you might have heard of him as one of the business mentor and personal development coach.
Tai is quite famous for some of his advertisements on YouTube, like the "here in my garage" advert or the house tour on Facebook.
However, his habits of ranting and showing off have got him on the wrong side of people. So yes, you are not wrong and alone in questioning the credibility of his courses.
In this article, you will see my point of view about Tai Lopes and learn a lot of things about him and his programs too so let's get started with the review.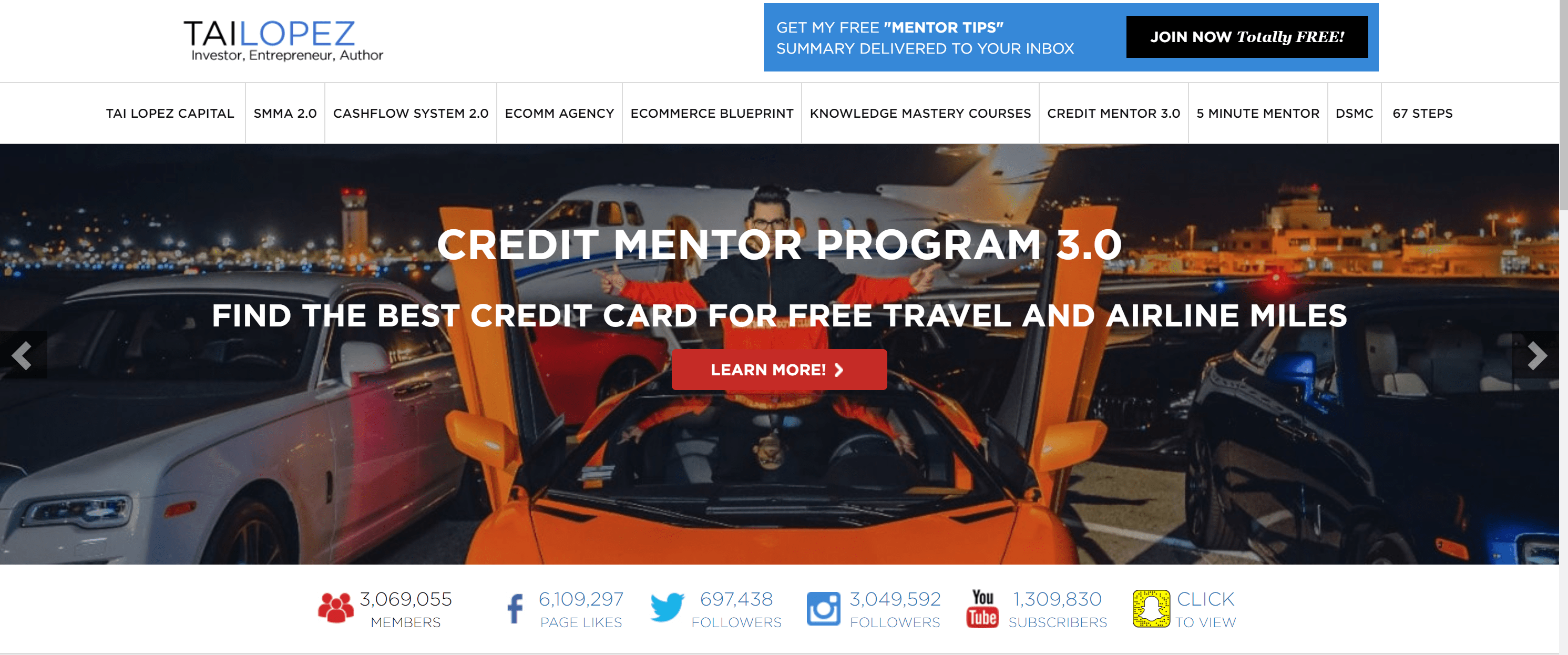 Tai Lopez Course Review 2021: Should You But It?
Before becoming a hit on the Internet as a social media influencer, he also has his own story of rags to riches. Today, he is amongst the most influential personality development gurus online, an entrepreneur as well as an author.
Tai got famous back in 2015 when he used YouTube ads to generate traffic.
Also, he is famous for most of his courses such as Tai Lopez's Social Media Marketing Agency Course, How To Make Money Online, and the 67 Steps Course.  He had many successful investors, mentors who trained him, and so he learned that success lies in good mentorship.
Before he invested in the dating industry on the Internet called the "Elite Global Dating," he was a part of the salsa nightclub business.
He also owns Mentor Box, which is among the largest book shipping clubs all over the world. His motto in life is, "Everybody wants a good life. But not everybody gets a good life."
So, after hearing much about this guy, I decided to purchase the course, and here is my honest review of Tai's program.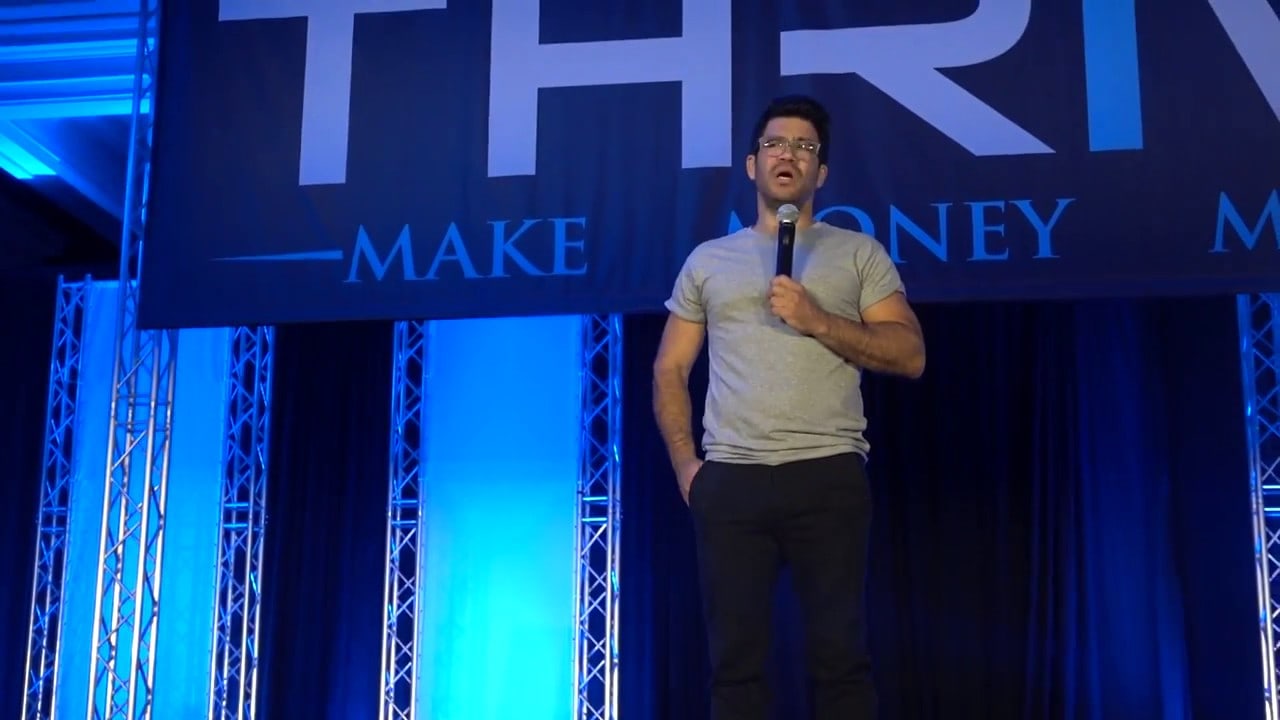 My Review About Tai Lopez Course:
There is a disclaimer on his site, which indicates that Tai is offering his guidance, and the earnings vary from person to person.
In short, you will get according to what you invest your money in, just like the other things in life. When I read about this course, I decided to give it a try.
But, I wasn't willing to invest a large amount of money in such courses. I dropped a mail to the customer support team and they were responsive.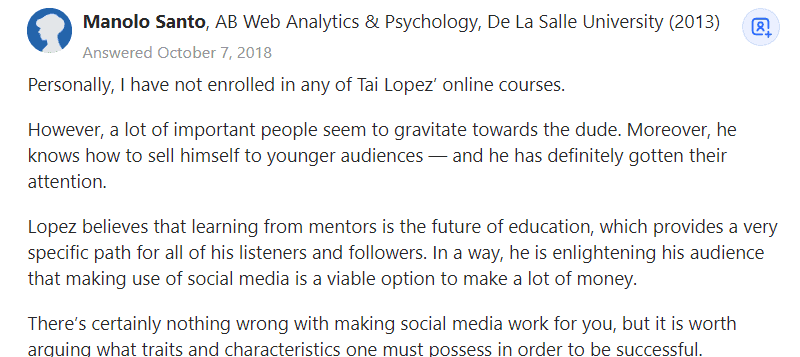 It didn't take much effort to bargain and they offered me a discount on Tai courses.
Here is the list of courses that I tried.
1. The 67 Steps Course Review
I was searching for some courses to gain some knowledge and I came across the 67 steps video learnings, where Tai teaches some lessons of his life he has experienced to gain success by keeping the balance within himself and he also taught me the meaning of social life and personal life.
I would like to give you some of my personal review about this program and what I've learned from the 67 steps program and how it has affected my life. 
So, here are my brutally honest thoughts on the 67 steps program. I tried a 3-day trial for The 67 Steps Program by paying $1.
After 3 days, I purchased this program for $7 for a month.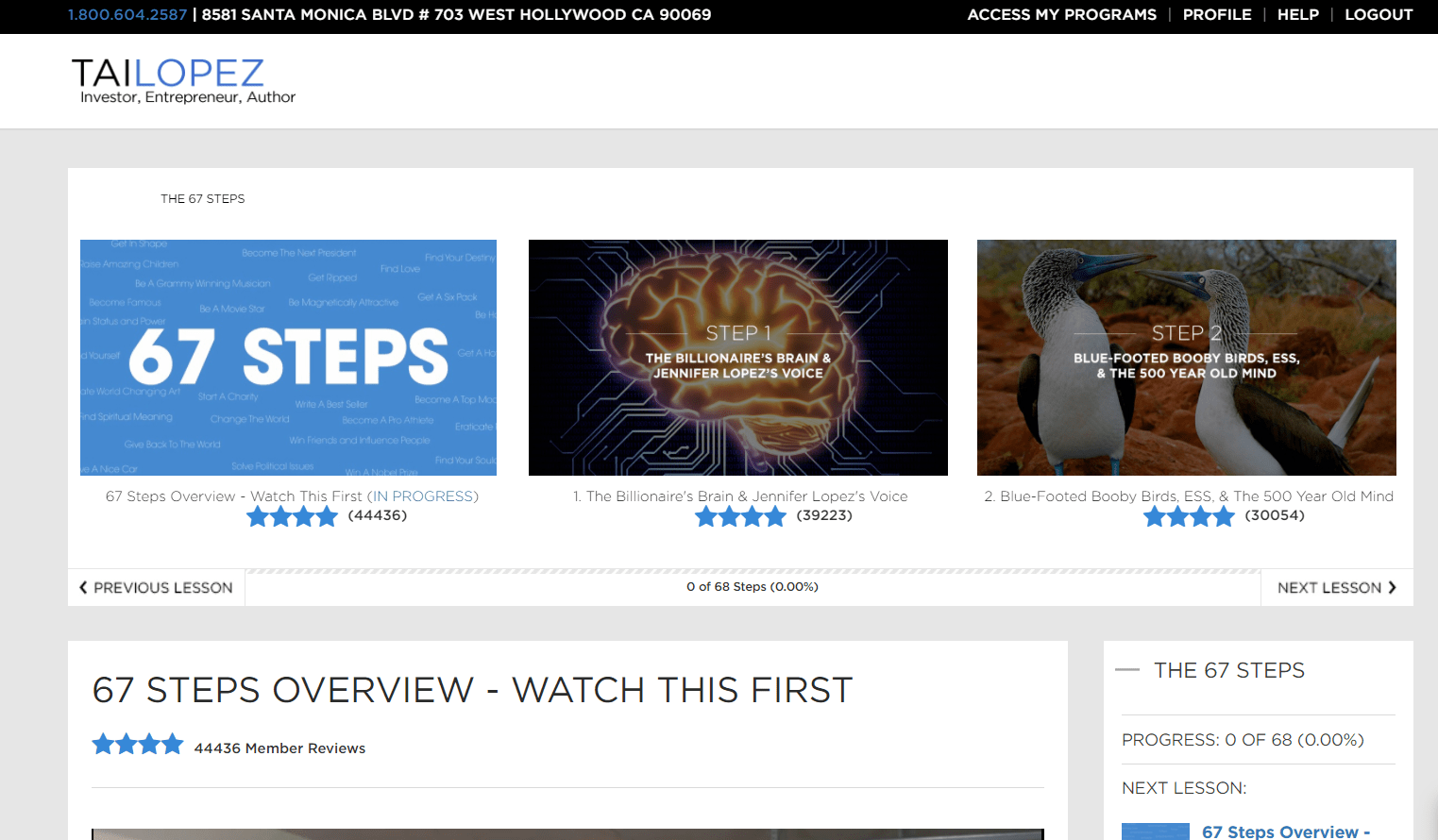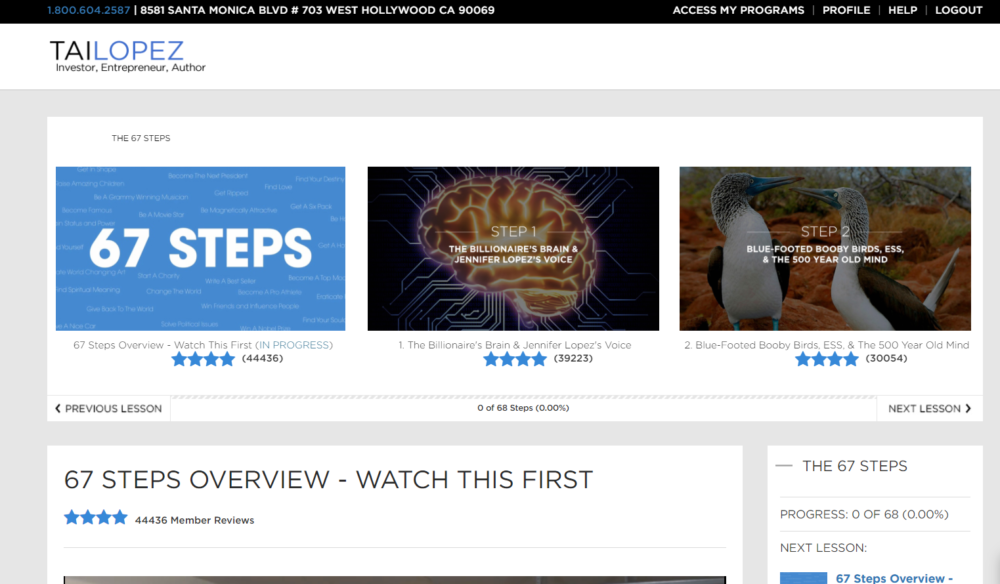 All these lessons have been compiled into the program "The 67 Steps" which includes the life lessons by successful business people. Tai recommends some of the life-changing books which will change your ability to think about life.
It includes teachings from some well known and famous personalities like Bill Gates, Peter Drucker, Gandhi, Charlie Munger, and various other successful people.
With 67 steps, you get a minimum of 30 hours of videos and another 100+ hours of bonus content. It is surely worth the money spent in terms of the bulk of the matter you get.
Also, beneath each video, there are questions that have to be answered in order to mark that particular lesson as completed.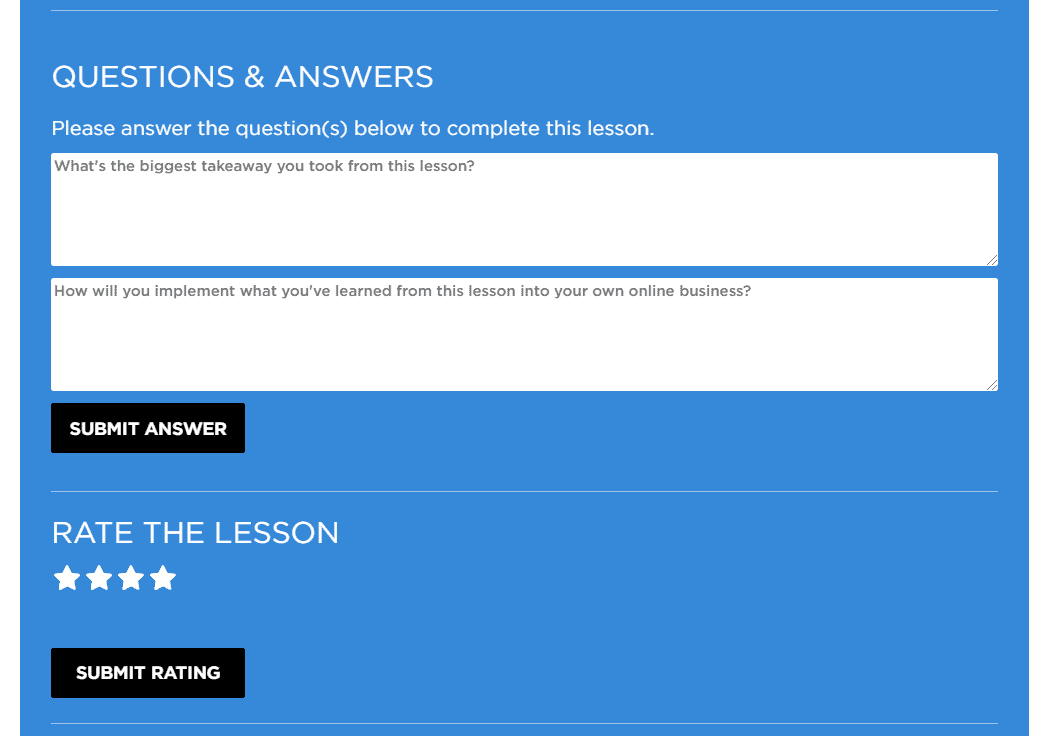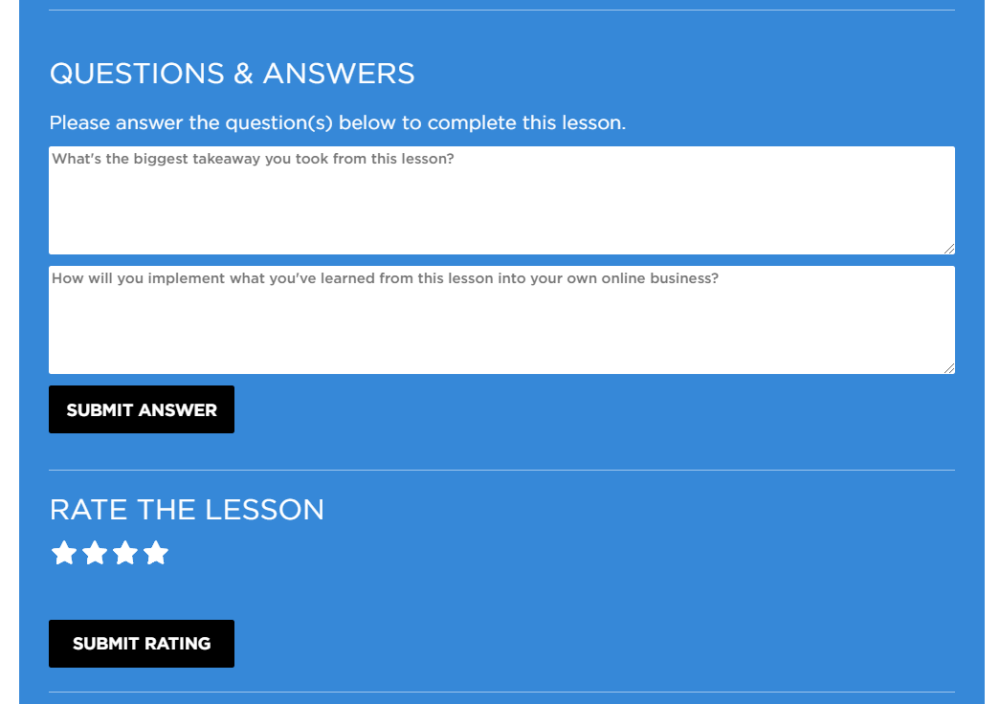 The lessons that can be absorbed from the video series give you a lot of valuable insight. However, to reap the rewards, you cannot just stop at learning, but you must also act towards achieving the goals.
The 67 Steps Program offers a 30-day trial available, but if you get enrolled in the 30-day trial, then the only way to cancel the subscription is by asking their customer support to do it for you.
The best way to contact the support is through live chat.
Why You Should Go For 67 Steps Program?
Unlike other programs, the 67 steps program is a lot more heavy and detailed. It gets in deep and focuses on every little thing you need to know relevant to the course.
67 is a big number in itself so you can expect this curriculum to be a little heavy on your mind with a variety of novel ideas and insights into common and uncommon situations. Loads to learn if you're up for it.
Viewer-friendly format that aids memory
Almost all the videos are of Tai Lopez looking straight into the camera and talking for 30 minutes. He tells his experiences and the lessons he wishes to share with you in a very informal, story-telling sort of format which makes it interesting for the viewer and very easy to remember as well.
Since there is a very personal touch to the talks, a lot of viewers like the 67 Steps program and feel like he is talking directly to them, giving them personal tips and suggestions on how to get what they want in life.
Revision after each session
After each lesson is over, there is a series of questions that have to be answered. Without this, the lesson will not be considered complete.
I think it is great to aid immediate revision and make sure you have understood the lesson before moving on with the next one. A thoughtful strategy indeed.
Since it is one person talking about absolutely every experience he has ever had or every book he has read and what his mentors have told him, it is a curriculum filled to the brim with new perspectives, ideas, and thoughts.
Which can be quite a handful if you are not prepared for it. But if you look at it positively and are a very dedicated learner, then all these will only benefit you for sure.
Since he is such a huge success, his stories will make a lot more sense to you as they won't sound like just preaching. He sure does practice what he preaches.
The 67 Steps Course offers more than 100 hours video of material content. This includes 30 hours of the main material and then the rest added in the bonus part of the curriculum. So much for one price; that means the value for money is in your hands. Cool, isn't it?
2. The Mini MBA Program: Knowledge Society
Tai's Mini MBA Program provides unlimited access to various courses related to entrepreneurship and career development.
It is available for just $9.99 Per Month.
The program consists of many videos in addition to live question and answer sessions that are held weekly.
Here is what all you get when you subscribe to the program:-
33 Videos: It is an on-demand course matter, which you can go through at your own pace. I recommend you to go slow and to try to capture every learning that is given in each video. All the videos are approx of 45-90 minutes, each focusing on how to become an entrepreneur/investor.
Millionaire Mentor Interview Series: It gives you access to interviews with people who have made their dreams come true and have reached higher than $10 million. Thus, learning from their experiences teaches you a lot more.
Community: You get direct access to a private community that includes budding entrepreneurs and business owners who are also a part of the Mini-MBA program. Thus, interacting and sharing with them gives a clear understanding of many topics.
Though the videos are quite informative, there is a lack of proper structure in the program, and the focus is on just the basics.
However, it would have been outstanding in case there was a clear structure, and if the curriculum would have offered better learning and more tangible knowledge.
However, it is good for beginners and for those who wish to learn.
3. Tai Lopez Social Media Agency Course: SMMA Course Review

Tai's Social Media Marketing Program gives you a lot of insights on how one can set up their social media marketing agency and also earn while traveling!
The full curriculum is divided into four phases –
Phase 1 – Explains about Business Set-Up.
Phase 2 – Is all about Mastering Social Media
Phase 3 – How to Acquire Clients?
Phase 4 – Explains the aspects of Automating, Servicing & Building Your Team.
Along with all of these, there are dozens of bonus lessons, hundreds of archived monthly live calls, and also an active Facebook group. As you sign up for the full program, you get access to the 64+ hours of material which has video lessons from different teachers.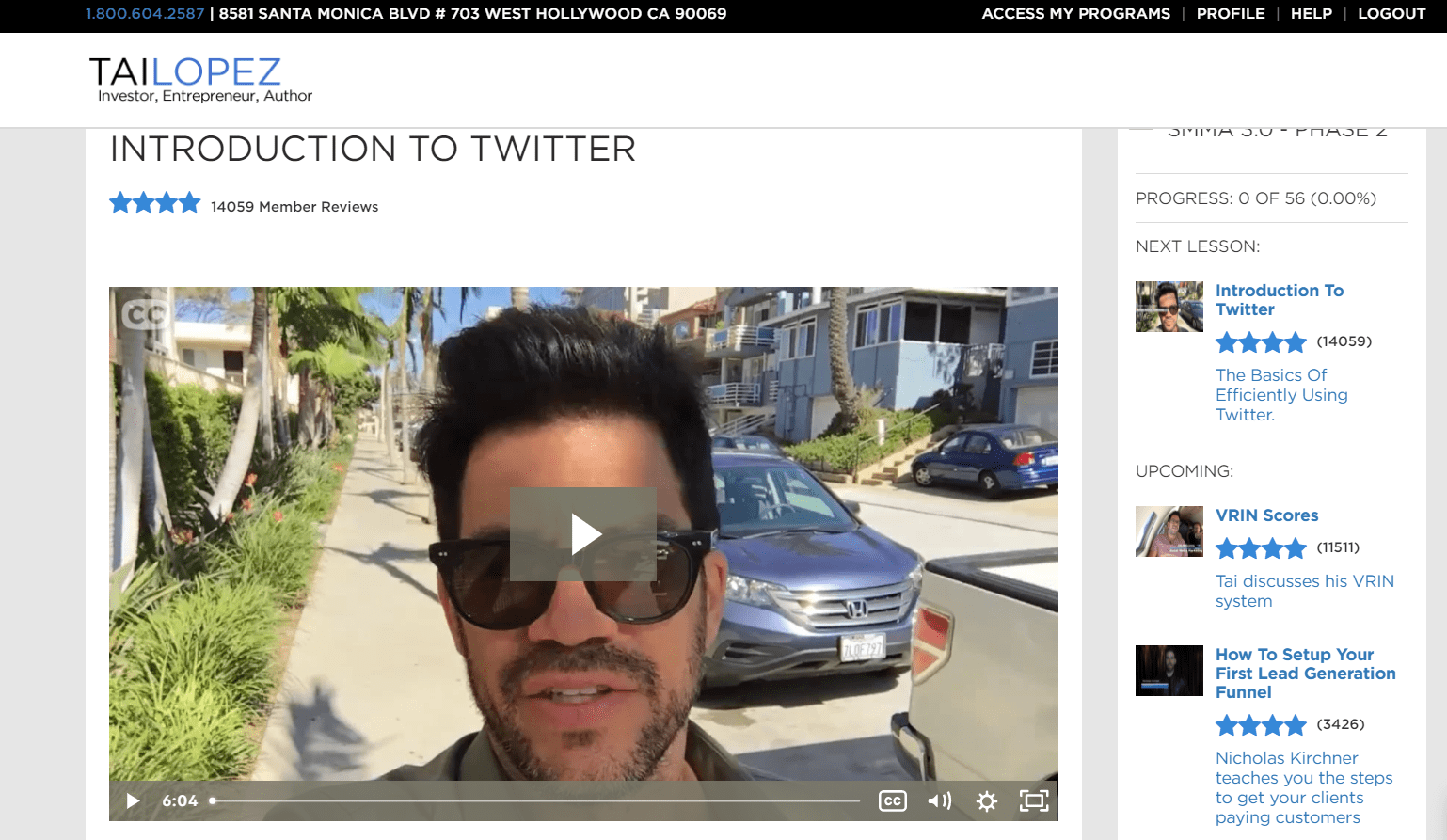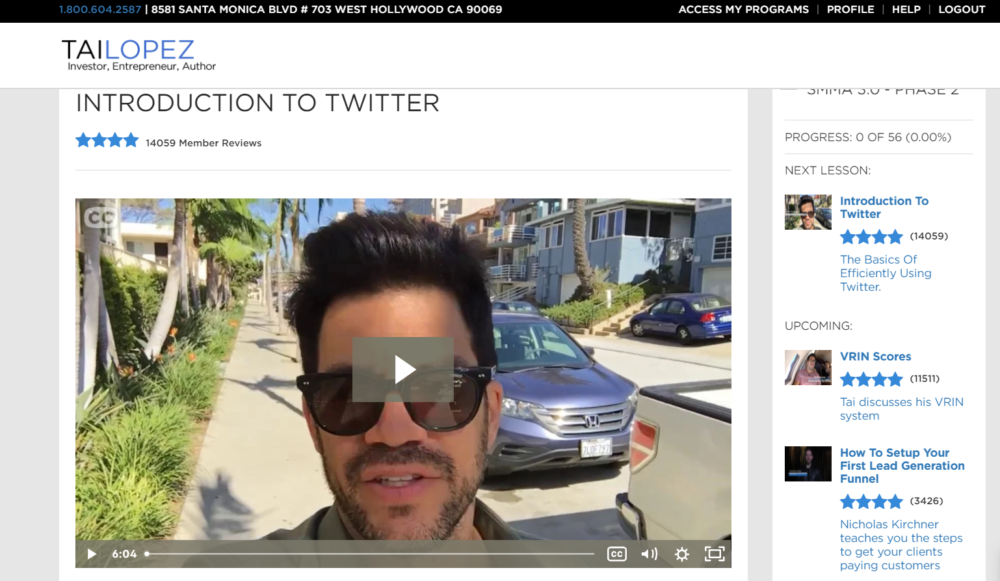 The only thing you don't get access to automatically is the Facebook Group. For joining the group, you need to write an email to their support team. They shall do the needful. In my case, they took sweet 3 days to reply!
The point to be noted here is: this is unlike the 67 Steps course, where the entire curriculum is taught by Tai Lopez, this course is taught by different teachers who are experts in their fields.
In just 4 modules, I could count 34 different teachers, and a dozen others came for the bonus sections and on the archived video calls. Henceforth, I lost my count.
Also, the Facebook group is pretty active, with more than 22,000 active members who post dozens of informative posts daily.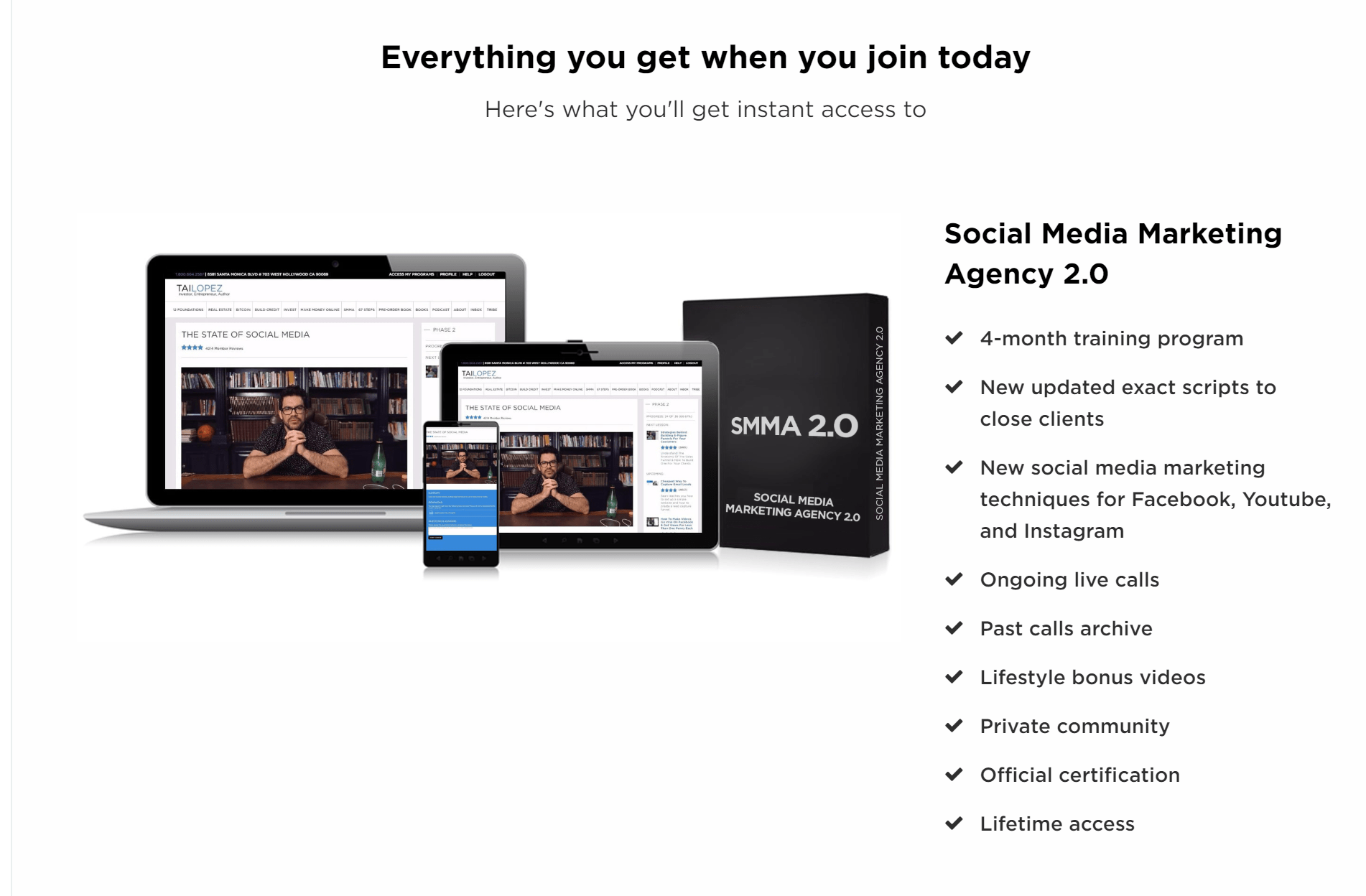 There were some issues that I found in this program that I would like to highlight here as well in my Tai Lopez SMMA Review:-
SMMA 2.0 is not as structured as the previous version. Here, you will find 2 or more teachers covering the same topic, and sometimes they happen to contradict each other too.
For instance, I found Peter Wang recommended to develop your website on Squarespace or Weebly, while Sean Vosler was seen recommending Wix for website development.
The content was originally created in 2016, but we all know how fast the digital world is evolving; thus, most of the program content is outdated now.
For instance, you find Tai still talking and discussing iPhone 7, which is outdated, isn't it?
Also, there is no provision of a refund in this program, if you are unhappy after the subscription.
Once all the courses are completed, you get an "official certification," which is the selling point of the course.
I do recommend SMMA 2.0. as I  yet have to come across a program, which offers you such training from field experts with an active private community.
Why You Should Go For SMMA 3.0? 
Here you get a chance to discuss and share with like-minded people. There are daily interactions that help you find the answers you are looking for and help you in more ways than you can imagine.
It is easy to connect with people here and the community as a whole is very united and like-minded, like a big, fat family.
This program covers everything under the sky about social media management. Right from understanding exactly how social media marketing agency works, to striking your first deal and dealing with potential clients, everything is covered here.
Also, the material is updated regularly and includes all the latest techniques and strategies. This is the perfect program if you need any sort of help or advice regarding boosting your business and getting more clients.
You can watch the video tutorials anytime you please and with the downloadable scripts, you are always accessible to learning.
This saves your time and energy spent in collecting relevant information from different sources all around when all you need to do is sign up for this program and get all those benefits in one place at your convenience.
Responsive customer support
The team members are available and more than happy to help you whenever you might need them. With this program, you get priority access to the staff team for solving any of your queries or answering any questions you might have during this program.
Knowledge from multiple experts
The curriculum will be taught to you not just by Tai, but instead by many different digital marketing experts. So you get the benefit of all of their knowledge combined packed in one course.
There are almost 34 teachers throughout the 4 modules in the program and around 12 more in the bonus section and also on live calls. Absorb from their perspectives and make the most of their expertise all in just one place.
With this program, you get access to the state-of-the-art and improved, updated library along with lessons in Sales, Marketing, and Persuasion available for the limited bonus edition.
4. Mentorship Program 
I had heard a lot about Tai's mentorship programs where he shares the secrets of becoming a billionaire. As I navigated, I found three useful curriculum modules; The Business Mentorship program, Millionaire Mentorship Program, and the Credit mentorship program.
I had already read about the Millionaire program in his 67 steps Millionaire module, so I decided to try the credit mentorship program.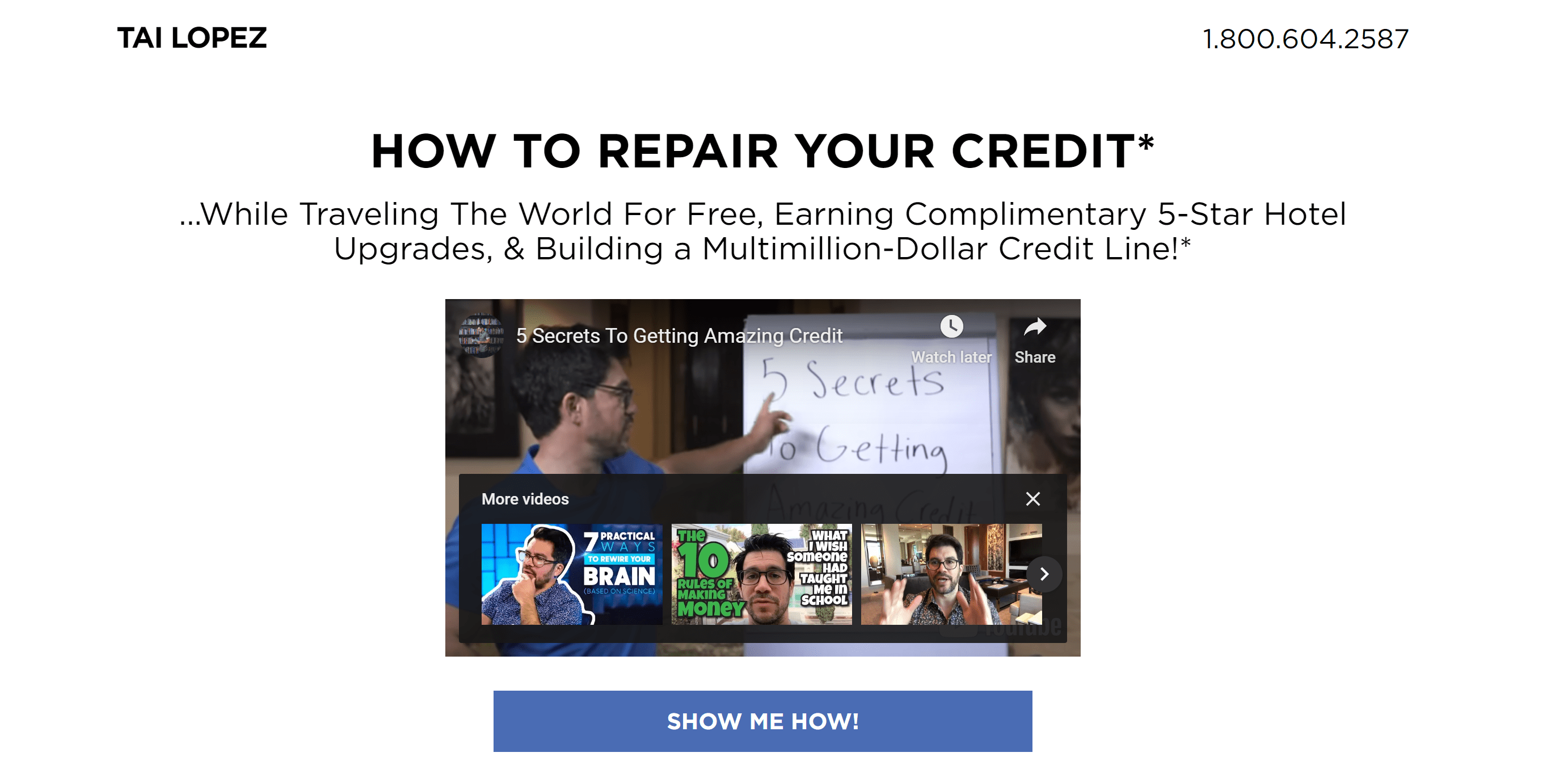 A credit card comes with a lot of hidden redemption points and benefits, which most of us are not very aware of.
We all know that we need a good credit score. But how does one ensure that the score is good? What steps and measures must be considered to get a good score?
I recommend you to check out the Credit Mentor course if you wish to learn all about the credit card, how to use points, how to improve the score, and how to use it in a way that is beneficial to you.
I did it myself, and I must tell you, I can use my credit card points effectively now.
Don't let them go waste like you have been doing for years.
Tai Lopez Credit Repair suggests that you will learn the following things from this program,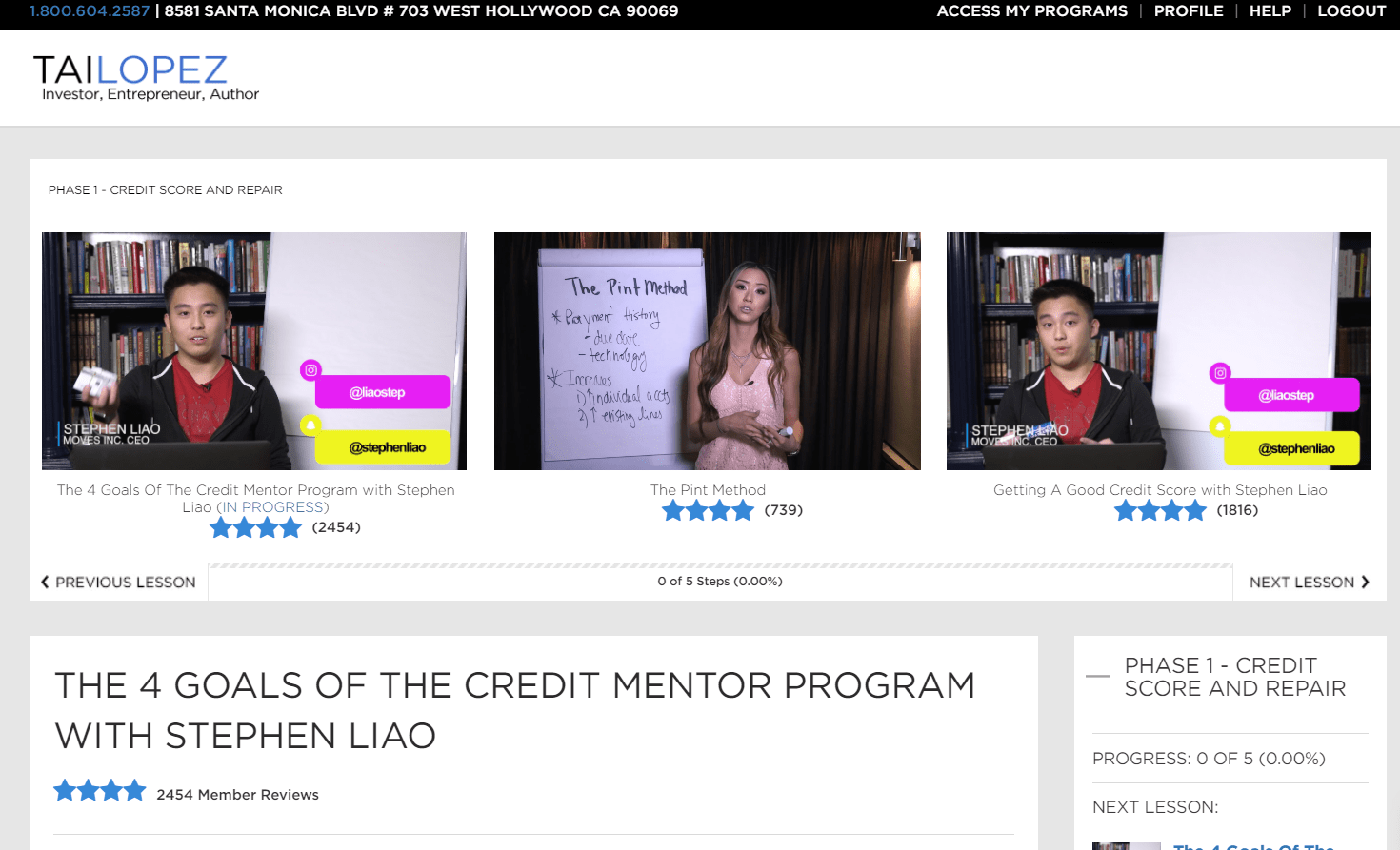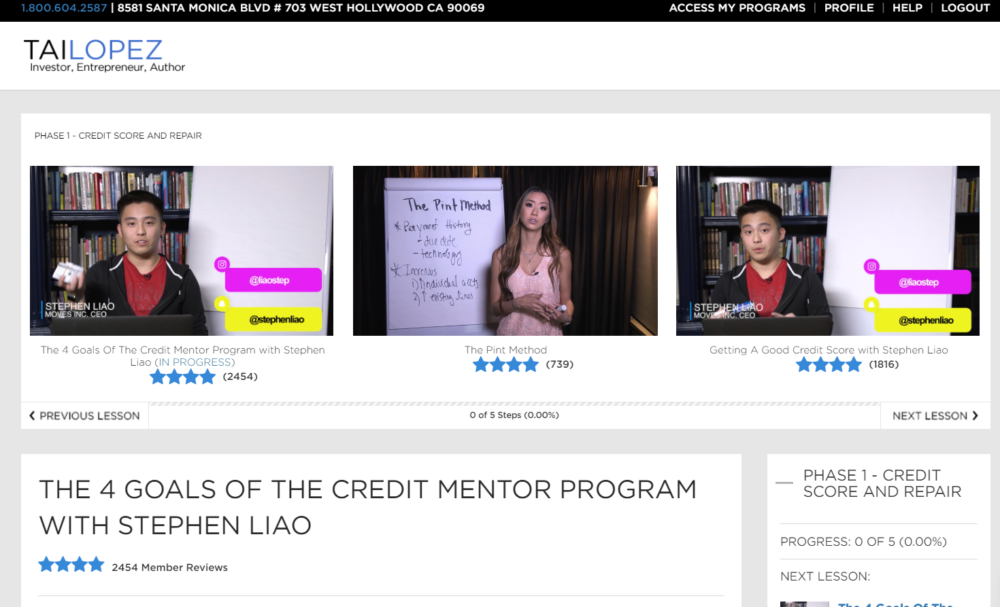 Collect more reward points and earn more cashback value.
Travel free, who doesn't want that?
Unlock and use the "Secret Credit" advantages.
I also learned how to apply the strategies myself by going deeper into the insights taught and discussed throughout the program.
I strongly recommend this course to everyone who uses a credit card!
Why You Should Go For Mentorship Program?
This program offers new and practical information every single day. So although the tutorials are for just 5 minutes every day and you might feel that what can be covered in such little time; you will be pleasantly surprised to learn something unique and novel every single day.
Crisp and straight-forward material
In just 5 minutes of duration, the material must get straight to the point without beating around the bush. This is exactly what you can expect from this program. Absolutely crystal clear information with no dwindling.
Just hell-bent on giving you the most of available information, anytime on the go. So you can go through with this at any time of the day right from when you've just woken up, to when you're stuck in traffic.
Trust me, with such easy to consume information, all you will see are the benefits.
Accessible on all devices
You can access the video tutorials in the member's area using any device that connects to the internet. So no restriction and full freedom to view on the move.
Tai's very own personal lessons
You can get to learn everything that Tai's mentor taught him years ago when he was about to start. It's always great to have an inspiration, isn't it?
With these videos, you will get to view some of the most successful people globally in various industries. That's a lot of experience in just 5 minutes.
This is similar to exercise, which only benefits you if you do it every day. Similarly, with new knowledge and information given to you every day, you will get a boost and your mind will expand creating new thought processes due to a large array of topics being at your disposal.
So it aids in consistent learning making full use of those 5 wholesome minutes of your day.
Archived videos help in reviewing and revising the previous lessons and not just moving ahead without fully understanding the matter taught the day before. That is a huge thing when it comes to learning anything I'd say.
5. Tai Lopez Ecommerce Course: E-commerce Blueprint 
E-Commerce Blueprint course discusses how one can build a successful E-Commerce venture successfully. This teaches you the basics of making money online with the help of E-Commerce.
Tai insists that this program isn't a dropshipping one. Now the only thing where negatives lie is in the refunds.
This program helps a person build a brand and teaches you how to have loyal customers. It teaches you how to resolve fulfillment issues.
Once you purchase this course, you can download the E-Commerce Blueprint PDF as well.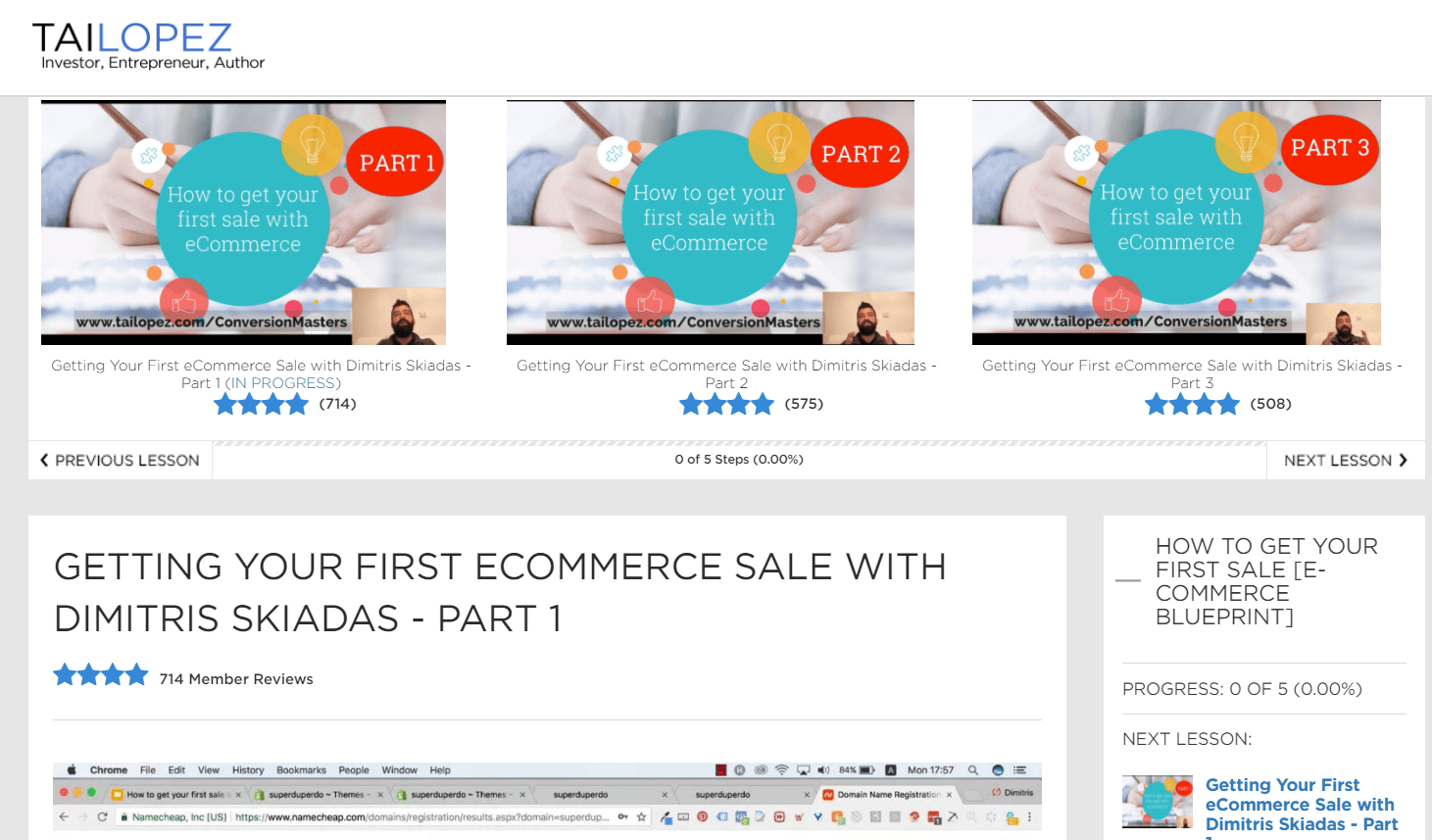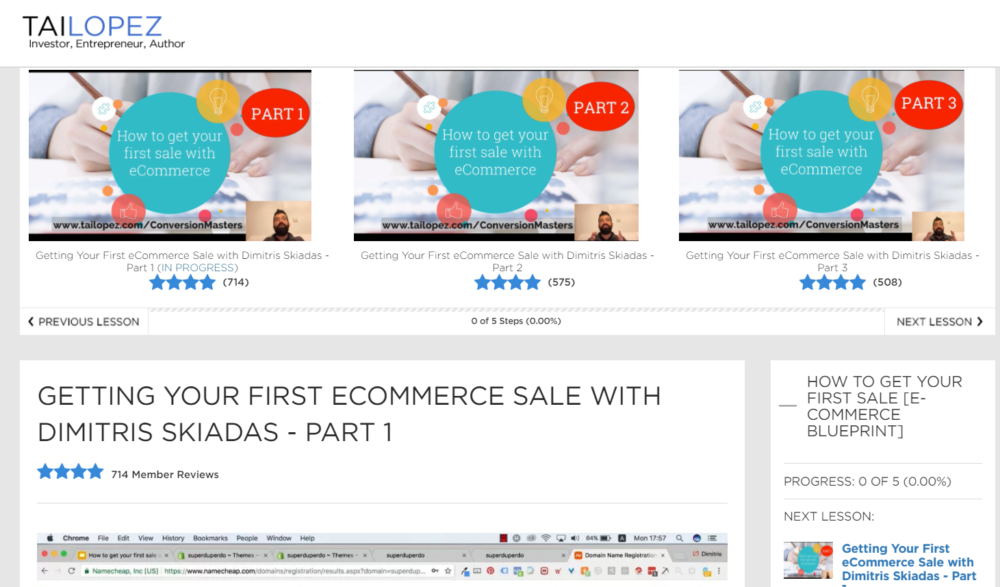 How Does Tai Lopez Make Money Online?
The main reason why I follow him and his principles is that though he might be a business guru to many people, I find him to be an expert and a genius in social media marketing as well as internet marketing.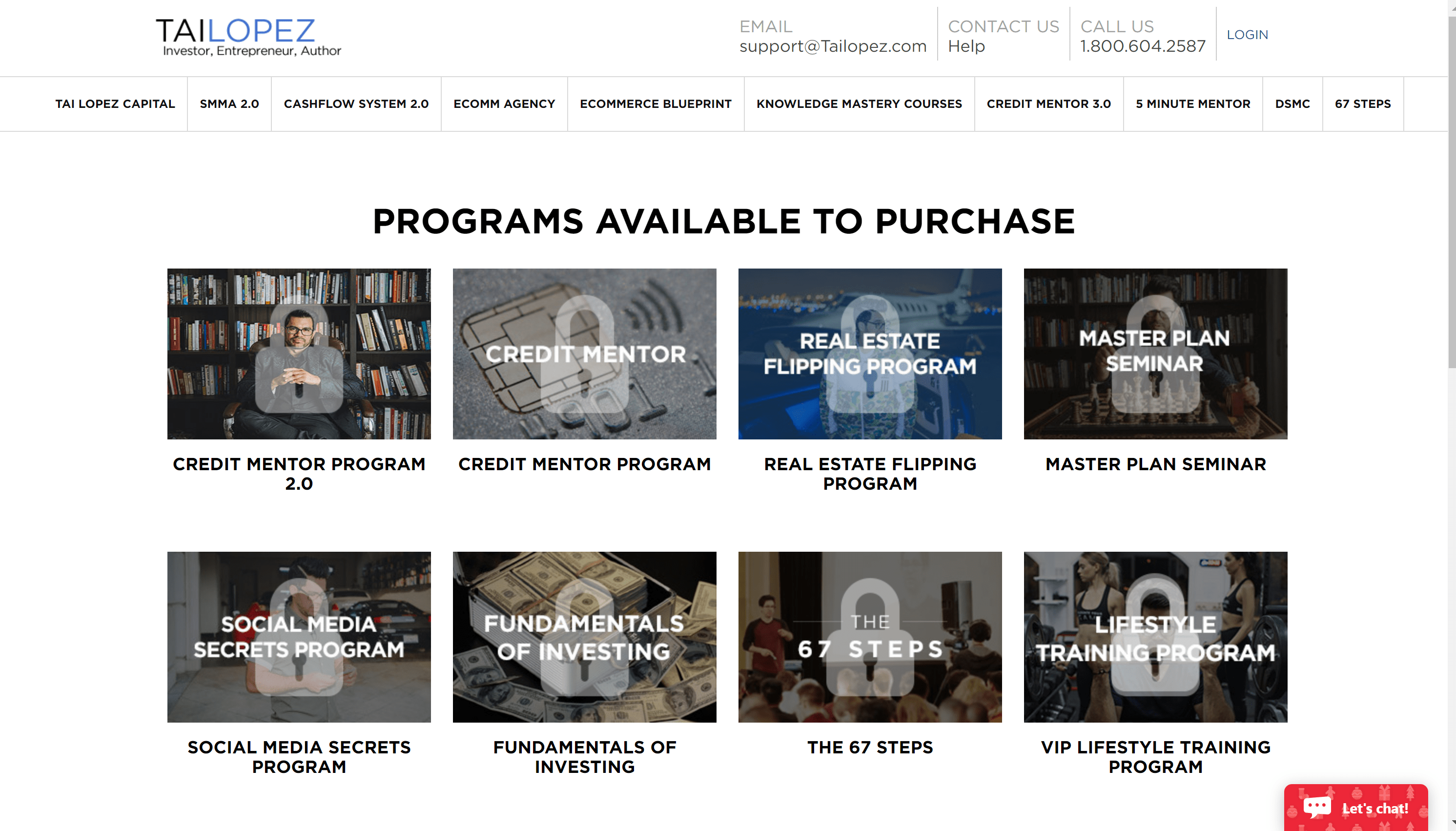 Tai is a well-known billionaire life coach. He makes most of his money by using social media marketing and Facebook ads campaign.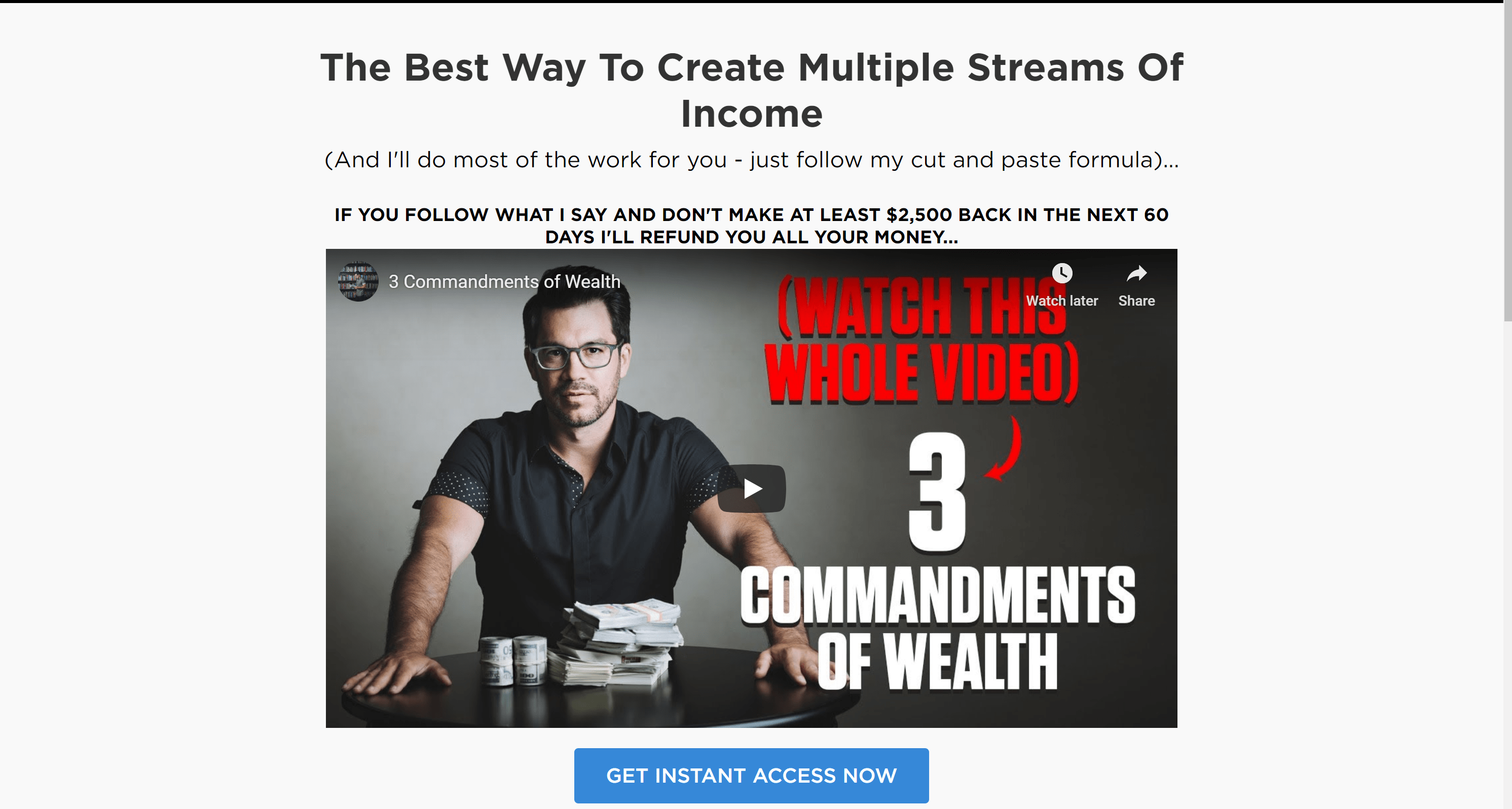 With my foray being in the digital marketing business, I can relate to his videos. He is a marketer who has moved things a notch higher and has spent millions growing his channels on social media, and this makes one admire him even more.
He is hard to ignore as he is quite a huge name on Snapchat, YouTube, Facebook, and Instagram which is not very easy if you are in a niche area like lifestyle, business, or self-development.
[/alert-note]
Customer Support
Their team have been reaching out to the customers and operators in case of any confusion or queries that persist on their part. Individuals have been asking some questions that concern them.
The team has been trying to incorporate or receive the maximum problems to clear their doubts be it, regarding the 67 steps program or to avail of the VIP subscription.
The support team will always be at your doorstep trying to reach out to you in the best possible way possible. For any sort of help needed we can contact on their following email address-
Email address- support@tailopez.com
The team will eventually reach out to you via an email. If the queries are still not sorted then we can call at this contact number 1.800.604.2587. Followed by adding additional details like email address and mobile phone.
The team will reply to your messages via text/SMS as fast as possible. For further information regarding the lessons or courses, you can follow TAILOPEZ.com 
The team is highly receptive and responsive to the needs and aspirations of the people.
Thus, anyone having queries regarding users' account email at support@tailopez.com and if one needs to talk to him privately then you can send him an email on – tai@tailopez.com. He even has his account on Instagram, Youtube, Twitter, LinkedIn, and YouTube. 
Tai Lopez Course Pricing Plans
Tai Lopez is an expert, e-commerce or business specialist more like a social media marketing expert and a renowned person offering courses strategic to your business, he has well-equipped plans and fantastic courses mentioned with the pricing that are as follows-
Plan 1: SMMA 3.0
Well deserving and qualified professionals who have witnessed organic growth and have excelled in every sphere and eventually gained success from whatever they have disseminated or taught.
It is all about learning from the experts and people who contain high intellect, having their agencies, collaborated with a high level or competitive clients as well as learning from those individuals who have witnessed and stimulated expenditure in millions only for advertising.
Learning from all the people with rich experiences can lead you to a better path in life.
Why choose this plan?
Choose this plan because it lets you unleash the innumerable features, providing you with the limited timely bonus courses specifically in marketing, sales, and other important attributes.
Plan 2: 5 Minutes Mentor
Price: Special Offer of $1 for 3 days & Then $5/month
Tai Lopez himself is teaching these courses, this program doesn't require a great deal of investment or expenditure of about 5,000-10,000.
Lessons taught are easy to grasp, strategic points, and demands your attention for 5 minutes every day. As a subscriber to this plan, I have consumed the best possible benefits and lessons related to marketing strategies and proper ways to invest my money on viable offers and deals with excellent consultant pieces of advice and pros and cons associated with it.
Why choose this plan?
Every user like me would want to avail of this limited offer or timely deals with appropriate visuals, clarity, and understanding.
We can even record his teaching videos and view it endless number of times and guess what, it can even be brought back from the archives.
Tai is an excellent teacher and a mentor brimmed with the storehouse and truckloads of business learning strategies, knowledge, and lessons.
Plan 3: 67 Steps Mentor Program
Price: Special offer of $1 for 3 days, and then $5/month.
It is one of the plans Tai tutors and mentors people all by himself asking you not to pay about the heavy amount which individuals usually pay for other plans.
Offering you in-depth details about business plans, ideas along with the necessary insights.
Every video tutorial as offered by Tai can be recorded and brought back from archives as and when one needs to recapitulate themselves with necessary points and strategies which consist of the lessons taught by him.
Why choose this plan?
Every user would want to choose this plan as it has some of the finest features which are no less than mere advantages and positive points to the plans. The qualities offered by the plan are- 
One can record the lessons as offered and given by him and can very easily access the video tutorials from any device, offering them the best possible learning experiences with appropriate knowledge and understanding.
Learning something new every day
The 67-day plan will teach you new things to ponder upon, and will continuously teach you new business-related attributes, eventually increasing your knowledge base and rationality making you feel more and more intelligent, confident, and business-like.
67 steps plan will brim you up with the maximum and most necessary information you should fill yourself with. Providing you detailed information with endless ideas, insights.
Any individual will as guaranteed can get the best ideas at their doorstep through this 67 days plan that offers you the innumerable amount of things you need to look after.
These video lessons can be watched anytime and every time or as and when we require the most out of it and the steps associated with it.
Within this 67 steps plan, we get to obtain the necessary principles which have been proven productive and resourceful by the users and operators like us.
Because of which Tai has become an important personality within the sphere of the business world and in terms of popularity on social media like- Instagram, Youtube, Twitter, etc.
Yet, these pricing plans will give you the most advantages, best learning opportunities, and experiences within the limited and cheap price based plans. Tai has been the most popular and well-known marketer with excellent plans and courses.
Pros & Cons:
Pros:
1. Comprehensive
The courses are quite extensive. For instance, the major SMMA program has about 64 and more hours of videos that includes about 130 lessons or more on every single aspect of developing a social media marketing agency.
2. Teachings by Numerous Experts:
The benefit of these courses is that one gets to learn from many people who have successfully built their Social marketing agencies.
3. Active Community
All the courses come with an active community related to social media where one can share their ideas with individuals across the world.
4. Value-Packed Courses 
The contents of his courses are valuable. Tai's courses depend on the type of requirements you have. However, commitment and focus are necessary to learn what is offered.
5. Success Stories
His courses are quite successful, and many success stories have been shared by him on his Instagram account and other social media accounts.
Cons:
1. No Money-Back Guarantee
Sadly, there is no money-back guarantee on these courses. But, you wouldn't mind investing $1 for 3 days as a trial.
2. Some Teachers Lack Fluency
Different experts take a lot of classes in the program, and it gets tough for the user to adjust themselves to the different teaching styles. At times, this causes confusion and a lack of understanding due to the tone of teaching or communication skills.
3. Videos Are Not Arranged Well
Most of the videos in the courses are not arranged well, and the user might have to sort them out manually to understand the curriculum better. This can get really time-consuming and stressful for users.
Also Read:
FAQs About Tai Lopez Review: Is the Tai Lopez Course Worth It?
✅ Who Is Tai Lopez?
Tai Lopez is an investor, partner, consultant, or advisor to over 20 multi-million dollar businesses. He also runs a podcast The Grand Theory of Everything and a Youtube channel.
🔥 What are his Famous Courses?
Tai Lopez' famous courses are The 67 Steps review, SMMA 2.0, Business Mentor, Knowledge Mastery Courses, EComm BluePrint.
💲💲 How much is Tai Lopez Net Worth?
Tai Lopez acts as an advisor to over 20 multi-millionaire companies. As of 2019, his net worth is $60 million.
🏆 Is The 67 Steps Scam?
No!! Tai Lopez is a well known and popular life coach in the space of digital marketing, entrepreneurship, and business. His net worth is $60 mn
🤔 How can I get a refund?
Before receiving a refund, the company will ask you for your required information and contact details for the confirmation of the operator's account. One can even reach out for support on the following email address support@tailopez.com. The refund will be given to the user within 30 days.
🤗 How to directly communicate and interact with Tai Lopez?
To communicate and interact with Tai Lopez, we need to attend the conferences. Webinars, private seminars to meet or communicate with Tai. we can contact him privately on, tai@tailopez.com.
👍 Is the Tai Lopez Smma program worth it?
It is one of the most concise or up-to-date training, and offer a comprehensive and excellent value for money program. SMMA 2.0 will serve you well if you appreciate social media and are prepared to put in the effort.
👌 Is Tai Lopez 67 steps good?
Yes, definitely. The 67 Steps is a solid course with insights from some of the world's finest brains. It is a self-help guide to becoming wealthy, was one of his first courses to sell.
🤞 What did Tai Lopez do for a living?
Tai Lopez is an internet marketer most known for displaying his extravagant life online and for a viral TEDx Talk in which he claimed to read a book every day.
🎉 What businesses did Tai Lopez buy?
They outbid private equity titans for the Pier 1 name and e-commerce assets in July, paying $31 million. They also bought the Linens 'N Things brand this year, and the Dressbarn brand name and e-commerce assets last year, both for undisclosed amounts.
Final Thoughts: Is 67 Steps Course Legit? Tai Lopez Review 2021
Pheww!!! We have known too much about Tai Lopez and his courses now it's time to know what can be the decision taken through this article. I have given you my honest review of this article and now it's your time to decide.  
Finally, we came to the end of this article where you would find the final decision taken by me for this course. Well, as I have told you earlier I have done this program and found it worth investing money for my betterment.
I suppose to say that these courses and features which are mentioned above in detail might have given you an idea about the curriculum with their planning details. Am I right?
So whatever the decision you are taking try the course once and don't worry about your money because even if you are not satisfied with the results, the course will repay your amount within a limit of time but the course is worth trying once. 
Yes, Tai Lopez and his programs are legit. Tai is a billionaire life coach who will focus on you to win and how to get rich.
He is the modern and current trending entrepreneur and advisor who can be trusted by a lot of people you can see now.
In the world of social media influencers, you can see his name trending with lots and lots of reviews. He is a man who tells you the path to success for your business.
Choose wisely and I assure you that you won't regret having this program because it would stay with you till the end with some motivation and encouragement inside you. 
Though his strategies, as well as business models, might be a little flawed when it comes to the contradictory themes and lack of a structure, his principles are worth a try.
If you wish to learn, you need to dive right in and understand it the way he sees it.
I hope you have liked the Tai Lopez Course Review 2021 and must be willing to buy his course.