In this article, I'll share an in-depth Taskade Review.
We have all been hit hard by the pandemic.
Numerous companies worldwide have requested that their employees work from home. Lone wolves can easily work from home. 
To have a productive day, you must smash your to-do list and manage your team perfectly at the same time.

Although it's not easy to keep track of your and your team's tasks while keeping everything on schedule.
With a quick share feature and built-in chat functionality, Taskade could help you keep track of your bullet lists. Learn more about this all-in-one collaboration tool.
When you need to work with a team remotely, the whole situation changes. Now that you have Taskade, you can let go of stress.
Taskade Review 2022: What is Taskade?
TASKADE is the ideal task management solution for small and medium-sized teams.
It has a variety of features that make it an excellent collaboration tool, such as daily/weekly task schedulers, real-time updates, video-conference capabilities, and more.
Taskade gives users a comprehensive task management system that's easy to use and centralized.

Each member of the team is able to create tasks and to-do lists as well as review the tasks for the day and the rest of the week in the virtual workspace.
To indicate that a task has been completed, users can tick it to indicate that it has been completed. A progress bar displays the team's overall progress as more tasks get completed and ticked off.
The tool is very simple to use, making it easy for anyone to get started right away.
Features such as chat and video conferencing enable real-time communication and collaboration, which leads to better results and faster turnaround times.
Taskade Review: Getting Started With Taskade
Although Taskade is an incredibly powerful platform for professionals, it is incredibly easy to use.
It is a straightforward, easy-to-use tool. Unlike many other tools for similar tasks, there is no learning curve involved.
Create Your Profile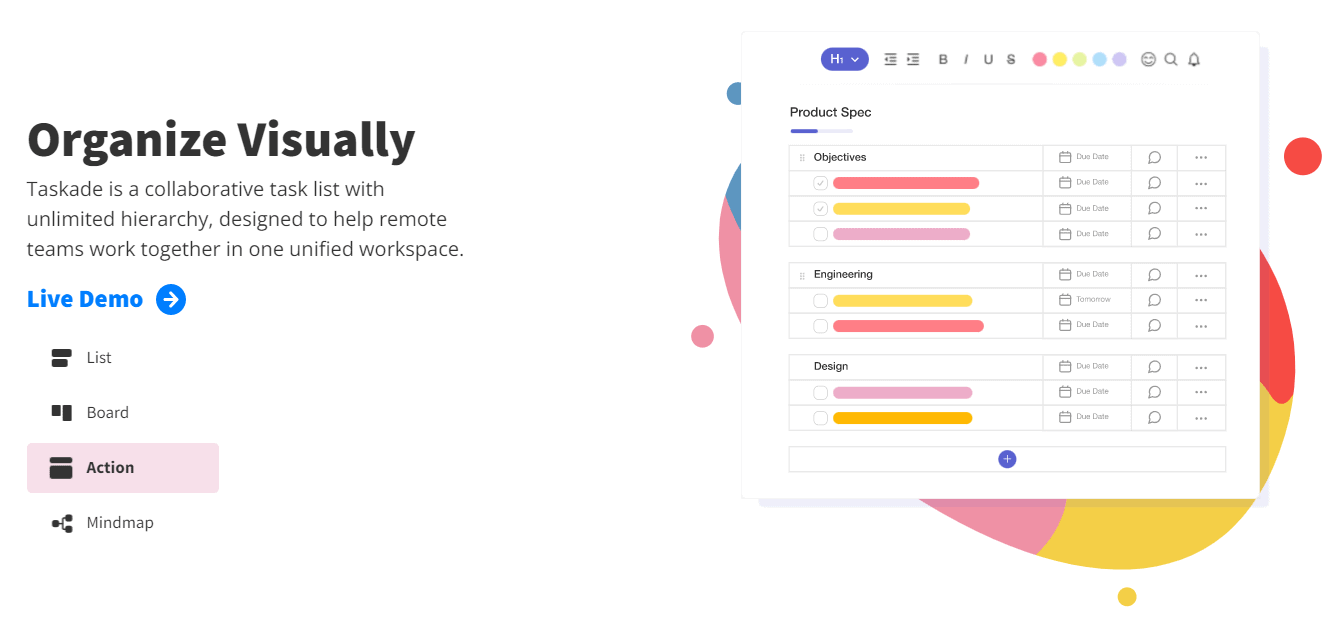 Create a profile first. Login with your Google Account to sign up and use the platform. All you need to do is fill in the details and follow the instructions.
Defining your goal and choosing your account type are available. Whether you are a business person or a private individual. Select the industry type that suits your needs.
This step can be skipped if you want to move on
Simple User Interface
The user interface of Taskade is very simple and easy to use.
Creating a New Project on Taskade
Start a new project by clicking "New". Depending on the type of project, you can use bullets, paragraphs, and other items.
Ensure Your Business Is Represented By The Right Design
Taskade allows you to brand the platform.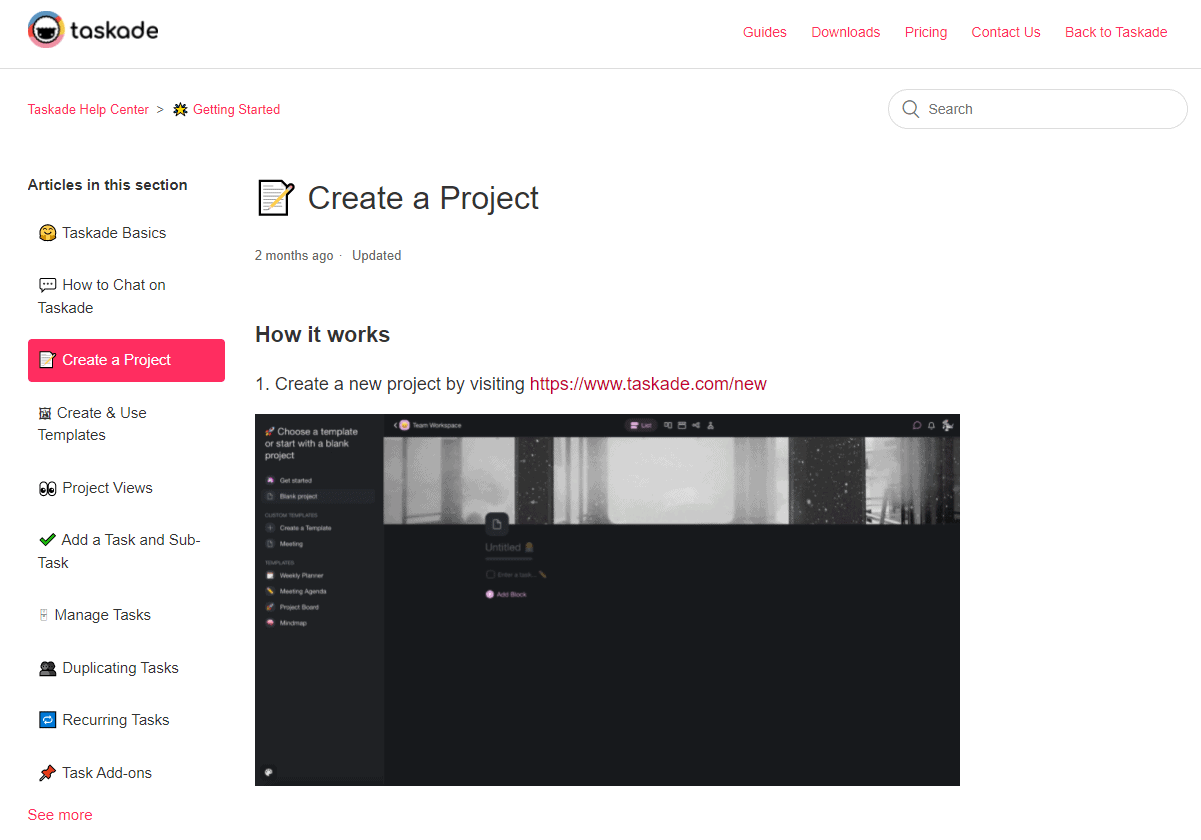 You can also share your project with your team or clients on the Taskade platform. It has its own look and feel that you can customize.
The project interface background can be changed.
Select a color or a background image by clicking on the edit option below the page. Create your own custom interface by adding your own image.
Own Branding
The buttons and other elements of the page can also be customized with colors. A profile logo can also be uploaded.
You can define these elements when creating a new project. If you choose to edit a project, you can choose the color scheme and upload the logo.
Enable Dark Mode
Dark mode is available in Taskade. Taskade's dark mode can be enabled by clicking the icon on the right side of the top bar.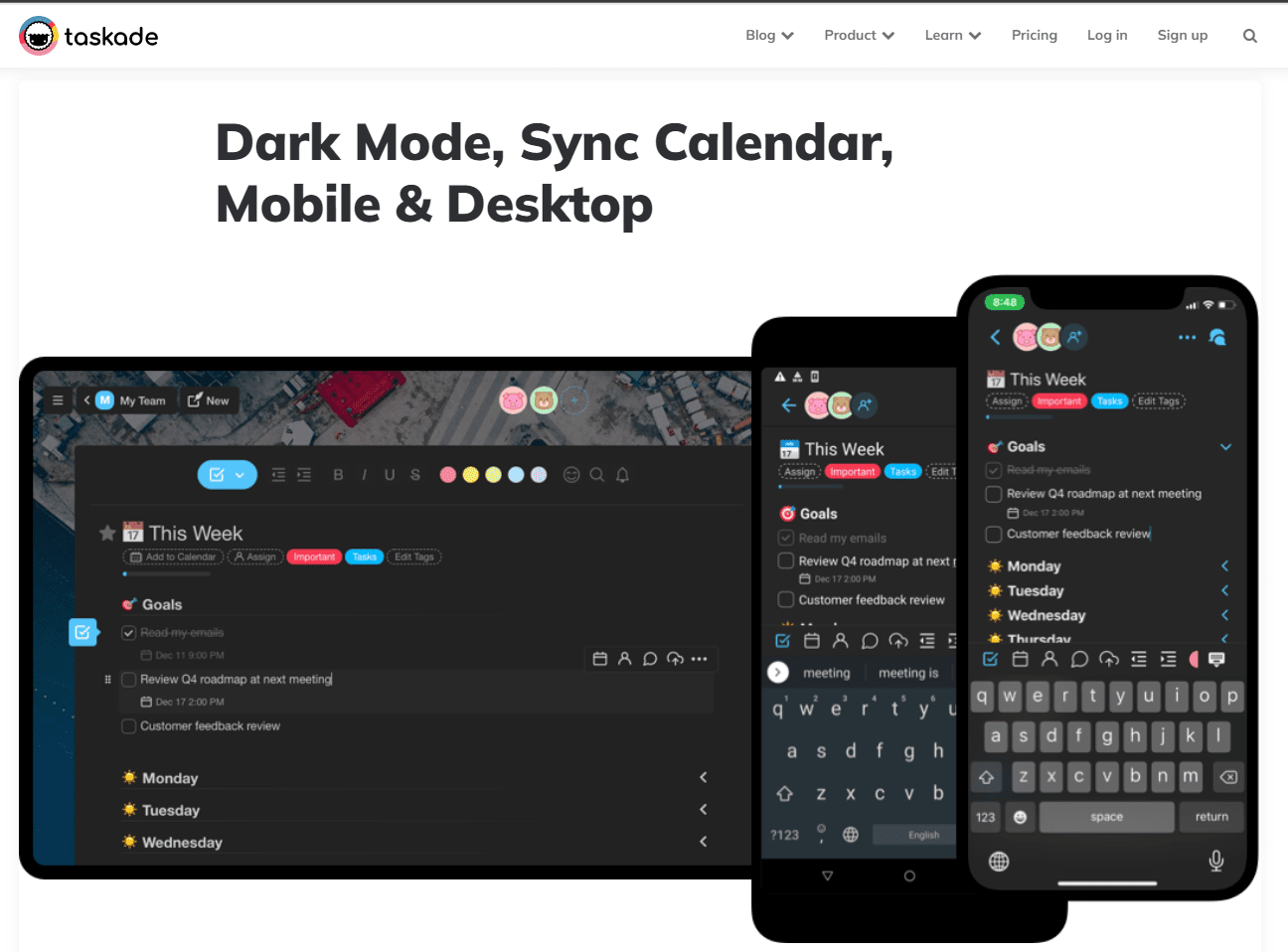 Collaboration With Your Team
To provide team members with the opportunity to work remotely, Taskade aims to bring together the members of the team.
The fact that Taskade is about collaboration is no surprise. Make your team members aware of your projects, share them with them, and chat with them about them.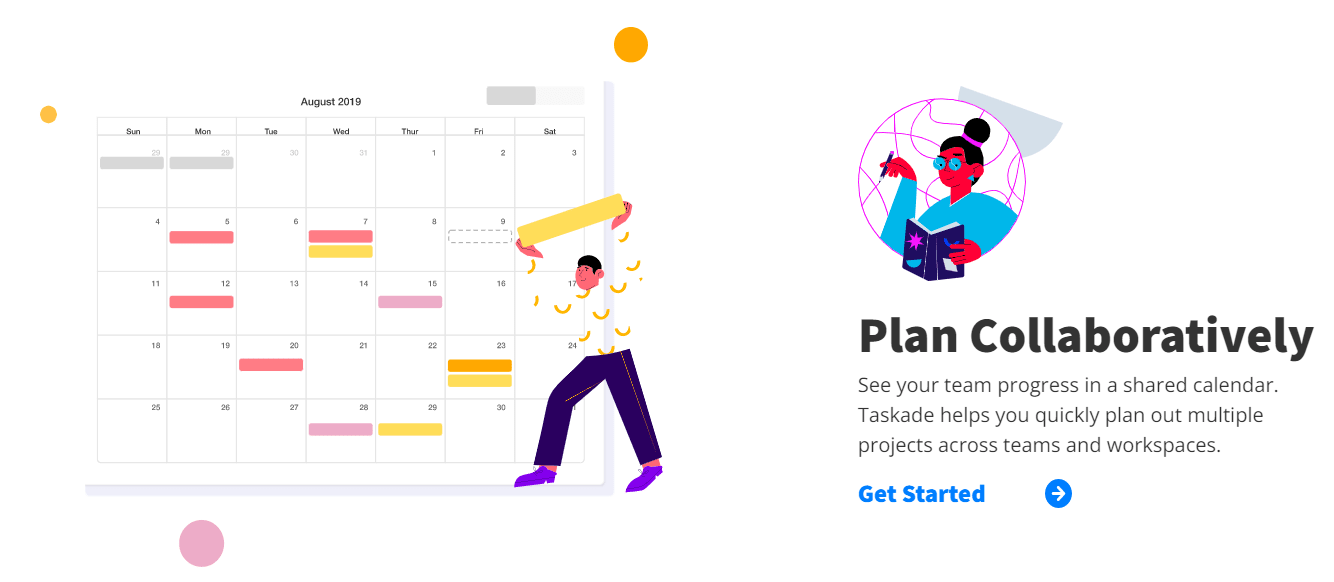 Due to Taskade's real-time feature, you will be able to see any changes to the project information as they occur.
All devices are synchronized seamlessly. The app supports real-time collaboration and multiplayer synching. 
You can share a link from a particular project even if you do not want to add a person to the project. 
Taskade allows you to communicate in a variety of ways:
Video Conferencing 

Team Messaging 

Task Commenting
Taskade lets you assign tasks and projects to different team members according to their roles in a project.
Are there any deadlines? Keep track of them by setting due dates and reminding people.
You can include recurring tasks if some tasks have to be done periodically.
In Taskade, push notifications ensure that you do not miss a deadline or a change in the project. 
Here, you can keep track of everything instantly. Want to know how a project is going? See it in real-time right in your workspace. 
Inviting a Team member to a New Project
A team member can be invited to a project easily. Adding a new member can be done by clicking the Invite option on your project page or using the button at the top of the page.
Please add the email address of the user, file the role, and proceed. On the invite window, you will also see an invite link option.
Taskade Quick Communication
The Taskade platform allows team members to communicate quickly. You can conduct a virtual meeting with your team members using other communication options on the internet, but doing everything on one platform sure has its own advantages.
Taskade allows you to do planning, managing and doing meetings with your team without leaving the platform.
Taskade lets you use the same interface to chat, call or do a video conference.
By going to your account settings, you can enable notifications.
Taskade Customize Views
Do you have any experience with to-do apps? The majority of to-do apps allow users to see the task list format of the list they have created. Did you know your to-do list can be viewed in so many different ways?
You should try Taskade's different views of tasks if you don't already. Some of the views it supports are:
Task List 

Action Sheet

Kanban Board 

Org Chart

Mindmap

Bulletin Format
Taskade Ready Templates
The first page of your project can be blank. To begin with the things that you have to create, you can choose templates from the templates gallery if you don't know how to get started.
The categories for templates include:
Team Management

Design

Remote Work 

Journalling 

Planning

Growth

Personal 
You can create your own customized templates once you become familiar with the templates.
After you upload the logo and background that we mentioned above, you can continue with the customization.
Taskade Security
The data in your Taskade projects is encrypted. Thanks to the regular backups that are performed, you don't have to fret about losing any data. 
Among the additional security layers are:
Google Single Sign-On

Facebook Single Sign-On

Twitter Single Sign-On 
Is Taskade Free?
By default, you are set up with Taskade's free limited plan when you first sign up. In this Taskade review, we discuss every aspect of the limited plan.
If you decide to upgrade to Taskade Unlimited, your monthly fee will be $9. If billed annually, it is $5.
Unlimited plans include the following:
Large file upload

Unlimited spaces

Automated workflows

Calendar syncing

Personalized onboarding

Advanced permissions

iOS, Android, & desktop apps
Taskade Customer Support:
If you stumble upon a problem while using Taskade, please don't panic. Its customer support staff is available 24 hours a day.
Premium users are entitled to priority support. In addition, users are provided with custom onboarding and training. 
Taskade plans to launch a number of new features as well. Both packages include email-to-Taskade functionality and schedule templates.
Revision history and integration with Dropbox/OneDrive and GDrive are only available in the Unlimited version.
Quick Links :
Wrap Up : Taskade Review 2022
Organize and collaborate with your team members in a fun way with Taskade . The interface is simple and easy to use. 
You can use the free version if you are a solo user. If you are not, the premium version is available at a reasonable rate if you need it. 
Try Taskade's free version first and see how it works for you? After you fall in love with the product, you can upgrade.