In this post, we have listed the top 6 UI Widgets for Business Web Applications In 2022.
you strive for developing your undertaking and reaching out to your customers?
In this case, you should consider developing a custom business application or a progressive web app that will help you achieve your business objectives in the most efficient way.
PWAs represent a variety of mobile applications delivered via the internet.
They are created with the help of the prevailing web technologies such as CSS, HTML, and JavaScript. PWAs are compatible with any platforms that use browsers conforming to certain standards.
Progressive apps can work offline, send push notifications, and have access to devise hardware. Thus, they create a user experience that resembles native applications on mobile devices.
In addition, progressive web apps can be accessed via URLs, are deployed to servers, and indexed by search engines.
Features of Progressive Business Web Applications
They are progressive. This means that no matter what browser a user chooses, they show great performance thanks to the progressive enhancement.
PWAs are responsive which means they can easily run on any device being it desktop, tablet, mobile, etc.
They don't depend on an internet connection. You can use them even being offline or having a poor quality of networks.
PWAs provide an app-like user experience.
Thanks to the service worker updates they always stay cutting edge.
PWAs are safe as they are served via HTTPS. So the risk of no unauthorized tampering is kept to a minimum.
The apps are installable which means that users don't need to be dependent on an app store.
You can effortlessly share PWAs via URL and not require complex installation.
List Of Top 6 UI Widgets for Business Web Applications 2022
1) Gannt Chart
dhtmlxGantt component allows implementing fully-fledged Gantt charts into cross-browser and cross-platform applications.
This component uses resources management functionality to calculate the scope of work of each member of your project.
You can use the resource diagram to observe the workload and capacity of your projects. The resources may include people, money, equipment, time, etc.
The component is fully customizable. It provides a flexible JavaScript API that enables you to configure different elements of your Gantt chart.
In particular, you can customize the task edit form, time scale, set the grid structure, change the color of the taskbars, determine dependencies between tasks, etc.
Gannt chart shows high performance and efficiency. It will continue working smoothly and quickly, even if you load a large number of tasks to it.
The user interface of the Gantt widget is highly intuitive. Besides, this component is accessible to people with special needs. It has keyboard navigation and two high-contrast skins (black and white).


2) Webix's Pivot
Webix Pivotcomponent is a JavaScript table that possesses extended filtering capabilities.
If your application is meant to work with huge datasets, this widget is just what you need. It helps make visual reports over large volumes of data.
Pivot performs counting, sorting, comparing, filtering, and giving the average values of data in a data table. In fact, the analysis pattern can be instantly changed.
With the Pivot UI widget, you can efficiently analyze and summarize complex datasets. It allows loading data from external sources or local drive and exporting data to PDF, Excel, CSV formats.
Besides, you can easily change the way your data is displayed by dragging and dropping fields.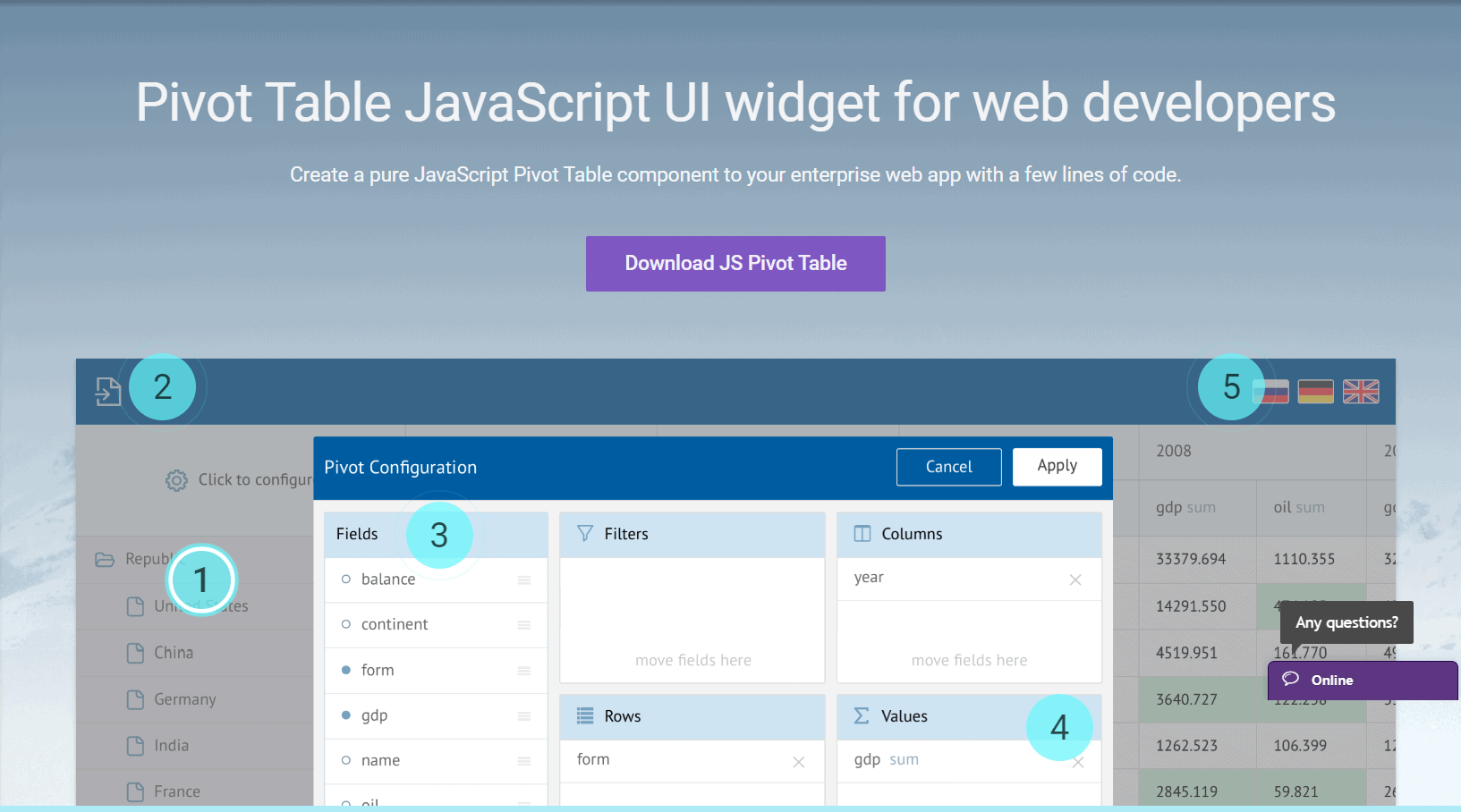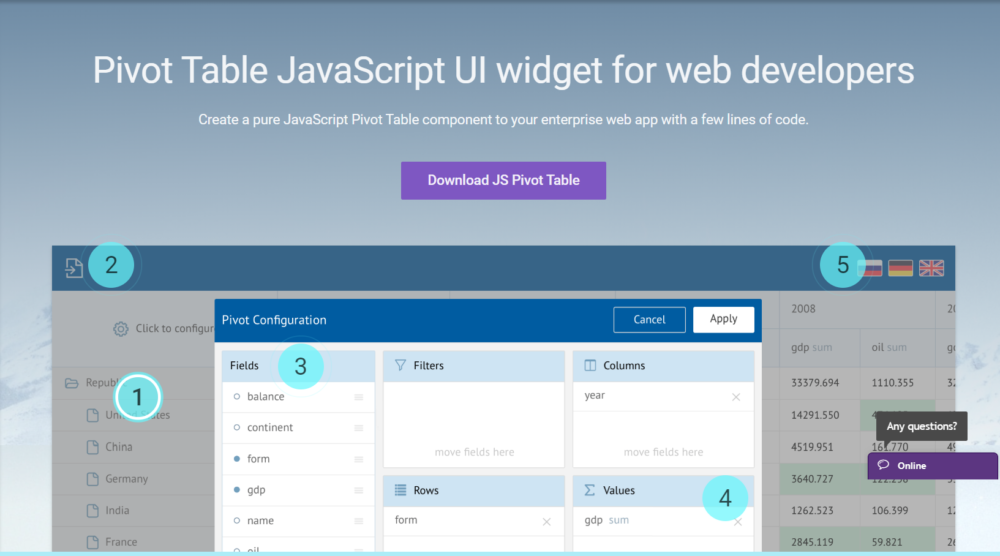 3) Webix's Kanban
Kanban is an efficient tool that enables you to see work in progress and control it. With the Kanban board, each employee can stay aware of what each team participant is working on.
The widget is fully customizable and flexible. You can define any number of rows and columns in the board.
The key benefits of Kanban board:
The widget facilitates task management. You can generate, transform, or delete tasks within the Kanban board.
It's very easy to use. The Kanban widget is highly-customizable and quite simple.
Kanban has an informative and rather compact design. You can display information about the entire workflow in a concise way.
The UI configuration is flexible so you can change the external view of task cards and add any number of task cards and columns.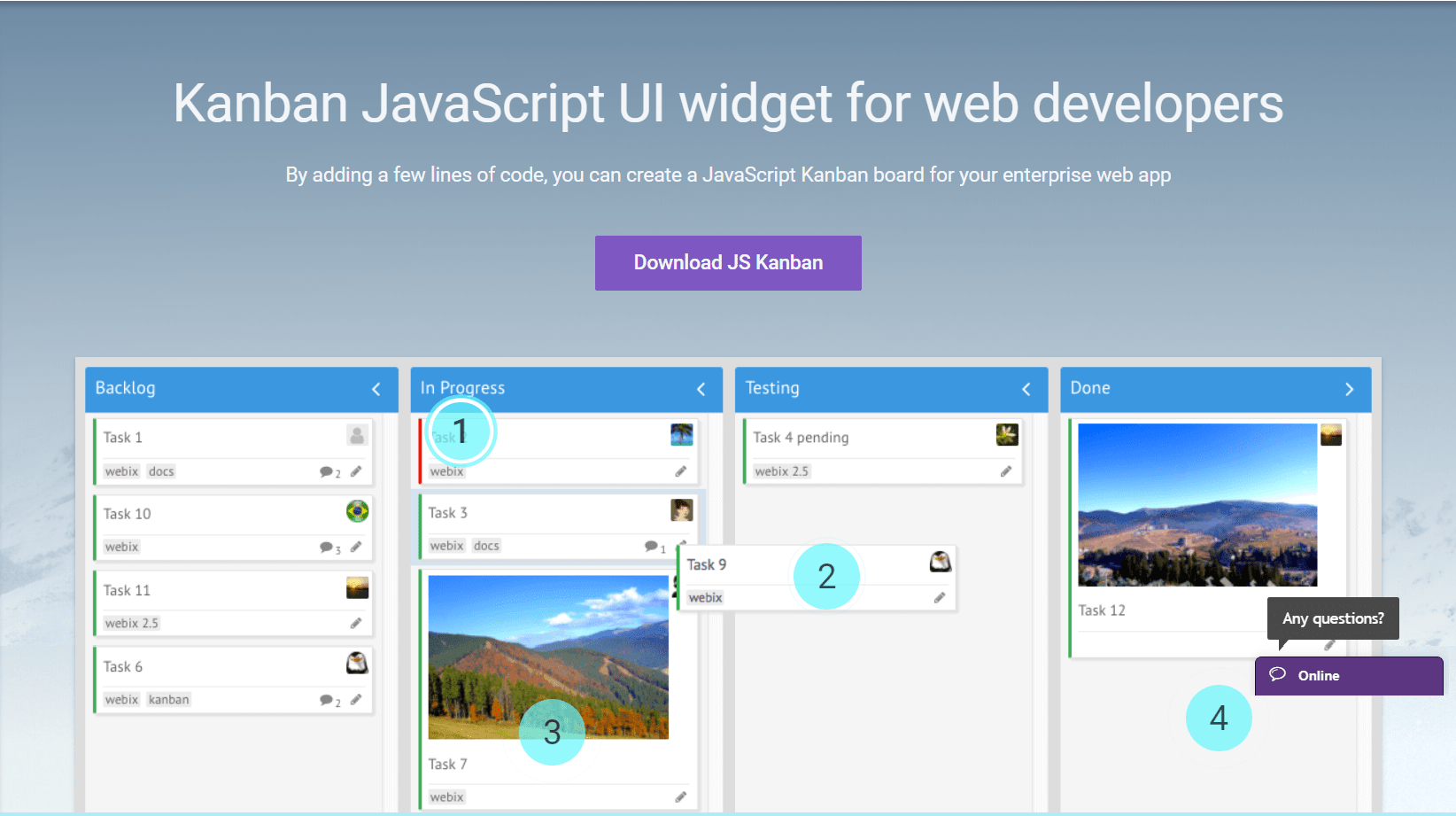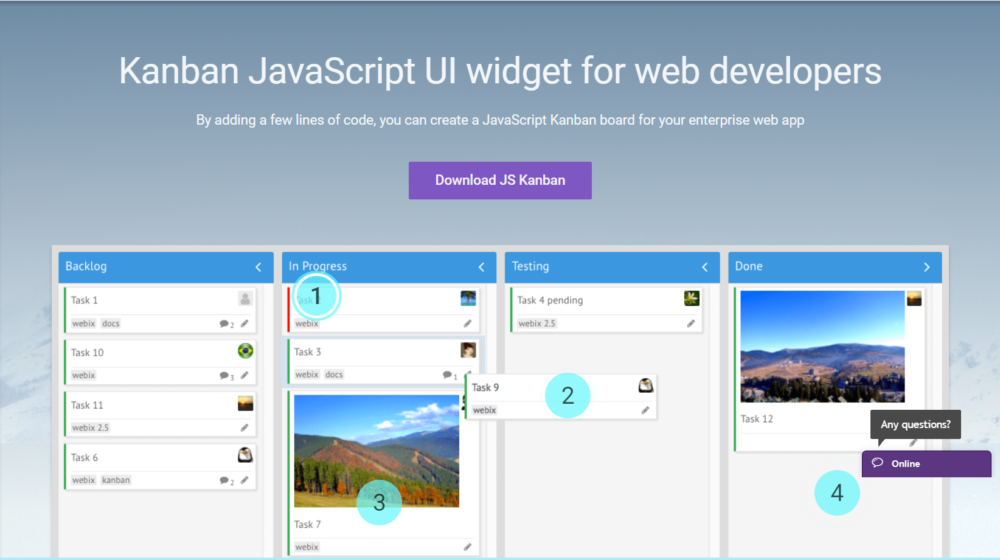 4) Query Builder
This component is indispensable if you want to enable users to easily find the necessary information in large datasets.
Query builder is a feature-rich widget that allows applying several rules to the filter and thus improves search quality.
There is also a useful feature that enables you to group the filtering rules together. In this way, you can significantly speed up the process of searching for data.


5) Webix's Chart
The javaScript chart component is aimed at visualizing data. There are different types of the chart including bar, pie chart, line, area, spline, legend, radar chart,  etc.
Chart widget has a number of important features that serve for effective data visualization.
They include style customization, grouping, choosing several parameters for sorting, selecting data ranges, dynamic charts for showing how the data is transforming over a certain period of time.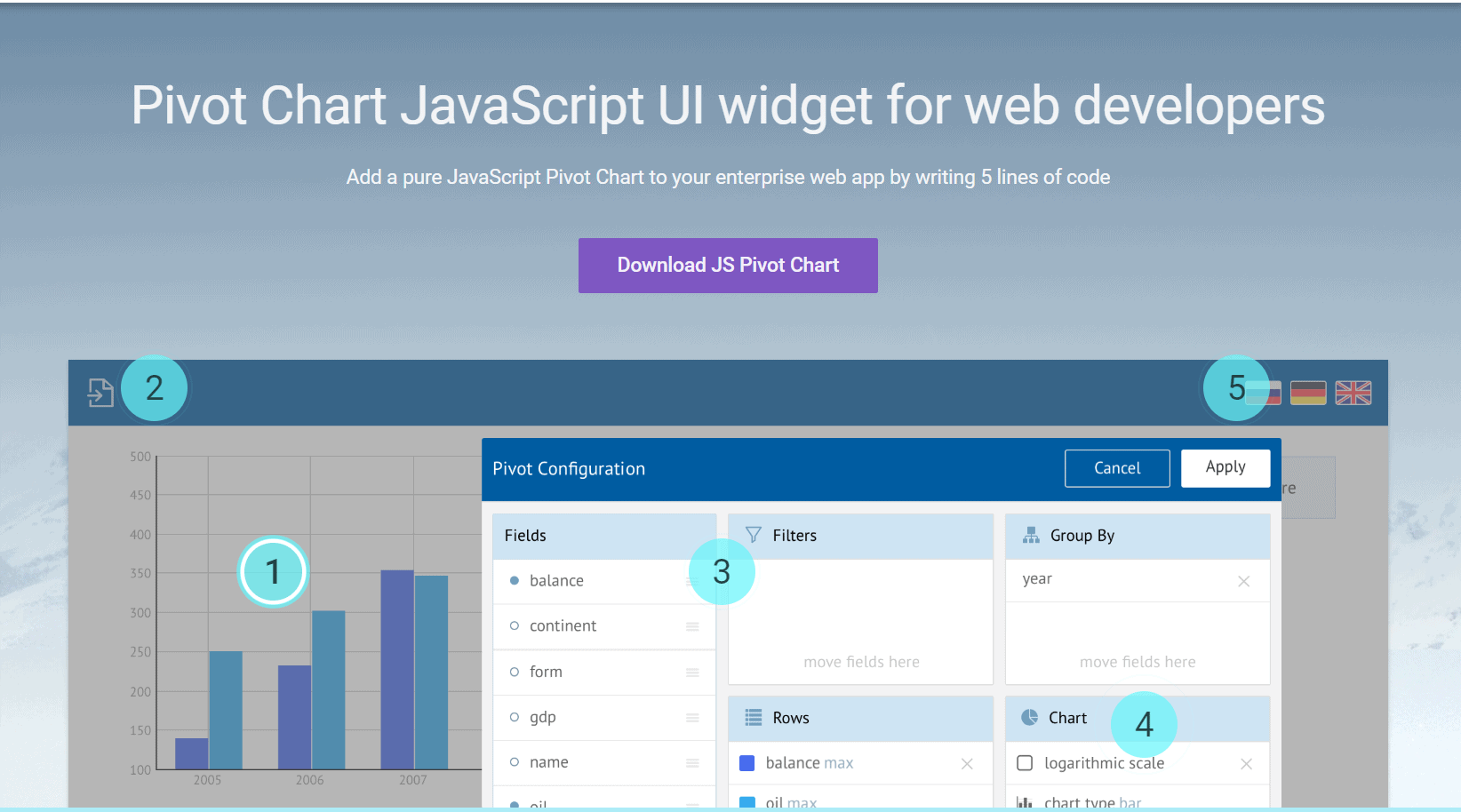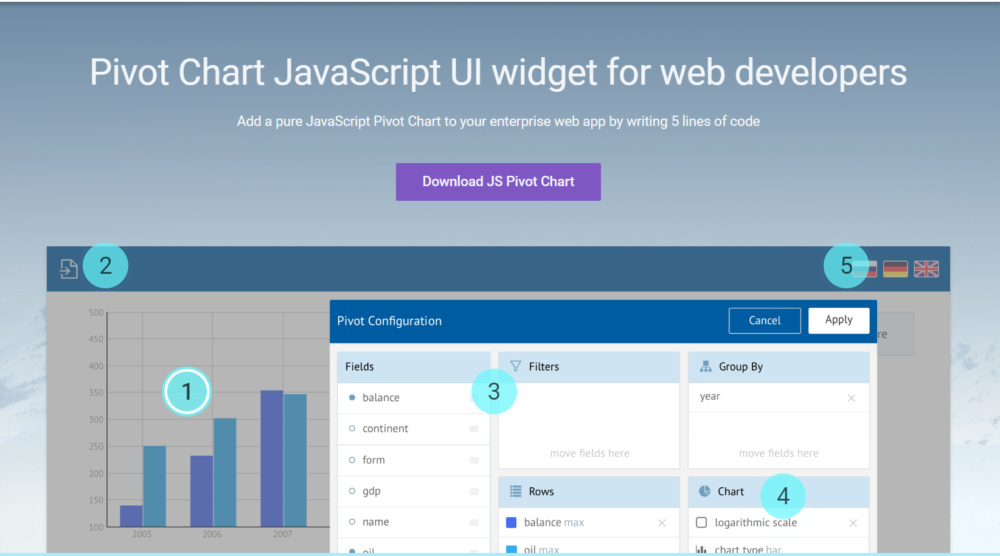 6) Webix Spreadsheet JavaScript
JavaScript SpreadSheet widget has many features similar to Excel.
With this component, you can copy data to or from Excel, use mathematical formulas and functions, perform auto-completion, and other significant functions that make tabular data easy and convenient.
It's possible to edit the content of cells, use diverse fonts, styles, and types of borders, resize cells, and merge them in rows and columns.
It also allows exporting data to different formats such as PDF, Excel, PDF, PNG, etc.
The SpreadSheet can help you create editable tables, manage huge volumes of data, and carry out different operations with data items.
This component enables you to keep all the necessary data at hand.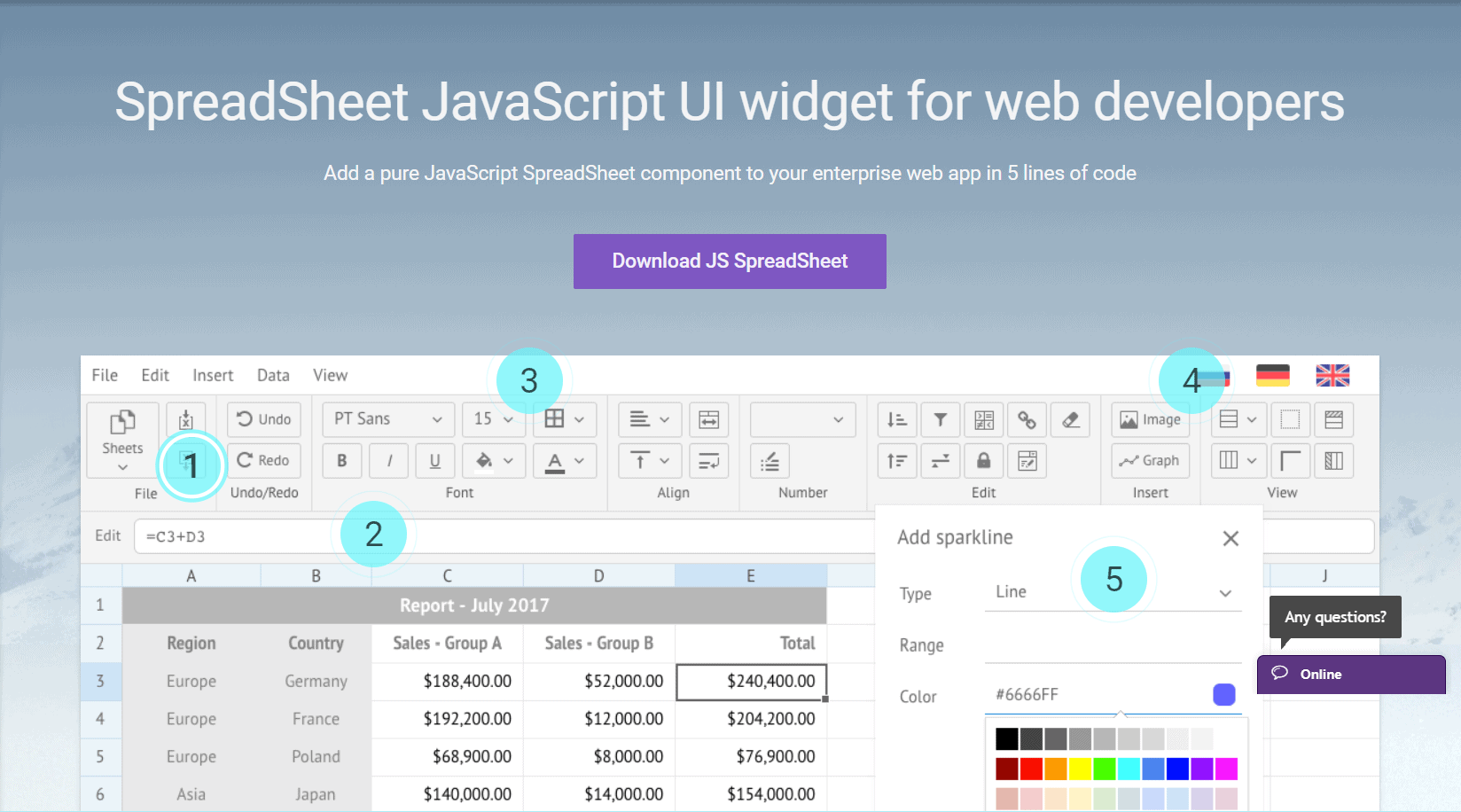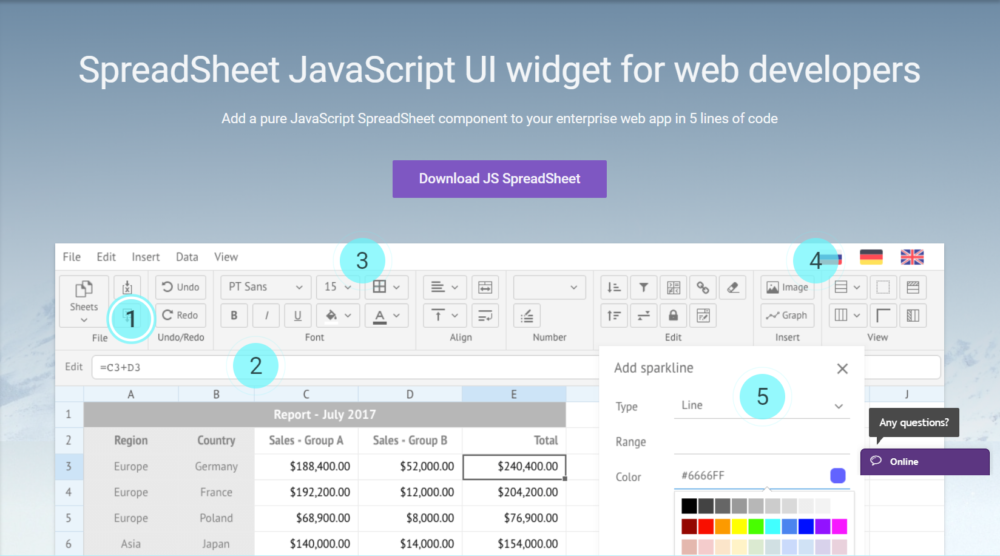 Quick Links
FAQs | Top 6 UI Widgets for Business Web Applications
🙋‍♀️ Can I purchase and use separate JavaScript UI widgets from DHTMLX Suite library?
You can use DHTMLX Calendar, Charts, Grid, Tree, and TreeGrid separately. Other HTML5 UI widgets are tightly linked to each other and can't be used independently outside of the DHTMLX Suite library.
🤷‍♂️ Where can I find examples of DHTMLX Suite widgets with source code?
You can browse our code snippet collection with snippets for each and every use case of DHTMLX JavaScript UI widgets. You can also examine DHTMLX Suite 6 demos created as examples of real-life applications.
🤔 Does DHTMLX Suite JS UI library support TypeScript?
Yes, DHTMLX Suite provides support for TypeScript and includes built-in type definitions. Type suggestions, autocompletion, and type checking will help you work with DHTMLX widgets in a more intuitive and fast way.
Conclusion | Top 6 UI Widgets for Business Web Applications 2022
Nowadays, the majority of JavaScript UI libraries contain feature-rich and high-performance UI components that can serve as ready-to-use web solutions.
You should carefully consider their capacities, choose the ones that suit you most, and combine them into a top-notch software product for your business.
I hope this post, suits your purpose well. And if you find this post helpful then you can share it on various social media platforms like Facebook, Twitter, and LinkedIn.