About Volusion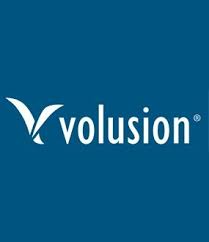 Volusion is the oldest ecommerce software developed by Sproles in 1999. Since then, the company has hosted more than 40,000 online stores, providing plenty of features that merchants need to manage them. As comprehensive shopping cart software, Volusion has helped their customers earn more than $18 billion and still running strong with users trying it every day.
The software is suitable for both small and large business which makes it reliable for all their clients in this fast-forward world. Some of the popular websites hosted by Volusion include National Geographic, Chicago Tribune, Intel, etc.
Getting Started : Volusion Ecommerce Platform Review 2022 October: With Pros & Cons
Volusion allows users to build their own online store and sell products quickly without any technical knowledge. It has a simple guide with clear step by step text and  video instructions to build an ecommerce website. The homepage is user-friendly without any extensive tools or codes to bog you down.
They provide all the essential tools to market your product, manage inventory, ship goods and charge your customers. Any products such as fashion, beauty, electronics, food & beverages, jewelry, home accessories and automotives can be easily added and sold online through volusion.
Also Read- Autopilot Profits Review: Legit or Spam? Truth Exposed
Ease of Use
Volusion has a user-friendly dashboard that helps even non-techie people to build a very capable online store. It's very easy to grow your business through volusion as the software does all the intricate stuff so that you can focus on other parts of your business. Volusion offers a free 14-day trial to all its users to explore their website.
They just have to create an account without swiping a credit card and will be immediately directed to the admin to start promoting their products and sell them online to various customers in and around the world.

Web Design and Templates
Volusion offers more than 75 free themes of which 23 are mobile responsive. Apart from this, there are various other paid templates that range from $50-895 per template which is quite expensive. Users can choose a free or paid template based on their preference to create a website of their own.
It also has an app Marketplace where you can get additional tools on various categories like marketing, shipping, inventory management to expand your store.
Volution allows its customers to customize their site by making few changes. There is an easy editor called WYWIWYG that helps in making content changes. You can even edit HTML and CSS stylesheets.
You can update content, buttons, images but cannot change colors of codes through this editor. Volusion gives you hundreds of design options which are the best in the market when compared to other e-commerce portals for optimal shopping experiences.
Also Read:
Pricing
Volusion offers a free 14-day trial that can be used to test their website with zero risk. Once you feel you are comfortable with their platform, you can choose one of its four plans to host your website,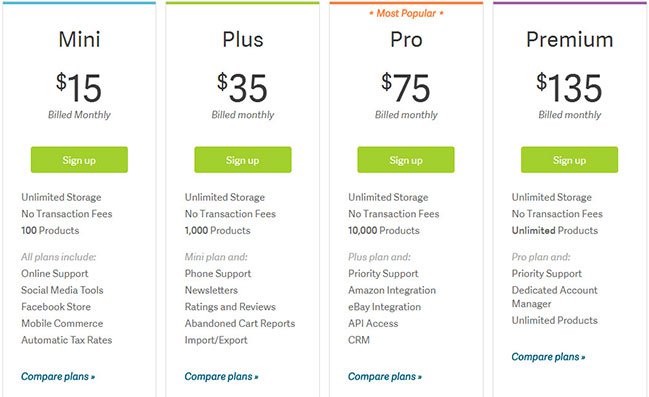 Mini
Monthly Price: $13.50 – $15
Products: Up to 100
Storage Space: Unlimited
Bandwidth: 1GB
Pro
Monthly Price: $31.50 – $35
Products: Up to 1,000
Storage Space: Unlimited
Bandwidth: 3GB
Pro
Monthly Price: $67.50 – $75
Products: Up to 10,000
Storage Space: Unlimited
Bandwidth: 10GB
Premium
Monthly Price: $121.50 – $135
Products: Unlimited
Storage Space: Unlimited
Bandwidth: 35GB
Payment Options
Volusion accepts all major credit cards and facilitates its users to multiple payment gateways like PayPal, Google Checkout, etc. Customers can choose their best mode of payment and even opt for a one-year contact that comes with 10% discount. Deal of the day discounts
Volusion has a Deal of the Day feature that allows you to create limited-time discounts that are displayed on a special landing page. You will have control over which products are included in the deal as well as how long the deal is valid for. You can then link to the deal from any navigation menu or in an email campaign.
Online stores built with Volusion have an easy-to-use checkout process. It can integrate with PayPal and guest checkout options are available as well. It's also fairly easy to shop and check out on mobile devices, which is important since many consumers use their phones to make purchases online.
Volusion is compatible with more than 35 different payment gateways. If you'd like to keep working with your current payment processor, make sure it can be integrated into this service.
This eCommerce solution can integrate with online stores, such as Amazon and eBay, so if you choose to sell your products through these channels, it's easier to keep track of your sales and inventory. You can also translate your store into languages other than English, which makes it possible to reach a larger clientele.
Volusion shipping integration

Features
Volusion has a lot of popular features that enable customers to create a trustworthy online store for themselves. Some of its features include,
One page checkout to help customers quickly purchase their products.
Access to gift cards, daily deals and coupon codes to attract customers to the website
Encourage users to write reviews and ratings of products to enhance credibility and quality.
Allow customers to get a clear view about the product by zooming in and out of the product images.
Lets customers to share their products of purchase on social media.
Features for Merchants
Not only customers, even merchants avail several features and benefits on Volusion. Some of the features available for merchants include,
Upload products in different categories, types, patterns, colors, sizes, price range and group them according to their preferences.
Merchant can create a company email addresses and use a domain name.
Volusion supports multiple currencies to accept payments
Merchants can sell their products on social media and other websites like Facebook, Amazon, eBay and at the same time manage their orders from the volusion admin. They can add links to products and submit content to both websites with one click.
Managing inventory can be difficult for merchants and volusion offers all the necessary tools to assist in managing inventory, vendors, purchases, products and warehouses. It also allows merchants to import and export product list.
They can manage the store from smartphone, tablet and Smartwatch. Its mobile app allows you to manage your Store on the go and add extra products. You can process orders and ship products with this app.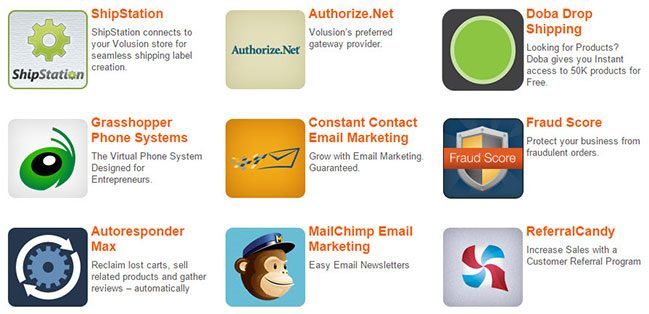 Pros
More than 80 e-Commerce tools
24 /7 customer support via phone online chat and email
Video and text tutorials to create your own online store
No transaction fees
Easy to use and sell products quickly
Mobile app to manage your store anywhere at anytime
Cons
No blogging platform
Bandwidth overage fees
Merchants must pay for getting an SSL certificate
Free templates are not that exciting
Does Volusion work?: Volusion Ecommerce Platform Review 2022 October: With Pros & Cons
Volusion is excellent e-commerce software with amzing features that seldom disappoint its customers. The only problem with this solution is its bandwidth overages which can be irritating for customers who handle a lot of visitors, web pages and high quality products.
It is better to opt for their premium or Pro packages to keep your store running without any problems.
Volusion manages the entire hosting process so that the customers' sites are up to date with very minimal efforts from the business person. It offers plenty of free and paid templates for a broad range of industries and the mobile app to extend your store's functionality. They have 24/7 customer service to provide immediate solutions to all your queries.
The only drawback in volusion is that merchants have to spend money on purchasing there own SSL certificate to ensure that their customers' information is confidential and protected. Other than that Volusion can be a great e-Commerce platform for promoting services, brand, products and other items.