As speakers, we understand the importance of high-quality webinars. They can help us grow our businesses and connect with new audiences.
However, finding a reputable webinar platform can be tricky. In this blog post, we'll explore some Webinarjam alternatives and competitors. We'll also discuss the pros and cons of each platform to help you make an informed decision. Let's get started!
Why do you need WebinarJam Alternative?  
There are good things and bad things about a product. And so does the Webinarjam.
First, it does not give any monthly plans which makes it a tad bit difficult for small businesses or someone who need a webinar for a short period of time.
Second, it lacks the automated webinar feature.
Of course, there is a difference between live and automated webinars.
Automated webinars are fake webinars! What you do basically is, display a premade video to your audience and connect them with live chats so that no one catches the trick. But that's not the butter of the bread today.
We are gonna talk about real and live webinars today taking into consideration all possible solutions for it.
Our main purpose is to guide you to get the best alternatives for Webinarjam that can give a positive push to your brand! Because we know that "Webinars build energy and momentum as they create a shared group experience."
5+ Best WebinarJam Alternatives 2023: Which Webinar Software Is the Best?
Before picking an alternative go through the pros and cons along with the features. I have mentioned pricing plans as well. Compare these and see which suits you better.
Don't forget to read and wrap up part of the article so that you don't miss the 'extras'.
Final Verdict On Webinarjam vs GetResponse
WebinarJam is a dedicated webinar platform that has all the features for running an effective webinar. GetResponse is more focused on email marketing, but the webinar solution is ideal for small businesses.
2. Demio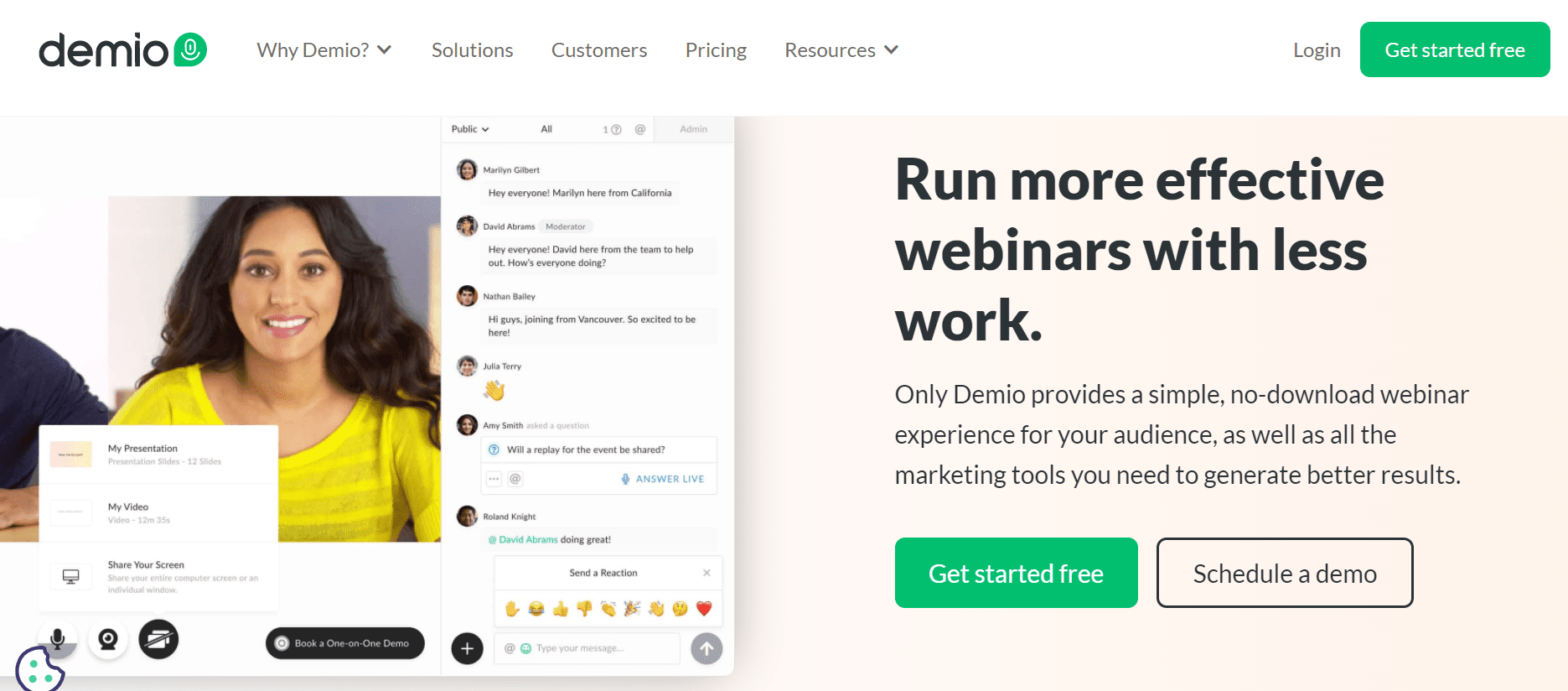 The next Webinar alternative is easy and fun to use and is used by leading SaaS Companies. It is known for its high pricing. Any guesses? Yes, I am talking about only Demio.
Demio is a way to use live video for marketing. It makes it easy for teams to spread their messages, and people can see them all at once.
The best software that promises to scale your efforts via live video streaming in less time than you can expect.
People who are looking to generate & qualify leads and customers, educate them, or reduce churn. It is expensive but a great place for an all-in-one solution.
Key Features of Demio
 It supports live and automated webinars.
It offers integrations with automation platforms like GetResponse, MailChimp, etc.
One of the leading hosting platforms in the browser-based field.
Custom registration pages, and thank you pages look cool.
You can custom fields and form templates.
The functionality feature lets you send a reminder email notification to attendees.
A handy live chat feature is available.
In-depth analytics and tracking tool.
It automatically records your webinars.
Attendees can replay pages.
Other features like polls, promo offers, call-to-action, etc.
Pricing Plan: How much is Demio?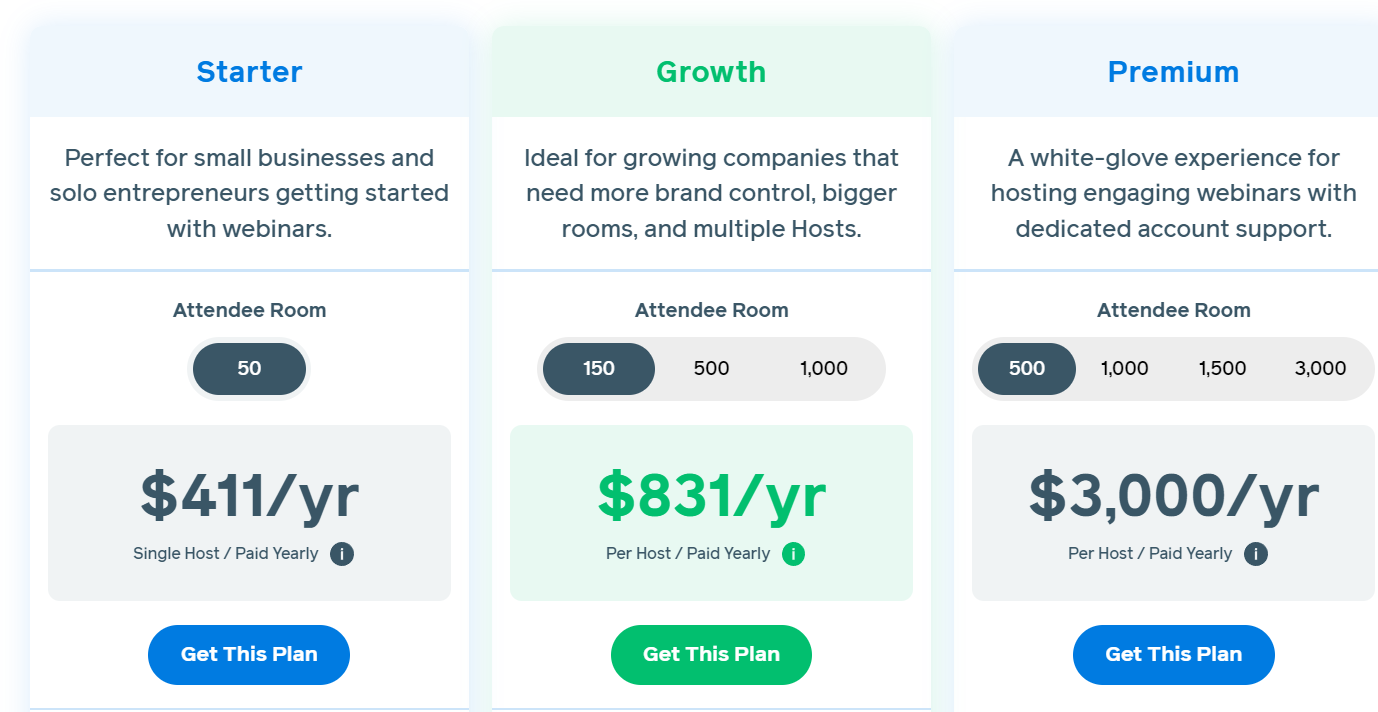 You can go on a 14-day trial period which is enough to understand what this is all about.
Demio's pricing plans include these three plans…
Starter Plan
Charges are $411.00/yr
1 presenter can present
50 attendees
You can host live webinars available only
Growth Plan
$831.00/yr
4 presenters can present
500 attendees
You can host both live and automated webinars
Room feature and email branding feature
Good customer support
Premium Plan
It costs you $3000.00/per yr
Maximum 4 presenters
500 attendees
Both live and automated webinars are available
A dedicated representative for customer support
Pros & Cons of Demio
Pros
Super intuitive interface
Browser-based
HD-quality video and audio
Free trial
Direct sharing on social media channels
Cons:
Not developed in integration with other websites
There aren't branding options under the basic plan
Recorded webinars don't have engagement tools
Final Verdict on WebinarJam vs Demio
I like Demio for its excellent support and functionality. The prices are high but reasonable when you see its features. Now, SaaS companies trust Demio a lot and recommend this to others.
Demio has almost the same feature as WebinarJam but it lacks the integration that is indeed a must-have.
So, you can estimate its value.
Final Verdict on WebinarJam vs Clickmeeting
ClickMeeting is known for its user-friendly experience and helpful features. However, some minor issues make it inferior to Webinarjam and relevant platforms.
4. EverWebinar: Best WebinarJam Alternative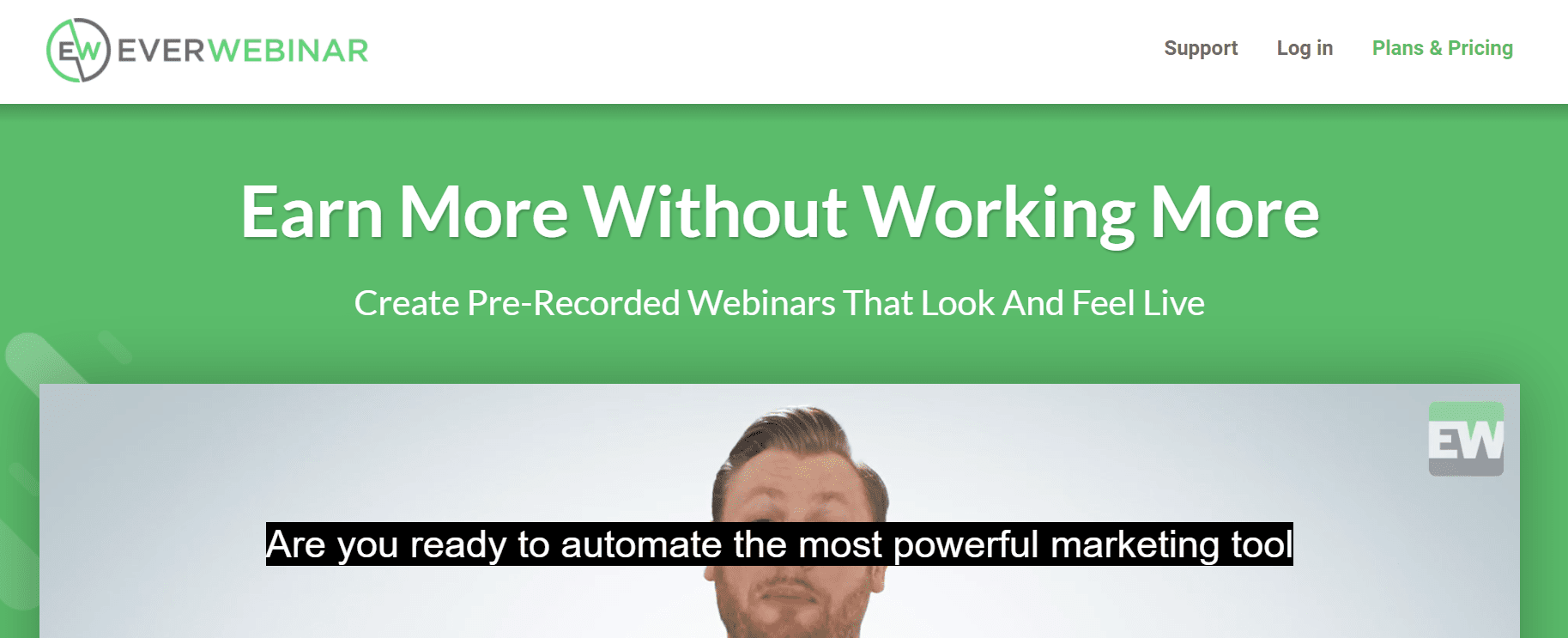 Do you know about the automated webinar? An automated webinar is when you use a recorded video to make it pretend like a live webinar.
It displaces the stress caused due to holding live webinars again and again. EverWebinar does the same for you.
Key Features
No download or installation is required.
It is fully browser-friendly.
You can customize landing page templates.
Under the scheduling system, you can enjoy the most suitable time for hosting your webinars.
Smart engagement tools are available.
The functionality of polls, surveys, and live chat is present on the platform.
You can host hybrid webinars as well.
You can send thank-you notes or reminders to your registrants.
It integrates with AWeber, MailChimp, ActiveCampaign, etc.
Pricing Plans: How much does Everwebinar cost?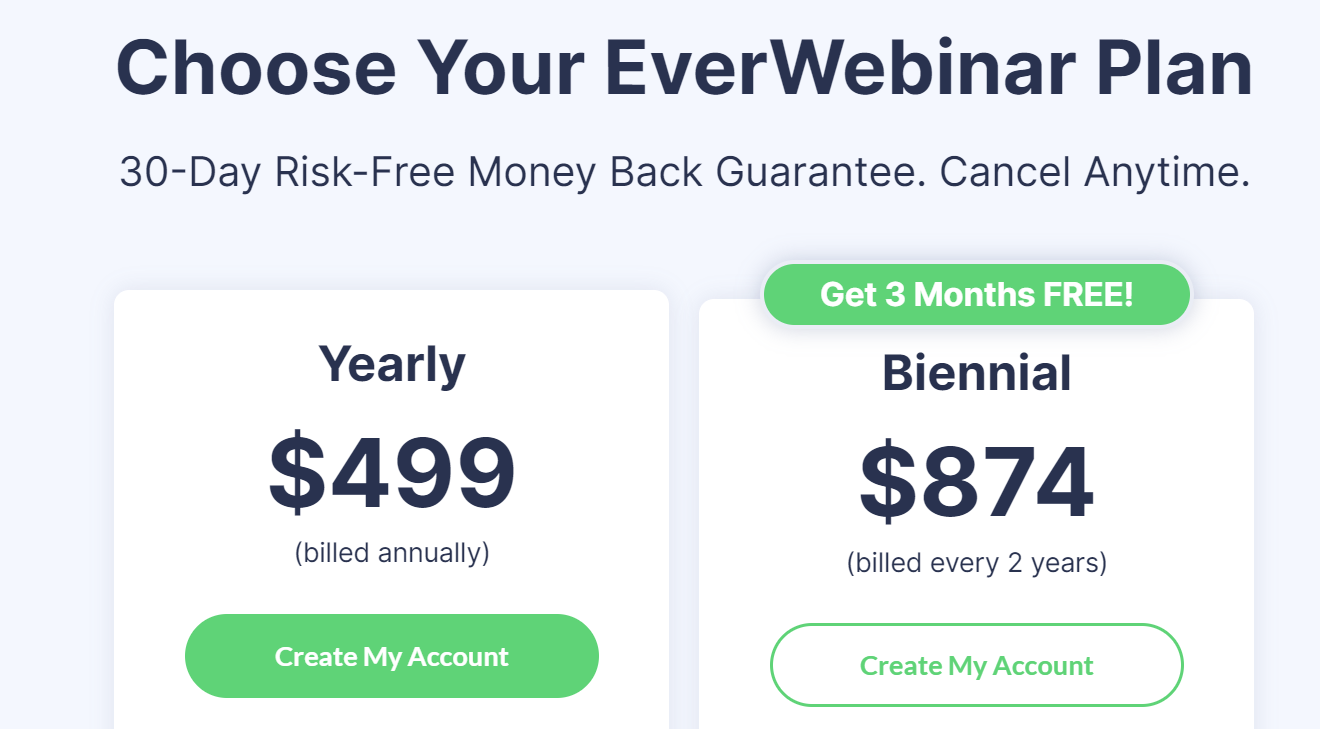 A test drive of a 30-day free trial is available. You can choose from 3 different payment options that come with various features and functionality.
I recommend using a 14-day trial for just $1. It's not too much but reasonable. Here is what you get…
The Yearly payment plan has a one-year payment of $499.00.
A biennial payment plan costs you a one-time payment of $874 for two whole years.
Pros & Cons of Everwebinar
Pros:
Simple, easy-to-use interface
Integrates with Webinarjam
You can host evergreen webinars easier than ever
Easy to upload any video
Tons of landing page templates to customize
Cons:
You don't get email reminders or thank-you messages which is a strong negative side of this software.
It does not support live webinars
Final Verdict on Everwebinar vs WebinarJam
It stands out from other Webinarjam alternatives for the ease to create automated webinars. It tops my favorite list as it led to high conversion rates than other competitors.
The major plus is its integration with WebinarJam. Look nowhere else if you want to create automated webinars with speed.
Final Verdict on EasyWebinar vs WebinarJam
There are indeed some downsides like Everwebinar is expensive and the solution is somewhat limiting. It affects conversion rates.
Polls and QnA methods lack this software. However, it is the best Webinarjam Alternative if you don't require these features.
6. Cisco WebEx: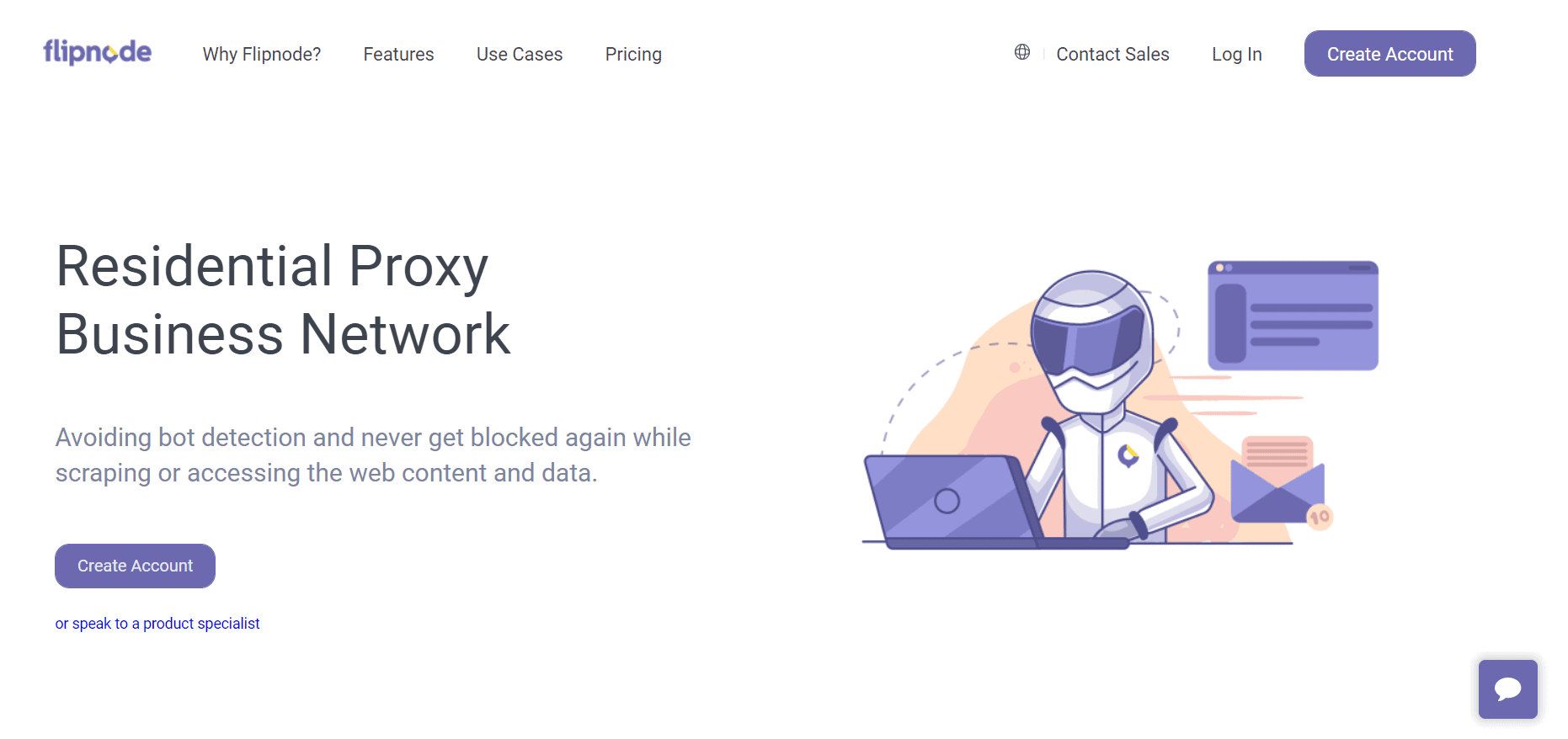 Cisco WebEx is an excellent choice if a large team runs your company and you want to communicate online through team-building webinars.
Customers and your entire team can easily collaborate.
While it has many excellent features like screen-sharing, HD videos, and calls, there may be better options for those who want to reach a large customer base.
It is primarily intended as a video-conferencing tool, but you can also use it to create simple webinars. In a Personal room, you can hold one-on-one meetings. 
Key Features
Cisco Webex is a comprehensive video conferencing platform that is ideal for businesses, providing teams with an array of innovative communication capabilities.
It offers several key features that make it an ideal solution, such as unparalleled cross-platform support, cloud storage, HD audio and video quality, seamless screen-sharing, password protection, and the ability to join meetings via phone or web.
Whether you're a small business or a large enterprise, Cisco's Webex technology puts all the tools you need to stay connected in real-time right at your fingertips.
Pricing of Cisco Webex

Cisco Webex offers an efficient and cost-effective conferencing solution, allowing users to easily stay connected with colleagues, partners, and teammates.
There are 3  pricing options available: Basic, Meet & Enterprise.
The Basic plan is completely free of charge, while the Meet plan comes with a low monthly license fee of $14.50 per license. Both plans offer a reliable and secure experience that puts customers first, allowing them to manage meetings quickly and effectively without any disruptions.
With Cisco Webex's simple yet comprehensive range of features and unbeatable prices, it's never been easier to stay in touch!
Pros & Cons of Cisco Webex
Pros:
Sharing options

Highly secured platform.

HD video and audio

Minimum Utilization of Internet Data

Stream live meetings on social media
Cons: 
Only for a smaller audience
Takes large space.
Quick Links:
FAQs On Webinarjam Alternatives
✅ Is EverWebinar secure?
Yes, it is totally secure. It continues to take measures on a regular basis.
💥 Is there any free webinar software?
ON24, GOToWebinar, Adobe Connect is some free webinar software. The features you receive here may be different than the paid ones.
🎉 How many attendees can be there in a Zoom meeting?
Up to 100 participants can join.
🤷 Does GetResponse offers free trial?
You can run a test drive of GetResponse free for 30 days.
🥇 Does Demio offer free trial?
You can go on a 14 day trial period on Demio which is enough to understand what this is all about.
👉 What are pricing plans of ClickMeeting?
You can have a 7-day free trial period on ClickMeeting. The three plans offered by ClickMeeting are Live, Automated & Enterprise plans.
👍 Does Everwebinar offer integration with WebinarJam?
Yes, the major plus of Everwebinar is its integration with WebinarJam.
How is Webinarjam compare with other webinar software?
When it comes to the features and pricing, there is no other competitor who does any better in webinar hosting than Webinarjam. It has been affiliated to be one of the best marketing software in current times.
Are WebinarJam and EverWebinar the same?
WebinarJam and Everwebinar is owned by the same company- Genesis digital. However, the two webinar software differ in various ways including the webinar type they offer. Webinarjam provides live webinar whereas Everwbinar provides automated webinar.
Conclusion: Which WebinarJam Alternative Do I Recommend? 
If you're looking for an alternative to Webinarjam, there are plenty of options out there. If you want a similar platform that offers more features and functionality, consider GoToWebinar or Zoom.
If you're on a tight budget, Streamyard or RestreamStudio might be better suited for you. No matter what your needs are, there's definitely a webinar solution out there that's perfect for you.
Have you tried any of these alternatives to Webinarjam? Let us know in the comments below!