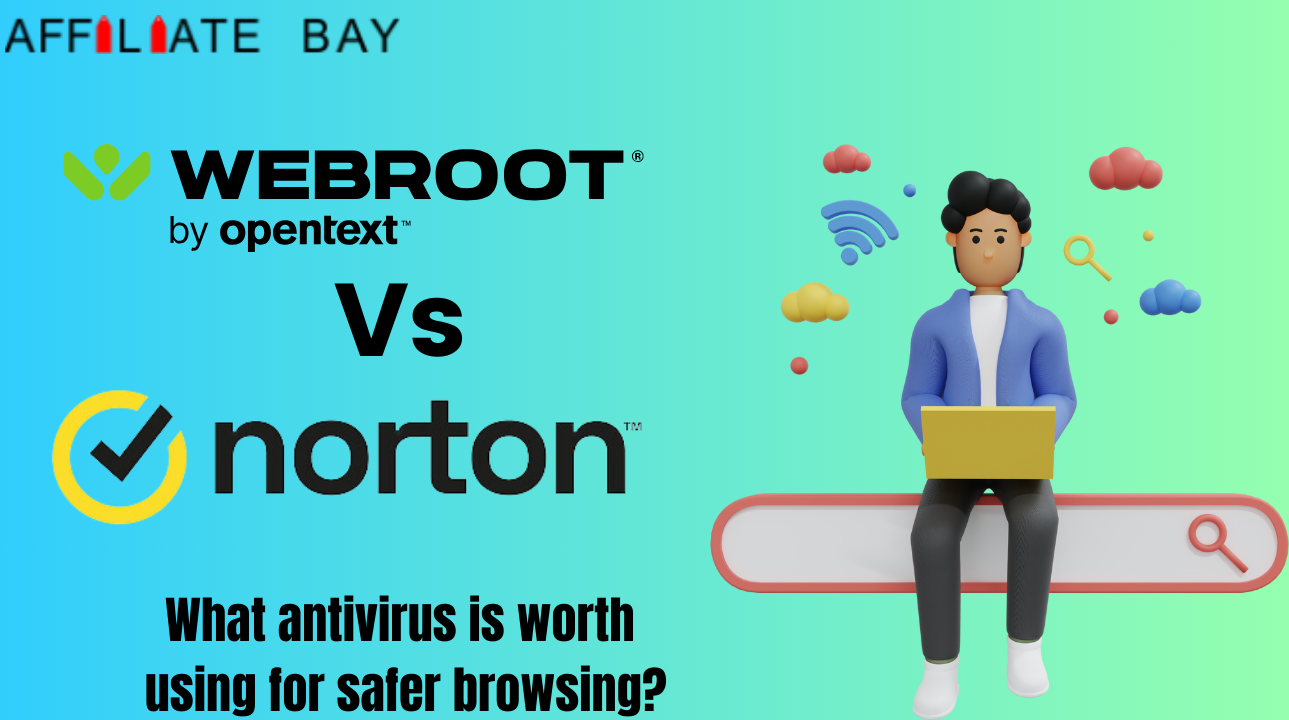 Overview: Webroot vs Norton
Let's look at both Norton and Webroot in detail.
Norton 360
The Norton 360 security suite is one of the best antivirus programs in 2023. It's good at finding viruses and keeping your computer safe. But what else does it do to keep you safe?
Norton acquired LifeLock identity protection in 2017, which led to its name change of NortonLifeLock.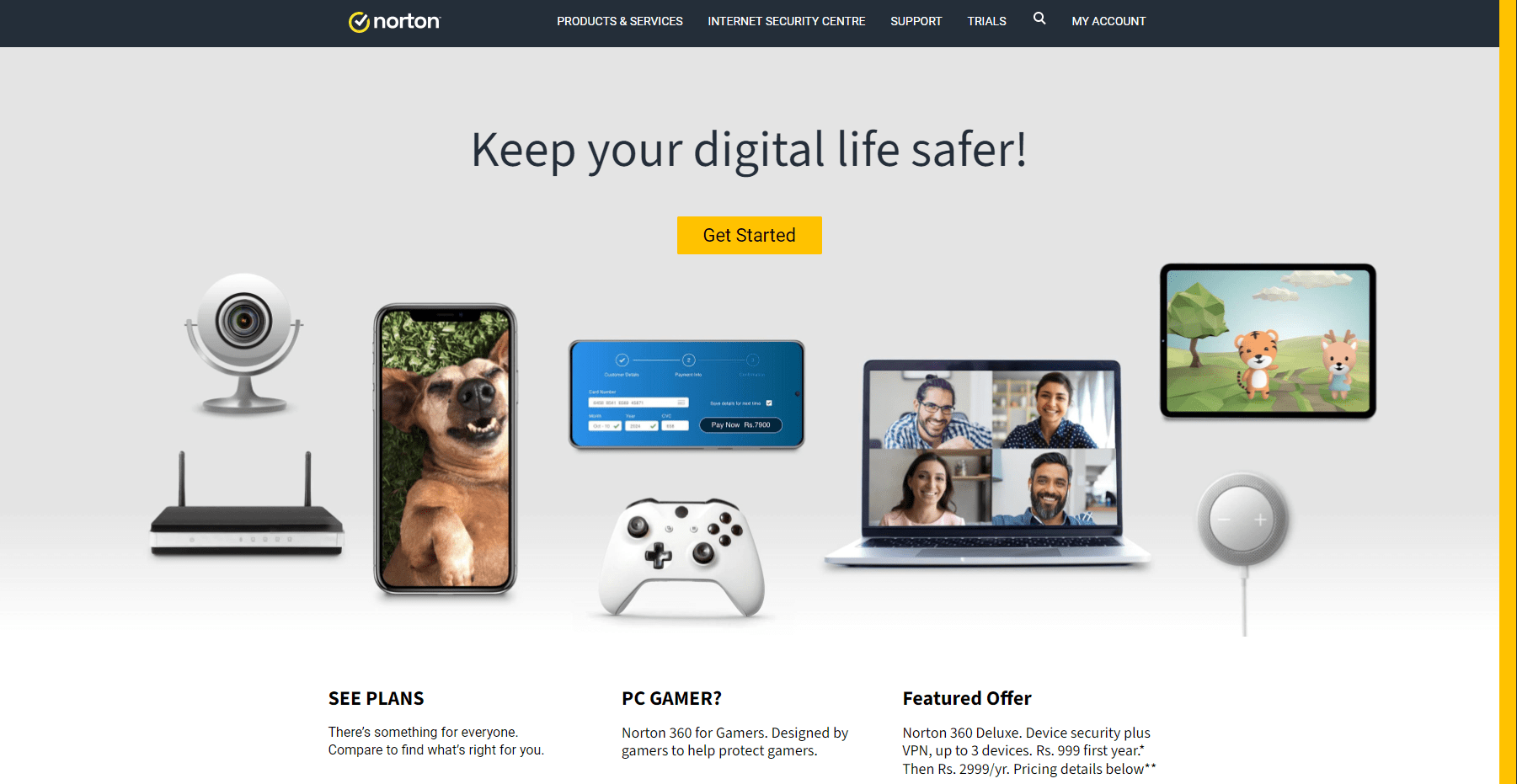 Norton uses smart computer learning to find viruses and is really good at it. It found all the viruses I tried to download when I tested it. Norton also has extra stuff like a VPN, password manager, and tools to keep your personal information safe.
Norton AntiVirus Plus is the basic feature they offer. It's like a bodyguard for your computer. It helps protect one computer from bad stuff.
This package has many cool things, like a smart firewall that watches out for anything fishy, a scanner that finds and stops malicious activities, and a tool to keep your passwords safe.
Then there's Norton 360 Standard. It has everything from the basic package plus more stuff. You get a little bit of space in the cloud to keep your data safe. There's also a special internet connection tool and a way to stop people from peeking through your webcam.
Norton 360 goes even bigger with Norton 360 Deluxe.
It has everything from the Standard package and a lot more. More space in the cloud, a special feature to control what your family does online, and you can use it on lots of devices – like your computer, phone, or tablet.
If you really want the whole deal, Norton 360 Deluxe with LifeLock Select is the destination. It's like Deluxe but with even more. You get a team watching out for bad stuff on the dark web, and tools to keep an eye on your money and personal info. They even promise to help you if something bad happens to you.
Norton is always ready to help you with customer service, like talking to a friend.
Webroot
Webroot is a budget-friendly antivirus program that doesn't use up a lot of your computer's resources.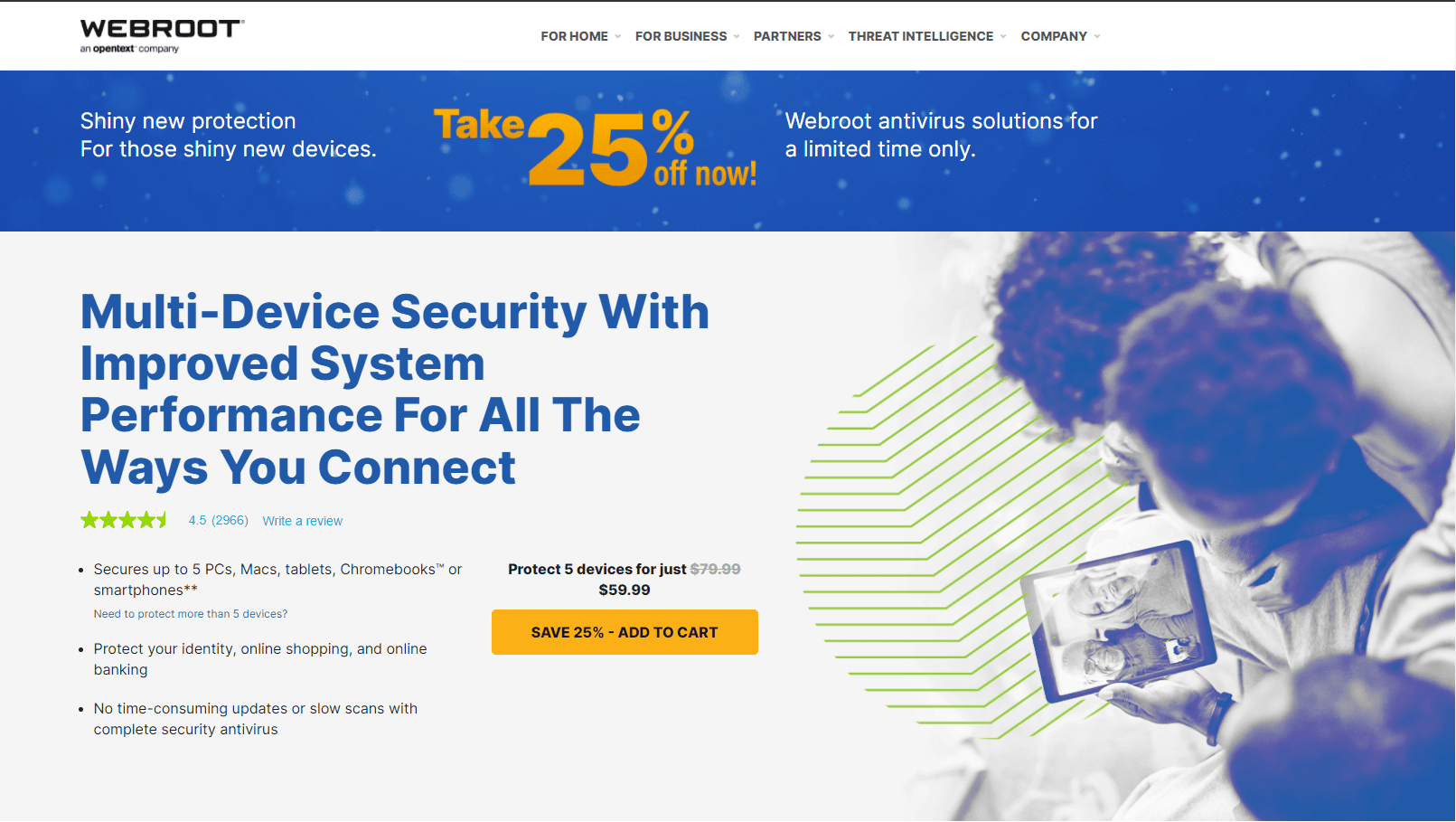 It also includes a really good password manager and a few extra features like web protection and a system optimizer.
Their password manager is powered by LastPass, which is one of the best password managers available. However, the web protection feature doesn't always work well, and the system optimizer might be too simple for most people.
This is like a bodyguard for your computer.
It's a tool that helps keep your PC or Mac safe from bad stuff. It has a firewall and a scanner that looks for suspicious activities on your computer. This scanner is super smart and updates itself using the Cloud features out there.
It also has a shield to protect you from people trying to steal your personal info, like your identity.
There's also a cool feature that stops others from peeking through your webcam, so you have your privacy. And when you're browsing the internet, you won't need to worry about bad guys getting your money info because there's special safe browsing.
Also, it makes sure your Wi-Fi is secure, and you can use a secret internet connection with the VPN.
Then there is Webroot Internet Security Plus. It's like Antivirus, but even bigger.
You can use it on three devices – that could be your computer or even your phone. It has everything from Antivirus, plus a tool to manage all your passwords safely.
The highest level is Webroot Internet Security Complete. This is like the superhero of protection. It has everything from the other versions and more. It helps your computer run faster and even gives you a private online space. It's like having a secret hideout on the internet.
All of Webroot's products come with fancy customer support that's always ready to help you.
Norton vs Webroot: Features Comparison
Let's look at the comparison between Webroot and Norton's features.
| | | |
| --- | --- | --- |
|  Features |  Webroot |  Norton |
| Ease of Use |  ✅ | |
| Antivirus and Antispyware | ✅ | |
| Firewall | | ✅ |
| Web protection/anti-phishing | ✅ | |
| Parental controls | |  ✅ |
| Password Manager | | ✅ |
| Webcam protection | | ✅ |
| PC Cloud Backup | ✅ | |
| VPN | | ✅ |
| Ransomware protection | | ✅ |
| Banking and Payment Protection | | ✅ |
| Network Attack Protection | ✅ | |
| Secure data encryption | | ✅ |
| Automatically update apps | | ✅ |
| File Shredder |  – |   – |
| Performance Optimization | ✅ | |
| Identity Theft Protection | | ✅ |
| Overall Winner | |  Norton Wins |
Now, let's dig into the details.
Features of Webroot
Advanced cyber threat protection.
Real-time anti-phishing.
Cloud-based malware scanning .
Password manager for secure logins.
Secure browsing with Webroot Safe Browsing extension.
Parental control and monitoring tools.
Identity theft protection services.
24/7 customer support
Features of Norton
Automatically scans your computer for viruses and other threats.
Provides real-time protection against online threats.
Offers customizable security settings to fit your needs.
Includes a password manager to store and securely protect your passwords and personal information in one place, accessible from any device with an internet connection.
Cloud-based malware detection detects the latest threats quickly and easily without slowing down your system's performance or requiring you to download large updates regularly.
Protects up to 5 devices with one subscription, including PCs, Macs, tablets, smartphones, and more.
Offers a money-back guarantee so you can try it risk-free before committing long-term.
Real-Time Malware Protection
To find out which of these two programs is better at protecting against bad stuff, I could check tests done by groups that don't take sides.
One of these groups is AV-Test. They have experts who test different antivirus providers to see how well they work. They look at three things: Protection (how well it stops bad stuff), Performance (how fast it works), and Usability (how easy it is to use).
They did tests in early 2019. Norton did really well, getting a perfect score in Protection. It stopped all sorts of bad stuff, earning a 6/6 rating.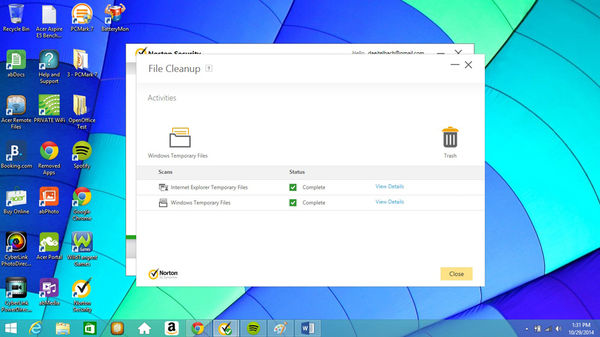 Webroot didn't take part in these tests for some reason, though.
Another group is AV-Comparatives.
In their recent test, Norton did really well again. It got the second-best award because it protected computers well and didn't make mistakes by calling safe things harmful.
So, Norton seems to be doing a good job at keeping bad viruses away from your computer.
On the other hand, Realtime Shield is a security tool from Webroot. It works on both Windows and MacOS, and you can turn it on or off in the advanced settings.
When you activate it, Realtime Shield keeps a constant eye on what your device is doing. It's like a guard that watches for any bad software trying to sneak in and harm your device. By doing this, it keeps your device and personal info safe from harm, making sure you stay secure all the time.
System Performance
Webroot's cloud-based approach tends to have a smaller impact on system resources, making it a good choice for those who want minimal interference with their regular activities.
On the other hand, Norton has improved its performance, and while it might have a slightly higher impact than Webroot, it still aims to maintain a good balance between protection and system speed.
Ultimately, the choice between Webroot and Norton in terms of system performance depends on your preferences and the specific needs of your computer.
Webroot might be more suitable if you're looking for a lighter impact on system resources. Norton's newer versions offer a good balance if you want comprehensive protection with improved performance.
It's recommended to consider your system's specifications and your usage habits when making this decision.
Scanning
When it comes to scanning for viruses, both Webroot and Norton 360 have their own approaches.
Norton 360 offers various scanning options like smart, quick, full, and custom scans, along with Norton Insight which identifies suspicious files for a custom scan.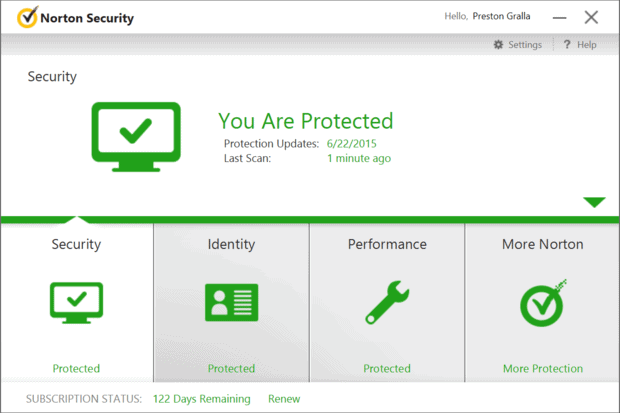 During my test, smart and quick scans were fast but didn't find any malicious files. However, the full scan took about 11 minutes and successfully detected all 10 malicious files.
Webroot simplifies its scanning with just two options: Deep Scan for a thorough check of your entire system and Quick Scan for focusing on high-risk areas.
You can customize these scans to fit your needs.
Interface: Webroot vs Norton
In my comparison on Norton vs Webroot, I took interface as one of the most important factors.
The antivirus program's interface should be user-friendly because you'll use it often.
When you open Norton's dashboard, you'll notice it's primarily in green and yellow colors.
It displays your current protection status and how many licenses you're using. At the bottom, you can easily see your security, backup, and performance status using clear icons and labels. You can also manage protection for all your devices through a web portal.
Webroot's interface is straightforward to navigate, although it might look a bit old-fashioned.
It effectively provides access to identity protection, backups, and passwords on the right-hand panel. There's also a bottom panel to check out the latest news and connect with the Webroot Community.
Webroot vs Norton: Pricing
Here are the pricing plans for Norton vs Webroot comparison.
Norton Pricing


Norton offers several antivirus plans to cater to different needs:
Antivirus Plus: This is the basic plan that safeguards one device. It includes Norton's essential antivirus features, a firewall, and provides 2GB of secure cloud storage.
360 Standard: Building upon the Antivirus Plus features, this plan includes Norton's VPN for added online privacy, Dark Web Monitoring to watch out for your personal data on the dark web, and protection for up to 3 devices.
360 Deluxe: In addition to the features of 360 Standard, this plan adds Norton's parental controls and a Privacy Monitor. It also increases cloud storage to 50GB and extends protection to cover up to 5 devices.
360 Select: The most comprehensive plan, 360 Select, includes all the previously mentioned features, along with 250GB of cloud storage. It also offers Norton's ID Theft Protection and extends protection to cover up to 10 devices.
Webroot Pricing


Webroot offers three different plans to protect your devices.
Webroot AntiVirus is the basic plan for $25.99 per year, covering one device. It includes important security features like a firewall, ransomware protection, and anti-phishing tools.
It's a good choice if you're a single user looking for basic protection.
Webroot Internet Security Plus is a mid-tier option priced at $38.99 per year. It protects up to three devices, including smartphones, tablets, and Chromebooks. This plan is handy if you have multiple gadgets that need protection.
Webroot Internet Security Complete: The most advanced plan costs $51.99 per year and covers up to five devices. In addition to the features in the other two plans, it removes traces of your online activity, enhancing your privacy and security.
This plan is ideal if you have multiple devices and want comprehensive protection.
Norton and Webroot can be used on all kinds of operating systems, like Windows, MacOS, and Android devices. You'll like that!
Customer Support
Norton 360 offers multiple ways to get help, including 24/7 live chat support. If you prefer solving problems on your own, you can check out their extensive knowledge base with detailed articles.
Webroot also has a comprehensive knowledge base and a community support option with guides, tips, and FAQs. You can contact their support team by phone or email, but there isn't a 24/7 live chat option, so response times may vary.
In this regard, Norton 360 takes the lead by offering a more comprehensive customer support experience, including 24/7 live chat support, which can be very helpful for users.
Webroot vs Norton: Pros & Cons🔥
| | |
| --- | --- |
|  Webroot Pros |  Webroot Cons |
| The user interface is the simplest | This limits the number of non-English speaking clients that can adopt the software. |
| Covers a wide range of devices at a reasonable price. | Security features are fewer. |
| Fastest scanners on the market | |
 Norton Pros and Cons
 Norton Pros

 Norton Cons

If you're trying to be productive, constant alerts can become annoying.

Financial transactions online are protected by this service.

Physical installation is required, which can take a long time.

Protects children online with parental control.

Do not slow down your computer while running in the background

With Norton, non-English speaking clients can better adapt to the solution since a wide range of languages is supported.

 
FAQs: 
Is Webroot a good security system?
No, Webroot is not a good security system. Tests done by independent labs have proven that Webroot doesn't do a good job at finding malware. Because of this, AV-test gave Webroot a low score of 2 out of 6 for protection. There are other antivirus providers that is more secure and cost less, so for most people, Webroot might not be the best option.
Do I need Norton If I have Webroot?
There are some good reasons to think about switching from Webroot to Norton. Unlike Webroot, Norton has been proven by experts to be really good at stopping malware. Also, Norton gives you extra things like a VPN, which helps you stay safe online, plus tools for parents to control what their kids do on the computer, and protection for your webcam. Lastly, Norton's basic plan gives you better security and costs less.
Do Norton and Webroot do the same thing?
Norton and Webroot are both companies that make antivirus software to keep your computer safe. But they have different kinds of products. Norton 360 gives you more protection against bad things like viruses and other dangers. They also give you extra features like a firewall, which is like a shield for your computer, a VPN to keep your online activities private, and protection for your webcam. On the other hand, tests have shown that Webroot is not as safe and doesn't give you as many extra things.
Does Webroot include a VPN?
Webroot does have a VPN service, but you need to pay extra to use it – it's not part of their regular antivirus packages. Some people recommend that Webroot's VPN might not keep your private data completely safe because of DNS leaks. Also, if you want to watch shows on streaming websites using the VPN, Webroot's VPN might not work well for that because it doesn't work with a lot of the popular streaming sites.
Conclusion: Which is Better between Webroot and Norton?
Competing in the antivirus software market is tough, and Norton 360 and Webroot aren't evenly matched. In simple terms, Norton 360 is much better than Webroot.
Webroot didn't do well in most areas except for one – it's good for your computer's performance.
But Webroot needs to improve in everything else, especially in keeping your computer safe. Norton 360 consistently shows it's great at protecting against viruses, both in my tests and in tests done by others.
When it comes to cost, Norton's basic plan is cheaper. Even with all the features Webroot offers, it can't make up for not being great at finding viruses.
Norton outperforms Webroot in malware protection and performance in my own tests, and performs highly in independent tests.
Check my other comparisons: