Data is an invaluable asset for everyone. Be it a small, medium, or large organization, losing the data can prove to be fatal for the companies.
Data can be patient or client information, payroll data, contact lists, email communication, and whatnot. Hence, recovering the lost data is essential for any business.
I'm always looking for the best piece of data recovery software. Wondershare Recoverit data recovery is one such useful data recovery tool for me.
After careful consideration, I have written this Recoverit Review, where I have tested each tool's features, pricing, and functionalities to give you a final decision.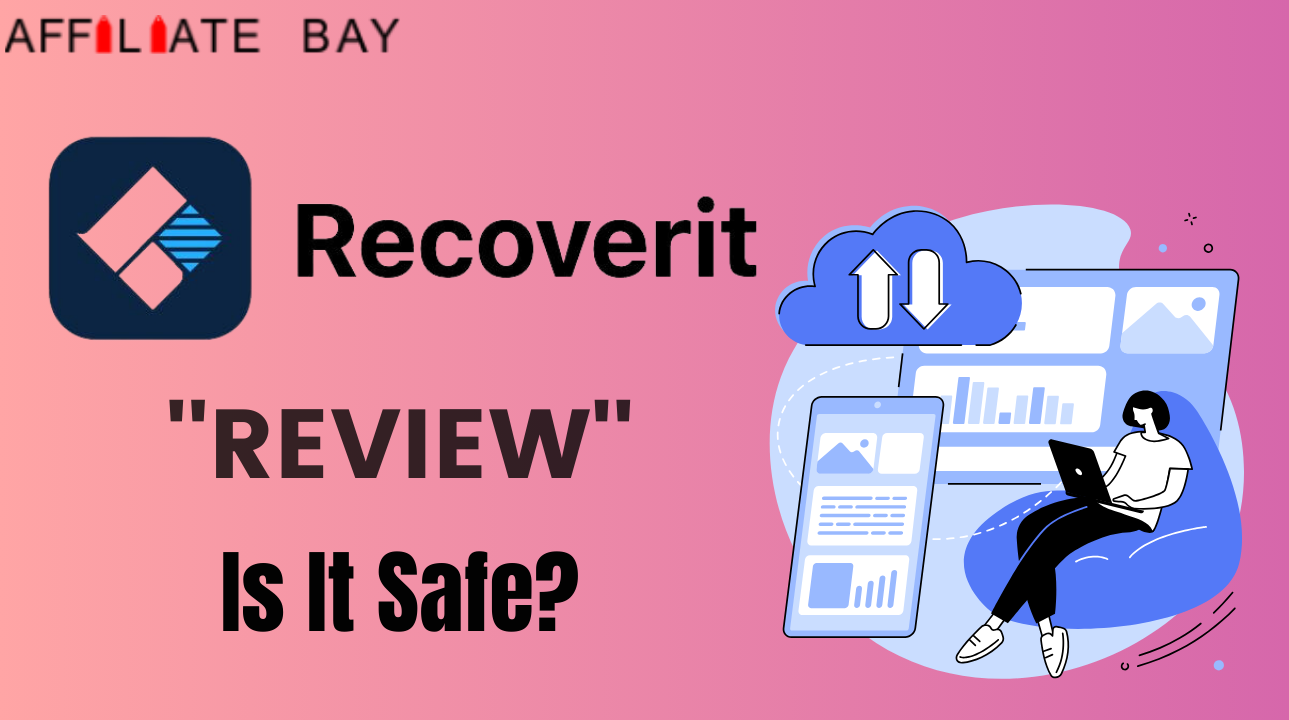 What is Wondershare Recoverit?  
Wondershare introduced Recoverit in 2003 and has consistently updated it, making it one of the top data recovery tools available.
This user-friendly software is compatible with both macOS and Windows operating systems, and it excels at recovering a wide range of files, including documents, photos, videos, audio files, and even emails – a whopping total of over 1000 file types.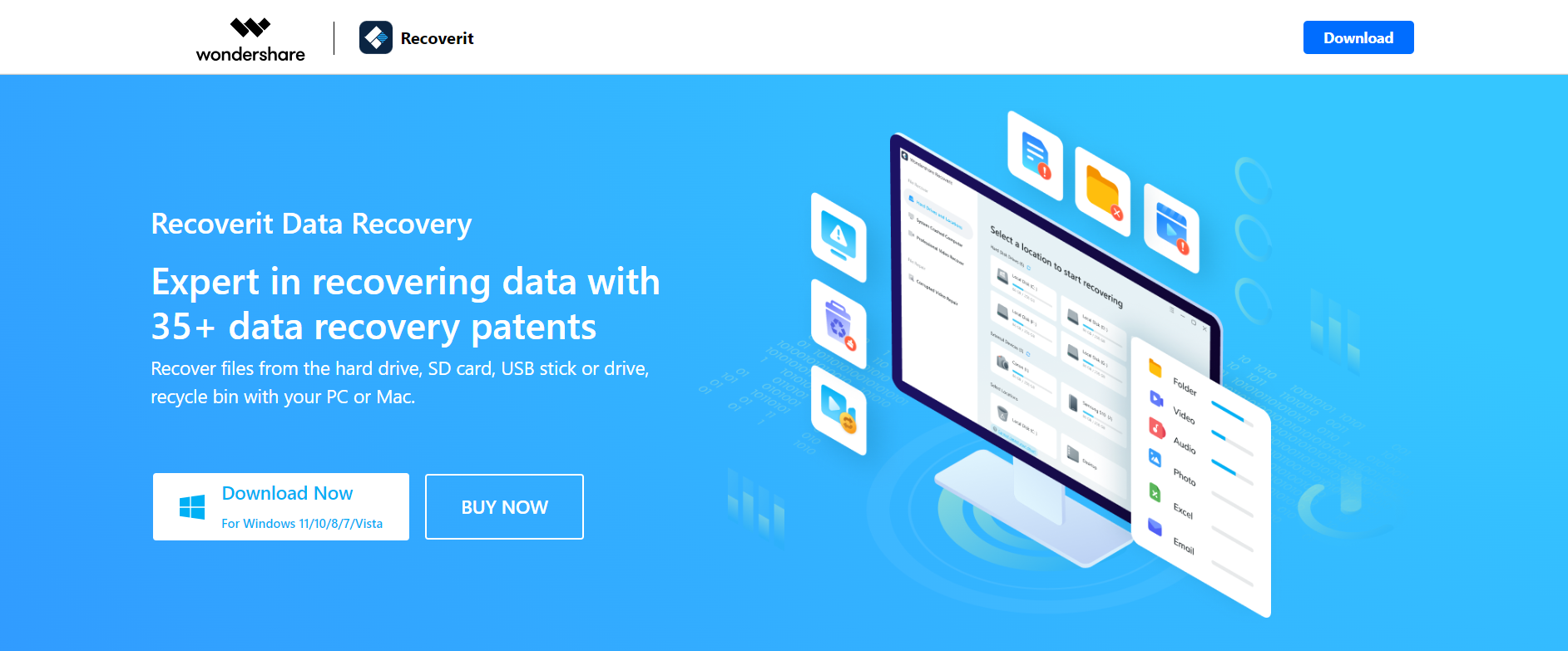 Recoverit can recover data from various locations, such as USB drives, SD cards, your computer's storage, and even formatted partitions.
One thing I liked about Recoverit is that it is not limited to computers. It can also retrieve data from smartphones and digital cameras.
Let's look at the highlight features of Wondershare Recoverit.
Main Features of Wondershare Recoverit:
Now, let's check out what features Wondershare Recoverit has in store. It's important to note that I'll be looking at all three versions: Essential, Standard, and Premium. There's also a free trial, which gives you details about the software but is limited and doesn't allow you to recover files.
Here are the main things Recoverit can do:
Supports 1000+ File Types:
One of the standout features of Wondershare Recoverit is its remarkable ability to handle a vast array of file types. Whether you've lost essential documents, cherished photos, memorable videos, or crucial emails, Recoverit has you covered.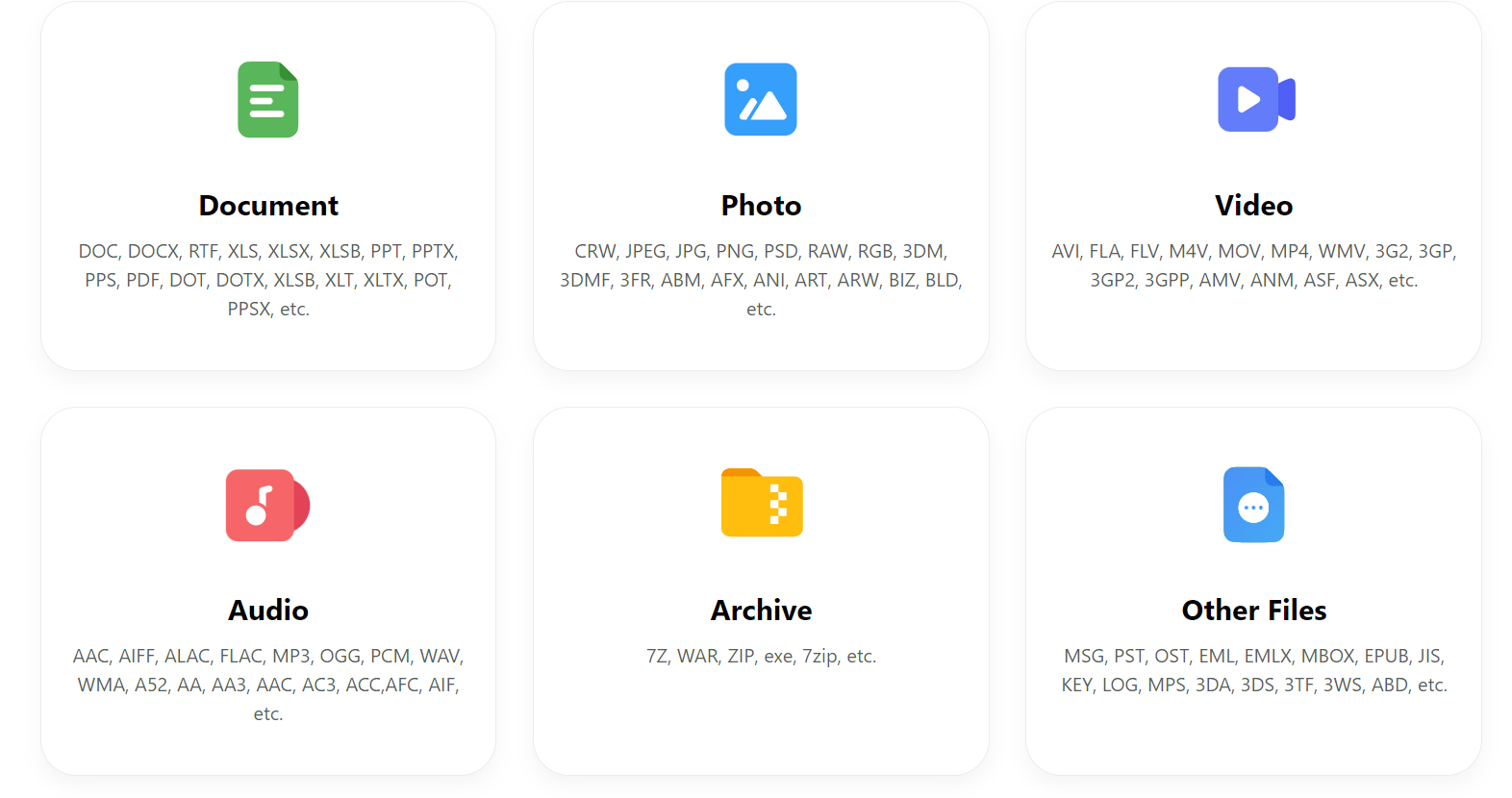 I've experienced the relief of knowing that no matter what type of file I've accidentally misplaced or lost, Recoverit can likely recover files quickly.
Deleted File Recovery:
We've all been there – that sinking feeling when you mistakenly delete a vital file. Recoverit acts as a reliable safety net in such moments of distress.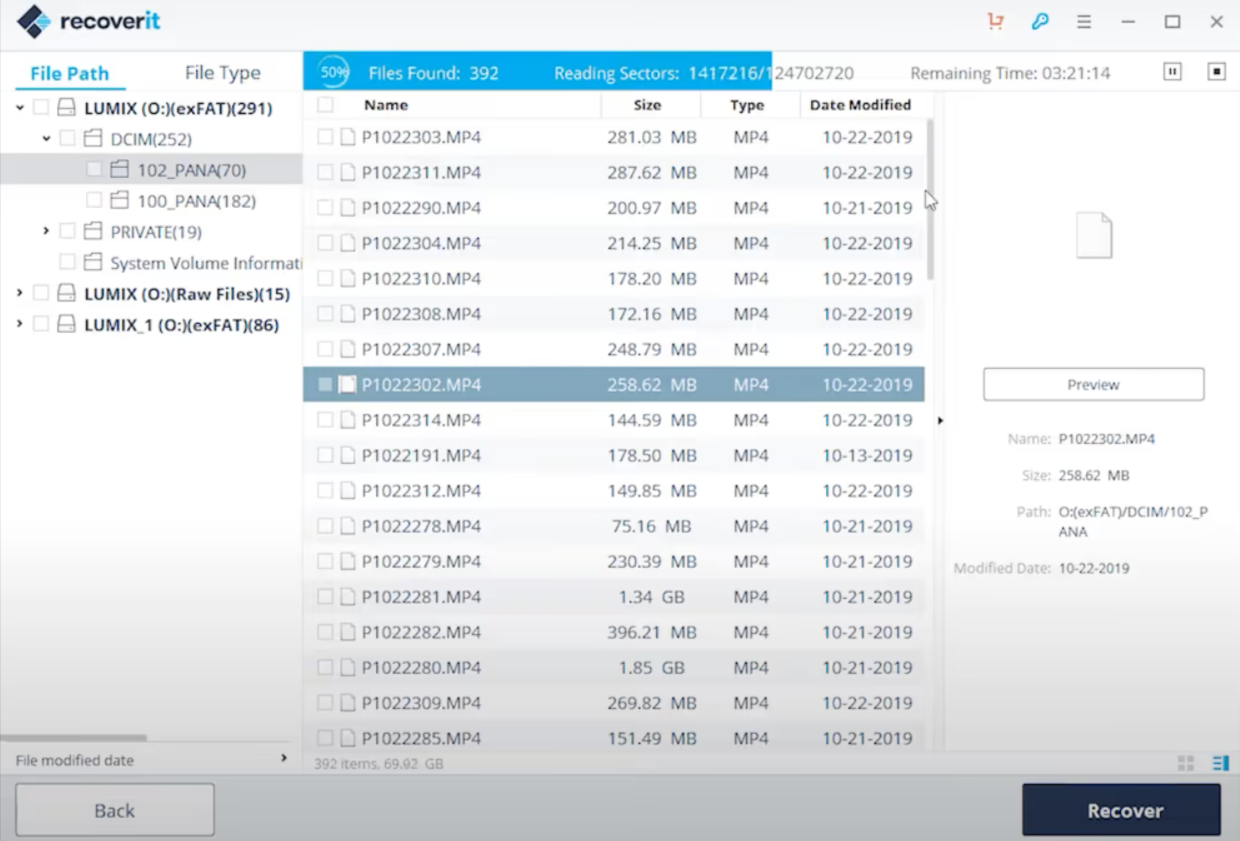 It efficiently recovers deleted files, and I've found this feature to be a true lifesaver, especially when you're racing against time to recover an accidentally deleted document or precious family photo.
Recoverit can bring back many files like photos, music, videos, documents, emails, etc. It can handle over 1,000 types of files in total. It's simple to use, but it might take a bit of time to get back the files you deleted.
Formatted Recovery: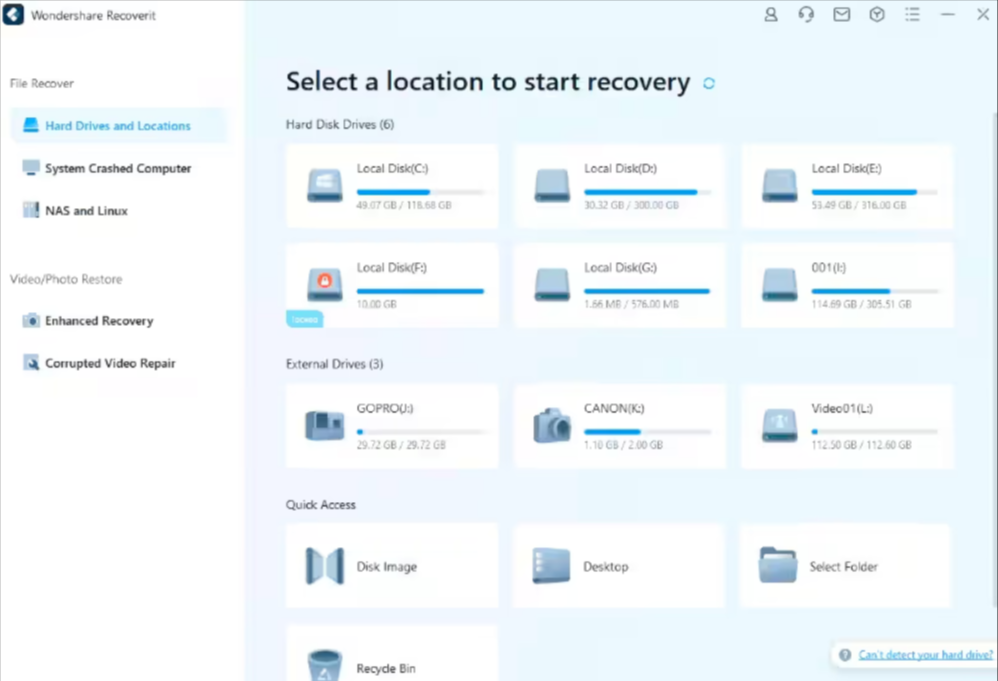 Advanced Video Repair:
As someone who treasures my personal and professional collection of videos, the advanced video repair feature in Recoverit has been a game-changer. It's not just about recovering videos but saving those precious moments captured on film.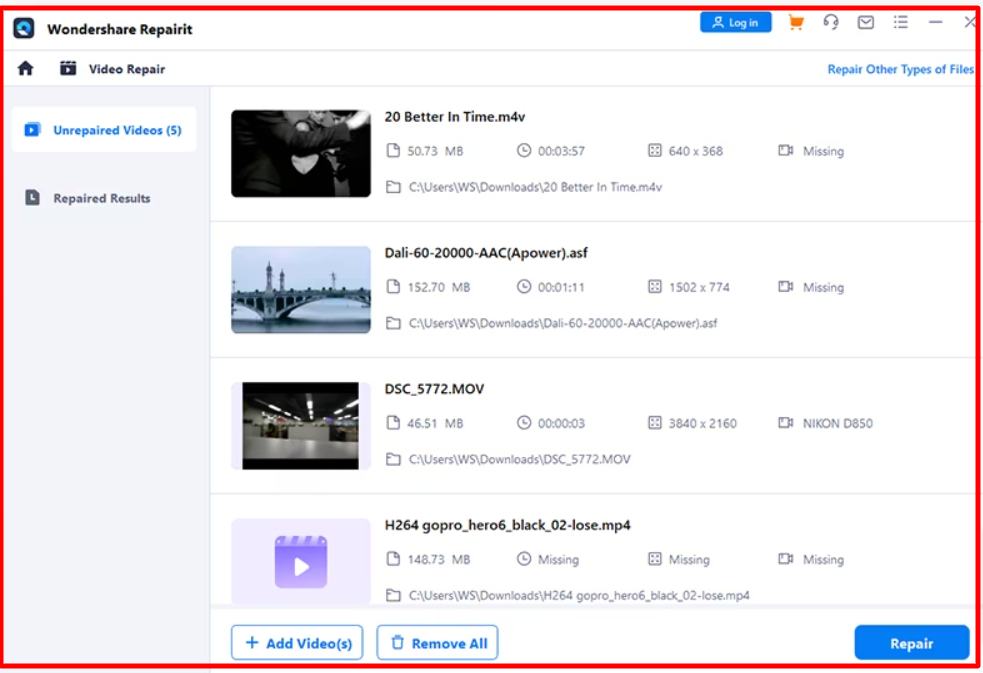 This feature can scan corrupted or damaged video files, ensuring your memories remain intact. The peace of mind it offers is priceless, knowing I can generate valuable videos from the bottom.
Partition Recovery:
The Partition recovery program retrieves deleted files from lost partitions on Windows and Mac. It can recover data from lost or deleted partitions on various storage devices like computer hard drives, external hard drives, USB flash drives, and more.
It completely scans and restores data from problematic partitions, making it an indispensable tool for anyone who has faced storage partition challenges.
How To Recover Data Using Recoverit?
If you want to get back lost files using Wondershare Recoverit, here's how to do it with the free version for Windows 10. In my test, I deleted five pictures from my PC's E: drive and five text files from the recycling bin to see if Recoverit could recover them.
 Start by downloading Wondershare Recoverit for free from their official website.

Open the downloaded file and follow the on-screen instructions to install the program. The installation time depends on your internet speed since it downloads some files.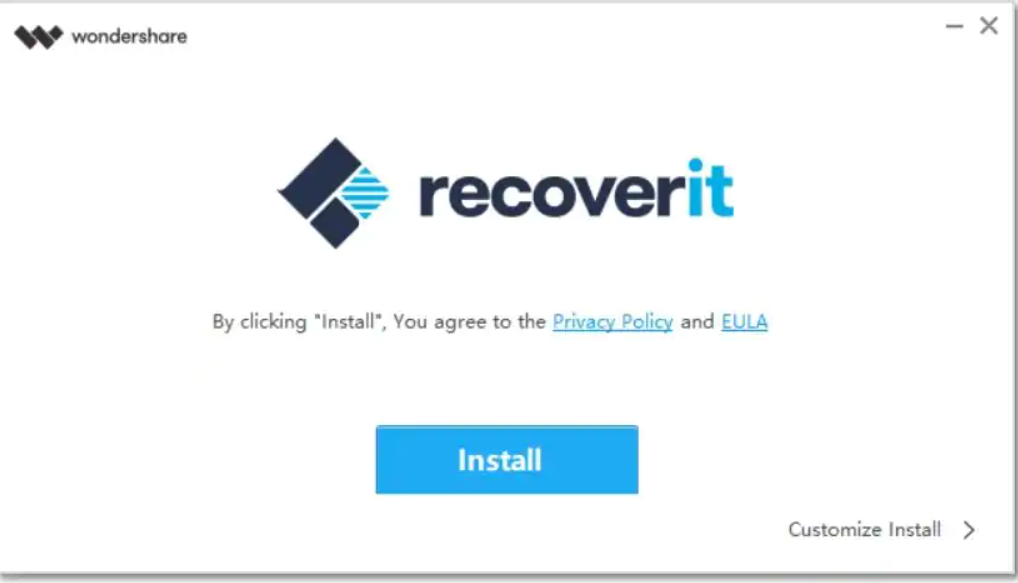 Once installed, launch the app.
You'll see Recoverit's main screen with options on the left. It shows all connected storage devices, including quick access to Recycling Bin, Desktop, and folders. You can also access advanced features like crashed system recovery, advanced video recovery, and corrupted video repair.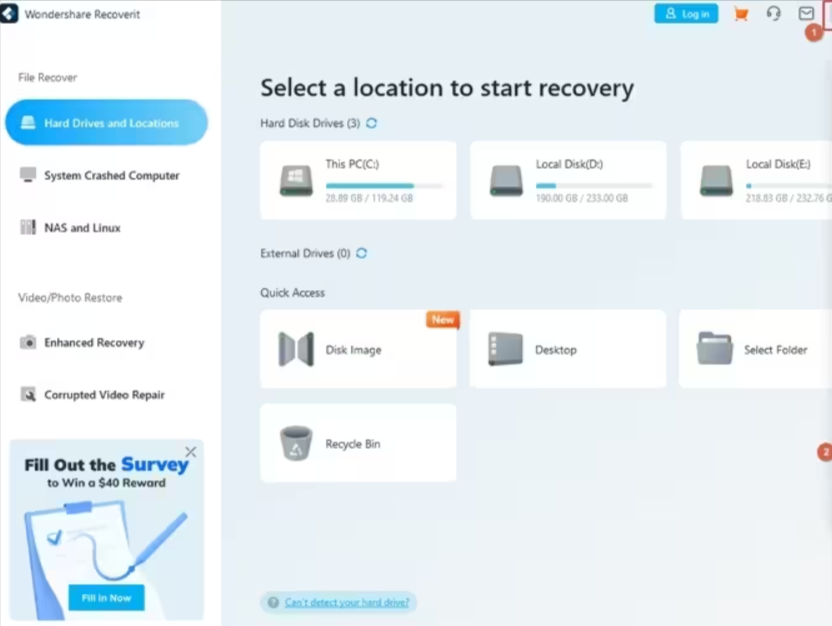 Click on the storage medium where you lost your files, in this case, the C: drive.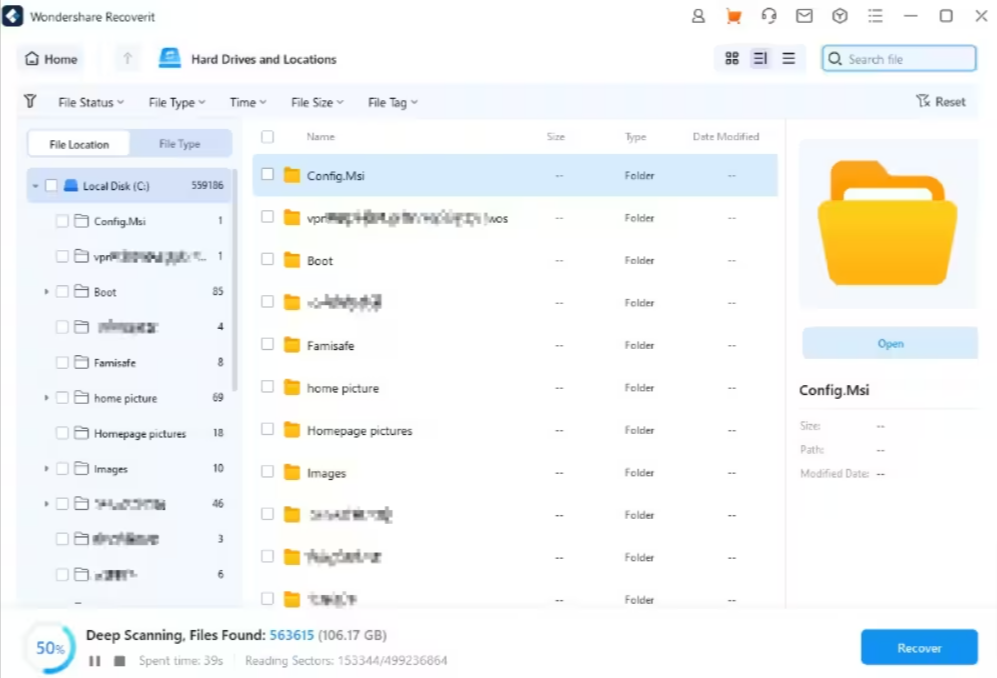 Recoverit will start scanning. It took me less than five minutes on an SSD drive, but it might take longer on a regular hard drive. After scanning, you'll see how many files were found.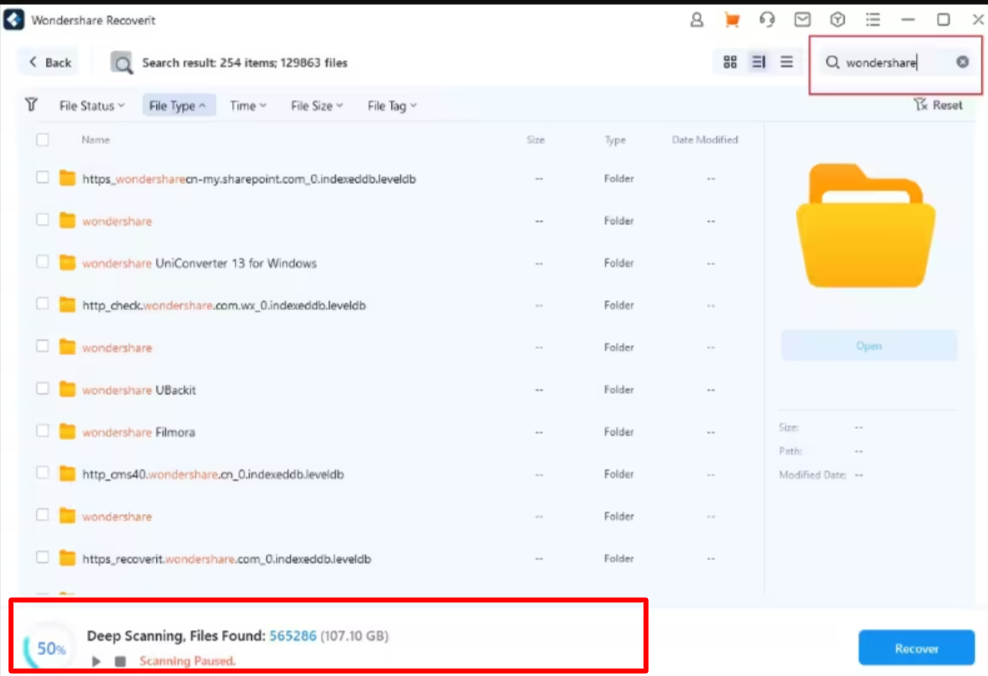 By default, results are shown by file location, but you can change it to file type. You can also adjust the view, add filters, and search by file name. Previewing files might not always work.
Once you've found the files you want to recover, select them by clicking the checkbox next to them.
Click the "Recover" button at the bottom right to start the recovery process.
Unfortunately, the free version has limitations. You'll have to purchase the premium plan to recover the files.
This wasn't very clear since the official website said the free version could recover up to 100 MB of data. It disappointed me since the files I tried to recover were very small.
Recoverit Review: User Experience 
Wondershare Recoverit has a user-friendly interface that stands out as its best feature. It has a pleasing look with light blue colors and smooth window edges, and the icons are modern and well-designed.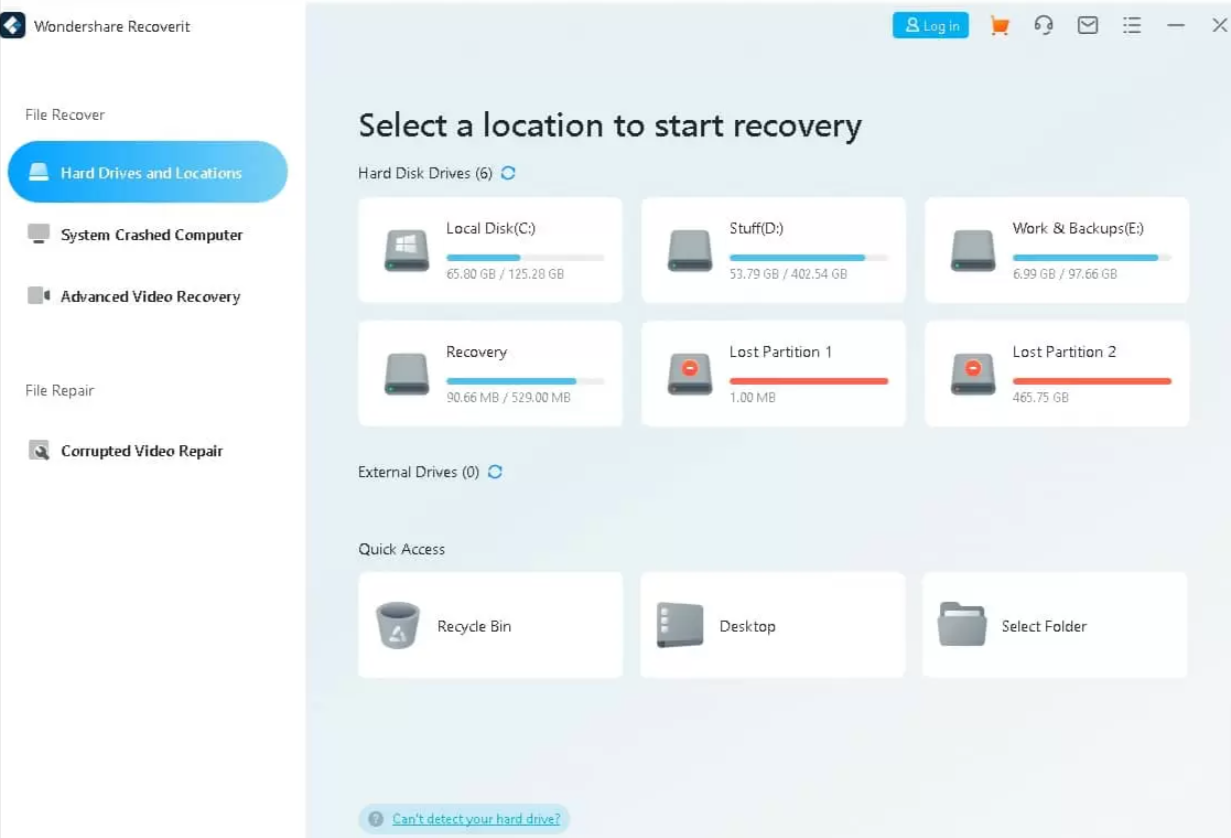 The menus are easy to navigate and fit nicely with the overall style.
The layout shows all the information. You can see your storage devices, the space used, and their total capacity. You can quickly scan your Recycling Bin and Desktop with just a click.
If you want to explore more of the program's features, they're conveniently accessible on the left side of the window.
However, there's one small hiccup I encountered.
A "Disk Tools" option in the top menu wasn't exactly what I expected from the name and didn't function well. Overall, the interface and user experience of Wondershare Recoverit are pretty impressive.
Security and Privacy
Wondershare data recovery says on its website that its product is 100% safe. We can't be 100% sure, but we know it's free from viruses and bad stuff, so it's safe in that way.
When it comes to privacy, Wondershare collects some regular info like your product serial number and device details, which is normalized for apps these days.
However, they might share some information with third-party tools.
Recoverit Review: Pricing Plans
Wondershare Recoverit offers a straightforward and clear pricing structure with three plans: Essential, Standard, and Premium.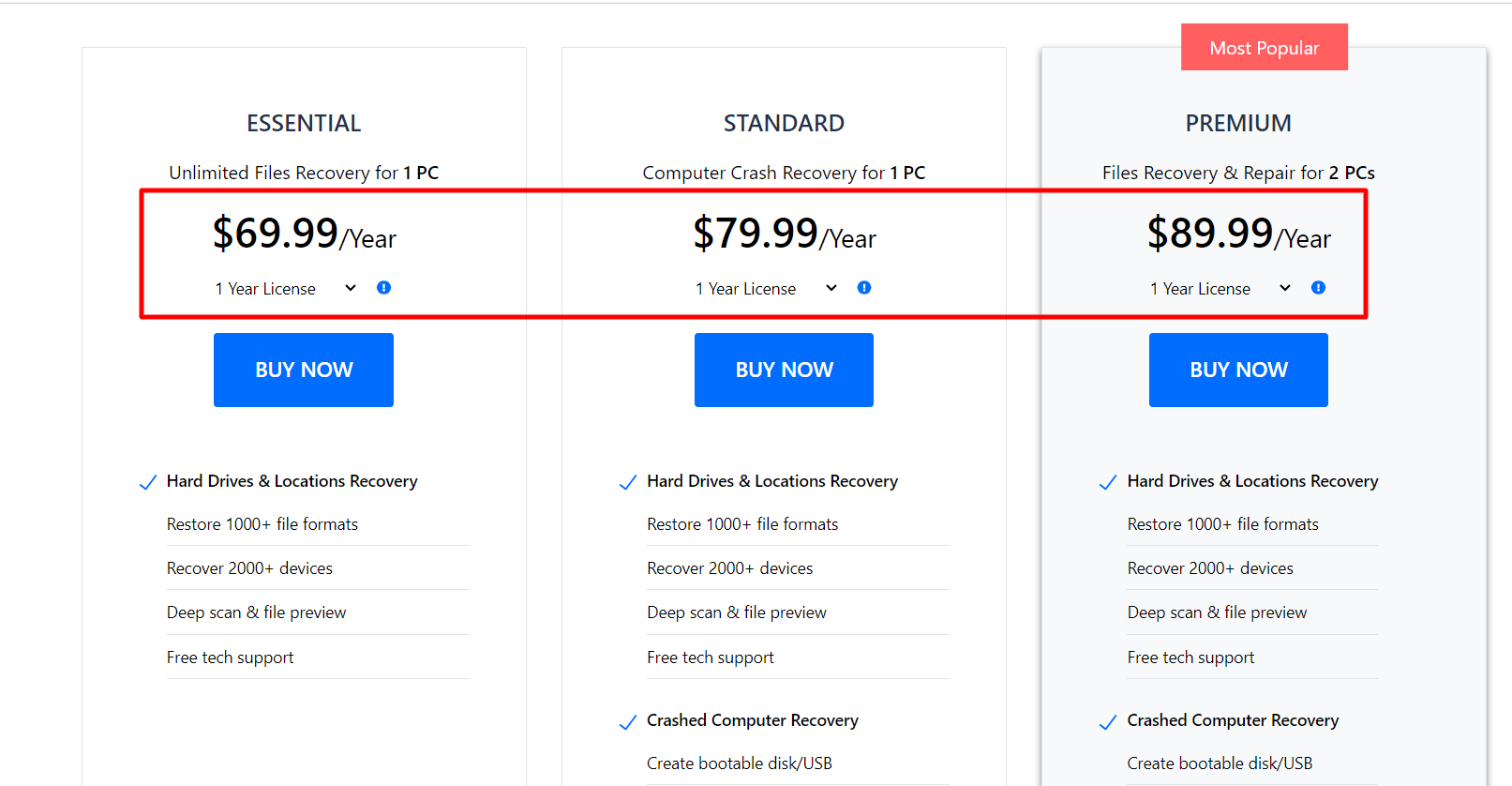 Each plan has its features to cater to different user needs, and you can choose between monthly or yearly subscriptions or a one-time payment for lifetime access. Let's break down these plans:
1. Essential Plan:
This plan is perfect for basic data recovery needs. It allows you to recover various file formats from various devices, including features like "Deep Scan" and file preview.
It also gives you access to 24/7 support. The pricing options for this plan are as follows:
Monthly Subscription: $59.95
Yearly Subscription: $69.95
One-Time Payment: $119.95
2. Standard Plan:
Building on the Essential plan, the Standard plan includes all the features of the Essential plan.
It offers a bootable toolkit, enabling you to create a bootable disk or USB flash drive. This is useful for accessing a computer with a failed operating system.
The pricing for the Standard plan is as follows:
Monthly Subscription: $69.95
Yearly Subscription: $79.95
One-Time Payment: $139.95
3. Premium Plan:
The Premium plan is the top-tier offering from Recoverit. It includes all the features of the previous plans.
It adds advanced recovery features, such as advanced video recovery, corrupted video repair, and the ability to scan and merge video fragments.
With this plan, you can install Wondershare Recoverit on two separate PCs, whereas the other plans allow installation on only one.
The pricing options for the Premium plan are:
Monthly Subscription: $79.95
Yearly Subscription: $89.95
Lifetime Subscription: $159.95
Wondershare Recoverit's pricing options allow you to choose the plan that best suits your data recovery requirements and budget. Whether you need basic recovery, advanced features, or the added convenience of a bootable toolkit, there's a plan to fit your needs.
Wondershare Recoverit Review: Customer Support 
If you ever need help using Wondershare Recoverit, their support team is ready to assist you. Inside the Recoverit app, a little chat window appears at the bottom-right of your screen.
When you need help, you can start by chatting with a helpful chatbot. It can answer common questions. But if you have a more complicated issue, you can talk to a real person.
Before you connect to the customer team, they'll ask for basic info like your email, name, and a brief message about what's happening. I did notice that it took a bit of time, over an hour, to get connected to the executive. But the good thing is they offer customer support 24/7.
FAQs (Frequently Asked Questions):
Is Recoverit legit?
Yes, Wondershare Recoverit is a legit and trustworthy tool for getting back your lost data. It's been used in Europe for a long time, and lots of people have said good things about it.
Can I use Recoverit for free?
Yes. Recoverit gives a free version. You can use Recoverit to recover your data back from different storage devices and even if your Windows computer is having trouble or won't start up. This includes things like hard drives, SSDs, and USB drives.
Is Recoverit Safe to use?
Absolutely, Recoverit is completely safe to use. It won't do anything to your files – it just looks for the ones that are already on your devices. And it even comes with an anti-virus guarantee, so you can be sure it's 100% safe.
Final Verdict on Recoverit Review 
In my experience with Wondershare Data Recovery for Windows, I can confidently say that Recoverit is a reliable and user-friendly tool for getting back your lost files on both PC and Mac.
However, it's important to remember that no software is without its quirks. Recoverit is primarily focused on scanning and recovery, offering limited customization options.
For instance, it lacks some handy features like the ability to save your scan progress. Additionally, it could benefit from an integrated help guide; instead, it directs users to an online manual on Wondershare's website.
As for the free version, I wouldn't recommend it. 👎
The 100MB limit is quite restrictive, and the limited features don't give you a full sense of what the software can do. It can be a bit frustrating to have to provide credit card details for the free trial. Compared to some other data recovery software, Recoverit may take a bit longer.
If you are looking for some good alternatives, read out these posts: