If you guys are planning to follow up with Yeesshh for your digital marketing needs, then you must carry on with your decision. Read Yeesshh Review to know why 
Actually, this platform provides a complete one-stop solution to the advertisers where they can make their ads visible to the audience which is more relevant. We will dig more of the details further in this article as we move on. 
Yeesshh Overview: What is Yeesshh?
Yeesshh is a digital platform that is actually a marketplace for advertisers where they can bid to advertise their ads with the best publishers. Publishing ads with popular publishers will directly increase the sales up to many times.
This fact cannot be denied and everyone should follow up with this in order to get positive results. 
Yeesshh also ensures that they will only deliver high-quality traffic to their advertisers which is really a great feature of them. Moreover, Yeesshh accepts any kind of advertising, as long as it is legal, as well as adult advertisement which makes Yeesshh a spectacular choice among the advertisers that need aggressive marketing.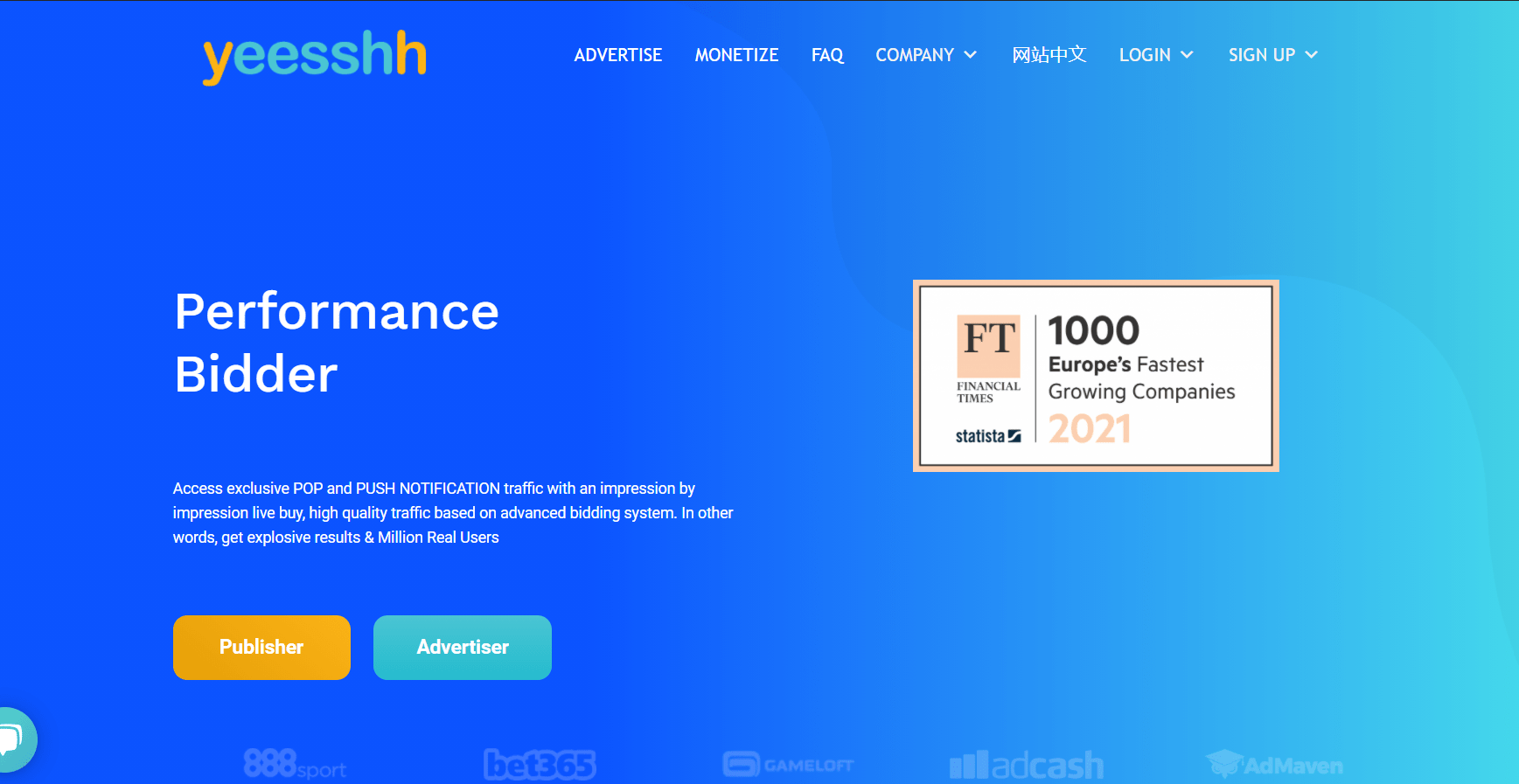 Both advertisers and publishers are benefited through Yeesshh as the publishers will get the maximum bid price for their ad space and advertisers will get the quality traffic from popular listed publishers platforms.
That's why the company has been listed under the top 1000 Europe's fastest-growing companies category that makes it such an exceptional marketplace for all.
Moving forward, Yeesshh also provides a feature of a detailed stats reporting system to its customers to analyze important details like shows date, number of clicks, country, total revenue, CTR etc.  
Why should you try Yeesshh?
The reason is pretty straightforward. Yeesshh is probably the only digital platform that is providing such good features with comprehensive results. Although there are many other platforms too that are popular among the advertisers, Yeesshh is a quality platform that delivers the best in class results.        
Publishers can monetize their websites via a simple direct link (some call it smartlink too) and can earn a good amount of money from this platform. Those publishers who have a good amount of traffic on their platforms are most likely to win bigger bids. 
And for advertisers, this platform allows them to buy in CPM (Cost per thousand) system which makes it an affordable choice too. In fact, advertisers can still run their campaigns even if they have a very limited budget to get comprehensive results.
Apart from all these highlighting features, let's explore other positives that are also considerable features of Yeesshh:
User-Interface: Attractive and user-friendly interface of Yeesshh platform is something that attracts advertisers from all over the Globe. Their official website is pretty much attractive and responsive as well.
Advertisers and publishers can browse all the different options available on the website for better decision making. 
Campaigns: Whether you are an advertiser or a publisher, you can run your campaign on Yeesshh very smoothly and as per your convenience. It is also one of the most affordable platforms to run digital campaigns where you can start just by depositing $100.
That's why Yeesshh is a very popular and formidable choice among advertisers and publishers too. 
Support: Digital marketing or campaigns can be run very smoothly and easily if advertisers get proper assistance. That's why Yeesshh has worked upon this aspect to make a dedicated team of customer support that are available 24X7 to help their customers.
Moreover, you can also mail your query to them and you will get a reply possibly within a few minutes. 
Get Started with Yeesshh
Yeesshh for Publishers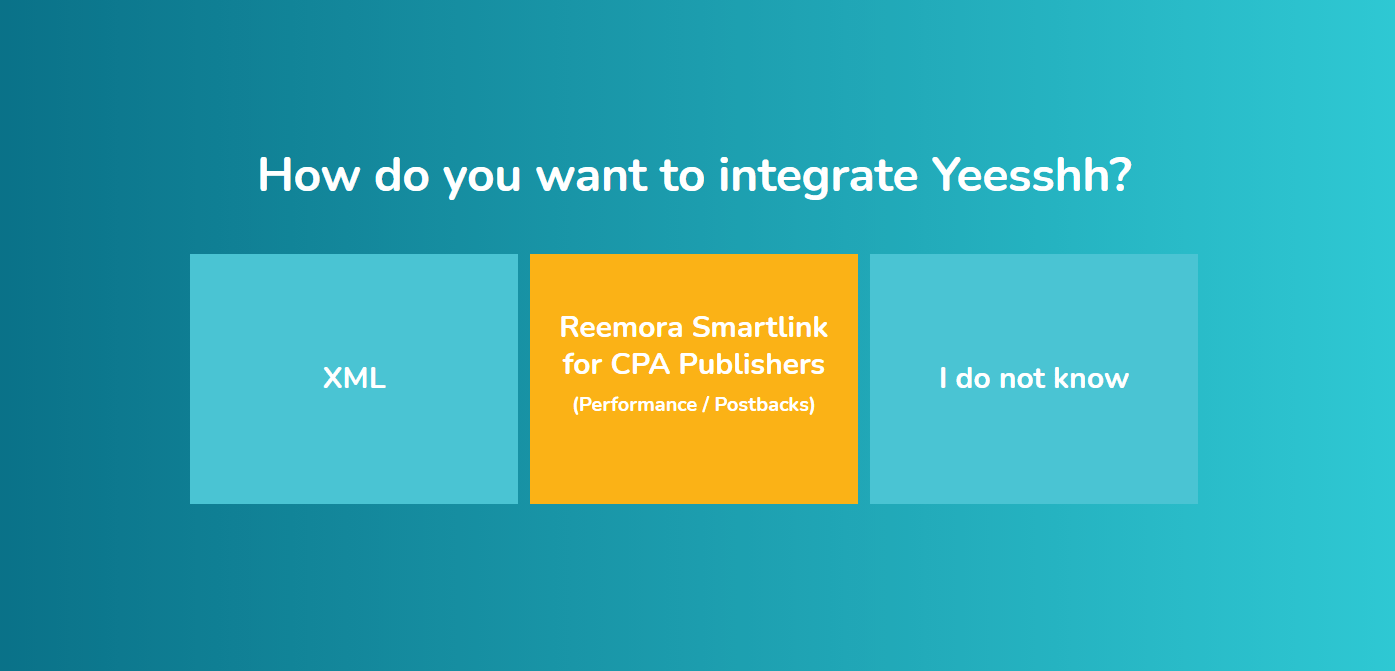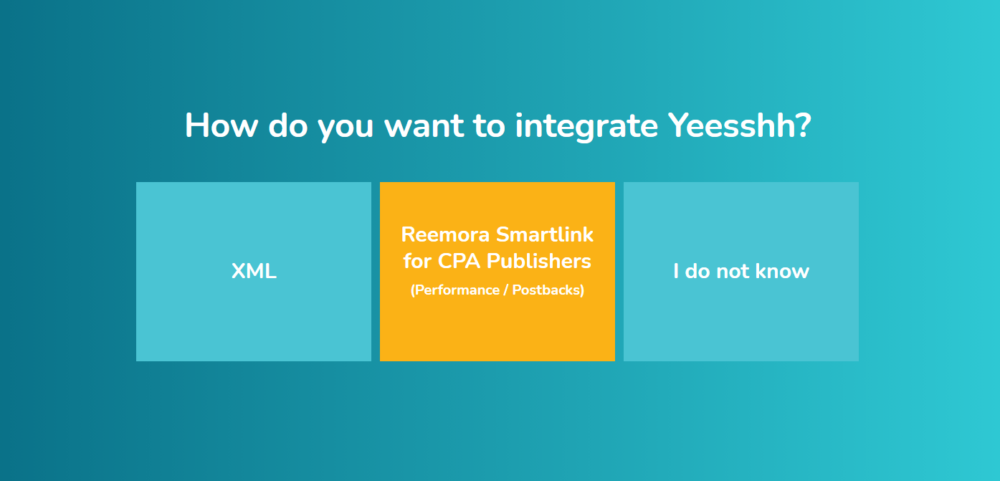 Publishers can take benefit from Yeesshh very easily and can earn as much as they want. They can offer their ad space for the bidding process and advertisers from all over the globe will bid on that.
Hence, publishers will be getting the maximum benefit from this platform by monetizing their websites and applications.  Apart from great earnings, Yeesshh also provides the guarantee of Content Control so that only the ads that you like will be displayed on the ad space.
In fact, if you are comfortable to advertise adult advertisements in your ad space, then more revenue can be generated as compared to normal advertisements. 
That's why there is no doubt that publishers will be getting huge benefits from Yeesshh making it such a great platform for everyone. Additionally, there is no minimum threshold limit of withdrawal of funds.
Publishers can take their payments hassle-free and conveniently whenever they want to.  
Yeesshh for Advertisers
Advertisers too can take huge benefits from Yeesshh platform as it is budget-friendly where an advertiser can start just with $100. Moreover, advertisers will be getting a good amount of traffic on their advertisements which will boost up their business exponentially.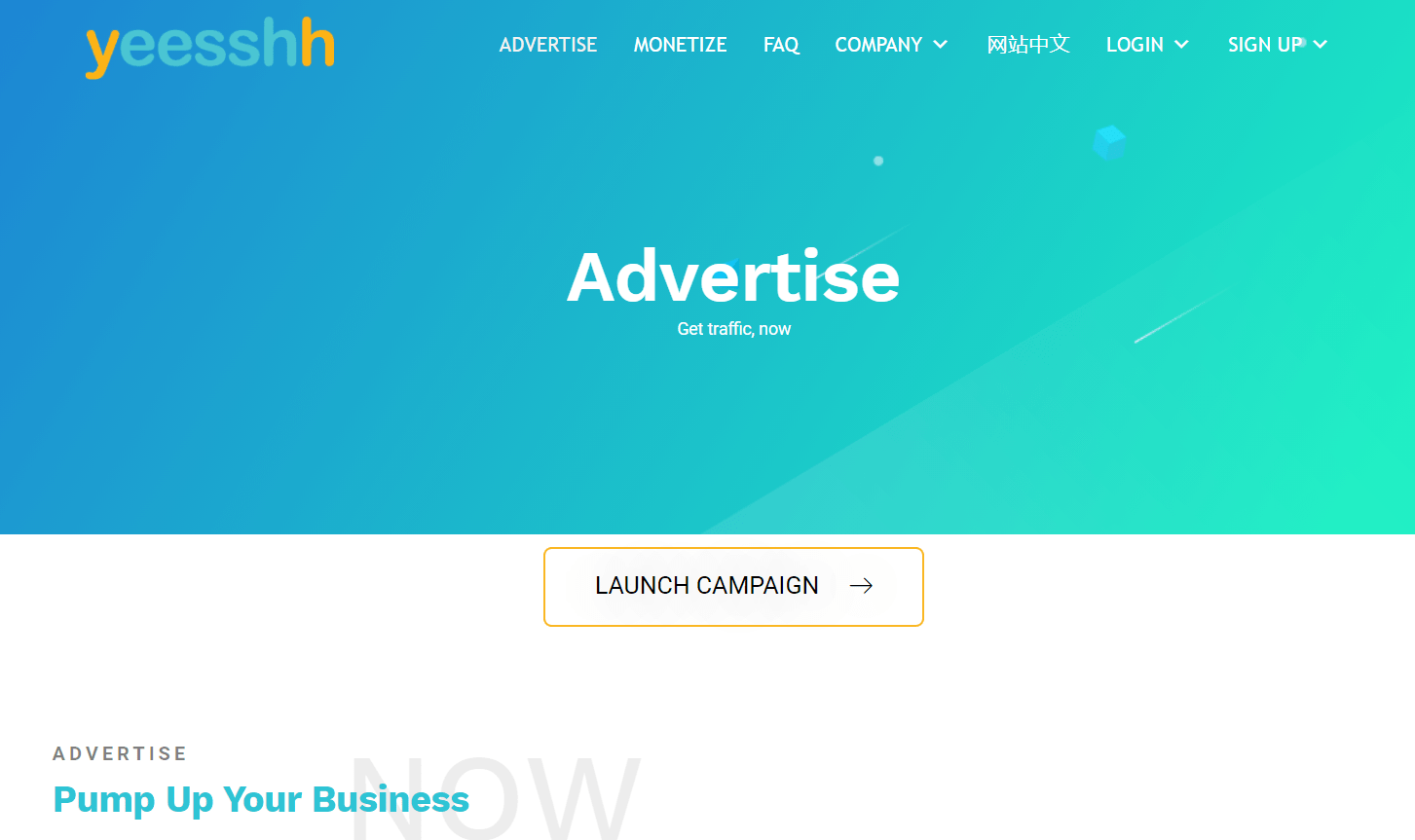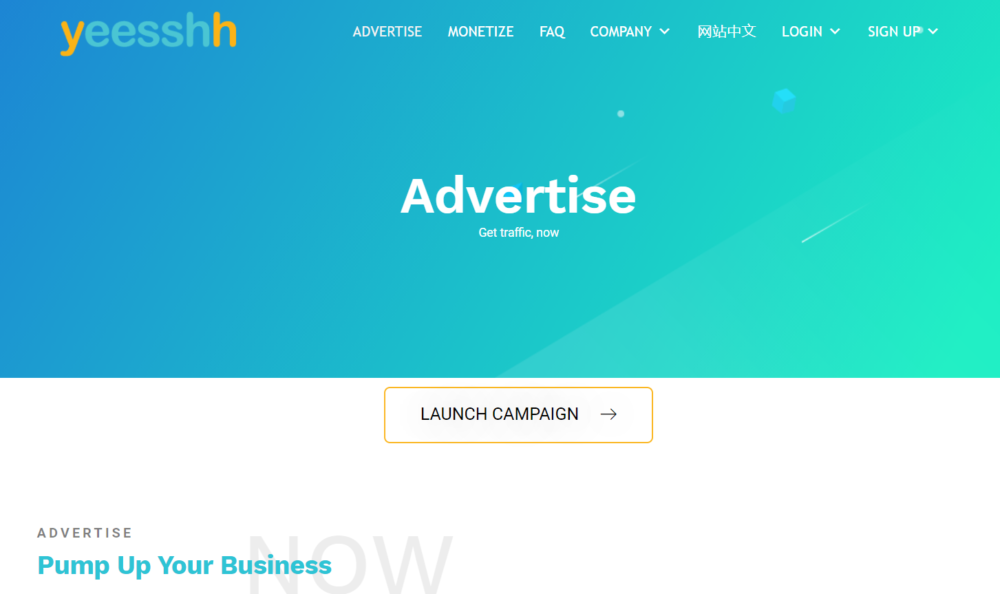 According to a stat report, Yeesshh currently handles more than 700 Million user traffic every day through mobile and desktop platforms. These ads are directly delivered to the users on their devices that really provides bonus points to advertisers' campaigns. 
On top of that, the Auto Blocker feature of Yeesshh will automatically block non-converting sources and will only provide you with converting sources so that your investment can be utilized in the best possible manner.
It will be a worthwhile decision for the advertisers if they opt for Yeesshh platform because it offers so many incredible features they are getting and that too at one place. 
Yeesshh SignUp and Approval 
Sign up process for advertisers and publishers has been made pretty much easier by Yeesshh. The easy signup process will let them create their personalized account very quickly and they can launch campaigns afterwards. Have a quick look at the simple process for better clarification:
First of all, open the official website of Yeesshh and click on the Sign Up menu. 

Confirm your registration upon receiving their email (that takes less than a minute)

That's it, you are in. If you are an advertiser, add funds, and you will receive traffic immediately. If you are a publisher, post the link made for you and start making money 24/24
That's it!, you are good to go now. However, if you need any further clarification, then you may contact their customer care support team. They will follow up with your queries and will revert back to you. 
Yeesshh Ad Formats
Ad format is basically the backbone of the whole advertising network. The success of your digital campaign actually depends how impactful the ad format is. Well Yeesshh got it. Those guys exclusively deal with Pops and Interstitials, that are the utmost performing existing formats!
After all it is the user who is going to view your ad and that is why it becomes so important to select the appropriate ad format for a successful campaign. Here is the list of the 5 different ad formats which Yeesshh provides:
Pop-Under Ads

Pop-up ads

Interstitial Ads

New Tab Ads

Direct Link ads
Select any one of these five formats that you think is a perfect fit for your campaign and get started with Yeesshh.
Pros and Cons
Quick Links
FAQs | Yeesshh Review
👏 What is Yeesshh?
Yeesshh is basically a digital marketplace for both advertisers and publishers that aims to provide the best digital marketing campaigns results. Advertisers here can bid on the traffic for their advertisements. Whereas publishers can monetize their websites and applications for earnings.
👋 Is Yeesshh a reliable Network?
Yeesshh is undoubtedly a very reliable network that aims to provide complete one-stop digital marketing solutions. It is a 100 percent legit platform on which you can trust blindly.
👌 How does Yeesshh pay?
Yeesshh has a variety of different payment methods that are supported for both withdrawal and deposits. However, the most popular payment platform is PayPal. Publishers can add their official PayPal payment account inside their Yeesshh account and can takeout withdrawals whenever they want to.
👉 What is the Yeesshh minimum payment threshold?
There is no such minimum payment threshold limit set by Yeesshh platform. Publishers can take out or withdraw their amount irrespective of any minimum limit.
👍 What does Yeesshh Offer ?
Yeesshh exclusively works with live performance advertisers, basing its models on facts, adapting at light speed our bids. Technology is geared to serve this purpose: it focuses on trading and delivering exploding results, not on maintaining complex systems. Therefore, they develop our proprietary components, when nothing equivalent exists on the market.
✌️ Does Yeessh provide a refund ?
You can get refund if your unused balance is over $90. No refund will be possible if your balance is below $90. Refund is subjected to a processing fee of $50. Your account must have been active in the last 18 months. Otherwise, after 18 months of inactivity, your account is closed and funds withheld.
Conclusion | Yeesshh Review 2023
The final verdict is quite clear. Yeesshh is definitely a must-try platform if you are planning up to run a digital campaign for your business. If you really have a good digital marketing strategy with you, then try out Yeesshh as it is probably the best marketplace for advertisers.
Whereas for publishers, just follow up with the signup process and start earning huge with Yeesshh. Rest be assured as everything is really very good with it and there will be no discrepancy.
Hoping to hear your experiences in the comments section. Keep sharing this blog with your digital marketing team members!