8 Best CRM For Freelancers in 2023
Here are the best CRM for Freelancers that you should try today:
1) Engagebay CRM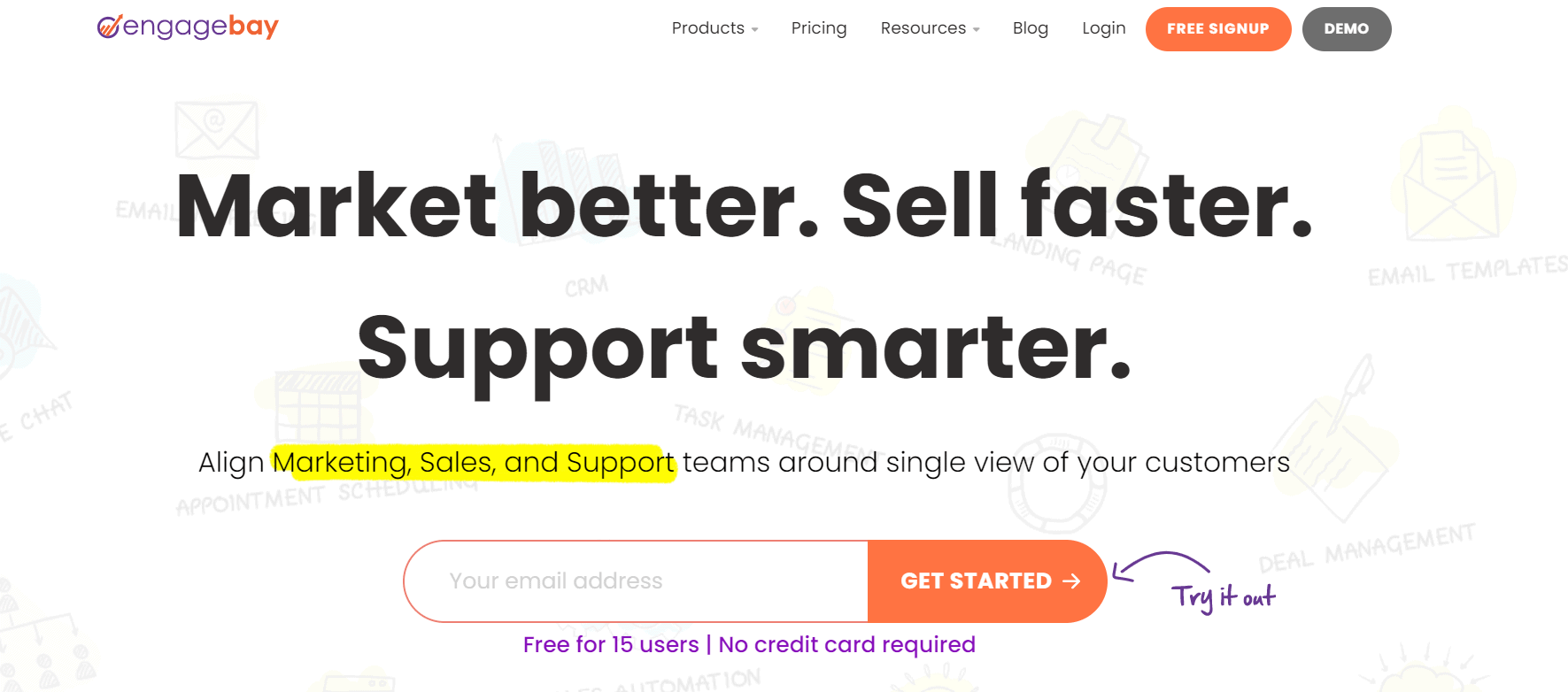 Overview
Engagebay CRM is one of the best CRMs available in the market and should be given the first priority by freelancers.
It is a simple, powerful, and affordable integrated all-in-one marketing, sales, and support software. The Engagebay software offers CRM in its free version.
Not only that but it also enables email marketing campaign, email drip campaign, landing pages, forms, track of consumer behavior, social media suit, all of this in its free plan which is one of the most unique qualities of this platform as no other software offers so many features in their free plan.
Features
The software gives a detailed analytic report

It provides campaign personalization

It also provides the feature of customer segmentation

It keeps a track of the progress related to leads and customers.

It can perform a target account identification. 
Pricing
Engagebay  offers four pricing plans as given below,
The Free Plan- it is free of cost and has several features including the CRM software enabled in it.

The Basic Plan- it costs you $8.99/user and has additional features required for designing websites or for tracking customer behavior. It allows access to 15000 contacts and 10000 branded emails 

The Growth Plan- it costs you $29.99/user and allows 50000 contacts and 25000 branded emails.

The Pro Plan- it costs you $47.99/user and has unlimited contacts and 50000 branded emails. 
Pros & Cons
Engagebay, though considered as one of the best CRMS for freelancers, has its pros and cons.
Pros:
The automation is super easy and powerful

It can link and integrate with third-party apps

It is very easy to learn and understand 

It is affordable for small businesses and startups.
Cons:
It is not preferred for a large scale business

The customer support helpline isn't available 24×7 and only operates during working business hours. 
2) Hubspot CRM

Overview
It is one of the most preferred customer relationship management software since it allows unlimited users of almost about a million contacts under the FREE PLAN.
It is suitable for traditional business. It is impressive for the majority of small, petty companies in search of a free CRM.
 Features
The Hub spot CRM integrates several important platforms like G suite, slack, zapya for streamlined integration.

Hub spot covers contact management.

Deal and task management

It also handles interactions with social media accounts and emails to track interactions with leads.

Deal and task management are shown on a kanban-style board with each prospective value or task assigned to a card that card can move across the dashboard.

It has helpful marketing tools as well, like lead analytics, lead forms, and lead flows. These tools are meant to help build a lead pipeline that collects interested leads and starts moving them towards the sales team.

It has sales features that include five saved email templates, a stream of up to 200 email notifications, 15 minutes per user per month of VoIP (voice over internet protocol) calling, five documents per user per account, and scheduled meetings. 
Pricing
Hubspot CRM is entirely free, but the marketing, sales, and service hubs have four plans with various features.
The packs are as following,
Starter $40 / month
Professional $400/ month
Enterprise $1300/ month
The above packages have fewer extra features and accessibility than the free plan, and these features are required when the business expands.     
Pros And Cons
Hubspot, though considered as one of the best CRMS for freelancers, has its pros and cons.
Pros:
It includes almost all the platforms like marketing, sales, and customer support, all in just one.

It includes entirely free CRM software.

It is effortless to use, and it can also be used as a content management system for making your website easy.

The number of available integrations for HubSpot CRMs (the free plan) has steadily grown over the years. Now you can access over 150 integrations for Hubspot CRMs, including tools for lead management, data transfer, mobile phone apps, e-commerce integrations, and more.
Cons:
 Plans tend to become expensive after sometime

 Once paid, the fees are not refundable

 Linking with third-party apps is a threat to security. 
 3) Streak CRM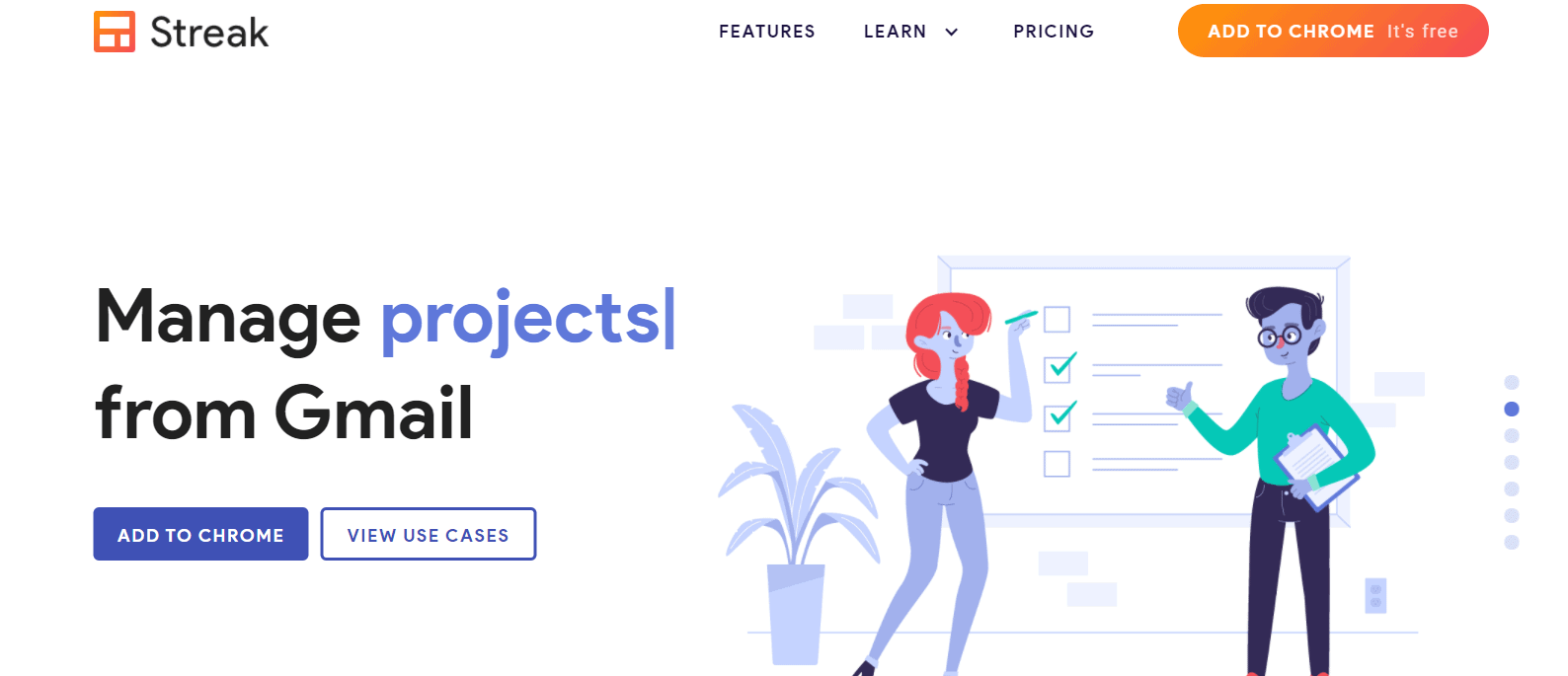 Overview
Streak is a powerful Customer relationship management software that integrates with Gmail. It allows you to manage your customers directly from Gmail using a pipeline.
It is an easy CRM to learn to manage and organize the interaction with customers quickly. 
Features
Streak CRM can manage all the customer interactions through the Gmail inbox.

It is easy to track all the activities.

It is similar to Google spreadsheet, and hence anyone can learn it without difficulty.

Most importantly it is available on the mobile phones

It has multi-team support, custom permissions, data validations, reporting tools.

It integrates with the existing tools like zapier, API, and G suite without any difficulty.
Pricing
Streak CRM is an affordable CRM for freelancers.
1) It has a free plan which includes 500 Basic CRMs and 50 mail merges
2) The next plan is $15, known as SOLO. It is for single users and for professionals searching for an all-purpose CRM. It has 5000 basic CRM and 800 mail merges
3) The next plan is $49, also known as PRO. It is has advanced unlimited CRM, shared pipelines, and 1500 mail merges
4) This is the last plan of $129, which provide custom permission, data validations, priority support
Pros And Cons
Pros:
The main advantage is that it integrates with the Gmail box

It helps in tracking emails using your phone itself so that you can follow your customer queries and other business processes from anywhere and anytime.

It has high security since it immediately notifies when someone opens your email.
Cons:
The feature that CRM can be used through mobile phones is a con as, by using VPN, it becomes challenging to identify the geographical location.

It can only run through excel and spreadsheets and should have had access to Microsoft to make it user-friendly.

It lacks an exemplary user interface and even a few features of a fully-fledged Customer relationship management software which may be a problem for few sale processes.
 4) Zoho CRM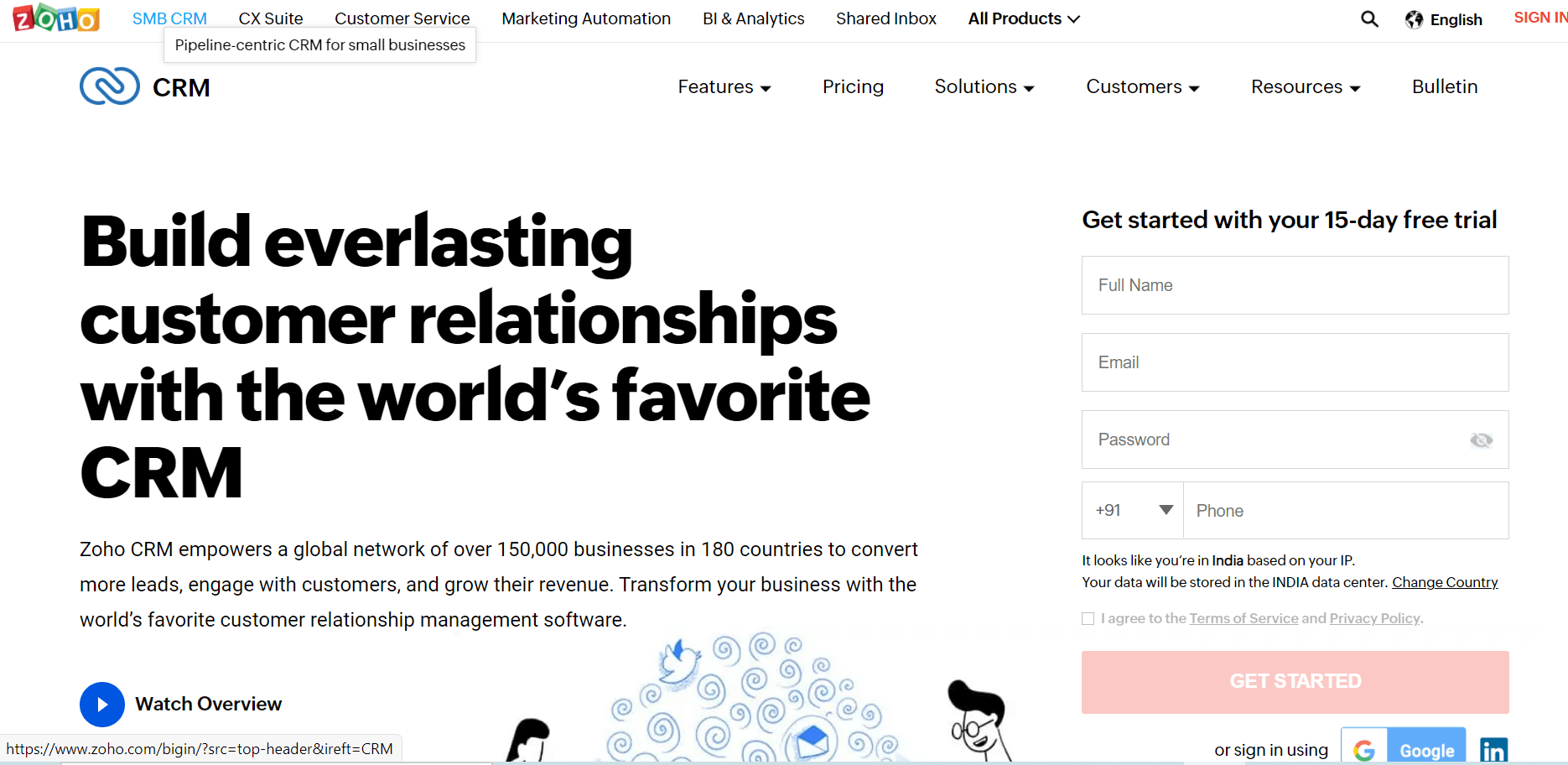 Overview
It is the most user-friendly Customer relationship management software as it allows three FREE USERS and offers more freedom to customize modules compared to Hubspot and streak limitations.
It makes managing tasks and events more accessible and gives access to omnichannel marketing and integration to several app integrations.
 Features
It has an excellent sales process for users to maximize opportunities and sales.

It has an Omnichannel engagement, as mentioned above

It also has inter-team communications

It has mobility as the ZOHO app is also available on your iOS or Android phones.

Zoho's contact management feature allows record phone numbers, email addresses, meeting notes, to-do lists, documents, and much more without leaving the system.

Zoho can also use various tools like the import wizard, web forms, or the Zoho customer relationship management API to import contacts from third-party business applications.
Pricing
It has four standard plans, as mentioned below
1) The free program gives access to 3 users and has a limited number of features, including the CRM tool.
2) The Standard program, which is Rs720/user/month it gives a few more features than the free plan
3) The professional program is of Rs1200/user/month it provides an ample number of features compared to the above two plans
4) The ultimate plan is Rs 2300/user/month, which has almost all the features provided.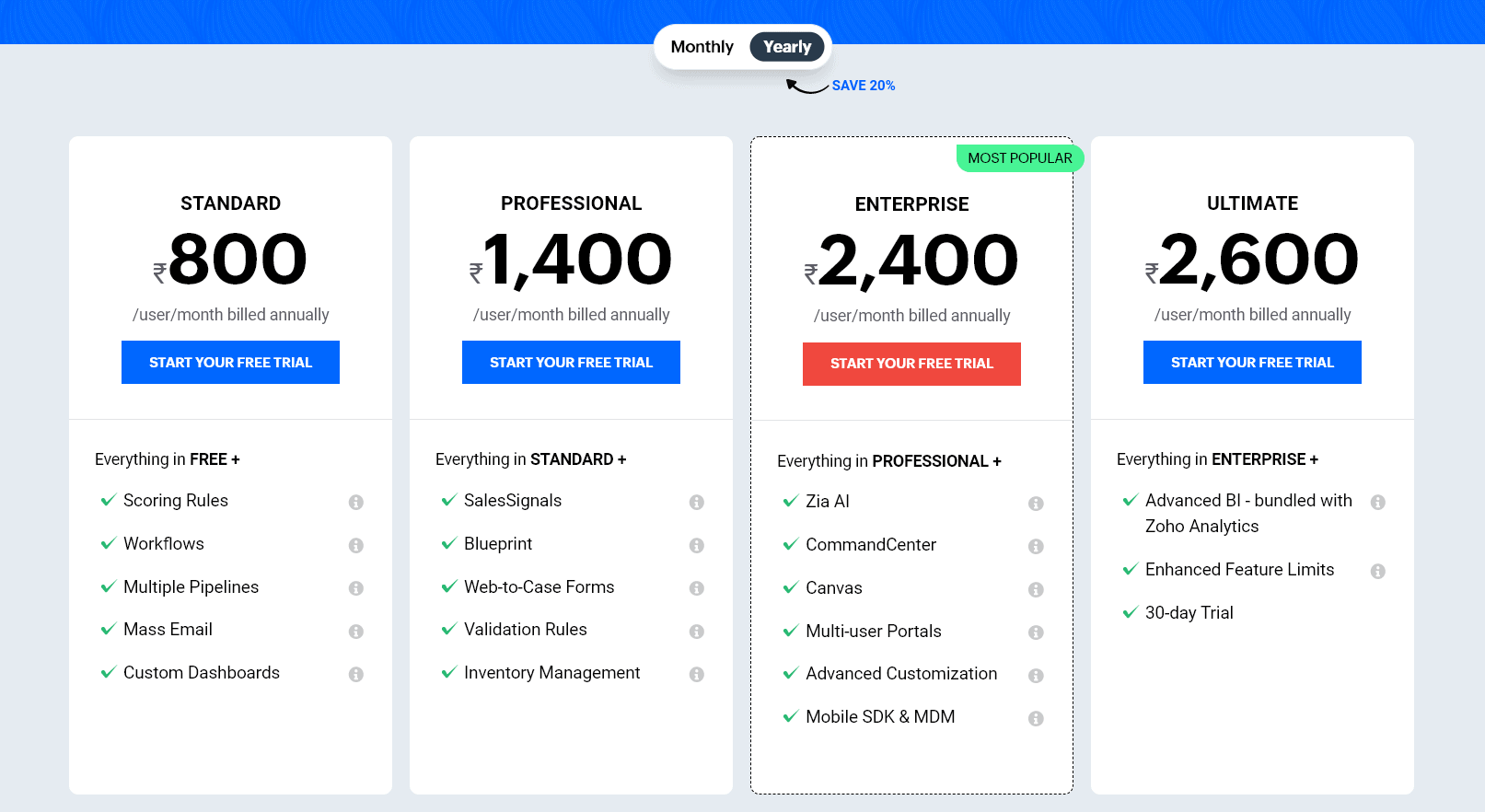 Pros And Cons
Pros
It is very customizable compared to the other CRMs and has several templates to make the website more attractive.

 Many different types of tools, including analytics, opportunity tracking, give you a comprehensive view of all sales activities, including deal size, lead source, competitor information, and more.

All reports in the sale, marketing, support, and inventory modules are also fully customizable if you want tailored messages,  

  It allows the management of tasks and several filters, allowing viewing the data in the database in different ways.

  Client management and opportunity management is one of the key features
Cons
   It has a third-party tool integration which is quite unsafe for confidential data.

       The technical support is at times late to respond

       The navigation is not smooth going

      The bug problem keeps popping up now and then.
 5) Freshworks CRM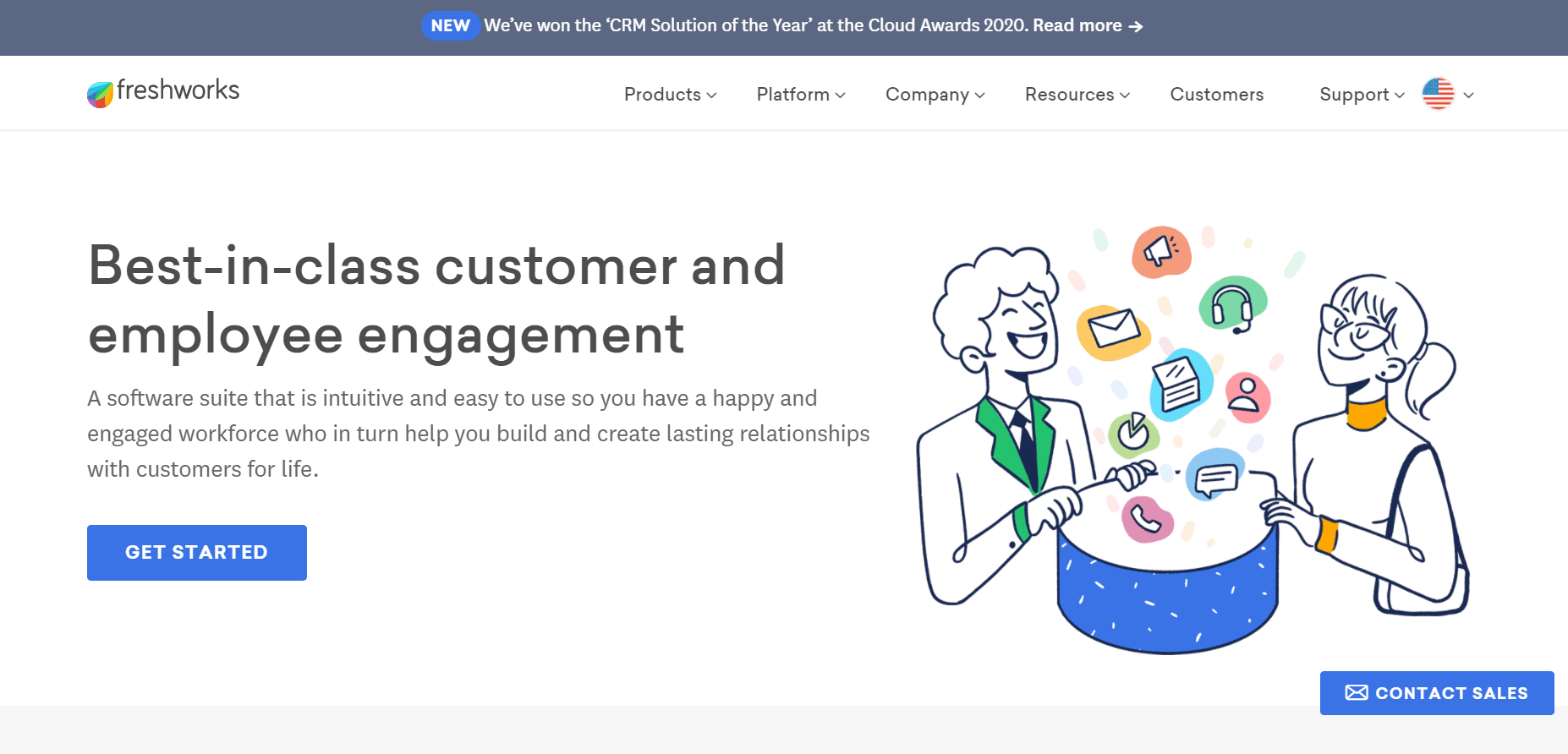 Overview
It is one of the most liked Customer relationship management software by freelancers. It gives an overall view of the customer by capturing and combining all their experiences in a place.
It has third-party integration with few apps which facilitate data migration. 
It provides an excellent platform for engagement and business relations. 
It is an AI-powered customer relationship management system that combines the power of sales automation, marketing automation, chat, and telephone all in one solution.
This CRM attracts quality leads, engages across multiple channels and touchpoints, closes deals faster, and nurtures customer relationships.
Features
It provides you with an application on your mobile, and so it is convenient for managing business activities.
It has a single click data migration
Marketing automation
Making better decisions with Artificial Intelligence
Pipeline management
Pricing
There are three plans provided by the Freshworks CRM,
The Free plan

The Growth plan Rs 2099/user/ month provides all the features but with limited usage. The Freshworks CRM offers three plans. 

The Pro plan is of Rs 5099/user/month; it provides more usage than the growth plan.

The enterprise plan of Rs 9199/user/month has unlimited access. 
Pros And Cons
Pros
It is customer-friendly and is easy to set sequences.

It has an excellent collaboration with the customers.

The software is handy and easy to use.

Free plan availability with ample features is the significant advantage of fresh work CRMs.
Cons
The email limit is minimal at about 500 perusers which makes it difficult to run large campaigns 

The expansion of the integration to several apps is a significant threat to security.

It has too many options and features and hence is confusing for beginners.
6) Agile CRMS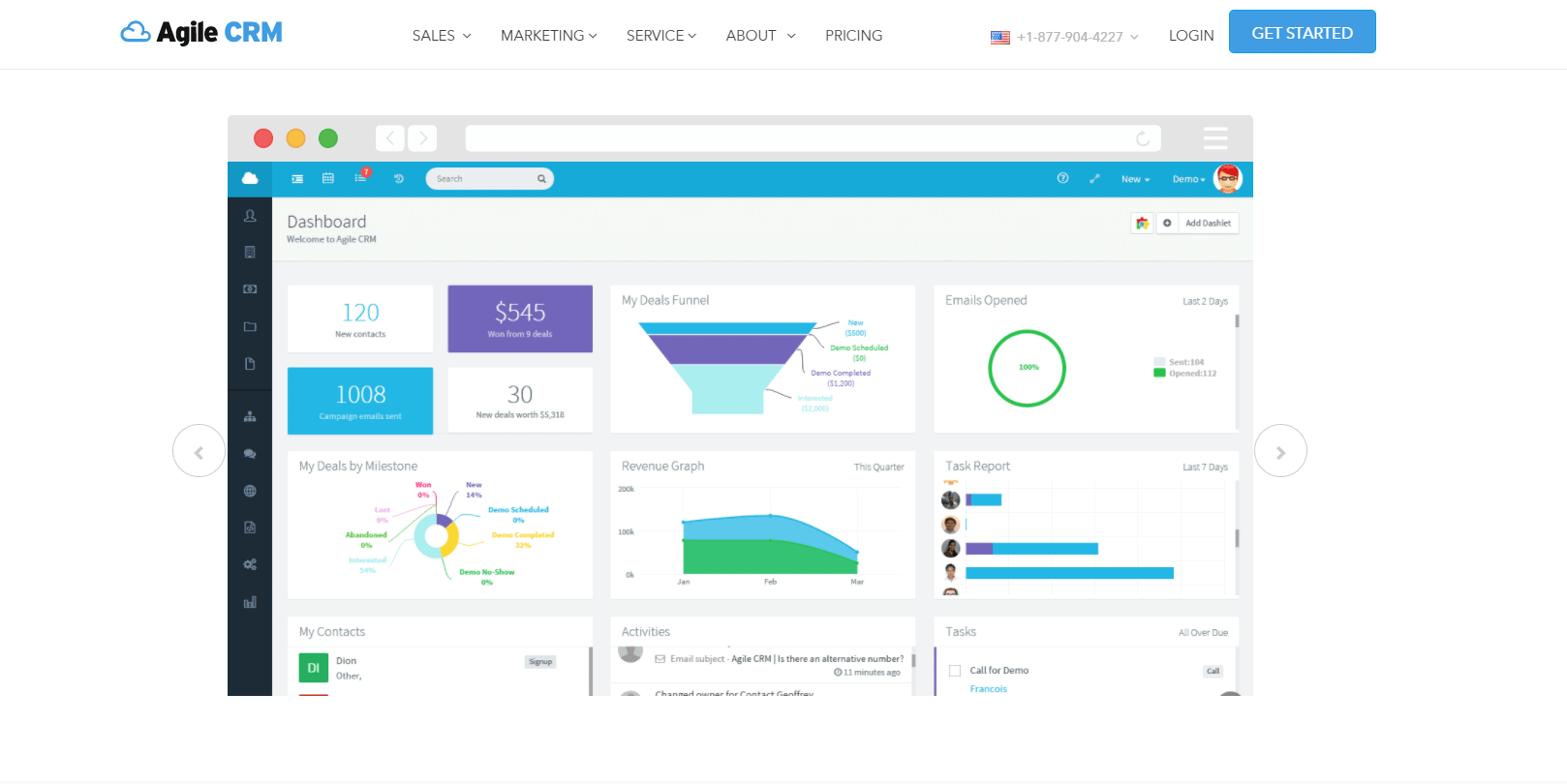 Overview
It is one of the Customer relationship management software which freelancers might find appealing as it is the best choice for the ones beginning with electronic commercial business.
It facilitates the sale and market of many goods; it has queries routing, scheduling calls, and automatic emails.
 It gives you the tools to boost the sales force and optimize your activities.
The software provides an overall customer review from a complete customer profile that includes the complete information on social web presence activity and other interactions, which we can track using a timeline.
 The highly visible sales pipeline lets you find deals according to defined milestones so you can predict your revenue better.
You can also track KPIs using a variety of tools such as cohort analysis conversion reports and built-in analytics.
Features
Agile also has its mobile apps with better security control.
It syncs up with the google calendar and hence helps in scheduling meetings. 
It helps gamification of sales for higher competition and collaborations.
It has several marketing features like web engagement, analytics, email tracking.
For sales, marketing, and customer services, it uses built-in telephony, social media marketing, and multiple live chat windows.

Marketing automation tools in agile CRMs can help small teams run multiple campaigns successfully using the drag and drop designer to define your marketing workflow easily.

The visual automation tool allows you to build a multi-step marketing campaign within a few minutes. From there, you can set an autoresponder to send automatic email responses and follow-up messages based on time, date, or even contact actions.

This Customer relationship management software also comes with free outreach tools to keep the customer engaged. You can inform customers of new deals in your latest news with email newsletter templates and then view data on opened emails and click links.

It has the automated tweets feature to engage contacts on social media as a part of your multi-channel campaign. 
Pricing
Agile CRM also provides four plans, various respectively 
Free plan which is for ten users with limited but essential features

The starter plan of $8.99

The regular plan of $28.99

The Enterprize plan of $47.99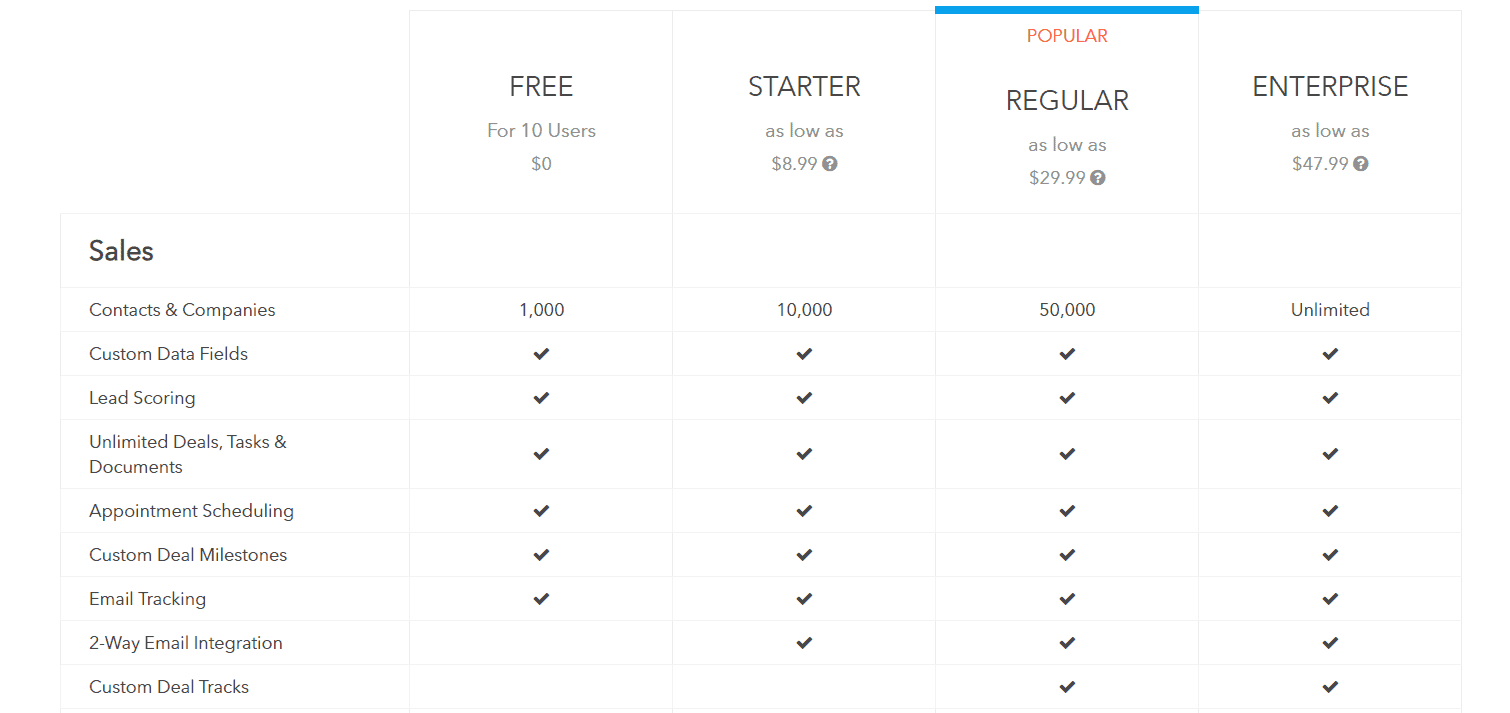 Pros And Cons
Pros
The email reporting works quite smoothly 

The configuration of all the departments is easy.

The technical support, unlike other CRMs, is very fast

The integration with other software is easier

It can connect to Office 365

It gives access to contacts than any other CRM software.

It offers impressive customer service features that can help you satisfy and maintain customers, organize and respond to customer requests with the help desk ticketing system. 
Cons
The number of emails is limited

Glitches appear while using few features

Not very user friendly as custom fields cannot be added

Though it is easy to use, speedy few users mention that the system UI could use an update to improve user experience 

The reporting tools are also not as extensive as those available from the other customer relationship management software.
7) Zendesk CRM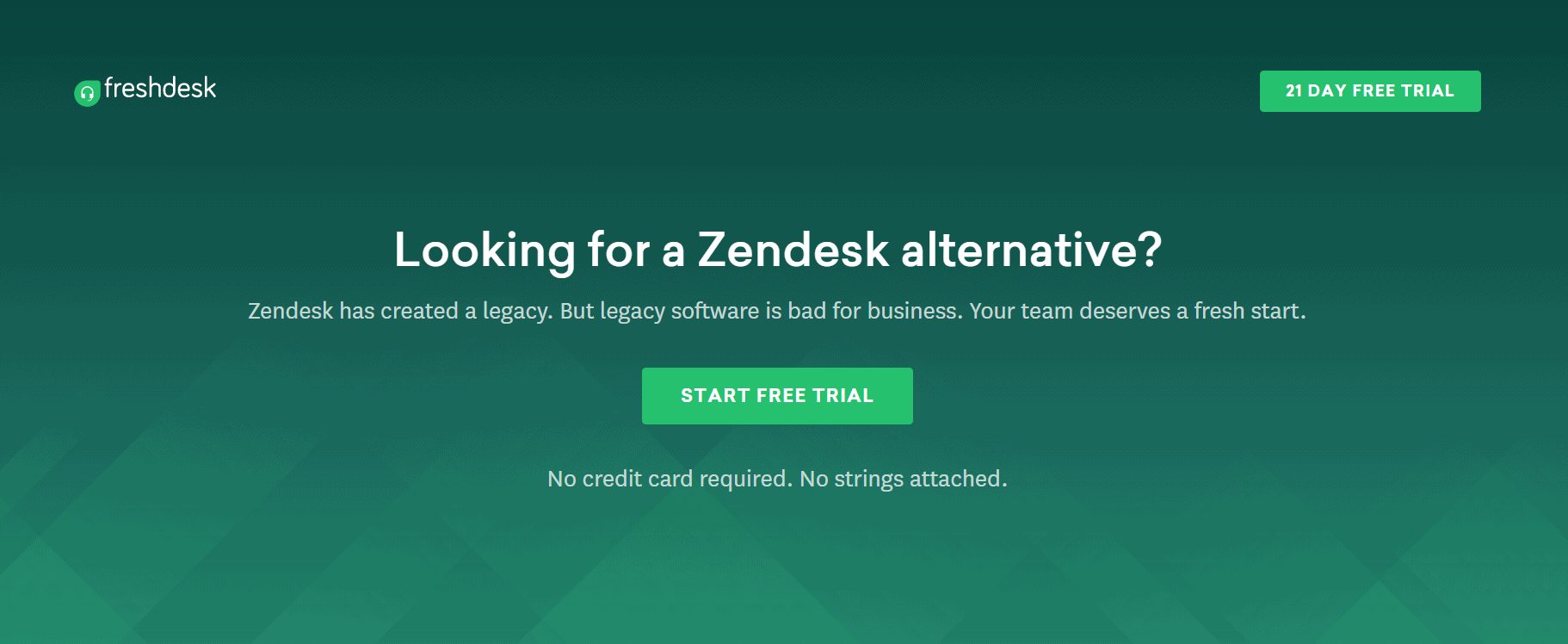 Overview
It is the best CRM to date for clients and the customer collaboration regularly. Users can identify the permissions and create various links and URLs for the client.
It lacks a few features of cloud storage, linking up with office 365, etc.
Features
Contact management works very smoothly.
Workflow automation
Email integration
Invoice management
Creating and assigning custom roles
Pros And Cons
Pros
The support is centralized.

Third-party app integration

Customer satisfaction surveys are conducted 

It eliminates the need for several emails and the messages are easy to access
Cons
Zendesk isn't very easy to use, and hence a lot of time is required to train the users regarding how to use the software and the CRM.

Lack of a time tracker

Cloud storage feature is absent.
8) Salesforce CRM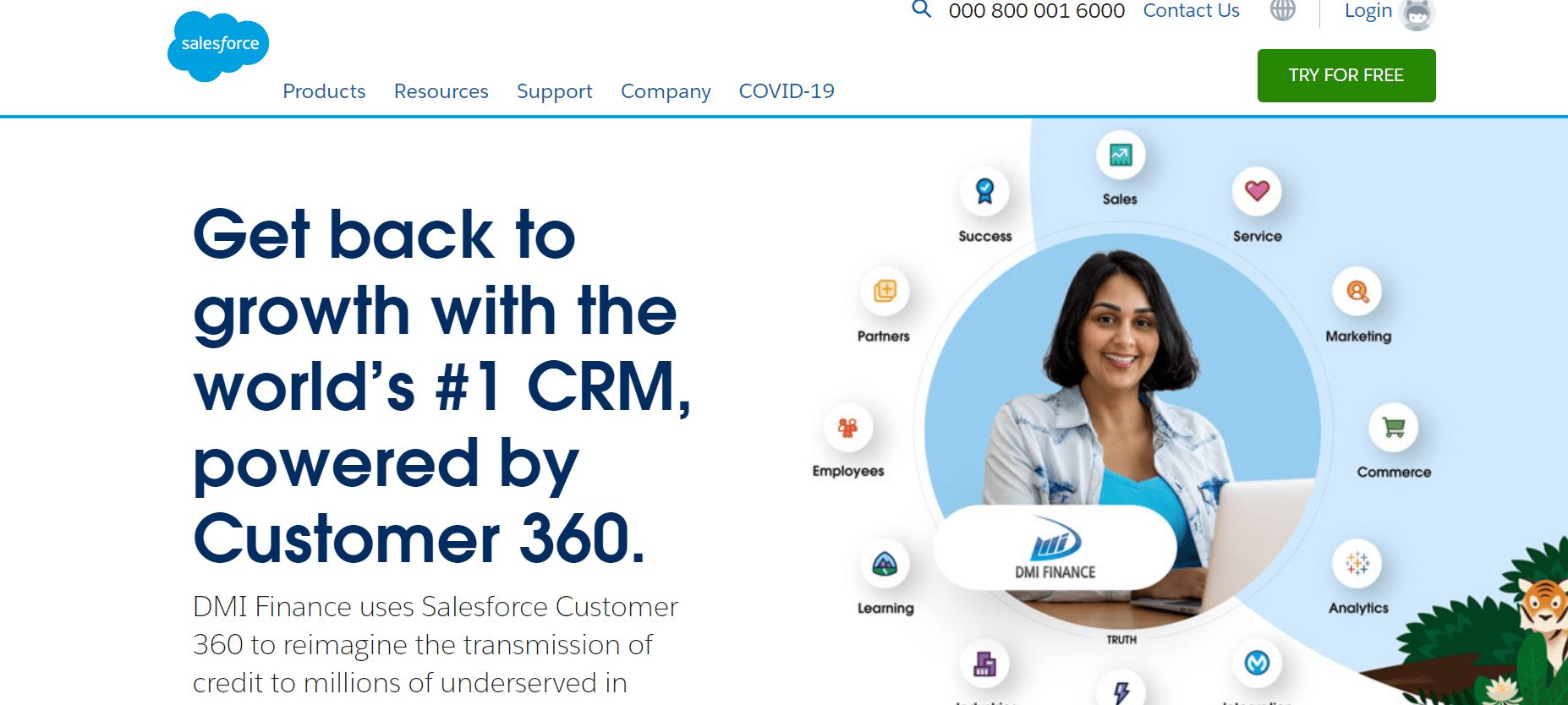 Overview
Salesforce is one of the best cloud-based CRMs in the market. It helps you stay connected to your customers, prospects, partners, and more.
It is said to be the world's number one CRM platform, enabling business, whatever size it may be, to sell, service, and market like never before.
It helps you connect to the customers in a whole new way.
It helps you close deals, collaborate and sell as a team, manage contact, and track opportunities.
Features
It has a good feature of customizability and an extensive network of add ons for sales, marketing, customer service, platform as a service.  

The essential component is contact and account management, with the ability to record contact and conversation details in a central hub.

It has built reporting into the customization of all of their tools; this can fully customize each of the contacts and account settings with tags and custom objects that work with the way the company does business.,

The reporting module features several types of charts and graphs, including fuel gauges in line or bar charts, all of which can be built without the need to hassle IT or the salesforce developer in-house.

Anyone can build a dashboard or customer report to fit their needs as long as they can drag and drop the metrics they want to report. 

The salesforce also offers a dashboard and reporting features within the sales cloud; using this feature can track lead volume, conversion rates, sales forecast, and other metrics, all from within the system.

  
Pricing
The salesforce provides four pricing plans which are as follows:
Essential plan, it has one sale and support app, it costs $25/user/month

Professional plan, it has complete service CRM for teams of any size, it costs $75/user/month. 

Enterprise plan is the most popular plan as it has customizable CRM; it costs $150/user/month.

The unlimited plan has all the features provided by salesforce CRM; it has the highest price of about $300/user/month.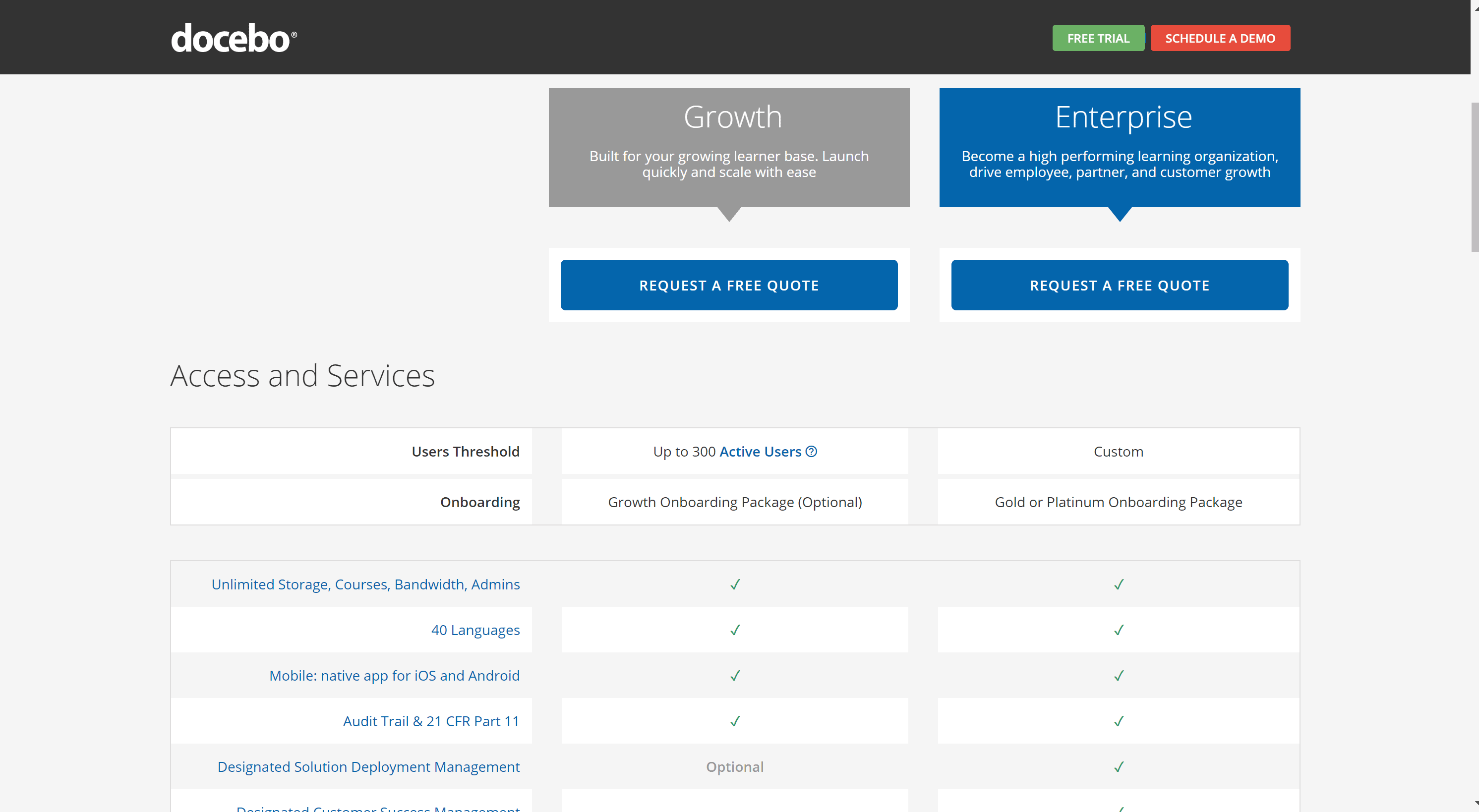 Pros And Cons
Pros
It offers social listening tools that let you follow the conversations on social media and the web.

The advertising studio connects Customer Relationship data with omnichannel marketing tools that ensure the right message gets to the right lead and at the right time and date specified. 

To tie it all together, salesforce data studio connects data from all across the tools to help marketing teams visualize their success. 

It is the fastest CRM available to date. Though the costs are high, the sales force is one of the most trusted and dynamic Customer relationship management tools to date.

The salesforce database stores customer data, communication history, data, related business activities, and more for every contact in the database.

To better understand contact behavior, you can also use the sales force's virtual assistant device, which is very easy and handy to use, or Einstein Artificial intelligence (AI) for features like predictive lead scoring.
Cons
It has a very confusing price policy.

The price of $125/user/month has only offline sync database, workflow, and territory management features.

The force update option causes many bugs and, in some cases, even disables the features which were required for few management activities. 

The on-premise hosting option is missing.
Quick links:
FAQs | Best CRM For Freelancers:
😍Are the CRMs free of cost?
Few CRMs are free of cost for a certain number of users, but few features are disabled.
👉Which CRM is user-friendly?
Most of the CRMs are designed so that they are easy to use; only a few are difficult to learn, but once you know how to use them, everything goes on smoothly.
🤩 How many emails can you send from a CRM?
It depends upon every CRM as all of them provide different numbers of email sending count.
👌Why use a CRM?
It is a way to manage leads from people interested in your business and your existing customers in the most efficient way possible.
😁What is the goal of a CRM?
The fundamental goal of CRM is to improve business relationships with various companies and customers. In the case of freelancers, unlike the other companies, they lack a PR team as they have one on one relationship with their customers. A CRM, in this case, assists in maintaining good customer relations, which can benefit the organization.
Conclusion | Best CRM For Freelancers 2023:
These were the seven CRM software preferred by freelancers as they can be used and implemented for any small to medium-sized business.
Most of these CRMs are free of cost to be used, but some features are minimized, and you need to pay to get them. 
All of them have different price plans with significantly additional features and accessibility, depending upon the scale and type of business they run.