The World's Top Blockchain Event To Have On Your Radar is approaching!
After 2 years of Covid-19 pandemic, Blockchain Economy Summit is again back in Istanbul on July 27-28, 2022 in one of Istanbul's most prominent and renowned venues: Hilton Istanbul Bomonti Hotel. The summit's 2-nd Turkey edition was the last major blockchain conference held in Turkey before pandemic, and now Summit's 4-th edition will be the first one to gather the crypto community on the bridge between Europe and Asia after the pandemic.
The Blockchain Economy Istanbul Summit unveiled its first speaker line-up with top industry experts, famous stars and influential names.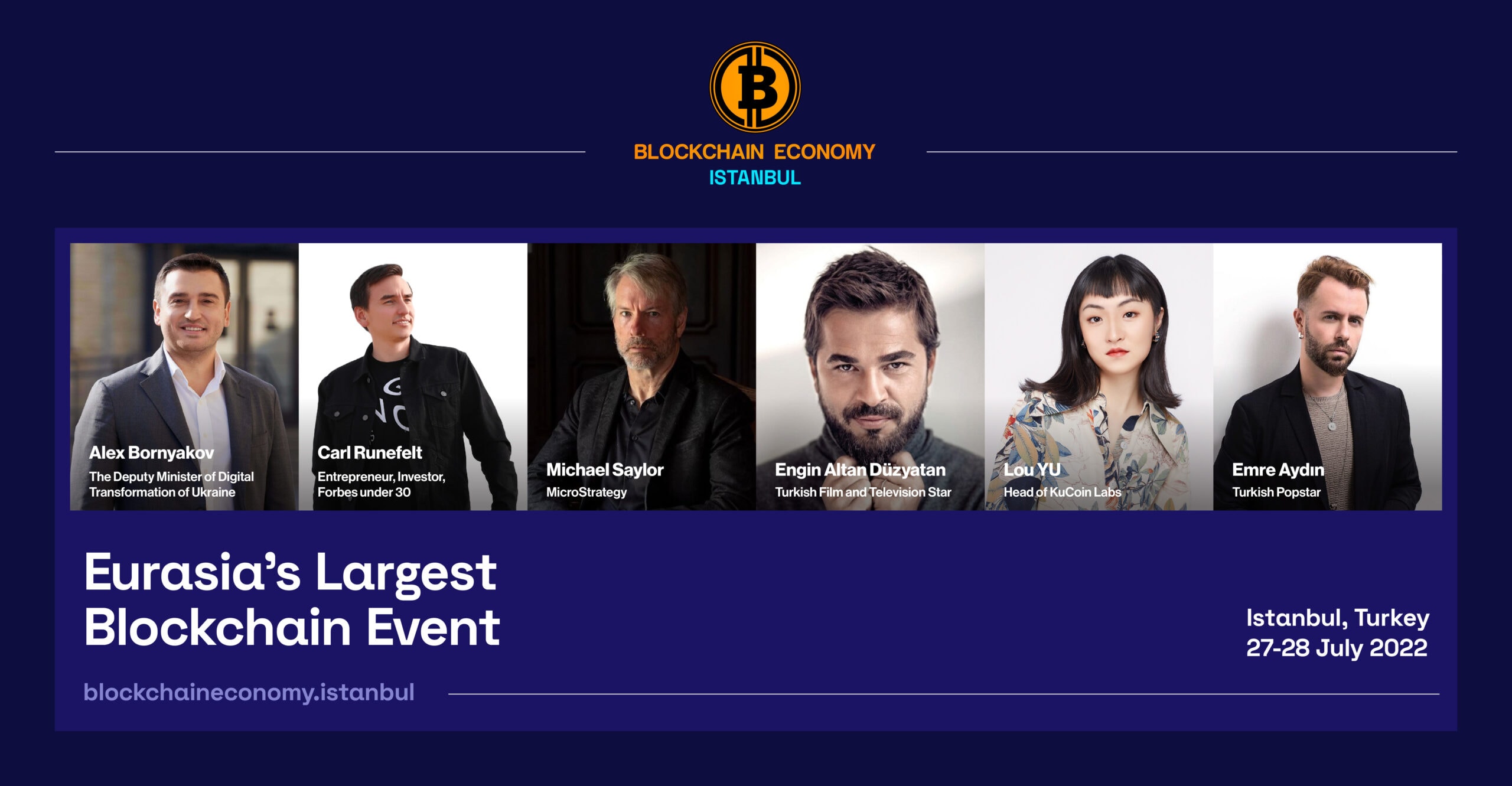 The first line-up of the speakers joining the event includes: 
Alex Bornyakov – The Deputy Minister of Digital Transformation of Ukraine
Carl Runefelt – Entrepreneur, Crypto Investor, Forbes under 30, 1 million followers on Twitter 
Emre Aydın – Turkish Popstar
Michael Saylor – CEO of MicroStrategy
Engin Altan Düzyatan – Turkish Film and Television Star
Lou Yu – Head of Kucoin Labs
Eren Özkan – Vice President at Mastercard Turkey
Hamza Yardımcıoğlu –  Famous TV producer and author 
Russ Batyrshin –Director of Global Business Development at Deepcoin
Burak Köse – Co-Founder of Uzmancoin (event's strategic partner)
Johann Polecsak – Co-Founder and CTO of QANplatform
and others. 
Blockchain Economy Istanbul Summit is a blockchain and crypto conference with engaging activities and speaker sessions designed to spread the knowledge of cryptocurrencies.
The future of finance: Bitcoin, Web 3, NFTs, Metaverse, De-Fi, mining, regulation of cryptocurrencies, making money through investing and trading on cryptocurrencies, the implementation of blockchain technology in businesses and government, and much more are to be discussed on the Blockchain Economy Istanbul Summit Stage. 
Panel discussions, keynote sessions, fireside chat sessions, industry focused exhibition, NFT Art Gallery, Grand Istanbul Crypto Bazaar will also allow participants to understand the value propositions of the projects and brands, contact relevant services and realize potential business connections and partnerships.
Gari Network, Gate.io, KuCoin, Deepcoin, XT.com and Woo network are just some of the companies that are listed among the sponsors of the largest blockchain conference to be held in the country with around 14 million crypto owners.
On July 28 2022, only the first 1,000 standard pass holders will have a chance to join the ultimate Closing Party of the Blockchain Economy Istanbul Summit featuring internationally renowned DJ and producer Mahmut Orhan. 
More information is available on the Summit website: https://blockchaineconomy.istanbul/en 
Tickets are available: 
https://blockchaineconomy.istanbul/en/tickets 
Apply the code for a 10% discount code on the standard passes: BEIST20