We've signed up for Foreclosure Academy to bring you the facts about this newly-discovered money-making tool.
After going through all 37 classes, we are here to answer the question, "Is Foreclosure Academy legit?"
If you are reading this article, chances are good that you have heard of Foreclosure Academy and you are curious to know whether or not it lives up to the hype.
After all, the claim is that you can make a ton of cash by helping people who have lost their properties to foreclosure.
I am sure you are wondering, "Is this for real? How can I make any money by helping someone who's already lost almost everything?"
Well, that's what the webinar series was designed to teach you.
You might be dicey about investing in Foreclosure Academy without getting more information. It is, after all, a new and untapped, basically hidden opportunity.
Since there aren't a lot of reviews out there about Foreclosure Academy yet, I decided to go through the entire series of classes myself and write a review of what I experienced.
Read on to discover whether Foreclosure academy is legit or a bust.
Foreclosure Academy: What Is It?
According to their website, Foreclosure Academy promises to teach you how to "make anywhere from $20,000 to $50,000" from foreclosures that have been executed all over the United States.
Even people from other countries are encouraged to save their seats in their Tax Foreclosure Workshop to learn how to make money from the huge well of over a thousand properties that are foreclosed on annually in the US.
This leaves many people scratching their heads at how even someone who doesn't live in America can benefit from these foreclosures.
The key is this: these properties were all seized from people who were unable to pay their mortgages or taxes. These seizures were done by either the United States government or by banks.
When this happens, the bank will typically sell the property at a discounted rate to recoup their losses, but what about the additional profit they gain?
There is a surplus of cash left that they aren't entitled to, and not many people are even aware of it, and the banks certainly aren't telling the property owners.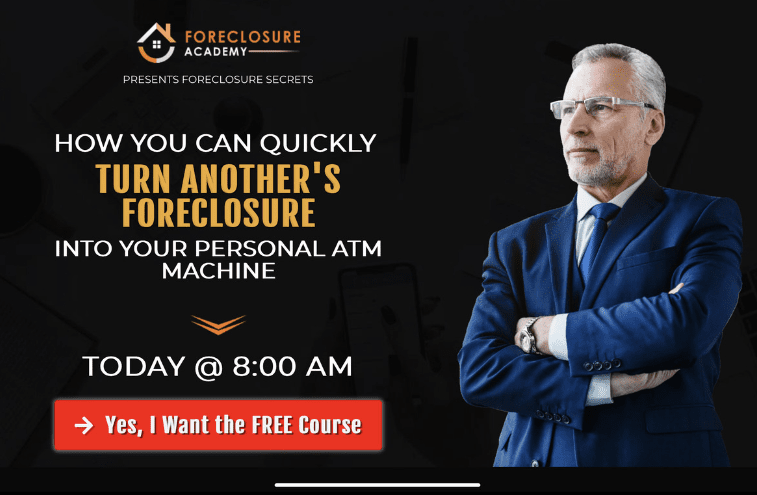 For example, if John's home is worth $200,000, but he only owes $100,000, the bank will foreclose if he misses payments, even though he's paid a great deal of money.
The same is true of the government if he doesn't pay his taxes.
Once these entities foreclose on John's property, they will auction it to make up for their losses. But let's say they get the $200,000 value of the property.
Since John only owed $100,000, he is liable for that extra money bank made from the sale, minus any fees if applicable.
The bank or government is supposed to share this with John and make sure that he gets that extra cash, but of course, they do not.
Millions of dollars are stolen annually from people who are already down on their luck.
This is where it gets good. Foreclosure Academy teaches you how to find and reclaim that money for both you and the property owner who lost it.  Sounds good? Let's look deeper.
Business Setup and Walkthrough Section 8, Part Two
The 8th section of the first Course is broken up into 2 parts.
Part Two is its course which teaches those who did not sign up for the Fast Track program how they can set up their business website, etc. Its sections are:

How to Install and Setup Xampp




How to Download and Install WordPress




How to Install Plugins and Activate the Theme




How to Customize the Theme




How to Move WordPress from Local Server to Live Website



Note: This section of lessons has a wealth of knowledge and would be beneficial for anyone in any business.
Learning how to set up a business website is an extremely valuable bonus in this series!
What I Thought of the Program
For me, this was a very detailed course of lessons on everything that I could need to get started and be successful in this business.
It is a good feeling, knowing that my hard work not only makes money for myself and my family but helps property owners who've lost so much.
The book downloads, video lessons, and time with the coaches gave me a ton of information and knowledge that is almost impossible to find anywhere else.
The access to a community full of people who were also learning made this even easier and much more fun.
While ForeClosure Academy provides crazy value in this deal, there is no denying that you also need to put in some hours from your end to reap the benefits later.
Once you get this business rolling, you can easily build the passive income stream that you have always only dreamed of.
So what are you waiting for? Hit the button and join today!
Quick Links: