Facebook is one name that has gone from valley to peak in the past decade and half in terms of success in the field of social media and marketing. What once started as a simple social media platform in a dorm room, is a full-fledged social media company earning in billions, having thousands of employs and being accessed by billions worldwide.
With the rapid development of tech, internet and marketing, Facebook has also become one of the most popular platforms where companies and brands promote and publicize their names, products and services. The platform has become a hub for marketing campaigns over the past 5 years, giving rise to the term "Social Media Marketing".
Making money through Facebook Ads
Facebook is used by around 1.45 billion daily active users. This massive user base includes common people, students, CEOs, and companies as well. Since the platform has a social media outreach that no other platform can match, every business, whether small, medium or large scale, have started investing considerable amount of time, money and expertise in promoting their social media marketing through Facebook. This is simply because the massive user base of the platform pretty much ensures healthy promotion of your brand, and a good social outreach results in a financially successful marketing campaign.
The basic idea behind making money through ads on social media is to develop a marketing campaign that is appealing to the eyes of your audience and most importantly, DELIVERS THE IDEA AND NOTION OF YOUR ENTIRE BUSINESS in the most subtle, concise, yet detailed way possible. You need to understand your target audience and develop an ad campaign that matches their demands and requirements.
Best Facebook Ad examples to make money
A successful ad campaign on Facebook can fetch you a Return Over Investment (ROI) of as high as 150%. To understand this better, here are a few guidelines and examples of the best Facebook Ads to make more money.
Guidelines
Figure out which template and banner best suites your product or service.
Create a visually attractive banner that packs the perfect "First impression" of the product, without revealing too much about it. Showcase how it is a great product, without revealing too much about it.
Use simple yet active verbs in the title of the ad. It is recommended to use aspirational language to create excitement about the product.
Highlight an exciting offer, discount, reward or cash-back that the user can avail buy purchasing/subscribing the product.
Mention some numbers or statistics that make sense and define the products purpose and objective.
Design a good Facebook landing page for the product. A landing page is where the user is redirected to on clicking the ad. Users must get all the necessary information about the product. He/she should need feel the need to navigate away to search for more relevant information.
Also Read:
Popular examples
Google
Google has turned out to be arguably the largest and most financially successful IT company in the world as of 2018. The creator of the world's most widely used OS platform, Android, Google has the talent and expertise of ad marketing on Facebook that is paralleled by none.
Google's Facebook ads are very compelling and capture the attention of almost every random individual. Their most recently trending ad campaign is of Google Cloud. Have a look at this ad below.
If you carefully observe this ad, then you'll find that it has all elements to attract the viewer. It has an attractive banner, a simple product tagline and most importantly, highlights a $300 sign up reward. Ads like these has quickly made Google Cloud a popularly business management tool for users across the world.
Slack
Slack is one of the fastest growing project management cum instant messenger app specially designed for teams and officials to manage projects and assignments systematically. The platform has become extremely popular among companies in the last 3 years, thanks to some power packed advertising on Facebook.
This ad shown above garnered a very positive response on Facebook, both critically and financially. The ad is extremely minimalistic but captures the purpose and objective of the product. It sports a simple tagline "Make work better" and then a one liner text to justify the tagline.
Shopify
Shopify is a name that EVERYONE associated with ecommerce today would be familiar with. It is an e-commerce platform that helps online stores sell products and merchandise to customers.
This ad on Facebook plays with words very strategically. Every text in the banner and tagline showcases that Shopify is the best ecommerce platform for users to sell their products online and on Facebook. There's nothing extra that the ad shows!
Spying on competitors using Adspy tools
It is essential to understand that if you want to survive in today's cut throat marketing competition, then you need to take your rivals seriously as well. An important aspect of designing an effective and successful social media marketing campaign is to study the marketing campaigns of your competitors. This is commonly known as "Ad spying".
When you are Ad spying your opponents, it simply means that you are analyzing the marketing campaigns and trends of your rival brands and companies understand what works for them. Knowing what your rivals are doing for their successful ad campaigns helps you figure out what products, services or marketing techniques you should use to build an effective and competitive marketing campaign for your business.
Doing this require often requires hiring marketing developers and officials to get your job done. Though a good idea, but hiring such developers often becomes pretty expensive. Thus, the most pocket friendly way to spy on your competitor brands to build a profitable ad campaign for yourself is to use Ad Spy tools. There are numerous such tools in the market and perhaps one of the best among them is Idvert.
About Idvert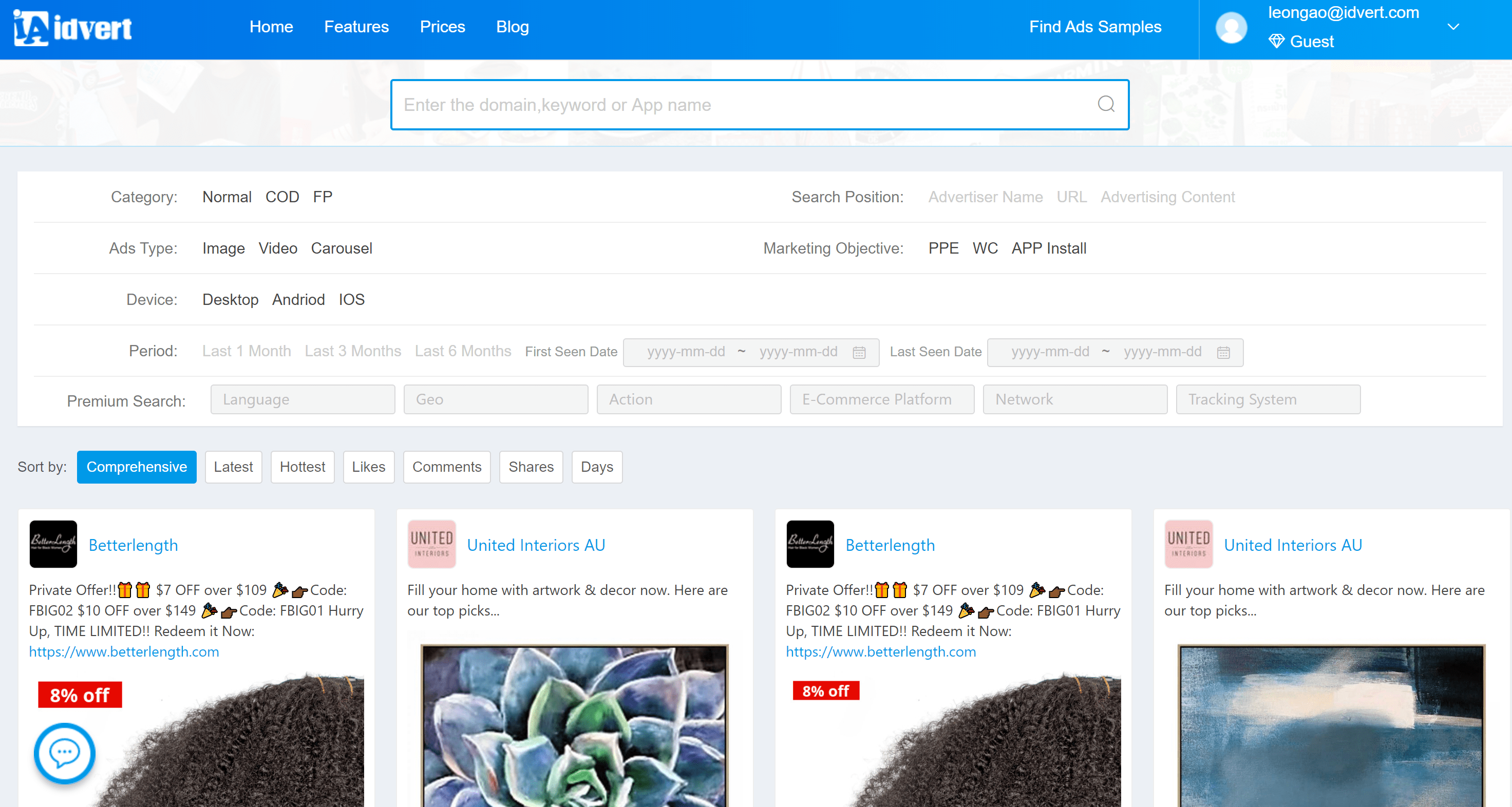 Idvert is a popular Adspy tools which allows users to spy and analyze the marketing campaigns and trends of rival brands and companies so that you can analyze what works for them and then develop your own marketing campaign that can fetch you the best revenues and profits. The company calls itself a "Competitive research and business intelligence platform" and lets you analyze nearly 20 industries, and over 20 million websites and apps.
The platform provides data and analysis on paid and organic search, Social media ad campaigns (Facebook, Twitter, etc.), Network display, Google search ads creatives and advertiser analysis worldwide. It also enables multi-dimensional contrast media marketing effectiveness as it supports all-media cross-platform integration. You will get global multi-device market intelligence to understand, track and grow your digital market share.
Highlight features
Idvert is packed with just the right and effective features that are necessary to help companies keep an eye on their competition, buy more intelligently, and discover new traffic sources so as to optimize their own online presence such as site audit, SEO ideas and brand monitoring tools.
Idvert in numbers
Idvert is actually capable of scanning your rival marketing moves or even searching down the best products for your business. The massive database of the platform allows it to scan millions of websites and apps to fetch you the best results that may be profitable for developing your own marketing campaign. Have a good look at the figures given below.
Idvert gives you easy and instant access to over 2,214,835,000+ data and 320,000,000+ media from over 3,242,000+ websites and apps spanning across 110 countries.
Benefits of using Idvert
If you are searching for the best products for your own brand or business and are not sure how Idvert will help you search down the best, then have a look at the following points to understand how this can be beneficial for you.
Scan your rivals effectively
Idvert lets you scan your rivals marketing campaigns. You will be able to understand which products or services work the best for them and what should you use for your ecommerce store to boost your profits.
Massive database
Since Idvert has a massive database and search outreach, you will be able to scan through millions of quality products and exclusive merchandise in a matter of minutes, shortlist the products that suit your store requirements and audience demands and simply add them in your inventory.
Easy to access the best information
All you need to do is simply search for the relevant domain, keyword, app name etc. to scan through multiple industries, and millions websites and apps and find the best and ideal results for your online store.
Analyze audience demands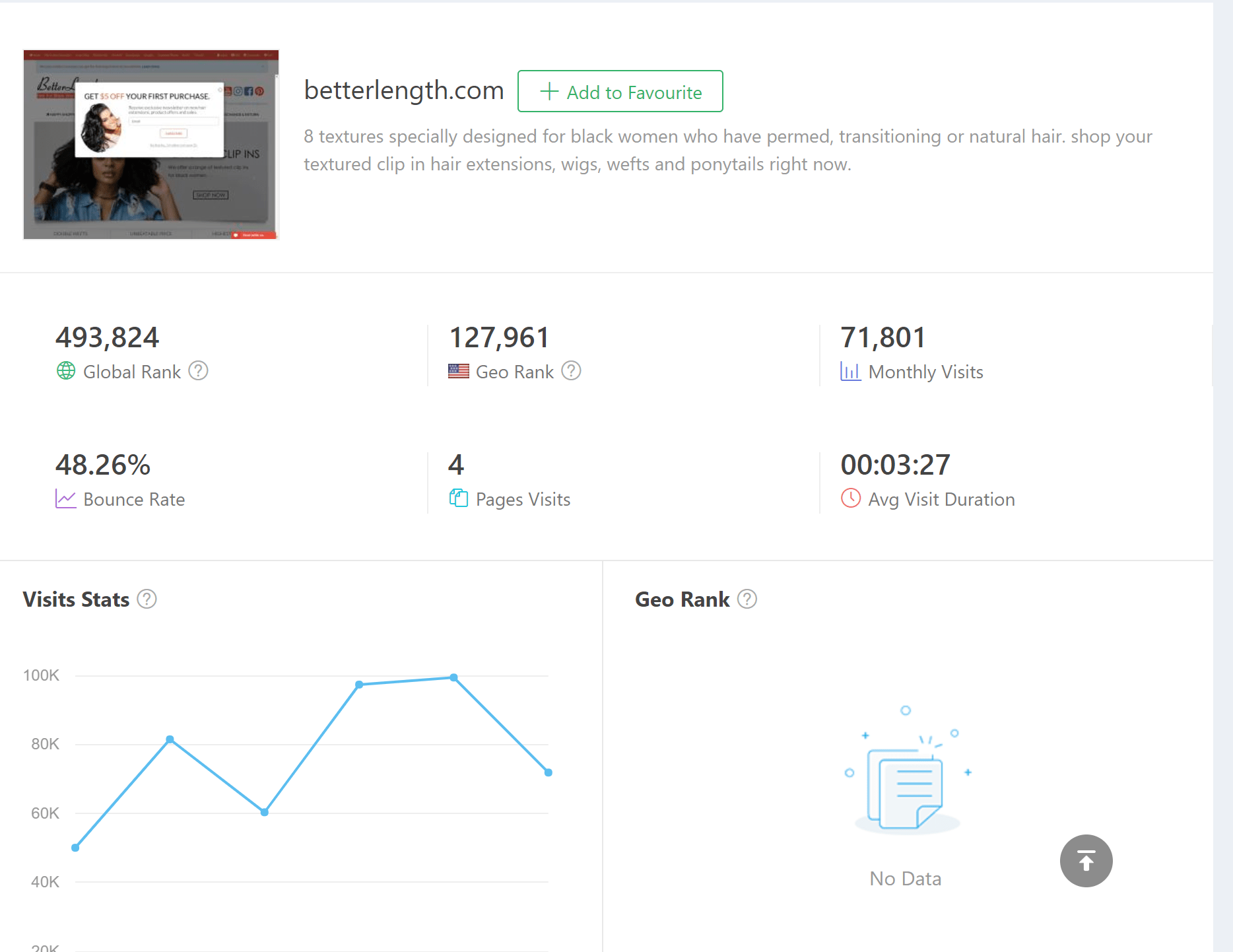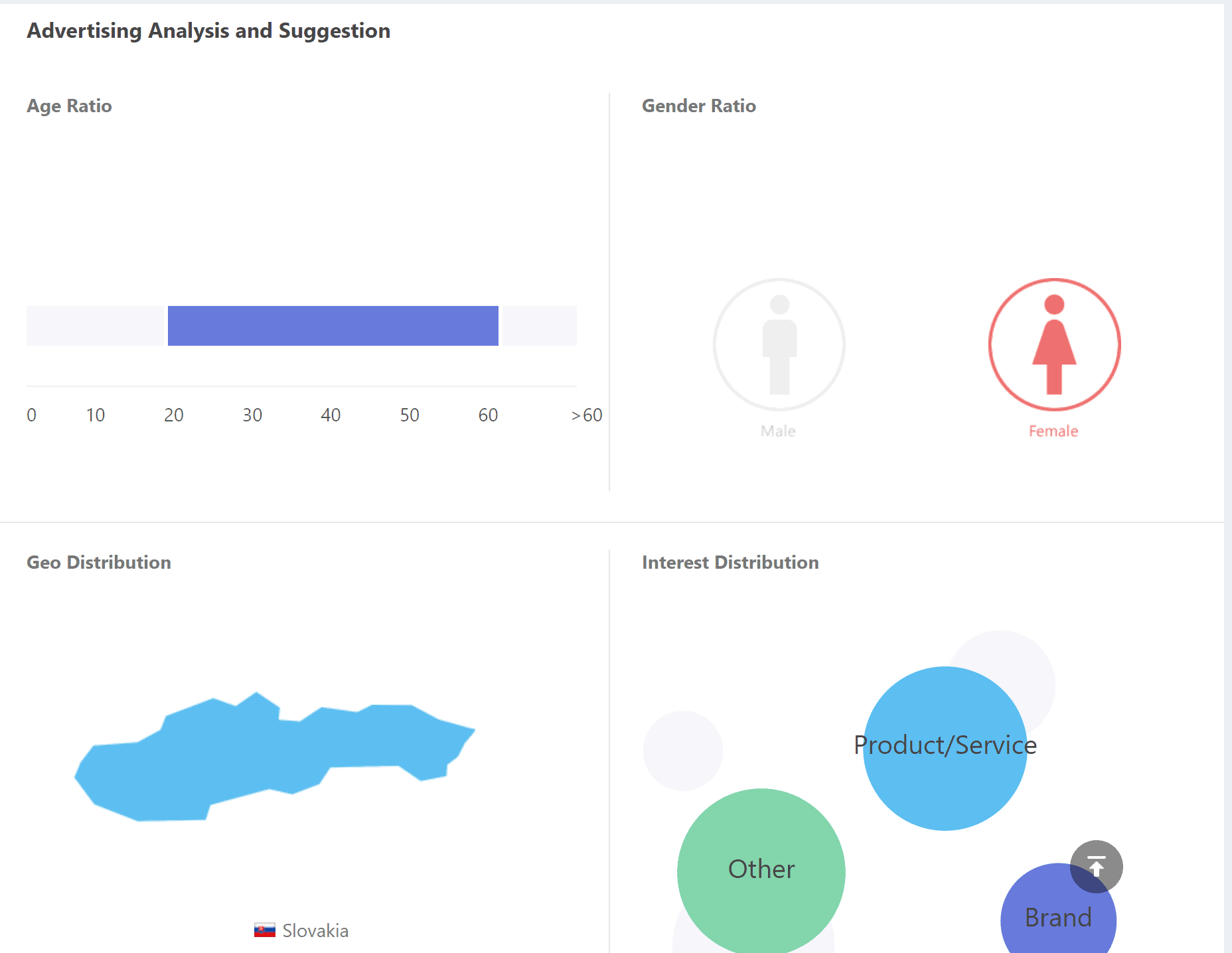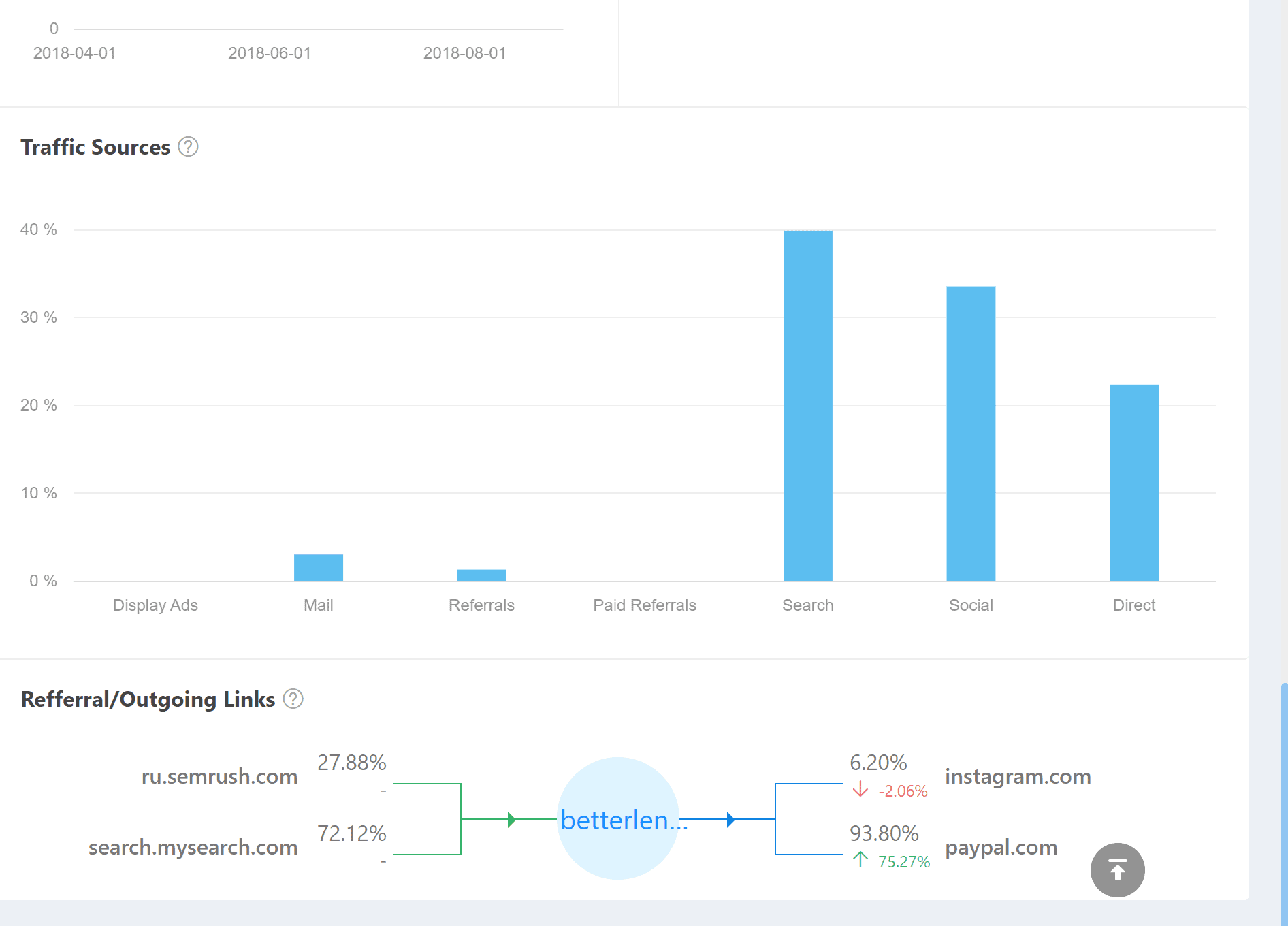 Get instant access to ads creatives from multiple platforms so you can effectively analyze attribution to your audience. This will help you improve creative quality of your add campaign and drive more traffic.
Products found on Idvert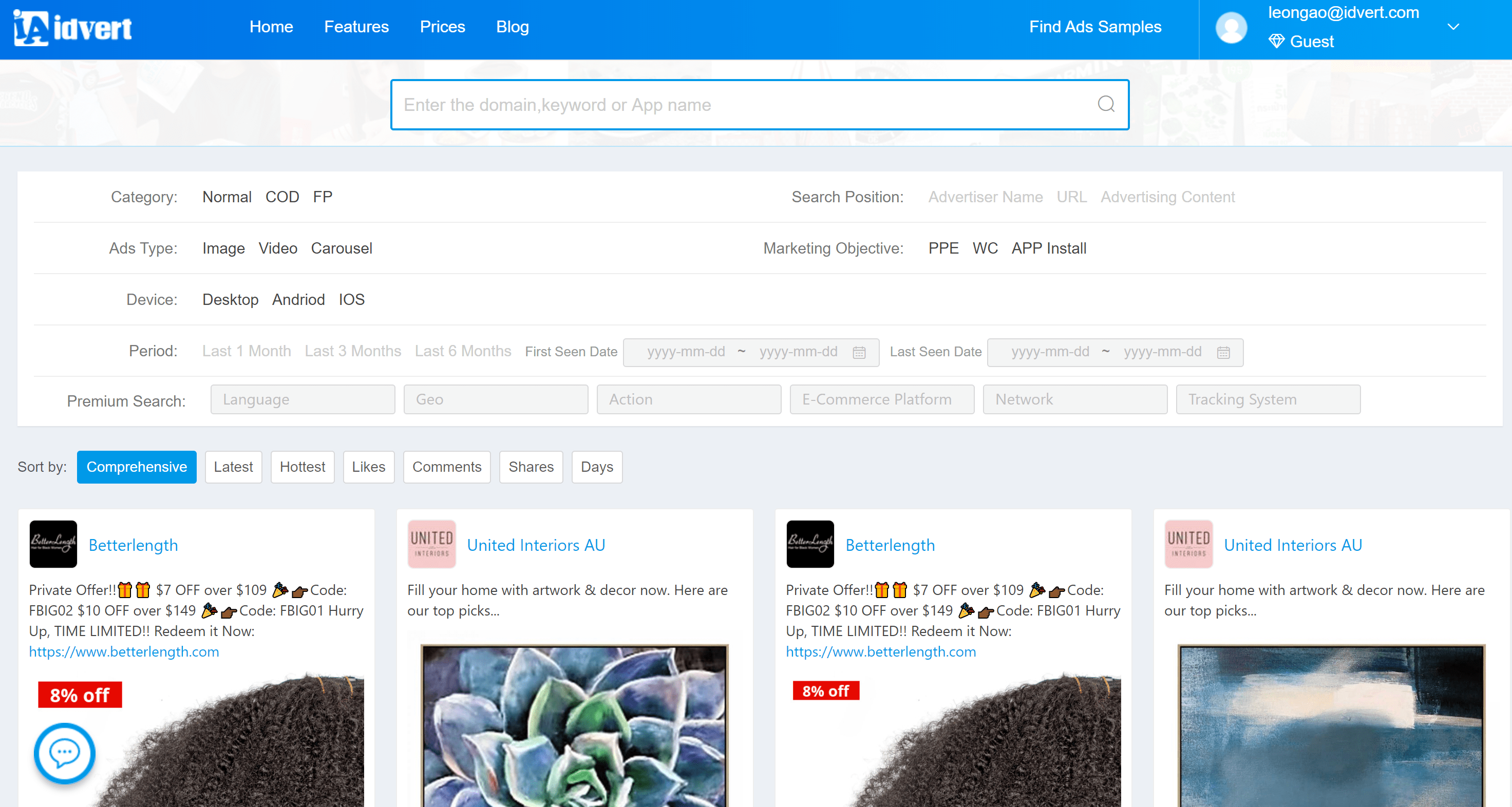 Idvert helps you help you get more users, followers and subscribers if you learn the best creative ideas to build the best campaign for your product and audience. You will get to access daily and weekly monitoring of more than 2 million quality media from over 100 countries. This will eventually help you understand in which platform, what position, which ads serve other sites are running.
There is countless number of products in different categories that are available on Idvert. You can find products filtered on the basis of different utilities, categories, brands, and more. Just search for the relevant domain, keyword, app name, etc. in the search bar shown on the Idvert homepage. You'll get access to over thousands of relevant search results.
Here is a list of the numerous products you can find on Idvert:
Foot grinding tool
Universal razor
Handling tool
Green plan trimmer
And more!
For more information regarding these products, visit the Idvert official homepage.