This article is for you and talked about ManyCam Pricing if you work online, have online conferences, play games online, teach online, or simply enjoy using your webcam for entertainment purposes. Which of the ManyCam options is the best fit for you?
It has so many awesome features that it transforms using your webcam from mundane to exciting and fun.
ManyCam is a webcam software and a video switcher that lets you improve your video chats and create amazing live streams on multiple platforms at the same time.
ManyCam has all of the live video tools you'll need, including Chroma Key, multiple video sources, and picture-in-picture effects. During web conferences, video chats, and virtual classrooms without a green screen, you can blur, remove, or replace your background with images.
If you have a green screen, use the Chroma Key to make your virtual background look even more professional. It's never been easier to stream! Set up your RTMP stream quickly and broadcast to your preferred streaming service, or go live on multiple platforms at once to expand your online reach. you can also check out manycam coupon codes for the latest deals and offers.

ManyCam Pricing| How much does ManyCam cost?
When it comes to subscriptions, ManyCam provides a number of different payment options to its users. For example, the user can choose to pay annually or once for a lifetime subscription.
For Individuals
Standard
Studio
$59/Year or $119 Lifetime
Premium
$79/Year or $149 Lifetime
3 Devices
24 Video Sources
For Businesses
Enterprise 3
$119/Year or $298 Lifetime
3 Users
24 Video Sources
4K Video Quality
Enterprise 5
$189/Year or $475 Lifetime
Enterprise 10
$279/Year or $798 Lifetime
10 Users
24 Video Sources
4K Video Quality
Lifetime Subscription
The lifetime subscription entitles the user to access and use all of the features provided by ManyCam. Furthermore, the user must receive the most recent updates and versions of the software before they are made available to regular users.
Plans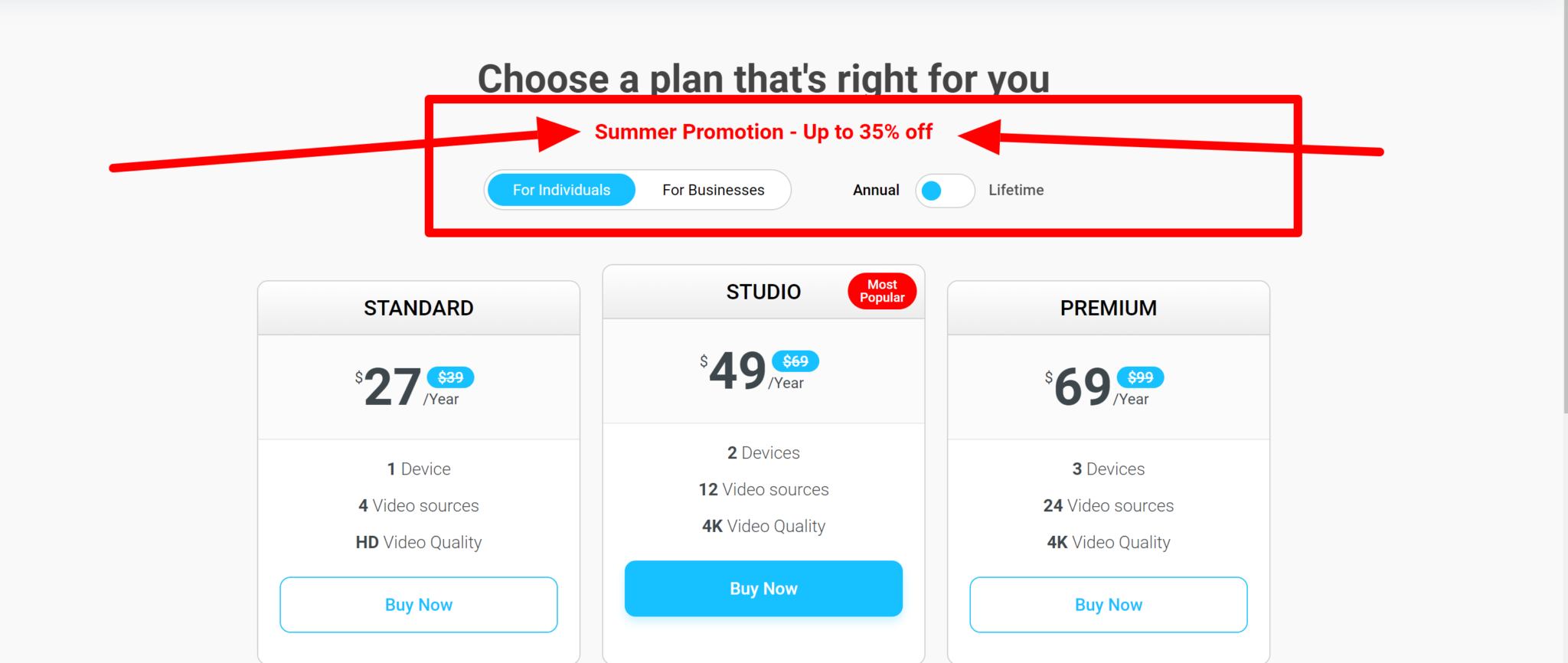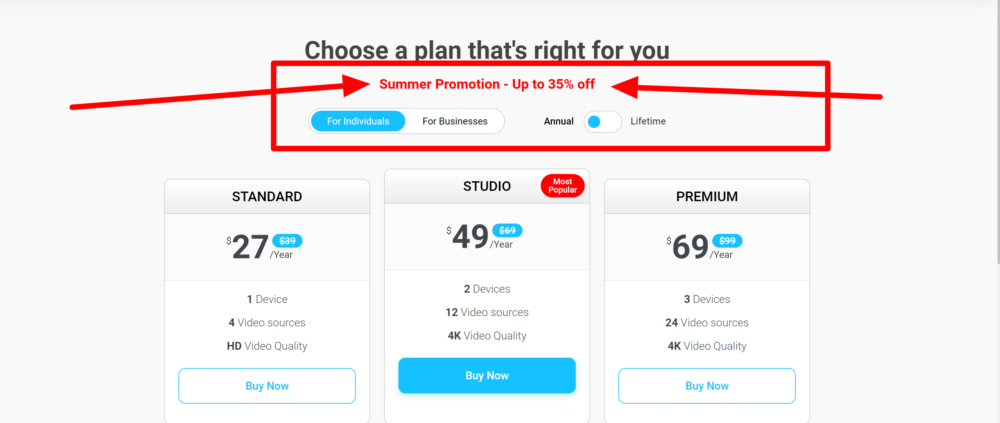 ManyCam's plans include Studio, Premium, Enterprise, individual, and business options. In order to purchase a plan, you must first create an account on ManyCam's official website.
ManyCam can be used by installing the app on your phone and using it as a video source to record and stream live videos. You can use your cellphone to participate in important meetings and video conferences while you're on the go.
ManyCam is not only a great app for video streaming, but it also adds a layer of security with its motion detection feature.
By going to the motion detection section, you can customize your settings. The app will send you email or sound alerts if there are any movements or motions. Furthermore, you can configure the app to switch from the main camera to the one that has detected movement.
Conclusion: How much does ManyCam cost?
Although ManyCam was previously a useful piece of software, there's no denying that its performance and speed often left something to be desired.
Despite the fact that all of the features were present, the program would frequently freeze or take a long time to respond.
As an online teacher, this aspect of ManyCam was extremely frustrating, but thankfully, the company heard our complaints and took action.
ManyCam has improved the overall performance of the program since the update, so teachers can now enjoy efficient and high-quality live videos without causing their computers to crash.
Manycam allows gamers to record or live stream their gameplays while also displaying the source of the game.
Manycam's user interface has been designed to be user-friendly for both beginners and experts. Users can easily modify and customize the interface to achieve the best results. Finally, the software does not hold back in terms of allowing the user to experiment with FPS, Resolution, and Bitrate.