Here are some of the best Seth Godin Quotes for inspiration.
Seth Godin is an author and former dot-com executive from the United States. He has written 18 books that have become international bestsellers and have been translated into more than 35 languages.
He writes about the post-industrial revolution, the spread of ideas, marketing, resigning, leadership, and, most importantly, changes. May his words of wisdom motivate you to live the life you've always wanted.
Great Quotes by Seth Godin that Will Make You Think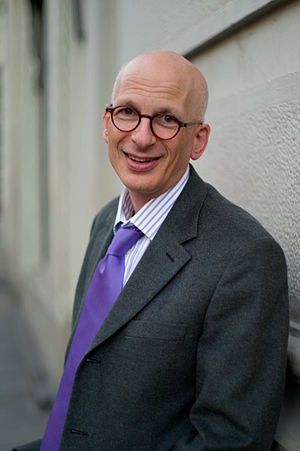 "Are you a serial idea-starting person? The goal is to be an idea-shipping person."
"Change is not a threat, it's an opportunity. Survival is not the goal, transformative success is."
"Don't try to please everyone. There are countless people who don't want one, haven't heard of one or actively hate it. So what?"
"Go ahead, do something impossible. "
"Ideas in secret die. They need light and air or they starve to death."
"If you could do tomorrow over again, would you?"
"Instead of wondering when your next vacation is, you ought to set up a life you don't need to escape from."
"Life is like skiing. Just like skiing, the goal is not to get to the bottom of the hill. It's to have a bunch of good runs before the sun sets."
"Why waste a sentence saying nothing? "
"You can't shrink your way to greatness! "
"The market and the consumer and idea trump the system."
"Your best customers are worth far more than your average customers."
"As an organization grows and succeeds, it sows the seeds of its own demise by getting boring."
"Choose your customers, choose your future."
"Choose your customers. Fire the ones that hurt your ability to deliver the right story to the others."
"Developing expertise or assets that are not easily copied is essential; otherwise you're just a middleman. "
"Fire the committee. No great website in history has been conceived of by more than three people. Not one. This is a deal breaker."
"Give up control and give it away … The more you give your idea away, the more your company is going to be worth. "
"In a world of free, everyone can play."
"Lack of resources (payroll), time and competing priorities are why so many nonprofits haven't done well. It's that simple."
"Once you have permission to talk to someone, finding new products or services for them is a smart way to grow."
"One way to think about running a successful business is to figure out what the least you can do is, and do that. "
"The application process changes the list of who applies. Your applicants reflect your methods."
"The best time to do great customer service is when a customer is upset."
"It's better to make a decision, even the wrong one, than to be in limbo."
"If religion comprises rules you follow, faith is demonstrated by the actions you take."
"Make a decision. It doesn't have to be a wise decision or a perfect one. Just make one."
"If there's time for an emergency, why isn't there time for brilliance, generosity or learning? "
"If you could do tomorrow over again, would you? "
"If you're not proud of where you work, go work somewhere else. "
"Just saying yes because you can't bear the short-term pain of saying no is not going to help you do the work."
"Saying no to loud people gives you the resources to say yes to important opportunities. "
"We notice what we choose to notice."
"Who gets to decide what you want?"
"Playing safe is very risky. "
"If failure is not an option, then neither is success."
"The opposite of remarkable is very good."
"If your organization requires success before commitment, it will never have either. "
"Try is the opposite of hiding."
"Hard work is about risk. It begins when you deal with the things that you'd rather not deal with: fear of failure, fear of standing out, fear of rejection. Hard work is about training yourself to leap over this barrier, drive through the other barrier. And after you've done that, to do it again the next day."
"The job isn't to catch up to the status quo; the job is to invent the status quo."
"If it scares you, it might be a good thing to try."
"Nobody says "Yeah, I'd like to set myself up for some serious criticism!" And yet the only way to be remarkable is to do just that."
"We've greatly exaggerated the risk of sinking, without celebrating the value of swimming."
"Art is what we're doing when we do our best work."
"Be personal. Be relevant. Be specific."
"Becoming a superstar takes about 10,000 hours of hard work."
"Doing justice to the work is your task, not setting a world record. "
"Go ahead, do something impossible."
"If there isn't a good reason, go home. If there is, then do something … loud, now, and memorable."
"Positive thinking is hard. Worth it, though."
"Tribes makes our lives better, and leading a tribe is the best life of all. "
"When kids grow up wanting to be you, you matter."
"When the legacy you leave behind lasts for hours, days or a lifetime, you matter."
"When the room brightens when you walk in, you matter."
"When you see the world as it is, but insist on making it more like it could be, you matter."
"You are not your resume, you are your work. "
Related: Best Success Story Quotes
"You can't shrink your way to greatness."
"Are you a serial idea-starting person? The goal is to be an idea-shipping person. "
"Big ideas are little ideas that no-one killed too soon. "
"Ideas in secret die. They need light and air or they starve to death. "
"No organization ever created an innovation. People innovate, not companies."
"There's no correlation between how good your idea is and how likely your organization will be to embrace it. "
"You can't have good ideas unless you're willing to generate a lot of bad ones."
"Everyone is not your customer. "
"Advertising is just a symptom, a tactic. Marketing is about far more than that."
"Bullhorns are overrated: having ten times as many Twitter followers generates approximately zero times as much value. "
"But this is a remarkable egg, an egg worth talking about, an egg worth crossing the street for, an egg worth writing about. "
"Good marketers measure. "
"Good marketers tell stories. "
"If you can't make money from attention, you should do something else for a living. "
"If you can't sell to 1 in 1000, why market to a million? "
"If you're a marketer who doesn't know how to invent, design, influence, adapt, and ultimately discard products, then you're no longer a marketer. You're deadwood."
"Low price is a great way to sell a commodity. That's not marketing though, that's efficiency."
"Market-driven design builds the success of the product's marketing into the product itself."
"Marketing is the way your people answer the phone, the typesetting on your bills and your return policy."
"Marketing management is now tribal leadership. "
"Most of the time, creative entrepreneurs lose interest long before their marketing message loses its power. "
"People don't believe what you tell them. They rarely believe what you show them. They often believe what their friends tell them. They always believe what they tell themselves. "
"People rarely buy what they need. They buy what they want."
"Perhaps marketing is about to transition to a new kind of profession, one that requires insight, dedication and smarts. "
"Relying too much on proof distracts you from the real mission–which is emotional connection."
"Selling to people who actually want to hear from you is more effective than interrupting strangers who don't. "
"The best marketing strategy is to destroy your industry before your competition does. "
"The reason it seems that price is all your customers care about is that you haven't given them anything else to care about. "
"Why waste a sentence saying nothing? "
"You can win with consistent benefits, delivered over time. You win by incrementally earning share, attention and trust."
Conclusion:
Hope these greatest quotes by Seth Godin will inspire you to do your best.