In this article, we have featured What Is meant By VMware vSphere? VMware's vSphere is a server virtualization software application.
It was introduced in 2009 as the successor to the company's flagship VMware Infrastructure solution, and it serves as a complete platform for implementing and managing large-scale virtual machine (VM) infrastructure. If you want the discount price check out an article on VMware Coupon Codes to get the latest offer
What Is meant By VMware vSphere?
VMware vSphere, also known as a cloud operating system or virtualized data center platform, is intended to allow IT departments to run application workloads on their most efficient or cost-effective compute resources.
Microsoft Hyper-V, Oracle VM, Citrix Hypervisor, and Red Hat Virtualization are among the most prominent VMware vSphere competitors.
vSphere vs. ESXi: Which Virtualization Platform and Hypervisor Is Better?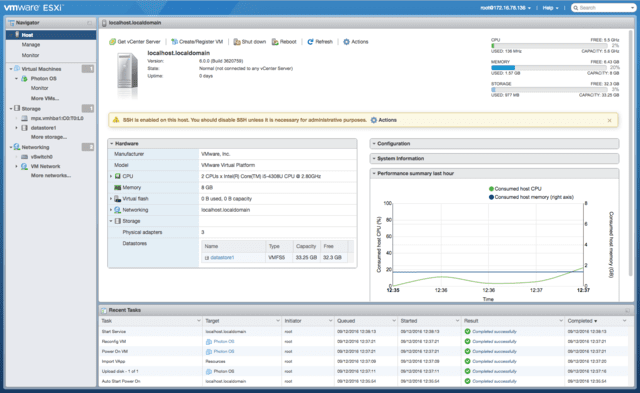 ESXi is a hypervisor, or virtualization software, that allows you to create and manage multiple virtual machines on a single physical host.
ESXi is a bare-metal hypervisor because it is installed directly on a physical machine. Unlike its predecessor, ESX, ESXi operates independently of any general-purpose operating system, which greatly improves security and simplifies management. Furthermore, the architecture of ESXi allows you to accelerate the deployment and configuration process.
One of the key advantages of ESXi, as mentioned previously, is the level of security it provides. In terms of functionality and performance, ESX and ESXi are interchangeable. The architecture is what makes the difference.
The Linux-based service console in ESXi has been replaced by new remote command-line interfaces. This provides a method for reducing the on-disk footprint to less than 32 MB (as opposed to 2 GB in ESX 3). As a result, having a smaller footprint allows you to reduce your overall attack surface.
A host is a virtual representation of the processing and memory resources of a physical machine running ESXi. A cluster is made up of two or more ESXi instances. You can dynamically add or remove ESXi-running machines from a cluster, as well as partition processing and memory resources from hosts and clusters into a hierarchy of resource pools.
Vsphere Pros & Cons
Pros:
Through server virtualization, an effective central management system for hosting multiple machines/servers is available.
Excellent vendor support because it provides a variety of support channels.
including a knowledge base, community forum, FAQ articles, support tickets, and a phone number that is available 24 hours a day, seven days a week
Cons:
Licensing fees are high (ranging from $995 to $24,250).
Customers on G2 have mentioned a steep learning curve.
What Is A Vmware Vsphere Client?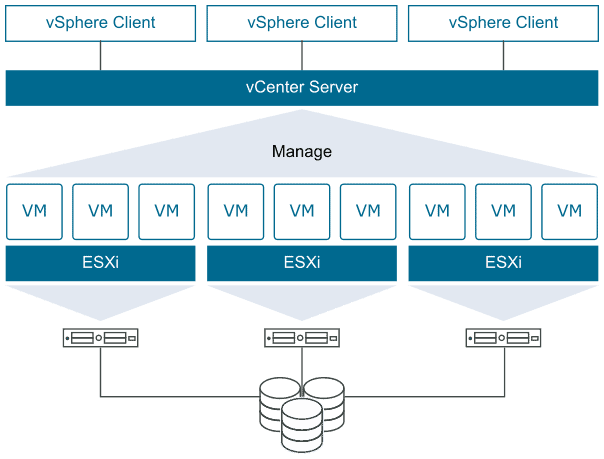 A VMware vSphere Client is a cross-platform application that allows users to connect to the vSphere server via a web browser.
This is advantageous for those who do not have direct access to the vSphere Client. Virtual infrastructure administrators, help desk workers, network operations center operators, and VM owners are common users of a VMware vSphere Client.
Users of VMware vSphere can perform basic operations that provide basic visibility and control over the VM. This includes tasks performed on virtual machines such as:
What Is Vmware Vsphere Hypervisor?
A VMware vSphere Hypervisor is a virtualized server that manages an IT infrastructure and enables one or more virtual machines to run on a computer. It includes built-in virtual machine management, advanced memory resourcing, efficient storage allocation, and driver hardening.
Pricing For Vmware Vsphere
With the release of VMware vSphere 5.0, the company introduced a vRAM pricing model that irritated many existing customers, prompting VMware to abandon the RAM-based pricing model in favor of a per-CPU socket model that went into effect with VMware vSphere 5.1.
Beginning in early 2014, vSphere was included as part of the VMware vCloud Suite.