As many affiliated program has already spread their roots in the business one of the most unexpected and famous affiliated program is budding and doing enormously good. Regardless of the fact that Yatch affiliate programs are new to the business, they are becoming the talk of the town, by spreading its spell all over the market.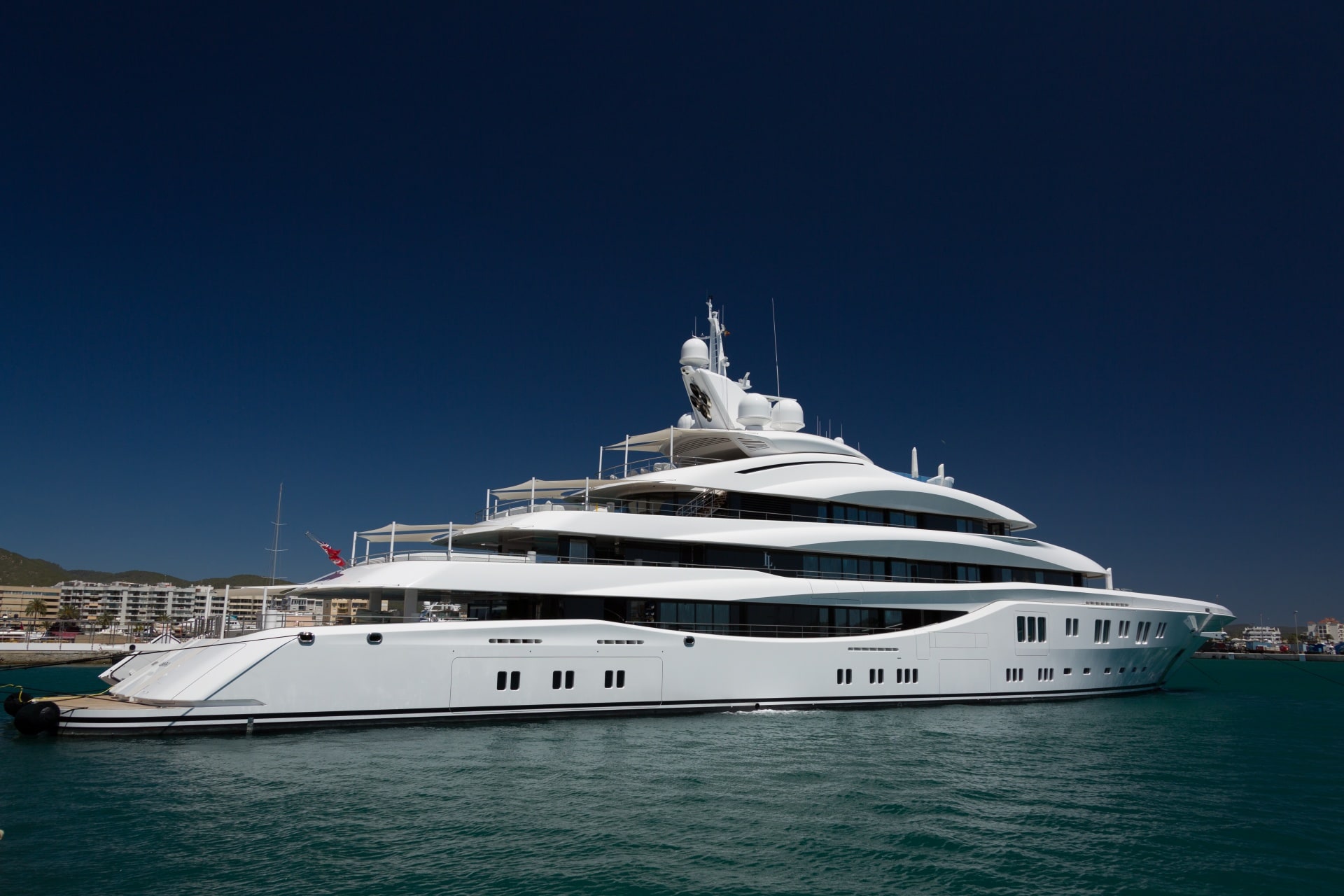 Yatch is an enticing way to spend a vacation on, which attracts the large amount of customers towards itself. As Yachts are a very intriguing way for the wealthy crowd to enjoy their travel time in seasonal days, it earns good revenue. Yatch Affiliate Programs have a lot to it then it seems.
Also Check
Yatch Affiliate Programs Paying High Commissions
1. Boatbookings: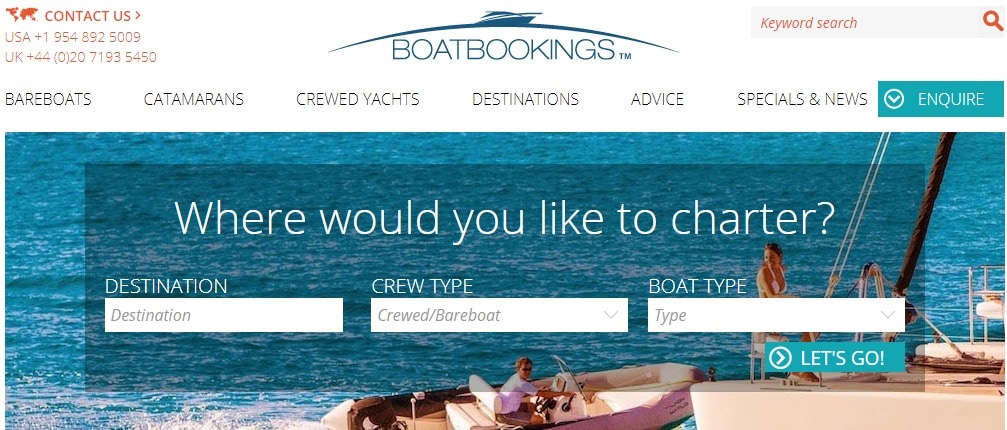 Boatbookings is world's largest online yatch charter company founded in the year 2005. Since then it has growing deeper and wider by providing its service all across the globe and acquiring a reputation in the market. Talented, knowledgeable and highly experienced team of this company promises to provide its customer with best and top range of yatch available in the season.
To make their customer's vacation memorable Boatbooking Company keeps the track of exclusive exotic locations, global super yatch and best routes around the world. You get to choose the type of yatch you want among bareboats, crewed yatch, motor, sail or catamaran. You can also make your selection on the basis of size, cabins, budget etc.
Boatbookings provides the best yatch affiliated programs and working with Boatbookings will earn good commission as it is one of the top company in this business. Boatbookings Affiliate commission rate starts at 10% of the commission earned by boatbooking. The net charter value to start earning the commission is 3,000 euro. They only indulge in yatch charter business, they don't buy, sell, manage or equip yatch, fully focuses on clients charter needs.
Website: https://affiliates.boatbookings.com/
2. Sailing Europe: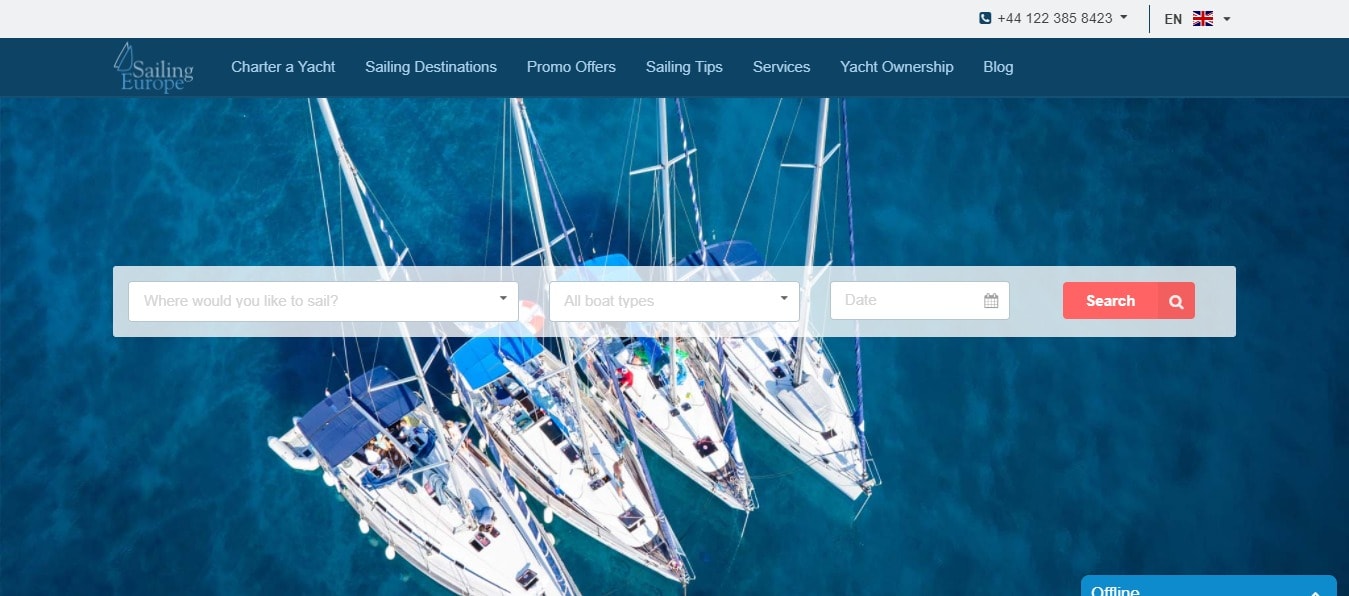 Sailing Europe is one of the top yatch charter and holiday platform available online. Their mission is to enrich their customers' vacation by organizing unforgettable and remarkable sailing holidays in attractive destinations and in all Mediterranean across the globe. Inspite of their well-established business Sailing Europe Group also operates their own fleet of catamarans and sailboats. Sailing Europe holds impeccable reputation in the market for their professionalism, quality orientation and innovation.
Sailing Europe's headquarters are in Zagreb, Croatia with offices in Munich, Germany and Moscow, Russia. In Sailing Europe they have invested good amount of time and year in gathering the best and database or library of yatch charter where you get the opportunity to choose according to your need and will. On the basis of sizes, services and types of sailing among yatch, motor yachts, catamarans and gullets etc. and can find your best fit.
Sailing Europe promotes healthy sailing life. Sailing Europe Affiliated Program is a handy way to fill your pockets. Affiliate commission differs according to your work such as: For the very first conversion they pay you 100€ and, additionally, the earnings for up to 100 clicks till then: 10 euro-cents per click. For subsequent conversions they pay you 50€ + click earnings for up to 100 clicks.
Website: http://affiliate.sailingeurope.com/
3. Yachtico: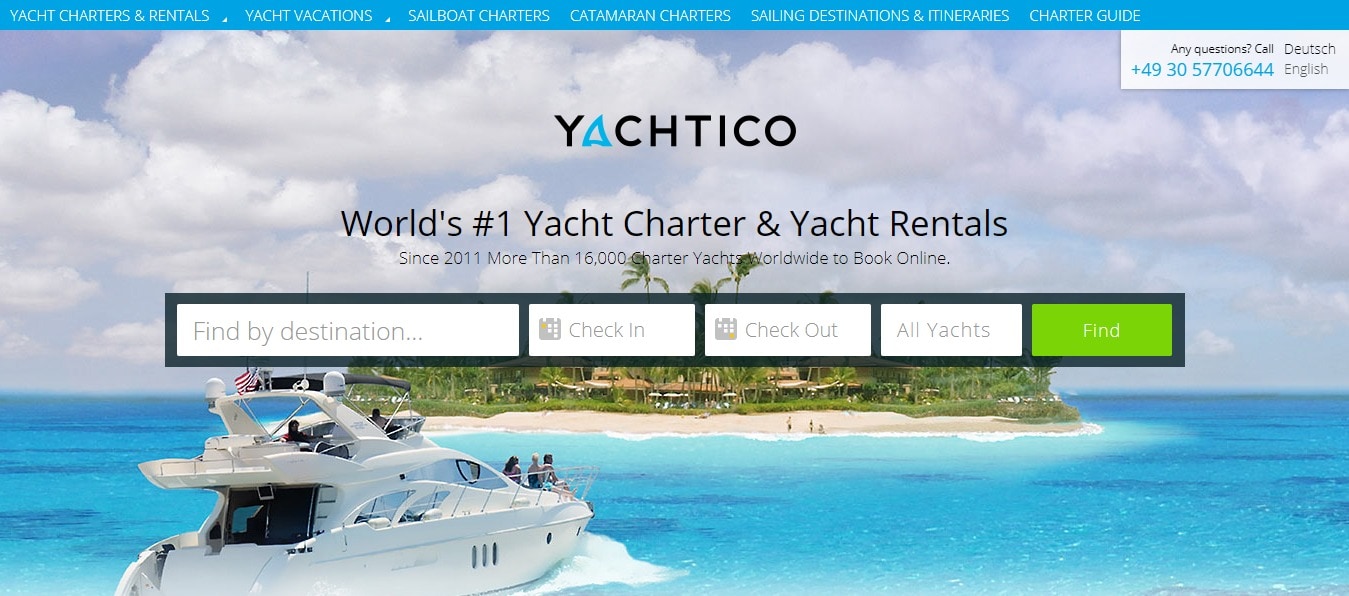 Yachtico is one of the leading international booking platform for yatch vacation rental worldwide and boat charter. It was also named as the "Expedia for Yachts." They offer their services in more than 40 countries worldwide with more than 16,000 charter yachts. They work in a way that they connects their customers who want to rent or charter boats with fleet operators and boat owners.
Yachtico recommend their customers the most popular Yacht Vacation Destinations and the best exotic places to sail all over the world to gather lifetime memory. They promote healthy experience the beauty of Mediterranean. You can choose among catamaran, sail boats, houseboat, motorboat, motor yatch, powerboat according to your convenience and need.
Yachtico promises to provide best time and yatch to Sailing enthusiast and its customers to make their wishes for holiday be realized. Yatch affiliated program with Yachtico provides a good deal as this company holds a prestigious place in the market. The commission while working with Yachtico is vague.
Website: https://www.yachtico.com/
4. OnlineEyatch: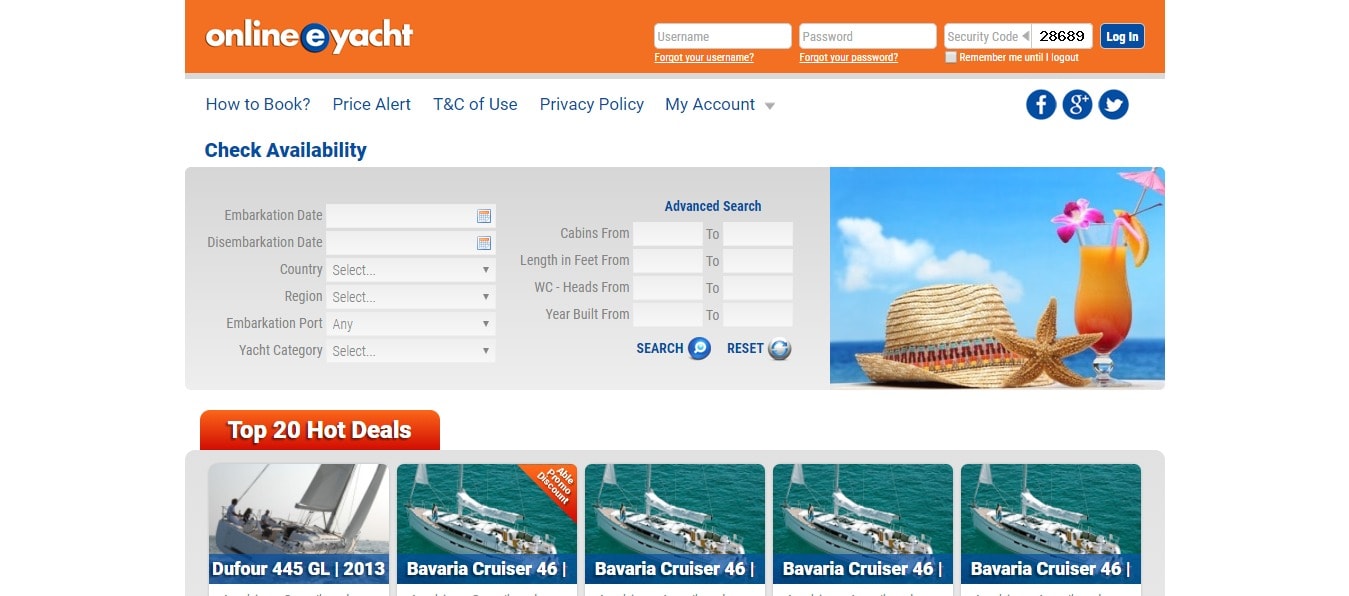 If you're looking to have a terrific holiday in the Mediterranean waters and a truly unique vacation experience OnlineEyatch will help you attain it. OnlineEyatch is an onlineportal in real time engine, where you can search, organize and book and plan online your next yachting holidays. OnlineEyatch gives you an opportunity of Selection of sailing yachts monohull, catamarans, and motor yachts – bareboat or crewed, fully crewed mega yachts or traditional wooden yachts which are available in different countries and regions.
Basically you can book your yatch for holidays through OnlineEyatch.       OnlineEyatch is fast, free (no booking fee), easy and secure way to book your ideal yatch. You just have to select the yatch destination, country, region, day and date, embarkation port, yatch category. Once the basics are done you get to add the options to your list. OnlineEyatch allows its customer to search yacht prices, availability and set bookings from all well-known yacht owners, all from one site. They promises that their yatch affiliated program will help you earn more revenue.
Website: https://www.e-yacht.eu/
5. Yatch Rent: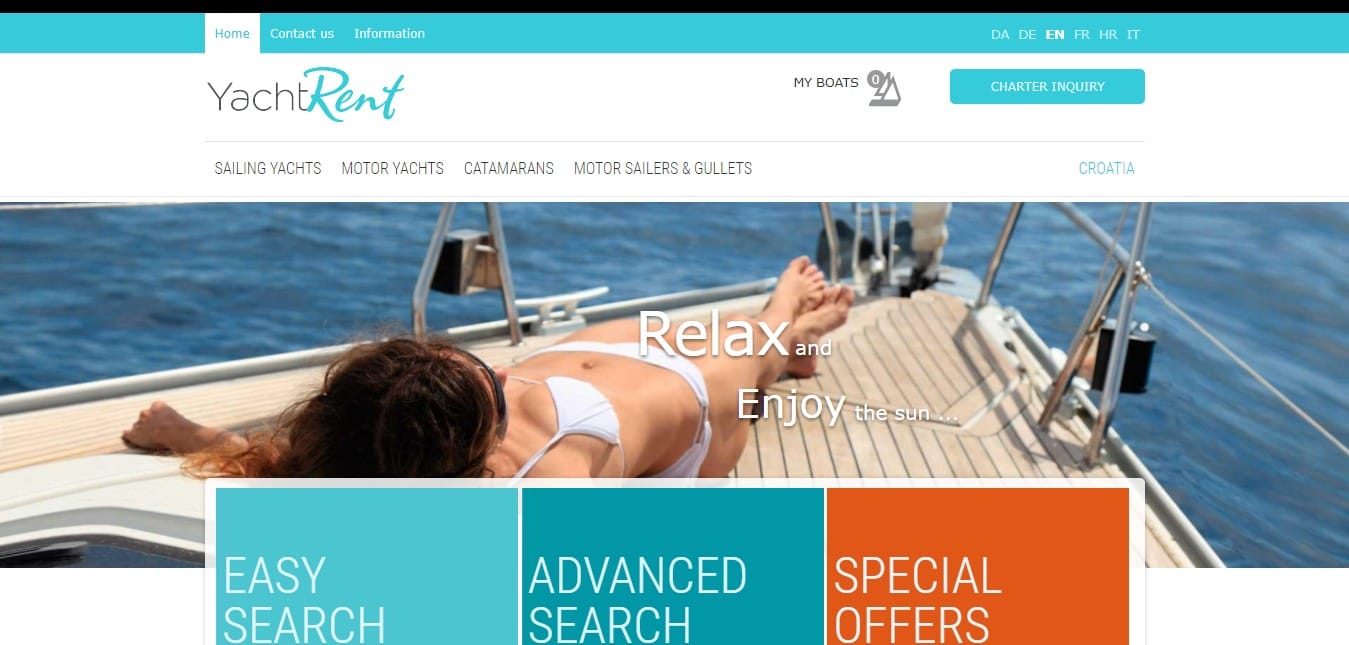 Yatch Rent Charter is a Croatia based yatch rental company, which help its customer explore Croatia, Istria, North Adriatic, Dalmatia and South Adriatic coast and islands parts through smooth sailing. YR allows you to spend a beautiful vacation in these Mediterranean places and spend peaceful time in the serene, breathtaking beauty. Yatch Rent has almost all the basic yatch a customer could ask for and this fact entice their customers to the most.
The list of Yatch Rent's service includes Sailing Yachts, Catamarans, Motor Boats, Speedboats, Gulletsand Mega Yachts and Bareboat charter in Croatia. Active sailing vacation is very popular in Croatia. Sailors who possess experience and a valid certificate of competence can rent a boat and navigate it without a skipper. Whereas Crewed or Skippered Yacht Charter in Croatia also promises to provide you a refreshing vacation on board with relaxed cruising holiday through the Adriatic.
Customers who prefer organizing and planning their own itinerary according to their interests can go for Bareboat charter as it is one of the most famous sailing option. One of the reason that Yatch Rent is trusted yatch Rental Company is that it provides its services in very affordable price. Yatch rent affiliate program is free and easily earns revenue. The process is very simple the member has to put the Yatch rent's link(s) on their website, advertising and promoting the company or company's specific product. Any sales made by customer's clicking on this link will earn the affiliate commission. The standard affiliate commission rate is currently 5%.
Website: https://www.yacht-rent.com/
6. Sea Shield: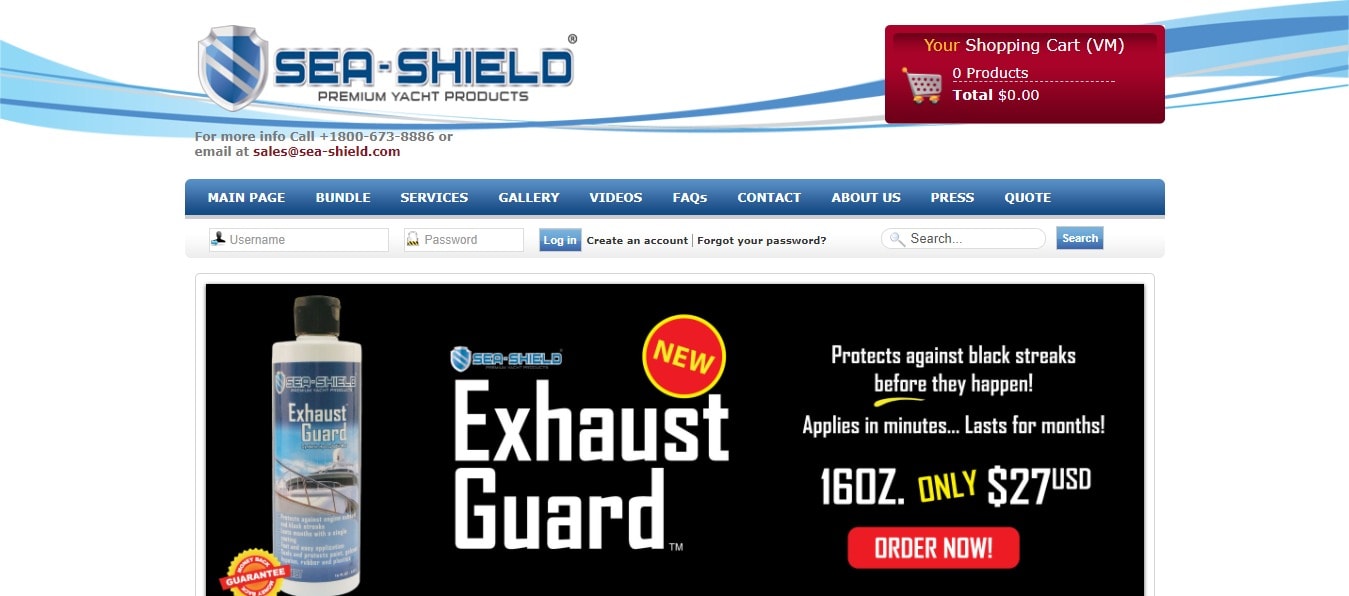 This California based company is not like other yatch rental company which allows you to rent a yatch for your vacations but it provides the products and tools of yatch online. The products that helps yatch owner in maintaining their yatch. This is one of its kind of industry available online. It provides its services in boat waxing, yatch waxing and sells paint, polish, clear squeeze and polish-pad.
The team consists of skilled technicians and professionals. Now Sea Shield affiliated program allows you to earn commission very easily, you just have to sell their premium yatch products on your website. Sea Shield believes in the principle the more you sell the more money you make. Members can earn up to 35 percent commission on high and nice quality yacht care products.
Website: https://www.sea-shield.com/
7. Cruise Direct: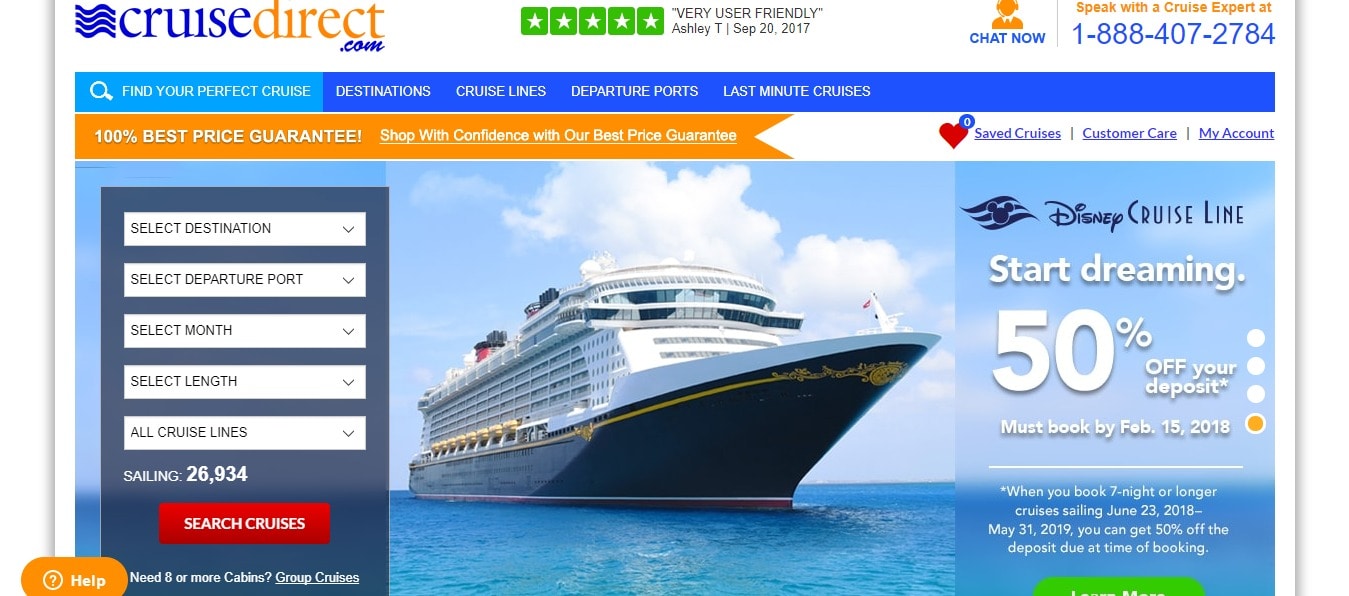 Cruise Direct is Online leading cruise Travel Company serving its customer in this business since 2001. CD has acquired a reputed place in the market by their satisfying services and fulfilling the promises they make to their customer. They provide great deals and services to make the vacations thrilling and giving a beautiful taste of holidays. Cruise Direct runs BBB accredited business with the A+ rating, because they serve best in the market.
They ensures that you'll get your cruise in lowest price and helps you reserve the cabin of your choice fast and easily. They believes that your vacation starts at the point when you visit Cruise Direct website. Cruise Direct provide their customers with rich and inspiring content which helps the customer in planning the vacation and removes confusion and tension. Cruise Direct affiliate program is one of the best and fills up the pockets easily. They have partnered with one of the world's leading affiliate networks to make their program better and developed.
CruiseDirect makes it simple to join and earn commissions for every CruiseDirect purchase generated from your site. You earn 3% commission of the gross sale, one of the highest commissions in the industry. Including you get PPC Marketing opportunities, they also provides the latest best features and best deals to customers.
Website: https://www.cruisedirect.com/
Conclusion:Yatch Affiliate Programs Paying High Commissions 2022
Yatch Affiliate programs are extremely popular in the business due to their simplicity and effectiveness. As affiliate program are becoming very common all over the internet. They offers the website owners an intriguing way to profit from their websites. These Yatch Affiliate programs generates traffic and sales for commercial websites and in return they receive an affiliated commission. If you join any yatch affiliated program you will be given with a range of textual links and banners that you have to place in your website. It works in a way that when a customer clicks on one of the given links they will be directed towards the website of the owner, you are working for. You ends up earning commission based on your commission type.
Hope your users get full benefit of these Yatch Affiliate Programs and earn high commissions by joining it.